. If you are interested in learning more about the campaign or want to become an active campaign member, please contact Denise Herkey, Campaign Coordinator, or Katherine Tarbell, Chair, by phone at 716-883-2340 or e-mail.

Annual Meeting of the League of Women Voters of Buffalo/Niagara

The business meeting and luncheon Saturday, June 9, 2001, at the Holiday Inn Grand Island Resort Conference Center will feature special guest Nancy Neuman, Former President of the LWVUS. She is an author, columnist, lecturer and distinguished visiting professor. Nancy will have her books available for purchase, and sales will benefit the League. The cost is $15. Send reservations and checks payable to LWVBN:
Send to: R. Murphy, 1082 Carter Drive, Grand Island, NY 14072 by June 1, 2001.


---
Local Women In Pan-Am Centennial Parade

Local residents Lee Tetkowski (left) and her granddaughter, Kristina Tetkowski, took part in the Pam-Am Centennial Kick-Off Parade May 6, 2001, in Buffalo. Both are members of the League of Women Voters and marched as Suffragists with a large group of others. Click photo for larger view.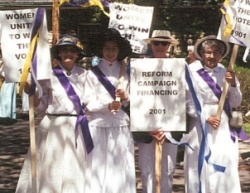 Islanders(left) and League members Dorothy Westhafer, Kristina Tetkowski, Nancy McGlen and Lee Tetkowski are shown in the marching line in the May 6, 2001, Pan-Am Centennial Parade. Click photo for larger view.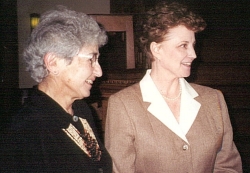 Isle resident Lee Tetkowski introduced Becky Cain, Immediate Past President of the League of Women Voters of the United States, on Sunday, May 20, 2001, at the Women's Pan-Am Leadership Conference at the Women's Pavilion at the Adam's Mark Hotel. Ms. Cain was a keynote speaker.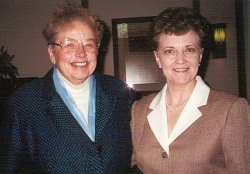 The Grand Island League of Women Voters Unit Chair Elsa Bondar is shown with Becky Cain.




---
If you are a member of this organization, we need your help. GIECOM.Net has partnered with the Connections program to help Grand Island as a community "Get it Together." Please visit our website G-I-Together.ORG and fill out our SURVEY. Every group on Grand Island will have its own FREE web page showing: meeting times and location, contact persons, your Mission Statement and a listing of events. We will also be linking your news events that appear in the local media and on IsledeGrande.Com, Grand Island's E-News Source, to your page, maintaining an archived journal of pictures and news. This is the perfect opportunity for your group to connect with potential new members and the community.
---
---
Other Grand Island Pages to Visit:
Churches | Email Directory | Government | Groups
GIHS Grad List | Guestbook | Please sign in! | Local Artists | Photo Album | Town History | Useful Links
| Website Design | Wildlife | Isledegrande's Home Page | GIECOM.NET'S Home Page
Please Email News Releases to Teddy Linenfelser, Thank You.
This website is sponsored by
GIECOM.NET
1869 Whitehaven Road, Grand Island, New York, 14072-1803 USA


Copyright © 1995-2007 All rights reserved.
<! - - - - - - - - - - New Tracker Code Below - - - - - - - - - - >