Grand Island Lions Club
2007 News Page
Box 61, Grand Island, NY 14072

International Website

Previous Lions Club News Page 2000-2006

---
Local people with a concern for helping others
are the people who join the Lions Club.

---
Dan Morabito, 773-3098; Jim Milne, 773-4940
Fax: 716 773-4940
---
Mission: "We Serve" is the Lions' Motto. While the blind
have always been the main concern of Lions, all in need are helped
by this organization. Local concerns are of prime importance.

---
Events: Special Childrens' Picnic at the Buffalo Launch Club on the second Wednesday in July each year and the Annual Spaghetti Dinner at the Holiday Inn, date to be announced. The Lions Club has a loan closet with wheelchairs, walkers, canes, crutches and other equipment which we loan free to those in need.
---



Lions Club "Walk For Sight" - 2007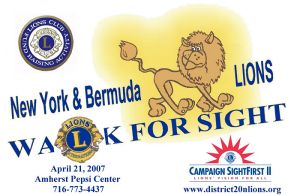 The Lions Clubs of Western New York invites you to take a "Walk For Sight" Saturday, April 21, 2007 along the Ellicott Creek Trailway adjacent to the Amherst Pepsi Center, 1615 Amherst Manor Drive, Williamsville, NY. Registration will be located just inside the Center's main entrance and will begin at 10 a.m. with the walk starting at 11 a.m. Participants can walk any distance up to 3.4 miles on the well-marked Trailway. After the walk, refreshments and food will be available in the Sky Box rooms on the second floor of the Pepsi Center. An elevator is available for the handicapped.
The Lions are in the midst of Campaign SightFirst II, a global initiative to raise $200 million for our blindness prevention and sight retention efforts around the world. Thirty-seven million people are blind with 80% losing their vision needlessly. With current growth, 41 million more individuals will lose their sight by 2020. We have pledged not to allow this to happen. Eleven adults and one child lose their sight forever every minute. Please help us in this cause - every donation will be welcomed!
For more information about the Walk and how you can help, call 716-773-4437, email at 20nwalkforsight@adelphia.net or visit our website at www.district20nlions.org and click on the Walk For Sight logo.


---




Lions Club Spaghetti Dinner - March 2007
The Lions Club's 37th Annual Spaghetti Dinner will take place at the Holiday Inn Ballroom from 5-8 p.m. Monday, March 12, 2007. This major Lions fundraiser supports the annual Special Kids Picnic at the Bufalo Launch Club. Cost of the dinners are Adults/$7.00, Childern 5 - 12/$4.00, Under 5 FREE. The event will feature a Chinese Auction, Bake Sale and Face Painting. For more information contact Lion Dick Crawford at 774-4121.










---
If you are a member of this organization, we need your help. GIECOM.Net has partnered with the Connections program to help Grand Island as a community "Get it Together." Please visit our website G-I-Together.ORG and fill out our SURVEY. Every group on Grand Island will have its own FREE web page showing: meeting times and location, contact persons, your Mission Statement and a listing of events. We will also be linking your news events that appear in the local media and on IsledeGrande.Com, Grand Island's E-News Source, to your page, maintaining an archived journal of pictures and news. This is the perfect opportunity for your group to connect with potential new members and the community.
---
//////////////////////
---
Other Grand Island Pages to Visit:
Churches | Email Directory | Government | Groups
GIHS Grad List | Guestbook | Please sign in! | Local Artists | Photo Album | Town History | Useful Links
| Website Design | Wildlife | Isledegrande's Home Page | GIECOM.NET'S Home Page
Please Email News Releases to Teddy Linenfelser, Thank You.
This website is sponsored by
GIECOM.NET
1869 Whitehaven Road, Grand Island, New York, 14072-1803 USA


Copyright © 1995-2007 All rights reserved.