Little League Baseball Webpage
2008
Previous Little League News Page

"Little League" Official Website

Official Grand Island Website

For forms and more information: www.grandislandll.com


---
Grand Island Little League Baseball Mission: to provide baseball and softball
to the youth of Grand Island, to build good citizens, sportsmanship, leadership and teamwork.

---
Little League Season: May through July.
The League had 63 teams with games for house teams and tournament teams (All-Stars).
There were over 800 girls and boys between the ages of 5 and 18 participating in 2006.


---



Grand Island Little League
GI 11U Team Wins GI Tournament - July 2008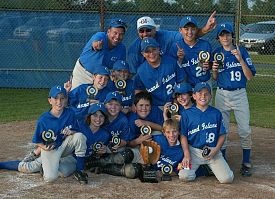 (Front) Nick Colan, Peyton Fadel, Ben Goc, Quinn Corrao, Bryce Callen, Joe Saraceno, TJ Morgan; (middle) Jimmy Martinic, Alex Lenz, Mike Podlucky, Kevin Borowicz, Mark McKenna; (back) Coaches Tony Borowicz and Jamie Corrao
The GI 11U All Star Baseball Team recently won the 2008 Grand Island Memorial Tournament held July 16th – 21st. Grand Island went 5-0 beating teams from Lancaster-Depew, Lew-Port, Amherst, South Cheektowaga and Orchard Park by a combined score of 55-9. GI was victorious thanks to a total team effort. Hitting .408 for the tournament, GI saved their best for the championship game, hitting an incredible .515 to beat OP by a score of 15-2! Mark McKenna led the way going 4-for-4 in the championship game while Quinn Corrao collected the win on the hill and had 5 RBI's going 2-for-3 with a SAC Fly. Nick Colan and Mike Podlucky reached base safely every at-bat in the Championship Game, while Alex Lenz demolished the ball throughout the entire tournament. Ben Goc picked up the win on the hill in the semi-final game by slamming the door on a solid S.Cheektowaga team while Bryce Callen played solid behind the plate gunning out any runners foolish enough to try to steal a base on GI. Kevin Borowicz and Peyton Fadel each picked up a win on the mound in the pool play portion of the tournament while TJ Morgan at Second Base made some of the most memorable defensive plays of the tournament. Joe Saraceno rounded out the lockdown defense with his stellar outfield play. Congratulations Boys!




Grand Island Little League
GI's 9U All Star Baseball Champs - July 2008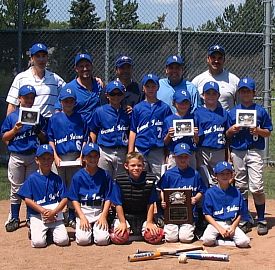 (Front) Mason Akers, Garrett Robinson, Tyler Muggli, Drew Callen, Carson Suffoletta; (middle) Zach Valvo, Mike Englert, Patrick Cramer, Jacob Bass, Danny Dinsmore, William Frank, Brendan Sheehan; (back) Coaches Mike Frank, Jeff Cramer, Mark Suffoletta, Todd Callen, Tracy Akers
The Grand Island 9U baseball team was crowned champions of the 2008 Lewiston Lancer Classic Tournament on Sunday, July 13th. In an awesome display of all around great baseball, Grand Island outscored their opposition 45-5 enroute to a 5-0 record. The title was secured by defeating Cayuga 5-1 in the finals, after hanging on for a 2-1 win over the host Lewiston squad in a nail biting semi-final win. The winning formula for the team was dominant pitching and hitting in the early rounds; and then great defense, clutch hitting and some great pitching in the championship rounds.
The pitching chores were skillfully handled by Danny Dinsmore, Mike Englert, Drew Callen and William Frank. In true team fashion, all members of the team turned in pivotal offensive and defensive plays throughout the tourney. The infield was anchored with great plays by Brendan Sheehan at third, and Patrick Cramer at first. Sharing the catching duties were Englert, Frank, Jacob Bass, Carson Suffoletta and Tyler Muggli. At a critical point in the semi final win, Garrett Robinson made a game saving catch in left field to preserve the lead. Mason Akers and Zach Valvo continued to pick up the clutch hits as well as contribute solid defensive effort whenever called upon.




2008 Little League Season Opening Day - May 2008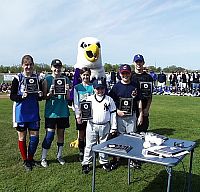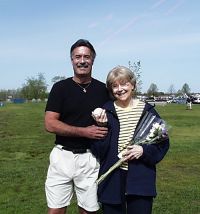 (left photo) 2007 division award winners recognized on opening day are Peewee, Michael Ellgate, Sportsmanship; International BB, Kelsey Harrigan, Sportsmanship; Minors BB, Benjamin Shaw, Sportsmanship; Majors BB, Kyle Hagor, MVP; International SB, Alexa Graff, Sportsmanship; Minors SB, Grace Scherrer, Sportsmanship; Majors SB, Loretta Scherrer, MVP.
(right photo) Mark Raepple and his mother, Betty
Mary Stewart Photos - click for larger view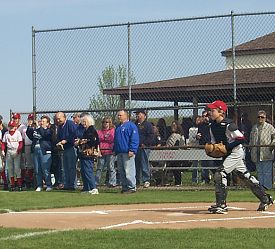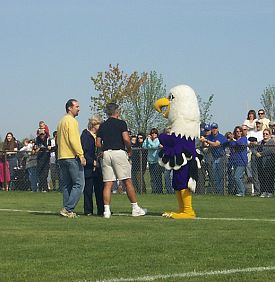 Little League pitcher Mark Hughes - Niagara University Mascot "Monty"
Laura Anderson Photos - click for larger view.

The Grand Island Little League players, coaches, parents and friends had a beautiful opening day for their parade, awards and games on Saturday, May 10, 2008 at Veterans Park. Mark Raepple threw the first ball in memory of his father, Alphonse and is shown above with his mother, Betty, all of whom have been extremely active with Grand Island Little League over the years.



Little League 2008 Opening Day - 2008
Grand Island Little League opening day ceremonies at Vets Park, Bedell Road, will take place on Saturday, May 10, 2008. The Parade starts at 9:15 a.m. and the ceremonies will begin at 9:30 p.m.




Little League
Important Dates - Spring 2008




May 3rd – Regular Season Games Begin

May 10th – Opening Day Ceremony and Parade

May 17th – Picture Day

June 7th – All Star / Tournament team tryouts begin 

June 14th - Food Drive

June 21st – In Season Picnic

July 4th – League Playoffs are concluded; regular season ends

July 6th – District tournaments for All Star teams begin


2008 Regular Season Games Begin on May 3rd
GILL regular season games begin at Vets Park, Bedell Road, on Saturday, May 3, 2008. The first games are scheduled to start at 10 a.m. and continue throughout the day.

Player Evaluations - 2008

GILL will be holding a player evaluation per the schedule below. Do not bring your own bat, they will be provided. The purpose of this evaluation is to help the coaches and commissioner form balanced teams. We need all players to attend the evaluations. Please contact your league commissioner to resolve any scheduling conflicts.


International Baseball		Minors Baseball			Majors Baseball
March 8th @Middle School	March 9th @Middle School	March 15th@Middle School
12:00pm – 3:00pm		A-K 9:00am – 11:00am		12:00pm – 3:00pm 		
				L-Z 11:30am – 1:30pm

		Minors Softball				Majors Softball
		March 16th@Middle School		March 16th @Middle School
		9:00am – 11:30am			12:00pm – 3:00pm	
		      



Coaching Volunteers - 2008

All those interested in being a coach or assistant coach should indicate your choice on the registration form (form included), fill out a volunteer application (form included) and attach a copy of your driver's license when submitting your volunteer application.

Food Drive - 2008

We will again be holding our food drive for the Grand Island Neighbors Foundation on Saturday, June 14th. Last year GILL collected twenty boxes of non-perishable food items for the foundation. We want to thank all those who participated last year.

Umpires – All parents, young adults and teens we need you! - 2008

Often overlooked, the umpire is as much a part of Little League as the manager or coach. Appreciating the significance of the umpire in both the proper conduct of the sport and the development of our youth, the need to provide competent and dedicated umpires has never been more evident. Better umpiring means better baseball and softball, and better baseball and softball means better adults tomorrow - and that's the goal all of us have in Little League. Anyone at least 13 years old can be an umpire. Training will be provided by GILL. Umpires are paid $10 - $17 per game, on the day of the game, depending upon game umpired. Applications will be accepted at the GILL registrations on Feb 2nd & 9th. Mail-in forms may also be used. GILL would like to encourage all parents, young adults and teenagers to become umpires. Our continued goal this year is to improve the quality of our umpires through better training and support. For more information, contact Jerry Augugliaro at 622-7992 or email: tywebb@adelphia.net.
All umpires will be required to attend one clinic which will include training on both rules and mechanics. The clinics will be conducted at the Nike base on Saturday, April 6th and April 13th from 3:00 PM – 6:00 PM each day.

The Snack Stand - 2008

The main purpose of the snack stand is an alternative to fundraising. A critical portion of GILL's annual operating budget is funded from the stand. Revenue from the stand allows us to purchase equipment and provide facility upgrades. Because the stand is successful, GILL does not conduct any other fundraisers (candy bar sales, fruit sales, raffles, etc.) while registration fees are kept to a minimum. Therefore, it is critical that every parent of every player gets involved and volunteers to work the stand. To be fair to everyone, a parent of every player must work at least one shift during the season. While in operation, persons under the age of 14 cannot be in the stand due to safety requirements. Coaches will notify team parents of their scheduled shifts. If you would like to be involved in the Snack Stand Committee, please mark the bottom of the registration form or contact Tracey Kozlowski at 773-2032 for more information.

GILL League Descriptions - 2008


Baseball (boys and girls)        League age as of April 30, 2008

Tee ball is for players league ages 5 & 6.
The emphasis is on having fun, introducing the players to baseball, and interesting them enough
in baseball to return next year for PeeWee.  The league is non-competitive and scores are not kept. 
Games are held on smaller diamonds.  One game during the week and one game on Saturday. 


PeeWee is for players league ages 6 & 7 who usually have played one year of Tee-Ball.
While PeeWee is still non-competitive and scores are not kept, more standard playing rules are
introduced. Pitching is done by the coaches. Games are held on smaller diamonds. One game during 
the week and one game on Saturday.


International is for players league age 8 and a select number of league age 7 players
based on enrollment and player skill.  Pitching is done by pitching machines. Games are held on 
standard 60 foot diamonds.  One game during the week and one game on Saturday.

  
Minors is for players league age 9 & 10.  Although standings are kept, the emphasis is still on 
training and instruction.  Pitching is by the players.  Games are held on standard 60 foot diamonds.
One game during the week and one game on Saturday.


Majors is for players league ages 11 & 12 with a similar structure as Minors.  
Two or three games per week played on Tuesday, Thursday and Saturday.


Juniors is for players league age 13 & 14. Games are played on full size 90 foot diamonds.
Playing rules are expanded to be similar to high school rules. The game season starts towards
the end of May to compensate for players participating in spring School baseball programs. 
GILL participates in a District-wide League. Two or three games per week.  Travel to other 
locations is necessary for Away games. Home games at Veterans Park.


Seniors is for players league age 15 & 16 with a similar structure as Juniors.

 
Big League is for players league age 16 -18 with a similar structure as Seniors and Juniors. 


Softball (girls only)      League age as of December 31, 2007 


International (league age 7 & 8) is designed to introduce girls to fastpitch softball.  
The emphasis is placed on learning the basic skills.  A pitching machine is used.  Won-loss records
are not kept.  One game during the week and one game on Saturday.


Minors (league age 9 & 10) emphasis is on learning to play both infield and outfield positions as well
as an introduction to pitching.  Won-loss records are kept.  One game during the week and one game on Saturday.


Majors (league age 11 & 12) emphasis is placed on the introduction to most softball rules 
including walks, stealing, and bunting as well as reinforcing the skills taught in the Minors division.  
One game during the week and one game on Saturday.


Junior (league age 13 &14) is regular highschool level fastpitch softball rules.  Involves inter-league
play with travel to other communities. Games are played during the week and on Saturdays. 


Senior (league age 15 &16) is regular high school level fastpitch softball rules.  Involves inter-league
play with travel to other communities. Games are played during the week and on Saturdays. 







It's Grand Island Little League Registration Time - 2008

The 2008 season will be here before you know it. You are able to register by mail using the insert form or in person at the G.I Memorial Library on Saturday, February 2nd & 9th from 10:30 a.m. to 12 noon.
In order to make adjustments and attempt to make sure everyone who wants to play has the opportunity, we are encouraging everyone to register early. If your registration is received by Feb 23rd an Early Registration Discount will be applicable (see fee schedule on registration form). Take advantage of this by putting your registration form in the mail today. For more information, contact Kevin Schoener at 773-6065. To ensure that all players who want to participate are guaranteed a roster spot we encourage you to register early and no later than March 7th. Those registrations received after March 7th will be subject to availability of teams and/or roster spots.

All requests to have your child play out of his/her league age bracket need to be made in writing to the GILL Board for approval.


To get a copy of the registration form from the Grand Island Little League, click Registration Form, then click "Registration". Registration deadline is March 7, 2008.


---
---
Other Grand Island Pages to Visit:
Churches | Email Directory | Government | Groups
GIHS Grad List | Guestbook | Please sign in! | Local Artists | Photo Album | Town History | Useful Links
| Website Design | Wildlife | Isledegrande's Home Page | GIECOM.NET'S Home Page
Please Email News Releases to Teddy Linenfelser, Thank You.
This website is sponsored by
GIECOM.NET
1869 Whitehaven Road, Grand Island, New York, 14072-1803 USA


Copyright © 1995-2008 All rights reserved.