Little League Baseball Webpage
2009
Previous Little League News Page

"Little League" Official Website

Official Grand Island Website

For forms and more information: www.grandislandll.com


---
Grand Island Little League Baseball Mission: to provide baseball and softball
to the youth of Grand Island, to build good citizens, sportsmanship, leadership and teamwork.

---
Little League Season: May through July.
The League had 63 teams with games for house teams and tournament teams (All-Stars).
There were over 800 girls and boys between the ages of 5 and 18 participating in 2006.


---



Little League GI 14U All-Stars' Season Ends - August 2009
August 6, 2009 . . .The summer of dreams for the Grand Island 14U All-Star baseball team has finally come to an end. This past weekend, our boys battled teams from Elmira, Long Island and Harrison, New York, not to mention Mother Nature, in the State Championship Tournament. In the end, the Harrison Little League Juniors proved to be just a tad better and beat GI in the semi-finals by a score of 9 – 5.
The weekend began on a positive note, with the All-Stars shutting out Elmira 10 – 0. AJ Jasek (4 innings), Jesse Ciffa (1 inning) and Drew Chorey (1 inning) shared the pitching duties and Kept Elmira off the scoreboard. Anthony Yarussi's long double to left field in the second inning plated the game's first run, which also proved to be the winning run.
A scheduled double-header was washed out by rain on Sunday and the games were pushed back to Monday. The first game of the day on Monday saw GI lose its first game of the summer to Long Island by a score of 15 – 3. The All-Stars had already secured a spot in the semi-finals by virtue of Saturday's victory, so the loss did not damage their chances of winning the championship. It may have, however, slowed the team's momentum going into the nightcap of the twin bill.
The semi-final game against Harrison started off as a great pitching duel. John McGinty struck out four of the first six batters he faced and Ryan Miller turned in a defensive gem by making a running catch in right field and then throwing out the Harrison base runner at first base for a huge double play. A couple of defensive errors by GI and some timely Harrison hits led to four Harrison runs in the third inning. It was an uphill battle from there. After six innings, GI trailed 9 – 2. In a testament to this team's character and attitude, they refused to go down quietly. McGinty led off the seventh with a home run over the left field fence. Chorey then laced a one-out single to right center and Alec Buffamonte hit a two out single to keep the inning alive. Walks to Ciffa, Yarussi and Jasek loaded the bases and cut the deficit to 9 – 5 with the tying run at the plate. A rare and unfortunate runner's interference call on a ground ball ended the game and the comeback fell just a bit short. The GI All-Stars left the field with their heads held high as the Harrison team breathed a collective sigh of relief.
It was indeed a magical summer of dreams come true for the boys. They had a tournament record of seven wins against two losses and outscored their opponents by a total of 82 to 44 runs.
Coaches Mike Chorey and Paul Jasek are to be congratulated and thanked for all of their efforts in preparing the team and for teaching them not only to be an excellent baseball team, but to be a close band of brothers in faith who will remember the summer of 2009 and the friendships they formed for the rest of their lives.




Little League 10U All Stars win Clarence Tournament - July 2009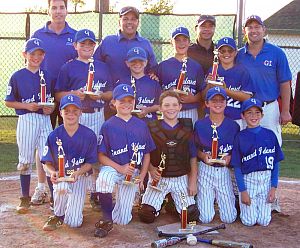 (Front left) Mike Englert, Adam Bevilacqua, Tyler Muggli, Garrett Robinson, Carson Suffoletta; (middle) Danny Dinsmore, William Frank, Drew Callen, Brendan Sheehan, Patrick Cramer; (back) Coaches Michael Frank, Todd Callen, Mark Suffoletta, Jeff Cramer. Missing from photo are Zach Valvo and Mason Akers.
Click photo for larger view
The Grand Island 10U All Star team continued their summer of sensational baseball by defeating the Niagara Falls Rebels 4-3 on Monday night, July 27th to claim the Championship of the 2009 Clarence Tournament.
Airtight defense, timely hitting, and unflappable pitching were the ingredients to another trip to the winner's circle for this group of teammates.
After going 2-1 in the three-game round robin portion of the tournament, the 10U team defeated Mathewson McCarthy in the semi finals by the score of 3-1. The semi final game opened with a titanic solo home run off the bat off William Frank. Frank's majestic blast well beyond the left field fence had players on adjoining diamonds ducking for cover.
After adding two more runs in the top of the 2nd; Grand Island's defense took over. Scintillating plays in the field were turned in by Drew Callen at short; Carson Suffoletta in centerfield, Brendan Sheehan at third, and Patrick Cramer at first. Each time it looked like Mathewson McCarthy would mount the decisive rally; Grand Island would dig a little deeper and flash a little more leather to snuff out the rally.
The Championship game was more of the same for Grand Island – an early lead, some timely hitting, and one final standout play before the Grand Island sidelines erupted in jubilation.
Clinging to a 2-1 lead in the top of the 4th inning, Tyler Muggli ripped a two out, bases empty single to left. The next swing of the bat sent Muggli racing around the bases as Drew Callen lined a laser over the head of the left fielder that went to the wall. Muggli was a blur as he raced around the bag at third and steamrolled towards the plate well ahead of the throw. Callen moved to third on the tardy throw home, and two pitches later he scored on a passed ball to pad the lead to 4-1 Grand Island. Those runs would prove to be critical.
GI's 4-1 lead was short lived as Cody Bielec belted a two run home run to left to draw the Rebels to within one at 4-3 after five.
GI did not score in the top of the 6th setting the stage for more dramatics. As they had done many times before, the GI Coaches turned to William Frank to secure the last three outs – their faith was rewarded as these kids came through yet again. A leadoff walk was sacrificed to second, and a ground out to short had the tying run on third with two outs, with the Rebels clean up hitter striding towards the plate.
Frank then induced a high………high………chopper in front of the mound. With the ball seemingly in the air for an eternity, the runner from third dashed home; but with the calmness of a grizzled veteran, Frank waited for the ball to descend from the heavens, and then threw a fastball to Patrick Cramer at first. Cramer's full stretch was critical as the ball nestled into his glove one half step before that Rebel reached the bag – the ump screamed "OUT," and the party was ON !!!
GI's success this tournament season continues to be founded in the team concept. Adam Bevilacqua teamed with William Frank to lead the team in on base percentage. Danny Dinsmore was very solid on the mound as he, too, shared the pitching burden throughout the round robin portion of the tournament. Garrett Robinson and Mike Englert were also main contributors from both an offensive and defensive standpoint. Not to be overlooked was the play of Zach Valvo who was pressed into duty on short notice – and he delivered one of the biggest hits of the opening round win over Lewiston.
"Congrats to the Grand Island 10U All Stars !!!"

Little League All-Stars Send-Off Party - 2009
Wednesday, July 29, 2009 . . . Erie County Legislator Michele M. Iannello (D-Kenmore) is sponsoring a send off party and celebration for the Grand Island Little League Baseball All Stars before they embark for Brewster, NY in Putnam County to participate in State competition. The Grand Island Vikings won the State Sectionals this past weekend. Some have termed this the World Series of Little League. If they win this weekend, they go to the National competition in Rhode Island on August 8th. The age of the players is 13 and 14. The event will take place at the Island Dugout, 2409 Whitehaven Road, at 7 p.m. July 30th. The team will leave for Brewster on Friday morning, July 31st.




Little League GI 14U All-Stars Advance to States - July 2009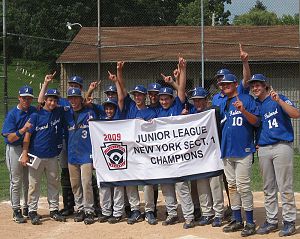 (front left) Coach Mike Chorey, Jesse Ciffa, Connor Frascatore, Peter Chopra, Ryan Miller, John McGinty, Nick Soos, AJ Jasek, Donny Killian; (Back) Alex Kovacs, Anthony Yarussi, Drew Chorey, Alec Buffamonte, Paul Jasek
Click photo for larger view
The Grand Island 14U Baseball All-Stars have advanced to the New York State Little League Junior Division Championship Tournament in Brewster, New York beginning August 1st. They are now one of only six teams remaining in NYS competing for the right to be called State Champs and to move on to the Eastern Region Little League Tournament.
It was a wild weekend in Penn Yan, New York as the boys defeated teams from Batavia and Cuba, New York to win the state Section 1 championship.
Saturday's game saw GI jump out to an early 7 – 0 lead against Batavia and then hang on at the end for a 9 – 6 victory to advance to Sunday's title game against a Cuba team that had won its first two games by a combined score of 24 – 3 to reach the finals.
The championship game, while not the prettiest game by baseball standards, was certainly the most exciting game of the season. GI committed nine errors during the game, but still came away victorious with an improbable 10 – 8 win. The lead changed hands five times during the game. GI scored a run in the first, but fell behind 4 – 1 in the third. A three-run All-Star rally in the fourth, triggered by Jesse Ciffa's first of two hits, tied the game at four. Alec Buffamonte scored a run in the top of the 5th to give GI a 5 – 4 lead.
Cuba scored two runs of its own in the bottom of the sixth to grab a 6 – 5 lead heading into the last inning. Winning pitcher Connor Frascatore led off the seventh with a single, stole second and advanced to third base with two outs. GI was down to its final strike when Alex Kovacs legged out an infield single, driving in Frascatore to tie the game. After a walk to Nick Soos and another single by Ciffa, Anthony Yarussi drove in the go ahead run with a single to right field. The All-Stars went on to score three more runs to head into the bottom of the seventh with a 10 – 6 lead. Cuba did not go down without a fight, however, scoring two runs to cut the margin to 10 – 8. The tying run was on second base with two outs when AJ Jasek fielded a ground ball at third base and threw to Donny Kilian at first for the final out to seal the win.
The sunny Penn Yan sky filled with baseball gloves and the dugout emptied as the boys piled on top of one another behind the pitcher's mound in celebration. It was a magical scene and a memorable moment for twelve boys whose dreams of becoming State Champions became one step closer to reality.




Little League Girls 12U All Star Team Wins District Championship - July 2009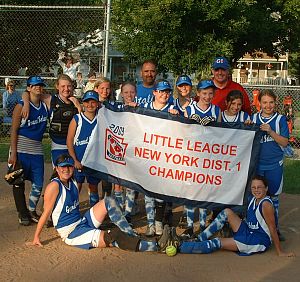 Click photo for larger view
The Grand Island Little League 12U All Star Team won the District Championship. From left to right are Shelby Ishmael, Jenna Neff, Sabrina Giordano, Leah Geis, Sidney Myers, Assistant Coach Tom Giordano, Lauren Rogoza, Ashley Gugino. Emilie Phinnee, Coach Jerry Augugliaro, Grace Giambra, Alyse Borelli, and seated at bottom of photo are Annie Niland and Karli Deuser. Missing from the picture is Marielle Buffamonte.


Inaugural Summerball Season On GI - July 2009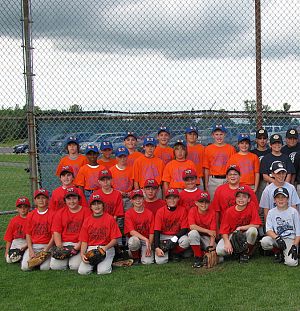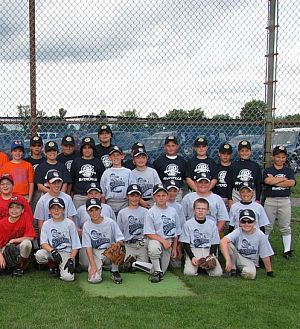 Click photos for larger view
The Inaugural Summerball season, an extension of Grand Island Little League, began on Tuesday, July 7 and runs through August 13. The League consists of four teams with 60+ players ranging in age from age 10 through 12 years. The intent is to give players an additional 12 games of baseball after regular house baseball ends.
John Cacciatore and Jim Niland Jr. are co-commissioners of this summer league. Applications have been closed for this season. Contact Jim Niland at jim@jmniland.com - 716-818-4361 Cell or John Cacciatore at john.cacciatore@edwardsvacuum.com - 716-773-4056.




Red Sox Win Little League Majors Division Championship - June 2009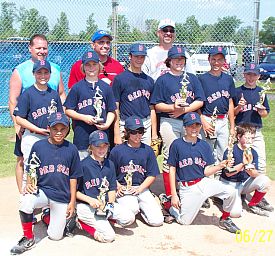 (front left) Corbin Branch, Tanner Morrow, Vinny Chiarenza, Danny Otto, Luke Saraceno; (2nd Row) Tommy Major, Blake Schaab, Giuseppe "Joe" Campanella, Quinn Corrao, Brandon Costolnick, Joe Saraceno, Back Row: Coaches Scott Morrow, John Chiarenza and Jamie Corrao
Click photo for larger view
The Majors Division Red Sox, the #1 seed heading into the playoffs, won the 2009 Majors Division Championship with an impressive run through the playoffs. The Red Sox started with a 13-4 win over the Yankees. Quinn Corrao, Brandon Costolnick and Tanner Morrow all had multiple RBI's in this team victory. Tommy Major went 2 for 2 at the plate to add to the teams 16 hits. Pitching duties in this team victory were shared by Corrao, Joe Saraceno, Vinny Chiarenza and Corbin Branch. In the semifinal game the Red Sox defeated the Blue Jays 14-1. Branch had his 2nd consecutive 3-hit game, while Joe Campanella, Morrow and Blake Schaab all contributed with multiple RBI's. Luke Saraceno and Danny Otto crossed home plate along with 8 of their teammates in a truly balanced scoring attack. The championship game was a hard fought battle between the Red Sox and the #2 seeded Cardinals. With the score knotted at 2-2 heading into the bottom of the 5th, the Red Sox bats that were so loud in their 1st two victories awoke once again. Saraceno, Chiarenza, Corrao and Campanella alternated doubles and singles to get the rally started. The team erupted for 6 runs to make the final score 8-2. The Corrao/Campanella pitching combo allowed just 3 hits in the Championship Game to seal the victory.




Little League Season Going Strong - June 2009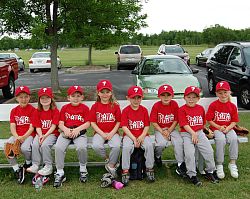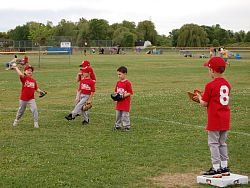 The Phillies T-Ball Team posed for a picture after their game on Saturday, June 13 at Vets Park.
Mary Stewart Photos - click for larger view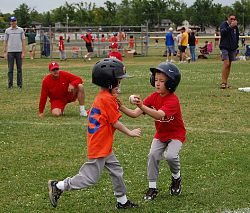 Evan Linenfelser, named Player of the Game, is shown tagging a player.
Mary Sewart Photos - click for larger view

Grand Island Little League is alive and well. Saturday's games being played all over Vets Park proved just that. Young players on the Phillies T-Ball team shown above were evenly matched against the Mets team. The icing on the cake for the team was the birthday celebration of their coach, Jeff Shearer, complete with ice cream and cupcakes.

Little League Equipment Swap/Sale
Little League Food Drive For Neighbors Foundation - 2009
Grand Island Little League will be conducting an equipment swap/sale on Saturday, June 6th. Sell your used equipment or purchase equipment at a reasonable cost.
Grand Island Little League will hold a food drive for the G. I. Neighbors Foundation on Saturday, June 13th from 10 a.m. to 5 p.m. Little League players and staff will be collecting non-perishable food items throughout the day. Donations may be dropped off at any diamond or at the snack stand.




Little League Season Opening Day - May 2009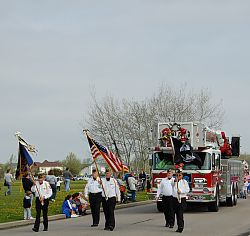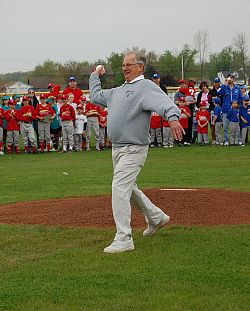 (left photo) VFW Color Guard leads the Saturday morning parade - (right) Paul Klocke throws the first ball.
Mary Stewart Photos - click for larger view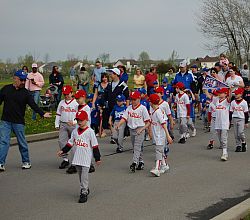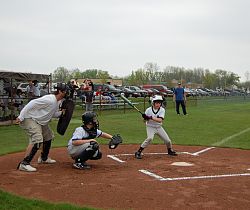 Little Leaguers enjoyed their parade - Up to bat!
Mary Sewart Photos - click for larger view

Grand Island Little League's annual opening day was held Saturday, May 9, 2009 starting off with the parade led by VFW members and followed by a large number ball players and many coaches, parents and friends in attendance for the overcast day. Awards for past performance and ball games also took place on Saturday at Veterans Park. Paul Klock, very involved in GI Little League over the years, threw the first ball.
Little League Award Recipients for 2009




Little League Registration - 2009
Grand Island Little League registration will be held from 10:30 a.m. to 1:30 p.m. Saturday, February 7th at the Grand Island Memorial Library.


















---
---
Other Grand Island Pages to Visit:
Churches | Email Directory | Government | Groups
GIHS Grad List | Guestbook | Please sign in! | Local Artists | Photo Album | Town History | Useful Links
| Website Design | Wildlife | Isledegrande's Home Page | GIECOM.NET'S Home Page
Please Email News Releases to Teddy Linenfelser, Thank You.
GIECOM.NET
1869 Whitehaven Road, Grand Island, New York, 14072-1803 USA


Copyright © 1995-2008 All rights reserved.