Little League Baseball Webpage 2005
Previous Little League News Page
Little League News Page 2006
Little League News Page 2007

"Little League" Official Website

Official Grand Island Website

For forms and more information: www.grandislandll.com


---
Grand Island Little League Baseball Mission: to provide baseball and softball
to the youth of Grand Island, to build good citizens, sportsmanship, leadership and teamwork.

---
Little League Season: May through July.

The League has 55 teams with games for house teams and tournament teams (All-Stars). There are 700 girls and boys
between the ages of 5 and 18 and 700 families involved in promoting youth activities.

---
Project ideas: batting cage at Veterans Park, working with Garden Clubs to beautify Veterans Park.

---



Little League 10U All Stars 2nd In Tournament - 2006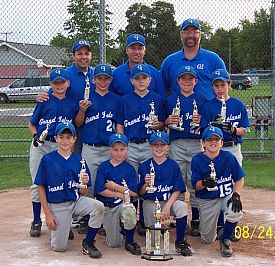 Click photo for larger view
Pictured (front to back) are Mark McKenna, Jacob Sweeney, Bryce Callen, Tommy Corrao, Mark Hughes, Collin McMahon, Chris Foote, Quinn Corrao, Jacob Burford, Coaches Todd Callen, Tom McMahon and Jamie Corrao. Missing from the photo are Nick McKenna, Josh Ungaro and Peter Chopra.
The Grand Island Little League 10U All Stars recently completed their All Star season with a 2nd place finish in the North Tonawanda Little League Tournament. GI posted a 6-2 tournament record, needing to beat Lewiston-Porter in back-to-back games to defend their 2005 title. After an impressive 12-0 victory where every GI player scored at least one run, GI was on the wrong end of a 9-1 defeat in the Championship game. The team was led by Team MVP Quinn Corrao who allowed only 3 runs in five outings on the mound, posting a 4-1 record while hitting .529 at the plate. Nick McKenna led the team in post-season hitting with a .532 batting average, highlighted by a Grand Slam HR in the 5th game of the tournament. Collin McMahon pitched well all post-season while recording 3 out of the park Home Runs. Jacob Burford was exceptional at catcher, utility player Bryce Callen played 6 different positions throughout the NT tournament, and Peter Chopra was stellar at third base. Tommy Corrao, Mark Hughes, and Josh Ungaro tracked down every fly ball hit their way and Jacob Sweeney rounded out the defense with solid play at second base. The team would like to thank Chris Foote, Mark McKenna and Ben Goc for filling in when injuries, vacations or other conflicts arose. Overall the 10U All Stars were 13-7 in tournament play, making the semi-finals in 3 out of the 4 tournaments that they entered.




Grand Island Bantams Finish Season as
Champions of North Tonawanda Tournament - 2006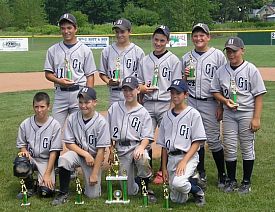 Shown front left are Eddie Shantler, John McGinty, Jon Voyzey and Alex DeRosa; (back) Ryan Hughes, Ben Tomkins, Nick Antonelli, A.J. Jasek and Nick Soos. Missing from photo is Dylan Kelly.
Click photo for larger view
In their final tournament as Little Leaguers, the Grand Island Bantams 12 and under boys baseball team repeated a feat that they accomplished some four years earlier as eight year olds; they won the North Tonawanda American Babe Ruth Jonathan Hales Memorial Baseball Tournament.
On Sunday, August 6th, the Bantams avenged an earlier loss in the pool-play portion of the tournament to Mathewson-McCarthy by beating that same team in the tournament championship game by a score of 12 – 6. Timely hitting, excellent pitching and solid defense were the keys to the victory as the Bantams jumped out to an early lead and never looked back.
Grand Island finished the tournament winning four out of five games, with victories over Lancaster-Depew and Tonawanda in pool play, and a thrilling 3 – 0 win over tournament host North Tonawanda in a semi-final match up.
The championship victory on Sunday was the finishing touch to an outstanding season that included a Bantam championship in the Lake Shore Little League Tournament and an impressive third place finish in a very difficult, twenty-team Lew-Port tournament.
Next season, the Bantam boys will move up to bigger fields of dreams, playing on major league size diamonds with 90-foot bases and pitching from 60 feet, 6 inches. Until then, however, they will be able to bask in the glory of having been victorious in their final little league tournament.




Grand Island Softball 2006 Minor Division Playoff Champs - 2006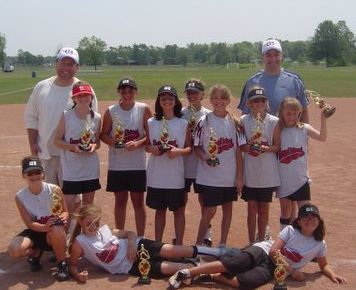 Shown front left are Liana Buscaglia, Alexa Kalinowski and Alexia Malpica; (back) Coach Mike Chauby, Coach John Ruffolo; (standing) Annie Niland, Marissa Ruffolo, Magdalyn Chauby, Alexis Cino, Alyssa Cino, Mary Ormsby and Allison Stanko. Missing from the photo is Jillian Sheehan
Click photo for larger view
The Grand Island Racers won the 2006 Minor Division Playoff Championship upsetting the G.I. Lightning 8-3, The G.I. Ice 3-1, and the G.I. Sunbirds 9-6 in the championship game. Alyssa Cino, Marissa Ruffolo and Liana Buscaglia lead the offense hitting over .500 in the three-game playoff series. Mary Ormsby, Marissa Ruffolo and Jillian Sheehan combined for 30 strikeouts throughout the series. Alexa Kalinowski, Magdalyn Chauby and Annie Niland added key hits in each game and Alexia Malpica, Alexis Cino and Allison Stanko played outstanding defense.




9-10 Girls Softball Win District Tournament - 2006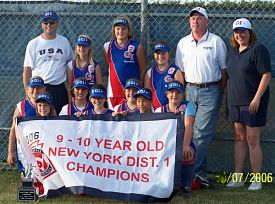 (Front left) holding banner are Carlee Conway, Jessica Amsdill, Annie Corrao; (middle) Courtney Collignon, Julia Kelly, Melissa Gibson, Rosie Russell; (back) Coach Joe Amsdill, Ivy Dawson, Cassie Oursler, Ashley Colan, Coach Brendan Conway, and Coach Cindy Gibson. Missing from the photo are Ciera Alcorn and Lexi Kalinowski.
Click photo for larger view
The Grand Island U9- 10 Girls Softball team won the district tournament Monday night, July 10, 2906 against Lockport 14-4. The team will play in the sectional tournament on July 29-31, 2006 in Pittsford, NY.




NY Yankees 9-10 Minors Win Season Title - 2006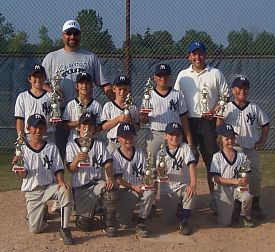 Click photo for larger view
The NY Yankees from the 9-10 year old Minors Baseball division won the regular season title this year. The team, playing as a collective group improved as the season went on, allowing only 13 runs in their last 6 games, while hitting an outstanding .405 at the plate. Pictured are (front)) Elijah Fields, Tommy Corrao, Logan Ellsworth, Bryce Callen, Kai Ellsworth; (back) Quinn Corrao, Joey Chiaravalle, Tyler Ludwig, David Cich, Michael Podlucky, and coaches Jamie Corrao and Todd Callen. Missing from the photo are Nick Young and Anthony Grana.




Little League 2006 Opening Day - 2006 Grand Island Little League opening day ceremonies at Vets Park, Bedell Road, will take place on Saturday, May 6, 2006. Information will be posted as it is made available.




It's Grand Island Little League Registration Time - Register On Line - 2006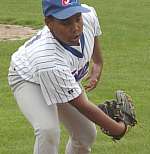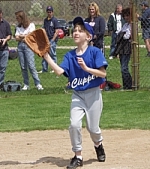 Grand Island Little League photos from the past.
To register on line for the Grand Island Little League click Registration Form, then click "Registration" and then scroll down to register early. Registration deadline is March 19, 2006.




Little League 2006 Registration Grand Island Little League has provided a 2006 mail in registration form on their website. Go to Form, click Registration, then scroll down to register early. Registration deadline is March 19, 2006.




U9 Little League All Stars Win Tournament - 2005


Click photo for larger view
From front left are Nick McKenna, Jacob Sweeney, Tommy Corrao, Bryce Callen, Matt Kelly;
(2nd row) Collin McMahon, Quinn Corrao, Jacob Burford, Kevin Borowicz, Mark Hughes;
(back) Assistant Coaches Tony Borowicz, Tom McMahon, Todd Callen and Head Coach Jamie Corrao
The 9 and Under Grand Island Little League All Stars recently won the 9U Little League District Tournament held this year in North Tonawanda. Grand Island was undefeated in this double elimination tournament using explosive hitting, rock-solid defense and top notch pitching to overwhelm their opponents by a combined score of 51-8. The team exemplified their coach's philosophy that every player had a key role, and when each player focused on their role, the total contribution would lead to team success. Collin McMahon was named Tournament MVP based on the strength of his .615 batting average. Quinn Corrao and McMahon combined to pitch GI to the championship by allowing only 7 hits while striking out 29 batters and posting a combined tournament best ERA of 1.13. Solid defensive contributions were made Bryce Callen, Tommy Corrao, Matt Kelly, Mark Hughes, Jacob Sweeney and Jacob Burford. Leading the team in Runs Scored and RBI's was Nick McKenna and Tony Borowicz led the team with an On Base Percentage of 71%.




9 & 10-Year Old Cardinals Win Minor Division Championship - 2005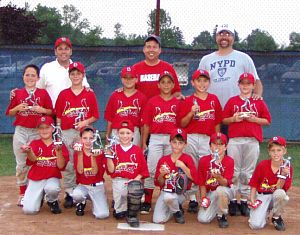 Click photo for larger view
From front left are David Holler, Lucas Siebert, Bryce Callen, Peyton Fadel, Tommy Corrao, Tyler Ludwig; (middle) Quinn Corrao, Corey Ludwig, Michael Paternostro, Peter Schuerholz, Kevin Borowicz, Michael Kleinschmidt; (top) Assistant Coach Todd Callen, Assistant Coach Tony Borowicz, Coach Jamie Corrao
After completing an 11-4 regular season, the 9- & 10-year-old Cardinals from the Minor Division of Grand Island Little League won the division championship by beating the undefeated Yankees by a score of 5-1. The Cardinals defeated the Mets in their first round playoff game by rallying from a 6-1 deficit and scoring 6 runs in the bottom of the 6th to win 7-6. The Cardinals defeated their semifinal opponent, the Royals, by a score of 8-2 to reach the championship game. In the championship game, an entire team effort proved to be the key. The combination of a 'never say die' attitude and giving their best effort at all times proved to be the winning ingredients for the 2005 Minor Division Playoff Champions.




Indians Win Major Division Title and Playoffs - 2005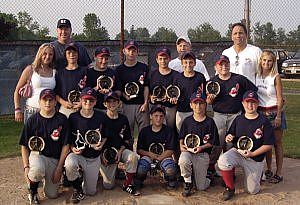 Pictured from left kneeling: Greg ??, Karly Albrecht, Tyler Gallagher, Glenn Skelly and David Conboy; (standing) Max Hyland, Alex Fry, Patrick Gallagher, Ben Tomkins, Zach Schaab, and Scott Bennett. Also standing from left are assistant coaches Molly Hyland and John Gallagher, Head Coach JT Tomkins and assistant coaches Dave Kelly and Kathy Hyland.
Click Photo For Larger View
Grand Island Little League's 12 and Under major division season and playoff champs, the Indians, are shown above. In the final game the Indians defeated the Cardinals. The pitchers for the Indians included Ben Tomkins, Dylan Kelly and Max Hyland.




Little League Opening Ceremonies - 2005 Grand Island Little League will hold opening day ceremonies beginning at 11:30 a.m. on Saturday, May 21, 2005. Awards for the previous season will be presented.




Play Ball!! - 2005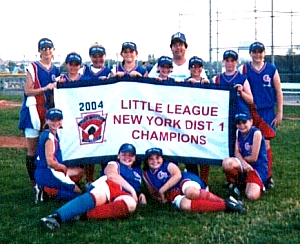 With Little League registration now in full swing, the thoughts of playing Baseball/Softball are on the minds of every young boy and girl who love to play the game. Pictured are the 2004 Girls U12 District 1 Champions: (front) Kelly Stark, Kasey Sumner, Kate Boutet, Victoria Cacciatore; (2nd row) Jill Greinert, Abby Englert, Maria Guidotti, Nicole Brady, Emma Henderson, Jamie Sobieski, Shannon Moody and Mary Beth Scherrer




Little League 2005 Registration Grand Island Little League registration is being held from 10:30 a.m. to 2 p.m. on Saturday, February 5 and February 12, 2005 at the Grand Island Memorial Library. For more information call President Peter Pitts at 909-1592.



If you are a member of this organization we need your help. GIECOM.Net has partnered with the Connections program to help Grand Island as a community "Get it Together". Please visit our website G-I-Together.ORG and fill out our SURVEY. Every group on Grand Island will have its own FREE webpage, listing: meeting times location, contact persons, your Mission Statement and a listing of events. We will also be linking your news events that appear in the local media and on IsledeGrande.Com Grand Island's E-News Source, to your page, maintaining an archived journal of pictures and news. This is the perfect opportunity for your group to connect with potential new members and the community.
---
---
Other Grand Island Pages to Visit:
Churches | Email Directory | Government | Groups
GIHS Grad List | Guestbook | Please sign in! | Local Artists | Photo Album | Town History | Useful Links
| Website Design | Wildlife | Isledegrande's Home Page | GIECOM.NET'S Home Page
Please Email News Releases to Teddy Linenfelser, Thank You.
This website is sponsored by
GIECOM.NET
1869 Whitehaven Road, Grand Island, New York, 14072-1803 USA


Copyright © 1995-2005 All rights reserved.