Niagara Sailing Club
News Page
Niagara Sailing Club Webpage
3619 East River Road, Grand Island, NY 14072
773-2305

---
Offices 2007
Commodore - Raymond Dan-Jumbo
Vice Commodore - Robert Krieter
Rear Commodore - John Cownie
Fleet Captain - John Dickinson
Treasurer - PC Tony Albano
Secretary - Ross Kaiser


---



Niagara Sailing Club Officers - 2006
Niagara Sailing Club officers for 2006 are:
• Commodore - Tony Albano
• Vice Commodore - Raymond Dan-Jumbo
• Rear Commodore - Greg Chamberlain
• Fleet Captain - John Ziey Cownie
• Treasurer - James Tomkins
• Secretary - Ross Kaiser
Serving on the Board of Directors for 2006 are Ross Kaiser, Tony Albano, Judy Tucker, PC Bruce Kaiser, PC Jeff Cooke, Robert Krieter, Chuck Ackerman, Kevin Slachciak, Ray Dan-Jumbo, PC Greg Chamberlain, James Tompkins and John Ziey Cownie


---



Annual Flag Raising Highlighted By Tree Planting At Niagara Sailing Club - May 2007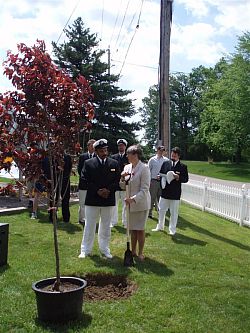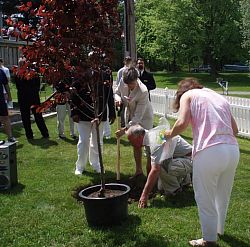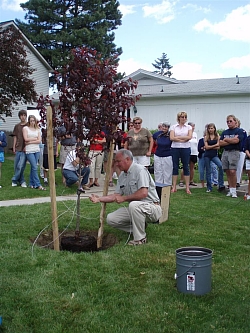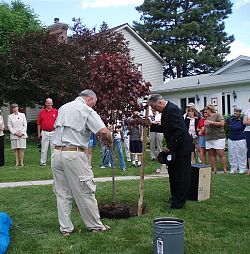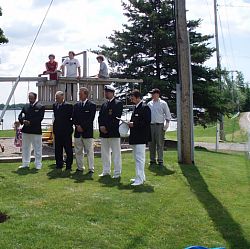 (left to right photos) NSC Commodore Ray Dan-Jumbo, Mary Cooke - Ray Dan-Jumbo, Mary Cooke, Tom Maloney - Tom Maloney - NSC Officers left to right: Commodore Ray Dan-Jumbo, Vice Commodore Bob Kreiter, Fleet Captain John Dickinson, Rear Commodore Ziey Cownie, Past Commodore Tony Albano - PC Tom Maloney (IHYC) and NSC Vice Commodore Bob Kreiter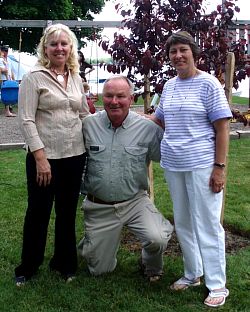 From left are Cheryl Maloney, Tom Maloney (2004 Past Commodore of the Inner Harbor Yacht Club, close friend of Bruce Kaiser's and owner of Lincoln Park Nursery who donated the tribute tree) and Bruce's widow, Katharina Kaiser
Christine Stange Photos

The annual flag raising was held at the Niagara Sailing Club on Monday, May 27, 2007 and highlighted by the planting of a tree in memory of Past Commodore Bruce Kaiser who recently passed away.
Officers of the Niagara Sailing Club are:
Ray Dan-Jumbo, Commodore
Bob Krieter, Vice Commodore
Ziey Cownie, Rear Commodore
John Dickinson, Fleet Captain


---



SBYC Haul Out Regatta - NSC Jr. Sailors - Sept. 2006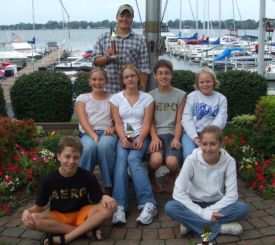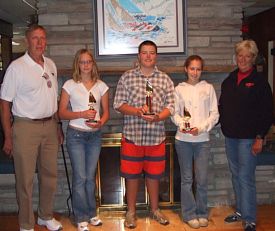 (left photo) Junior Sailors taking part in the Junior Sailing Race are: (front) Kyle Meyer and Amanda Meyer; (middle) Jane Cooke, Brooke Chamberlain and Sarah Chamberlain; (top) James Cooke. (right photo) Sandy Beach Yacht Club Commodore David Fleishman, Brooke Chamberlain, James Cooke, Amanda Meyer and Sue Robinson Race Director.
Cheryl Chamberlain Photos - Click photo for a larger view.
Members of the Sandy Beach Yacht Club hosted their annual Haul Out Regatta over the weekend of September 23-24, 2006. While many big boats sailed, the Niagara Sailing Club ran a Junior Sailing Race for NSC Sunfish Fleet. "The crew at Sandy Beach made sure we had a great time . . . and even saved some of our sailors on Sunday in heavy winds!" a Sailing Club member said this week. The following Junior Sailors participated in the event: Brooke and Sarah Chamberlain, James and Jane Cooke, and Amanda, Christopher and Kyle Meyer. Awards went to Amanda Meyer for 3rd place; Brooke Chamberlain, second place; and James Cooke, who won first place. Many thanks to Greg Chamberlain, Chuck Meyer, Jr. and Chuck Meyer III for running a spectacular race course! Special Thank you to Sue Robinson at Sandy Beach for coordinating a great Regatta, Bob Zielenski award presenter, and David Fleischman Commodore.


---



Niagara Sailing Club Honors Commodore Jeff Cooke- 2003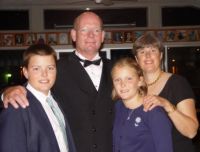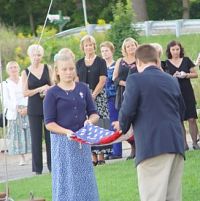 (left) Commodore and Mrs. Cooke with children James and Jane; Jane and James Cooke fold the flags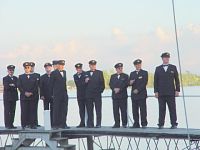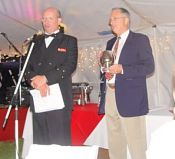 Club flag ceremony - Jeff Cooke (left) just after presenting the 2005 NSC Service Award to Robert Kreiter (right).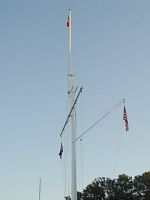 NSC's refurbished flagpole
Click photos for a larger view.
Niagara Sailing Club's Commodore's Banquet was held September 17, 2005 at the Clubhouse on East River Road in honor of Commodore Jeff Cooke. The guest Commodores and Vice Commodores from the six members of the Interclub, as well as NSC past Commodores and current officers, gathered on the dock for the flag ceremony. NSC's flagpole, a replica of a ship's mast, was refurbished this year and finished just in time for the September 17th festivities. James "Cap" and Jane Cooke, children of Jeff and Mary Cooke, lowered and folded the NSC burgee, Commodore's flag and the American Flag. The 2005 Service Award, with the recipient chosen by the Commodore, was presented to Robert Kreiter.


---



Niagara Sailing Club Hosts Commodore's Banquet - 2005
Niagara Sailing Club members will host their annual Commodore's Banquet, at which time Commodore Jeff Cooke and his wife, Mary will be honored. Twelve past Niagara Sailing Club commodores are expected to attend and will be recognized, as well as the commodores and vice commodores and their wives of the "Interclub," which includes the Buffalo Canoe Club, Buffalo Launch Club, Buffalo Yacht Club, Inner Harbor Yacht Club, LaSalle Yacht Club and Sandy Beach Yacht Club. The banquet will be held Saturday, September 17, 2005 under a tent at the Niagara Sailing Club, 3619 East River Road. Chairmen are Raymond and Laure Dan-Jumbo, Anthony and Lori Albano and Greg and Cheryl Chamberlain.


---



Niagara Sailing Club To Hold Mighty Niagara Yard Sale - 2005
Niagara Sailing Club members will hold a Mighty Niagara Yard Sale at the Club grounds, 3619 East River Road from 9 a.m. to 3 pm. Saturday, June 25, 2005. According to event chairman, Cheryl Chamberlain, all proceeds will benefit new kitchen equipment for the Clubhouse. No one will be admitted before 9 a.m.


---



Niagara Sailing Club Elects - 2004
Niagara Sailing Club members have elected the following to serve the Club in 2004:
• Commodore - Bruce Kaiser
• Vice Commodore - Jeff Cooke
• Rear Commodore - Tony Albano
• Fleet Captain - Ray Dan-Jumbo
• Treasurer - J.T. Tompkins
• Secretary - Ross Kaiser


---



Frostbite Series At Niagara Sailing Club - 2003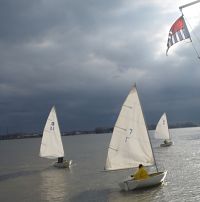 Jeff Cooke Photo - Click photo for a larger view.
Niagara Sailing Club member Jeff Cooke took this photo on November 30, 2003 during a Frostbite Series of races off the Club. The event, co-sponsored by Obersheimer Sailor Supply, takes place on Saturdays and Sundays until the weekend before Christmas. 2003 was the third year of racing and cut short early in December because of mechanical problems with the Club's safety boat.


---

Niagara Sailing Club Elects
September 2002. . .Niagara Sailing Club members recently re-elected Amherst resident Tom Owen commodore of the East River Road Club. Also re-elected were Vice Comodore Paul Donahue, Rear Commodore Bruce Kaiser, Fleet Captain Jeff Cooke, and Treasurer John Dickinson. The newly elected secretary is Ross Kaiser. Cooke, Owen, Bruce Kaiser and Ross Kaiser also were re-elected to three-year terms on the club's board of directors.


---
Niagara Sailing Club Installs - January 2002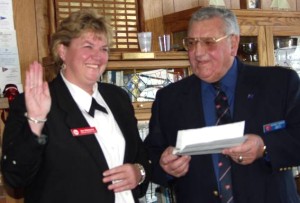 Barbi Lare photo
The Niagara Sailing Club inaugurated new officers, January 1, 2002 at the Club on East River Road. A good representation of the membership was on hand for the festivities as was Richard Dobmeier, member and Past Commodore of the Buffalo Launch Club. Sue Dobmeier is the outgoing Commodore of the Niagara Sailing Club, and thus was eligible to be inducted into the Order of The Blue Gavel. He father did the honors for her. Officers of the Club in 2002 are Commodore Tom Owen, Vice Commodore Paul Donahue, Rear Commodore Bruce Kaiser and Fleet Captain Jeff Cooke. Refreshments and an afternoon of socializing followed.


---
If you are a member of this organization, we need your help. GIECOM.Net has partnered with the Connections program to help Grand Island as a community "Get it Together." Please visit our website G-I-Together.ORG and fill out our SURVEY. Every group on Grand Island will have its own FREE web page showing: meeting times and location, contact persons, your Mission Statement and a listing of events. We will also be linking your news events that appear in the local media and on IsledeGrande.Com, Grand Island's E-News Source, to your page, maintaining an archived journal of pictures and news. This is the perfect opportunity for your group to connect with potential new members and the community.
---
---
Other Grand Island Pages to Visit:
Churches | Email Directory | Government | Groups
GIHS Grad List | Guestbook | Please sign in! | Local Artists | Photo Album | Town History | Useful Links
| Website Design | Wildlife | Isledegrande's Home Page | GIECOM.NET'S Home Page
Please Email News Releases to Teddy Linenfelser, Thank You.

This website is sponsored by

GIECOM.NET

1869 Whitehaven Road, Grand Island, New York, 14072-1803 USA


Copyright © 1995-2005 All rights reserved.


GIECOM.Net Inc. is owned by deSignet International
a "World Class Jewelry Manufacturer and Retailer"
Store Hours: Noon-5PM Tues-Friday and Saturdays 10AM-3PM, and by Appointment
1869 Whitehaven Road, Grand Island, New York, 14072-1803 USA, 1-888-RARU.COM
Copyright © 1995-2002 All rights reserved.



<! ~~~~~~~~~~~~~~ New Tracker Code Below -- -- -- Old Tracker Code Above ~~~~~~~~~~~~~~~ >