Red Hat Society News Page




Grande Dames Chapter
Contact: Eileen Minton - 773-7435 - geominton@aol.com



Grande Dames Tour Riviera Theatre, Lunch At Village Hot Dog Stand - 2005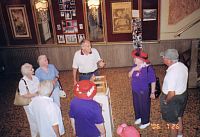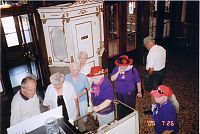 Riviera Theater Tour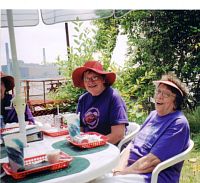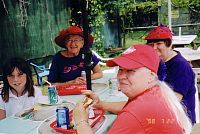 Red Hats visit the Village Hot Dog Stand in Ferry Village

Lyn Laman Photo - Click photo for larger view
Grand Island's Grande Dames Chapter of the Red Hat Society toured the Riviera Theatre in North Tonawanda on Wednesday, July 26, 2006. Following the tour the group of about 18 members had lunch at a nearby restaurant.
The Grande Dames also enjoyed hot dogs and hamburgers at the Village Hot Dog Stand on Saturday, July 22, 2006 when about a dozen "girls" showed up for fun and food.




Grande Dames Dine At Village Hot Dog Stand - 2005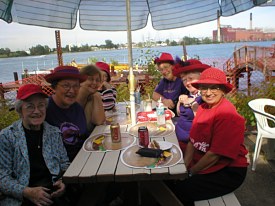 Teddy Linenfelser Photo - Click photo for larger view
Grand Island's Grande Dames Chapter of the Red Hat Society met for dinner at the Village Hot Dog Stand on its opening day - Thursday, June 23. Shown (lower left clockwise) are Barbi Lare, Jean Anstett, Liz Wakefield, Shirley Gerspach, Bev Mikulsky, Eileen Minton and Lyn Laman. (Please email to teddy@giecom.net with the missing name)




Grande Dames Visit Gordon Harper's Bazaar - 2003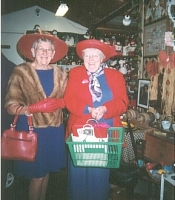 Click photo for larger view
Grand Island's Grande Dames Chapter of the Red Hat Society recently visited Gordon Harper's Bazaar near Newfane. Shown shopping in the many little rooms full of antiques, handmades, books and lots more are members Ruth Englert and Eileen Minton. The Grande Dames followed up the Bazaar trip with a tour of Our Lady of Victory Basillica and then lunched at Curry's on Ridge Road.




Grande Dames Red Hat Society Lunch At Adrian's - 2003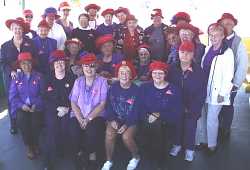 Click photo for larger view
The Grande Dames Chapter of the Red Hat Society, formed on Grand Island in August 2003 held its first meeting Wednesday, September 24, 2003 with a luncheon at Adrian's. Society guidelines call for groups of 20, however the Grande Dames are accepting as many as want to join them. A $2 fee is all it takes. For information about the over 50 women's group, call Coordinator and "Grand Mom" Eileen Minton at 773-7425 or scroll down, or click "Red Hat Society Web Site."
Among those pictured are Lyn Laman, Donna Walker, Aggie Denler, Christine Ryshkus, Joan Raab, Eleanor Swain, Dorothy Rowswell, Leah Gollwitzer, Jean Anstett, Anne Fries, Bev Mikulski, Rita DeGlopper, Nancy Littler, Imogene Zavodney, June Wakely, Hazel Rowe, Ruth Englert, Rene Wilting, Shirley Gersbach, Sharon Nichols, Joyce Burke and Eileen Minton. (If your name has been left out, Email by clicking teddy@giecom.net!)




Island Women Form Grande Dames - New Red Hat Society Chapter - 2003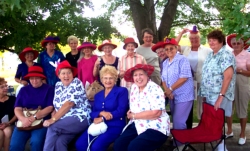 Click photo for larger view
Grand Island's Grande Dames are from left: Diane Dinsmore, Sharon Zimmerman, Bev Mikulski, Eleanor Swain, Donna Walker; (back) Lyn Laman, Sharon Nichols, Jean Bartholomew, Helen Koester, Dorothy Rowswell, Joan Raab, Jean Anstett, Eileen Minton, Rita DeGlopper, Fay Rech, Hazel Rowe and Leah Gollwitzer.
A new chapter of the Red Hat Society was formed August 27, 2003 on Grand Island when seventeen Island women met at the home of Dorothy Rowswell. The group will be known as the Grand Dames, and, according to Mrs. Rowswell, "wearing a Red hat and a Purple outfit is the only criteria to join the group and have fun." Those interested in joining are asked to call Eileen Minton at 773-7425.
The Grande Dames will meet for lunch at noon, Wednesday, September 24 2003 at Adrian's. For more information, scroll down, and for more information on the national organization that surpassed 10,000 chapters on June 24, 2003, click "Red Hat Society Web Site."



Attention Grand Island Ladies
A group of Grand Island "Grande Dames" are forming a chapter of the Red Hat Society. Ladies who are 50 years and over and would like to get together for fun lunches or teas, are encouraged to join - the only rule being one must wear a Red Hat and Purple Outfit to all functions! Gloves are optional. There is a complete absence of rules and officers - fun is the name of the game!
Those interested are asked to call Eileen Minton at 773-7425 or Dorothy Rowswell at 773-3425. "We will then plan a meeting and proceed from there," Mrs. Rowswell said.


---
Send Us Your News
How to Submit News/Photos
If you are a member of this organization, we need your help. GIECOM.Net has partnered with the Connections program to help Grand Island as a community "Get it Together." Please visit our website G-I-Together.ORG and fill out our SURVEY. Every group on Grand Island will have its own FREE web page showing: meeting times and location, contact persons, your Mission Statement and a listing of events. We will also be linking your news events that appear in the local media and on IsledeGrande.Com, Grand Island's E-News Source, to your page, maintaining an archived journal of pictures and news. This is the perfect opportunity for your group to connect with potential new members and the community.
---
---
Other Grand Island Pages to Visit:
Churches | Email Directory | Government | Groups
GIHS Grad List | Guestbook | Please sign in! | Local Artists | Photo Album | Town History | Useful Links
| Website Design | Wildlife | Isledegrande's Home Page | GIECOM.NET'S Home Page
Please Email News Releases to Teddy Linenfelser, Thank You.

This website is sponsored by

GIECOM.NET

1869 Whitehaven Road, Grand Island, New York, 14072-1803 USA


Copyright © 1995-2007 All rights reserved.


GIECOM.Net Inc. is owned by deSignet International
a "World Class Jewelry Manufacturer and Retailer"
Store Hours: 9-6PM Mon-Friday and Saturdays 10AM-3PM, and by Appointment
1869 Whitehaven Road, Grand Island, New York, 14072-1803 USA, 1-888-RARU.COM
Copyright © 1995-2007 All rights reserved.



<! ~~~~~~~~~~~~~~ New Tracker Code Below ~~~~~~~~~~~~~~~~~~~ >