River Lea Quilters Guild

c/o 433 Tracey Lane, Grand Island, NY 14072

---
President - Judy Buzby
1st Vice President -Janice Tilghman
2nd Vice President -Jean Brighton
Secretary -Diane Doane
Treasurer -Ken Beagle

---
Contacts: Judy Buzby, 773-2273
663 Baseline Road
Grand Island, NY 14072


---
"Our purposes are to enhance our skills in quilting by sharing of ideas, expertise and fellowship among guild members and to serve the community through charitable donations of time, money and talents."




Monthly meetings are held in the High School large cafeteria Sept - June on the third Tuesday of the month, 7 p.m. Changes to time & place are posted in isledegrande.com and in the Island Dispatch. The guild's strengths are in the talent and artistry of the quilters. Presently, there are 63 members; all ages, all levels of quilting expertise are welcome.


---



"Pieces of Out Lives" Is River Lea Quilters Guild Show - 2006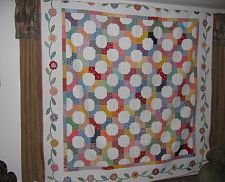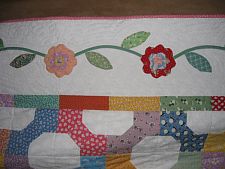 Queen-size Quilt to be raffled at River Lea Quilters May 20-21 show. Be sure to click photos for larger view!
The River Lea Quilters Guild will present "Blooms and Bows," a charity quilt show from 10 a.m. to 5 p.m. Saturday, May 20, 2006 and from 10 a.m. to 4 p.m. on Sunday, May 21, 2006 in the Senate Room of the Holiday Inn Grand Island, 100 Whitehaven Road, Grand Island, NY. Admission is $5 and the show will feature basket auction, Door Prizes and Vendors, and a Raffle Quilt.
The queen-size quilt in a bow tie pattern, is machine pieced, and hand and machine quilted. The work was done by the members of the River Lea Quilters Guild with Judi Drozdowski and Diane Doan chairing the project. Tickets will be available at the show.




River Lea Quilters Donate to Hurricane Katrina Victims - 2004


Quilt made by River Lea Quilters will be raffled at the May 1-2 show. Be sure to click photo for larger view!
River Lea Quilters Guild President, Judy Buzby (right) is shown presenting a quilt to Denise DeMarco (left) of Auntie's Attic Quilt Shop. The quilt was one of eight quilts made by members of River Lea Quilters and donated to victims of hurricane Katrina. River Lea Quilters Guild members have also donated placemats to Meals on Wheels, quilted Christmas stockings for Riverwood Health Care Center as well as assisting the Grand Island Historical Society with the annual Christmas at River Lea. Guild members are busy preparing for their bi-annual quilt show in May.




River Lea Quilt Guild Hosts National Quilt Speaker - 2005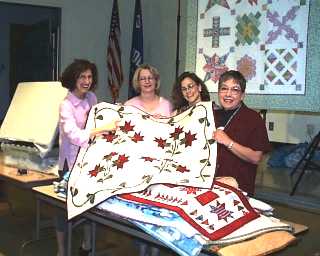 Speaker/demonstrater Patricia Knoechel (left) is shown with Quilters Guild members Sandie Nethero, Hollis Busch and Maire Machens.
Mary Stewart Photo
Patricia Knoechel, nationally known quilter from California gave a 1 1/2 hour trunk show and quilting demonstration at Veronica E. Connor Middle School on Wednesday, May 25, 2005. She presented 40 exquisite quilts that she had made over the last 20 years and demonstrated some new time-saving techniques for today's quilter. Patricia has been involved in quilting, quilt book publication and development of quilting rulers and tools since the early 1980's. She has worked closely with her sister, nationally know quilter Eleanor Burns, on various 'Quilt In A Day' books and also as a public relations person for both her company and Eleanor's company by traveling the country giving demonstrations.
Approximately 85 people attended from four local quilt guilds - River Lea Quilt Guild, Amherst Quilt Guild, Twin Cities Quilt Guild and the Kenmore Quilter's Patch Guild. There was lively discussion, book and ruler sales and an autograph session. For information on joining any of these guilds, email River Lea Quilt Guild President Judy Buzby at judybuzby@adelphia.netor Vice President, Hollis Busch at busch223@adelphia.net
For more information on Eleanor Burns check out her site: http://www.quiltinaday.com.




River Lea Quilters Guild Announces Fantasy In Bloom Quilt Show - 2004



Quilt made by River Lea Quilters will be raffled at the May 1-2 show. Be sure to click photo for larger view!
"Fantasy In Bloom," a Quilt Show, is being presented by the River Lea Quilters Guild on Saturday, May 1 and Sunday, May 2 in the Veronica Connor Middle School, 1100 Ransom Road. Proceeds from the raffle benefit local charities.
A quilt, created by the Quilters Guild, has been designed by Bernadette Keitz and machine pieced by many of the members. The binding was made and sewn on by Lee Wroblewski and machine quilted by Joan Staub. Raffle tickets to win the queen/dbl size quilt will be available at the show.
The Guild's 6th biennial quilt show will feature a Chinese auction, lunch, door prizes, vendors and snacks.
Show hours are:
• Saturday, May 1 - 10 a.m. to 6 p.m.
• Sunday, May 2 - 10 a.m. to 3 p.m.
Admission is $5. For more information, call Judy at 773-2273 or email her at judybuzby@adelphia.net.


---



River Lea Quilters Guild Announces 2002-2003 Schedule
The River Lea Quilters Guild has announced its schedule of meetings, programs and special events for 2002-2003. Click River Lea Quilters for the entire list of interesting events.




Sesquicentennial Quilt Show - Fantastic!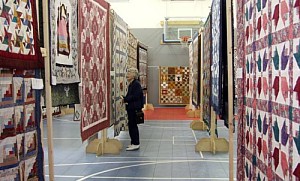 Click For Larger View
Barbi Lare Photos

Members of the River Lea Quilters Guild, as part of the Grand Island Sesquicentennial celebration, showcased their creations last weekend, at Historic Trinity Church on Whitehaven Road. Several rooms and the gym area were festooned with color, shapes, and all sorts of quilting accomplishments.
Judging was done in machine techniques, hand techniques, use of color, size, and a number of other criteria. The list of winners follows:
Best Quilt: "Ozark Beauty" by Judi Drozdowski
Best Wallhanging: "Christmas Time" by Helen Keohane
Best Miniature: "See Thru Mini" by Joan Raab
Best Use of Color: "Subdued Joy" by Cindy Nowicki
Most Creative: "Aurora" by Judi Drozdowski
Mixed Technique: "Challenge 2000" by Bernadette Keitz
Best Garment: "Batik Vest" by Jean Brighton
Hand Piecing: "Parlor Lily" by Janet Bianca
Machine Piecing:
1. Bernadette Keitz: "Challenge 2000"
2. Lee Wroblewski: "Daffodils"
3, Lee Wroblewski: "Lights of the Night"
Hand Quilting:
1. Judi Drozdowski: "Ozark Beauty"
2. Cindy Nowicki: "Subdued Joy"
3. Judi Drozdowski: "Feathered Star"
Machine Quilting:
1. Joan Staub: "Alice's Quilt - Irish Rose"
2. Judi Drozdowski: "Aurora"
3. Eileen Tuzzi/Log Cabin Quilter: "Galaxy of Stars"
Hand Appliqué:
1. Clemens Fair: "The Bloomin Flowers"
2. Clemens Fair: "Summer Heat"
3. Helen Keohane: "Christmas Time"
Machine Appliqué:
1. Lee Wroblewski: "Poppies"
2. Sandy Nethero: "Autumn Medly"
Judges Choice: "Flowers in the Cabin" by Ellen Wilson
Judges Choice: "Turtles for Julie" by Judi Drozdowski
Viewer Choice: quilt: Clemen Fair: "The Bloomin Flowers" Wallhanging: Clemen Fair: "Wild Flowers for Dorcas

Sesquicentennial "Quilts in Bloom II" Quilt Show
The River Lea Quilters Guild, in conjunction with the Sesquicentennial celebration, will present "Quilts in Bloom II" on April 19-21, 2002 in Historic Trinity Church, 2100 Whitehaven Road. The show will be open from 10 a.m. to 5 p.m. on Friday, April 19 and Saturday, April 20 and from noon to 2 p.m. on Sunday, April 21.
This show features members' quilts, a raffle and a Redwork Quilt showing Grand Island scenes that will be donated to the town for public display. A boutique and outside vendors will be featured. For further information, call Judy Drozdowski at 773-2746.


---
Isle residents contribute to Baby Quilt-a-Thon


River Lea Quilters Guild went above and beyond in its donation to a Baby Quilt-a-Thon recently held in Worcester, Massachusetts. The project was the brain storm of Christine C. Stebbins of Paxton, Massachusetts who started the labor of love to benefit premature babies in the neonatal care unit at St. Vincent Hospital at Worcester Medical Center. Islander and River Lea Quilters Guild member Hazel Rowe, who was accompanied on the trip to Worcester by Guild members Jesse Tromanhauser and Ruth Landel, explained that the Island Guild's original goal was to make 200 quilts for the year 2000 but the trio presented 366 baby quilts nearly all finished by River Lea Quilters Guild members. The recipients of the little quilts cannot wear caps and sweaters to keep warm as the sleeves and ties interfere with the tubes the nurses use to feed the babies and administer medicine.
---
If you are a member of this organization, we need your help. GIECOM.Net has partnered with the Connections program to help Grand Island as a community "Get it Together." Please visit our website G-I-Together.ORG and fill out our SURVEY. Every group on Grand Island will have its own FREE web page showing: meeting times and location, contact persons, your Mission Statement and a listing of events. We will also be linking your news events that appear in the local media and on IsledeGrande.Com, Grand Island's E-News Source, to your page, maintaining an archived journal of pictures and news. This is the perfect opportunity for your group to connect with potential new members and the community.
---
---
Other Grand Island Pages to Visit:
Churches | Email Directory | Government | Groups
GIHS Grad List | Guestbook | Please sign in! | Local Artists | Photo Album | Town History | Useful Links
| Website Design | Wildlife | Isledegrande's Home Page | GIECOM.NET'S Home Page
Please Email News Releases to Teddy Linenfelser, Thank You.
This website is sponsored by
GIECOM.NET
1869 Whitehaven Road, Grand Island, New York, 14072-1803 USA


Copyright © 1995-2007 All rights reserved.

<! ~~~~~~~~~~~~~~~~~~ New Tracker Code Below -- -- -- >