St. Stephen School News Page
2007
School Website

St. Stephen Family School Association
President Bill Ortiz


St. Stephen School News 2006

Previous St. Stephen School News 2000-2005






St. Stephen's 3rd Quarter Honor Roll - April 2007
April 16, 2007 . . . St. Stephen School announces its 3rd quarter honor roll:
Grade 3: Miss Jennifer O'Loughlin
1st Honors: Laura Bierbrauer, Thomas Cauley, William Frank, Grace Fredricks, Alexis Fredricks, Peter Kroetsch, Joseph Monaco, Hannah Panzica, William Tompkins, Brigid White
2nd Honors: Michael Englert, Cody Kowal, Zachary Lenz, Charles Panepinto, Luke Strott, Nicholas Terlecky, Ciara Vedella, Elliott Ziolkowski
Grade 4: Mrs. Ann Samplinski
1st Honors: Quinn Carey, Nathan Ciffa, Nicholas Colan, Justin Figler, Luke McConnaghy, Alanna Mergel, Nicholas Ortiz, Griffin Stone
2nd Honors: Gabriella Congi, Branden Costolnick, Anna DeMartin, Jacob Frosolone, Robert Nappo, Zachary Penrose, John Sosnowski
Grade 5: Mrs. Jennifer Hoplight
1st Honors: Bridget Cauley, Peter Chopra, Quinton Corrao, Kara Hazelet, Kristy Kalman, Alexander Kovacs, Molly Meka, Nicholas Panepinto, Zoë Reda, Katie-Grace White
2nd Honors: Marielle Buffamonte, Carleen Conway, Hannah Corrao, Timothy Utz, Stephanie Voyzey
Grade 6: Mrs. Daniela Schmidt
1st Honors: Alec Buffamonte, Ashley Colan, James Gallagher, Erin McConnaghy, Stephanie Neville, Grace Olszewski, Alan Wopperer
2nd Honors: Amber Carroll. Matthew Gagola, Donald Kilian, Jeremy Lazatin, Matthew Lenz, Lura Mazurek, Alyssa Pizzuti, Zaida Smith
Grade 7: Mr. Paul Hare
1st Honors: Ariana Alizadeh, Kathryn Bierbrauer, James Bobak, David Conboy, Alex DeRosa, Jenna Saltzman, Victor Sarmiento, Jonathan Voyzey
2nd Honors: Maura Bobak, Emily Cardullo, Emilie Kovacs, Rebecca Meyer, Callan Piazza, Jackie Sosnowski, Brendan Stone, Meggie White
Grade 8: Mrs. Carol Buchholz
1st Honors: Kevin Gibas, Justine Lazatin
2nd Honors: Brian Bobak, Joseph Piazza, Heather Smith, Catherine Sponn


---



St. Stephen School Math Students Win At Competition - 2007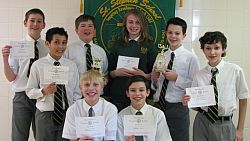 Click photo for larger view
Students in St. Stephen's School seventh grade participated on March 27, 2007 in the annual math contest for seventh graders at St. Joseph's Collegiate Institute. The contest consisted of problems requiring ordinary arithmetic and simple geometry knowledge that were a challenge for the students. Approximately 300 students from Western New York Schools participate each year. The following students made up this year's team: Katie Bierbraurer, David Conboy, Seth Carey, James Bobak, Alex DeRosa, Brendan Mergel, Victor Sarmiento, and Jonathan Voyzey. David Conboy won third place in his division, and to Alex DeRosa who received an Honorable Mention Trophy.


---



St. Stephen School Holds Successful Easter Clothing Drive - 2007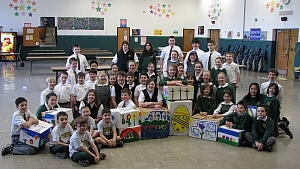 Click photo for larger view
St. Stephen School Mission Club sponsored a special Easter Parade clothing drive so that everyone would have a special new outfit to wear on Easter. Thanks to the generous donations from St. Stephen's families, many boxes of clothing were given to the Family and Children's Services of Niagara Inc.


---



St. Stephen 7th/8th Grades Celebrate Pi Day - 2007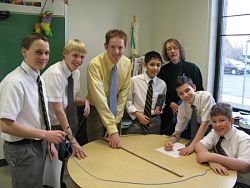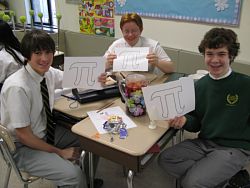 Click photos for larger view
The St. Stephen School 7th and 8th grade students in Mr. Hare and Mrs. Wild's math classes recently celebrated Pi Day. Pi Day is a day to celebrate the mathematical constant Pi (ð). Pi is an irrational number approximately equal to 3.14, and therefore is observed on March 14th. During math classes, the students measured various everyday circular items, first finding the circumference, and then the diameter. When dividing the circumference by the diameter, students found that no matter what size their circle was, they got pi, or approximately 3.14 as the resulting quotient! Students also brought in some circular treats, including cookies, and of course, pie!.


---



St. Stephen School St. Joseph's Day Table - 2007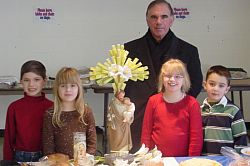 Click photo for larger view
The students, faculty, and parents of St. Stephen School worked together to prepare a St. Joseph's Day Table on March 19th. With many thanks to all who helped, a beautiful array of meatless dishes were prepared, and Father Paul Nogaro blessed the bountiful spread.


---



St. Stephen's Pre-K Learns Irish Fables & Lore - 2007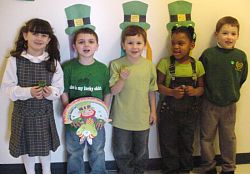 Click photo for larger view
St. Stephen's Pre-K class learned about some of the Irish fables and lore as they celebrated St. Patrick's Day. Among all the green decorations and their cut-out four leaf clovers and top hats, they found "footprints" left behind by leprechauns who hid "gold coins" around the classroom. The class enjoyed jello, pudding, cake, and even eggs of green!


---



Chinese New Year Celebrated At St. Stephen School - 2007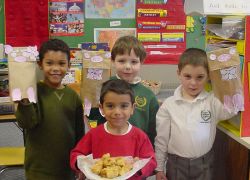 Click photo for larger view
St. Stephen School Pre-K and Kindergarten classes celebrated Chinese New Year recently. The children enjoyed making hand puppets in the shape of a pig, especially since this is the Year of the Pig.


---



St. Stephen Students Read About Famous Person - February 2007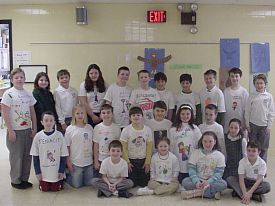 Click photo for larger view
The fourth grade class of St. Stephen School was assigned to read a book about a famous person for a February book report. Their book highlighted a character trait that helped that person achieve his/her success. Each student then prepared a T-shirt telling about the person and their valued character trait. Students wore their shirts for a day at school and were prepared to answer any question about the famous person.


---



St. Stephen School News - 2007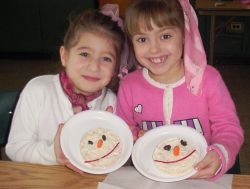 Click photo for larger view
St. Stephen School Pre-K, Kindergarten, 1st, and 2nd grade students creatively turned ordinary rice cakes into a happy, sweet treat in February 2007. Pictured with their 'smiles' are Lauren Curtin and Gracie Tompkins.


---



At-the-Hop! At St. Stephen School - February 2007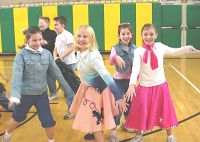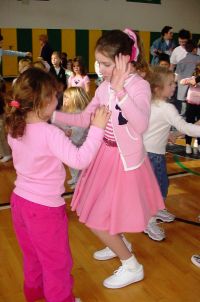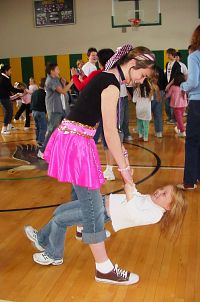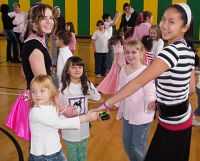 Click photos for larger view
There was a lot of 'twist and shout' at this year's Sock-Hop as part of Catholic Schools Week 2007.


---



St. Stephen School Mini-Olympics - February 2007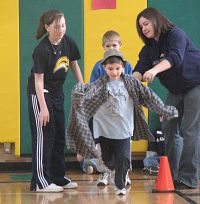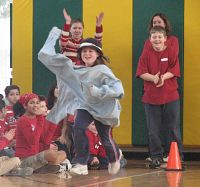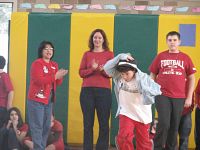 Click photos for larger view
St. Stephen School children of all grade levels combined forces to compete in the Mini-Olympics during Catholic Schools Week January 28 through February 2. With each team unified by colored clothing, they persevered through many challenges and obstacle courses, with the White Team winning this year's bragging rights!


---



Kids Enjoy St. Stephen's Carnival - February 2007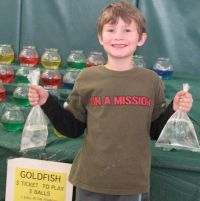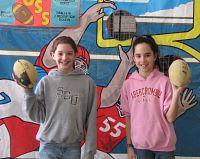 Click photos for larger view
St. Stephen School held its annual Carnival on February 3rd at the end of Catholic Schools Week. Kids of all ages enjoyed many games of skill and chance including the Football Toss and the perennial favorite – Ping Pong Toss for Goldfish!


---



St. Stephen School Celebrates Catholic Schools Week - February 2007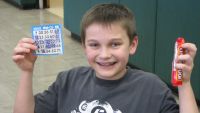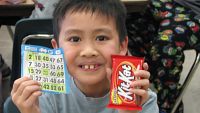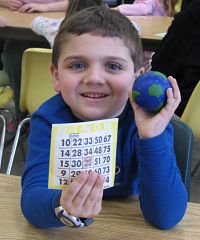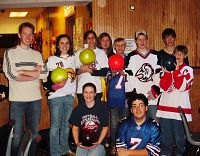 Click photos for larger view
Bingo! With great excitement the winners yelled out as St. Stephen students enjoyed some fun during Catholic Schools Week. The victors show off their winnings – their favorite candy! As part of Catholic Schools Week, many students had a great time bowling.


---



St. Stephen Student, Kristen Kalman, Wins Contest - February 2007



Click photo for larger view
St. Stephen School student Kristen Kalman won first place for the Elementary Division in the 2007 Buffalo Auto Show poster contest. Her poster was chosen from over 600 entries. Her reward includes an ice cream party for six at the Cold Stone Creamery. Her poster and several others will be displayed at this year's Auto Show held at the Buffalo Convention Center. Six other students from St. Stephen School received a free ticket to the Auto Show and a certificate for free ice cream at Cold Stone.


---



Magic Dazzles St. Stephen Students - 2007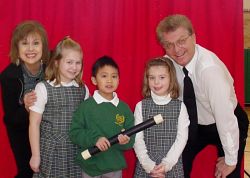 Shown from left with Rob and Carol are: Lauren Lotempio, Steven Nguyen, and Emily Klein.
Click photo for larger view
The students at St. Stephen School were dazzled by magic performed by Rob and Carol Allen on February 1, 2007. The Very Dairy Magician amazed grades kindergarten, 1, and 2 with various magic tricks using colored scarves, white doves, a talking picture of a cow, and milk. The program was paid for by the people at Milk for Health and the Dairy Farmers of Western New York. Although the show was extremely entertaining, Rob Allen easily worked in facts about where milk comes from, all the different vitamins people get from drinking milk and what those vitamins do for our bodies.




St. Stephen's 2nd Quarter Honor Roll - February 2007
St. Stephen School announces its 2nd quarter honor roll:
Grade 3: Miss Jennifer O'Loughlin
1st Honors: Laura Bierbrauer, Thomas Cauley, William Frank, Grace Fredricks, Alexis Fredricks, Peter Kroetsch, Joseph Monaco, Hannah Panzica, Nicholas Terlecky, William Tompkins, Ciara Vedella, Brigid White, Luke Strott
2nd Honors: Joshua Bobak, Michael Englert, Sabrina Lemme, Zachary Lenz, Cindy Nguyen, Charles Panepinto, Elliott Ziolkowski
Grade 4: Mrs. Ann Samplinski
1st Honors: Nicholas Colan, Justin Figler, Griffin Stone
2nd Honors: Colin Carey, Quinn Carey, Nathan Ciffa, Gabriella Congi, Anna DeMartin, Jacob Frosolone, Luke McConnaghy, Alanna Mergel, Robert Nappo, Nicholas Ortiz, Zachary Penrose, John Sosnowski, Alexandra Sponn
Grade 5: Mrs. Jennifer Hoplight
1st Honors: Bridget Cauley, Quinton Corrao, Molly Meka, Nicholas Panepinto, Katie-Grace White
2nd Honors: Marielle Buffamonte, Peter Chopra, Carleen Conway, Kara Hazelet, Kristen Kalman, Alexander Kovacs, Zoë Reda, Timothy Utz, Stephanie Voyzey
Grade 6: Mrs. Daniela Schmidt
1st Honors: Alec Buffamonte, Ashley Colan, James Gallagher, Erin McConnaghy, Stephanie Neville, Alyssa Pizzuti, Alan Wopperer
2nd Honors: Matthew Gagola, Jeremy Lazatin, Lura Mazurek, Grace Olszewski
Grade 7: Mr. Paul Hare
1st Honors: Ariana Alizadeh, Kathryn Bierbrauer, Maura Bobak, David Conboy, Alex DeRosa, Rebecca Meyer, Victor Sarmiento, Jonathan Voyzey
2nd Honors: James Bobak, Emily Cardullo, Seth Carey, Richard Englert, Emilie Kovacs, Callan Piazza, Jenna Saltzman, Jackie Sosnowski, Brendan Stone
Grade 8: Mr. Paul Hare
1st Honors: Kevin Gibas, Justine Lazatin, Catherine Sponn
2nd Honors: Brian Bobak, Brennan Carey, Joseph Piazza, Anna Playfair, Patrick White




Carnival Day At St. Stephen School - 2007
A Carnival Day, sponsored by St. Stephen's Family School Association, will take place at the school from 10:30 a.m. to 3:30 p.m. Saturday, February 3, 2007. Featured will be a bounce house, games, prizes, face painting, food, drinks and fun for all. Admission is free. Tickets for games will be available at the door. All are welcome.








---
If you are a member of this organization we need your help. GIECOM.Net has partnered with the Connections program to help Grand Island as a community "Get it Together". Please visit our website G-I-Together.ORG and fill out our SURVEY. Every group on Grand Island will have its own FREE webpage, listing: meeting times location, contact persons, your Mission Statement and a listing of events. We will also be linking your news events that appear in the local media and on IsledeGrande.Com, Grand Island's E-News Source, to your page, maintaining an archived journal of pictures and news. This is the perfect opportunity for your group to connect with potential new members and the community.
---
Other Grand Island Pages to Visit:
Churches | Email Directory | Government | Groups
GIHS Grad List | Guestbook | Please sign in! | Local Artists | Photo Album | Town History | Useful Links
| Website Design | Wildlife | Isledegrande's Home Page | GIECOM.NET'S Home Page
Please Email News Releases to Teddy Linenfelser, Thank You.
This website is sponsored by
GIECOM.NET
1869 Whitehaven Road, Grand Island, New York, 14072-1803 USA


Copyright © 1995-2007 All rights reserved.