St. Stephen's Church News Webpage 2009 - 2010
---
Pastor: Rev. Paul Nogaro
St. Stephen's Church Website
Previous News
St Stephen News 2007-2008



2100 Baseline Road, Grand Island, NY 14072
fax: 716-773-5792

Karen A. Cammarata - Business Manager
businessmgr@adelphia.net 716-773-7647 ext #104

Office: Sandy Beyer or Helen Lemme - 716-773-7647 ext #100
ststephenswny@adelphia.net



Mission: To enable the people of Grand Island to encounter Jesus by sharing Word and Sacrament with a loving concern for one another.
Events: Daily Mass Monday - Friday 7:30 A.M. and 12:05 P.M. Saturday 9:00 A.M., and 4:30 P.M. Sunday 7:00 A.M., 9:00 A.M. & 11:00 A.M. Open to All
Help: Promote and support our church and promote and support the events that we sponsor!
Strengths: A strong, stable, faith filled community that has open arms for all who enter through our doors.




ST. STEPEHEN'S MISSION XVII - 2010
ST. STEPHEN'S R.C. CHURCH
2100 Baseline Road
Grand Island, NY 14072
Dates: February 20 – February 27
Time: 7:00 – 10:00 p.m.
Where: Main Church
A GIFT FROM JESUS TO YOU
We all need some time in our busy lives to be where we can stop and focus on the love God has for us. That is the gift of mission. It is an excellent way to deepen your relationship with Jesus. This eight evening retreat will renew your awareness of the Holy Spirit in your life through inspirational presentations, liturgical celebrations, and engaging activities with other parish members. Each night will leave you looking forward with anticipation to the next. Accept this gift from our Lord. Register today for Mission XVII! February 20 through February 27. Call the rectory at 773-7647 by February 16th.




St. Stephen's Catholic Charities Drive Begins - March 2010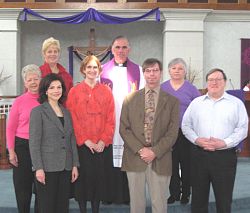 Members of the committee pictured from left are Trudy Walbert, Maria Schory, Sue Robinson, Barbara Griesmann, Fr. Paul Nogaro, Dan Linenfelser, Jo Ann Linenfelser, and Ted Korkuc
Click photo for larger view
Barbara Griesmann, Clinic Supervisor at the Monsignor Carr Institute, spoke at all the masses at St. Stephens Church last weekend (Mar. 6-7) about the upcoming Catholic Charities Drive. The Drive this year runs from March 21-28 and the goal is $10.5 million. Ms. Griesmann related a personal experience she had while living in another area where she lost all of her personal belongings in a fire. She contrasted the difficulties she had getting help there with the caring, helpful attitude used by Catholic Charities here. According to Ms. Griesmann Catholic Charities last year assisted more than 157,000 people in the eight counties of Western New York. 40,175 of the people helped were children, 31,290 hungry were fed, 6,228 were seniors, and 1665 were victims of domestic violence.
The Patron Saint of this years drive is St. Damien and the theme is "Whoever, Whenever, Whatever".
Contributions may be made at the next three weekend masses or by contacting the rectory at 773 7647.





Pancake Breakfast To Benefit St. Stephen's - Nov. 2009
A pancake breakfast to benefit St. Stephen's Church will be held from 8 a.m. to 1 p.m. Sunday, November 22, 2009 in the St. Stephen School cafeteria. The all you can eat pancake event features sausage, juice, coffee and tea and the cost is adults/$6 - children 6-12 years/$3 and children under six are free.




Kids Raise Money For Flood Victims - Fall 2009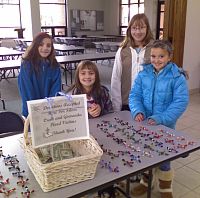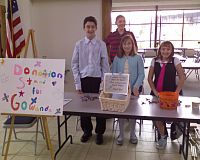 (left photo) Sarah Wellance, Sarah Swagler, Katie Kovacs, Giana Aiello
(right photo) Jadon Wegrzyn, Chris Swagler, Katie Kovacs, Sarah Swagler
Click photos for larger view
Children of St. Stephen's parish religious education program on Grand Island raised money for the two parishes that sustained severe flooding in August. they are St. Joseph in Gowanda and Mount Carmel in Silver Creek. The children raised over $1200 so far to give to both parishes. The children, who will be delivering the funds in the next few weeks, were at all masses at St. Stephen's and made crosses out of beads and pipe cleaners as a thank you to all that donated. "It really is a wonderful project that the children wanted to do," a spokesman for the kids said.




10-Week Alpha Course At St. Stephen's - Aug. 2009
A 10-week Alpha Course will begin at 6:30 p.m. Tuesday, September 15, 2009 in the hospitality room at St. Stephen's Church and continues for 10 Tuesday evenings. There is a $5 book fee and a simple meal is provided. The evening ends at 9:30 p.m. Call Cheri, 773-7792 to register. See "Alpha Course" for complete information.




St. Stephen Fish Fry - Feb. 2009
The St. Stephen Lenten fish fry begins February 27th and will run each Friday through April 3rd. Dinners are served from 5 p.m. to 7 p.m. with early bird admission for seniors beginning at 4:30 p.m. Dinners include fried or broiled haddock, shrimp, scallops, french fries, and homemade potato salad and desserts. Discount dinners for seniors. Take out menu available from 4:30pm to 7:00pm by calling 773-4347.
Due to the participation of so many dedicated and enthusiastic workers (consisting mainly of the school's parents, but this also includes the current 8th grade class, relatives, parishioners, and past students), the St. Stephen's fish fry is a greatly anticipated community event as well as a way to raise money for the school. Anyone who may need hours for a service project or just interested in helping out, please call Rosanne Panzica at 773-2578.












---
---
Other Grand Island Pages to Visit:
Churches | Email Directory | Government | Groups
GIHS Grad List | Guestbook | Please sign in! | Local Artists | Photo Album | Town History | Useful Links
| Website Design | Wildlife | Isledegrande's Home Page | GIECOM.NET'S Home Page
Please Email News Releases to Teddy Linenfelser, Thank You.
GIECOM.NET
1869 Whitehaven Road, Grand Island, New York, 14072-1803 USA


Copyright © 1995-2009 All rights reserved.