Troop 510 Holds Court of Honor - 2004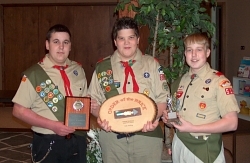 Leaders and members of Boy Scout Troop 510 held their Court of Honor/dinner on Sunday, February 8, 2004 in Trinity UM Church. The scouts received several merit badge and rank advancements. Rev. Paul Robinson received an official neckerchief and custom neckerchief slide. Earlier that morning, during his sermon at Trinity Church, Rev. Robinson reflected on some good times when he was a scout.
Ron Warner, the evening's MC, received his Life Rank and the Chairman's Choice Award for Outstanding Personal Leadership. Casey Dahlstrom received the troopís annual Scout-of-the-Year award. Josh Shilling was a good sport when he received a fun award called the Brickhead Award for accidentally getting hit by a brick while performing community service.






All Island Camporee Held At Nike Base - 2003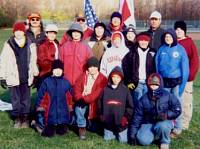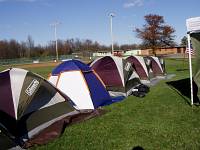 Click photos for larger view
Boy Scout troops 254 and 510 of Grand Island held their first all Island Camporee from November 7-9, 2003. The scouts and their leaders spent the weekend camped out at the Nike Base, where they participated in First Aid, Orienteering, and Campfire building competitions, as well as an open air viewing of the lunar eclipse. The Camporee was a great success and is planned to be an annual event for Island Scouts.





James Frantz III Receives Eagle Scout Recognition

James Frantz III, 18, has fulfilled all the requirements for Eagle Scout and will be recognized at the Eagle Ceremony at 4 p.m. June 1, 2002 in Trinity United Methodist Church. A senior at Grand Island High School and a member of Boy Scout Troop 510, he is the son of James and Kathleen Frantz of Continental Lane.
As an Eagle project, James chose a goal of creating Nature Identification Signs along a Nature Path at Riverside Salem Church Park on West River Road, Grand Island NY. Activities involved coordinating volunteers and a nature specialist to identify plant and animal wildlife along an existing nature path. The next step was to conduct research and the manufacture of signs for each species, including species, descriptions and pictures. The final step was to install the signs along path. The project was conducted in the fall of 2001.


---
If you are a member of this organization, we need your help. GIECOM.Net has partnered with the Connections program to help Grand Island as a community "Get it Together." Please visit our website G-I-Together.ORG and fill out our SURVEY. Every group on Grand Island will have its own FREE web page showing: meeting times and location, contact persons, your Mission Statement and a listing of events. We will also be linking your news events that appear in the local media and on IsledeGrande.Com, Grand Island's E-News Source, to your page, maintaining an archived journal of pictures and news. This is the perfect opportunity for your group to connect with potential new members and the community.
---
---
Other Grand Island Pages to Visit:
Churches | Email Directory | Government | Groups
GIHS Grad List | Guestbook | Please sign in! | Local Artists | Photo Album | Town History | Useful Links
| Website Design | Wildlife | Isledegrande's Home Page | GIECOM.NET'S Home Page
Please Email News Releases to Teddy Linenfelser, Thank You.
This website is sponsored by
GIECOM.NET
1869 Whitehaven Road, Grand Island, New York, 14072-1803 USA


Copyright © 1995-2007 All rights reserved.







<! *-_-* *-_-* New Tracker Code Below -- -- -- -->