Boy Scout Troop #510 Webpage
Troop #510 Sponsoring Institution: Trinity United Methodist Church

---
Scoutmaster: George Hoechst
Troop 510 Committee Chairman: Gary Dahlstrom - dahlstromfamily@earthlink.net

---
Click for OFFICIAL Boy Scout Troop 510 Website
(An interesting weekly newsletter that shares stories with Scouts and Scouters)
"Scouting Way"




Grand Island Boy Scout 'Outshoots The Sheriff' - July 2010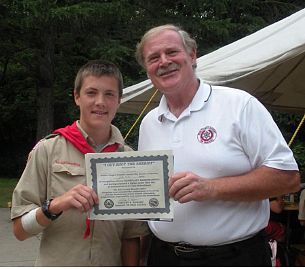 Scout Tim Winder and Sheriff Howard
Carolyn Fusco (GI Troop 510) Photo
Erie County Sheriff Tim Howard visited Boy Scout Summer Camp at Schoellkopf Scout Reservation, Cowlesville, NY, last week. He met with the Boy Scouts from New York and New Jersey who were taking their Rifle Shooting merit badge, and impressed upon the boys and their leaders the critical importance of gun safety.
The eagle-eyed Sheriff then challenged the boys to match him or beat him in a target shooting competition with .22 bolt-action rifles. Tim Winder of Grand Island Troop 510 shot a perfect score of 50, matching the Sheriff's superb sniping. Boy Scout Tim was duly presented with a signed 'I Outshot the Sheriff Certificate' by Erie County Sheriff Howard.





Troop 510 Spring Clean-Up - May 2009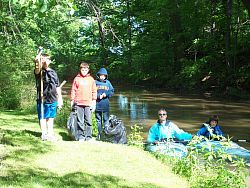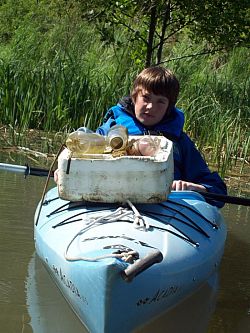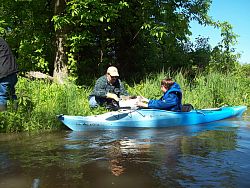 (left photo) Scouts (left to right) pictured are Jacob Matwijkow, Chris Stawiasz, Clark Fusco, Mr. Winder in kayak and Tim Winder in kayak.
(center photo) Tim Winder in his kayak displaying carlessly discarded litter
(right photo) Assistant Scoutmaster, Mr. Michael Stawiasz assisting Tim Winder with trash removal.
Click photos for larger view
Four Boy Scouts from Troop 510 worked hard on Sunday, May 31st to clean up the area of Spicer Creek that stretches between East River Road (beside Whitehaven Cemetery) and the Niagara River. The scouts used two kayaks and walked along the side of the creek to remove trash from both banks and floating debris from the water. This community service project will count towards their requirements for Second Class Scout. A total of three full garbage bags were removed from the area, helping to keep Grand Island a grand place to live, work & play!




Scout Sunday at Trinity Church March 8th - 2009
The community is invited to come for a special worship experience 10:30 a.m. on Sunday, March 8th to recognize the work of both the Boy Scouts and the Girl Scouts to help raise our children with valuable life skills. Pastor Jeff Childs has invited all adults and older youth attending to wear a sash, neckerchief or other memorabilia from when they were in scouting. The Service takes place at Trinity United Methodist Church at 2100 Whitehaven Road. For more information call the church at 773-3322.




Troop 510 Enjoys Winter Activities - 2009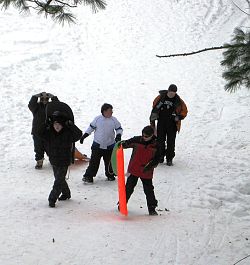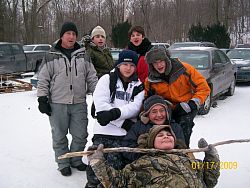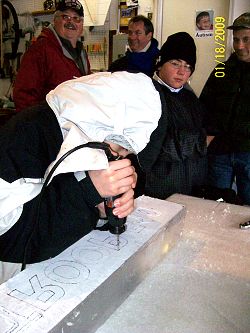 Click photos for larger view
The boy scouts, leaders and parents of Troop 510 have been enjoying the chilly outdoors since the start of the new year. The annual Klondike Derby was held January 16th-18th at Camp Stonehaven in Ransomville. The scouts demonstrated great teamwork while being timed and tested on their winter survival skills such as building a fire in the snow, building a shelter and first aid. Congratulations to the Cougar Patrol of Troop 510 for winning 3rd place in the Klondike Sled Derby!
Troop 510 was treated to an ice carving demonstration by John Matwijkow, a local ice sculptor and father to Jacob, a member of Troop 510. Mr. Matwijkow explained safety, proper tool use, and answered many questions. He started with a 300 lb. block of ice that each scout, leader and parent took turns carving. The ice sculpture, once finished, will be displayed at the annual Court of Honor dinner in March.
Troop 510 looks forward to sledding at Camp Shoellkopf every year. The temperatures and snow were perfect for sledding which provided lots of screams, laughs and Kodak moments!
Troop 510 meets every Wednesday night from 7 p.m. to 8:30 p.m. at Old Trinity Church, 2100 Whitehaven Road. If you're a boy, 11 years or older and would like to see what scouting is all about, come to a meeting or call Nancy Bolles at 774-1289 for more information.




D'Angelo, Lavallee Earn Eagle Award - 2008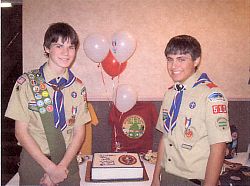 Charlie Lavallee and Aaron D'Angelo
Aaron D'Angelo and Charlie Lavallee were honored on Saturday, March 15, 2008 with Scouting's highest award, that of Eagle Scout. A ceremony was held at The Como Restaurant in Niagara Falls. Both boys joined scouting as Tiger Scouts and advanced through the ranks together. The boys credit their friendship as a motivating factor that helped them to advance to the rank of Eagle Scout. Aaron and Charlie are currently members of Boy Scout Troop 510 that meets at Trinity United Methodist Church and are members of the Explorers program in Veterinary Medicine that meets at Medialle College. June and Dan D'Angelo and Donna and Stuart Lavallee are the proud parents of the boys.
Aaron's Eagle Scout project consisted of rejuvenating the fire pit area behind the new Trinity Church building. He made a proposal to the church to dig out the fire pit area, line it with paving stones, followed by an area of gravel. He had mulch brought in from the town that was then spread around the seating area to help level off the ground. The actual work was accomplished with the help from fellow Boy Scouts from his troop as well as some of the parents. He also organized the boys to build new benches with donations he acquired from local businesses to improve the eating area around the fire pit. He had a lean-to made in order to keep the firewood off the ground and keep it dry. A general clean up of the area was done and some of the trees in the area were trimmed. The project took 115.5 hours of volunteer work and was completed in May 2007.
Charlie's Eagle Scout project involved implementing an "Operation Safe Child" identification booth at the Huth Road Elementary School Bazaar. With the help of Lt. Russell Scanio of the NYS Police Department, Explorers members and Boy Scout Troop 510 scouts, leaders and friends, they provided 145 cards to the children at this event. The card is the size of a credit card and provides the parents with a photo, fingerprint and other important physical and personal information. In the event that a child goes missing, this card is presented to law enforcement officials and crucial time is saved. The total time spent on this project was 120.25 hours.




Boy Scout Troop 510 Open House - 2008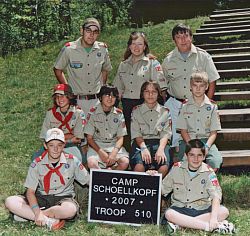 Members of Boy Scout Troop 510 will hold an Open House at 7 p.m. on Wednesday, February 27, 2008 in Old Historic Trinity Church on Whitehaven Road. Boy Scouting is open to all boys currently in the 5th grade or higher. No previous scouting experience is necessary. Information on joining Troop 510 will be available for the parents while the boys will be making cool Balloon Racers in the gym. Refreshments will be served. Contact Nancy Bolles at bflo58@aol.com or 774-1289 to reserve your spot at our Open House!






Boy Scout Troop 510 Court Of Honor - 2008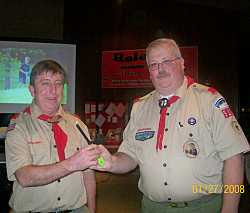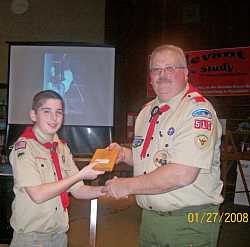 (left photo) Pat Garten (left) and Tim Shilling
(right photo) Sean Garten (left) and Tim Shilling
Click photos for larger view
Leaders, members and their families attended Boy Scout Troop 510's annual Court of Honor Dinner on Sunday, January 27th in the family room at Trinity United Methodist Church. Many of the Boy Scouts were presented with their well-deserved merit badges and rank advancements. Tim Shilling, who has served as the Scoutmaster of Troop 510 since 1999, officially passed the torch on to Pat Garten, who is looking forward to his new role as Scoutmaster of the troop. Life Scout, Sean Garten, who has been elected Senior Patrol Leader for the past two years, was awarded "Scout of the Year." Congratulations to all of the Boy Scouts on their accomplishments! Troop 510 meets every Wednesday at 7 p.m. in Old Trinity. "If you would like to join, we would be excited to have you as a Boy Scout," a spokesman for the troop said this week. An Open House with fun activities, a slide show presentation and refreshments is scheduled for 7 p.m. Wednesday, February 27th. For more information, call Nancy Bolles at 774-1289.


---



Troop 510 - Fort George, Canada Camperall/war Re-enactment - 2007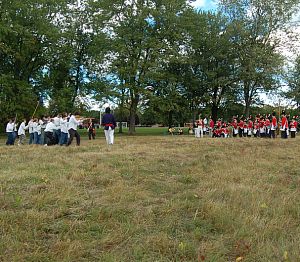 Bobby Galeza photo - Click for larger view
Scouts from Troop 510, along with other scout troops from the US and Canada participated in the Fort George, Canada camperall and war re-enactment over the September 14-17 weekend. There were about 700 U.S. Troops and 1700 British troops. The trip was planned by Scout Leader Pat Garten and Assistant Scoutmaster Bobby Galeza.
Be sure to read the interesting comments by Scout Leader "Pat Garten"




Boy Scout Troop 510 To Celebrate 50th Year Of Scouting - 2007
Boy Scout Troop 510, sponsored by Trinity United Methodist Church, will celebrate its 50th year of scouting in 2008. To mark this milestone Troop 510 will hold a reunion for all past and present Scouts and Scouters in August of 2008. If anyone would like to provide any pictures or memories they have of Troop 510, they are asked to send them to:
Troop 510
c/o Trinity United Methodist Church
2100 Whitehaven Road
Grand Island, NY 14072
or email to 50years@troop510.com




Boy Scout Troop 510 To Hold Open House - March 2006
Boy Scouts from Troops 510 will hold an Open House for all boys in the 5th grade or older. The Open House will be held at 7:15 p.m. March 8, 2006 at Old Historic Trinity, 2100 Whitehaven Road. Come find out what scouts is all about! The event will feature a slide show, gym activities, refreshments and parent presentation. Siblings are welcome. For more information call Nancy Bolles, 774-1292.


---



Troop 510 Involved In Disaster Drill - 2005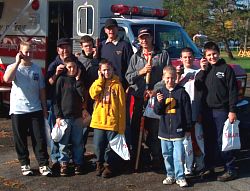 Shown are members and leaders of Scout Troop #510: (front left) Sean Garten, Connor Boles, Jonathan Glenda; (back) Casey Dahlstrom, Pat Garten, Charlie LaVallee, Dan Skelly, Gary Dahlstrom, Glenn Skelly, Aaron D'Angelo
Click photo for larger view
Members of Boy Scout Troop 510 and their leaders participated in the huge disaster preparedness drill October 15, 2005 at Evangola State Park. A simulated anthrax outbreak was the focus of the drill where 24 agencies participated in the screening of victims for radiation exposure, and checking on the medical condition of 500 scouts/leaders from WNY.
The staging of the full-scale disaster drill with Emergency Preparedness Responders included the following participants: the Department of Homeland Security, Erie County Department of Emergency Services, Erie County HazMat Organization, The Specialized Medical Assistance Response or SMART Team, local hospitals, first responders and the Greater Buffalo Chapter of the American Red Cross.
All agencies appreciated the scout participation and the scouts themselves enjoyed the experience. As a thank you to the scouts, the various agencies packaged up give-aways that included flashlights, lip balm, fridge magnets, and rubber cell phones (see photo). A display of many exhibits followed the drill.




Boy Scouts Participate In Carving Class - 2005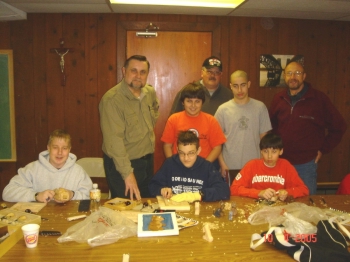 Boy Scouts from Troops 510 and 630 recently attended Wood Carving Merit Badge classes at St. Stephen's Church. Requirements included safety instruction, sharpening and carving two objects in wood. Pictured are Aaron D'Angelo, Andrew Ginsburg, Casey Dahlstrom, Travis Zukic, Jason Chadwick and leaders Brian Mongello, Tim Shilling and Gary Dahlstrom. Missing from the photo are Charlie Lavallee, and John and Tom Gilewicz.


---
Eagle Scout Candidate Organizes Food Drive To Benefit The Needy - 2004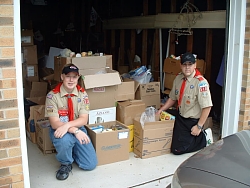 Casey Dahlstrom (left) and Ron Warner Jr. in front of 3729 pounds of food collected for the Food Bank
For his Boy Scout Eagle Scout requirement, Ron Warner Jr. organized a food drive at two Grand Island schools. During the week of November 15-19, 2004, students and faculty at Huth Road Elementary School and Kaegebein Elementary School contributed a total of 3729 pounds of food and 704 winter coats to benefit the needy. The employees at the Food Bank of Western New York who picked up the food and coats from the Warner house were amazed; they had never picked up so much from one place. They stated that the schools had done better than most big corporations do when they do holiday food drives amongst their employees. In each school the class that generated the most weight in food was to receive a pizza party. The Brick Oven Pizzeria and Pizza Hut have agreed to help with supplying pizza. The winning classes were Ms. Diliberto's class at Huth Road who collected 194 pounds of food and 22 coats, and Mrs. Leifer-Lavitz's class at Kaegebein who collected 285 pounds of food and 18 coats.
The Food Bank of Western New York distributes food and grocery items to over 500 agencies in the counties of Cattaraugus, Chautauqua, Erie and Niagara. According to Food Bank Director Clem Eckert, the 3729 pounds the schools raised can feed 355 families for a day.
Ron Warner Jr. is a member of Boy Scouts of America Troop 510, which meets at Trinity Church. As a candidate for his Eagle Scout rank, Ron was required to do a project to help his community, and wanted to help the 91,000 hungry Western New Yorkers who turn to soup kitchens, food pantries, and other emergency food providers.


---
Casey Dahlstrom Attains Eagle Rank - 2004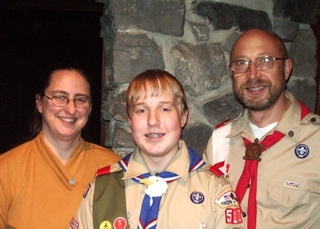 Eagle Scout Casey Dahlstrom with proud parents Gary and Emily Dahlstrom
Newest Eagle Scout Casey Dahlstrom, a junior at Grand Island High School and member of Troop 510, has completed the requirements for Boys Scouts of America's highest ranking - Eagle Scout. In a ceremony attended by Councilman Dick Crawford, family, friends and other scouts at Trinity United Methodist Church on Saturday night November 27, 2004, Casey received his rank insignia, certificate, and other Eagle Rank items. To achieve this rank that only 5% of scouts attain, Casey needed to earn 21 merit badges and complete a project to benefit the community.
Casey's Eagle project involved revitalizing the nature trail at the Nike Base on Grand Island. This involved clearing parts of the trail that were overgrown, building benches to rest, marking the trail with trail markers and mileage markers, making an entrance sign, and creating a trail brochure.




Eagle Scout Candidate Organizes Food, Coat Drive To Benefit The Needy - 2004
Ron Warner Jr. is organizing a five-day food and winter coat drive in Huth Road Elementary School and William Kaegebein Elementary School. The class in each school that generates the most weight in food will receive a pizza party. Coats brought in will count as a one-pound credit towards that class's total food weight.
The drive is scheduled from Monday, November 15, 2004 through Friday, November 19th. Students are encouraged to bring in non-perishable food items and winter coats.
What group will benefit from the project? Answer: Over 500 agencies in the counties of Cattaraugus, Chautauqua, Erie and Niagara that the Food Bank of Western New York distributes food and grocery items to.
Ron Warner Jr. is a member of Boy Scouts of America Troop 510, which meets at Trinity UM Church. As a candidate for his Eagle Scout rank, Ron must do a project to help his community. Ron wants to help the 91,000 hungry Western New Yorkers who turn to soup kitchens, food pantries, and other emergency food providers. 40% of these are children.


---
Troop 510 Holds Court of Honor - 2004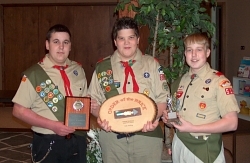 Leaders and members of Boy Scout Troop 510 held their Court of Honor/dinner on Sunday, February 8, 2004 in Trinity UM Church. The scouts received several merit badge and rank advancements. Rev. Paul Robinson received an official neckerchief and custom neckerchief slide. Earlier that morning, during his sermon at Trinity Church, Rev. Robinson reflected on some good times when he was a scout.
Ron Warner, the evening's MC, received his Life Rank and the Chairman's Choice Award for Outstanding Personal Leadership. Casey Dahlstrom received the troop's annual Scout-of-the-Year award. Josh Shilling was a good sport when he received a fun award called the Brickhead Award for accidentally getting hit by a brick while performing community service.






All Island Camporee Held At Nike Base - 2003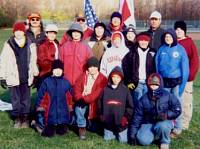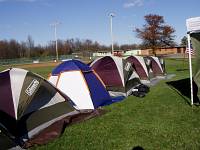 Click photos for larger view
Boy Scout troops 254 and 510 of Grand Island held their first all Island Camporee from November 7-9, 2003. The scouts and their leaders spent the weekend camped out at the Nike Base, where they participated in First Aid, Orienteering, and Campfire building competitions, as well as an open air viewing of the lunar eclipse. The Camporee was a great success and is planned to be an annual event for Island Scouts.





James Frantz III Receives Eagle Scout Recognition

James Frantz III, 18, has fulfilled all the requirements for Eagle Scout and will be recognized at the Eagle Ceremony at 4 p.m. June 1, 2002 in Trinity United Methodist Church. A senior at Grand Island High School and a member of Boy Scout Troop 510, he is the son of James and Kathleen Frantz of Continental Lane.
As an Eagle project, James chose a goal of creating Nature Identification Signs along a Nature Path at Riverside Salem Church Park on West River Road, Grand Island NY. Activities involved coordinating volunteers and a nature specialist to identify plant and animal wildlife along an existing nature path. The next step was to conduct research and the manufacture of signs for each species, including species, descriptions and pictures. The final step was to install the signs along path. The project was conducted in the fall of 2001.


---
If you are a member of this organization, we need your help. GIECOM.Net has partnered with the Connections program to help Grand Island as a community "Get it Together." Please visit our website G-I-Together.ORG and fill out our SURVEY. Every group on Grand Island will have its own FREE web page showing: meeting times and location, contact persons, your Mission Statement and a listing of events. We will also be linking your news events that appear in the local media and on IsledeGrande.Com, Grand Island's E-News Source, to your page, maintaining an archived journal of pictures and news. This is the perfect opportunity for your group to connect with potential new members and the community.
---
---
Other Grand Island Pages to Visit:
Churches | Email Directory | Government | Groups
GIHS Grad List | Guestbook | Please sign in! | Local Artists | Photo Album | Town History | Useful Links
| Website Design | Wildlife | Isledegrande's Home Page | GIECOM.NET'S Home Page
Please Email News Releases to Teddy Linenfelser, Thank You.
This website is sponsored by
GIECOM.NET
1869 Whitehaven Road, Grand Island, New York, 14072-1803 USA


Copyright © 1995-2009 All rights reserved.







<! *-_-* *-_-* New Tracker Code Below -- -- -- -->