Trinity United Methodist Church Web Page

2007 Trinity UM Church News

Trinity UM Church 2000-2006 News Page.
Trinity UM Church 2008 News Page.
Trinity UM Church Official Website.

2100 Whitehaven Road
Grand Island, NY 14072

---
Senior Pastor: Rev. J. Paul Womack
Associate Pastor: Rev. Edward McCutcheon

| Ph: 773-3322 | Fax: 773-3366
---




Enjoy Live Holiday Music & Support A Great Cause - 2007
Trinity United Methodist Church will present, "Sing We Now of Christmas," a holiday pops concert, at 7 p.m. on Sunday, Dec. 16. The Chancel Choir, Orchestra, Bell Choir, and select men's and women's groups will all perform. In addition, there will be a sing-a-long to wrap up the program.
Everyone is welcome and encouraged to bring friends and family along to enjoy the sounds of the season. There is no charge. However, proceeds from a goodwill offering will benefit both the Grand Island Neighbors Foundation as well as the Trinity Church Piano Fund.
Trinity Church is located at 2100 Whitehaven Road, Grand Island, NY.


---




Community Encouraged To Attend Vocal Workshop For Aging Voices - 2007
A vocal workshop for aging voices is being held at Trinity United Methodist Church, 2100 Whitehaven Road, Grand Island, on Saturday, November 17, 2007. Coffee will be served from 9 a.m. to 9:30 a.m. followed by the workshop from 9:30 a.m. to 11:30 a.m. The cost is just $10 with proceeds benefiting the Trinity Church Piano Fund. Those attending will learn how to keep their voice strong and healthy through the years.
The presentation will be conducted by renowned vocal expert Holly Bewlay, a member of the Buffalo State Vocal Faculty. She will focus on how to train aging voices by proper breathing, phonation, airflow, and balanced tone qualities.
Ms. Bewlay earned a B.M. from the New England Conservatory of Music and a M.A. degree along with a prestigious performer's certificate, from the Eastman School of Music. She has worked extensively with W. Stephen Smith from Julliard, learning and applying his Wholistic method of singing. She is presently finishing her doctorate degree from Eastman. She has also taught at Eastman, and the University of Rochester in addition to performing solo engagements and operas across the United States and Europe.
"As we age, sagging skin, frail bones and thinning hair are just some of the things we worry about," a spokesman for the Vocal Workshop said this week. "Our voices are also vulnerable. But did you know there are techniques you can follow to keep your voice from aging?" People of all ages will benefit and are encouraged to attend.


---



Trinity United Methodist Women Provide School Supplies, Tote Bags For Needy Students - 2007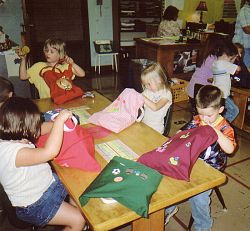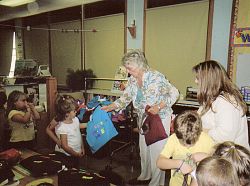 Trinity United Methodist Women present school bags and supplies to Fillmore Central School children
Click photos for larger view
Thursday, October 4, 2007 . . .Members of the Trinity United Methodist Women, this week, were able to take 60 handmade school bags filled with school supplies to three kindergarten classes at Fillmore Central School, located in the poorest county in New York State. The project was made possible through the generosity of the entire congregation of Trinity Church, who made the bags, donated supplies and gave money for additional supplies. The contents of the bags included crayons, scissors, erasers, pencils, pencil sharpener plus Play Dough, Kleenex and stickers. As a special treat, each child found a book written by UMW member Jeannine King Klock titled The Day Sami Moved In, plus a DVD of the book.
The UMW ladies also provided the teachers with flash cards, construction paper, lined paper, puzzles, games, and maps.
Making the trip to the Fillmore school were UMW members Pat Shaw, Nancy Hayes and Mrs. Klock. Thank you notes were received from all of the students and include the following:
"Thank you for the play dough that you gave me. I squeezed it into a ball and made things out of it. I like the bag. You are nice. Thank you." Greg
"I like to play with the play dough, sleep with my bag, and color pictures with my crayons and cutting with my scissors. I like you ladies, you are kind and thank you!" Patrick
"I like to have my very own scissors and I love to cut paper with them. I can cut on the lines of the paper and I like the crayons. You are nice ladies." Luke
"I like to sharpen my pencils with my black sharpener. I never had a basketball eraser before. My bag has 4 cows on it. I like you." Jerrid


---



100th Anniversary Celebration of Trinity Chapel - Sept. 2007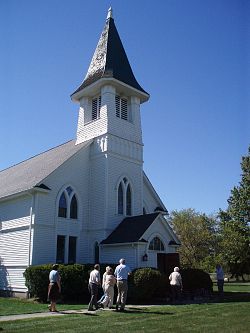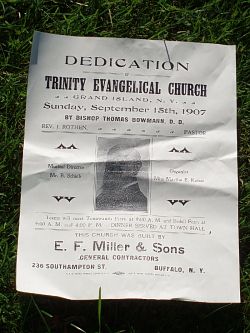 "Historic Trinity," dedicated on September 15, 1907, and the dedication program of that day
Click photos for larger view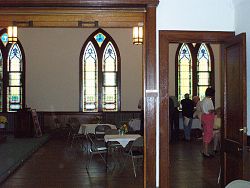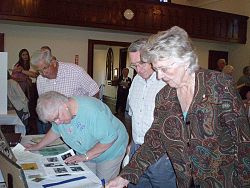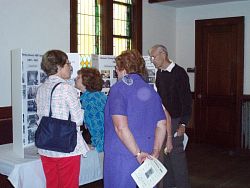 (left) The church boasts beautiful woodwork, a lovely, old organ, these stained glass windows, and a generous balcony; (center left) Bob Kingston, Joan Kingston, Dennis Ponton and Nancy Hayes; (right) unknown, Anita Cole, Joan Fred and Harvey Long.
Click photos for larger view

Christine Stange photos
A celebration of the 100th anniversary of the dedication of Old Trinity Evangelical Church, now Historic Trinity Church, took place on Sunday, September 23, 2007 at the church at 2100 Whitehaven Road, Grand Island, NY. Photo displays and exhibits were made through the efforts of Historic Trinity Committee members Shirley Luther, Lois Kaiser, Sharon Nichols, Susie Myers, Jane Duffy, Ginger Mason, Grace Kammerer, Fay McDonald, Betty Killian, and Martha Martin.


---



Historic Trinity's 100th Anniversary Celebration - September 2007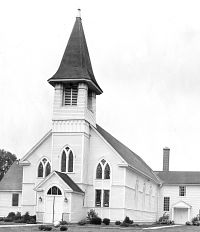 (left) 1886 photo of Trinity EUB Church, a replacement for the very first building. This church burned in 1905 and was replaced with the chapel shown in the 1950s photo (right) now known as Historic Trinity. The chapel, still standing on Whitehaven Road today, was dedicated on September 15, 1907. The current church building (not shown) was established in 1965.
Old Trinity Evangelical Church, now Historic Trinity Church will celebrate the 100th anniversary of its dedication Sunday, September 23, 2007. Special recognition will be presented at the 10:30 a.m. worship service and an open house will follow. The community is invited to come from noon to 1 p.m. and enjoy the photographic display and exhibits. Historic Trinity Committee members who have been working together to present the Anniversary Celebration are Shirley Luther, Lois Kaiser, Sharon Nichols, Susie Myers, Jane Duffy, Ginger Mason, Grace Kammerer, Fay McDonald, Betty Killian, and Martha Martin. Trinity UM Church is located at 2100 Whitehaven Road, Grand Island, NY.
See "Trinity Church History."


---



United Methodist Women Donate Book Bags - 2007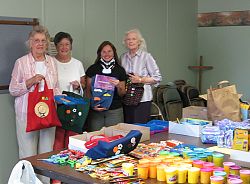 (left) Nancy Hayes, Pat Shaw, Jeannine King Klock and Marge Tetreault. Camera Shy: Diane Blum
Jodi Robinson photo - click for larger view
Volunteers in the Trinity Methodist Church United Methodist Women's Club got together on Thursday, September 6th to pack school supplies into 60 homemade book bags made by the club. The fall mission project benefited a kindergarten class in Fillmore, NY (Allegheny County). Allegheny County is the poorest county in New York State. UMW member Pat Shaw has a cabin located in Fillmore and had a first hand look of the poverty there. 60 students will receive crayons, colored pencils, pencils, scissors, glue sticks, erasers, pencil sharpeners and tissues. Jeannine King Klock wrote and published a book entitled "The Day That Sami Moved In," and each student also received a copy in their bag.


---




Teachers' Prayer Breakfast - 2007
A Teachers' Prayer Breakfast will be held at 9 a.m. Tuesday, August 21, 2007 in the Trinity UM Church family room, 2100 Whitehaven Road.
Special guest speaker will be Deacon Bonnie LeValley of Akron First United Methodist Church. The annual event is for teachers, education leaders, professors and those retiring, and those involved in any way in a school setting. For more information, or for reservations, call 773-3322.




Chiavetta's BBQ At Trinity Methodist Church - June 2007
A Chiavetta's Chicken BBQ is being held from 4 p.m. to 7 p.m. on Saturday, June 16th at Trinity United Methodist Church, 2100 Whitehaven Road. The cost is $8.00 or $9.00 for take-out and includes home-made desserts. This event is sponsored by the United Methodist Women and proceeds will be going to local and far reaching mission projects. A current project is making school bags and filling them for needy Niagara Falls students.


---



50-Family Yard Sale and Car Wash At Trinity UM Church - May 2007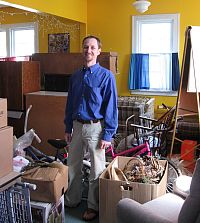 (left) Suit of armor for sale - (right) Associate Pastor Rev. Edward McCutcheon, amidst the items for sale.
Jodi Robinson photos.
Click photo for larger view.
The youth and Youth Advisory Council of Trinity United Methodist Church will hold a yard sale and car wash from 8 a.m. to 2 p.m. Saturday, June 2 at the church, 2100 Whitehaven Road. A large number of items have been collected from approximately 50+ Trinity families and include furniture, sporting goods, household items, toys, and clothes. There will also be items from the grill available for sale. The proceeds from the sale will benefit the annual mission trips where work is done on homes of people unable to do repairs themselves. The college age group will be traveling to Mt. Pleasant, SC and the high school group will be helping families in Niagara Falls, NY.


---




Private Adoption Seminar At Trinity UM Church - 2007
A Private Adoption Seminar will be held at 3 p.m. Sunday, March 11 at Trinity UM Church, 2100 Whitehaven Road, Grand Island. The seminar is free and open to the public although reservations are recommended to guarantee a seat. Light refreshments will be served. Contact Evelyn Swarts, 773-7385 or Barbara Sternberg, 626-1375.
The Law Office of Barry Sternberg invites the community to an informational seminar discussing the basics of private, domestic adoption. Many people believe that all adoptions are accomplished using the services of an adoption agency, however, there are hundreds of infants adopted in the United States each year through private adoption.
The goal of the seminar is to inform hopeful adoptive parents - or anyone interested, including hopeful adoptive grandparents - about successful private adoption through networking and advertising. Barbara Sternberg, an experienced adoption coordinator, will explain how to make a successful adoption plan and will dispel many common myths and misconceptions about private adoption. Topics of discussion will also include different ways to adopt, the role of the law office, social worker, finding birthparents, the legal process and finalization, along with consent and notice requirements.








---
If you are a member of this organization, we need your help. GIECOM.Net has partnered with the Connections program to help Grand Island as a community "Get it Together." Please visit our website G-I-Together.ORG and fill out our SURVEY. Every group on Grand Island will have its own FREE web page showing: meeting times and location, contact persons, your Mission Statement and a listing of events. We will also be linking your news events that appear in the local media and on IsledeGrande.Com, Grand Island's E-News Source, to your page, maintaining an archived journal of pictures and news. This is the perfect opportunity for your group to connect with potential new members and the community.
---
---
Other Grand Island Pages to Visit:
Churches | Email Directory | Government | Groups
GIHS Grad List | Guestbook | Please sign in! | Local Artists | Photo Album | Town History | Useful Links
| Website Design | Wildlife | Isledegrande's Home Page | GIECOM.NET'S Home Page
Please Email News Releases to Teddy Linenfelser, Thank You.
This website is sponsored by
GIECOM.NET
1869 Whitehaven Road, Grand Island, New York, 14072-1803 USA


Copyright © 1995-2007 All rights reserved.