Charles N. DeGlopper Memorial VFW Post #9249
2008
2121 Grand Island Blvd.
Click for VFW 2009 News
Click for VFW 2007 News
Click for VFW 2006 News
Click for VFW 2005 News
Click for VFW 2004 News
Click for Previous VFW News


Veterans Of Foreign Wars Official Web Site
Veterans Administration Official Web Site
325th Glider Infantry Association Web Site
Charles N. DeGlopper - Web Site

Department of New York VFW Web Site
VFW Erie County Council Web Site

The Digitized wall was recently made public for those friends and relatives who are not able to visit the full wall in Washington, DC. Interactive Vietnam Veterans Memorial is available to view the names of the loved one who gave the ultimate sacrifice. Information may be added by following directions on the site.
See http://www.aogusma.org/class/1961/ or http://go.footnote.com/thewall


---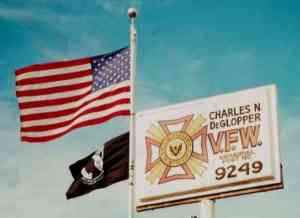 VFW Officers 2008-2009: Commander Raymond Briggs, Senior Vice-Commander John Thompson, Junior Vice-Commander Alan Lee, Sr., Quartermaster Richard Lozo Sr., Surgeon Hank Burak, Judge Advocate Joseph Synakowski, Chaplain Michael Rogan, Trustees Ann Marie Pfohl, Spencer O'Boyle, David Remmes and Adjutant Damon Wright.
VFW Ladies Auxiliary Officers 2008-2009: President Sam Hill, Senior Vice-President Laura Sexton, Junior Vice President Donna Briggs, Secretary – Dedi Secic, Treasurer Kathie Blake, Chaplain Terri Majewicz, Guard Nancy Secic, Conductress Liane Dahlberg, and Trustee Joanne Lozo, Marilyn Burak, Terri Majewicz
VFW Men's Auxiliary Officers 2008-2009: President Mark Gollwitzer, Senior Vice President Steve DeMarco, Junior Vice President Bill Derwin, Treasurer Bruce Wojick Sr., Secretary Pat Patterson, Chaplain Don Tranter, Guard Gary Kratz, and Conductor Bill Brice.


---



Santa Visits VFW Post 9249 - Dec. 2008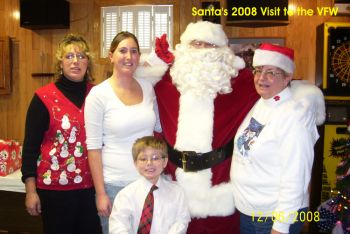 Santa recently posed with some of his Elves with Robert Arch.
Shown from left are Lisa Lozo, Molly McMahon, Santa, Sue McMahon and Robert Arch, grandson of Veterans, Richard Lozo and Fred Arch.
Santa paid a visit to the Charles N. DeGlopper Memorial VFW Post 9249 on Saturday, December 6th and in his bag were toys for the children and grandchildren of the Veterans of Foreign Wars. While he didn't stay too long, Santa said this is his busy time of the year and he had other stops to bring joy to Veterans and their families this Christmas season.




Pearl Harbor Service At VFW Post - 2007
Members of the Charles N. DeGlopper Memorial VFW Post #9249 will host a memorial service at noon, Sunday, December 7, 2008 in observance of the attack on Pearl Harbor. The community is invited to meet at the VFW Post flagpole, 2121 Grand Island Blvd. in remembrance of those who perished at Pearl Harbor on December 7, 1941.


---



Veterans Day Photos - 2008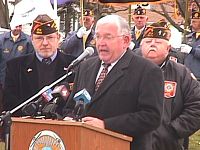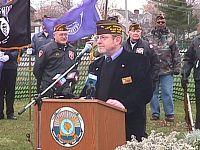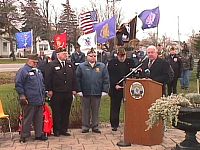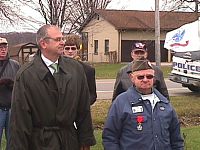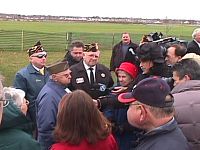 (left) VFW Commander Ray Briggs, Supervisor Peter McMahon and VFW Chaplain Mike Rogan; Commander Briggs; Commander Briggs with French Consul Pascal Soares; Joseph J. Stefaniak, Joe Synakowski, American Legion Commander Bob Soluri, Ray Briggs and Supervisor McMahon; French Consul Pascal Soares and Joe Stefaniak
Joyce Lee photos - Click for larger view
Veterans Day ceremonies were held at 11 a.m. November 11, 2008 at Veterans Park on Bedell Road. Pascal Soares, the honorary French consul in Buffalo, presented World War II hero Joseph J. Stefaniak the highly regarded medal that Napoleon Bonaparte established to honor individuals who provided exceptional service to France. See Buffalo News story by Lou Michel.




Veterans Day Service - 2008
Veterans Day services will be held at the Veterans Park Memorial Wall, 1715 Bedell Road, at 11 a.m. Tuesday, November 11th. See Veterans Day Details


---



VFW Texas Chili Cook-Off Winners Announced - 2008
The winners of the VFW Post 9249 Texas Chili Cook-Off held Saturday, October 18, 2008 have been announced:
• 1st place Peter Michaels - prize $100
• 2nd place Molly McMahon - prize $50
• 3rd place Denise Caudill -prize $25


---



VFW Texas Chili Cook-Off - 2008
The VFW Post 9249 will host a Texas Chili Cook-Off beginning at noon on Saturday, October 18, 2008. Contestants may pre-register at the G.I. VFW Post prior to the event. On the day of event, contestants may register from 12 noon - 1 p.m. Entry fee is $10.00. Judging begins at 1 p.m. Prizes are:
• 1st place - $100.00
• 2nd place - 50.00
• 3rd place - 25.00
Chili will be sold immediately after judging is completed. Hot dogs, cord bread, desserts, cider and additional beverages will be available for purchase. Featured will be the live performance by the LeeRon Zydeco Band, who are well know in the WNY area for their fun TEX-Mex/Cajun style of music. The day will also feature lottery trees, basket raffle, 50/50 split and the following Kids Activities:
• pumpkin painting
• storytime
• piñata
• and more...
Profits will benefit our troops at holiday time.


---



VFW Octoberfest - 2008
An Octoberfest will be held from 2-6 p.m. Saturday, October 11, 2008 at the VFW Post 9249, 2121 Grand Island Blvd. The event will feature music, food and fun at $8.00/Plate. For more information, call Spencer O'Boyle, 803-5304. Tickets available daily after 11 a.m. at the Post.

---



VFW Thanks Airlines for Dropping Military Luggage Fees - 2008
WASHINGTON Aug. 28, 2008 -- The new national commander of the Veterans of Foreign Wars of the U.S. is saying "thank you" to the American airline industry for allowing military personnel traveling on orders to now check a third piece of luggage without paying an additional fee.
"I am extremely grateful to the airlines for agreeing with the VFW that dropping the fee was the right decision to make for our troops," said Glen Gardner, a Vietnam veteran from Round Rock, Texas, just north of Austin. Gardner was elected to lead the nation's largest organization of combat veterans on Aug. 21 at the VFW's 109th national convention in Orlando, Fla.
The baggage fee issue surfaced last month in a Texas newspaper article about a young soldier being charged $100 for a third piece of checked luggage. The soldier was headed for additional training before deploying to Iraq.
All major U.S. carriers were allowing military to check two bags for free, but the $100 industry norm for the third checked bag was hitting young troops directly in their wallets, despite some assurances from the Defense Department that the fee might be reimbursable at a later date. The VFW weighed in by asking the Air Transport Association to work with its member airlines to exempt military personnel traveling on orders from paying baggage fees on a third piece of checked luggage.
"A $100 is a huge out-of-pocket expense to someone who doesn't earn very much," said Gardner, "and that's why this luggage fee waiver is so important. Our troops can now properly focus on their mission instead of remembering to complete a travel voucher in a war zone."
In a letter of appreciation sent Wednesday to ATA president James C. May, the VFW national commander expressed his thanks to the association for facilitating the fee waiver with its member airlines.
"Waiving the third checked bag fee was a decision that needed to be made," wrote Gardner. "The VFW is very appreciative of ATA's understanding of our call to action, and very grateful for the subsequent actions taken by your member airlines. U.S. air carriers have always been huge supporters of our troops; their decisions to waive the third checked bag fee now amplifies that strong support."


---



Fly Your Flag On Thursday - Patriots Day - Sept. 11, 2008
Members of the Charles N. DeGlopper Memorial Post #9249 VFW will hold a Patriots Day Memorial Service on September 11th, 2008 at 7 p.m. at the post, 2121 Grand Island Blvd. The Service is held in memory of the Victims of the attack on the World Trade Center, The Pentagon and Flight 93 on September 11, 2001. Participating Units are; the Charles N. DeGlopper Memorial Post 9249, Grand Island DAV Chapter 168, American Legion Post 1346, South Park High School Jr. ROTC, The Grand Island Community Chorus and the Grand Island Fire Company.
The Citizens of Grand Island are urged to attend this Memorial Service. Guest Speaker, Town Supervisor Peter McMahon.


---



VFW Scholarship Winner - 2008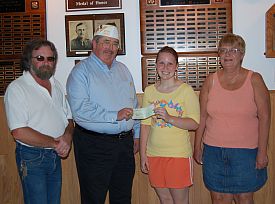 (left) Men's Auxiliary President Mark Gollwitzer, Past Commander VFW 9249 Dan McMahon, scholarship winner Jennifer Ciechoski and Ladies Auxiliary Past President Sue McMahon
Mary Stewart photo - Click for larger view
Grand Island High School graduate, Class of 2008, Jennifer Ciechoski, is the recipient of the Charles N. DeGlopper Memorial VFW Post #9249 scholarship, presented at the post by Past Commander Daniel McMahon on Tuesday, July 15, 2008. Jennifer is the daughter of Michael and Mary Ciechoski, and the granddaughter of Helen Ciechoski and the late Arthur Ciechoski, a former member of Post 9249..


---



7th Annual Dick Pendleton Memorial Super Cruise At VFW - 2008
Cruise Control and Charles N. DeGlopper VFW Post 9249 presents the 7th Annual Dick Pendleton Memorial Super Cruise on Sunday, July 27th at the VFW Post #9249, 2121 Grand Island Blvd. from noon to 4 p.m. Gates open at 10 a.m. and judging begins at 1 p.m.
The cruise is being sponsored by Paddock Chevrolet and Gross Plumbing. There is no admission.
Awards will be presented at 4:15 p.m. along with Dash Plaques to the first 125 cars. There will be over 75 awards, a Chinese auction, a 50/50 raffle and door prizes. Those attending will enjoy the live music of "Big Wheelie and the Hub Caps" from 1-4 p.m. Proceeds will benefit the Town Boys & Girls Summer Camp.


---



VFW Independence Day Picnic Tickets On Sale - 2008
Presale tickets are now on sale at the VFW Post 9249, 2121 Grand Island Blvd. after 11 a.m. Monday through Saturday and after 12 p.m. on Sundays for the annual VFW Independence Day Picnic scheduled for Friday, July 4, 2006. Tickets are $0.50 each in blocks of 20 for $10.
The VFW Post 9249's Independence Day Picnic and open house will be held immediately after the town's 9:30 a.m. July 4, 2008 parade. The day will include clams, corn, hot dogs, hamburgers, Italian sausage, beer and soft drinks and music, as well as children's events and a children's midway of games. Food and beverages will be by pre-purchased ticket only. Numerous ticket booths will be set up throughout the area and sufficient staffing is planned. This is a real All-Island reunion and the place to meet friends from here and those who are in town for the holiday. Daniel McMahon is the chairman of this year's Independence Day picnic, and may be contacted at the Post, 773-6343, or by email to: givfw9249@juno.com for further information.


---



Chicken Dinner At VFW - 2008
A chicken dinner will be hosted by the VFW Post 9249 men's auxiliary from 4-7 p.m. Saturday, June 7 at the post. The event will feature a 50/50 raffle.


---



VA Begins Next Phase of Combat Vet Outreach
Calls to Ill or Injured Veterans Completed - 2008
To view and download VA news releases, visit the following Internet address: http://www.va.gov/opa/pressrel
WASHINGTON (May 30, 2008) -- The Department of Veterans Affairs (VA) announced today it has completed making calls to veterans potentially identified as being ill or injured from Operation Enduring Freedom and Operation Iraqi Freedom (OEF-OIF), and will immediately begin targeting over 500,000 OEF-OIF veterans who have been discharged from active duty but have not contacted VA for health care.
"We promised to reach out to every OEF and OIF veteran to let them know we are here for them -- and we are making real progress in doing so," said Dr. James B. Peake, Secretary of Veterans Affairs.
A contractor-operated "Combat Veteran Call Center" is making the initial calls on behalf of VA. All potentially sick or injured veterans on VA's list received an offer to appoint a care manager to work with them if they do not have one already. VA care managers ensure veterans receive appropriate care and know about their VA benefits.
In the new phase, beginning today, veterans who have not accessed health care from VA will be called and informed of the benefits and services available to them. Additionally, military personnel received information about VA benefits when they left active duty, and the Department had sent every veteran a letter with this information after their discharge.
For five years after their discharge from the military, these combat veterans have special access to VA health care, including screening for signs of post-traumatic stress disorder and traumatic brain injury. VA personnel have been deployed to the military's major medical centers to assist wounded service members and their families during the transition to civilian lives.
"VA is focused on getting these veterans the help they need and deserve," said Secretary Peake. "I expect these calls to make a real difference in many veterans' lives."


---



VFW Poppy Drive - 2008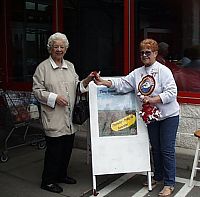 (left) Ruth Cap receives a poppy from VFW Ladies Auxiliary member Mary Becker
Mary Stewart photo - Click for larger view
The weekend of May 22-24 was designated Buddy Poppy Days on Grand Island when residents donated cash for the honor of wearing a Buddy Poppy. Members of the VFW Post 9249 were stationed at Tops Market, HSBC Bank, M&T Bank and at The Wilson Farms Store.


---



WWII Hero Charles DeGlopper Remembered Overseas - 2008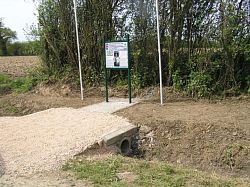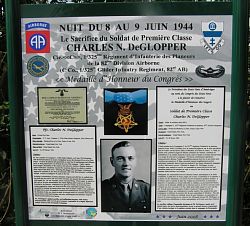 Click photos for larger view

Vivian ROGER, Secretary, Association U. S. Normandy, has written to VFW 9249 Commander Daniel McMahon with news of a plaque erected to honor the memory of Charles N. DeGlopper, Island resident who was killed in action in an act that saved the lives of those in his unit.
The Association U. S. Normandy was formed in 2005 and its headquarters is in Amfreville. It is a French organization whose mission is to honor the American soldiers who died and the surviving veterans, all who fought here for France's liberty in June 1944.
Among the many contributions this group has made to preserve the history and honor who fought for freedom are organized ceremonies, translate in French and English, the laying of flowers on the graves, taking veterans to schools, raising funds to create more memorials, and hosting a Historic Walk in Amfreville. "We have many projects to honor the veterans and try to keep the memory of the fight for liberty alive. Last year we inaugurated a new monument at Timmes' Orchards. We also assisted in a documentary made by Tim Gray Media (Rhode Island) who brought five veterans back to Normandy to retrace their paths of June 6, 1944 and to tell their stories," Ms. Rogers wrote.
"I am in contact regularly with many veterans and their families. The reason I am contacting you is to let the town and any family members know that the French have not forgotten.... And we wish to inaugurate this symbolic gesture to the memory of Charles DeGlopper with much gratitude," she said.


---



Eric Gould, US Army, Expresses Thanks For "Care Packages" Received In Iraq - 2008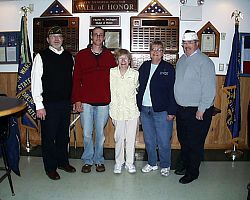 (left) VFW Post 9249 Sr. Vice Commander Ray Briggs, Eric Goulding, Lee Dahlberg, Ladies Auxiliary President Sue McMahon and VFW Commander Dan McMahon
Mary Stewart photo - Click for larger view
When Island resident Eric Goulding recently returned from his second tour of serving his country in Iraq, he wanted to meet Lee Dahlberg, a member of the VFW Ladies Auxiliary who is credited with sending a box of goodies and other essential items overseas once each week. Eric, who is serving in the United States Army, visited the VFW Post and expressed his sincere appreciation for the packages he received through the efforts of Mrs. Dahlberg and the Island's VFW.


---



Islanders Installed At County VFW Convention - 2008
The 74th Annual Convention of the Erie County Council of Veterans of Foreign Wars concluded Sunday afternoon, May 18, 2008, with the installation of officers of the VFW and the VFW Ladies Auxiliary. The combined ceremony was held at the Harvey D. Moran VFW Post #2940 in West Seneca. County Officers installed who are from the Charles N. DeGlopper Memorial VFW Post 9249 were Jr. Vice Commander Daniel McMahon, Quartermaster Richard A. Lozo, Sr., and members from the Ladies Auxiliary, Jr. Vice President Kathleen Blake and Chaplain Susanne McMahon.
The Convention began Saturday morning, May 17 with the presentation of awards to the various Posts for their outstanding membership drives. This was followed by the opening business session and a banquet Saturday evening that honored out going Erie County Council VFW Commander Charles A. Camillo and outgoing County Council Ladies Auxiliary President Theresa Lampka, for their hard work this past year. Sunday's session opened with a tribute to the deceased members of the 33 VFW Posts in Erie County. Chaplain Raymond Peterson read the roll of Veterans who had passed away during the past year followed by a Salute from the Hamburg Township VFW Honor guard, and Taps. Sunday's Business sessions concluded the convention. The newly elected officers will assume their new duties following the installation of the next Department of New York VFW Commander late in June.


---



Annual Buddy Poppy Campaign Benefits Needy Veterans - 2008
Members of the Charles N. DeGlopper Memorial Veterans of Foreign Wars Post 9249 and its Auxiliaries will be distributing Buddy Poppies at the following Grand Island locations during business hours on Thursday, Friday and Saturday, May 22- 24, 2008.
• Tops Store, 2140 Grand Island Blvd.
• HSBC Bank, 2300 Grand Island Blvd.
• M&T Bank, 2381 Grand Island Blvd.
• Wilson Farms Store, 1787 Love Rd.
The VFW bylaws require the proceeds be used right here in our community for the veterans and veterans' families in need.
In 1923, the VFW was the first veterans organization to promote a nationally organized campaign for the annual distribution of Poppies assembled by disabled or hospitalized veterans. That tradition continues today, with more than 14 million Poppies assembled by paid, disabled and hospitalized veterans each year. Nationally, the members of the VFW and its Auxiliaries raise more than $15 million annually from the distribution of Buddy Poppies.
The VFW, founded in 1899, is the nation's oldest major veterans organization with more than 1.9 million members.


---



All Aboard for a VFW Post 9249 Casino Fundraiser Tour - 2008
The Charles N. DeGlopper Memorial VFW Post 9249 is sponsoring a Seneca Allegany Casino fund raising tour on Saturday, June 14, 2008. Buses will leave the Post, 2121 Grand Island Blvd., Grand Island at 11:30 a.m. sharp and return at about 7:30 p.m. Reservations are accepted at the Post from 11 a.m. daily. Cost is $25.00 per person (must be 21 to get on the bus). There will be $15.00 in casino incentives on arrival, $10.00 slots and $5.00 food. Travel will be by Coach bus with boarding beginning at 11:15 a.m. Contact Jack Thompson, 773-6343 for further information. All are welcome. See also "Information Flyer"


---



Memorial Day Gravesite Services - 2008



The Honor Guard of the Pfc. Charles N. DeGlopper Memorial Post #9249 Veterans of Foreign Wars will conduct gravesite services at the following locations on May 26, 2008 - times approximate:
• Whitehaven Cemetery - East River Rd. (near Holiday Inn) 7:40-7:50 a.m.
• Maple Grove Cemetery - (resting place of C. N. DeGlopper) Stony Point near Whitehaven Rd. 7:55-8:05 a.m.
• Staley Cemetery - West River Rd. near Staley - 8:15-8:25 a.m.
• Assumption Cemetery - Whitehaven Rd, near 4th St. - 8:30-8:40 a.m.
• Trinity Cemetery - Whitehaven Rd. next to Old Trinity Church 8:45-8:55 a.m.
• St. Stephen's Cemetery - Baseline Rd., next to Old St. Stephen's Church - 8:55-9:10 a.m.
Times for cemetery services are approximate and may vary due to weather conditions.
Memorial Day services will be held at the PFC. Charles N. DeGlopper Memorial Park, Grand Island Blvd. and Baseline Road at 10 a.m. Monday, May 26, 2008. The residents of Grand Island are urged to attend these services to honor our fallen comrades who gave the ultimate sacrifice, while serving our country. "Show your appreciation by attending these solemn services. We thank the members of the Armed Forces presently serving our country, those missing in action, and the veterans who kept our nation free."

---



MSG Stephen Bazemore - 2008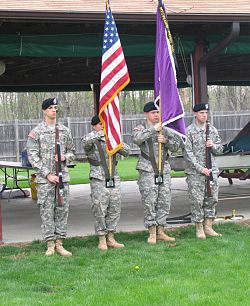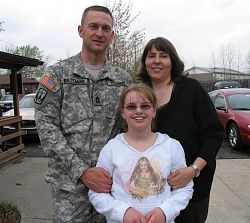 (left) Niagara University ROTC Honor Guard; (right) SMSG Steve, wife Sabine and daughter Sarah
Click photos for larger view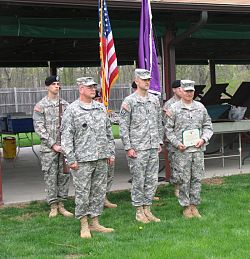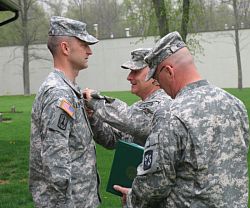 (left) Awarding the Meritorious Service Medal, (from left) Senior Military Instructor MSG Owen Meehan, MSG Steve and Commander LTC Patrick Soos; (right photo) Pining medal
Click photos for larger view

Friday, May 2, 2008 marked a new beginning for MSG Stephen Bazemore - his retirement from the US Army and his most recent assignment as 1st Sgt at Niagara University's ROTC program. Steve, an Island resident, with his wife, Sabine, daughter, Sarah, and his mother-in-law, Anita Bujak from Germany, along with many of the Post's Veterans and ROTC personnel in attendance chose the Charles N. DeGlopper Memorial VFW Post 9249 for his retirement ceremony. During the ceremony Stephen received the Meritorious Service Medal along with congratulations from ROTC Commander LTC Patrick Soos for the fine service to the US Army and Niagara's ROTC program.




Mother's Day Brunch At VFW Post - 2008
Members of the Ladies Auxiliary of the Charles N. DeGlopper Memorial VFW Post 9249 will host their 2nd Annual Mother's Day Brunch at the VFW Post, 2121 Grand Island Blvd., from 10 a.m. to 2 p.m. Sunday, May 11. Adults $10.00; Children $5.00; Children 5 & under Free. The menu includes Eggs Benedict; Sausage, Cereal, Home Fries, other hot and cold foods. Proceeds will benefit Veterans programs.




VFW Post 9249 Announces New Officers - 2008
The Members of the Charles N. DeGlopper Memorial VFW Post 9249 have elected the following new officers for the 2007-2008 year:
• Commander Raymond Briggs
• Sr. Vice Commander Wallace Wigdorski
• Jr. Vice Commander John Thompson
• Quartermaster Richard Lozo, Sr.
• Surgeon Hank Burak
• Judge Advocate Joseph Synakowski
• Chaplain Michael Rogan
• Trustees David Remmes and Ann Marie Pfohl
Installation of officers will take place at the May meeting at the Post.




Good Friday Fish Fry At VFW Post 9249 - 2008
The members of the Men's Auxiliary of the Charles N. DeGlopper Memorial VFW Post 9249 will host their the 3rd Annual Good Friday Fish Fry from 4-7 p.m. Friday, March 21, 2008 at the Post, 2121 Grand Island Blvd. Cost is $7.00 per person.




"Fun"draiser Night at Pizza Hut Benefits VFW Post 9249 - 2008
The community is invited to come out and support the Charles N. DeGlopper Memorial VFW Post 9249 by making a purchase at Pizza Hut on Grand Island Blvd. on Monday, February 25, 2008 from 4-8 p.m. Pizza Hut will donate 20% of your purchases on the "Fun"draiser Night" to the VFW. Present the coupon, valid for dine in or take outs, when you pay. Click for "coupon."




VFW Spaghetti Dinner - 2008
A Spaghetti Dinner will be held at the VFW Post #9249 from 4-7 p.m. Saturday, February 16th. Cost of dinner is $6 or $5.50 for Senior Citizens between 4-5 p.m. Take out will be available. A special feature will be the showing of the movie, "Lady and the Tramp" (for background only).




National Salute To Hospitalized Veterans - 2008
VA Western New York Healthcare System invites the public to participate in open-house activities February 10-16 during the National Salute to Hospitalized Veterans. "The National Salute to Hospitalized Veterans gives everyone a chance to let those who have given so much to the nation know that they are not forgotten," said Michael S. Finegan, director, VA Western New York Healthcare System. "We've invited local celebrities, elected officials, and other groups to visit during the week. We want people of all ages to bring Valentine's Day cheer to our patients." Finegan said he hopes visitors will also learn more about the important roles volunteers play at the medical center throughout the year and perhaps pursue volunteer opportunities. Open House at the Veterans Hospital in Buffalo will be held Thursday, February 14 at 1:00 p.m. in Room 301. WNY VA Health Care System is home to several Islanders and also provides on going care to many Island residents.




Souper Saturday At VFW - 2008
The Ladies Auxiliary of the VFW Post 9249 will present Souper Saturday, January 19, 2008 from 4-7 p.m. featuring all you can eat soup, salad, and bread. Cost is $5 per person and menu includes nine soups to choose from, different soups every hour. An early birds special is $4.50. Take out soup will be available at $4.50 a quart.
Come out and enjoy turkey noodle, white bean & Chorizo sausage, chicken wing soup, pasta fagioli, cream of broccoli, clam chowder, beef barley, cream of potato, Italian wedding soup and vegetable soup.





---
If you are a member of this organization, we need your help. GIECOM.Net has partnered with the Connections program to help Grand Island as a community "Get it Together." Please visit our website G-I-Together.ORG and fill out our SURVEY. Every group on Grand Island will have its own FREE web page showing: meeting times and location, contact persons, your Mission Statement and a listing of events. We will also be linking your news events that appear in the local media and on IsledeGrande.Com, Grand Island's E-News Source, to your page, maintaining an archived journal of pictures and news. This is the perfect opportunity for your group to connect with potential new members and the community.
---
---
Other Grand Island Pages to Visit:
Churches | Email Directory | Government | Groups
GIHS Grad List | Guestbook | Please sign in! | Local Artists | Photo Album | Town History | Useful Links
| Website Design | Wildlife | Isledegrande's Home Page | GIECOM.NET'S Home Page
Please Email News Releases to Teddy Linenfelser, Thank You.
This website is sponsored by
GIECOM.NET
1869 Whitehaven Road, Grand Island, New York, 14072-1803 USA


Copyright © 1995-2008 All rights reserved.