Younglife News Page

Bob Piatek - YoungLife Committee - 773-2300


SEE FEATURE STORY,
Young Life Camp - Summer 2007
By Shelbey Bidell, a journalism student at Buffalo State College





Islanders Represent Young Life Fundraiser - 2008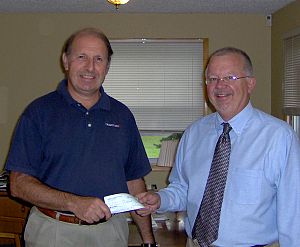 (left) John Donner and Bob Piatek
Young Life of the north towns of Buffalo is holding its annual fundraising golf tournament on September 15, 2008 at Tan Tara Country Club in North Tonawanda. Shown above are Bob Piatek (right) on the Young Life golf planning committee, and John Donner representing the Grand Island Knights of Columbus. The Knights are just one of the many businesses and organizations who support Young Life, a Christian ministry specifically working with high school students in the area. For more information about Young Life, see www.younglife.org or call 825-6702. To inquire about either playing in or sponsoring the tournament call Bob Piatek at 773-2300. For the complete list of sponsors of the event call Kevin Kulikowski at 825-6702.

















---



Lions Contributes to YoungLife Event - March 2003



March 2003. . .Members of YoungLife of Buffalo North held their annual fund-raising banquet at Classics Banquet and Conference Center on Thursday, March 13, 2003. Shown above is Dick Crawford (right) representing the Grand Island Lions Club and Bob Piatek representing YoungLife Committee. The Lions Club was one of the many contributors to the event which benefits YoungLife, a non-denominational ministry for high school-age youth, each year. YoungLife is very active on Grand Island and in several other towns in the area. The staff, volunteer leaders, Committee and young people associated with YoungLife, thank all those who support them.


---
---
Send Us Your News
How to Submit News/Photos
If you are a member of this organization, we need your help. GIECOM.Net has partnered with the Connections program to help Grand Island as a community "Get it Together." Please visit our website G-I-Together.ORG and fill out our SURVEY. Every group on Grand Island will have its own FREE web page showing: meeting times and location, contact persons, your Mission Statement and a listing of events. We will also be linking your news events that appear in the local media and on IsledeGrande.Com, Grand Island's E-News Source, to your page, maintaining an archived journal of pictures and news. This is the perfect opportunity for your group to connect with potential new members and the community.
---
---
Other Grand Island Pages to Visit:
Churches | Email Directory | Government | Groups
GIHS Grad List | Guestbook | Please sign in! | Local Artists | Photo Album | Town History | Useful Links
| Website Design | Wildlife | Isledegrande's Home Page | GIECOM.NET'S Home Page
Please Email News Releases to Teddy Linenfelser, Thank You.

This website is sponsored by

GIECOM.NET

1869 Whitehaven Road, Grand Island, New York, 14072-1803 USA


Copyright © 1995-2007 All rights reserved.


GIECOM.Net Inc. is owned by deSignet International
a "World Class Jewelry Manufacturer and Retailer"
Store Hours: 9-5PM Mon-Friday and Saturdays 10AM-3PM, and by Appointment
1869 Whitehaven Road, Grand Island, New York, 14072-1803 USA, 1-888-RARU.COM
Copyright © 1995-2007 All rights reserved.



<! ~~~~~~~~~~~~~ New Tracker Code Below ~~~~~~~~~~~~~~~~~~~~~~ >