Town Of Grand Island Youth Court
2255 Baseline Road
Grand Island, NY 14072
773-9650

Supervisor............Peter McMahon
Town Council............Mary Cooke, Richard Crawford, Gary Roesch, Sue Argy
Justice............Sybil Kennedy, Mark Frentzel
Coordinator............Dennis Albert
---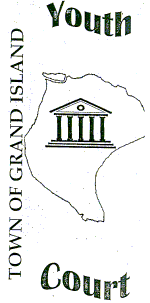 ---


Youth Court Members Donate Time to Food Kitchen
Grand Island Youth Court members Cynthia H. Czapla, Christine Webb, Carey Marrinan, and Brittany Rogers took time out of their busy schedules and pitched in at a Buffalo food kitchen where they helped serve and also took care of take-home food packages. Dennis Albert, Youth Court adviser, also helped the students in the food kitchen.
The Youth Court program on Grand Island provides students with knowledge and experience on how the court system functions. Youth Court deals with school-aged youths between the ages of 7 and 19. The most common infractions for this age group are truancy and smoking. Cases are referred to the court by local law enforcement officials or school administrators including high school principal Dr. James Dempsey and William Miller, vice principal. Once the cases arrive at Youth Court, the members, who take the parts of judges, attorneys, bailiffs, and court clerks, effectively deal with the infractions committed by their peers. Punishment given out by members of Youth Court is often much harsher than offenders would receive from any other source.
Grand Island Youth Court has been in existence for several years.

-What is Youth Court?
The Town of Grand Island Youth Court is a delinquency prevention and community diversion program patterned after the regular court process. Its primary goal is to prevent juvenile offenders between the ages of 7-15 (and high school students) from being sent to Family Court. Youth Court is held once a week on Tuesday evenings.

-Who are the referral sources?
Local, county or state groups refer youth to the Court police agencies. Also the High School refers students for smoking and truancy.

-Who are the Youth Court members and what kind of training do they receive?
The Court itself is comprised of youth between the ages of 14-19. These youth serve positions as judges, law guardians, fact attorneys and clerks in Court cases of their peers. Each prospective Youth Court member is required to take a comprehensive training course, taught once a year, followed by a bar examination at the end of the course. Members have a basic understanding of penal, probation and Family Court issues.

-A Typical Theft Case:
An individual is recognized as committing an offense and taken into custody by an authority figure. In pursuing this rule, salespersons should not accuse patrons of stealing, nor should they try in any way to apprehend a shoplifter. The manager should be alerted immediately. The police or the store detective should also be notified. The offender's parents are contacted and required to pick their child up. The police agency then has the option to offer Youth Court, as opposed to Family Court, if it feels the offender deserves another chance. The function of Family Court and Youth Court is fully explained, and parents and youth decide in which Court they would like to appear. To ensure that the offender meets the eligibility requirements for Youth Court, the case is referred to the Youth Court Coordinator. If the parents and the offender choose Youth Court, they are given a Court date (summons). The offender must be accompanied to Court by at least one parent or guardian. At the Court appearance, the offender pleads guilty or not guilty before his peers. If the plea is guilty, the offender is questioned by the fact-finding attorney to find out the circumstances surrounding his act. After hearing all the facts, the Court has several options: dismissal of the Court charges, suspended work hours, community service hours, counseling, conditional discharge, essay papers to be returned to Youth Court, and/or referral to Family Court. The majority of offenders are given service hours that are performed under the supervision of the Youth Court Coordinator or at school. These service hours are performed at non-profit agencies and/or for community organizations. Counseling can also be made available upon recommendation of the Court.

-What are the advantages of Youth Court?
A. Trained Youth Court members have "real life" courtroom experiences. B. The offender is not sent to Family Court. C. Offender is not labeled as a juvenile delinquent. D. Offender has the opportunity to learn about the justice system. E. Offender is judged by his peers. F. Offender assumes responsibility for his actions. G. Offender is able to pay for violation through community involvement. H. Offender does not have to pay attorney fees. I. Offender will not obtain a criminal record. J. Offender's case will not be of public record. K. Offender will save the system money by not tying up Family Court. L. Offender, if found guilty, will have all records destroyed at age sixteen. M. Referral to counseling will be made when appropriate.

-Types of Cases That the Youth Court Deals With:

Disorderly Conduct/Assault
Criminal Mischief/Vandalism and other related offenses
Larceny
Drinking Underage/ Intoxication
Trespassing
Traffic Infractions
Harassment
Unauthorized Use of Vehicle
Criminal Possession Of Stolen Property
Loitering
Substance Abuse Violations
Smoking Violations in School
Truancy from School

For more information about the Grand Island Youth Court, and if you would like to join, contact Dennis Albert, Youth Court Coordinator at 773-9650 ext. 607 or e-mail him at

If you are a member of this organization, we need your help. GIECOM.Net has partnered with the Connections program to help Grand Island as a community "Get it Together." Please visit our website G-I-Together.ORG and fill out our SURVEY. Every group on Grand Island will have its own FREE web page showing: meeting times and location, contact persons, your mission statement and a listing of events. We will also be linking your news events that appear in the local media and on IsledeGrande.Com, Grand Island's E-News Source, to your page, maintaining an archived journal of pictures and news. This is the perfect opportunity for your group to connect with potential new members and the community.
---
Other Grand Island Pages to Visit:
Churches | Email Directory | Government | Groups
GIHS Grad List | Guestbook | Please sign in! | Local Artists | Photo Album | Town History | Useful Links
| Website Design | Wildlife | Isledegrande's Home Page | GIECOM.NET'S Home Page
Please Email News Releases to Teddy Linenfelser, Thank You.

This website is sponsored by

GIECOM.NET

1869 Whitehaven Road, Grand Island, New York, 14072-1803 USA


Copyright © 1995-2007 All rights reserved.
<! ~~~~~~~~~~~~ New Tracker Code Below~~~~~~~~~~~~~~~~~ >