Chamber of Commerce News Web Page 2001
Grand Island, NY, Chamber of Commerce Website
Chamber Office: 1980 Whitehaven Road, Grand Island, NY 14072

Phone: (716)773-3651 Fax: (716)773-3316
This Chamber is organized for the purpose of advancing the economic, industrial, professional, cultural and civic welfare of Grand Island; to encourage the growth of existing industries and business, while giving all proper asssistance to any new firms or individuals seeking to locate in Grand Island; to support all these activities believed to be beneficial to the community and area, and in general to promote the welfare of all area citizens following always those policies intended to accomplish the greatest good for the greatest number of people.
---
Brochures, Maps, Videos and Post Cards (viewed on opening page of website) available through the Chamber Office. Feel free to email us and we will forward your request to the Chamber Office or call (716)773-3651.
Thank you for your interest in Grand Island.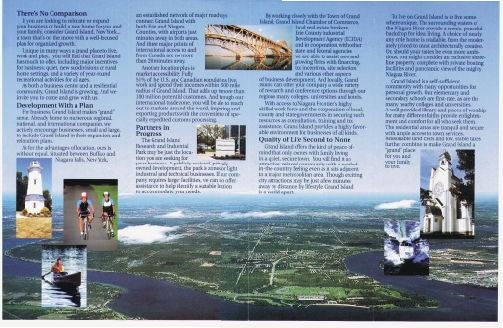 ---
The Chamber wants to close a loophole incase that the Seneca Nation wins the lawsuit. The Chamber wants to make sure that what has happened in Sherrill, a town in Central NY does not happen to Grand Island. The Town Sherrill lost its lawsuit with the Oneida Indian Nation. As a result Indians could buy land in the town and not have to pay taxes on the land. The Indians thus purchased 8 out of 10 gas stations and the town of Sherrill has lost 10% of its tax revenue. Even though any kind of settlement talks did not involve land, the Chamber still wishes to close up this loophole. They are going to petition that a trust fund be established so, if necessary, any lost tax revenue would be reimbursed.
Chamber Mixer - Chamber 2000 Candidates
The Grand Island Chamber of Commerce met Thursday, Nov. 30, at the elegant, spacious, and newly built offices of Northeastern Leasing & Finance Corporation, 2695 Grand Island Blvd. About 30 people showed up for the event hosted by NLFC President N. Bruce Allen who led the group on a tour of his new offices and antique car collection. Chamber President James Sharpe thanked Nolan for the use of his facility, welcomed his business to the Chamber, and pledged Chamber support to his business' continued success.
The Chamber will hold its annual holiday party and election of officers from 5-10 p.m. Tuesday, December 12 at the Grand Island Holiday Inn. Admission is a new, unwrapped toy which will be donated to charity.
Candidates running for office include the following:


James Sharpe, Sharpe Associates, for president
Gary Astridge, Astridge International, 1st vice president
Beverly Kinney, Carol Ann Hair Fashions, 2nd vice president
Diane Dinsmore, Diversified Management Services,Ltd, treasurer
Judy Schmidt, secretary
For director:
Andrew R. Chambers, A.R. Chambers & Co (Incumbent)
John Lexo, Bore-It, Inc. (Incumbent)
Skip Mazenauer, Niagara Frontier Publications(Incumbent)
Rus Thompson, Thompson's Contracting (Incumbent)
Dorothy Bitner, Traffic Safety Promotions
Dolly D'Orazio, Independent Fashion Coordinator (Weekenders USA)
Kathy Graves, Fujisawa Healthcare, Inc.
Richard Milkas, Copy Cat Print Center
Ed Pfohl, E.L. Pfohl Insurance Agency
Dan Robillard, Total Landscape Care
Margaret Sano, Nettainment, Inc. CEO of Nettainment, Inc.
Bonnie Sciuk, Brite Ideas Sales & Marketing Inc.
John Simon, Super Gas




---
Chamber Election


The Grand Island Chamber of Commerce, on December 12, elected the following officers and directors for 2001: President James Sharpe (Sharpe Associates), First Vice President Gary Astridge (Astridge International), Second Vice President Beverly Kinney (Carol Ann Hair Fashions), Secretary Judy Schmidt, Treasurer Diane Dinsmore (Diversified Management Services, Ltd.).
Andy Chambers (A.R. Chambers & Co.) was re-elected to his position as Chamber director. Newly elected members of the board of directors are Kathleen Graves (Fujisawa Healthcare, Inc.), Ed Pfohl (E.L. Pfohl Insurance Agency), Dan Robillard (Total Landscape Care), and John Simon (Super Gas).
Installation of officers will take place January 16th at the Grand Island Holiday Inn. All members are welcomed to attend. Time to be announced.


---
GI Chamber Expo 2000
More than thirty-five businesses and civic organizations displayed their wares at the ninth annual Grand Island Chamber of Commerce Business and Community Exposition, last Saturday (Oct.28), in the Bible Presbyterian Family Life Center on Love Rd.
It was "a good time and a good show" according to Event Committee Chairman Rod Reisdorf, who was very pleased with the event. The Chamber is doing a follow-up survey of exhibitors to see how they can improve the event according to Reisdorf.
"The Expo was great. Quite a few (exhibitors) want to come back next year," said Chamber member and exhibitor Betty Harris of Metro Town Realty. Click here to see Betty Harris' Letter to the Editor.

Business was brisk at all the booths, including the one for IsledeGrande.com, the only source for Grand Island E-News. Editor Teddy Linenfelser, Reporter William O'Connor, and Kim Baldassare, president GIECOM.net, were busy showing off Grand Island's newest business. Grand Island E-News was introduced to hundreds of interested people. The staff also handed out coloring contest sheets (contestants, please see rules), the GI-E-News, note pads and raffle tickets for a new 500 MHz computer (all of which are still available at 1871 Whitehaven Rd.).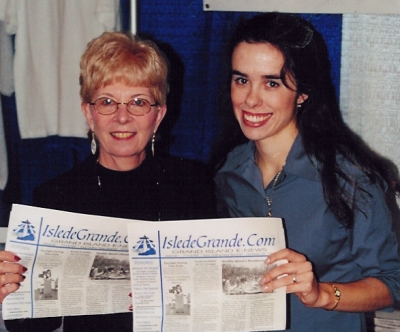 Teddy Linenfelser and Kim Baldassare show off
Grand Island E-News at the Expo. (photo by Fred Claus)

Aside from the display booths there were snacks (including kettle corn), fashion shows, and other entertainment. The Historical Society fashion show featured clothing from the 19th century.

Dianne and Layman Jones of Buffalo sport formal wear (foreground);
Julie Dee of Ransom Rd. wears a 19th century wedding dress.
Historical Society member Marilyn Randolph was the commentator. (Photo by Barbi Lare)
---
If you are a member of this organization, we need your help. GIECOM.Net has partnered with the Connections program to help Grand Island as a community "Get it Together." Please visit our website G-I-Together.ORG and fill out our SURVEY. Every group on Grand Island will have its own FREE web page showing: meeting times and location, contact persons, your Mission Statement and a listing of events. We will also be linking your news events that appear in the local media and on IsledeGrande.Com, Grand Island's E-News Source, to your page, maintaining an archived journal of pictures and news. This is the perfect opportunity for your group to connect with potential new members and the community.
---
Other Grand Island Pages to Visit:
| Businesses | Churches | E-mail Directory | Government | Groups |
| Guest Book | Please sign in! | Local Artists | New! Photo Album | Recreation |
| Schools | Seneca Law Suit | Town History | UsefuLinks | Weather |
| Website Design | Wildlife | Home Page |

This website is sponsored by
GIECOM.NET
1869 Whitehaven Road, Grand Island, New York, 14072-1803 USA


Copyright © 1995-2002 All rights reserved.




<! - - - - - - New Tracker Code Below - - - - Old Tracker Code Above - - - - - - - - <( '.' )>