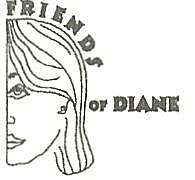 Friends of Diane Tetkowski Miller Pokorski Webpage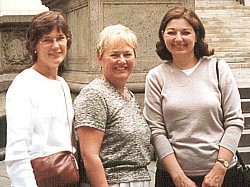 Diane with friends (left) Donna "Dinsmore" Frantz and Debbie Stack-Beyer
---

Benefit For Diane Tetkowski Miller Pokorski a Rousing Success



An estimated 500+ friends attended the Sunday, June 2, 2002 benefit for Diane Tetkowski Miller Pokorski, stricken with sickness in August 2001, leaving Diane in a tragic state of health.
The organizers did a most professional job of running the day's activities as well as all of the preparation in the weeks preceding the fundraiser. Huge donations of gifts for the basket raffle, silent auction and a live auction, party food and plenty of willing friends to keep it coming, and so many supporters made for a very upbeat afternoon. Emotions ran high and the family, in retrospect, is still enjoying the outpouring of love from strangers as well as friends.
Diane has spent many years of enjoyment as a professional seamstress and most often made costumes for the yearly performances of the Lancaster Middle School Steel Band in the town where she and her husband live. The Band of Lancaster students was there in full force to provided added entertainment.
Though still not conversing any further than with her eyes and her smile, Diane showed her true appreciation while savoring the opportunity to hold the new grandchild of one of her closest friends, a touching moment indeed. Island friends will continue to pray for her recovery.


---

The Friends of Diane Tetkowski Miller Pokorski invite you to a benefit

SUNDAY, JUNE 2, 2002

2-6 p.m.

Harvey D. Morin Post

965 Center Road, West Seneca, NY


In August 2001 Diane Pokorski, daughter of Lee Tetkowski of Whitehaven Road, Grand Island, was suddenly stricken with a ruptured brain aneurysm. After months of surgeries, procedures and serious side effects, Diane is home at last. She needs constant care, therapies, special equipment and encouragement. Hospitalized for five and one half months, and undergoing six brain surgeries, Diane remains paralyzed on her right side and is unable to communicate.
Due to prohibitively high costs of care and therapy, 'Friends of Diane' are asking the community to support a fundraiser for Diane's benefit in any way they can. Contributions may consist of ticket purchases, donations, items and/or services for auction and raffles. The fundraising event will feature a Chinese auction, silent auction, food and beverages, and entertainment.
Diane's longtime friend, Debbie Stack-Beyer, 773-5594, has tickets ($20 per person). Donations in the form of a check may be made payable to Diane's husband, Ronald W. Pokorski and mailed to Lee Tetkowski, 1530 Whitehaven Road, Grand Island, NY 14072. For items or services donations, call Maryann Palumbo at 716-681-0451.
The Tetkowski family, in 1949, moved to Grand Island where Diane and her two siblings spent their entire childhood and school days.


---
Other Grand Island Pages to Visit:
| Businesses | Churches | E-mail Directory | Government | Groups |
| Guest Book | Please sign in! | Local Artists | New! Photo Album | Recreation |
| Schools | Seneca Law Suit | Town History | UsefuLinks | Weather |
| Website Design | Wildlife | Home Page |
This website is sponsored by
GIECOM.NET
1869 Whitehaven Road, Grand Island, New York, 14072-1803 USA


Copyright © 1995-2002 All rights reserved.