Grand Island Fire Company News 2007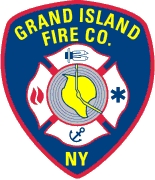 Grand Island Fire Company, Inc. Website

Firemen's Home on the Hudson Website
FASNY Firemen's Museum Website

2001 News - 2002 News
2003 News - 2004 News
2006 News

---
For Emergencies Dial 9-1-1 or 773-7508
To contact the Fire Company Dial 773-4334



Firematic Officers 2007: Fire Chief Gregory J. Butcher; Deputy Chief Kevin M. Koch; 1st Assistant Chief Matthew Osinski; 2nd Assistant Chief Christopher Soluri; Captains John Wenner, Scott Duscher and Dave DiSanto; EMS Captain Robert Cleveland, EMS Captain (appointed) Jeremy Pullano; Day Captain Paul D. Gorman; and Fire Police Captain Donald Portik.

Administrative Officers 2007: President Mike Braun, Vice President Jeremy Pullano, Secretary Laurie Berry, Treasurer Reed Wright, Sgt.-at-Arms Dave Khreis, Financial Secretary Tammy Jo Gorman, Line Secretary David W. Cole.

Board of Directors: Chairman Michael P. Dallessandro, Vice Chairman Kevin M. Rustowicz, Secretary Raymond Pauley, Paul D. Gorman, Mark T. Kowzan, Steven M. Stouter, David C. Tolejko.



---



Homeowners Injured In Island House Fire - 2007
By Ray Pauley, Public Information Officer
Grand Island firefighters responded shortly after 6 p.m. Thursday, April 26, 2007 to a reported structure fire at the Loquasto residence on Ransom Road.
GIFC Chief Greg Butcher confirmed that Engines 3 and 4, Ladder 6, Heavy Rescue 1, Rescue 7-1, and 27 firefighters were met by heavy smoke venting from the building upon their arrival. Meanwhile, the homeowners had evacuated the premises after sustaining minor burns while attempting to extinguish the blaze with a garden hose. Both husband and wife were treated at the scene by GIFC medics and transported to Kenmore Mercy Hospital for precautionary medical follow-up.
Chief Butcher indicated that the fire was brought under control within 10 minutes of initial attack by interior crews, and was confined to the second floor loft area. Damage was estimated at $50,000 to the structure and $25,000 to the contents. GIFC Fire Investigator Chuck Berlinger and his ECSD counterparts Ron Kenyon, Kevin Mahoney, and Steve Merbooth, have indicated that the cause was electrical in origin.
In addition, a Sheridan Park VFD mutual aid crew remained on standby at Grand Island Fire Headquarters during fire suppression operations. All GIFC Units returned in service at 8:16 p.m. except fire investigation personnel.


---



Island Fire Chief Shares In Lions Recognition of Community "Heros" - 2007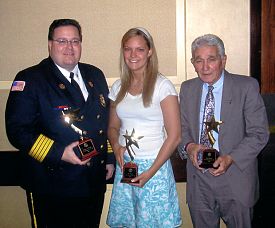 Click photo for larger view:
(left) GIFC Chief Greg Butcher, Jill Endres and Frank Brusino proudly display their special awards for other attendees.
By Ray Pauley
Thirty-six WNY individuals who have risen from "ordinary to extraordinary," were so praised by Lions keynote speaker George Barrus, during a special awards luncheon at the Hyatt Regency Hotel in downtown Buffalo, NY, on Sunday, April 22, 2007.
In addition, NYS Senators Dale Volker and Mary Lou Rath presented special 'Liberty Awards' to Lancaster Fie Chief Scott M. Kuhlmey, for his outstanding career in firefighting and lifesaving, and Buffalo Police Officer Carl Andolina, for his heroic actions in subduing a violent offender, who had seriously wounded him and his partner.
Grand Island Town Supervisor Peter McMahon, Councilmen Dick Crawford and Gary Roesch, along with thirty-two GIFC firefighters and their spouses, watched as their Chief, Greg Butcher was singled out as one of the six Firefighters of the Year 2007. Greg is serving his fifth term as fire chief, with fifteen years of total service. He is a state certified Animal Control Officer, Deputy Coordinator of Disaster Emergency Services and part time Reserve Deputy Sheriff for Erie County Sheriff's Marine Division. He also serves as a member of the International Association of Fire Chiefs, National Protective Assoc., NYS Assoc. of Fire Chiefs, Firemen's Assoc. of the State of NY, Erie County Fire Chiefs, and is a Executive Board Member of the Tonawanda Fire Chiefs. He also belongs to the Erie County Fire Police Assoc., Fraternal Order of Police, is treasurer of the Erie County Sheriff's Marine Division, WNY Animal Control Officer Assoc., and American Legion.
Chief Butcher also shared the spotlight with two other Islanders, Frank Brusino, Senior Citizen of the Year, who is chairman of the Citizens Corp Program which established a local citizens Emergency Response Team, and Jill Endres, WNY Youth of the Year recipient, who has dedicated herself to helping others through multiple community service activities.
Lions Club District Governor Kimberly Stribing and Club Presidents from four WNY counties, voiced their heartfelt appreciation for the distinguished public service accomplishments by these "champions" of our society, and noted that their leadership is our real hope for the future.


---



Island Firefighters Provide Mutual Aid Assistance During Praxair Fire - 2007
By Ray Pauley, Public Information Officer
Grand Island Fire Chief Greg Butcher, 14 firefighters, and Engines #2 and #3 responded shortly after 11:30 a.m. Thursday, April 5, 2007 to a Sheridan Park VFD request for mutual aid assistance with a fire emergency at Praxair Corp. at 175 East Park Drive, Tonawanda.
GIFC Chief Butcher assumed equipment staging and public information duties at the direction of OIC Chief Randy Rider Jr. of the SPVFD. Engine #3 and its crew assisted with firefighting/overhaul operations at the scene, along with other volunteers from Brighton, Ellwood and Kenmore VFDs.
Engine #2 remained on standby in nearby fire stations, until it responded to a separate alarm of fire at the Sheridan Parkside School, 169 Sheridan Parkside Drive. Although smoke was encountered in the building, the cause was found to be in an electrical fuse panel, and there was no fire damage, according to the Kenmore VFD Chief.
Praxair fire damage was estimated at $275,000 to one of the structures in the industrial complex, and was reportedly caused by a faulty air conditioning unit, according to Chief Rider.
All GIFC units returned in service at 2:07 p.m. according to Chief Butcher, who also thanked additional firefighters who had remained on standby at Grand Island Fire Headquarters, during the duration of this incident.


---



Fire Emergency Causes No Damage At McDonalds - 2007
By Ray Pauley, Public Information Officer
Grand Island Firefighters, shortly after 1 p.m. Monday, March 26, 2007, responded to an alarm of fire at McDonalds Restaurant, 2231 Grand Island Blvd.
Deputy Chief Kevin Koch confirmed that smoke in the interior of the building apparently originated from an electrical panel and caused the immediate evacuation of all employees and customers, including several small children who were in the play area. Some sort of electrical malfunction was the probable source of the alarm, although there was no fire, according to Deputy Chief Koch.
Nevertheless, National Grid was notified as a precaution, and store manager Jennifer Selapack was advised to seek further assistance from an electrical contractor. She later confirmed that no hazard could be found by anyone, and the exact cause "remains a mystery" to this day.
All GIFC apparatus returned in service at 1:54 p.m. according to Deputy Chief Koch.


---



Students Uninjured In School Bus/Car Collision - 2007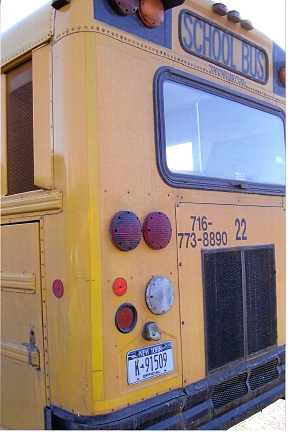 Grand Island School Bus #22 sustained minimal damage in Baseline Road incident.
By Ray Pauley
Grand Island Fire Company Rescue Personnel responded shortly after 4 p.m. Tuesday, March 20, 2007 to an MVA in the 2800 block of Baseline Road involving a Grand Island school bus and private auto.
GIFC Assistant Chief Chris Soluri reported that a stopped school bus, with flashing emergency lights, was preparing to discharge passengers, when it was struck in the rear by a van driven by Barbra Meyer, 44, of Grand Island. The bus driver, Thomas Good, 62, and two 11-year-old Connor Middle School students were evaluated by GIFC paramedics, but were not injured. The other driver also denied injuries and declined hospital treatment.
All GIFC units returned in service at 4:47 p.m., according to Assistant Chief Soluri.


---



Island Firefighters
Welcome New Members For 2007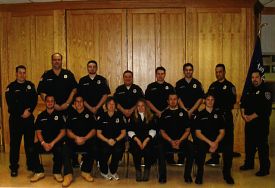 Click photo for larger view:
(seated left) Kurpiewski, Raiser, Shelton, Brilhart, Olszewski, O'Connor; (standing) Russell, Balesteri, Mastantouno, Brenon, Buriano, Shafie. Missing from the photo is Philip Bishop.
Instructors are John Wenner (far left) and Aaron Berry (far right).
By Ray Pauley
Chief Greg Butcher reports that thirteen new members were recently voted into the ranks of the Grand Island Fire Company, and represent the largest group of "rookies" ever to be accepted. This latest increase in personnel should go a long way towards meeting growing manpower needs within an ever expanding community, he noted. "There is no question that recruitment and retention must be an ongoing priority if we are to keep pace with emergency incidents, which climbed to an all time high of 1782 during 2006," he stressed.
Joseph Balisteri, Philip Bishop, John Brenon, Allana Brilhart, Sergio Buriano, David Kurpiewski, Philip Mastantuono, Patrick O'Connor, Jake Olszewski, Josh Raiser, Chris Russell, Saed Shafie and Leigh Shelton commenced their orientation on February 10, 2007, and have entered into an intensive six-month training period.
Training Officer/Capt. John Wenner points out that several of these new members have unique background which will contribute to their overall advancement. Brilhart and Mastantuono have prior EMT experience; Shelton has a prior law enforcement background and is presently a full time GIFC Dispatcher; Russell is a former military police officer and past member of the GIFC; Shafie has three years prior service in another VFD; and several other 'rookies' have advanced (college) education.
The Fire Company congratulates these aspiring firefighters and medics, who have chosen to dedicate themselves to a lifetime of community protection.


---



Firefighters Contend With Weather Related Hazards - 2007
By Ray Pauley, Public Information Officer
Along with many others Western New York emergency services volunteers, Grand Island firefighters have had to face serious weather related complications which makes their job that much more dangerous, according to Chief Greg Butcher.
Within the past few weeks, a series of MVAs at the South Grand Island Bridge put an entire crew of firefighters and medics "in harm's way," when five approaching vehicles skidded out of control at the scene of a rescue operation, he noted. Even though scene safety was seriously compromised and GIFC personnel were able to escape injury, there is no guarantee that "my crews will be as fortunate in the future," he stressed. Closer collaboration with law enforcement officers handling traffic control will hopefully minimize potential threats to on scene personnel, he added.
Fire hydrants which have disappeared under the snow drifts is another serious problem for firefighters who must have a ready water supply during a fire emergency. Several minutes delay in locating and digging out a hydrant could hamper firefighting operations and turn a controllable incident into a major property loss, or even worse, a fire related fatality. Chief Butcher noted that Island residents, businessmen, scouts, and others can provide an invaluable service to the GIFC and their community by "adopting" and cleaning hydrants in their neighborhoods.
Heavy snow and ice buildup on or near structures pose a definite hazard to everyone, including firefighter/medics who require safe access during a fire or EMS emergency. However, property owners are cautioned to avoid overtaxing themselves by exceeding individual limits during strenuous chores such as snow removal. When possible, get help from other family members, friends and neighbors. Reliable professionals are also available at competitive rates, and can provide peace of mind by eliminating personal risks while restoring safe conditions to your property.
Practicing simple, common sense precautions are just as important for you, as they are for your GIFC volunteers, who must be prepared to face unknown dangers whenever called upon to save lives and property, concluded Chief Butcher.


---



Two Injured In Multi Car Accident On South Bridge - 2007
By Ray Pauley, Public Information Officer
Grand Island Fire Company Rescue Personnel responded at 9:16 a.m. Tuesday, February 6, 2007 to a series of MVAs involving 15 vehicles in the southbound lane of the I-190 on the south Grand Island Bridge, according to Chief Greg Butcher. Several drivers were able to make their way down to the Tonawanda side where they reported property damage only, he noted.
Joanne Hambridge, 56, of Grand Island, had to be extricated from her vehicle which sustained heavy front end damage. She was treated for neck and back pain and transported to Kenmore Mercy Hospital for additional medical attention. Another driver, Charles Fick of Grand Island, was treated for a shoulder injury and transported to the Veterans Administration Hospital. Thirteen other individuals, including a semi trailer operator were evaluated by the GIFC, Town of Tonawanda, and Twin City ambulance medics, but claimed no injuries and refused hospitalization.
Meanwhile, standby firefighting manpower responded to an alarm of fire at Trinity United Methodist Church on Whitehaven Road but subsequent investigation disclosed that contractors had accidentally triggered the alarm system.
All GIFC units returned in service at 10:20 a.m. according to Chief Butcher.


---



Boater Rescued From Icy Niagara Through Firefighter/State Police Teamwork - 2007
By Ray Pauley, Public Information Officer
When Bob Redfearn settled down for his Monday morning cup of coffee shortly before 7 a.m. Monday, February 5, 2007 in the back patio of his East River Road residence, he noticed something peculiar, several hundred feet out in the Niagara River. Using binoculars, he discovered a boater frantically trying to break free from a drifting ice flow where he was trapped, and quickly called for 911 emergency assistance.
Grand Island Fire Company Chief Greg Butcher confirmed that Wayne Kingwell, 40, of Fort Erie, Ontario was spotted by rescue personnel as he moved down river in a small rubber raft near the foot of Winkler and East River roads. GIFC Assistant Chief Chris Soluri and NYS Troopers Tim Roof and Bryan Pasderski were successful in pulling Kingwell onto a dock after he had managed to paddle close to shore ice. He told his rescuers that he had been out on the river for "over five hours" in sub zero temperatures while trying to reach the USA to make a business transaction. After treatment by GIFC medics for hypothermia (exposure) he was transported to Mt. St. Mary's Hospital for additional medical attention.
Chief Butcher stated that all GIFC units returned in service at 8:06 a.m.
See story Canadian Arrested For Illegal Entry Sent BackTo Canada


---



Fire Co. Installs 2007 Officers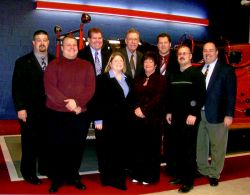 Administrative officers (left) Jeremy Pullano, B. Reed Wright, Paul Gorman, Tammy Gorman, Ray Pauley, Laurie Berry, Mike Braun, Dave Khreis and Mike Dallessandro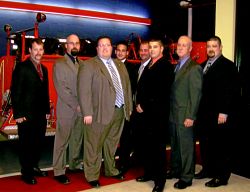 Firematic officers (left) Matt Osinski, Kevin Koch, Greg Butcher, Chris Soluri, Dave DiSanto, Scott Duscher, Don Portik and Jeremy Pullano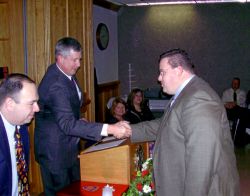 Board Chairman Mike Dallessandro looks on as Chief Greg Butcher is congratulated by Niagara Falls Fire Chief McKay after oath of office ceremony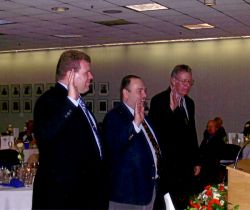 Board of Directors members Paul Gorman, Mike Dallessandro and Ray Pauley take oath of office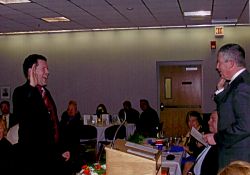 President Mike Braun is amused by installing officer's remarks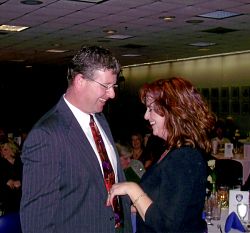 Kevin and Maura Rustowicz are proud of their mutual contributions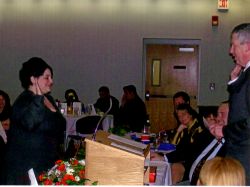 Jennifer Pullano receives oath of office as president of the GIFC Ladies Auxiliary

Photos by Ray Pauley and Nicole Butcher - Click all photos for larger view
By Ray Pauley, Public Information Officer
Saturday, January 13, 2007 . . .Chief William McKay of the Niagara Falls Fire Department administered the oath of office to newly elected Grand Island Fire Company officers Saturday evening at Fire Headquarters on Baseline Road. Firematic and administrative officers were sworn to uphold their community protection duties for 2007, and to meet the challenges of ever increasing emergency incidents, which are expected to exceed the 1782 received during 2006.
Greg Butcher commences his fifth term as fire chief and was joined by Deputy Chief Kevin Koch, 1st Assistant Chief Matt Osinski, 2nd Assistant Chief Chris Soluri, Fire Captains John Wenner, Dave DiSanto, Scott Duscher, Day Captain Paul Gorman, Fire Police Captain Don Portik, and EMS Captains Bob Cleveland and Jeremy Pullano.
President Mike Braun will be assisted by Vice President Jeremy Pullano, Recording Secretary Laurie Berry, Line Secretary Dave Cole, Financial Secretary Tammy Gorman, Treasurer B. Reed Wright and Sgt.-at-Arms Dave Khreis. Charles Berlinger joined the Board of Review and Dick Byron and Clay Clark returned to their duties as Benevolent Association Trustees.
Mike Dallessandro, Paul Gorman and Ray Pauley returned to their duties on the Board of Directors for additional three-year terms.
Ladies Auxiliary President Jennifer Pullano also introduced her 2007 officers: Vice President Nicole Butcher, Recording Secretary Kristine Koch, Corresponding Secretary Karen Wright, Treasurer Danielle Soluri, Sgt.-At-Arms Karen Wright, Chaplain Arlene Soluri, Trustees Barbara Wilson, Teddy Linenfelser and Heather Aronica.
Because 2006 was the busiest year in GIFC history, there were many members who made contributions "far above and beyond the call of duty," noted Chief Butcher.
Capt. John Wenner received a special Chief's award for his exceptional 'rookie' training achievements during 2006. Financial Secretary Tammy Gorman received a special President's award for her hard work in implementing a new and improved GIFC accounting system. P. Sean Manning received special recognition for his 'super-human' efforts in making sure that GIFC's EMS program kept its first rate status. Aaron Berry was also singled out for 'training excellence' during 2006. Charles Picone, a GIFC dispatcher and new firefighter, was designated "Rookie of the Year" for his tremendous individual effort. Other members were also commended for equally noteworthy accomplishments as follows:
• Ass't Chief Christ Soluri who spent countless hours towards upgrading GIFC's communications system
• Lt. Joe Torregrossa for developing a unique and comprehensive fire prevention program for Island schools
• GIFC Dispatchers Bob Cleveland, Steve Morgan, Rose Ann Krause, Leigh Shelton, Rose Amato and Charles Picone for their steadfast devotion to duty during the prolonged October storm emergency.
Kevin and Maura Rustowicz were commended for their special social/organizational abilities which have contributed to the overall wellbeing of the entire GIFC. Chief Butcher and Director Pauley were also recognized for their outstanding service to the GIFC in obtaining Special Operations Unit grant funding. Chief Butcher also commended the 'Top Ten Responders' during 2006, who were led by Ray Pauley with 854 calls. Other, in order of performance, were Chris Soluri, Pete Sukmankowski, Tom Dewey, Greg Butcher, Francis Englert, Laurie Berry, Brian Rock, Dave Castiglia, and Dale Mock.
Joseph Bourdrow of the United States Coast Guard received special thanks for his valuable assistance to the GIFC Marine Unit.
In addition, 'rookie' firefighters who successfully completed their required training during 2006 are as follows: Chuck Picone, Brian Rock, Adam Lock, Charles Dewey, Francis Englert, Mike Anderson, Laura Waz, and Bernie Quarantello.


---



Island Firefighters Handle Multiple Emergencies During Sudden Ice Storm - 2007
By Ray Pauley, Public Information Officer
Fire Chief Greg Butcher reports that Grand Island firefighters handled 18 emergency calls during a 13-hour period on Monday, January 15, 2007. He noted that freezing rain and falling temperatures created hazardous road conditions, contributing to at least six MVAs. Downed power lines and fallen trees also blocked some local roadways and led to temporary power outages.
Several MVAs occurred shortly after 3 p.m. in the southbound lane of the I-190, on the South Grand Island Bridge. The most serious involved Terriann Brown, 27, of Rochester, NY, who was trapped in her vehicle when it caught fire after crashing heavily into a guardrail. Chief Butcher extinguished the fire which was confined to the engine compartment at the time, and she was subsequently extricated by a GIFC rescue crew. She was then treated for a neck injury and transported to Kenmore Mercy Hospital for follow-up medical attention. There were no other injuries reported in other "fender benders" which also took place on the bridge, although driving and footing for rescue personnel remained treacherous until Thruway Authority salters were able to reach the scene.
Chief Butcher noted that emergency response to "wires down," etc. continued until 9:37 p.m. when there was finally a letup for firefighters. It is easy to consider yesterday's scenario as "a typical day in the life of a volunteer firefighter," since many more are anticipated during this new year, he stressed.


---
If you are a member of this organization, we need your help. GIECOM.Net has partnered with the Connections program to help Grand Island as a community "Get it Together." Please visit our website G-I-Together.ORG and fill out our SURVEY. Every group on Grand Island will have its own FREE web page showing: meeting times and location, contact persons, your Mission Statement and a listing of events. We will also be linking your news events that appear in the local media and on IsledeGrande.Com, Grand Island's E-News Source, to your page, maintaining an archived journal of pictures and news. This is the perfect opportunity for your group to connect with potential new members and the community.
---
---
Other Grand Island Pages to Visit:
Churches | Email Directory | Government | Groups
GIHS Grad List | Guestbook | Please sign in! | Local Artists | Photo Album | Town History | Useful Links
| Website Design | Wildlife | Isledegrande's Home Page | GIECOM.NET'S Home Page
Please Email News Releases to Teddy Linenfelser, Thank You.
This website is sponsored by
GIECOM.NET
1869 Whitehaven Road, Grand Island, New York, 14072-1803 USA


Copyright © 1995-2006 All rights reserved.