Grand Island Gallopers 4-H Club Webpage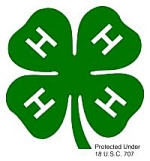 Mission
To Make The Best Better

2723 Staley Road
Contact -Organizational Leader: Tina Giambra 773-2809 -- itsteen@hotmail.com
Teen Leader - Kelly Williams - 773-0089

Events: Monthly meetings on Tuesdays, group parties, fundraisers, Erie County Fair participation

Help: By helping to participate in fundraisers for the community (donations for the Neighbors Foundation) and also for the Grand Island Gallopers Club for field trips (trail rides, misc. horse related learning experiences such as horse shoes, vet visit, farms where hay is grown etc).

Strengths: 4-H is geared to helping children between the ages of 9 & 18 be the best they can be. We help to teach responsiblity, discipline and committment.


---



Grand Island Gallopers 4-H Club Organizes For 2006-07 Season - 2006
The Grand Island Gallopers 4-H Club is preparing for its 2006-2007 season.
Click for 4-H Meeting Agendas
Click for 4-H Meeting Schedule and Guidelines


---



Grand Island Gallopers 4-H Club Collecting For Neighbors Foundation - 2005
Members of the Grand Island Gallopers 4-H Horse Club are requesting donations for the holiday season which will be given to the Neighbors Foundation. The age group is preteen/teenagers for boys and girls. Items such as hats, scarves, gloves, slippers, sweatshirts, portable radios with headphones, bath items, shampoos for baskets etc. are being requested. Those who would like to help the 4-H Club make the holidays special for those in need, are asked to contact Jennifer Shanor, 773-0102 or Tina Giambra, 773-2809 by November 22, 2005. Happy Holidays from the Grand Island Gallopers.


---



Grand Island Gallopers 4-H Club Accepting New Members - 2005
The Grand Island Gallopers 4-H Club invites any child aged 9 through 18 to join the club for the 2005-2006 season. An informational meeting at 6:30 p.m. Tuesday, September 13, 2005 is open to any child and parent interested. "You don't have to own a horse to join." For further information, call Tina Giambra, 773-2809 or Jennifer Shanor, 773-0102.


---



Grand Island Gallopers 4-H Club To Show At County Fair - 2004
The Grand Island Gallopers 4-H Club will attend the Erie County Fair where members will be showing in the Western Division of Horse showing. The show starts at 8 a.m. on Monday, August 16, 2004 with a Western Showmanship Class and will continue throughout the day with Western Pleasure, Equitation, Command, Trail and Pattern classes.
The Grand Island Gallopers will be represented by Jacqulene Sondel showing in the Sr. Division, Katie Luthringer, Samantha Brown and Allison Campbell showing in the Jr. Division, and Kelly Williams showing in the Walk/Trot division. "You can look for them in the 4-H barns on the 16th," a spokesman for the group said.
Three of the girls' horses will be on display throughout the remainder of the Fair and can be seen in barn 12C. Jacqulene will be showing Blythewood Vermont Topic, Katie Luthringer will be showing Mason D. Brown, and Kelly Williams will be showing Wings of Eagles. "Stop in and see them if you are at the Fair."


---
If you are a member of this organization, we need your help. GIECOM.Net has partnered with the Connections program to help Grand Island as a community "Get it Together." Please visit our website G-I-Together.ORG and fill out our SURVEY. Every group on Grand Island will have its own FREE web page showing: meeting times and location, contact persons, your Mission Statement and a listing of events. We will also be linking your news events that appear in the local media and on IsledeGrande.Com, Grand Island's E-News Source, to your page, maintaining an archived journal of pictures and news. This is the perfect opportunity for your group to connect with potential new members and the community.
---
---
Other Grand Island Pages to Visit:
Churches | Email Directory | Government | Groups
GIHS Grad List | Guestbook | Please sign in! | Local Artists | Photo Album | Town History | Useful Links
| Website Design | Wildlife | Isledegrande's Home Page | GIECOM.NET'S Home Page
Please Email News Releases to Teddy Linenfelser, Thank You.
This website is sponsored by
GIECOM.NET
1869 Whitehaven Road, Grand Island, New York, 14072-1803 USA


Copyright © 1995-2007 All rights reserved.
<! - - - - - - - - - - New Tracker Code Below -- -- -- -- -- -- >