Preliminary budget decried at town board meeting
By William O'Connor
The Preliminary Town Budget for the year 2001 was heavily criticized at a public hearing during Monday's (Nov.6th) town board meeting. It contains an 11% increase for Grand Island property owners. No one spoke in favor of the budget. It also drew heavy criticisms from four people during the town board meeting.
<Click here for complete Story>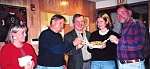 VFW has first apple pie bake off
Activity on Sunday, November 5 at the VFW Post on Grand Island Blvd. was brisk during the Bills football game but after the nail biting conclusion... <Click here for complete Story> (Barbi Lare photo)
Town Board Congratulates GI Chicks
The Grand Island Chicks 3 vs. 3, U-16 girls' soccer team, first discussed in last week's GI e-News, received a special commendation at the town board meeting Monday, November 6. They are the only Western New York girls' or women's team that qualified to compete in the national championship at Disney's Wide World of Sports in Orlando, Florida in January 2001. The "Chicks" who practiced and played hard enough to make the championships, are now working to raise the money needed to compete in the finals. They have gained several new sponsors since the last report. (complete story with photo)<Click here for complete Story> Called to Common Mission Put in motion
The Lutheran-Episcopal relationship now in effective on Grand Island.<Click here for complete Story>
Historic Preservation
on Grand Island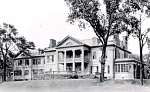 Franklin and Charlotte Spaulding Sidway Home
Grand Island Supervisor Peter A. McMahon, in 1998, appointed an Historic Preservation Committee and charged it with the task of writing a preservation ordinance for the town. Composed of Islanders. . . <Click here for complete Story>

Republicans take top two races
Republican candidates took the two most important positions in the vote on Grand Island.
<Click here for complete Story> Chamber announces holiday lighting contest
The Grand Island Chamber of Commerce will again sponsor its annual Christmas lighting contest, now in its 5th year. The contest, "Reflections Of Light 2000", is open to all Island residents. For more information contact Chairman is Mike Sendlbeck, 773-2844 or call the Chamber office, 773-3651.

High School announces annual fruit sale
The Grand Island High School Music Department has announced its annual "Fresh Florida Citrus Fundraising Sale" which will continue through November 28. Offered this year are grove-fresh Florida navel oranges and grapefruit available in small, large or mixed cartons. The drive is expected to raise much-needed funds for the high school instrumental music students to attend national competitions during the year. To place an order, contact a high school instrumentalist or call the Grand Island High School Band Office at 773-8868.
Youth Board created
for Grand Island
Council Member Kevin Rustowicz intoduced a bill Monday, November 6, to establish an Advisory Youth Board. Rustowicz, a school teacher and the father of five children, has been in contact with the State and other communities, doing research and working to set up this project since March.
<Click here for complete Story>
Kaegebein stages
successful craft
show


Members of the William Kaegebein Elementary School PTA staged their annual Craft Show and Sale Saturday, November 4. The school was alive with activity, displays, raffles and baked goods. The crafts were varied from wood and straw items to fabric creations. Youngest vendor, Lauren Braun, a 5th grader is shown with her mom, Sue, and Show Chairman Sue Kilb. (Barbi Lare photo)

Golden Agers host arts & crafts vendors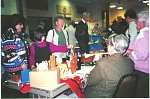 The Golden Age Center at the Nike Base on Whitehaven Rd. was a beehive of activity on Sunday when vendors. . .<Click here for complete Story>
(Barbi Lare photo)

Vikings lose 14-0 to Pioneer, end season with 8-2 record
With high spirits and a large entourage of family and friends, the Grand Island Varsity Vikings hit the Ralph Wilson Stadium field in Orchard Park Saturday afternoon with high hopes. <Click here for complete Story>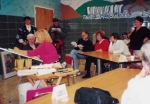 Art Society has watercolor demonstration
The Grand Island Art Society, November 1, hosted Jody Ziehm, a very productive and successful watercolorist. Mrs. Ziehm worked from a sketch, filling in with the bold use of color that is her trademark. Society members gathered around watching and inquiring about her techniques and thoughts that she uses in her work. Completed works were on display that evening and her watercolor work is now in a show at the Partners In Art Gallery on Webster Street, in North Tonawanda. (Barbi Lare photo).
Island to observe Veterans Day
Grand Island residents, at 11 a.m., Saturday, November 11, will remember our men and women who served their country in time of war, at ceremonies at the Veterans Park Memorial Wall, Bedell Road.
The United States Marine Corps is celebrating its 225th birthday and former and present members of the Marine Corps from Grand Island will be in attendance at Saturday's services. <Click here for complete Story>
Highway Dept. announces road restrictions
Highway Superintendent Ray Dlugokinski has announced that Nov. 1 is the official start of 2000-2001 winter season. Residents are asked to observe "No Parking" restrictions on all public roads between the hours of 2 a.m. and 7 a.m., from Nov. 1 to March 31, 2001. This allows the highway department to give effective snowplowing in all areas of the town. The Town of Grand Island Police Department and the Erie County Sheriff's Department will enforce this ordinance.