Land Claim News
Phillips, Lytle Hitchcock, Blaine & Huber LLP, will serve as special counsel for the Town of Grand Island, as announced by the town board Thursday, November 16, 2000.
<The Complete Story>

Traffic Safety
The Traffic Safety Advisory Board and NYS Police Officers Ronald Warner and Christopher Pyc met with the public Wednesday evening, November 15 at the Grand Island Memorial Library to hear concerns and improve the safety of roads on Grand Island. Ten people gave their input at the meeting.
<The complete Story>

Tower Tabled
The special use application for Family Life Ministries of Bath, NY to construct a 125 foot radio tower at the Whitehaven Baptist Church,1290 Whitehaven Rd. was tabled at the November 20, Grand Island Town Board meeting. The proposed tower is receiving some organized opposition. Five letters were written to the town in opposition so far. Grand Island E-News received a letter from the proposed tower's neighbor, Mary Dunbar-Daluisio (see Letter to Editor). The planning board recommended last Monday, November 13, that the town board table the request and allow the church to redraw their site plan for the tower to make it comply with accepted "fall zone" set back requirements in their last meeting (see last week's Tower opposed on Whitehaven Rd. story in Grand Island E-News). The tower plan also has to get a recommendation from the Zoning Board of Appeals during their next meeting Thursday, December 7, at 7:00 p.m. in the Town Hall first-floor conference room.
Pancakes with Santa
St. Timothy Lutheran Child Care Center will hold a pancake breakfast with Mr. and Mrs. Claus from 8-11 a.m. Saturday, December 2nd at the Center, 1453 Staley Road. Tickets are available at the door or by calling 773-9249.

Staff Development Day
Election Day Tuesday was also a fine example of town/gown collaboration.
<The complete Story>

Turn Restriction
During the Traffic Safety meeting at the Library last Wednesday, Council Member Mike Hefka announced that the "no turn on red..." restrictions at the intersection of Whitehaven Road and Grand Island Boulevard will be lifted, due to the decision of the NYS Department of Transportation. No date was given for lifting the restriction.

Kum On In
The KUM ON IN Clothing Store has a good supply of outerwear in many sizes. Stop in any Monday from noon to 4:30 p.m. Check out Christmas gifts bargains. The store, which operates in the basement of Trinity United Methodist Church, 2100 Whitehaven Road, is open every Monday in November and December except Christmas Day.

NO Tower Please
I would like to make my friends and neighbors of Whitehaven Road, Flannigan Lane, and Meadow Lane aware that Family Life Ministries has approached the Whitehaven Road Bapltist Church and the Town of Grand Island to allow them access to erect a radio tower of 125 feet in height in back of the church on their five acres of land.
I remember the days when neighbors talked to neighbors, and I'm telling you not one person from either the Family Life Ministries or the Baptist Church has asked how the neighbors would feel about this, or how any of their other activities have impacted our neighborhood and how we felt. While I believe in every American's right to worship, I do not believe this to enhance nor deny anyone this with a steel tower.
I am looking for help to have them co-locate their tower in a commercial/business area of Grand Island, so this is our plea. If anyone can offer help, please forward to me at 1320 Whitehaven Road in care of Mike or Lynn Yensan, Kathleen Barton, Phyllis Stack, and/or myself Mary A. Dunbar-Daluisio.
Thank you.
Mary A. Dunbar-Daluisio


Budget Passes
by William O'Connor
New York State Law and bad weather may have played a part in the adoption of Grand Island's 2001 budget Monday, November 20, at the Town Board Meeting.
<for complete story>

Town Internet Survey
The Town of Grand Island will be conducting a survey to determine if residents would use the Internet for town/government business. The survey is available on the computer by accessing www.grand-island.ny.us, or a hard copy of the survey will be available November 20, 2000 in the Town Clerk's Office, Grand Island Memorial Library, Recreation Department, Golden Age Center, and all the offices in Town Hall. Surveys will be due on or before December 20, 2000. Nancy J. Samrany Town Clerk
< Town Internet Survey >

Isle escapses blizzard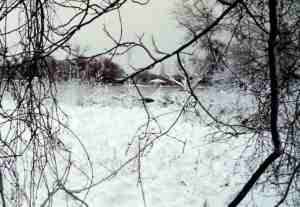 Grand Island was spared the worst effects of Monday's snow storm, however hundreds of residents were stranded in gridlock traffic jams as well as in office buildings around downtown Buffalo and Western New York. One Carter Drive resident who began his "stay" on the Kensington Expressway at 3 p.m. Monday, was still not home at 4 p.m. Tuesday and did not expect to make it back to the Island until today. Grand Island's schools were closed Tuesday due to teaching staff from the mainland being unable to get to the Island. The photo by William O'Connor was taken from Ferry Village looking out over the East River at Motor Island.

Village Inn Golf
By Hank Carroll
The final outing in Y2K for Village Inn Golfers was held Monday, November 6 with the largest turnout to date. A total of 39 golfers participated, one of whom didn't want his name included (playing hookey??) and one professional brought in by Mike Carr who turned in a low gross score of 37 (something we can all hope for).



$1,500,000 for Casino
By William O'Connor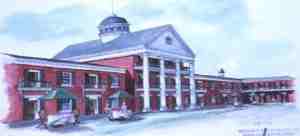 Governor George Pataki announced Thursday, November 16, that New York State will allocate $1.5 million to build a year-round catering and banquet facility to replace the Beaver Island Casino in Beaver Island State Park.<For complete story>

My Life
By Ted Kumlander
In my last column I wrote about the barn raising - our two car garage. So on to bigger and better things.
My father came up with the idea...
<For the complete Story>

Visit Our Guest Book
We have had hundreds of residents and former residents sign our guest book including Clearwater, Florida residents Bill and Janet Haen who have both passed away since signing on in January. They wrote at the time: "We miss the Island very much. We wish we were back there but the old bones cannot handle the winter temperatures anymore. It was and is a wonderful place to bring up children. We have so many fond memories, like when Mr. Yensan's cows got loose and everyone chased them back up the road. You sure can't get fresh milk like that anymore, and fresh eggs as well. Godfrey's Market was the only grocery store and the post office was in the store. When you had a problem, the natural radar went out and all of your neighbors were there to help. Thanks for the memories."
Patrick O'Dea, a member of the Grand Island High School Class of '74 and now residing in Englewood, Florida, signed on recently with the following comments: "I remember ...running with the pack "Riverrats" forever. I miss it a lot, tubing down the river, climbing the bridge."
Gail "Burgstahler" Rothenberg, a resident 1944-62 and member of the Sidway Class of '53 and Tonawanda High Class of '56 now lives in Marlborough, MA and comments: "Oh, how wonderful this is to find Grand Island news! We live in Massachusetts, but I still miss "My island."
And from Mark Lewis in Los Gatos, CA, "This is a great website. I have been in contact with dozens of old friends because of this site. My heart is still on Grand Island..."
To find more, check out the entire Guestbook and then let your friends and relatives know about our Grand Island E-News.
<The complete Story>