| | | |
| --- | --- | --- |
| | 2007 Grand Island Soccer Club News | |

Official Grand Island Soccer Club Web Site

2006 Grand Island Soccer Club News
2005 Grand Island Soccer Club News
Previous Grand Island Soccer Club News




SOCCER GAME REPORTS New Addition to Isledegrande.com
See Game Reports Page
Please allow 24-48 hours while we're perfecting the format.
Thank You, GIECOM Staff


---
Board of Directors
President Brett Banker
Vice President Chris Hollander, Secretary Dianne Victor, Treasurer Jim Masiello
Registrar Robin Vertino, Risk Mgmt. Mark Nemeth
Ed Barnaby (Western NY Rep.), Dan Robillard (Equip. Coor.), Brian Ailinger (Travel Coor.), Terri Pitts (House Coor.)
Rom Figler (U6 Coor.), Director Ray Billica, Director of Coaching: Russ Certo

Coaches Reporting Form

---



Soccer Club Seeks Coaches, Board Members - August 2007
The Grand Island Soccer Club (GISC) is accepting applications for all Travel coaching positions and four vacant GISC Board seats. Applications are due Friday, August 3. Contact Brian Ailinger at 774-0474 for coaching applications and Dianne Victor at 773- 3077 if you are interested in running for the Board. Board elections will be held during the Annual Soccer Picnic scheduled for Saturday, August 18 at Veteran's Park.


---



Grand Island Soccer Club
Warriors U-14 Boy's Soccer Team Finalists in Gates Soccer Tournament - 2007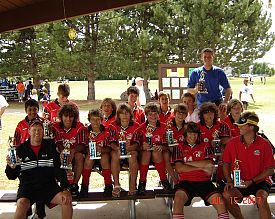 Click photo for larger view
This past weekend (July 13-15) the U-14 Boys' Soccer Team journeyed to Total Sports Experience in Rochester to compete in the Gates Soccer Tournament. This is a highly participated in tournament drawing teams from all over New York State, as well as Canada and other surrounding states.
The Warriors were undefeated in their bracket, beating teams from Amherst 3-1, Webster 3-2 and Enchanted Mountain 3-0, to get to the Championship game vs. Erin Mills Soccer Club located outside of Mississauga.
Although coming short of being named champions, losing to a nationally ranked Canadian team, the Warriors were true to theirname as they were poised, showed character and a lot of class during their run.
"We are so proud of these boys as they truly let you see and experience what "TEAMWORK" is all about," Coach Todd Lee said.
Although there was some extreme cases of great individual effort, the success came from working together as strong unit! The team consisted of Robert Arsenault, Kurt Beehler, Nate Benoit, Aman Cheema, Mitch Cancilla, Nick and Sam Colao, Bobby Dickinson, Christian Gibson, Kyle Held, Justin Lee, Mike Lydle, Cameron Pezzino, Mike Paasch, Chris Sexton, Patrick Thompson and Steven Vitello.
Great Work Warriors! You have represented Grand Island with honor and are to be commended for your efforts.
Coach Lee


---



Grand Island Soccer Club to Hold Coaching Clinic - 2007
The Grand Island Soccer Club is conducting a continuing education coaching clinic for all level GISC coaches on Sunday, April 22nd at the Connor Middle School. This clinic will offer house and travel coaches and assistant coaches the opportunity to be exposed to drills, coaching techniques and ways to improve the club and its coaching. The six-session topics are: 1) The Game of Soccer, 2) Foot Skills & Shooting, 3) Goal Keeping, 4) Age Appropriate Warm-ups and Designing a Quality Practice, 5) Levels of Defense, and 6) Passing & Receiving. The mandatory Travel & House Coaches Meetings for 2007 will also be conducted on that day.
Session presenters are current and former coaches with over 50 years of combined soccer experience.
For more information on the Grand Island Soccer Club visit their new, improved website at www.gisoccerclub.org.


---



Grand Island Soccer Club 2007 House Soccer Registration - 2007
Registration for Grand Island Soccer Club 2007 House League is now in progress. House Soccer is open to children ages 5-19. This year a new U19 age group has been added. Registration forms and information may be found on the club website, www.gisoccerclub.org, or may be picked up at the Grand Island Memorial Library, Grand Island Town Hall, or the Grand Island Recreation Department.
The deadline for registration is March 15, 2007. Registrations received after March 15th will be placed on a waiting list.
WALK - IN REGISTRATION DATES:
• Thursday, March 1 - 6:30 p.m. to 8:30 p.m. - Grand Island Memorial Library, Bedell Rd.
• Saturday, March 10 - 10 a.m. to 2 p.m. - Grand Island Memorial Library, Bedell Rd.
The Grand Island Soccer Club is need of volunteers. There are current openings for a House League Coordinator, Registrar and Equipment Coordinator. The future of the club depends on its volunteers. Many of the current Board members have volunteered their time for many years and no longer have a child playing soccer. Meetings are held on the 2nd Monday of each month at the Grand Island Memorial Library at 6:30 p.m.








---
If you are a member of this organization, we need your help. GIECOM.Net has partnered with the Connections program to help Grand Island as a community "Get it Together." Please visit our website G-I-Together.ORG and fill out our SURVEY. Every group on Grand Island will have its own FREE web page showing: meeting times and location, contact persons, your Mission Statement and a listing of events. We will also be linking your news events that appear in the local media and on IsledeGrande.Com, Grand Island's E-News Source, to your page, maintaining an archived journal of pictures and news. This is the perfect opportunity for your group to connect with potential new members and the community.
---
---
Other Grand Island Pages to Visit:
Churches | Email Directory | Government | Groups
GIHS Grad List | Guestbook | Please sign in! | Local Artists | Photo Album | Town History | Useful Links
| Website Design | Wildlife | Isledegrande's Home Page | GIECOM.NET'S Home Page
Please Email News Releases to Teddy Linenfelser, Thank You.
This website is sponsored by
GIECOM.NET
1869 Whitehaven Road, Grand Island, New York, 14072-1803 USA


Copyright © 1995-2007 All rights reserved.