Grand Island High School News Web Page 2007
PAGE 2
Grand Island High School Website
---
High School 2008 News
Previous 2007 News
Archives
GIHS Football Page
"GIHS Sports Schedules/Information"
Principal
Sandra Anzalone
GIHS Fall Sports Schedule 2007
GIHS Winter Sports Schedule 2007



DECA, Interact Clubs Assist Neighbors Foundation - December 2007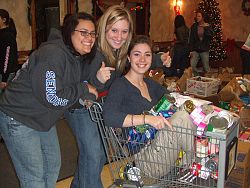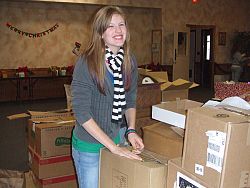 (Left) Taylor Cool, Erica Barrett and Joycie Rockwood - (right) Kori Loder
Click photos for a larger view.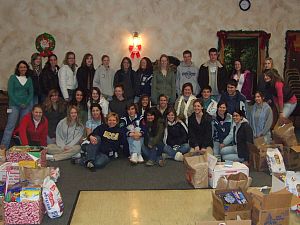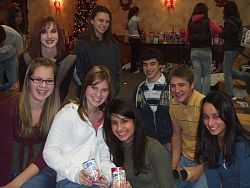 DECA and Interact Clubs assist Neighbors Foundation
Click photos for a larger view.

A holiday tradition continues to grow as the DECA and Interact Clubs from Grand Island High School help the Neighbors Foundation of Grand Island sort food for needy families in our community. Thirty five high school students signed up to assist in this successful food drive and more were waiting in line to help according to DECA Advisor Cheryl Chamberlain. Every year these clubs are asked by the Foundation to come to the Knights of Columbus Hall on Whitehaven Road to sort food and director Hank Kammerer is proud of the huge response by these outstanding high school students.




Varsity Swimmers Beat Lockport
JV Suffers Loss To Lockport - Dec. 2007
Click "12/19/07 Swim Results"




GIHS Sports Briefs - Week Ending Dec. 20, 2007
Click "Sports Briefs 12/20/07" for this week's Grand Island High School sports scores.
GIHS sports results may be emailed to "teddy@giecom.net"


---



High School News - Recent Bomb Threat - Dec. 2007
By Kaitie Samland (Sophomore) - Student Writer
Thursday, Dec. 20, 2007 . . . Grand Island High School was once again the victim of a hoax. On December 14, 2007 a student supposedly sent a bomb threat to a printer located in another room. In response, the District contacted the Erie County Sheriff's Department, The New York State Police and our local Island police department. Both the middle and high schools were in lockdown while dogs and deputies searched the building. Students, teachers and staff were unable to leave their classrooms while the search was being conducted. Call me crazy but I didn't feel too comfortable being in lockdown in a building while there might have been a bomb on the premises. Common sense tells me that we should have all vacated the property, not sat around waiting for it to go off. Fortunately, it wasn't real and nobody got hurt, but it was a waste of time and money. In light of the recent shooting at the WestRoads Mall in Omaha, Nebraska where eight people where killed and five others injured, I think that these random acts of violence are occurring more frequently and affecting more people, and that we need to take every threat as a serious threat but personally I didn't like the feeling I had while waiting for the authorities to let us know that everything was okay.


---



After School Activities Cancelled - High School Concert Postponed - Dec. 13, 2007
Due to a water main break all district after school activities are cancelled (Thursday, December 13th) except Kenmore East Girls Basketball and Boys & Girls Bowling. The High School Winter Concert is rescheduled to Monday, December 17, 2007 at 7:30 p.m.




GIHS Sports Briefs - Week Ending Dec. 13, 2007
Click "Sports Briefs 12/13/07" for this week's Grand Island High School sports scores.
GIHS sports results may be emailed to "teddy@giecom.net"


---



High School News - Cyberbullying - Dec. 2007
By Kaitie Samland (Sophomore) - Student Writer
Thursday, Dec. 13, 2007 . . .Once again the Grand Island High School made the news. This time Superintendent Mr. Robert Christmann was interviewed by Channel 2 news reporter Matt Pearl to comment on cyberbullying. Both Mr. Christmann and Principal Sandra Anzalone agree that comments left on students' "MySpaces" have been causing problems within school. Everybody knows that things are much more easily said when it's not said face to face but rather in a private note or more publicly, on a person's MySpace. Unfortunately, written words can leave a lot to the imagination and you can read a lot between the lines. When speaking face to face you get a clearer, more accurate communication…and you have the ability to defend yourself, apologize or whatever, before things escalate. Teens spend hours in front of the computer communicating with people who they typically wouldn't converse with except that technology allows it. Nothing is private anymore. You can click on to a person's MySpace and learn all about them, some true, some fabricated. Did anybody catch the news a few weeks back about Megan Meier, a teenage girl who hung herself after a neighborhood mother posed as a teenage boy who was interested in her, but later told her he wasn't because he heard she wasn't nice to her friends? That is just one powerful example of the dangers of MySpace. A few years ago I attended an evening assembly at the Grand Island High School when an FBI agent shared stories and the dangers of MySpace. The following is a FBI safety website. Please take a minute to read through it. It may be one of the most important things you've read in awhile. http://www.myspace-safety.org/fbi-parents-guide.aspx.


---



Another Win For GI's Hockey Team - Dec. 2007
The Grand Island Vikings beat Dunkirk/Fredonia 5-2 in WNY Club Varsity Hockey large school action on Wednesday, December 12, 2007. Neal DeMartin and Zac Seiling each netted 2 goals. Joe Oliverio had a goal and 2 assists. Ryan Vertino, Anthony Daubney, Marv Pawlowski and John Osberg recorded assists. Dunkirk/Fredonia goals were by Bo Westling and Devin Carlson. Grand Island remains undefeated in league play.




Grand Island High School Monthly Art Award - Dec. 2007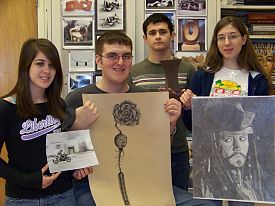 (Left) Jenn Schaber, Andy Fix, Sean Duff and Sarah Webb
Click photo for larger view
The Grand Island High School Art Department, beginning in November 2007, honors four art students each month. The art teachers in the high school select these talented students based on their craftsmanship, self-discipline, motivation, creativity, dedication and art enthusiasm. All grade levels will be considered for this recognition. The students for the month of November are: Andy Fix, Jennifer Schaber, Sean Duff, and Sarah Webb. Congratulations to these students for a job well done.




GIHS Sports Briefs - Week Ending Dec. 6, 2007
Click "Sports Briefs 12/6/07" for this week's Grand Island High School sports scores.
GIHS sports results may be emailed to "teddy@giecom.net"


---



Rotary/PTSA Students of the Month
December 2007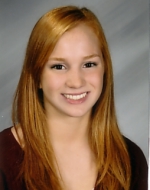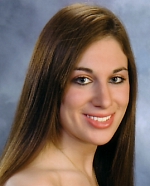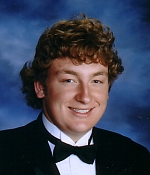 Kelly Cich Ashley Green Theodore J. Slipko III
Kelly Cich has been a resident of Grand Island all of her life. She has been enrolled in the Grand Island School District since kindergarten. During her high school career, Kelly has not only valued academic success, but has also balanced a life filled with various extracurricular activities and community service.
Throughout her middle school and high school years, Kelly has maintained high honor roll and honor roll status. Kelly is currently enrolled in AP Government, AP Macroeconomics and AP Biology. She has received many academic awards including an Academic Excellence certificate, pin and varsity letter, Presidential Academic Award, French Award, Pride of the Island recipient, and the Scholar Athlete Award for Swimming and Track. As a junior, Kelly was accepted into the National Honor Society.
Kelly has been active in the Music Department since fourth grade. She played the clarinet for the concert band and is presently a member of the high school wind ensemble where she plays the bass clarinet and the contra bass clarinet. She also participates in the school's pep band and has earned her Varsity Letter for music. She has traveled with the Concert Band to Chicago, Illinois and is looking forward to traveling with the Wind Ensemble to Chattanooga, Tennessee this year.
Kelly also participates in sports throughout the school year. She has been a member of the Varsity Swimming and Indoor Track since sophomore year. She has also participated in Varsity Outdoor Track and the Indoor Lacrosse League since her freshman year. She has received her varsity letter in Swimming, Outdoor Track and Indoor Track, and a sectional patch for a fourth place finish in the Indoor Track 1600 meter relay. Kelly currently holds a school record for the Indoor Track sprint medley relay. Kelly enjoyed the opportunity to travel with the Outdoor Track team to Chandler, Arizona and to the Penn Relays.
Kelly has contributed to her community by donating her time over the summer to volunteer at Women and Children's Hospital of Buffalo. She is involved with Life Lessons, a group devoted to the promotion of organ donation. In addition, Kelly has taken part annually in Relay for Life to help raise money for the American Cancer Society.
After graduation, Kelly plans to attend a four-year college to major in biology and pursue a career in medicine.
Ashley Green has lived on Grand Island her entire life. As a student, she attended Sidway, Huth Road Elementary, Veronica E. Connor Middle School, and Grand Island High School. However, academics did not encompass her entire life. She has maintained a balance with several extracurricular activities and community service.
Academically, Ashley has consistently been on the honor roll, while challenging herself with several Advanced Placement and honor courses. She is currently enrolled in AP macroeconomics, AP government, AP literature and composition, AP psychology, and College Spanish. She has been awarded with numerous awards for academic achievement including an Academic Excellence Certificate, pin and varsity letter. She has been recognized as Pride of the Island and Who's Who Among American High School Students. She has also received the AP Scholar Award.
Ashley has been extremely active during her high school years. For all four years, her participation in the music department has been outstanding. Ashley has been in orchestra since 4th grade, playing violin. In high school, she has been historian, treasurer, and for her senior year, vice president. She has received her varsity letter and first year pin. Ashley has participated in pit orchestra, All County, Dixie Classic competitions, and the Spring String Festivals for three consecutive years at Houghton College. She is also involved in Vocal Jazz and Women's Choir, while also helping to choreograph the middle school musicals. Ashley is also a member of National Honor Society, Humanities Club, Life Lessons, received Dale Carnegie Youth training, participates in Ski Club, and was captain of her Relay for Life team.
Ashley has also been active outside the classroom. She is an accomplished dancer. She has been dancing for 14 years at Niagara Dance Center, taking tap, jazz, ballet and hip hop. Ashley is also a religious education teacher at St. Stephen's for the past two years. She is a regular volunteer at the rabies clinic for the Niagara County Health Department and at Health Fairs for them as well.
After graduation, Ashley plans to attend college in order to pursue a major in chemistry and a minor in archeology.
Theodore J. Slipko III has been a resident of Grand Island his entire life. He has attended Grand Island schools since kindergarten. Throughout his years in school, TJ has been very successful academically, has achieved and received many honors and distinctions, and participated in numerous activities.
Consistently, T.J. has been able to achieve Honor and High Honor Roll status throughout all four years of high school. He has been awarded with Academic Excellence Certificate, Pin, and Letter, and is well on his way towards achieving the Bar. Since middle school, T.J. has taken advantage of the Honors classes, while also challenging himself with several Advanced Placement classes. He has already completed three AP courses and achieved the title of an AP Scholar, and is currently taking five Advanced Placement courses, including Psychology, U.S. Government, Macroeconomics, Literature & Composition, and Music Theory.
T.J. has also been the recipient of many other awards. He has been honored with the award for Outstanding French Student for three years; Elmira College also awarded T.J. with their Key Award and Scholarship. As a junior, T.J. received the Pride of the Island award, which was also given to him in 3rd and 7th grade. On a national level, T.J. has been inducted into the National Honor Roll and Who's Who Among American High School Students.
In school, T.J. has been extremely active and involved in extracurricular activities. He can be constantly found in the Music Wing, where he is currently participating in the prestigious Wind Ensemble, playing the trombone since 4th grade, and the Concert Choir. He is vice president of both groups. He also is a member of Madrigal Singers, Vocal Jazz, the Dominant Force, Jazz Band, and Pep Band. By the end of his junior year, TJ. received his Varsity Letters, Pins, and Bar for Music. Over the years, T.J. has auditioned at several music festivals such as All-County and All-State, and consistently has received scores in the A range. He is also the vice president of National Honors Society, Spotlighters' Drama Club, and the Class of 2008 during his sophomore and junior years. T.J. also participates in Art Club, the Principal's Advisory Board and school musical. Last year he played Lefou in Beauty & the Beast. T.J. participates in Masterminds Trivia Tea, Corporate Bowl, Student Olympics, and played on the Boys Tennis Team, earning him the title Scholar Athlete for three years. This fall, T.J. received the title role of Bilbo Baggins in the Spotlighters' production of The Hobbit.
T.J. is also extremely active in his community. He has been a 4th grade religious education teacher at St. Stephen's Church for the past two years. He also frequently performs and volunteers at the Niagara Regional Theater Guild. For the past six years he has sold tickets at the box office and has helped in the building of sets. As an alumnus, T.J. also enjoys helping teachers with various literacy events, and giving presentations at Kaegebein Elementary School. T.J. has volunteered for the United Way sponsored Festival of Lights for two years. His summer employment includes three years as a camp counselor at Park School Summer Day Camp.
T.J. has high aspirations for his future. After graduation, he plans on attending a liberal arts college with major in Communications: Film Production/Cinematography, with a possible second major in Psychology or History.


---



High School Concert Postponed to Monday, December 17 - 7:30 p.m.
School Concerts Feature Basket Raffles - Dec. 2007
The Grand Island Instrumental Boosters will once again be sponsoring a Basket Raffle prior to the Holiday concerts. Baskets will be on display prior to the Elementary concert on December 12th , the High School concert on December 13th and the Middle School concert on December 18th with the winners drawn each night during the concert.
Tickets are $5.00 for 25 and all proceeds directly benefit the Orchestra, Band and Wind Ensemble members for their upcoming trip to compete at the Dixie Classic in Chattanooga Tennessee.


---



High School News - Dec. 2007
By Kaitie Samland (Sophomore) - Student Writer
Thursday, Dec. 6, 2007 . . .Well, if you haven't noticed winter has finally fallen upon us. For many of us our inner child came out in hopes of a snow day. Unfortunately the weatherman's predictions were a bit off and we did not get as much snow, rain or ice as they thought. However, I think I can accurately predict that the winter cold will be with us for what will seem like an eternity. Just in case the winter weather hasn't put you in the mood, I'd like to let you know that there are a mere 19 days left until Christmas. Lists to be made, presents to be bought and wrapped, trees to be decorated, and cookies to be baked, somebody remind me, "why do we do this to ourselves?" It's like we lose our minds spending money we shouldn't, scheduling too many activities, eating and drinking way too much, I think maybe we should try toning it down a bit and perhaps we would enjoy it more. But hey, what do I know, I'm only a sophomore in high school. Now a little truth, after seeing the movie Christmas with the Kranks, you weren't tempted to forego Christmas and book a cruise?
Something you should definitely make time for this holiday season is the high school winter concert on December 13 at 7:30 p.m. Also mark your calendars, for the Seniors' 2008 Graduation ceremony taking place on Thursday, June 28 at Kleinhans Music Hall.
As the magician on Frosty the Snowman said, " You'd better get busy, busy, busy!"


---



GI Hockey Team Remains Undefeated - Dec. 2007
The Grand Island Varsity Hockey Team beat Dunkirk/Fredonia 2-0 on Sunday, December 2. Rob Tates recorded the shutout for the Vikings with goals by Zac Seiling and Neal DeMartin. Assists were by Ryan Vertino, Robert Schiffhauer, Joe Oliverio and Marvin Pawlowski.
The Grand Island Vikings defeated Jamestown 4-2 in varsity action on December 5, 2007. Neal DeMartin led the team with a goal and 2 assists. Anthony Daubney, Matt Hazelet and Joe Oliverio each had a goal. Daubney, Ryan Vertino, Matt McKenna, Chris Podlucky and Taylor LeFevre also had assists. Rob Marlinski and Ian Morgan scored for Jamestown. Grand Island remains unbeaten in league play.


---



Grand Island High School Honor Roll - December 2007
The following Grand Island High School students have attained honor roll status for the first marking period of the 2007-2008 school year:
High Honor Roll
Grade 9: Geoff Federspiel, Anna Ferrante, Emma Henderson, Ava Jackson, Justin Lee, Ariana Mendel, Paige Rockwood, Kathleen Rustowicz, Michael Seaman, Evan Shaw, Sara Victor, Stephen Vitello
Grade 10: Jonathon Anderson, Catherine Aughey, Steven Boyle, Luke Burkhart, Alexandra Buscaglia, Nathan Busch, Evan Carey, Marwa Eltagouri, Hillary Figler, Joseph Fischer, Lauren Fonte, Alexander Fry, Susan Head, Tara Hook, Krystin Hoppel, Seth Kline, Lauren Kucharski, Brian Kulak, Andrea Nicolia, Jared Northrup, Mary Scherrer, Spencer Seese, Vincent Spada, Blake Stanwick, Christopher Stessing, Scott Suszczynski, Jameela Syed, Maritina Tsembelis
Grade 11: Alexa Amato, Kaitlin Arida, Alexandria, Avery, Kira Dennis, Amber Duda, Samantha Forysinski, Rachel Gaydosh, Taylor Jackson, Joshua Kahn, Charles Lavallee, Charlene Meyer, Joseph Oliverio, Jamie Raepple, Jennifer Schaber, Nicholas Vitello, Kelly Williams
Grade 12: Erica Barrett, Kahla Cerrillo, Cassandra Coffey, Alexandra Davis, Jacob Ferrante, Joshua Kaplan, Samuel Kilb, Ashley Koerntgen, Jacob Leffler, James Sica, Theodore Slipko, Robert Stewart, Jordan Toth, Shana Wierchowski, Noah Yanicki
Honor Roll
Grade 9: Dana Abdellatif, Karl Albrecht, Samira Amin, Matthew Arida, Christa Baron, Alexandria Bleich, Kathryn Boutet, Nicholas Bruno, Justine Call, Jenna Cardone, Jason Chadwick, Brooke Chamberlain, Amandip Cheema, Tyler Ciffa, Amanda Cinelli, Nicholas Colao, Aliena Cook, Brooke DeMarco, Alexandra DeMita, Kaleigh Deuser, Robert Dickinson, Sara Diletti, Thomas Dzielski, Christopher Ernst, Carson Filips, Korin Frantz, Christian Gibson, Rebecca Hammett, Julie Hasselbeck, Lucas Hazelet, Amanda Heftka, Kyle Held, Lindsay Hodan, Emily Jones, Allison Kaminski, Alex Killian, Matthew Killian, Taylor Kozlowski, Kelly Lorence, Nicholas Massiello, Ryan McCarthy, Christopher Meyer, Shelbi Milkas, Shannon Moody, Kevin Neary, Jessica Osvath, Jenna Raepple, Jeremy Rockwood, Chelsea Rupert, Miranda Santa Lucia, Rachel Schauger, Amy Schooping, Rachel Spiker, Allison Stewart, Sarah Stewart, Rebecca Sturniolo, Megan Tates, Eugenia Taylor, Ambria Tim, Benjamin Tomkins, Philip Valore, Denielle Wegrzyn, Courtney Weiser, Shantel Williams-Rivers, Tyler Wunsch, Alyssa Yaeger, Jessica Yarnes, Andrew Yockey, Megan Young, Nikki Zimmerman
Grade 10: Alyssa Accardo, Kaitlyn Affuso, Courtney Amacher, Richard Amantia, Adam Asbach, Elisabeth Asbach, Kimberly Asbach, Stephanie Aughey, Alissa Bailey, Conrad Baker, Kolby Banker, John Bass, Christina Borden, Patrick Brady, Lisa Braun, Erie Breier, Anthony Bruno, Sean Burke, Victoria Cacciatore, Amanda Camizzi, Danielle Canazzi, Kenneth Cerrillo, Kaitlyn Chapin, Krystal Chapin, Michael Chauby, Seana Chirico, Stacy Cich, Brittany Cieri, Kathryn Cobello, Ian Conner, James Cooke, Courtney Cox, Samantha Darby, Anthony Darpino, Kayla Deuble, Sarah Dolan, Jordan Dudish, Kara Dudley, Maria Edel, Kearney Erhard, Nicholas Ernst, Alexander Fabiilli, Kayla Fermoile, Jeremy Figler, Victoria Fleming, Rahsanica Ford, Kate Garten, Mary George, Christopher Gibney, Sara Grana, Anthony Grande, Jill Greinert, Amy Grenke, Maria Guidotti, Eric Harnden, Kelly Hooven, Emily Incorvia, Courtney Justus, Matthew Kasprzycki, Raman Kaur, Zachary Kelly, Joel Klock, Kristy Knickerbocker, Savanna Kustra, Jeffrey Lariviere, Joshua Little, Elizabeth Lorence, Jonathan LoTempio, Michael Lydle, Daniel Major, Zackery Manquen, Aman Deep Mattu, Keran Deep Mattu, Thomas McDonnell, Nicole McGuire, Megan McInerney, Sara McNulty, Jennifer Mellett, Michael Montaldi, Christopher Moody, Christopher Mornelli, Michael Mucci, Erika Osberg, Ryan Osvath, Sarah Palazza, Deanna Paternostro, Breanne Rafferty, Dhriti Ramesh, Michael Rayhill, Alexander Re, Elizabeth Restey, Ian Rogers, Robert Ross, Anthony Russell, Ashley Rutland, Kaitie Samland, Kyle Schutrum, Jonathon Seaman, Zaeem Shah, Courtney Silsby, Keith Skelly, Jamie Sobieski, Benjamin Soos, Jonas Stalyga, Kelly Stark, Rachel Starr, Alexander Strauss, Kasey Sumner, William Sundeen, Rachel Surdi, Timothy Symington, Caitlin Taylor, Samantha Tilkins, James Toney, Patricia VeRost, Kristin Wegrzyn, Eric Weigold, Zakiyyah Wilbert, Sara Wilczek, Nicole Winter, Aria Yanicki, Sarah Young
Grade 11: Zachary Adams, Nichole Barrett, Daniel Basile, Sarah Bastian, Lee Becker, Viktoria Belous, Chelsea Bernardi, Amy Bidell, Courtnnie Booker, Tyler Booth, Allison Boron, Danielle Bush, Maria Buyer, Simarjot Cheema, Olivia Chopra, Kyle Clayton, Hannah Cliff, Caitlin Cook, Dustin Coryn, Aaron D'Angelo, Shawn Davis, Darren Delsignore, Korey DiMatteo, Shane Eddy, Mary Grace Egloff, Nicolette Fadel, Jenna Fanara, Melissa Fargino, Gregory Feathers, Lauren Fermoile, Julia Figliotti, Ashley Fike, Kelsey Foote, Victoria Fortman, Angela Fusco, Samantha Gieselman, Andrew Ginsburg, Krista Goff, Kaitlin Hager, Meghan Haley, Kaitlyn Hardison, Matthew Hazelet, Adam Helman, Scott Holler, Jenna Hutzler, Molly Hyland, Alexandra Imperi, Kaitlin Incorvia, Caroline Kaminski, Michael Karpie, Jatinder Kaur, Joseph Khreis, Alexandra King, Benjamin Kose, LeAnna Kozlowski, Beau Lapp, Timothy Lewis, Matthew Ludwig, Mia Magliazzo, Jacqueline Maitner, Matthew Major, Kelsey Mash, James McDonnell, Danielle McGuire, Mikki McMahon, Kimberley Mellett, Kristin Millar, Davis Nelson, Alexander Neutz, Genna Nuchereno, Shawn O'Rourke, Marvin Pawlowski, Destiny Perez, James Pezzino, Susan Pioli, Christopher Podlucky, Kathryn Raiser, Alexander Richter, Brandon Robinson, Robert Rutland, Richard Ryder, Kayla Salonek, Victoria Schaber, Lee Schuster, Sierra Seese, Nicole Serra, Timothy Shantler, Kayleigh Shepard, Kaileen Shoemaker, Kuljit Singh, Griffin Smith, Carly Snyder, Sara Stenzel, Joshua Stoddard, Jeffrey Szczepaniak, Emily Thompson, Jordan Tripi, Evan Tsembelis, Megan Wagner, Allison Walker, Lauren Whitney, Zachary Winter, Brianna Wojnar, Arlene Wunsch, Amanda Zernickel, Tyler Zikuski
Grade 12: Giovanna Andolina, Chelsea Baran, Ashley Bass, David Benko, Chelsea Bergmann, Ellen Betterson, Kelsey Borgeson, Haley Breier, Lauren Brindisi, Brandon Caldwell, Courtney Catalano, Kelly Cich, Jennifer Ciechoski, Taylor Cool, Theresa Covatto, Denise Curcio, Ashley Curry, Bailey DeGlopper, Tiffani Dickinson, Michael Dinsmore, Jessica Doyle, Caitlyn Driscoll, Sean Duff, Christina Eldridge, Victoria Eldridge, Abigail Evans, Kelsey Fortman, Timothy Franklin, John Gannon, Marc Gerfin, Ashley Green, Mallory Griffiths, Ryan Hagen, Kelcie Hanaka, Meaghan Hayes, Molly Hayes, Cathryn Hilliard, Lea Hinaman, Sean Hook, Jennifer Huber, Amber Hultgren, Lisa Huttenmaier, Amanda Jaeger, Courtney Kelchlin, Amanda Kennedy, Jordan Kessler, Ryan Killian, Matthew Klock, Todd Kunze, Kaitlyn Little, Michael Magaris, Lisa Mager, Morgan Majewski, Stephen Mathes, Brenna McCabe, Samantha McCollum, Courtney McCoy, Lauren McGowan, Craig Meaney, Amber Meyers, Ciara Morreale, Danielle Nash, Nichole Nash, Rachel Olszewski, Brittany Papaj, Michelle Paternostro, Anthony Perna, Alexandra Peters, Caitlin Radecki, Jordan Ricigliano, Matthew Riley, Joycelyn Rockwood, Carrie Schooping, Damanpreet Singh, Brandi Skill, Kimberly Snell, Michael Soos, Brittany Stallard, Lauren Stanwick, Nicole Stickl, Jessica Sturniolo, Joseph Tanbakuchi, Nicholas Taylor, Jacquava Thompson, Scott Thompson, Kristin Toellner, Marc Velocci, Alexander Webb, Alexandra Weiser, Kacey White, Elizabeth Wilson


---



Grand Island High School Merit Roll - December 2007
The following Grand Island High School students have attained merit roll status for the first marking period of the 2007-2008 school year:
Grade 9: Leonard Averhart, Shannon Becker, Taylor Bedford, Scott Bennett, Christopher Boulden, Kathleen Brady, Brian Brink, Michael Campanella, Brennan Carey, Brianna Catanzaro, Bethany Cinelli, Talon Colbert, James Corrao, Nicolette Corrao, Samuel Cummings, Dina Dahlke, Andrew Dale, Elizabeth Davis, Dominique DeGregorio, Liam Dodd, Sean Donovan, Samantha Ducette, Sara Dzielski, Chelsea Fairbairn, Craig Fusco, Patrick Gallagher, Edward Gauthier, Larissa Gelyon, Carmela Gentile, Vincent Golda, Steven Henderson, Molly Higgins, Alex Howard, Ryan Jackson, Mark Jurga, Thomas Kalman, Kyle Keifman, Nicholas Kellner, Seth Kozek, Samantha Kuszczak, Domenic Luciani, Bradley Ludwig, Jaime Magaris, Chelsea Mazurkiewicz, Jennie McCoy, Elizabeth McLean, Nikolle McMahon, Kristiana Montaldi, James W. Mysliwiec, Jaclyn Nusstein, Katie Oursler, Michael Paasch, Emily Pease, Jack Pilie, Joseph Rains, Christopher Rose, Noah Rothberg, Kayla Schmidt, Samuel Serra, Benjamin Sherman, Lawrence Smith, Derek Stacey, Matthew Sundeen, Amanda Sutter, Victoria Sutton, Ashley Swiantek, Jenelle Walters, Sarah Webb, Mitchell Wendling, Christopher Wilkinson, Zachary Wojnar, Richard Yager
Grade 10: Rachel Abarca, Nicholas Alizadeh, Antonio Amin, Patrick Antonelli, Stephanie Aronica, Benjamin Bakula, Jovana Bichler, Jason Bogue, Tygue Busch, Jason Caldwell, Julianna Capizzi, Joseph Connors, Anne Cooper, Christie DeMaria, Renee' Doermer, Christopher Franklin, Richard Fuerle, Maria Grant, Chelsea Hall, Kelsey Hayden, Timothy Howley, Sara Huttenmaier, Shaughn Irving, Maryjean Jacobs, Nicholas Kelly, Jacob Killian, Laura Koller, Bethany Leiner, Sarah Lew, Steven Lillian, Kori Loder, Scott Ludwig, Daniel Mathes, Hayley Metro, Kelsey Mulvey, Michael Neumann, Courtney Papaj, Danielle Perri, Robert Pilat, Jessica Randhawa, Robert Schiffhauer, Kodie Shamrock, Margaret Shonitsky, Allison Snell, Paige Speidel, Michael Sperrazza, Amber Spiesz, Molly Wynne, Travis Zukic
Grade 11: Kevin Acquisto, Joseph Aladeen, Robert Amsdill, Sean Benninger, Marissa Booker, Conor Bryan, Brianna Busch, Jonathan Caruana, Philip Cavuoto, Mariah Christie, Christopher Colan, Amanda Colman, Kaitlyn Czerwonka, Jason Davis, Michaeline Dera, Joseph Edel, Shannon Farmer, Brianna Fetzer, Christopher Fiels, Kayla Gallagher, Leah Gangloff, Jordan Gibson, Zachary Gilbert, Anthony Gugino, Michael Hillock, Cody Hogrewe, Craig Hooper, Brittany Keel, Adam Kelly, Tristan Kessler, Haroon Khawar, William Koller, Justin Kopenski, Victoria Kowzan, Tristen LaBarre, Drew Lazelle, Taylor LeFevre, David McMichael, Ashley McRae, Jenna Modica, Andrew Mrzygut, Jessica Mysliwiec, Katie Nordvik, Brian O'Keefe, John Osberg, Craig Perno, Lauren Priest, Lance Robinson, Michele Rossi, Michael Rustowicz, Anthony Schojan, Zachary Seiling, Alexander Seyler, Jessica Sharrow, Eric Siwicki, Alyssa Spada, Alexander Spies, Kyle Spratford, Mitchell Stessing, Tess Stewart, Robert Tates, Charanjot Tiwana, Justine Vanthoff, Waldemar Vazquez, Ryan Vertino, Matthew Violanti, Christpher Wilczek, Andrea Wilson, Shaun Winter, Aaron Wood
Grade 12: Steven Accardo, Joseph Amsdill, Richard Anzalone, Alma Aponte, Danielle Asbach, Kimberley Banas, Teighlor Bennett, Jourdain Benoit, Jared Billica, Timothy Boorady, Richard Boss, Lindsey Boyle, Jasmeet Brar, Thomas Breier, Casey Carminati, Christopher Carter, Jeremy Chopra, Samuel Clark, Molly Clingersmith, Jaclyn Coe, Vincent Coty, Shannon Curry, Monica Dalfonso, Colleen Danahy, Daniel DeMarco, Neal DeMartin, Bryan Deuble, Casey Deuser, Andrew Donahue, Lauren Emmi, Julia Fleming, Chelsea Fulle, Nicholas Geib, Nicole Goelz, Michael Heftka, Ryan Hoople, Matthew Huber, Alexander Hultgren, Samuel Isch, Autumn Kaiser, Richard Karpie, Nathan Keefe, Joseph Kobza, Natalie Krieger, Sara Kurpiewski, Jeremy LaBarre, Marissa Lange, Desire' Link, Matthew Little, Maria Lorence, Kirk Manquen, Nicholas Martinez, Adam Masse', Ashley Mazurkiewicz, Jeremy Meyer, Courtney Mulvey, Christian Nestark, Salvatore Niro, Sara Orsolits, Jessica Oyer, Sarah Palazzolo, Jordan Paolucci, David Perri, Lauren Quattrini, Justin Raiser, Jose Rivera, Blake Rockwood, Scott Ross, Laura Saini, Stefane Samland, Audrey Senf, Patrick Sexton, Joseph Shanor, Aleem Shariff, Rebecca Sobol, Alicia Sommer, Shawn Speidel, Nicholas Tomkins, Nicholas Vallina, Andrea Whitefield




GIHS Sports Briefs - Week Ending Nov. 29, 2007
Click "Sports Briefs 11/29/07" for this week's Grand Island High School sports scores.
GIHS sports results may be emailed to "teddy@giecom.net"


---



High School News - Nov. 2007
By Kaitie Samland (Sophomore) - Student Writer
Thursday, Nov. 29, 2007 . . .Before the break, there was still a little surprise from the school in everyone's mailbox; report cards. Whether the students were punished or not, everyone has time to do better before the next quarter ends. Last week on Wednesday the reward for Mr. Gorman's English 12 classes was to go to the movies to see Beowulf. While all the students and teachers were excited when they entered, they were very disappointed at the end. Mr. Gorman said this was the worst movie he has ever seen due to the extreme nudity and intimate scenes. Even though the movie was rated PG-13, it was very inappropriate. Mr. Gorman also said that the movie did not even relate to the book at all and many parts were added that were not to have been. Hopefully, this event does not hurt the chances of any other field trips.
Is it true that GIHS is getting its own radio station, or a TV station. Well it is not true yet. Recently, we had a visit from members of a radio station that is associated with KISS 98.5, and STAR 102.5. With the encouragement from them and the hard work from Mrs. Chamberlain, we might actually get one.




Grand Island High School
Winners Of U.S. Troops Collection - 2007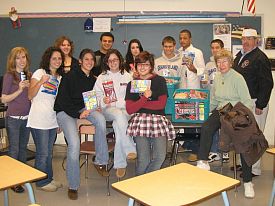 (Front left) Abbey Evans, Ashley Koerntgen, Kelsey Fortman, Caitlyn Driscoll, Kaitlyn Little and VFW Ladies Auxiliary member Lee Dahlberg; (back) Alex Davis, Nick Martinez, Amber Meyers, Rich Vanthoff, Steve Dummitt, Joe Amsdill, and VFW Commander Dan McMahon
Click photo for larger view
The Grand Island High School Participation in Government classes have been collecting items to be mailed to the U.S. Troops currently serving our country overseas. Each student received a list of items that the servicemen/women could use and each item was giving a point value. The competition between classes was set and the students were very enthusiastic. A large tote bin and crate of items were collected by the five classes for our deployed service personnel. Mrs. Julie Bowen's 8th period class earned the most points and will be given a pizza party by the VFW. This activity was part of a lesson taught to Grand Island High School students on why we as United States citizens observe Veteran's Day. VFW Ladies Auxiliary member Lee Dahlberg, who sends a package each week to the deployed service men and women, said, "Some of the items can be expensive and supplies provided to us from Mrs. Bowen's classes will help our cause."


---



Christian Nestark Named Player Of The Year By Niagara Gazette - Nov. 2007
Grand Island High School senior Christian Nestark has been named the Niagara Gazette's Player of the Year. See "Player Of The Year" for the Niagara Gazette story by Nate Beutel.


---



GI Hockey Team Off To Good Start - Nov. 2007
The Grand Island Varsity Hockey Team beat the Kenmore East team 5-0 in club play on Wednesday, November 21, 2007. Neil DeMartin had two goals and Anthony Daubney, Joe Oliverio, and John Osberg each had 1 goal and one assist. Other assists were by Taylor LaFevere (2), Robert Schiffhauer, DJ Perri and Ryan Killian each with one. Jacob Leffler earned the shutout in goal. The Vikings are 2-0 in league play.
Grand Island Vikings beat Lockport in WNY Club action 4-3 on Wednesday, November 28. Scoring for Grand Island were Joe Oliverio with 2 goals and one assist. Neal DeMartin had a goal and 2 assists. Ryan Vertino also scored for the Vikings. Scoring for Lockport were Dan Metzinger, Tom Russell & Baxter Sukdolak.


---



High School News - Nov. 2007
By Kaitie Samland (Sophomore) - Student Writer
Thursday, Nov. 22, 2007 . . .This is a very busy week for GIHS right before the long holiday. First off I would like to congratulate all cast and crew of this year's The Hobbit. The actors and actresses were amazing and the crowd gives you two thumbs up. Now for up coming events and news: on Tuesday November 20th the annual Red Cross Blood Drive will be held in the HS auditorium. You must be within the ages of 16-18 and weigh more than 110 pounds in order to participate. Students are required to see Mrs. Bowen to make their appointment. The new buzz around school: "Is Grand Island finally getting a Dance Team?" The answer is yes! Any students interested in dancing, there will be an informational meeting on Monday November, 19th at 2:15 in the Senior Cafeteria.




"Scenes from The Hobbit" - Nov. 2007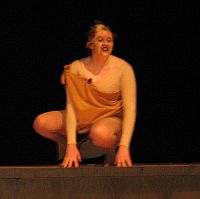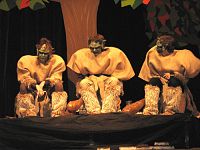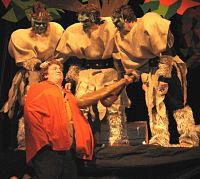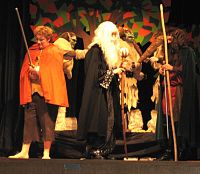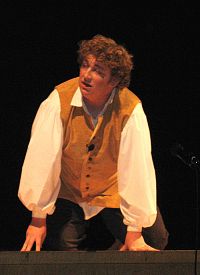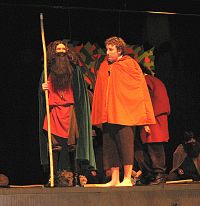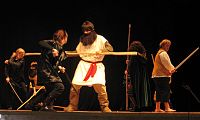 Jodi Robinson photos - Click for larger view
Members of the Grand Island High School Spotlighters presented the play, "The Hobbit," on November 16-17, 2007. "The Hobbit" was directed by Katherine Scarafia and Tracie Groves. Fight choreography and set design were done by Liz Warden from Niagara University. See also "Cast List."




High School Government Class Holds Vets Day Poster Contest - 2007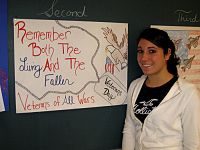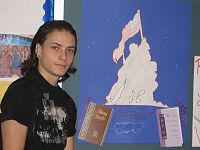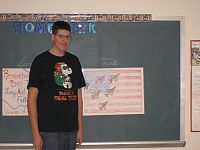 (From left) Lauren McGowan, Jose Rivera and Andrew Donahue.
Click photos for larger view
As part of Veterans week activities, Mrs. Bowen's Government classes held a poster contest. Posters were of the students' impression of Veterans Day. All entries were very nicely done and Judging for the best was very difficult. Judges were VFW Commander Dan McMahon, ROTC MSGT Steve Bazemore, US Army Recruiter SGT Jason Dent and ROTC Capt. Robert Guida. Winners are 1st, Jose Rivera; 2nd, Lauren McGowan; and 3rd, Andrew Donahue.


---



High School News - Nov. 2007
By Kaitie Samland (Sophomore) - Student Writer
Thursday, Nov. 15, 2007 . . .Many students this week at GIHS are both exhausted and excited. After the long weekend the students are very tired but are now working hard because the first marking period is already over. While "ALL" students are doing that, many others have taken on another challenge which is to perform this year's play, The Hobbit. This play is presented by the GIHS Spotlighters Drama Club and will be shown in the Grand Island High School auditorium on November 16 and 17 at 7 p.m. Tickets are only $5 each. I hope many attend and good luck to all participating. Also, this week on November 16th is the National Honor Society's annual Spaghetti Dinner. This event will be held in the high school's large cafeteria and the cost is $6 per adult and $4 per child. If you would like to do "take out," it will be available from 2:30 p.m. to 3:30 p.m. and as for "dining in," the time is 5-7 p.m.
What makes this year different from many other…? Well, we do have a new assistant principal and we did have a bon fire but what about field trips? This week on November 21st, Mr. Gorman's English 12 classes is going to see Beowulf at the movies after reading the novel. Congratulations to Mr. Gorman and his classes for making a difference this year and just maybe more field trips will come along.




Veterans Visit With High School Seniors - 2007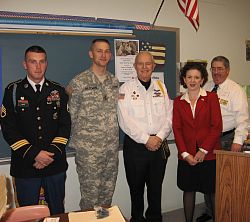 (From left) Jason Dent, Steve Bazemore, Jim McDonald, Julie Bowen and Dan McMahon.
Jodi Robinson Photo - Click photo for larger view
High School government teacher Mrs. Julie Bowen invited Commander Dan McMahon of the Grand Island VFW Post 9249 to her class on Friday, November 9th to share his thoughts on the upcoming Veteran's Day. Dan brought along another VFW member, Jim McDonald, who fought in the Korean War; Steve Bazemore, an Iraqi War veteran and Master Sergeant in the ROTC program at Niagara University and SSG. Jason Dent, also an Iraqi War veteran and Army recruiter based in Tonawanda.
The program began with a YouTube video created by a 15-year-old girl who lost her brother in Iraq. Protestors of the war made their presence known at Lizzie Palmer's brother's funeral. She made the video in response to their poor behavior. The video is titled "Remember Me" and "sums up what Veteran's Day is all about," according to Bazemore. The video slideshow had emotional music and photos of people in the armed services doing their jobs so everyone back home remained safe. After the video, the men spoke of their history and thoughts of the service. Bazemore joined after high school because he considered himself patriotic, didn't want to go to college and thought it was a great opportunity. He will retire next year after 21 years in the Army.
SSG. Dent also didn't know what he wanted to do after high school and, since he came from a military family, joined the Army and has been in for 10 years. Dent described veterans as "doing a job no one wants to do, all they want is a thank you." Jim McDonald joined in 1946 to benefit from the GI Bill and was sent to Korea in the 1950's. He said he learned to depend on others and that others depend on you. "Freedom is not free," and veterans now and in the past have made sure of this. Dan McMahon was drafted into the Vietnam War and spoke of respecting your freedom, and that other countries are not so lucky. Thank the veterans for what they have done in the past and are doing now, he said.
Students were also told of the workings of the Tomb of the Unknown Soldier in Arlington, VA and were invited to ask questions. Many students stopped and thanked the veterans on their way out of the classroom.


---



National Honor Society Spaghetti Dinner - Nov. 2007
Students of the Grand Island High School's National Honor Society will host the organization's annual spaghetti dinner Friday, November 16th in the high school's large cafeteria from 5-7 p.m. (take out 2:30-3:30 p.m.) Cost is $6 per adult and $4 per child.


---



Holiday Gift Idea - Grand Island Beanie! - Nov. 2007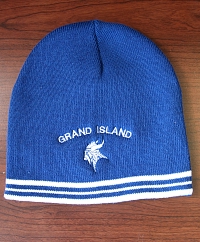 Need a Holiday gift for someone? Support the Senior Class at Grand Island High School and purchase a Grand Island Beanie! Cost of the beanie is $12.00 each and they will keep you warm! To purchase, contact the High School at 773-8820 and ask for Julie Bowen.


---



High School News - Nov. 2007
By Kaitie Samland (Sophomore) - Student Writer
Thursday, Nov. 8, 2007 . . .This week for Grand Island High School was the annual DECA Installation Ceremony and Dinner which was held at Salvatore's Italian Gardens on Tuesday, November 6th. Here there were special presentations by various high schools and our very own Brittany Stallard. Congratulations to all who are now official members. Also this week was known as a week to relax. Our Viking cheerleaders had their second competition on Sunday, November 4th. This competition was held at Buffalo Convention Center. Showing their school spirit they ended up placing 7th. Congrats girls and good luck on the next competition.
Now that many sports have finish, new ones have started and also the annual play will be starting. This year's play is Joseph and the Amazing Technicolor Dreamcoat. Auditions will be held on November 19th, 20th and 21st. Good luck to all.




GIHS Spotlighters Drama Club Presents "The Hobbit" - November 2007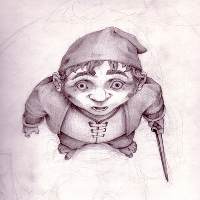 The Grand Island High School Drama Club, Spotlighters, will be presenting J.R.R. Tolkien's "The Hobbit" on Friday, November 16 and Saturday, November 17 at 7:00 p.m. in the high school auditorium. The story, written in 1937, is set in a time "between the dawn of Faerie and the Dominion of Men" as described by Tolkien. Tickets are $5.00.


---



Rotary/PTSA Students of the Month
November 2007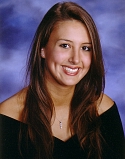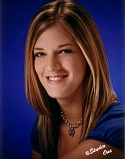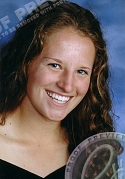 Bailey DeGlopper Kelcie Hanaka Amber Hultgren
Bailey DeGlopper has been a resident of Grand Island her entire life and has attended the Island's public schools since kindergarten. Throughout her high school career, Bailey has continually challenged herself academically, taking honors and AP courses. She has been awarded her Academic Excellence certificate, pin, and varsity letter and the Pride of the Island Award.
Bailey has also been active in many other ways. This year, she was elected vice president of the Class of 2008 and has been a class officer all four years of high school. She is a member of the Interact Club, of which she has been president for three years, and Student Council, of which she was secretary last year. Recently, Bailey was inducted into the National Honor Society, where she will serve as treasurer during her senior year.
In addition, Bailey played the saxophone in Concert Band and Jazz Ensemble her first three years in high school, earning her varsity letter, and has sung in Vocal Jazz Choir. In eleventh grade, Bailey was awarded the Best Floralscape at the Kenan Art Show for a photograph that she took and developed through the school's photography class.
Outside of school, Bailey volunteers her time to better the community. She has been a part of the Mentor Club, working with third, fourth and fifth grade elementary school students for three years. She has participated with Habitat for Humanity, Christmas-time Bell Ringing for the Salvation Army, Highway Cleanup, Food distribution with the Neighbors Foundation as well as other activities. Throughout this, she has also held several part-time jobs, including babysitting and secretarial work. After graduation, Bailey hopes to attend an undergraduate college to earn a bachelor's degree in Biology and then continue on to the College of Optometry in New York City to become an Optometrist.
Kelcie Hanaka has lived on Grand Island for the last thirteen years. She has attended Grand Island schools since kindergarten, and she is active in a number of organizations and activities while enrolled at GI High School.
Academically, Kelcie has maintained Honor Roll status in each of her years at Grand Island schools. Kelcie is currently enrolled in a number of Advanced Placement courses, including AP Government, AP Macroeconomics, and AP Psychology. In the past, she has also taken AP U.S. History, AP Language and Composition and AP Music Theory. She was recently accorded the AP Scholar Award by the College Board. She has earned the Academic Excellence Certificate, Pin, Bar and Varsity Letter by virtue of her studies. Kelcie also became a member of the National Honor Society as a junior.
From an extracurricular perspective, Kelcie has been extremely active in the music program, and has been a member of Grand Island's award winning bands and ensembles, including Concert Band, Wind Ensemble, Jazz Ensemble, Concert Choir, Vocal Jazz, Pep Band and Women's Choir. As a senior, she serves as president of the Wind Ensemble. Kelcie has also been a piano accompanist for each of these groups and performed keyboards for the high school's annual musicals for the last three years. She has served as music director and principal pianist for St. Stephen's production of Godspell in 2006, and she has performed on piano for the Niagara Frontier Regional Theatre Group's production of Sound of Music in 2007. Kelcie has earned A+ scores for clarinet in All Erie County festivals annually since 2002, and has been chosen for Area All State Band Honors for her junior and senior years, scoring A+ in both clarinet and piano. She has also been awarded her Varsity Letter, 2 Pins, and Bar for her music program involvement. Kelcie has performed in Ithaca College's Piano Competition, and Piavioguitello Concert at the Montante Center, Canisius College, as well as numerous student recitals.
Volunteerism plays a large role in Kelcie's life and she has organized and performed holiday shows for senior citizens resident homes, assisted with numerous fund raisers, participated in Relay for Life, and led a Student Organizing Group in support of Grand Island Schools' Annual Budget in 2006. Kelcie has tutored beginning students in piano and clarinet, and given her time and efforts for the GI Instrumental Boosters and the PTSA Installation Dinner in 2006 and 2007. Kelcie is a member of The Chromatic Club of Buffalo, performing during the year in area senior residences and has been a member of Grand Island Community Band.
Kelcie plans on attending college toward a degree in Music Performance.
Amber Hultgren moved to Grand Island in 1998 and has been a student in the Grand Island School District since then. Throughout this time, she has become very active in all aspects of the community.
Amber has taken advanced classes since sixth grade and is currently challenging herself with a schedule of five Advanced Placement courses. She has received her Academic Certificate, Pin and Letter and has always been an Honor or High Honor Roll student. She is also a recipient of the presidential Award for Academic Excellence and the State Attorney General's Triple C. Award.
In addition to her academics, Amber has put a lot of effort into extra-curricular activities. She is the Class of 2008 President, and is serving her third year as Interact Club's vice president. She has been a participant in Corporate Bowl since freshman year and was recently named to Grand Island's chapter of National Honor Society.
Through Interact Club, Amber has been able to volunteer with Habitat for Humanity, the Salvation Army, the Neighbors Foundation, and Grand Island Rotary Club events. Other community activities include Relay for Life, assistant teaching dance classes, and mentoring elementary students at Kaegebein Elementary.
Amber also stays involved in athletics. She was a three-year member of the GIHS Cross-Country Team, and is currently a member of the Varsity Softball Team. She also plays softball for the Grand Island Vipers Travel Team, of which she is a co-captain. Amber has been a dancer since 6th grade and she is currently taking four dance classes at Step-in-Time Studio of Dance.
After high school, Amber plans to attend college and prepare for medical school, so that she can eventually become a neurologist.


---



High School Blood Drive -November 2007


An American Blood Drive will be held from 7:45 a.m. to 2:45 p.m. Tuesday, November 20, 2007 in the Grand Island High School (Auditorium). For further information, call Julie Bowen, 773-8820. Walk-ins Welcome!




GIHS DECA Installation Dinner - 2007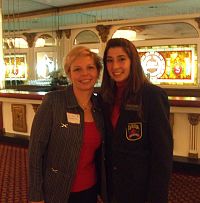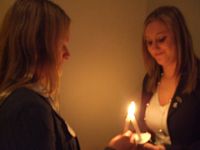 (Left) Cheryl Chamberlain and Brittany Stallard; (right) Brooke Chamberlain and Erica Barrett
Click photos for larger view
Salvatore's Italian Gardens was the setting on November 6th for the annual DECA Installation Dinner as students from Grand Island High School were inducted in this national leadership organization. Ten high schools from all over WNY participated in this ceremony to promote DECA's co-curricular program of leadership, community service, business/vocational understanding and professionalism. Grand Island's Regional Representative, Brittany Stallard gave an outstanding performance discussing her role as Vice President of Social Activities. Over 75 students, parents, and administrators from Grand Island attended this worthwhile event and were impressed by the guest speaker, Mr. Jon Cervoni, who discussed his history as a DECA member and educator.
Grand Island High School will host the DECA Regional Conference on January 13th, 2008.


---



Fresh Florida Citrus Fruit Sale
GIHS Annual Music Dept. Fund Raiser - Nov. 2007
The Grand Island High School Music Department's fund raiser continues until November 19. Choose from grove fresh Florida naval oranges and grapefruit available in 10, 20 and 40 pound cartons. Prices range from $14 to $30 a box. Help send a high school instrumentalist to national competitions in Chattanooga, Tennessee. Call a high school instrumentalist or the High School Music office at 773-8868 to place your order.




K-12 "Artist of the Month" Continues- 2007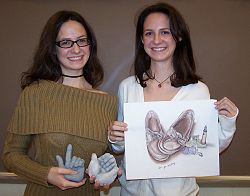 (Left) Nichole and Danielle Nash holding some of their artwork - Click for larger view
The Art Department of the Grand Island Central Schools is pleased to continue with its new forum of honoring the many talented art students throughout the school year. Pictured holding some of their most recent artworks are twins Danielle and Nichole Nash, recipients of October's K-12 "Artist of the Month." These Grand Island High School seniors enjoy making art as a way of expressing themselves, and both plan to attend college for art. This past summer the young ladies attended The New York Summer School of the Arts for an intensive four-week art program at SUNY Brockport.
It was when people began to compliment Danielle's artwork, that she realized she possessed natural talent. She says, "I started my art career in Mrs. Incao's class, and have never stopped!" With the encouragement of her high school art teachers and her sister Nichole, she has worked hard to develop her talent. Danielle enjoys realistic two-dimensional art, and appreciates the work of American illustrator Norman Rockwell.
Art became an important part of Nichole's life when she decided for herself that she loved making it. She feels that the on going support from her parents has been the biggest influence on her growth as an artist. She says that her parents "support me in anything that I choose to do." Nichole favors the art of Renoir and the other impressionists. Although she is capable of using many different materials, her preferred medium is graphite. She plans to go into art conservation.
The Art Department of the Grand Island Schools wishes to congratulate these two hard working art students on their achievements, and wishes them success for the future.




Fabulous Band Concert- 2007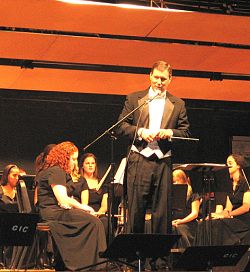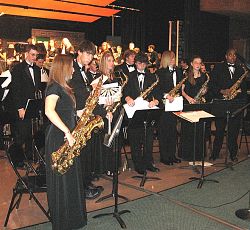 (Left) Mr. Martin Allen and Concert Band; (right) Jazz Band takes a bow.
Jodi Robinson Photos - Click for larger view
The Grand Island High School Music Department presented its first concert of the 2007-2008 season and it was FABULOUS! The Jazz Band led by Mr. Marty Allen began the program with "No B-3 Blues" with much student improvisation throughout. The great jazz music continued and ended with "Things Ain't What They Used To Be" conducted by new music instructor Craig Poissant of Huth Road Elementary School. Mr. Poissant has been joining Mr. Allen and the students for their 6:30 a.m. practice before school. The Jazz Band received a standing ovation for their efforts.
The Grand Island High School Concert Band was next with three pieces conducted by Mr. Allen. "Guadalcanal March" was followed by "On A Hymnsong of Phillip Bliss," a reflective composition" based on a true story of a man who lost his four daughters in a ship sinking in the late 1800's in the Atlantic. The final piece, "Into The Raging River," was inspired by a whitewater rafting trip on the Gauley River. The concert band did a tremendous job. Especially nice was the program that accompanied the concert. Program notes described all pieces from the concert band and wind ensemble and the story behind the music.
World renowned, special guest conductor Mr. Timothy Reynish was humorous and complimentary of his time spent with the wind ensemble. In the area teaching at Fredonia Music School for the semester, he was convinced by Mr. Allen to come to Grand Island and work with the students on a piece entitled "Dances From Crete." Mr. Reynish had the work commissioned to commemorate his son, William, who tragically died in a mountaineering accident in 2001. The music's premier took place in London in November 2003. Mr. Reynish noted that he had approached a university wind ensemble to perform the piece but they turned it down as "too hard." The Island students and Mr. Reynish captivated the audience and received a long standing ovation.
Mr. Allen conducted the wind ensemble in two pieces, a march titled "The Sinfonians" and a wonderful work based on a chant from the Russian Orthodox Church titled "Salvation Is Created." Mr. Allen has much to be proud of with all of his students and his work in the music department. Don't miss the next concert!


---



GIHS Parent/Teacher Conferences - Nov. 2007
Parent/Teacher Conferences will be held on Monday, November 26, 2007 in the High School from 12:00–3:00p.m. and 4:00- 7:00 p.m. Teachers will be in their rooms – a list of room assignments will be posted. Appointments are not necessary.


---



Attention: GIHS Boys Swim/Dive Team Grades 7-12 - Nov. 2007
An organizational meeting will be held for the Grand Island Senior High School Boys Swimming and Diving Team at 2:15 p.m. Monday, November 5, 2007 in room 214 in the high school. GIHS boys in grades 9-12 should attend this meeting if interested.
An organizational meeting for the Grand Island Senior High School Boys Swimming and Diving Team will be held at 3:45 p.m. Monday, November 5th in the Connor Middle School Little Theater. Grand Island boys in grades 7 and 8 should attend this meeting if interested.




GIHS Sports Briefs - Week Ending Nov. 1, 2007
Click "Sports Briefs 11/1/07" for this week's Grand Island High School sports scores.
GIHS sports results may be emailed to "teddy@giecom.net"


---



GIHS Boys Volleyball Team Takes 2nd In Island Tournament - 2007
Parents and teammates of the Grand Island High School Boys Volleyball Team hosted a very successful volleyball tournament at the Grand Island High School courts on October 27, 2007. Chairman of the 12-team event was Sally Khreis. North Tonawanda won the tournament and the Grand Island team took second. The GIHS volleyball team would like to thank the following sponsors for their generous donations:
Bob Piatek/State Farm Insurance Co.
Contract Interiors
DeSignet International
Grand Island Auto Tech Inc.
Grand Island Moose Lodge
Grand Island Rite Aid
Grand Island Rod & Gun Club
Isledegrande.com
Mary Dunbar-Daluisio
McDonald's Restaurant
Niagara Frontier Publications
Rainbow Collision
Rocky's Pizza
Say Cheese Pizza
Tim Horton's
Tops Markets
Wavelengths Hair Salon
Wendy's Restaurant
WNY Metro Town Center Realty Inc.
A special "thank you" is sent out to all the volleyball parents who have donated their time and talents during the 2007-2p008 season and tournament.


---



High School News - Nov. 2007
By Kaitie Samland (Sophomore) - Student Writer
Thursday, Nov. 1, 2007 . . .As many of us know the Grand Island schools once again made the news. This time, a student diagnosed with MRSA short for Methicillin-Resistant Staphylococcus Aureus. According to the New York State Health Department, this bacteria is resistant to many antibiotics and is spread by direct contact. Did you know that some people can carry MRSA for days to many months, even after their infection has been treated? Careful hand washing is the single most effective way to control the spread of MRSA. An area of concern that comes to my mind is whether or not the physical education areas, especially the pool, are receiving any extra precautionary cleaning now that a student has been diagnosed.
On to a more pleasant note, there is a high school band concert this Thursday evening at 7:30 p.m. The first marking period ends on November 9, so a word to the wise, you'd better put in a last ditch effort to save yourselves. There is no school on November 12th as we celebrate Veteran's Day. Spotlighters will be performing "The Hobbit" on November 16 and 17, time to be announced. High school musical auditions will be held November 19-21 and last but not least Parent Teacher conferences will be held the Monday after Thanksgiving, so mark your calendars.




Cross Country Wins NFL League Championship Meet - Oct. 2007
Tsembelis/Carter Lead the Charge
Boys Team Co-Champs at 13-1 in NFL
Girls Team Finishes 2nd at 12-2 in NFL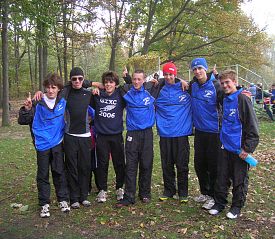 (left) Nick Masiello, Jordan Gibson, Evan Tsembelis, Captain Chris Carter, Jason Chadwick, Captain Ryan Hagen and Derek Stacy
Click for larger view
Beaver Island State Park - October 28, 2007 . . . The Cross Country Teams battled not only 40 mph gale force winds, rain and cold but also Lockport. The Boys team avenged its only loss in the NFL this season by beating Lockport by 3 points 61 to 64. After an earlier drubbing, the Vikings fought its battle and came out on top. "I am so proud of our teams this year," noted veteran coach Don Sauer. "After being beat in our dual meet, they came back and ran spectacular at the league Championship Meet." Key to the victory was the number 3-4-5 men as they stepped it up a notch. Senior Co-Captain Ryan Hagen ran tough race finishing 14th, Freshman Nick Masiello placed 18th and Junior Jordan Gibson took 22nd. The Team was led by Junior Evan Tsembelis 3rd and Co-Captain Chris Carter 4th. It is the team's 4th title in the NFL, winning earlier in '80, '84, '85, and '93.
The Girls Team also ran impressively as they finished their best season in recent history, placing 2nd in the meet and league standings with a 12-2 record. The team had some outstanding performances. Top finisher was Freshman Dominique DeGregorio placing an impressive 10th followed closely by sophomore Maritina Tsembelis in 13th place. Sophomore Amber Spiesz continues to improve, placing 19th. Senior Captain Caitlyn Driscoll cramped up at the halfway point and finished 21st. "Caitlyn had an off-day but she didn't quit. She knew she had to finish for the team and that's what she did," noted Coach Sauer. "She has been our top runner all year and had an off-day; she'll bounce back next time." Emily Thompson also ran a strong race placing 24th.
The top JV finisher was T J Howley taking an impressive 6th. Next meet is Sectionals on Friday, November 2, 2007 at Elma Meadows. The Boys run at 12:30 p.m. and the Girls run at 3 p.m.


---



Gazette Features Oliverio And Klock - Varsity Viking Football - Oct. 2007
For feature story on Varsity Vikings Joe Oliverio and Matt Klock See "Niagara Gazette Story 10/26" by By Nate Beutel.


---



GIHS Instrumental Booster Club Meeting - November 2007
An Instrumental Booster Club meeting will be held at 7:30 p.m. Tuesday, November 6, 2007 in the Grand Island High School, 1100 Ransom Road.




GIHS Sports Briefs - Week Ending Oct. 25, 2007
Click "Sports Briefs 10/25/07" for this week's Grand Island High School sports scores.
GIHS sports results may be emailed to "teddy@giecom.net"


---



High School News - Oct. 2007
By Kaitie Samland (Sophomore) - Student Writer
Thursday, Oct. 25, 2007 . . .I would like to begin this article with a huge thank you to everyone who volunteered and attended the Roses for Rosanna Benefit. It was a HUGE success with over 550 people in attendance. The weather cooperated, which allowed for a very pleasant evening. So Thank You GI for coming through!
This week was basically just a week of congratulations for GIHS. The tennis banquet was held on Tuesday and attended by all members as well as the athletic director, Mr. Jon Roth. Many of the seniors were given awards for their special talents. The Viking Awards were given to Lauren McGowan and Brittany Stallard for their aggressiveness and love for tennis. The team presented coach, Mrs. Julie Neville with a basket full of baby gifts. We were happy that she lasted the season. We had an awesome team and an excellent year. We will miss our senior girls!
Rumors are flying that there was another party this past Saturday night and guess who was there? The buzz around school is that there was another party where some under aged people consumed illegal products. There is word that the police did show up and some of the kids were given a breathalyzer, and others ran away when they saw authorities. There is no excuse now. You know that they are taking this no drinking, no drug policy seriously!


---



High School Band Concert - Nov. 2007
The Grand Island High School bands, under the direction of Mr. Marty Allen, will present a concert at 7:30 p.m. Thursday, November 1, 2007 in the Grand Island High School auditorium. The concert will include the Concert Band, Wind Ensemble, andd Jazz Ensemble. Guest artist conducting the Wind Ensemble will be Timothy Reynish. See Timothy Reynish for his complete biography.


---



2007 Lady Vikings Tennis Team 14-0 NFL Champions - October 2007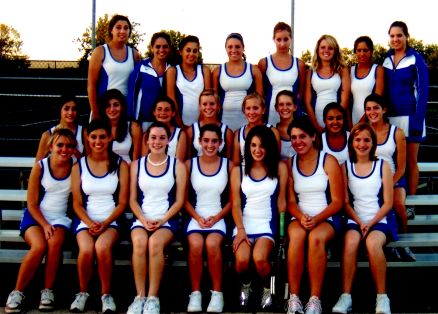 Top Row- Left- Brittany Stallard, Ashley Koerntgen, Kristen Laurendi, Lauren McGowan, Micahlena Beyer, Brittany Papaj, Danielle Bruno and Courtney Catalano Middle Row- Left- Catherine Aughey, Stephanie Aughey, Kaitie Samland, Julie Hasselbeck, Alexandra Buscaglia, Anna Ferrante, Simarjot Cheema and Kelsey Mash. Bottom Row- Left- Courtney Papaj, Tara Hook, Molly Wynne, Breanne Rafferty, Alyssa Accardo, Caitlin Taylor, Kimberly Asbach.
For the first time in Grand Island history, the Lady Vikings Tennis Team finished the season in 1st Place in the NFL. With a 14-0 NFL record (14-1 overall), the Lady Vikings had their first undefeated season!
Many girls contributed to the team's success this year. The team was led by senior, Brittany Stallard, who was undefeated at 1st singles. She will be representing the NFL as Grand Island's #1 singles seed at sectionals on October 26th. Senior captains, Courtney Catalano and Lauren McGowan, teamed up this year at 1st Doubles with a 13-2 overall record. The dynamic duo will be representing the NFL as GI's #1 doubles seed at sectionals. Senior captain, Ashley Koerntgen, played 2nd Singles and had a 10-5 overall record.
Ashley had two big wins over Ken East and Niagara Falls to allow the team to stay undefeated in the NFL. The 2nd Doubles team consisted of sophomores, Alexandra Buscaglia and Kaitie Samland. The pair ended the season with a combined 7-5 record. Three seniors shared the 3rd singles position, Micahlena Beyer, Danielle Bruno and Kristen Laurendi. All three combined for an 8-6 record. Senior, Brittany Papaj, had a varsity win against Lewiston Porter in the Girls' last match this season.
Leading the JV team were veteran players, Alyssa Accardo, Kimberly Asbach, Catherine Aughey, Stephanie Aughey, Julie Hasselbeck, Tara Hook, Kelsey Mash, Courtney Papaj, and Breanne Rafferty. GI tennis newcomers consisted of Simarjot Cheema, Anna Ferrante, Caitlin Taylor and Molly Wynne.
Receiving NFL honors were Brittany Stallard, who received 1st Team All League in singles and Lauren McGowan and Courtney Catalano, who received 1st Team All League in doubles. Congratulations to all three players.
Many girls received individual awards at this year's banquet. The JV MVP was awarded to junior, Kelsey Mash. The Varsity Most Improved player was sophomore, Alexandra Buscaglia, who made a huge impact this year. Most Dedicated award went to senior, Courtney Catalano. Receiving the MVP award this year was senior, Ashley Koerntgen. Seniors, Lauren McGowan and Brittany Stallard were awarded the "Viking Award" for their excellence in leadership, dedication and hard work their entire Varsity careers. Serving as tennis team captains next year will be Kelsey Mash, Alexandra Buscaglia and Breanne Rafferty.
"Good Luck to all 8 seniors for their undefeated season and outstanding careers. We'll miss you next year!"




JV Football Team wins Final Game 41-29 Over Williamsville East - Oct. 2007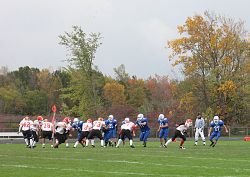 Jodi Robinson Photo - Click for larger view
The Grand Island JV football team played their final game of the season Saturday, October 20 against the Williamsville East Flames. It was all Grand Island in the first half with some stand out performances by wide receiver Chris Gibney, running backs Andrew LaLonde and Tygue Busch, and quarterback Joel Klock. Brett Dlugosz scored on a run in the first quarter followed by the extra point by Klock. LaLonde scored at the end of the first quarter to make it 13-0. At the start of the second quarter, Lalonde ran in a touchdown from the 22-yard line but it was brought back due to an illegal block to the back to the Vikings 43. Marching back down the field Gibney caught a pass from Klock and adding the two point conversion the score was 21-0. LaLonde and Busch scored again to make the score 35-0. The half ended with Andrew Dale blocking a punt and Nick Kellner recovering the ball.
The second half the Flames came back all fired up and scored twice in the third quarter to make it 35-14. The fourth quarter was more of the same with Williamsville East scoring two more times, score 35-29. At the end of the fourth quarter, the Flames were again threatening to score when GI recovered a fumble and marched down the field to score. With a missed extra point the score was 41-29. Williamsville East scored again at the end of the quarter, final score GI 41, WE 35.
The JV team ended the season with a 5-3 record, winning the last 5 games.


---



Grand Island Has New Basketball Coach - 2007
The Grand Island School Board recently hired Greg Ross for the position of Boys Basketball Coach. Ross held the JV Coach position for the past two years and has as head coach at North Tonawanda High School for many years. He is also a physical education instructor at North Tonawanda High. According to a Niagara Gazette article by By Nate Beutel, "He will replace Chris Simpson, who was asked not to return to the varsity position due to philosophical differences between he and the administration."
The Niagara Gazette also reported that, "Multiple sources have told Greater Niagara Newspapers that Simpson, a former player and coach under Pat Monti at LaSalle High School, fell out of favor with many GI parents, players and administrators because of his tough-nosed demeanor."


---



JV Girls Soccer Team Finalize Undefeated Season - 2007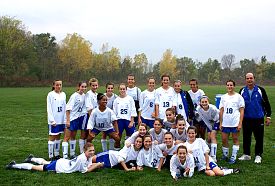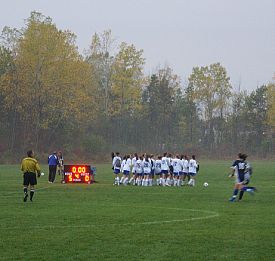 Sandi Cunningham Photos - Click photos for larger view
The Grand Island High School Jr. Varsity Girls Soccer Team finalized their undefeated season on Thursday, October 18, 2007 with a 5-0 win over Ken West. It was an incredible season at 18-0 with only 4 goals scored against the team. A big congratulations to this talented group of Grand Island's finest soccer players!


---



Girls Varsity Soccer Team Wins 8th NFL Championship - Oct. 2007
The Grand Island High School Girls Varsity Soccer Team won the Niagara Frontier League Championship on Thursday, October 18, 2007 just as they have for the past seven years. Kenmore East lost to the Grand Island girls with the final score 4-1. See Niagara Gazette Story.




GIHS Sports Briefs - Week Ending Oct. 18, 2007
Click "Sports Briefs 10/18/07" for this week's Grand Island High School sports scores.
GIHS sports results may be emailed to "teddy@giecom.net"


---



Setter Mike Heftka Featured In Niagara Gazette - 2007
The following is a feature story by Nate Beutel published in the Thursday, October 18, 2007 edition of the Niagara Gazette.
Mike Heftka blossoms into a star at Grand Island
HS Volleyball: Vikings senior has taken over role as leader on and off court.
GRAND ISLAND . . .With Paul Holler and his immense amount of leadership and skill lost to graduation, Grand Island coach Paul Schultz knew he needed to find someone to fill the void.
He already knew he'd get increased production from Holler's younger brother, Scott. But what he wasn't yet aware of was the performance he'd get from senior Mike Heftka.
"He just keeps getting better and better, " Schultz said. "He leads the team in assists, hits left and right and he's our best jump server, too."
Schultz added that he believed Heftka learned a lot from the elder Holler, especially in terms of leadership.
And Heftka agreed.
"I knew I had to take on a bigger role this year," the team captain said. "We all came up together, but this season I'm taking a bigger stand when we get into trouble. I try to relax everybody and not let things get out of control."
On the court, Heftka handles most of the setting duties. But the Vikings often play with two setters on the floor at once, so that gives Heftka the opportunity to also play at the net for certain points.
"I put the ball down when I need to, " he said.
Schultz said Heftka is working closely with freshman setter Tyler Hinaman, and the two have formed a close relationship that has translated both on and off the court. Heftka, meanwhile, said that his relationship with his teammates is one of the biggest reasons for his breakout season.
"We've got a lot of chemistry here," he said. "I've kind of gotten to know where everybody is going to be, so it's much easier to set the guys up."
Heftka believes if the Vikings are at their best, they can compete with some of the top teams in Class A when sectionals begin. That's been evidenced as GI has beaten Niagara-Wheatfield, who's been ranked in the Western New York poll almost the entire season, and took NFL-unbeaten North Tonawanda to five games on Monday.
"I think this team can play with anybody as long as we don't stoop down to anybody else's level," he said.
Schultz believes Heftka has the talent to play in college and he's trying to convince him that a school like D"Youville or Medaille would be a great fit. But for now, Heftka, whose older brother Chris played four years at D'Youville, plans to attend Genesee Community College for computer-aid design or architecture.
"I actually don't want to follow in my brother's footsteps," Heftka said. "I want to be my own person."


---



JV Girls Soccer Team Continues Wins - 2007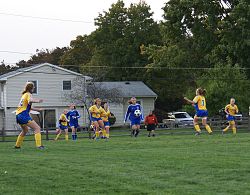 Sandi Cunningham Photos - Click photos for larger view
The Grand Island High School Jr. Varsity Girls Soccer Team beat Lew-Port 6-0 on Thursday, October 11, 2007.
The JV Girls beat Clarence 3-1 on Monday, October 15 (McNulty 2, Chiarevelle 1)
The team won over Lockport 3-1 (McNulty 2 and Chiarevelle 1) on Tuesday, October 16th.
The girls are 17-0 for the season to date, with the final game on Thursday, October 18th at home 4:30 p.m.


---



Cross Country Results - Vikings Beat Lockport - 2007
For Grand Island High School Cross Country Results of October 16, 2007, see Cross Country Results 10/16




JV Football Team Wins Again - Oct. 2007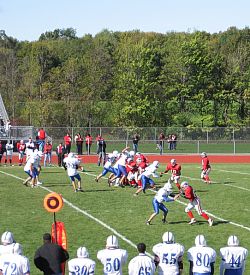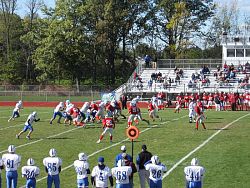 Jodi Robinson Photos - Click for larger view
The Grand Island JV football team traveled to Starpoint on Saturday, October 13th on a bright but chilly morning. The Starpoint facility was state of the art and after some give and take on the field the Vikings' Andrew LaLonde scored at the beginning of the second quarter on a run. Pat Gallagher had a busy game with many excellent runs as did LaLonde who scored again with 3:46 left in the third quarter to make the score 12-0. Tygue Busch scored at the beginning of the fourth quarter and Joel Klock added the extra point to make the score 19-0. Chris Gibney intercepted a pass with 4:17 left in the quarter to stop a drive by the Spartans and the score remained 19-0 final. The JV Vikings will play their last game at home on Saturday, October 20 against Williamsville East.




String & Choral Concert Wednesday - 2007
A Grand Island High School String and Choral Concert will be presented at 7:30 p.m. Wednesday, October 17, 2007 in the Grand Island High School auditorium. The concert will be under the direction of music teachers Carolyn Lokken and Deb Remson.




Homecoming Bonfire Returns To GIHS - Oct. 2007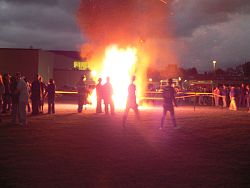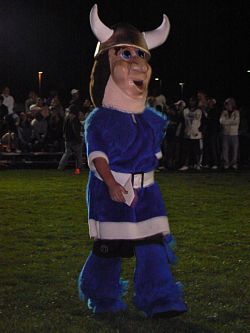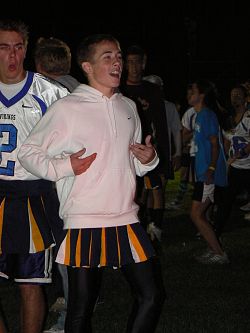 Right: "Cheerleader" Lee Schuster.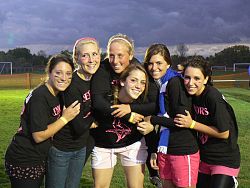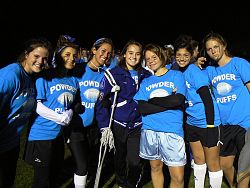 Left: Seniors-Lauren McGowan, Casey Carminatti, Allie Weiser, Sarah Sukmanowski (holding her), Ashley Mazurkiewicz and Tiffany Dickenson.
Right: Jenna Hutzler, Mia Magliazzo, Sam Forysinski, Jamie Raepple, Jessica Mysliwiec, Alexa Amato, Carly Snyder
Click for larger view
Thanks to the GIHS Student Council, the bonfire is back after 35 years. The high school threw a big party after the middle school boys modified football game on Thursday, October 11th. The junior-senior girls powder puff football game ended with 35-21 win for the seniors. Pizza and pop were served and a DJ from Kiss98.5 was on hand to provide background music. The bonfire was lit after the football game and everyone agreed it was a great event.


---



High School News - Oct. 2007
By Kaitie Samland (Sophomore) - Student Writer
Thursday, Oct. 18, 2007 . . .The annual pep rally took place at GIHS filling our school with the colors blue and white. As our tennis team dressed up as "Queens of the Court" and our swimmers, "Lifeguards," everyone looked great. At this year's pep rally, we had a great performance by Marc Scibilia and from our baton twirlers or the "Vikingettes" as they call themselves. There was a tug of war between some of the staff and a select few of our football players. The result was, well, we will just say our football players must not have gotten any sleep the night before.
Grand Island's homecoming game was played Saturday against Starpoint. Without a question we won 20-14. There was great playing by Shawn Vanderbrook, Alex Webb, and Lance Robinson. Congratulations guys and keep up the good work. Also, this weekend was the GIHS homecoming dance attended by many of our seniors and juniors. Many of our seniors were shocked when they found out they were in the Homecoming Court for 2007. Allie Weiser and Nick Tomkins were chosen this year's king and queen.


---



Intergenerational Community Sing At High School - 2007
Singers of all ages are invited to join forces with current members of the Grand Island Senior High School vocal department for an intergenerational sing. Singers of all ages are welcome to attend in an evening of song and fellowship Monday, October 22 at 7:30 p.m. in the Senior High School Choir Room. High school choral director, Carolyn Lokken, is hoping students, parents, grandparents, neighbors and Grand Island alumni will take this opportunity to join together for this event. Sing-ins are popular in communities around the country and are unique is bringing together singers of different generations. No experience is necessary. Hope to see you there!




Varsity Football Wins At Homecoming - Oct. 2007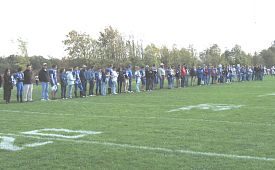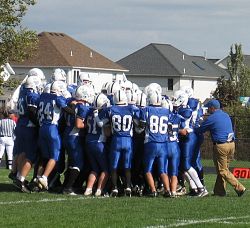 Left: Parents and senior football players and cheerleaders are announced.
Right: Players pumping each other up before the game.
Jodi Robinson Photos - Click for larger view
The Grand Island Varsity Football Homecoming game on Saturday, October 13, began with the announcement of senior players, cheerleaders and their parents. The JV cheerleaders joined the varsity squad on the tarmac in honor of homecoming. Many members of the Class of '67 were on hand as they celebrated their 40th reunion weekend. The Vikings beat the Starpoint Spartans 20-14 at the final whistle but it was a hard fought victory. Christian Nestark had 16 tackles, Nick Tomkins had nine tackles and a fumble recovery for the Vikings. Quarterback Joe Oliverio was 6 for 8 passing for 140 yards and two touchdowns and Alex Webb had 22 carries for 138 yards and a touchdown for GI. The Vikings clinched the second playoff spot in Class A North and face Williamsville East on Saturday, October 20th in their final regular season game.
Scroll down for Pep Rally photos and story, and for the Niagara Gazette coverage of the homecoming game.


---



Runner Chris Carter Featured In Niagara Gazette - 2007
The following is a feature story by Nate Beutel published in the Tuesday, October 16, 2007 edition of the Niagara Gazette.
Carter Helps Carry GI To the Top
HS Cross Country: Vikings senior has blossomed into a top competitor with the help of an underclassman teammate.
GRAND ISLAND . . .Chris Carter is admittedly not the best runner on his own team. So how is it then that Carter has topped the list of finishers For Grand Island in each of its Niagara Frontier League races thus far this season?
"Evan (Tsembelis) has backed off at the end and let me win the races," Carter said. "He doesn't have to do it, but he does. I don't think any other team's top runner would do that for a teammate."
Tsembelis, a junior, allows the senior, Carter, who has spent countless hours working out with Tsembelis, said he's very grateful to have such a good relationship.
"Evan has helped me a lot," he said. "He's the one who has pulled me through it all."
Veteran GI coach Don Sauer believes the relationship is a byproduct of the team's leadership the past few seasons.
"Evan learned a lot from Tim Fargino last year and this year with Chris. I think there's a respect-type thing there since they've worked so hard together," he said. "I think the relationship has made them both better."
With Fargino gone, Carter knew he needed to step up his workouts and that he did this past year as he kept incorporating more and more miles to his workouts. He also moved to a plan that included workouts twice a day.
Vikings assistant coach Jon Lacki, a former runner at Niagara University, said that Carter's increased workload is one of the main reasons the team has bolted out to an undefeated start heading into today's key NFL dual meet against fellow-unbeaten Lockport at Beaver Island.
"He really set himself and the team up to have a monster season," Lacki said.
The Vikings will be down their No. 3 man today, but Carter still believes if Tsembelis can beat Lockport's Drew Perilli for the top spot and the back end of GI's starting five can be better than Lockport's, GI will come out on top.
"I know we have a good enough team to pull through this and win," he said.
Carter, who's best time of the season is 16 minutes, 38 seconds, is also hoping that his magical senior year continues into November for the NFL and Section VI Championships. He wouldn't mind being the team captain of the first GI team to take home a Section VI team title in over a decade, either.
Carter is looking into joining the military next year and if he were to attend an Academy that had cross country, he'd definitely be interested in giving it a shot.




High School Pep Rally Is WILD - Oct. 2007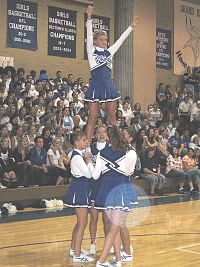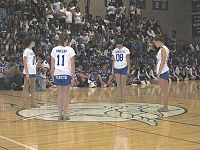 Left: Cheerleaders; right: Twirlers.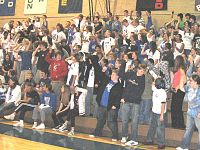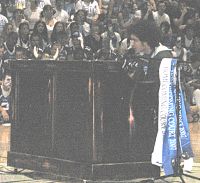 Left: Freshman; right: Mark Scibilia performs.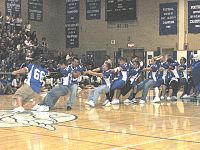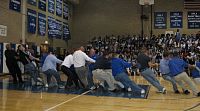 Left: Varsity Football Team. Right: Male Faculty.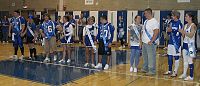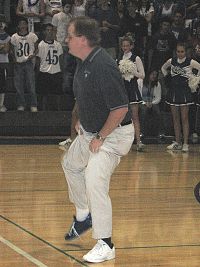 Left: Homecoming Court; right: Social Studies Teacher Kevin Murray.
Jodi Robinson Photos - Click for larger view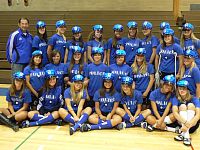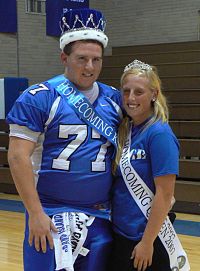 Left: Girls Soccer Team; right: Nick Tomkins and Allie Weiser
Jude Kuehne Photos - Click for larger view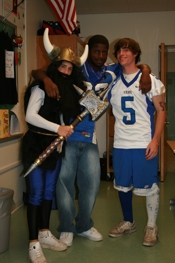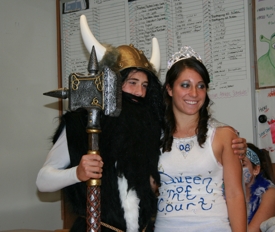 Left: Lee Schuster & friends; right: Lee Schuster and Lauren McGowan
Click for larger view
Friday, October 12 . . .The Grand Island High School was hoppin' the week of October 15th. Spirit week began with each class wearing a color to identify their year. The next day was character day when the students dressed up as different characters. Friday was blue & white day and also the pep rally. Many students dressed up in crazy outfits with the blue/white color scheme. After all lunches everyone headed to the gym for the rally. Director of athletics Jon Roth began the assembly by announcing that Grand Island had five ranked teams in the fall line-up: girls tennis, varsity boys football, girls soccer and the undefeated teams of girls and boys cross-country. The pep band was awesome, the cheerleaders entertained the packed gym, and then a quartet of twirlers, the Vikingettes, brought the house down with a routine that began with music from the Twilight Zone.
A fundraiser for the sophomore class was held during the week. It was a song contest where students voted for their favorite songs by paying 25 cents a vote. A surprise visit by the #5 vote getter, "Terrified," songwriter and singer and former GIHS student Mark Scibilia put on a performance that brought the crowd to their feet.
All the seniors from the fall teams came forward by team, introduced themselves and pumped up the crowd. The captains of the boys cross-country team ate live worms at their introduction. The boys varsity football team had a tug-a-war with some of the willing male faculty members and lost....twice! after declaring a rematch. Mr. Kevin Murray did the blue/white sneaker shout-out that retired science teacher Mr. Jim Mazza started many years ago. The Homecoming court was announced and Nick Tomkins and Allie Weiser were named king and queen. The court also included Lauren Quatrinni and Nick Argi, Autumn Kaiser and Mike Martinec, and Joycie Rockwood and Sam Kilb.


---



Vikings Beat Starpoint, 20-14 - Head To Playoffs 2007
The Grand Island High School Varsity Vikings made the playoffs after beating Starpoint 20-14 at their homecoming game Saturday, October 13, 2007 on Masters Field. See "Niagara Gazette Story" by Nate Beutel.


---



GIHS Boys Volleyball Team To Host Tournament
Donations For Food & Refreshments Would Be Appreciated - 2007
The Grand Island High School Boys Volleyball Team will host a volleyball tournament at the Grand Island High School courts. The parents of the players will sponsor the food and refreshment portion of this event and would be most appreciative of donations of food, drink, and/or monetary gifts from the community businesses to help with this event.
The parents group is seeking monetary donations and/or product specific donations such as breakfast pizza, pizza, coffee, hot chocolate, orange juice, donuts, sandwiches, subs, soup, chili, chowder, chips, candy, soda pop, Gatorade, water, paper products, etc.
All proceeds from the volleyball tournament will be used solely to support the Grand Island Boys Volleyball team. To make a donation, contact parent representative Sally Khreis at 773-7423 or 432-2386 as soon as possible. "We would love to have you join us at this event to cheer for our hometown youth," Mrs. Khreis said this week.





GIHS Sports Briefs - Week Ending Oct. 11, 2007
Click "Sports Briefs 10/11/07" for this week's Grand Island High School sports scores.
GIHS sports results may be emailed to "teddy@giecom.net"


---



GIHS Student Travels To Washington, D.C. - October 2007



Dustin Coryn
Grand Island High School junior Dustin Coryn has returned home from the National Youth Leadership Forum on National Security (NYLF/NS): Exploring American Diplomacy, Intelligence and Defense. Dustin, who was nominated for this prestigious award by teachers Cheryl Chamberlain and Karl Koppmann, traveled to Washington, D.C. for five days where the explorations offered at NYLF/NS allowed Dustin a chance to observe key leaders in diplomatic institutions, military installations and intelligence agencies as they went about their daily tasks. This firsthand exposure provided him with valuable and practical information about careers and opportunities in these communities. In addition, Dustin and his fellow scholars spent time exploring some of Washington, D.C's most famous sites, including Arlington National Cemetery, the Smithsonian Museums and the Vietnam Veterans and Lincoln Memorials. Dustin was in awe after this trip and said it was the "adventure of a lifetime." To explore your career area options through the internship program at Grand Island High School, contact the School-to-Work office at 773-8879.


---



High School News - Oct. 2007
By Kaitie Samland (Sophomore) - Student Writer
Thursday, Oct. 11, 2007 . . .This was Grand Island High School's traditional spirit week which was very exciting and chaotic. Tuesday, October 9th was color day where each class had their own color. Seniors were pink, Juniors were green, Sophomores were orange and the Freshmen were yellow. This was a competition to see which class had the most school spirit and the Juniors won by a hair. Wednesday was character/hero day. Most students were full of spirit while others felt it wasn't their day to shine. Spirit week continued with Thursday being Hawaiian day and on Friday, the yearly Blue and White day. Also, something new this year is a school bonfire where all grades are able to attend. There will be a powder-puff game between the seniors and the juniors, and a DJ. Since the juniors won the color day they will not have to pay but everyone else will have to pay $2 each in order to attend.
Another exciting event that occurred was the completion of the Girls tennis team season and the answer is yes, they came in first place and were undefeated. On Thursday a select few will be attending sectionals that will be held at Sportsplex in North Tonawanda. Good Luck to those in sectionals and congratulations to all!


---



Varsity Vikings Beat Williamsville South 35-7 - 2007
By Kris Christensen
See "Varsity Football Roster 2007" for names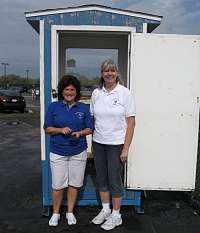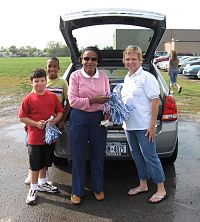 Left photo: Kaegebein Elementary employees Ann Marie Stewart and Mary Ann Stanko work the gate.
Right photo: from left, Josh, Zach and Mrs. Billie Jean Harper purchase pom-poms from Mrs. Cheryl Chamberlain.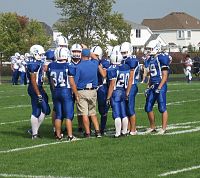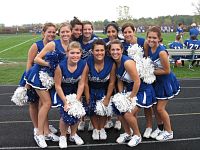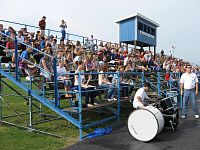 >From left: Special Teams Huddle, Cheerleaders, Mr. Marty Allen leading the Pep Band.
Jodi Robinson Photos - Click for larger view
Friday, October 6, 2007 . . .In spite of some well documented off-the-field issues, the Grand Island Vikings cruised to a 35-7 victory over undermanned Williamsville South at Masters Field Saturday afternoon, moving closer to securing a spot in the Section VI playoffs with two regular season games remaining.
Grand Island dominated from the outset with a 10-play, 70-yard opening drive capped off by a three-yard Eddie Weiser run. After Greg Feathers blocked a Williamsville South punt, Weiser scored on the next play, going in from ten yards out to make the score 14-0 after one of five Feathers' extra points on the day.
On Grand Island's next possession, quarterback Joe Oliverio hit a wide open Greg Stephan in the flat and Stephan raced into the end zone untouched for his first score of the season. Oliverio only attempted two passes on the day, completing both of them (the other went to Alex Neutz for 15 yards).
The Grand Island defense picked up where it left off in the second half of the Albion game, limiting South minus 19 yards of offense in their first five possessions, allowing Grand Island coach Dean Santorio to nearly empty his entire bench before halftime.
Weiser continued his torrid running with second quarter touchdown runs of 12 and three yards before the half, making the score 35-0 with six minutes left in the half and the starting offense done for the day.
The Billies got on the board with under a minute left in the half as quarterback Daeshaune Clark found Tim Krempa from one yard out to close out the scoring.
VIKING GAME NOTES: Kickoff was delayed about 25 minutes because of the heavy thunder and lightning that moved through the area early Saturday afternoon…As it has all season, the field held up exceptionally well despite the weather. Kudos to the Grand Island grounds staff for getting the field in such great shape following the mess that was created following last year's storm. The field is among the best natural surfaces in Western New York now. Now, if we could just do something about the grandstand, press box, lights (or lack thereof), visiting bleachers, restrooms, and concessions stand we'd really having something to be shout about…A win against Starpoint on Saturday will move the Vikings back into the Section VI playoffs for the sixth time in eight years and the fifth time in Santorio's seven-year tenure…At 1-5, Starpoint may be the most disappointing team in Section VI this season. The Spartans came into the season with high hopes of breaking a 16-year playoff drought but one-point losses to Albion and Lewiston-Porter and a six-point loss to Sweet Home crushed those expectations. An 18-point loss to Kenmore East last Saturday may be a strong indication of where the Spartans are at right now…With all of the talk about balance in Class A North this season, a predictable scenario is close to playing itself out once again. Since 2000, 16 playoff spots have been contended for in the division (two per year). With Sweet Home already assured a spot and Grand Island only needing to win one of its last two games, the two schools will have accounted for 12 of those 16 berths…Two weeks ago, Western New York High School Sports called Albion "a lock" for the playoffs. Two weeks and two losses later the Purple Eagles appear headed to a bowl consolation game…If Grand Island does qualify for the playoffs, they will be the second seed in Class A North (barring a highly unlikely collapse from Sweet Home that would require two losses), heading to either Cheektowaga or Iroquois for the first round of the playoffs. After six weeks, both teams are undefeated, awaiting a Week Eight match-up at Cheektowaga.


---



Tsembelis "The Kid From New York" - October 2007
Teams Run W2ll At South Coast Challenge
Boys Team Takes 2nd/Girls 7th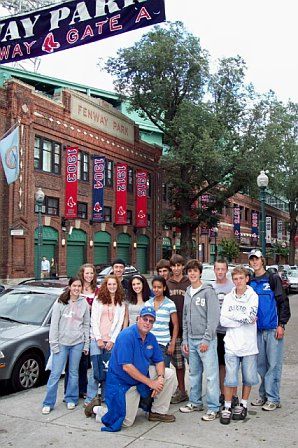 Cross Country team members who enjoyed a lot of sight seeing, are shown in front of Fenway Park.
Allie Boron Photo - Click photos for larger view
The Grand Island Cross Country ventured into new territory over Columbus weekend with a road trip to the South Coast Cross Country Challenge in New Bedford, MA. Junior Evan Tsembelis used a strong, sizzling kick to win the race and set a new course record by more than 20 seconds. The junior pressed the pace from the starting line and never let up as he fought challenges from a few of the "local favorites" running a 16:07.2 for a semi-hilly 3.1 course in 86-degree heat. He led the team with Senior Co-Captains Chris Carter and Ryan Hagen running strong with a 9th place and 12th place finish respectively. Junior Jordan Gibson ran another strong race placing 22nd and freshman Nick Masiello placing 32nd. The team, with 76 points, placed 2nd out of 18 teams entered from MA, RI and CT. The local newspaper (South Coast Today) was impressed with Tsembelis' performance as they headlined that a local favorite would have won if the "kid from NY had not run." Derrek Stacey and Jason Chadwick ran in the Frosh race placing an impressive 7th and 11th.
The GI Girls Team also made their mark as they place a strong 7th. Freshman Dominique DeGregorio and newcomer Maritina Tsembelis both ran very outstanding races placing 11th and 12th respectively with times of 21:46 and 21:47. Amber Spiesz, Emily Thompson and Allison Boron all ran their best times.


---



JV Vikings Beat Williamsville South, 32-14 - 2007
By Jodi Robinson
The Grand Island High School Jr. Varsity Vikings football team beat the Billies with a final score of 32-14 Saturday morning, October 6th away on Main Street in Williamsville. Williamsville scored first with 5:37 remaining in the first quarter and couldn't convert the extra point. The Vikings' Joe Connors intercepted with 2:46 left in the quarter and Joel Klock kicked a field goal for 3 points. The second quarter began with a nice return by Patrick Gallagher to the 40-yard line. With a couple of running plays the Vikings were in the end zone on a run by Tygue Busch. Joel Klock converted the extra point and GI was ahead 10-6. After a number of fumbles on both sides, the score remained 10-6 at the half.
At the start of the second half Andrew LaLonde carried in a nine-yard run and scored the touchdown to make it 16-6. After GI failed to convert the extra point the W.S. Billies took over on the 20-yard line and were 1-2-3 out, with the Vikes taking over on the 48-yard line. Chris Gibney had a nice catch and Andrew LaLonde had a 16-yard gain that brought the Vikes to within field goal range where Joel Klock kicked the ball in for 3 points and a score of Vikings 19-Billies 6. The fourth quarter began with a 4-yard pass to Tom Dzielski that made it 1st & goal. Joe Connors caught a pass in the end zone and with the extra point by Klock the score was 26-6 Vikings. With 3:50 left in the 4th quarter the Billies scored a touchdown and ran the ball in for an extra 2 points, score 26-14. The game ended with a final touchdown run by Pat Gallagher to give the Vikings the 32-14 win. The JV Vikings will travel to Starpoint on Saturday, October 13th for a 10:00 a.m. game.


---



Vikings Beat Williamsville South, 35-7 - 2007
The Grand Island High School Varsity Vikings scored on their first five possessions and beat the Williamsville South team, 35-7. The complete story by Isledegrande.com sports writer Kris Christensen will be posted on Thursday, October 11, 2007. Go Vikings!


---



Cross Country Results - October 2 - 2007
For Grand Island High School Cross Country Results of October 2, 2007, see Cross Country Results 10/2


---



JV Vikings Beat Albion, 6 - 0 - 2007
The Grand Island High School Jr. Varsity Vikings football team beat Albion with a final score of 6-0 Saturday morning, September 29th at home at Masters Field. The team plays Williamsville South Saturday morning, October 6.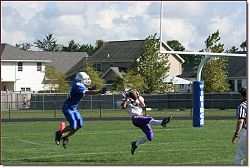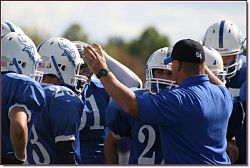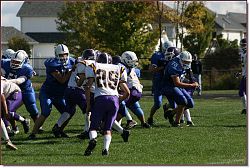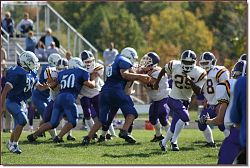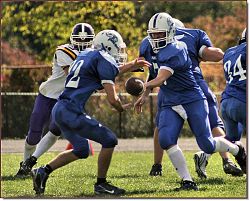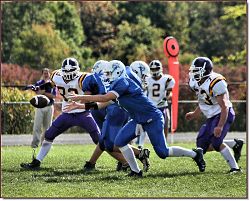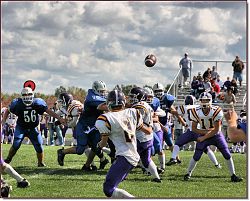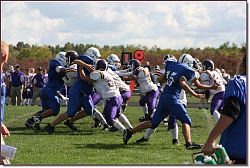 Kim Ludwig Photos - Click for larger view




GIHS Sports Briefs - Week Ending Oct. 4, 2007
Click "Sports Briefs 10/4/07" for this week's Grand Island High School sports scores.
GIHS sports results may be emailed to "teddy@giecom.net"


---



Varsity Vikings Beat Albion 33-27 - 2007
By Kris Christensen
See "Varsity Football Roster 2007" for names
Friday, September 28, 2007 . . .To paraphrase Buffalo Bills play-by-play man John Murphy, if you weren't there, you should have been. The Grand Island Vikings stunned an overflow crowd at Spierdowis Field and walked away with a dramatic 33-27 come-from-behind win against previous unbeaten Albion Friday night.
The Vikings win was preserved on a diving, fourth-down tackle by defensive end Chris Podlucky on Albion running back Brandon Brewer with 1:32 remaining in the game. Following a partially blocked Grand Island field goal attempt, the Purple Eagles drove from their own 20-yard line to the Vikings 44. Brewer was stopped cold by the middle of the Grand Island defense on first down before quarterback Justin Ward threw incomplete on second down and had his third down pass broken up by Alex Neutz. Following a Grand Island timeout, the Purple Eagles tried to slip the ball to Brewer on a middle screen pass but Podlucky fought off his blocker to make the play that sent the Grand Island sideline into a frenzy.
The Vikings still needed to run the clock out and were able to do so when Eddie Weiser busted off tackle on third and seven with 1:23 remaining in the ball game.
The first half was a back and forth affair as neither team had much success stopping the other. The Vikings struck first following a 66-yard interception return by Neutz on the game's second play from scrimmage. Alex Webb pounded off tackle on three successive runs, scoring from four yards out to put the Vikings on the board just over two minutes into the game.
Just under two minutes later, Ward hit speedster Morris Taylor on a flanker screen and he raced 56 yards for the touchdown. The Purple Eagles missed the extra point and Grand Island held a 7-6 advantage.
On the next possession, the Vikings marched 73 yards in four minutes with Webb going in again, this time from 14 yards out. The key play of the drive was a third-and-eleven pass from junior quarterback Joe Oliverio to Neutz that gained 35 yards. Making his first start of the season, Oliverio showed great composure in completing 11 of 19 passes for 208 yards and two touchdowns with no interceptions.
The scoring continued as Colby Ellis brought the Eagles within one on a 51-yard sprint down the sideline with just over two minutes remaining in the first quarter. The Purple Eagles took a 20-13 lead three minutes into the second quarter as Ward found tight end Mike Warren in the back of the end zone for a seven-yard touchdown pass. Ellis ran in the two-point conversion.
Grand Island came right back on the next possession to tie the game. Starting from the their own 46 thanks to a 32-yard kickoff return by Neutz, the Vikings again came out pounding off left tackle behind Christian Nestark and left guard Tim Boorady with Webb and Weiser. On fourth-and-one from the Albion 45, Weiser gained five yards up the middle to keep the drive alive. Oliverio completed two passes to Neutz to get the Vikings to the Purple Eagles 15 where Weiser took it in with 4:28 remaining in the half. Greg Feathers' extra point evened the score at 20-20.
It took the Purple Eagles just over three minutes to recapture the lead as Taylor ran in from 24 yards out on third and eleven. The drive was keyed by a 24-yard pass from Ward to Taylor.
With just 1:27 on the clock, the Vikings again drove the length of the field to even the score as Neutz took a pass from Oliverio and extended himself over the goal line with just nine seconds left in the half. The Vikings had taken a big chunk of yardage on a 42-yard pass from Oliverio to Neutz that got the ball to the Albion 11.
The Vikings started the second half moving the football, mixing the run and pass. The Purple Eagles had no answer for Neutz who hauled in two passes on the half's opening possession for 35 yards, including a 16-yard touchdown throw from Oliverio that Neutz stretched for to give the Vikings the 33-27 lead five and a half minutes into the third quarter.
Grand Island changed up their defensive strategy in the third quarter, going from their usual four-man front to a 5-3 look, leaving Neutz to cover Taylor with little help. The change paid off as the Vikings limited Albion to one yard of total offense in the third quarter and consecutive three-and-out possessions.
With 1:04 left in the third quarter the Vikings were pinned on their own 13. Once again, the combination of Webb and Weiser got the Vikings out of the hole. On first down, Webb went for 15 yards followed by a seven-yard Weiser run. Weiser opened the fourth quarter with a 15-yard burst to midfield and an eight-yard run into Albion territory. On second and 14, Oliverio once again went up top for Neutz on a 26-yard pass play that took the ball to the Albion 16 where the Vikings stalled out, settling for the field goal attempt that was blocked.


SCORING SUMMARY

Grand Island 	13	14	6	0		33
Albion		12	15	0	0		27

GI – Alex Webb 4 run (Greg Feathers kick)
A – Morris Taylor 56 pass from Justin Ward (kick failed)
GI – Alex Webb 14 run (kick failed)
A – Colby Ellis 51 run (run failed)
A – Mike Warren 7 pass from Justin Ward (Colby Ellis run)
GI – Eddie Weiser 15 run (kick failed)
A – Morris Taylor 24 run (Monacelli kick)
GI – Alex Neutz 11 pass from Joe Oliverio (Greg Feathers kick)
GI – Alex Neutz 16 pass from Joe Oliverio (kick failed)

VIKING GAME NOTES: For a regular season contest in this area, the game had a lot of pre-game build-up and it certainly lived up to the hype. There was a sense from the Albion side that the game was little more than a coronation for coach Dick Diminuco in joining Canisius' Johnny Barnes and Grand Island's own Gene Masters in the exclusive 200-win club…Dick Gallagher, the respected editor of Western New York High School Sports made the trip out to Orleans County for the game, bypassing some key match-ups in Class AA…Grand Island offensive line coach Mike Stauffer got off the best line of the night when he told Gallagher he wouldn't be needing his camera that night to take a picture of Diminuco following his 200th career victory…In the midst of the chaos on the Grand Island sideline following Podlucky's big tackle, someone was overheard asking if there was a freezer big enough in the Village of Albion to keep the oversized cake purchased for the expected celebration from going stale…The performance Neutz put on was an "all-timer" in the storied history of Grand Island football. Nine receptions for 182 yards, a 66-yard interception return, 70 yards worth of returns in the kicking game, and a complete shutdown of the sprinter Taylor in the second half including two passes defended – not bad for a volleyball player… The play of the offensive line can be summed up with more than 400 yards of total offense and 33 points on the scoreboard. The line that had some protection problems against Lew-Port held up well against Albion. Only once was Oliverio flushed from the pocket and forced to take a loss. In addition to Nestark and Boorady on the left side Shawn Vanderbrook moved from right guard to center to replace his brother, Justin, who was injured prior to the Lew-Port game. Ryan Harnden and DJ Perri split time at right guard and right tackle Greg Feathers appeared fully recovered from the ankle he injured against Sweet Home while keeping the throwing lanes clear for Oliverio. …The Vikings got a great effort in the second half from their three interior defensive linemen, Harnden, Nick Tomkins, and Sam Clarke, limiting the Purple Eagles to 41 yards of offense…Great to see longtime Grand Island assistant coach Duke Ratel on hand Friday night…. The win was a testament to the Grand Island players and coaches. Toughness and preparation overcame decided size and speed advantages for Albion (not to mention the huge homecoming crowd) proving once again that football is a game of desire and passion…1-4 Williamsville South visits Masters Field at 2 p.m. Saturday…While their record doesn't reflect it, the Billies are much improved under veteran coach Kraig Kurzanski who is in his first year as head coach at South…Playoff scenarios will become much clearer after this weekend. If the Vikings win their remaining three games, they will be playoff participants for the sixth time in eight years, a mark only outdone by a seven for nine stretch from 1986 to 1994.


---



GIHS Business Dept. Brings Business First Into Classroom - 2007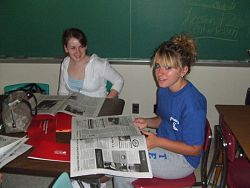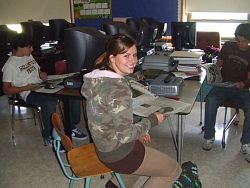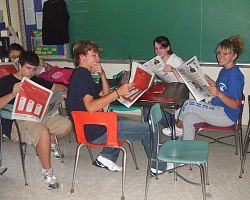 (left) Kathryn Cobello and Courtney Papaj; (center) Michael Montaldi and Lisa Mager; (right) Jordan Kaufman, Michael Seaman, Ryan Hoople, Kathryn Cobello, Courtney Papaj
Click photos for larger view
The Grand Island High School Business Department is excited to bring Business First into the classroom. Each week current copies of Business First are provided through the generous sponsorship of Aurora Consulting Group, for Cheryl Chamberlain's Career and Financial Management Class. Mrs. Chamberlain attended a workshop conducted by Tim Oshei, managing editor of Business First, where innovative ways of utilizing the paper with existing curriculum were introduced. Grand Island is one of a select group of schools that will enable students to study current financial and marketing news as reported by this publication. Grand Island is also proud to be a "top ten" district as recognized by Business First.


---



High School News - Sept. 2007
By Kaitie Samland (Sophomore) - Student Writer
Thursday, Oct. 4, 2007 . . .Who do you believe? How can you believe one person over another? What ever happened to being innocent until proven guilty? Just because someone says it, doesn't make it true! GIHS has been in chaos for the last few days due to a party on Saturday night. Present at this party were many of our schools students as well as alcohol and drugs. During the summer, all fall sports athletes had to sign an agreement which stated that as an athlete you are not permitted to use drugs or alcohol or even be around it outside of school. Somehow a list of students in attendance was submitted to school administration and students were called down individually to speak with either of our two vice principals. Currently, all of the athletes are awaiting their fate. Naturally, the rumors are spreading like wild fire. Students and their parents are questioning the accuracy of the list. What began as an innocent birthday party evolved into a party with 75-100 kids. Was nobody watching? I think my parents would notice more than 10 kids in our yard. I haven't heard if anybody belonging to band or orchestra was there, but if they were, would they be held accountable? Or what about those that don't do any extracurricular activities. How will they be punished? What about those who may have been there in the beginning but left early on? I think that there is no way that list of names can be validated by a reliable source, unless the police were called and a list was created, otherwise its hearsay. I don't doubt there was a party but who really knows who was there. Oh, just for the record I wasn't there!
On the bright side, our Lady Vikings Tennis Team is unstoppable, having a match score of 12-0! Great matches were played by both Varsity and JV players. You can go and watch them play against Lockport at home on Thursday and Tuesday against Lew-Port which will be away. Congratulations girls and keep up the good work!


---



JV Girls Soccer Victorious Over Niagara Wheatfield - 2007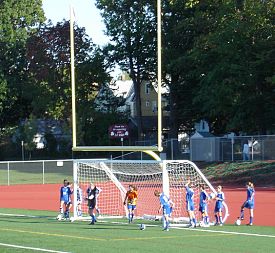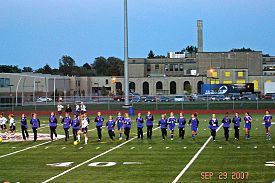 Shown are warm ups and the JV Victory Run - Click photo for larger view
Grand Island's JV Girls Soccer Team beat Niagara Wheatfield 7-0 on the home field Friday night, September 28, 2007. Highlights of the game include a Hat Trick of headers from Jeanne Taylor, Katlyn Holt and Jessica Osvath! The Grand Island JV team went on to win again at the Aquinas Institute in Rochester on Saturday evening with a score of 4-1. Scoring for the JV Vikings were Katlyn Holt, Brooke DeMarco and Sara McNulty (2)
The JV Girls Soccer Team is coached by Coach Joe Sirianni.


---



Vikings Beat Albion, 33-27- 2007
The Grand Island High School Varsity Vikings football team beat Albion "under the lights" with a final score of 33-27 on Friday night, September 28th at Albion in Orleans County in front of a crowd of approximately 5000 people. The complete story by Isledegrande.com sports writer Kris Christensen will be posted on Thursday, October 4, 2007. Go Vikings!


---



College Loan Awareness- 2007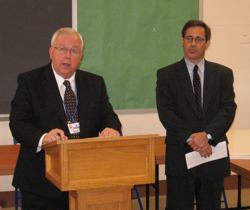 Jodi Robinson Photo - Click for larger view
New York State Attorney General Andrew M. Cuomo's Chief Trial Counsel Benjamin Rosenberg was joined by Supervisor Peter McMahon and Schools Superintendent Robert W. Christmann at Grand Island High School on Thursday, September 27, 2007. Attorney General Cuomo has initiated a groundbreaking statewide educational initiative alerting students to pitfalls and new protections regarding the student loan industry.
Mr. Rosenberg briefed 17 students who were nominated by school guidance counselors about Cuomo's Student Bill of Rights. The first of its kind in the nation, the bill is part of a new state law resulting from an ongoing investigation of the $85 billion/year college loan industry. It provides new rights and protections against deceptive practices in the college loan industry. For many, a college loan is the second biggest loan expenditure they will take on in their lives. The bill gives to students and families the right to choose a lender, even if the lender is not included on the school's preferred lender lists.


Additionally, the law grants the right to:

* To get unbiased advice about loans and lenders from schools' financial aid officers.

* To get the criteria a school uses to select preferred lenders.

* To know whether preferred lenders are paying the school or financial aid officers.

* To know what benefits or rate discounts lenders offer, and whether those benefits or discounts will be made
  immediately available, or only after a certain number of consecutive timely payments.

* To know if a lender has agreed to sell its loans to another lender.

* To know whether borrower benefits and discounts will continue if the loan is sold.

* To know the interest rate for the loan before borrowing.

* To exhaust federal borrowing options before turning to higher cost private loans.

Mr. Rosenberg went on to highlight some of the worst practices discovered during the investigation, including the illegal steering of students to preferred lenders by specific schools, revenue sharing between schools and lenders, gifts and trips from lenders to financial aid directors and stock options given to financial aid officers by lenders. To download a copy of the Student Bill of Rights and for more information visit www.oag.state.ny.us.




GIHS Sports Briefs - Week Ending Sept. 27, 2007
Click "Sports Briefs 9/27/07" for this week's Grand Island High School sports scores.
GIHS sports results may be emailed to "teddy@giecom.net"


---



High School News - Sept. 2007
By Kaitie Samland (Sophomore) - Student Writer
Thursday, Sept. 27, 2007 . . .I really don't wish to brag and I hope I don't jinx ourselves but as of Monday, Girls Tennis match against Niagara Wheatfield, the Lady Vikings remain undefeated. Yesterday's game was rained out but will be rescheduled for Monday.
Want to be on stage? Auditions for this year's musical, The Hobbit, will take place on September 26 and September 27. Sign up outside Miss Scarafia's room. DECA membership dues are to be turned in to Mrs. Chamberlain by October 4th. Senior luncheon will be this Friday at the Niagara Club. Transportation will be provided by the school. A fairly new club, Donate Life, is seeking new members. The club's focus is to promote awareness of transplant services. If interested, see Mr. Head or Mrs. Krauss. Remember Homecoming is October 13.


---



DECA Competition Coming To Grand Island High School In January - 2007
The Grand Island Chapter of DECA, An Association of Marketing Students, is pleased to announce that Region 12 competition is coming to Grand Island High School on January 13, 2008. Over 500 high school students from all over Western New York will compete in business related events during this conference. In addition, over 120 business and education leaders will assist as judges and proctors for this remarkable event. Mrs. Cheryl Chamberlain, DECA Advisor, is excited to bring the entire WNY DECA membership to Grand Island. DECA is a state and national organization with goals that promote leadership development, civic consciousness, social intelligence and vocational understanding.


---



2007 Grand Island Venture Yearbook Receives Design Award - 2007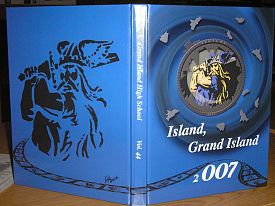 Click photo for larger view
The 2007 edition of the Grand Island Venture Yearbook has been given a local Cover Design Award from Lifetouch Photography. The award winning "Island, Grand Island" yearbook cover features a James Bond theme.
The yearbook cover displays a film strip, an opened camera lens with the Viking, along with the year 2007 and the 007 is raised to portray the Bond theme. This cover now qualifies for Lifetouch's National recognition contest called the Best of Volumes.
Along with being entered into the national contest, the 2007 edition of the Grand Island Venture Yearbook is showcased in the company's yearbook guide for both design and creation of a themed cover.
"Tri-editor Ashley Ray was the brainstorm behind the James Bond theme," High School Yearbook Advisor Chris Simpson said. "Along with help from tri-editor Corey Dudish, the two created a cover design that fit perfectly with the current year and was able to carry the theme throughout the book," Mr. Simpson said.


---



Varsity Vikings Beat Lew-Port 13-7 - 2007
By Kris Christensen
Click "Varsity Football Roster 2007"
Saturday, September 22, 2007 . . . Lewiston-Porter locked in a 7-7 defensive stalemate midway through the fourth quarter at Masters Field Saturday, something had to give. In a game that featured touchdown drives of only 42 and 27 yards, it was fitting that the defense would deliver the deciding points in the Vikings 13-7 win. Even more appropriate in such a tight game was a transfer from Lew-Port, outside linebacker Eddie Weiser, ripping the ball from running back Anthony Kukovicka at the Lancers nine-yard line and returning it for the score. The score was set up as Weiser, linebacker Christian Nestark, and safety Mike Martinic converged on Kukovicka allowing Weiser to make the critical play.
The Grand Island defense was stout throughout the contest, allowing only 127 total yards while limiting the Lancers to 23 yards rushing on 22 carries and 3.9 yards per pass attempt. Nestark led the charge with nine tackles and a sack on the game's second last play.
The Vikings opened the scoring with 3:23 remaining in the first half as Alex Webb ran in from four yards out to cap a seven-play, 42-yard drive. Tom Shanor added the extra point for the Vikings. As usual, Webb was the Vikings workhorse on the drive as he carried five times for 28 yards. For the day, Webb carried the ball 31 times for 129 yards. Alex Neutz made a tip-toe catch along the right sideline for a 10-yard gain that kept the drive moving down to the Lew-Port 20.
The Vikings appeared headed to intermission with the lead before Vincent Gambino came off the left side of the Vikings punt formation and blocked Adam Helman's punt with only 57 seconds left in the first half with the Lancers taking over at the Grand Island 27-yard line. It appeared the Vikings only had 10 men on the field for the punt. The Lancers moved quickly as quarterback Matt Cattarin completed four of five passes on the drive including a 14-yard pass touchdown to tight end Nick Sabha with 30 seconds left in the half. Nick Polley added the extra point to tie the score.
The Vikings didn't record a second half first down until 9:42 remained in the game when quarterback Matt Klock gained one-yard on a quarterback sneak at midfield. After the drive stalled, Helman got off a 41-yard punt that pinned the Lancers at their own nine leading to the game deciding turnover. Grand Island was able to milk almost five minutes off the clock in the fourth quarter with 11 straight runs that took the ball from the GI 45 to the Lew-Port 13. Webb, who ran nine times on the drive, was stopped inches short on fourth down allowing the Lancers one last gasp attempt at pulling out the win with 59 seconds remaining and no timeouts.

SCORING SUMMARY

Lewiston-Porter 0 7 0 0 7
Grand Island 0 7 0 6 13
GI – Alex Webb 4 run (Tom Shanor kick) 3:23 LP – Nick Sabha 14 pass from Matt Cattarin (Nick Polley kick) :25 GI – Eddie Weiser 9 fumble return (kick failed) 6:30
VIKING GAME NOTES: A Grand Island win over Lewiston-Porter is nothing unusual as the Vikings won for the 22nd time in the last 25 meetings between the two schools dating back to 1984. The teams didn't play in 1995 and met twice in 2003 (including a 45-12 Viking win in the Section VI Championship) and 2006 (due to the scheduling problems of the October Storm) . . .Nestark has been absolutely dominant on defense. His nine tackles against Lew-Port were his lowest output of the season. At the start of the season, Grand Island coach Dean Santorio said Nestark had a chance to be one of the best linebackers ever to play at Grand Island, a pretty bold statement. Nestark's play has done nothing but back up his coach's assessment . . .The Vikings head to Albion Friday night (7:00 kickoff) in a game critical to both team's playoff chances. The Vikings (2-1, Class A North) have no margin for error while the Purple Eagles stand atop Class A North at 4-0, a half game ahead of 3-0 Sweet Home. Albion and Sweet Home meet in Week Six at Sweet Home . . . The climate at Albion for a varsity football game is probably as close as we come in upstate New York to a true small town America "Friday Night Lights" experience. Make the short trip to Orleans County and check it out. Get there early though as a homecoming crowd in excess of 5,000 is expected as Coach Dick Diminuco goes for his 200th career win . . .While the two schools have only met twice, both games have gone down to the wire. On their wild run to the Section VI Championship in 2005, Grand Island rallied in the fourth quarter to win at Albion 30-28 on a Ryan Breier field goal as time expired. Last season, the Purple Eagles won the season opener at Grand Island, scoring in the last two minutes to pull out a 12-7 win in a game that was played in a driving rainstorm . . .As Coach Dean Santorio said in the preseason, he needed more consistency in the passing game. To pull off the upset Friday night quarterbacks Matt Klock and Joe Oliverio will need to throw the ball effectively and the offensive line will need to seal up the protection problems that plagued them against Lew-Port.


---



Attorney General Cuomo's Community Partnership Initiative Brings College Loan Awareness To Grand Island - 2007
Date: Thursday, September 27th
Time: 10:30 a.m.
Place: Grand Island High School, 1100 Ransom Road, Grand Island, NY
Chief Trial Counsel Benjamin Rosenberg brings Attorney General Andrew Cuomo's Student Bill of Rights and the Community Partnership Initiative to Grand Island. Rosenberg will join Supervisor Peter McMahon, Superintendent Robert W. Christmann and other guests to speak with Grand Island High School students.
"All college-bound students deserve a powerful gift that provides the knowledge and the know-how needed when shopping for a college loan," said Rosenberg. "Attorney General Cuomo's ongoing investigation has uncovered many unethical and sometimes illegal practices in the industry, and we're working hard to make sure that all New York students know the law now protects them and that they should ask the right questions when meeting with loan officers and lenders."


---



GIHS JV Football - Game 4 - 2007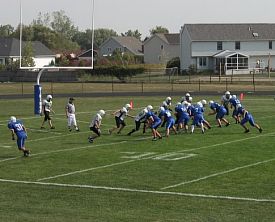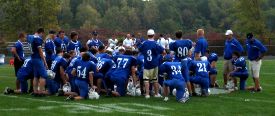 (Left) Viking Offense; (right) Post Game Gathering.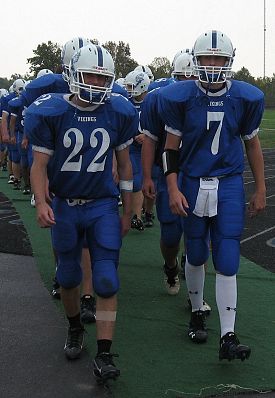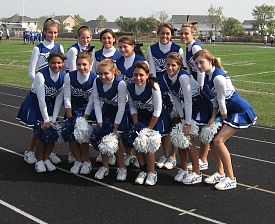 (Left) #22 Andrew LaLonde, #7 Joel Klock; (right) Cheerleaders
Jodi Robinson photos - click for larger view
Click "JV Football Roster 2007"
The JV Vikings were off to a fast start in their fourth game of the season on Saturday, September 22nd. Nick Kellner scored the first touchdown against Lew-Port in the beginning of the first quarter. Andrew LaLonde scored later in the first quarter and with the bootleg by Joel Klock the score was 14-0. In the second quarter LaLonde scored again and Klock kicked the extra point to make it 21-0. Steve Vitello finished up with a catch at the end of the second quarter that made the score 27-0, with the extra point by Klock. The Vikings left the field at the half up 28-0.
With no scoring in the third quarter, the Vikings went into the fourth quarter up 28-0. Lew-Port scored with 4:48 left on the clock and the score was 28-6. Pat Gallagher put the icing on the cake by scoring a touchdown at the end of the fourth quarter. Final score 35-6 for the JV Vikings. This week's game is home at Masters Field against Albion at 10 a.m. on Saturday, September 29th.


---



Varsity Vikings Beat Kenmore East 31-16 - 2007
By Kris Christensen
Click "Varsity Football Roster 2007"
Saturday, September 15, 2007 . . .Alex Webb's 162 rushing yards were a critical part of a ball control offense that propelled the Grand Island Vikings to their first win of the season, a 31-16 decision against Class A North rival Kenmore East at Masters Field on Saturday.
Webb carried the ball eight times on the Vikings five and a half minute, 81-yard opening drive that culminated with a seven-yard Eddie Weiser touchdown run. In limiting the Bulldogs to 23 yards in total offense for the half, the Vikings held a 16:28 to 7:32 edge in time of possession.
The Vikings ground game was again effective during their second possession as they drove the ball from their own 10-yard line to midfield with seven straight runs. Heading into a strong wind, Grand Island coach Dean Santorio decided to go for a fourth-and-one from his own 19-yard line. The coach's decision paid off with a 22-yard run from Weiser.
Following a Grand Island punt to the Kenmore East 15, the Grand Island defense took charge. After a two-yard loss on first down, the Vikings defense forced Bulldogs quarterback Jon Wiltberger to make a bad option pitch. Wiltberger ended up recovering the ball but was tackled in the end zone by Dan McKenna for the safety.
After trading punts, the Vikings started a drive at the Kenmore East 45. On first down quarterback Matt Klock hit Alex Neutz for a 27-yard gain along the right sideline. Once again it was up to Webb to get the Vikings into the end zone as he reeled off runs of 12, five, and three yards to cap off the two-minute scoring drive. Reserve quarterback Joe Oliverio hit tight end Greg Stephan on the two-point conversion pass to put the Vikings up 16-0 at the half.
Following a Dan McKenna interception of Wiltberger that he returned to the Bulldogs 22, Klock threw a strike to Weiser along the sideline for a 22-yard touchdown pass. Klock ran the extra point in to give the Vikings a 24-0 lead with one minute remaining in the third quarter.
The Bulldogs looked to make a game of it early in the fourth quarter as Wiltberger found tight end Dan Wagner along the goal line for a six-yard touchdown pass. Wagner then ran the extra point in. The Vikings fumbled the ensuing kickoff which the Bulldogs pounced on at the Viking 10-yard line. On the next play from scrimmage, Grand Island linebacker Christian Nestark stepped in front of Wiltberger's pass snuffing out any hopes of a Kenmore East rally.
Tom Shanor added a five-yard run to close the scoring out for the Vikings with just under three minutes left while Wiltberger again found Wagner from seven yards out with under a minute to play in the game.
VIKING GAME NOTES . . .Saturday's win was Grand Island's 17th straight against Kenmore East dating back to 1982 . . .With a 24-0 lead thru three quarters, Grand Island coach Dean Santorio was able to empty his bench for the first time this season. . . The win puts the Vikings in the thick of the Class A North playoff hunt. Sweet Home has gotten over two big hurdles (Grand Island and Starpoint) with Albion remaining in Week Six. Unbeaten Albion travels to Starpoint Saturday (Sept. 22) in the league's key match-up of the week . . .The Vikings host Lewiston-Porter on Saturday (Sept. 22) at Masters Field. The Lancers are off to a 2-1 start under first-year coach Dick Lindamer with wins over Wilson and Williamsville South. When they stepped up in competition last week they were shut out 33-0. . . The Lancers have played all of their games on the road to this point of the season as they are waiting a new artificial playing surface to be completed at their home field.


---



GIHS Sports Briefs - Week Ending Sept. 20, 2007
Click "Sports Briefs 9/20/07" for this week's Grand Island High School sports scores.
GIHS sports results may be emailed to "teddy@giecom.net"


---



High School News - Sept. 2007
By Kaitie Samland (Sophomore) - Student Writer
Thursday, Sept. 20, 2007 . . .Great news tennis fans, the Grand Island Girls tennis team coached by Julie Neville is undefeated so far and they are half way through their season. Keep up the good work! Tonight is open house for the high school beginning at 6:30 p.m., so get your child's schedule and meet their teachers so that when your child complains about them, you'll be able to put a face with the name. Members of the Class of 2010 are selling Tastefully Simple products if anybody is interested. Senior Luncheon will be at the Niagara Club. Tickets are $25 each. New rule this year is that seniors will not be allowed to drive on their own. They must take the bus. An important date to remember is October 13 for our Homecoming game and dance.


---



GI Cross Country Off And Running At Franklinville Invite - 2007
By Donald Sauer, Cross Country Coach
The Grand Island Cross Country Teams had an impressive showing at the 18th Annual Franklinville Cross Country Invite on Saturday, September 15, 2007. The Boys Team placed an impressive 4th among the Large Schools with 145 points. Junior Evan Tsembelis and Senior Co-Captain Chris Carter led the Vikings in placing 2nd and 7th overall. Tsembelis' time was 16:06 while Carter was a mere .37 seconds back in 16:43. Senior Co-Captain Ryan Hagen also ran his best placing 30th in 17:31 while Freshman Nick Masiello ran outstanding in placing 45th followed by Junior Jordan Gibson in a strong performance taking 61st.
The Girls Team placed a strong 10th with 287 points and was led by Senior Captain Caitlyn Driscoll's 35th place. Her time was her best in 21:26 though was a bit quick for the first mile. Freshman Dominique DeGregorio placed an impressive 45 only 33 seconds behind Driscoll. Maritina Tsembelis was 62 in 23:36 with Emily Thompson and Amber Spiesz working together, finishing 73 and 76 respectively.
In the JV race, Frosh Jason Chadwick placed 24th (19:44) with TJ Howley and Noah Yanicki running their best times of 20:31 and 21:10 respectively. The girls JV team was led by 56th placeJamie Sobieski followed closely by Erika Osberg (58), Allison Boron (60), and very impressive Kate Garten (73), Emily Pease (87) and Olivia Chopra in 95.
The team runs at Beaver Island this Saturday (Sept. 22) at the WNY Officials Invite.


---



GIHS JV Football - Game 3 - 2007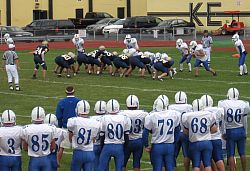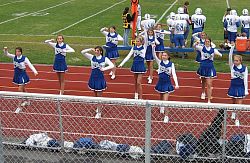 (Left) JV defense lines up; (right) Cheerleaders brave the cold.
Jodi Robinson photos - click for larger view
Click "JV Football Roster 2007"
The Grand Island JV football team endured the cold at Parker Field on Saturday, September 15th with a close loss to Kenmore East, 8-6 final score. The Bulldogs scored a touchdown with 3 minutes left in the first quarter and added 2 extra points to make the score 8-0. In the second quarter, Viking linebacker Brett Dlugosz intercepted a pass from the Ken East quarterback. GI running back Andrew LaLonde made an eight-yard gain to the nine-yard line and Tygue Busch ran the ball in to score the Vikings only touchdown of the day. The Vikings were unable to convert the extra points and the day ended with a score of 8-6. Lew-Port is up next.


---



High School Open House - Sept. 2007
Grand Island High School will hold its annual Open House on Thursday, September 20, 2007 from 6:30 to 8:30 p.m. Parents will follow their child's schedule which provides an opportunity to meet with each teacher and gain an overview of the curriculum for that subject area.


---



GIHS Class of 2010 Fundraiser Dates Extended - Sept. 2007
Members of the Grand Island High School Class of 2010 are holding a Tastefully Simple Fundraiser! Sales will begin on Monday, September 17th and continue until Friday, September 28th. A limited supply of products will be available to sample and purchase during Open House on Sept. 20th at the high school, 1100 Ransom Road. Stop by and check out the display in the foyer near the office.
The goal of the students is to raise $2000 this school year. These funds are needed to help defer costs for their junior and senior proms, senior luncheon and other class activities. The co-chairs for this event are students Hillary Figler and Eric Harnden. Additional questions may be answered by their moms, Heather Figler (773-4722) and Vicki Harnden (773-3138), who are both Tastefully Simple consultants. You may also contact the high school at 773-8820 to speak with Mrs. Wynne or Mr. DeDario - class of 2010 advisors.


---



Varsity Vikings Lose To Sweet Home In Close Contest - 2007
By Kris Christensen
Click "Varsity Football Roster 2007"
Saturday, September 8, 2007 . . .With a first down on the Sweet Home 30-yard line, a 10-7 lead and less than nine minutes to play and plenty of momentum, everything was set for the Grand Island Vikings to walk out of Robert Barczak Stadium with a huge win against the heavily favored Panthers last Saturday. That's when the roof came crashing down on the Vikings' hopes. Mike Martinic bobbled an option pitch from Matt Klock that was recovered by the Panthers on their 40-yard line. Five plays later the Vikings fate was sealed as Deshanaro Morris scored his second touchdown of the game from 16 yards out with 6:25 remaining to secure the Panthers 14-10 win.
On the ensuing kickoff, Grand Island's fortunes went from bad to worse as kick returner Lance Robinson slipped down at his own one-yard line. Grand Island wasn't ready to fold as Klock hit Alex Neutz along the right sideline beating Sweet Home's All-Western New York defensive back Marcus Johnson for a 33-yard gain. The Vikings stalled out as Klock missed tight end Chris Podlucky over the middle on third down and Neutz on fourth down along the Vikings sideline.
The slow pace of the game played right into the Vikings hands as they controlled much of the first half. Grand Island opened the scoring with their only pass of the first half on a perfectly placed 16-yard fade route from Klock to Neutz in the right corner of the end zone with 1:11 remaining in the first quarter. The Vikings started the seven-play drive following a daring 24-yard punt return by senior Greg Stephan. Greg Feathers added the extra point for a 7-0 lead.
After the teams exchanged punts, Neutz intercepted Panthers quarterback Casey Kacz at the Sweet Home 20. The Vikings ground attack of Alex Webb and Paul Chiaravalle got the Vikings down to the Panthers' three-yard line before Klock was taken down for a five-yard loss attempting a bootleg around left end. The Vikings settled for a 25-yard Feathers field goal.
The Panthers finally got in gear as Johnson took the following kickoff 32 yards to the Sweet Home 41. The Panthers then drove 59 yards in nine plays to get on the scoreboard. Morris scored from one-yard out subbing for Johnson who left the game following a 30-yard run.
Grand Island started the second half with a six and a half minute drive taking the ball from their 22 down to the Sweet Home 18 before Feathers was wide left on a 35-yard field goal try. The Grand Island defense held tough limiting the Panthers to eight plays and 37 yards of offense in the quarter.
Another big punt return by Stephan gave Grand Island great field position at their 48 with 11:02 remaining in the game. On third-and-two, fullback Eddie Weiser blasted up the middle for 13 yards to the Sweet Home 30. The crucial fumble came two plays later as Klock was pressured and forced to pitch the ball quickly.

	SCORING SUMMARY

Grand Island (0-1, 0-2)		7	3	0	0		10
Sweet Home (1-0, 2-0)		0	7	0	7		14

GI – Alex Neutz 16-yard pass from Matt Klock (Greg Feathers kick)
GI – Greg Feathers 25-yard FG
SH – Deshanaro Morris 1-yard run (Michael Lewandus kick)
SH – Deshanaro Morris 16-yard run (Michael Lewandus kick)

VIKING GAME NOTES: With the loss to Sweet Home, the Vikings have already put themselves in a hole battling for one of the two playoff spots in Section VI, Class A North. The Vikings will probably need to "win out" much like they did two years ago to qualify for the playoffs…Was it sportsmanship, confidence or confusion? The Panthers elected to let the clock run out in the game's final minute inside Grand Island's five-yard line. If the Panthers remain unbeaten in the division it will be a combination of sportsmanship and confidence. With the crazy nature of the league and big games remaining with Albion, Starpoint, and much improved Kenmore East, the Panthers might regret not having a bigger point differential later in the season if they happen to lose a game…Speaking of Kenmore East, they took division favorite Albion to overtime last week before coming up on the wrong end of a 39-32 decision…The Bulldogs (1-1 Class A North, 1-1 Overall) visit Masters Field at 2:00 on Saturday afternoon. The winner will remain in the thick of the playoff race while the loser's hopes will fade considerably…Kenmore East has been a great opponent for the Vikings over the years as the Vikings have won 17 straight against the Bulldogs…The most memorable game between the two teams came in Week Five of the 2000 season at Parker Field as both teams entered the game undefeated in Gene Masters' last season as the Vikings coach. Despite being outplayed for most of the game the Vikings rallied from a 10-0 deficit in the last four minutes to pull out a 14-10 victory and claim the league title. Nick Bergmann hit star wide receiver Mark Hanjos deep down the right sideline with just over a minute left to win the game.


---



GIHS Sports Briefs - Week Ending Sept. 6, 2007
Click "Sports Briefs 9/13/07" for this week's Grand Island High School sports scores.
GIHS sports results may be emailed to "teddy@giecom.net"


---



High School News - Sept. 2007
By Kaitie Samland (Sophomore) - Student Writer
Thursday, Sept. 13, 2007 . . .Summer has come and gone, and now we're all back to the same old routine. Walking down the halls at Grand Island High School, you'll see some new and unfamiliar faces like Mr. Andrés R. Arroyo, a new assistant principal along with some other new faculty and staff. New freshman are roaming the hallways in search for their classes and struggling with lockers, while last year's juniors are quick to take on the role as seniors and last year's seniors are just a mere memory.
Fall sports are well underway and many of the school's clubs are just having their first meetings. Club Officers are being selected, fundraisers are being chosen, school events are being planned and it feels like we never left. Again this year I would like to encourage everyone to take an active role in the many clubs and activities that the school offers. There's a lot of learning that takes place outside of the classroom and taking part in something bigger, really does make you feel good. Remember it's easy to complain and criticize about things when you're not the one out there helping. I urge both parents and students to keep an eye on the Grand Island School website that may be easily found on the left hand side of the isledegrande.com web page. It is a valuable resource and contains everything from the lunch menu to the school board minutes. It is definitely worth book marking under favorites!




JV Soccer Teams Victorious - Sept. 2007
The Grand Island High School Girls Junior Varsity Soccer Team beat East Aurora 1-0 at home on Thursday, September 6, 2007. The girls are coached by Joe Sirianni.
The Grand Island High School Boys Junior Varsity Soccer Team was victorious over Sweet Home at Sweet Home with the final score of 6-1. The boys are coached by Frank Butcher.
The GIHS Girls Junior Varsity Soccer Team (now 3-0) won over Niagara Falls, 9-0 on Sept. 12, in a home game.
The GIHS Boys Junior Varsity Soccer Team beat Niagara Falls at Niagara Falls Sept. 12 with final score 8-0 in Niagara Falls.
Editor's Note: The GIHS junior varsity teams deserve to be recognized here at Isledegrande.com. All reports submitted in regard to the JV games, will be considered for publication. Email teddy@giecom.net
---



Girls JV Volleyball Wins Tournament - 2007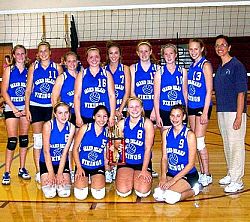 Shown front left are Amanda Heftka, Sam Darby, Maria Guidotti, Ambria Tim; (back) Chelsea Hall, Rachel Spiker, Korin Franz, Morgan Ward, Kelly Lorence, Katie Brady, Shannon Moody, Kayla Pyc, and Coach Daneen Gallagher. Participating in tournament but missing from photo: Kelly Stark and Kate Boutet
Click for larger view
The Viking's JV Volleyball team won the Cheektowaga Volleyball Tournament on Saturday, September 8, 2007 at Cheektowaga High School. The girls won 7 out of 8 games in Pool Play and beat Westfield in the Semi-Final match. The final match came down to the host school, Cheektowaga against Grand Island. The Vikings lost the first game but rallied back to win the second. In the final game - played to 15 - the score was tied at 10, tied at 11, and tied at 12. Sam Darby served the last three points to secure the win and the Championship for the Vikings.


---



GIHS JV Football - Game 2 - 2007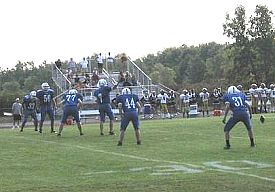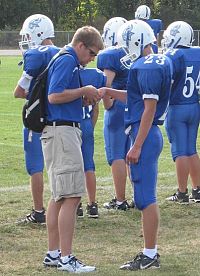 (Left) Opening kick-off; (right) Player Pat Gallagher and trainer.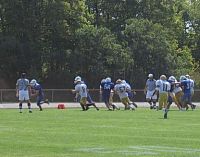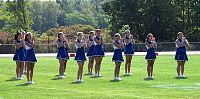 Cheerleaders at the half.
Jodi Robinson photos - click for larger view
Click "JV Football Roster 2007"
The Grand Island JV football team took on another tough opponent Saturday, September 8th at Masters Field. The Sweet Home JV team scored the first touchdown and added to it when they ran the ball in for an extra two points. Grand Island Sophmore Andrew LaLonde answered back soon after by scoring a touchdown, but the Vikes were unable to score the extra points. With 8:52 left in the quarter, Sweet Home scored a touchdown, and unable to make the extra points the score was 16-6 in favor of Sweet Home. Two more touchdowns were scored in the second quarter by the Panthers making the score 28-6 at the half. The Sweet Home Panthers went on to add another touchdown and point after in the second half to win with a final score of 35-6 over the Vikings. The next JV game will be on Saturday, September 15th at 10 a.m. playing away at Kenmore East.






GIHS Student Body Hears Special Guests - 2007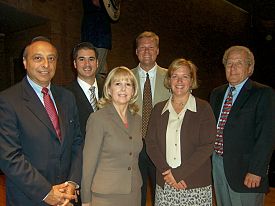 (left) Anthony Brindisi, Andres Arroyo, JOanne Kud, Chris Swiatek, Mrs. Sandra Anzalone, and Michael Hilliker
Mark Gorton photo - Click for larger view.
Administrators and special guests spoke to the Grand Island High School student body on opening day Wednesday, September 5th in the main auditorium. On hand to talk about how students can get involved in various activities throughout the school year were Mr. Anthony Brindisi, founding member of GISBA (Grand Island School and Business Alliance), Mrs. Joanne Kud, President of the Grand Island Chamber of Commerce, and Deputy Michael Hilliker from the Erie County Sheriff's Department, a former GICSD employee.
Grand Island High School Principal Mrs. Sandra Anzalone introduced all three special guests as well as Assistant Principal for Grades 11-12, Mr. Chris Swiatek, and the new assistant principal for Grades 9-10, Mr. Andres Arroyo.
Mr. Brindisi spoke first about all the programs that GISBA sponsors including Corporate Bowl, where every year $7,000 in scholarship money is awarded to GIHS students. Job Search and Shadow Day are two more events throughout the school year that prepare and enrich a student's choice in careers and life after high school.
Mrs. Kud detailed how eligible sophomores, juniors, and seniors can become part of the Youth Ambassador Program with the Grand Island Chamber of Commerce. These students get a glimpse of the inner workings of the political and social structure within the Town of Grand Island. The Youth Ambassadors hold a very important role representing the school and the Chamber at various town events.
Mr. Hilliker addressed the students about the Dollars for Scholars walk on October 20th in Veterans Park on Grand Island. This gives each class the opportunity to raise money for various school functions throughout their time at GIHS. Registration is at 11 a.m., with the event beginning at noon.


---



GIHS JV Football - 2007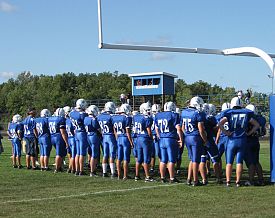 JV football team waiting to be announced.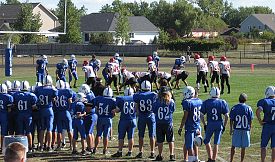 Clarence JV Offense, GI Sideline and Cheerleaders.
Jodi Robinson photos - click photos for larger view
Click "JV Football Roster 2007"
The Grand Island JV Vikings Football Team never quit in their opening game, a loss to Clarence Saturday, September 1st. The score ended up 34-14 in favor of the Red Devils, but Coach Brian Willats said he was proud of his team's efforts. Next game is Saturday, September 8th and will be at home at 10 a.m., when the JV Vikings face Sweet Home.


---



GIHS Sports Briefs - Week Ending Sept. 6, 2007
Click "Sports Briefs 9/6/07" for this week's Grand Island High School sports scores.
GIHS sports results may be emailed to "teddy@giecom.net"


---



Varsity Vikings Lose To Clarence In Non-League Opener - 2007
By Kris Christensen
Click "Varsity Football Roster 2007"
Saturday, September 1, 2007 . . .CLARENCE – Name a transgression that angers the football gods and the Grand Island Vikings probably committed it the first half of their season opening 28-14 loss at Clarence on Saturday.
On the second play from scrimmage quarterback Matt Klock's pass over the middle was intercepted by Clarence linebacker Matt Krumm who returned it to the Vikings' 18-yard-line. Four plays later Ryan Connolly scored from three yards to put the Red Devils up 7-0. On the ensuing possession, Vikings punter D.J. Perri bobbled the snap from center and was taken down at the Grand Island 23. This time the Red Devils needed only three plays to score as Joshua Rawdin ran in from six yards out. Clarence's third possession again started on Grand Island's side of midfield and finished five plays when Connolly scored from 25 yards out putting the Red Devils up 21-0.
Grand Island finally got their offense in gear when Klock hooked up with Alex Neutz on a 45-yard pass late in the first quarter. The drive stalled out when Klock was sacked for a five-yard loss on second down and then back-up quarterback Joe Oliverio misfired on fourth down.
Clarence's final score came on a 64-yard pass from Josh James to Ed Haroff. On the next possession the Vikings were on the move just before the half when Klock hit Neutz for a 29-yard gain followed by another five-yard pass to Neutz. An apparent 19-yard hookup between Klock and wide receiver Lance Robinson down to the Clarence 19 was wiped out by a holding penalty. On the next play Klock scrambled for 24 yards before throwing incomplete on the last play of the half under heavy duress.
Despite trailing the Vikings defense did not fold, limiting the Red Devils to 68 yards in total offense in the second half.
On their second possession of the second half the Vikings moved the ball deep into Clarence territory thanks in large part to a 54-yard run by Paul Chiaravalle. Alex Webb got the Vikings to the Red Devils' six before coughing the ball up on the next play. The Vikings were stopped on downs at the Clarence one on their next possession.
Grand Island finally broke through on the scoreboard midway through the fourth quarter when Mike Martinic took Joe Oliverio's option pitch in from 10 yards out to cap a four-play, 54-yard drive that was set up by consecutive completions from Oliverio to Neutz of 19 and 31 yards.
On Grand Island's last possession of the afternoon, Oliverio again connected with Neutz on a 54-yard pass down the right sideline.

	
SCORING SUMMARY
Grand Island (0-0, 0-1)		0	0	0	14	14
	Clarence (0-0, 1-0)		21	7	0	0	28

	C – Ryan Connolly 3 run (Kyle Ippolito kick)
	C – Josh Rawdin 6 run (Kyle Ippolito kick)
	C – Ryan Connolly 25 run (Kyle Ippolito kick)
	C – Ed Haroff 64 pass from Josh James (Kyle Ippolito kick)
	GI – Mike Martinic 10 run (Greg Feathers kick)
	GI – Alex Neutz 54 pass from Joe Oliverio (Greg Feathers kick)

VIKING GAME NOTES: Junior wide receiver Alex Neutz proved why he is an All-Western New York candidate with seven receptions for 195 yards…For the first time in school history the Vikings are now carrying a dubious mark having lost five games in a row dating back to last season…Grand Island coach Dean Santorio had nothing negative to say about Clarence coach Tom Goddard's curious decision to attempt nine passes in the fourth quarter despite holding a 28 – 0 lead entering the period. The Red Devils had thrown eight passes in the game's first three quarters and attempted to catch GI off-guard by running a deep hitch-and-go route down the left sideline with a 28 – 7 lead and two minutes remaining in the game…Grand Island defensive tackle Ryan Harnden was battered but not broken after suffering a hand injury and a leg contusion in the second half. Santorio said that Harnden will be ready to go this week…Offensive guard Shawn Vanderbrook did a nice job coming over to the defensive side of the ball to fill in for Harnden in the second half…The Vikings will have their hands full at league rival Sweet Home on Saturday. The Panthers scored an impressive 34-21 win at Lancaster on Friday night with a combination of speed and power…Since their series renewed in 1996 following a near 30-year layoff the Vikings are 1-4 against Sweet Home in September but are 5-3 in October and November…Grand Island leads the overall series 8-7…Grand Island's last two wins against the Panthers are among the most memorable in the history of the program. In 2004, the Vikings rallied from a 27-7 deficit to win 35-27. In 2005, GI pulled off one of the biggest upsets in Section VI playoff history with a 20-14 win at Ralph Wilson Stadium…The Vikings and Panthers have had a stranglehold on the Class A North Division since 2000. Grand Island won the league in 2000, 2001, 2003, and were co-champs with Sweet Home in 2005. Sweet Home won the league in 2002, 2004, and 2006…The Vikings have Kickoff Saturday at Robert Barczak Stadium is 2 p.m.


---



GIHS Viking Football Preview - 2007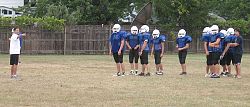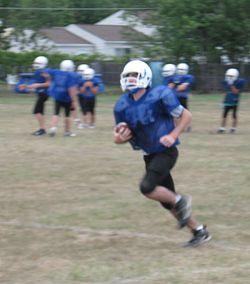 (left) Water Break - Coach Santorio & Offense - Running Back
Jodi Robinson photos - click photos for larger view
By Kris Christensen
Click "Varsity Football Roster 2007"
October 2006 is a month a lot of Western New Yorkers would like to forget. Count Grand Island football coach Dean Santorio among those people. Much like the October Storm that swept through the area, the Grand Island Vikings suffered through some once-in-a-generation experiences.
The Vikings entered October with an outside playoff chance before suffering a blowout, home loss to rival Sweet Home before closing out the season with bitter losses to Lewiston-Porter (a team they defeated earlier in the season) and Hamburg. At 3-5, the Vikings were out of the playoffs with their first losing record during Santorio's tenure and only the fourth losing season in the school's 44-year history.
"We got banged up pretty well in the middle of the season," Santorio said, "and we just didn't want to play when we were outmanned."
Santorio thinks things are different in 2007, pointing to offensive guard/linebacker Christian Nestark in particular as someone he thinks will play a major role in restoring the Vikings to their winning ways. Nestark was lost for the season early on in Week Five at Lewiston-Porter and the coach sites his loss as a "turning point" in the forgettable season. "He has a chance to be one of the best linebackers who have ever played here," Santorio said, "and that's saying an awful lot."
"Christian has instincts for finding the football that you just don't coach at the high school level." according to Defensive Coordinator Steven Steck.
Steck likes what he sees not only in Nestark but thinks the back seven of his Tampa Two defense has a chance to be exceptional, starting with cornerbacks Alex Neutz and Lance Robinson and safeties Joe Tanbakuchi and Mike Martinic. "We should be able to play more pressure packages than we ever have because of our corners and get our safeties up more in run support," Steck says of the defensive scheme he has employed for the last six seasons.
Joining Nestark at linebacker will be senior Alex Webb, a two-way starter in 2006, and junior Eddie Weiser. "I like our linebackers a lot," Steck said, "they're fast enough and they're all really good tacklers."
The Vikings will be stout along the defensive line with senior Nick Tomkins and junior Ryan Harnden giving the Vikings a pair of 280-pound run stuffers in the middle. "Nick had a great year last year," Santorio said, "and we expect him to be an all-league player this year and more."
Senior Greg Stephan will see time at defensive end along with juniors Greg Feathers, Chris Podlucky, and Adam Helman.
Offensively, the Vikings' success will depend largely on the play of the quarterback position. Senior Matt Klock and junior Joe Oliverio shared the duties for the first half of 2006 before an injury to Klock made Oliverio the starter for the rest of the year.
"Both of our quarterbacks need to be more consistent," Santorio said, "we'll play the guy who gives our team the best opportunity to win."
One thing that should help the consistency of the Vikings quarterback is a wealth of talented receivers. Santorio raves about the two juniors Neutz and Robinson on the offensive side of the ball and has great depth in Tanbakuchi and senior Eddie Mallwitz.
"Alex runs great patterns and adjusts to the ball as well as any receiver we've had," the coach says, "and Lance has really matured physically and with his mental understanding of the game."
Santorio likes the potential of his offensive line but acknowledges they will need some time to gel. "The mental part has to improve because it allows us to be more consistent," he said, "because when they know what they need to do they are physical."
Senior Tim Boorady returns at left tackle along with Nestark at left guard. Shawn Vanderbrook will start at center while his brother Justin will be at right guard along with Feathers at right tackle. Podlucky and Stephan will split time at tight end.
Santorio says that Webb and Weiser will see time at both fullback and halfback, while juniors Justin Raiser and Paul Chiaravalle will also take turns at fullback. Martinic is also expected to see time at halfback.
Adam Helman is expected to handle the punting duties for the Vikings while Feathers will be the place kicker.
As usual, the Vikings get no breaks with the schedule, opening at 2006 Class AA runner-up Clarence on Saturday (Sept. 1) coupled with key league contests at Class A runner-up Sweet Home in Week Two and preseason favorite Albion in Week Five. Despite the schedule, Santorio likes the direction of the team.
"I think we're getting to where we need to be with the attitude and character of our team," he said, "guys who aren't captains are starting to take ownership for what happens with this team."




Grand Island Takes 2nd At Lewison Chalk Walk - 2007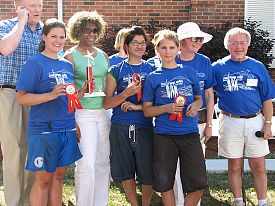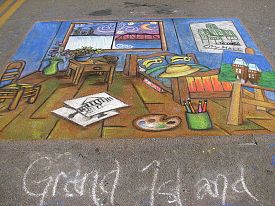 (left to right) Island artists are Jenna Hutzler, Ariel Brucato and Erin O'Connor
Click photos for larger view.
Three talented Grand Island art students ventured onto the extremely warm asphalt for the very first time on Saturday, August 11, 2007 to participate in the 23rd Annual WNY High School Chalk Walk Competition held in Lewiston. Ariel Brucato, Jenna Hutzler, and Erin O'Connor took the respectable Second Place trophy and prize money. Placing second is a major accomplishment for first time members who have never really experienced drawing in such an enormous scale with a medium reserved for sidewalks. The team's composition, based on this year's theme, On the Go with Van Gogh in Western New York, referenced to Van Gogh's famous painting of his bedroom. With whimsical additions of Buffalo icons, locations and places along with other famous Van Gogh images, the artists used their individual skills to develop the fantastic drawing. The team was cheered on and supported during the four-hour contest by a large audience who witnessed the creation. Congratulations Ariel, Jenna and Erin on a fabulous achievement this summer!


---
If you are a member of this organization, we need your help. GIECOM.Net has partnered with the Connections program to help Grand Island as a community "Get it Together." Please visit our website G-I-Together.ORG and fill out our SURVEY. Every group on Grand Island will have its own FREE web page showing: meeting times and location, contact persons, your Mission Statement and a listing of events. We will also be linking your news events that appear in the local media and on IsledeGrande.Com, Grand Island's E-News Source, to your page, maintaining an archived journal of pictures and news. This is the perfect opportunity for your group to connect with potential new members and the community.
---
Other Grand Island Pages to Visit:
Churches | Email Directory | Government | Groups
GIHS Grad List | Guestbook | Please sign in! | Local Artists | Photo Album | Town History | Useful Links
| Website Design | Wildlife | Isledegrande's Home Page | GIECOM.NET'S Home Page
Please Email News Releases to Teddy Linenfelser, Thank You.
This website is sponsored by
GIECOM.NET
1869 Whitehaven Road, Grand Island, New York, 14072-1803 USA


Copyright © 1995-2007 All rights reserved.