<! - - - Main News & Stories Area - - - >
---
---



A Message from GIHS Principal - Sept. 18, 2008
See "A Message from GIHS Principal Sandy Anzalone




GIHS Sports Briefs - Week Ending September 18, 2008
Click "Sports Briefs 9/18/08" for this week's Grand Island High School sports scores.
GIHS sports results may be emailed to "teddy@giecom.net"




High School News - Sept. 2008
By Kaitie Samland (Junior) - Student Writer
Thursday, September 18, 2008 . . .Despite the popular belief of many parents, teachers and administrators, teens do not have it all that easy. Myself, like my friends, must meet the expectations of so many adults. If we do not, then we not only feel the pressure that we put on ourselves but we also feel like a failure to the many adults who we try to please. As a varsity tennis player, playing first singles, I feel intense pressure to make the grade. Knowing that I was a second doubles player last year, jumping to this spot is a bit surreal to me. Let me remind you that Iím now playing in the spot that was once cherished by Brittany Stallard. Now those are some mighty big shoes to fill! This week alone, weíve had tennis games on Monday Tuesday, Wednesday and Friday. Those evenings donít end until 7:00 p.m, if Iím lucky. Quickly I inhale dinner, then, Iím off to shower and do my homework. God forbid if Iíve got a test which I did on Tuesday. I was hit with an AP Euro test and a physics test! I know it may appear that Iím complaining, Iím notÖ really! Iím trying to show you that just like any adult, teens feel stress too. They feel that with all of their responsibilities, they are being pulled in a million directions. We understand about spreading ourselves too thin and having so much on our plates that just maybe we donít achieve the results that we know we are capable of. I guess my point is that growing up isnít easy! Donít forget that tonight is open house at the high school. I welcome every parent to see what pressure weíre under. High School Spirit Day is next Friday, and Homecoming Football game and dance are on Saturday, September 27th. Participate and enjoy it, we deserve it!




High School News - September 2008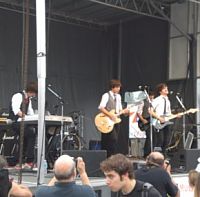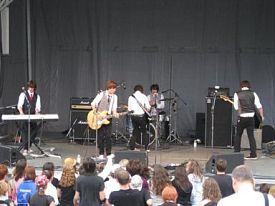 By Kaitlyn Affuso (Junior) - Student Writer
Thursday, September 18, 2008 . . .Saturday was a big day for two local bands and their supporting fans. The high school bands, INLITE and Sleepless City, performed at the Music is Art Festival. It was held at the Albright Knox Art Gallery, and was flooded with people of all ages, news teams and record producers, all ready to take in beautiful music and art. The constant rain did not stop the amazing performances. Drew Lazelle, Craig and Travis Perno, and Cody Hogrewe of Sleepless City performed at 1:20 p.m. and INLITE took the main stage at 2 p.m. Jordan Dixon, Griffin Smith, Nick Kelly, Josh Little and Lee Becker grasped a majority of the audience's attention and received an encore! Congratulations and best of luck to both bands with their upcoming shows and recordings; and thanks to all who went out to support them.




JV Football Team Suffers Loss To Sweethome - 2008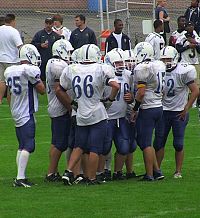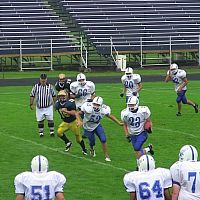 (right) Patrick Gallagher carries the ball.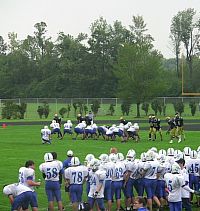 Kicking the extra point
JT Tomkins Photos - Click for larger view
Grand Island Vikings Junior Varsity football team suffered a loss to Sweethome on Saturday, September 13 at Sweethome. Final score was 28-21.




Inlite Performs At Music Is Art Festival - 2008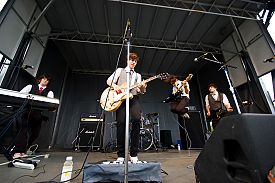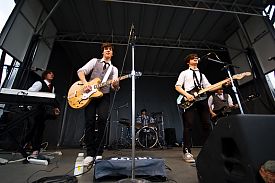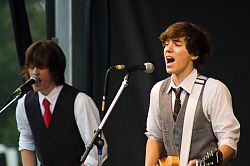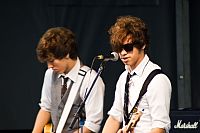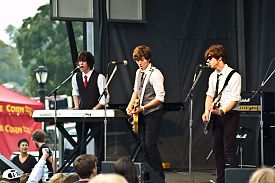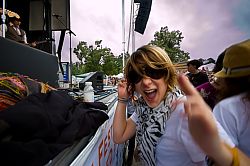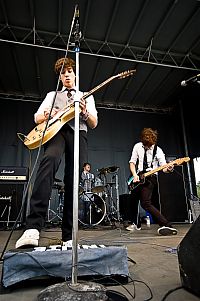 Inlite band members are Grand Island High School students Jordan Dixon, Griffin Smith, Nick Kelly, Josh Little and Lee Becker

Phil Cavuoto photos - Click for larger view.
Inlite captured the audience at the Music Is Art Festival Saturday, September 13, 2008. See Buffalo News 9/17/08 story by Leigh Giangreco, NeXt Correspondent, Buffalo News.




Scott Holler - 2008
Scott Holler, a Grand Island High School senior and star volleyball player for the Vikings, was featured in the Niagara Gazette on Tuesday, September 16, 2008. See "Niagara Gazette" for the story by Nate Beutel.




High School Open House - 2008
Grand Island High School will hold its annual Open House on Thursday, September 18, 2008 from 6:30 p.m. to 8:30 p.m. Parents will be given schedules in the Viking Mall starting at 6:15 p.m. and may follow that schedule which provides an opportunity to meet with each teacher for 10 minutes and gain an overview of the curriculum for that subject area.




GIHS Store To Have Grand Opening! - September 2008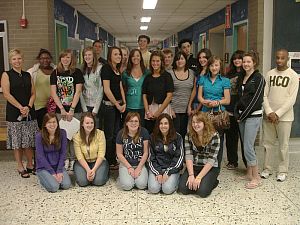 The Grand Island High School Bookstore is under new advisement and has moved to a new location in the school, the Viking Mall! Business teacher, Mrs. Cheryl Chamberlain, is excited to teach and assist her Small Business Class in the operation of this business venture at GIHS. New products include an expanded apparel line and food/drink items for students after school. The school store initiative could not have been possible without the help of former advisor Sandy Burns, GIHS maintenance personnel and Assistant Principal Mr. Christopher Swiatek. "Look for our grand opening the night of open house, September 18th!" For more information on the school store, contact Mrs. Chamberlain at 773-8820.


---



High School News - September 2008
By Kaitie Samland (Junior) - Student Writer
Thursday, September 11, 2008 . . .It is with bittersweet emotion that I report that school is now in session. The stressed out ďJuneĒ faces of faculty, staff and administrators have been replaced with ďbetter, refreshed, approachable, ďSeptemberĒ smiles. We are well into our first week of school and the teachers took no time in assigning mounds of homework. What ever happened to easing us back into a routine? Itís hardly begun and many of us wish it were over! Fall sports are in full swing; last Friday night Grand Island beat Lewiston Porter in both Football and Tennis. Way to go Vikings! Please check your school calendar. School pictures for GIHS are September 11 and 12, Open House is September 18 at 6:15 p.m., Senior Luncheon is September 19, High School Spirit Day is September 26 followed by our annual Homecoming Dance on the 27th, which has now been opened up to include freshman, sophomores, juniors and seniors.




GIHS Sports Briefs - Week Ending September 11, 2008
Click "Sports Briefs 9/11/08" for this week's Grand Island High School sports scores.
GIHS sports results may be emailed to "teddy@giecom.net"




Girls Varsity Soccer Teams Victorious - 2008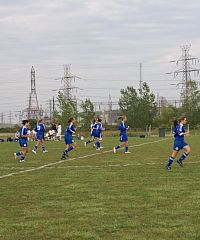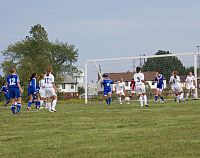 Click photos for larger view.
Monday, September 8th was another successful afternoon for the Grand Island Vikings Ladies Soccer Program, with both the Varsity (13-0) and JV teams logging double digit wins with shut outs credited to the goalies when they played at Niagara Falls High School.




JV Football Team Beats Lew-Port - 2008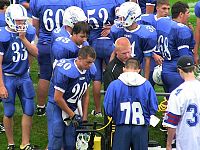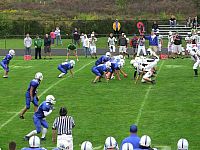 JT Tomkins Photos - Click for larger view
Grand Island Vikings Junior Varsity football team opened its season at home against the Lew-Port Lancers with a 14 - 0 victory on Saturday morning, September 6. It was a scoreless first half in which Grand Island failed to score in the red zone on three straight visits. The second half both teams continued to give the opposing offenses problems. The Vikings got on the board when defensive End, Tom Dzielski, scored a touchdown on a fumble recovery in the 3rd quarter and Ben Tomkins scored on a 40-yard run in the 4th quarter with only two minutes remaining. Grand Island's defense continued to give the Lancers problems and recorded the first shut-out in the first game. The Vikings fullback, Ben Tomkins added a 37 yd. touchdown to cap off the scoring. Nathan Benoit was good on 2 of 2 on extra points. "It was an overall great effort by our defense to hold Lew-port scoreless," Head Coach Brian Willats said. Team captains are Ben Tomkins, Nick Kellner and Stephen Vitello and Assistant Coach is Pat Lester.




GIHS Class of 2010 Ice Cream Fundraiser - September 2008
Why cook Saturday Night? - Support the Class of 2010 instead! The Class of 2010 will hold an end of summer fundraiser at Adrian's Custard & Beef this Saturday, September 6, from 5 p.m. to 8 p.m. Come to Adrian's and enjoy the great food and ice cream! The Junior class will receive a portion of all sales made from 5 p.m. to 8 p.m. What a great way to support the class, gather with friends and family, and not have to cook dinner! Wear your blue and white! See you there! Go Vikings! Go 2010




GIHS Sports Briefs - Week Ending September 4, 2008
Click "Sports Briefs 9/4/08" for this week's Grand Island High School sports scores.
GIHS sports results may be emailed to "teddy@giecom.net"




Grand Island High School Vikingettes Place 2nd at Nationals - August 2008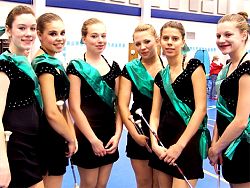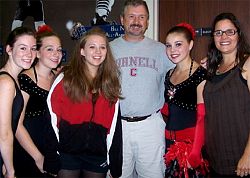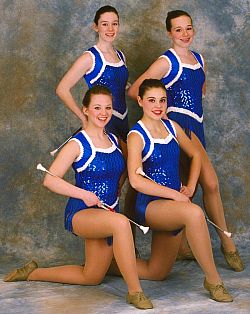 (left photo) Molly, Rebecca, Shelbi and Alissa are joined at AYOP by twirlers Samantha Kenyon and Alyssa Fuoco
(center photo)Molly, Shelbi, Alissa, Mr. Williamson, Rebecca and Mrs. Wynne - The Vikingettes were pleasantly surprised when their science teacher showed up to cheer them on! Mr. Williamson was conducting research at the University of Notre Dame this summer.
(right photo) Grand Island Vikingettes are (back) Molly Wynne and Shelbi Milkas; (front) Alissa Bailey and Captain Rebecca Sobol
The Vikingettes, Grand Island High Schoolís new baton team, traveled to South Bend, Indiana this past July to compete at the AYOP Competition (Americaís Youth on Parade). As the most prestigious twirling event of the year, AYOP brings together the best baton athletes, teams and corps for a series of National and World Championship contests. The national event was held in the Athletic and Convocation centers on the University of Notre Dame campus.
New to AYOP this year was the 2008 USA High School Twirling Championships. The Vikingettes twirled to a mix of Celtic inspired tunes bringing home second place in the High School Line, Dance Twirl contest.
The team is under the direction of high school teacher Cindy Wynne. In addition to the high school event, each girl competed in solo competitions, and as members of The Islettes Elite Majorettes of Grand Island, directed by Heidi Sue Mumm.




Chalk Walk Results - August 2008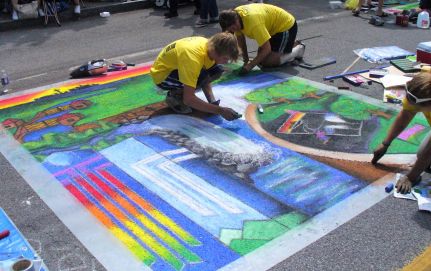 Grand Island's Chalk Walk Team
By Nichole and Danielle Nash
Results of the Western New York Chalk Walk Competition, held Saturday, August 9, disappointed the Grand Island team. The Island team for years has placed in the top three and has even received first place for many of those years but did not place this year. This year's first place winner was the Lewiston Porter team and second and third place went to St. Josephís Collegiate Institute and Kenmore-East.
The Grand Island design featured scenes of the Lockport locks, the Niagara-Ontario skyline, Old Fort Niagara, the Western New York Chalk Walk Competition, the Seneca Casino and Hotel, the Power Lines and the majestic scene of Niagara Falls. The Grand Island mural was quite exceptional and the team was told by volunteers that they were baffled as to why Grand Island did not win this year. The team wishes to send out thanks to all those Grand Islanders who came out to support them on Saturday.




High School Announces Freshmen/New Student/Parent Orientation - August 2008
Wednesday, August 27, 2008 - 6:30 - 8:00 P.M. Freshmen/New Student/Parent Orientation
High School Auditorium
All freshmen, new students, and parents are encouraged to attend high school student and parent orientation:
6:30 p.m. - Pick up student packets
Receive a Student-Parent Handbook
Receive a schedule, with locker location
6:45-7:45 p.m. - Program (auditorium)
7:45-8:00 p.m. - Student and parents have the opportunity to tour the high school
Refreshments will be available in the high school cafeteria




Student Reporters Invite All To Lewiston Chalk Walk Competition - August 2008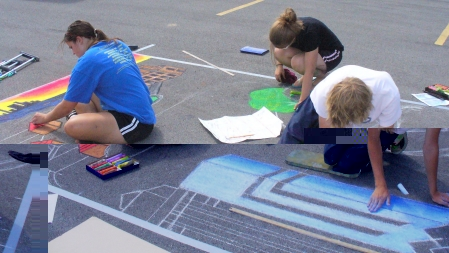 By Nichole and Danielle Nash
Every year the Lewiston Council on the Arts hosts a competition for talented high school students. This competition, the Western New York Chalk Walk Competition, allows high school students to depict a theme through a chalk drawing. The annual event is held at the Lewiston Art Festival. Team members representing Grand Island this year are Chris Jurga, Allisa Bailey, and Jenna Hutzler and their supervisor Megan Gaiek. Chris, a recent graduate of Grand Island High School, plans on attending Bryant & Stratton College this fall with a major in design. Allisa and Jenna will be continuing their studies at Grand Island High School this fall. Allisa will be a junior and Jenna will be a senior. Grand Island High School art teacher, Megan Gaiek, has been supervising the Grand Island team for twelve years and out of those twelve years the Island team has taken first place four times and has always placed in the top three.
Every year the Lewiston Art Festival chooses a theme the competitors must illustrate to the best of their abilities. This yearís theme is 200 Years of Diversity, which was chosen to observe the Niagara County bicentennial. Teams may be depicting different landmarks of the Niagara County area or different activities that can be done in the Niagara County area. Their objective is to showcase two-hundred years of history. This yearís team is fantastic and is planning on placing yet again. Their strategy is to incorporate a vast array of color while including a lot of historical content.
These talented artists who are representing Grand Island deserve our community support. So come out and support them on Saturday, the 9th. They begin drawing at noon and the judging takes place from 4 p.m. to 5 p.m. The Chalk Walk is only one part of the festival, which takes place both Saturday, August 9th and Sunday, August 10th, and the drawings for chalk walk will be on Center Street between 5th and 6th Street in Lewiston.




Isle Students To Compete In "Chalk Walk - August 2008
After many long and hot practices on the pavement in the back parking lot of Grand Island High School, three talented students will prove their artistic skills as they compete in this yearís 24th Annual WNY High School Chalk Walk competition in Lewiston. The Island team is comprised of returning member, Jenna Hutzler, last yearís alternate, Alissa Bailey and new member, Chris Jurga. The competition takes place on Saturday, August 9th on Center Street, beginning at 12 p.m. and ending at 4 p.m. This yearís theme is 200 Years of Diversity in Niagara County. Judging of the 8í x 10í drawings will immediately follow. Come cheer on Grand Island!!


<! - - - End of Main News area - - - >




<! - - - Begin Ad area - - - > <!Adcode>

Yellow Page Listings
Click Above to View
---
---

PLEASE PATRONIZE
OUR ADVERTISERS
LISTED BELOW

Watch For *coupon* Listing

AMUSEMENTS
Grinder's Skate Park
Mallwitz's Island Lanes

AUTOMOTIVE COLLISION
GI Auto Tech

BANKING
M & T Bank

BARBECUE
Bear-Man Specialty Foods

BEAUTY SALONS
Fantastic Sam's
Hizair Hair Salon
Wavelengths Hair Salon

BOATS
Anchor Marine
Blue Water Marina

BUILDER/CONTRACTOR
GI Home Construction

CANDY/GIFTS
Kelly's Country Store
*coupon*

CHILDCARE
Care-A-Lot
Childcare Centre

CHIROPRACTOR
Grand Island Chiropractic
Dr. Kevin Augustine Chiropractic

CHIROPRACTOR/PEDIATRIC
Riverview Chiropractic

CLEANERS
X-Press Cleaners
*coupon*

CREDIT UNION
Niagara's Choice FCU

DANCE
McCarthy Irish Dance
Miss Cathy's Dance

FINANCIAL
Contour Financial Planning

FLORIST
Flower A Day

FUNERAL HOME
Kaiser Funeral Home

GARDEN CENTER
GI Garden Center

GIFTS
Magic Towel Holder

HEALTH & FITNESS
Curves
*coupon*
M.O.G.

HEATING & COOLING
Gross Contracting
AJ Beyer Mechanical

INSURANCE
Allstate Mastantuono Agency
Keller Insurance
State Farm - Bob Piatek

JEWELER
deSignet International

LAWYERS
William Costello
Mark Frentzel
Timothy Mordaunt
Robert M. Ratajczak, Jr.
Michael Anthony Rossi

LIQUOR
Aceti's Wine & Spirits
Rose Liquor

LONG-TERM CARE
INSURANCE
Aronica & Company

MOTEL/HOTEL
Chateau Motor Lodge
*coupon*
Holiday Inn Resort

NURSING HOME
Elderwood at Riverwood

POWER EQUIPMENT
Marston Power Equipment

PRESCRIPTIONS
Island Prescription Center

REAL ESTATE
Century 21/Liz Wilbert
Century 21/Gerrie Andolina
Metro Town Center
RE/MAX-Linda Kutzbach
RE/MAX-Ken Carter
Realty USA-Sherry McDonald
Park Place

RESTAURANTS
Beach House
John's Pizza & Subs
Justin Tyme On The River
*coupon*
McMahon's
*coupon*
Sandi's Family Restaurant
Town Cafe

SHIPPING
Island Ship Center Inc.
*coupon*

SUPERMARKET
Budwey's Supermarket
Top's
*weekly specials*
Wegmans

THEATRE
Riviera Theatre


WATCH REPAIR
Otto Zimmerman and Son

deSignet International


Custom Corporate Jewelry