Grand Islanders
In The Service
Page 5 - 2008
---
Click for In The Service - Page 4 (2007)
Click for In The Service - Page 3 (2006)
Click for In The Service - Page 2 (2005)
Click for In The Service - Page 1

---
This page is for the purpose of posting news and addresses of Island
residents who are serving our country in the military.
See previous "In The Service" pages above
To add news and photos to this new page, email to teddy@giecom.net
or drop off at the Isledegrande.com office, 1871 Whitehaven Road (between Hairitage Hair Salon and DeSignet Jewelry)




Service Persons from Grand Island, New York
Click "Service Person From Grand Island"
---
---



Joshua Gerace - 2010
Feb. 11, 2010 . . .Sgt Joshua Gerace, a member of the United States Marine Corps, was promoted to Sgt/USMC on February 1, 2010.


---



Andrew Golembiewski - 2010
Feb. 4, 2010 . . .SSgt Andrew Golembiewski, a member of the United States Air Force, has been stationed overseas in England for the past 3 years.


---



2nd Lieutenant Julie Scott - 2008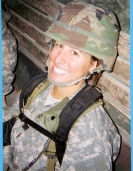 2nd Lieutenant Julie Scott of Grand Island, graduated from D'Youville College in 2006, married Christopher Scott also of Grand Island, and went on to Officer training at Ft. Sam Houston in San Antonio, TX. Currently living at Ft. Meade in Maryland, LT Scott is serving as a nurse at Walter Reed Army Medical Center. LT Scott plans on expanding her education in the US Army to become a labor and delivery nurse.
Julie.scott22@gmail.com
Graduate of Holy Angels Academy
Posted Thursday, March 6, 2008


---



Marine Corps Maj Kevin M. Erker - Jan. 2008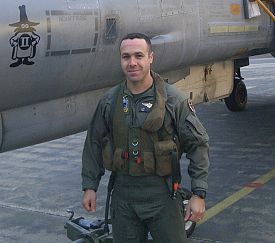 Click photo for larger view
On December 14, 2007, Marine Corps Maj Kevin M. Erker completed a 10-month course of instruction at the U.S. Naval Test Pilot School in Patuxant River Maryland and was designated a test pilot. He was also presented with a master's degree in Aeronautical Engineering from the Air Force Institute of Technology in Dayton, OH. During his training in "Pax River," Maj Erker had the opportunity to fly and test over 22 different aircraft including a Russian MIG, seaplanes, gliders, helicopters and an F-4 Phantom which he flew for his final project in Germany. Maj Erker is currently assigned to VX-23 in Patuxant River, MD for the next two to three years and will be flight testing numerous aircraft for the Navy including T-45 Goshawks and the F/A-18 Hornet.
Maj Erker is the son of Daniel and Ann Erker of Grand Island and a graduate of Grand Island High School, Class of 1992. He resides in Great Mills, MD with his wife, Erinn (Wood), also from Grand Island, and their three children.
Posted January 10, 2008


---



Cheer Our Troops With Mail
Send Us Your Loved One's Address - 2008
It was nearly five years ago, in 2003, that we created this page especially for Islanders who are serving in the armed forces overseas (or in the states). We encourage closely related relatives to submit the name, email and/or U.S. mail address, rank and service of their loved one to teddy@giecom.net. We will gladly post a photo along with a short note on where your relative or friend is at this time.
Won't you please take the time to write and tell our troops how proud you are that they have volunteered to protect our country? Come back to this page often, as additional names and addresses will be added as they are submitted.





---
Other Grand Island Pages to Visit:
Churches | Email Directory | Government | Groups
GIHS Grad List | Guestbook | Please sign in! | Local Artists | Photo Album | Town History | Useful Links
| Website Design | Wildlife | Isledegrande's Home Page | GIECOM.NET'S Home Page
Please Email News Releases to Teddy Linenfelser, Thank You.


This website is sponsored by

GIECOM.NET

1869 Whitehaven Road, Grand Island, New York, 14072-1803 USA
Copyright © 1995-2008 All rights reserved.