Grand Islanders in the News
---
Morgan Receives Collegiate Honors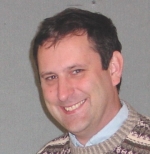 Grand Island resident Steve Morgan was honored on Saturday, November 3, 2001 by Medaille College faculty, staff and students during the College's annual honors convocation in the Mary Seton Room of Kleinhan's Music Hall. A senior at Medaille, Steve was recognized for his placement on the Dean's List for four consecutive semesters. For that accomplishment, he and thirty-five other students were presented with the Medaille Medal.
Additionally, Morgan has been named to Who's Who Among Students in American Colleges and Universities. He is one of twenty-two selected for publication out of 112 students nominated from the student body at large. Steve is a Business Administration Major concentrating in Personal Financial Planning. A January graduation is anticipated.


---
Councilwoman Mary S. Cooke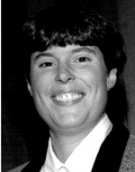 Councilwoman Mary Cooke is running for re-election on a platform of Experience, Leadership and Action.
Experience
Cooke has served on the Town Board since 1994 and was Deputy Supervisor from 1995-1997. She currently serves on the Audit and Special Districts Committees and is the Town Board Liaison to the Conservation Commission and the Human Rights Committee. During her time as a councilwoman, Cooke has also served as Town Board Liaison to the Cable Television Committee, Community Enrichment Committee and the Parks and Recreation Advisory Board.
Leadership
Councilwoman Cooke chaired the Sidewalk and Bikepath Committee from its inception until January 2000. During that time a sidewalk and bikepath plan for Grand Island was developed in-house and the sidewalks around the Town Common were installed. Local laws requiring sidewalks in major subdivisions in sewer districts and requiring sidewalk maintenance were passed unanimously by the Town Board. Cooke is known for doing her homework and getting all the facts before making a decision. While not always popular at the moment of the vote she bases her votes on facts, not emotion. Councilwoman Cooke spearheaded the effort to consolidate sewer districts. The Town Board unanimously passed this plan in March of 1999. Cooke organized production of the annual Town-wide Newsletter containing the Water Quality Statement for the past two years. Along with Supervisor McMahon, Councilwoman Cooke was honored with a Quality Quest Coalition Community Stewardship Award in 2000 for her role in the 206-acre "Scenic Woods" land purchase.
Action
Councilwoman Cooke spearheaded utility audits that have saved the town over $32,000. She helped to bring the Supervisor's 2001 budget increase from 21% to 9%. Communication with citizens has been improved with production of an Advisory Board Booklet listing the purpose, meeting dates and times, names of volunteer members and terms of office for all serving the town as Advisory Board Members.
Endorsements
The Republican, Conservative, Independence and S.M.A.R.T. (Save Money and Reduce Taxes) parties endorse Cooke.
Volunteer Service
Mary Cooke serves as Vice-President of the Friends of Grand Island Memorial Library and the Kaegebein PTA. She is a lector at St. Stephen's Church and coordinates the semi-annual clothing drives. As a member of the Grand Island Historical Society, Cooke serves on the Education Committee and helps organize the annual Grand Island Tour for the 4th graders. She volunteers at Trinity United Methodist Church's Kum On In Clothing Store and the Town of Grand Island's Reality Café. Cooke serves on the Connections Board, GISBA (Grand Island School Business Alliance) Board of Directors, the Grand Island Republican Committee and is Vice-President of the Grand Island Republican Women's Club.
Education and Previous Employment
Cooke earned a Bachelor's Degree from Buffalo State College in 1981 and a Master's Degree from Niagara University in 1988. She taught Home Economics for 11 years, one year at Salamanca Central School and ten years at Wilson Central School. Cooke co-authored a middle school level home economics textbook Decisions In Action which was published in 1988 and a second edition in 1990.
Family
Cooke moved to Grand Island in 1988 and lives on North Colony Road with her husband Jeff and children James ("Cappy") and Jane.


---
Council Candidate Eileen (Caffery) Torrance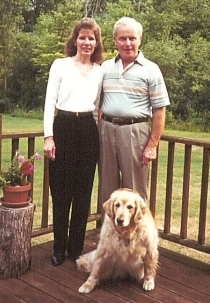 Eileen (Caffery) Torrance is the Democratic, Working Families and End The Land Claim candidate for Grand Island Town Council in the Tuesday, November 6, 2001 election.
Eileen and her family moved to Grand Island in 1968 from the Town of Tonawanda. She attended Grand Island Middle School, 7th and 8th grade and graduated Grand Island High School in 1974. She was a member of the National Honor Society in 11th and 12th grade. Eileen attended Niagara University, graduating with a Bachelor's of Science in Nursing in 1978.
Eileen's nursing career has spanned 23 years. She has been employed at The Buffalo General Hospital, The Medical College of Virginia in Richmond, The State University of New York at Stony Brook and for the past 18 years The Children's Hospital of Buffalo. She has worked mostly in critical care areas, especially the Neonatal Intensive Care Unit and the operating room. Currently, Eileen is the Charge Nurse in the Operating Room at Children's Hospital. It is the busiest O.R. in the Kaleida Health System with an annual caseload of a little over 11,000 surgeries per year. Eileen received the Kaleida Health 2001 "Outstanding Staff Nurse" Citation and is a member of the Association of Operating Room Nurses. She has also been actively involved as an Albany Legislative Loggyist with the New York State Nurse's Association. She has worked very well with other elected officials to improve health care for all New Yorkers. In addition, Eileen has also worked on collective bargaining agreements. She served as Union Steward for six years (1988-1994) and is a member of SEIU 1199 Upstate.
Eileen and Michael Torrance have been married for over 15 years. Michael is the owner of MK Metals Company. Eileen returned to college for postgraduate business courses to help assist Mike with his company. Her husband is very enthused and supportive of Eileen's campaign, this her first run for office. Eileen and Mike are members of St. Stephen's Church. They have worked on the Church Building Fund and assist with ushering at weekly mass.
Eileen is committed to working with the Town Board and other Legislators. Her priorities are to expand senior housing, improve the business environment on Grand Island, beautification of Grand Island Boulevard and create recreational opportunities for all residents. She will persist to resolve the Land Claim issue so all Grand Islanders may have peace of mind.
At an early age Eileen and her late father, Joseph Caffery, would engage in political discussions. It was these early discussions that encouraged Eileen to enter the political arena with an open mind, always willing to listen to both sides of an issue. With a strong family history of military service, her father, Joseph served in the U.S. Army as Master Sergeant during WWII, mother Sandra, U.S. Navy during the Korean War and her sister, Patricia, U. S. Marine Corps, it is Eileen's desire to continue a tradition by serving her community in the best way possible.


---
Council Candidate Thompson and Friends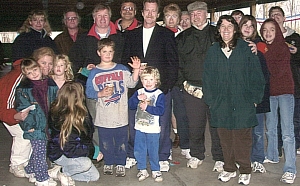 Pictured are some of the supporters who joined the Rus Thompson for Council fundraiser on October 27, 2001 at the VFW Post.

Council Candidate Rus Thompson Fundraiser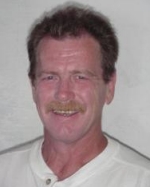 Supporters of Conservative Town Council candidate Rus Thompson will hold a family fundraiser at the VFW Post 9249, 2121 Grand Island Boulevard from 3-6 p.m. Saturday, October 27, 2001. RSVP to Eric or Ruth, 438-5801 or Jul, 775-7507 as soon as possible.


---
Welcome, Dylan Michael Russo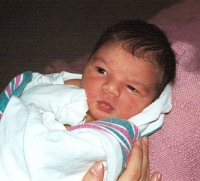 Brian and Erin Russo of Kenmore are proud parents of their first child, a baby boy, Dylan Michael Russo born October 5, 2001 weighing seven pounds, 12 ounces. The baby's first-time grandparents are Mike and Denise McMahon of Baseline Road and Jim and Linda Russo of Colonial Drive. Great grandparents are Mr and Mrs. Sabastion Campanga of Tonawanda and Mrs. Elizabeth AuClair of Grand Island.


---
Robillard Receives Republican Endorsement For Town Council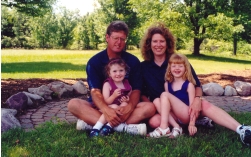 Republican Council Candidate Dan Robillard, shown
with his wife Marge and daughters Shannon and Chelsea.
Dan Robillard has received the endorsement of the Grand Island Republican Committee, as well as the business community, as their candidate for town council in the November 2001 election.
Robillard, son of Larry and Rita Hagerman, is a life long resident and devoted family man with a strong 12-year marriage to his wife, Marge. Dan and Marge are raising two daughters, Shannon and Chelsea, and are active in their children's education and development. The Robillards are also members of St. Stephen's Church.
Dan has been a successful business owner of Total Landscape Care, Inc. for over 19 years and takes his business very seriously. Total Landscape Care has been a reliable employment source for many of Grand Island's youth throughout the years. Dan has used successful employee training programs to establish accountability and work ethics for his young employees.
Besides being a successful business owner, Dan has spent the past ten years faithfully attending town board meetings. He is knowledgeable in the mechanics of town government and has personally experienced the intricate process of the town government's boards.
A well educated candidate, Dan has earned a bachelor's degree from the University of Buffalo in Communications and an Associate's Degree from Niagara County Community College in Business and Ornamental Horticulture. Currently, he is enjoying the challenge of continuing his education in pursuing a master's degree in Career and Technical Education from Buffalo State College.
Dan's skills and knowledge of business will prove essential on the town council. His wisdom will help develop improved methods to increase the Island's business community. Dan's strong business sense, along with his common sense, can help provide fair and equal representation to all Grand Island residents.
Dan's goal is to restore the confidence in Grand Island's government.


---
Cooke Holds Successful Fundraiser, Flag Ceremony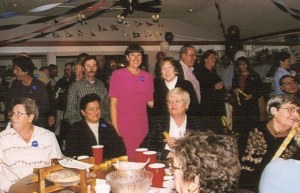 Enjoying the party are (front left) Bev Mikulski, Mary Savoy, Marlene
McCarthy and Marge Egan. Behind them are Councilwoman Cooke and
her brother and sister-in-law Tony and Luyine Stang.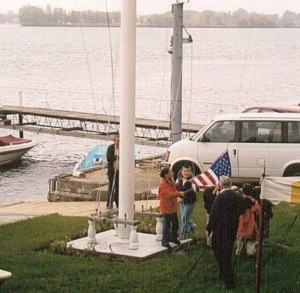 Junior Sailors Tiffany Dickinson and Cappy Cooke lower the American Flag at dusk.

A grand crowd had a grand time September 28, 2001 at the "Puttin' On the Ritz" fundraiser for Councilwoman Mary Cooke at the Niagara Sailing Club on East River Road. Music by the Bar Room Buzzards and a Chinese Auction highlighted the night. In a very touching ceremony Bruce Kaiser sang "The Star Spangled Banner" as Junior Sailors Tiffany Dickinson and Cappy Cooke lowered and folded the American Flag at dusk. Dave Hammond fired a shot to begin the ceremony.
---

Thompson To Hold Family Fundraiser
Supporters of Rus Thompson will hold a family fundraiser for the Conservative endorsed candidate for Grand Island Town Council. "Come share some fun, food & fellowship," and "Celebrate a little love, life & laughter as we gear up (to wind down) for Rus's run for GI Town Council," reads the announcement. The event is "only 20 bucks! for a family pass to the VFW (Post 9249, 2121 Grand Island Boulevard)" from 3-6 p.m. on Saturday, October 27, 2001. RSVP to Eric or Ruth, 438-5801 or Jul, 775-7507 as soon as possible.


---
Mystery Man Is No Mystery


Thanks to those who gave us their guess as to who this man is. A couple close answers came in but no one gave his correct name. He is Joe D'Ingillo, chairman of the 1952 Grand Island Centennial Whisker Contest. The entire photo will appear on the Old Photo Album next week.


---
Happy First Birthday Jaidan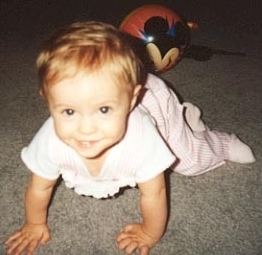 Happy first birthday to Jaidan Kheara Hiam who will celebrate on October 2nd. Jaidan is the daughter of Dan Hiam and Janie Martin and granddaughter of Michele and Dan Hiam, Ellen Martin and Glen Martin. Jaidan's proud great grandma is Dorothy Blakelock.


---
"Puttin' On The Ritz" To Benefit Councilwoman Cooke Campaign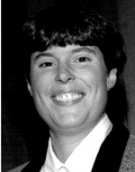 The Committee to Re-Elect Republican encumbent Councilwoman Mary Cooke is inviting the community to a "Puttin' On the Ritz" fundraiser from 5-9 p.m., Friday, September 28, 2001 at the Niagara Sailing Club, 3619 East River Road, near Ransom Road. Hearty hors d'oeuvres (make it a meal!), beer, wine, soft drinks and a cash bar will be available at $15 per person. A Chinese auction and music by the Barroom Buzzards will be featured.


---
Normandin - McGavisk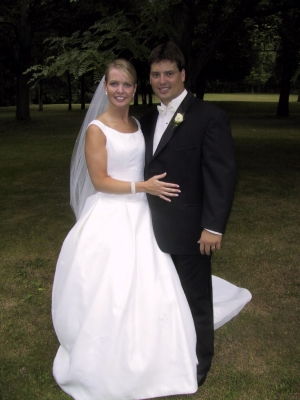 Michael Shawn McGavisk of Dansville and his bride, former Island resident Danielle Marie Normandin, were married on July 14, 2001 in St. Mary's Church, Dansville, NY. Tracey Duffy served as the bride's Matron of Honor. Bridesmaids were Jill Wanzenried, Jody Chadima, Anne Baker, Karen Sawdey, Amy Conklin and Kristin Leonard. June Ann Chadima was the flowergirl.
The groomsmen were Bestman Mark McGavisk, Troy Normandin, Bill Baker, Kevin Sawdey, Vince McGavisk, Pat Byrnes and Aaron Farrell. Alec Duffy was the ring bearer.
Following a wedding reception at the Thruway Marriott in Rochester, NY, the couple went to Aruba for their honeymoon.
Mike is a physical education teacher and Danielle is a high school counselor at Newark High School. The McGavisks have recently bought a house in Newark, NY.


---
Wedding Aboard The Grand Lady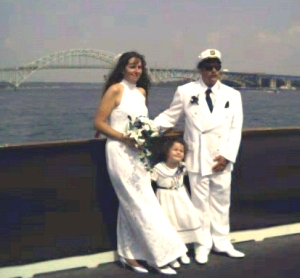 Wendy Krause-Pollock, daughter of former resident George Pollock, was married to Jim Freck on September 9th aboard the Grand Lady. The bride, shown with her husband and their daughter, Samantha, is employed at GP:50 on Grand Island.


---
Hayley Metro Awarded Scholarship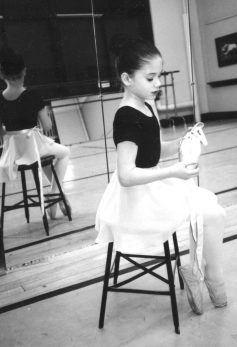 Hayley Metro, daughter of Brian and Carla Tahara of Grand Island, was awarded a full scholarship to The Feder School of Classical Ballet's summer program. The training included classes in classical and lyrical dance, water ballet, jazz and Pilates. The school is currently accepting students, nursery through adult for its fall classes. For more information please call 285-6800.


---
Welcome Stefan James Fred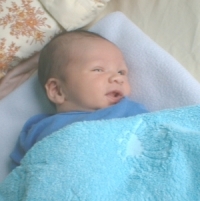 Former Isle resident Bryan Fred and his wife, Wanvisa Polard and daughter Suphawadi Homruen "Dear" of Benfleet, Essex United Kingdom are proud parents and sister of a baby boy, Stefan James Fred born August 23, 2001 weighing seven pounds. Grand Island grandparents are Joan and Skip Fred of East River Road.


---
Thompson Announces Public Meetings, River Front Proposal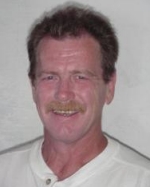 Candidate for Town Council Rus Thompson will hold the first of four public meetings from 7-8 p.m. Tuesday September 18, 2001 at the Gazebo in the Town Commons next to town hall, 2255 Baseline Road.
Topic for discussion will be a river front park and public access to the water. "I have a plan and a commitment from the county for the funding," Thompson said this week. "This park is in the very beginning stages. We need public input and support if this park is to happen," he said. Thompson is asking for residents to attend and bring ideas. For more information, check out his website by clicking Thompson For Grand Island.
Thompson will also hold public meetings on September 25, October 17 and October 25.


---
Dlugokinski Fundraiser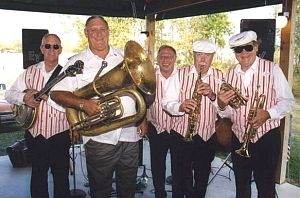 Highway Superintendent Ray Dlugokinski had a great time at his recent fundraiser where the feature was the music of the Barroom Buzzards. The event took place at the VFW Post 9249 on Saturday, September 8, 2001 for the benefit of Ray's re-election campaign.


---

More Than Summer Lost For Grandchildren
By Ray Pauley
It wasn't very large, certainly not a prize winner by today's standards. But to Justin, Lydia, Trevor and Katelyn, who planted the seeds, it was something to water each day, while they watched vines blossom into one lonely pumpkin.
Although rabbits and deer ignored it all summer, it was suddenly yanked off the vine by an unknown intruder a few days ago.
I guess now they'll never know how big it could have grown.


---

ECMC Benefit

"A Night of Blues" to benefit the Erie County Medical Center Trauma Unit and in honor of Tim Joldos II will take place Saturday, September 22, 2001 at the Buffalo Launch Club. To be celebrated is the hard work and dedication of the ECMC Trauma Unit and the doctors and nurses who helped Tim Joldos II with his recovery.
Tim was critically injured on May 23, 2001, spending 23 days in ECMC Head Trauma Unit, 11 days of which were in a coma. Tim declined an offer from friends to run a fundraiser for his benefit and asked that it be a thank you benefit for the Trauma Unit that he knows saved his life.
Island resident Dave Grant is event coordinator. Donations may be sent to his address: 9 Bronson Road, Grand Island, NY 14072. Action begins at 5 p.m. with a silent auction and music by Steve Burnside and his Blues Band starts at 8 p.m. For more information, call Grant at 716-879-2260 or 716-510-4169.


---

A Final Farewell To Don Mesler
By Doug Smith
They said farewells to Don Mesler on Monday but outside the family, nobody quite knew how. Twice the minister called for recollections from friends and twice he came away from the well empty. The silence for so universally admired a gentleman was puzzling, especially to his widow, Mary Ann.
Don and Mary Ann ran the Islander Restaurant for 20-plus years, motoring over from Lancaster at hours some would define as "night" to help Grand Islanders start their day. Don was the exact opposite of the greasy, snarly short-order cook sterotyped in the comic strip "Blondie" or on the TV series "Alice." He was always smiling and everybody like him. How, then, could a packed funeral home sit on its hands?
Memorial remembrances, the anti-eulogy, usually focus on an embarrassing or difficult moment, and how it was overcome; maybe, in Don's case, some time when he got his tie caught in the blender or dropped a case of fresh eggs. No such incident popped into the recall of any of at least 100 of his best friends.
And that says a lot about Don Mesler. The totality of his life added up to so much more than the sum of its parts that on short notice, nobody could remember what those parts were. It was a life lived, an influence felt, far beyond its own boundaries.
Don and Mary Ann took a chance on a property that nobody else wanted at almost the very instant that Island trade began to decline. It seemed like the very definition of a bad business decision. And yet, within a couple of years, Don and Mary Ann's firm belief that the customer was always right even when he wasn't had made the Islander into an institution.
It is aximatic in food preparation that steak takes money, stew takes time. Eating at the Islander also took nerve. Besides its ramshackle appearance, there was its lunar-surface parking lot with potholes large enough to show up on navigational charts. Still, the Islander thrived; it seemed no Town ordinance could be passed without prior discussion at the Islander. Even so, Don had to fight off the government. Responding to a few whiney associates, a zoning officer overstepped his authority by several furlongs in attempting to bar garbage trucks from parking there while its drivers chowed down. The Meslers kept right on smiling and eventually the menace went away.
Competitors came and went. In the final days of the Meslers' ownership -- they wanted to leave while Don still had decent health -- the weekly newspaper Grand Island Record ran an editorial cartoon depicting and bemoaning the plight and passage of business on Grand Island. How bad was it? Well, the newspaper folded that week, too. The Islander went right on cooking; still is, in fact.
Along Route 62 in Texas there are two towns, Paducah and Matador, 30 miles apart, with nothing in between. Matador thrives; the last person to leave Paducah turned out the light and took the bulb.
In climate, location, population, access and agrinomics the two are almost identical, yet all roads led to one, and away from the other. Some places wring their hands, others roll up their sleeves.
Don Mesler's life was one of sleeve-rolling and that is why, in the shock of his passing, nobody could think of anything insignificant to say.


---
Pat McNulty's Sunflower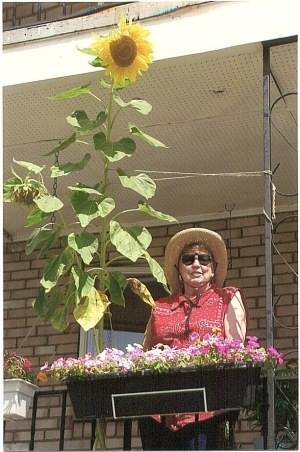 Pat McNulty has a full garden on her 2nd floor patio on Grand Island Blvd. She has vegetables, plants and flowers to tend to and enjoy. Because her apartment is on the front of the building, the general public can also enjoy the flowers and plants including tomato, coleus, marigolds, impatience portulakasa and zinnias. This year Pat planted a sunflower seed and she is now enjoying a plant that reaches to her upstairs neighbor's porch. The birds have not yet discovered the seeds, but Pat does not worry about that. Drive by and take a look. The building is across from all the construction for a new senior citizen housing unit on the Boulevard.


---
Fundraiser to Benefit Ray Dlugokinski, Highway Superintendent


A fund raiser for Ray Dlugokinski, Grand Island Highway Superintendent, will take place from 4-8 p.m. Saturday, September 8, 2001 at the VFW Post, 2121 Grand Island Blvd. Tickets are $10, children 12 and under free. Door prizes, raffles, crafts, children's grab bags, live entertainment by the Bar-Room Buzzards Dixieland Band + Food - Fun - Refreshments. For information, call 774-2789.


---
Fair Winner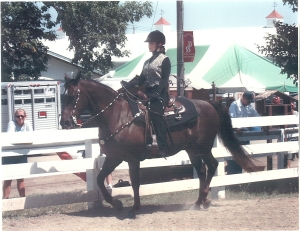 By William O'Connor
Susan and Kenneth Sondel of Love Road are very proud of 14-year-old Grand Island High School freshman, Jackie. Jackie and her horse, Wings of Eagles, teamed up to win one first-place and two second-place prizes at the Erie County Fair.
This year's fair theme was "Showtime." Jackie had the idea to dress her horse and herself as Las Vegas showgirls, using feathers and boas. Jackie and her mother designed and made the costumes.
The "wonder-horse", an eighteen-year-old Morgan mare, became nervous when she was first presented with the costume, but Jackie worked patiently with her teammate for more than two hours. Together they won First Prize in the Horse Dressing contest.
The team placed second in the highly regarded Equitation Contest, which is based on an appraisal of the rider's style and performance; and second in the Junior division for showing and performance and sixth in the Western Pleasure and Western Trail.
Learning from her mother, Jackie started riding when she was 10 years old. She shows her horse at many 4-H events in our area and has frequent success. She is also active in gymnastics and is part of the Grand Island High School Gymnastic team.


---
Mike Heftka Hosts Supporters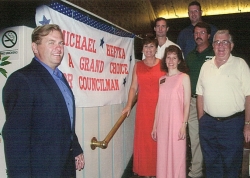 Barbi Lare photo
The fundraiser for Councilman Mike Heftka was held at River Oaks Club House Sunday evening with beverages and refreshments for all. An extensive Theme Basket raffle and several door prizes highlighted the event. Mike (left) is shown with candidates and supporters (front) Robin Swedish, Council candidate Eileen Caffery Torrance, Supervisor Peter McMahon; (back) Justice candidate Randy White, Councilman Kevin Rustowicz and Highway Superindent candidate Kenny Carter.


---

Adam M. Kinsey

Adam M. Kinsey, of Grand Junction, graduated May 21, 2001 from The Johns Hopkins University in Baltimore. Kinsey received a B.S. in biomedical engineering and graduated with University Honors, Departmental Honor and as a member of Tau Beta Pi, the national honors fraternity for engineering. He has received a fellowship and stipend to attend the University of California, Berkeley and University of San Francisco's PhD Program in biomedical engineering. Kinsey's parents, Merritt and Lois Wheeler Kinsey are former Island residents.




---
Hassan - Sander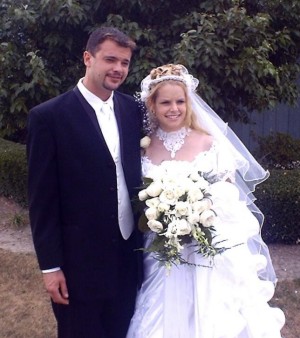 Danielle M. Hassan, daughter of Mark and Diane Hassan, and Jared A. Sander, son of Daniel and Donna Sander, all of Grand Island, were joined in marriage by Justice Sybil Kennedy at 2 p.m. on Sunday, August 12, 2001 at River Oaks. The happy couple will be residing on Grand Island.


---
Lindsey Smith's Great Big Shark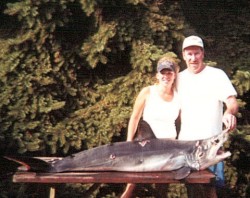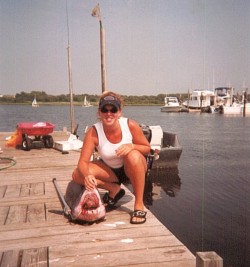 Lindsey Smith, shown with her dad, spent her 16th birthday shark fishing in the ocean off Shinnecock Bay, Long Island. Her catch weighed in at 150 lbs. and was just shy of 6 feet in length. Lindsey is the daughter of Karen and Barry Smith of East River Road.


---

Fair Winner

Grand Island Resident Jackie Sondel and her horse Wings of Eagles won two top prizes at the Erie County Fair 2001. Sondel won first place in the Horse Dressing competition. She and her horse dressed to look like Vegas Show Girls. She also won the Reserve Championship title in the Jr. Western Fitting and Showmanship Competition. Look for more details as soon as they become available to Grand Island E-News.


---

"Rus" Thompson Fundraiser Announced

A fundraiser for town council candidate John "Rus" Thompson will take place 5-9 p.m., Monday, August 27, 2001 at Loverde's West River Bar and Grill at West River and Staley roads. Call Jul, 775-7507 for ticket information or visit the Rus Thompson Website . Live music and a buffet will be provided. "Come join us for a funfilled evening, and take advantage of this time to ask Rus where he stands on the issues you feel effect Grand Island," a campaign spokesman said.


---

Michael Cutini Wins Syracuse School of Law Competition

Grand Island High School graduate Michael Cutini, 23, won first place in the recent Mackenzie Lewis Appellate Advocacy Competition sponsored by the Syracuse School of Law Moot Court Honor Society and the law firm of Mackenzie, Smith, Lewis, Michell & Hughes. Cutini and teammate Colin Ramsey of Mendon made the final round out of an original field of 18, and successfully argued for the petitioner before Judge Ted McKee of the 3rd Circuit Court of Appeals and other judges. The Cutini/Ramsey team was also awarded "Best Law Brief" honors.
Cutini, a 1999 graduate of Fredonia State College and a student senator, will enter his final year at Syracuse Law School in the fall. He is a member of the Moot Court Honor Society and Syracuse Law Review and the son of Michael M. and Kristina M. Cutini.


---

Friends of Councilman Heftka To Hold Fundraiser

The Friends of Councilman Mike Heftka cordially invite the community to enjoy a fabulous midsummer's night sunset at the beautiful River Oaks Club House 7-9 p.m. Sunday, August 19, 2001. A $25 admission to the "Mingle with Mike Night" includes hors d'oeuvres, beer, wine, soda and music. For information, contact Robin Swedish.


---
Herman Rohde Family Reunion

Click group photo for a larger view.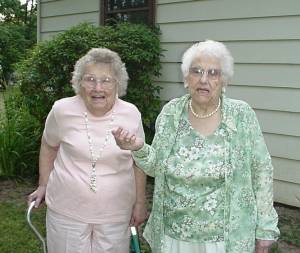 Millie Rohde Vanthoff, 85, is shown left with Leona Rohde Kloss, 90.
A Herman Rohde family reunion was held Saturday, July 28, 2001 at the home of Richard (Shorty) Vanthoff and attended by about 65 people from Missouri, Michigan, Tonawanda and Grand Island. Herman was born in Raden, Mecklenburg Germany in 1878 and emigrated in 1882 with his parents, Wilhelm and Sophia and his siblings Albert, Frieda, Henry and Minnie. They settled on Grand Island and had four more children, William, Fannie, Charles and Frank. Herman was town Justice of the Peace from 1922 to 1935. In later years he moved to North Tonawanda and lived there until his death in 1966. Herman was married to Sophia Long of Grand Island and had five surviving children: William (died in WW2), Ruth Williams of Tonawanda (died 2000) Leona Kloss of Tonawanda and Millie Vanthoff of Grand Island.


---

Chicken Dinner To Benefit Robillard Campaign
The Committee To Elect Dan Robillard for Councilman will hold a chicken dinner fundraiser 4-7 p.m. Sunday, August 5 at the Grand Island Rod & Gun Club, 1803 Whitehaven Road. The event will feature skydivers, raffles and fun for the entire family. Call 773-1504 for tickets which will also be available at the door.


---

Ken Carter Fundraiser Announced
A fundraiser for Ken Carter, candidate for Highway Superintendent will be held 7-10 p.m., Friday, August 3 at the Grand Island Rod & Gun Club, 1803 Whitehaven Road. The evening will feature food, drinks, a Chinese raffle and entertainment. Call 773-2337 for ticket information.


---

Keith's Classic Golf Tourney Results
The following winners have been announced by the Keith's Classic Golf Tournament Committee:
A.M. Tournament: A Flight, Lorna Brewer, Pam Brewer, Jane Little and Doris Tucker; B Flight, Rose Donovan, Tony Grisanti, William Gugino, Dorothy Mordaunt and Sharon Mordaunt; Men's, Chuck Collard, Michael Lamoretti, Michael Weinbaum and Joe Manzella; Putting Contest, Jane Hilbert, Kathy Kasparek, Pat Young and Jane Hamilton.
P.M. Tournament: A Flight, Greg Czajka, Bob Enright, Kevin Kelleher and John ZyGaj; B Flight, Bill Sahlen, Bill Samson III, Bill Samson Jr., Mike Toronto and Jeff Yance; C Flight, Jack Zuffaleto, Sal Latorie, Joe Panzarella, Carl Panzarella and Joe Panzarella; Women's, Christy Douglas, Gloria Ferreri, Sheila Schwab, Charmaine Kaes and Sue Robertson; Mixed, Al Wick, Leah Sherlitz, Dori Mahoney, Peter McKee and Tom Melby.


---

Fundraising Picnic For Eileen Torrance, Candidate For Town Council
Friends of Eileen Torrance will hold a fundraising picnic for Democratic Council candidate Eileen Caffery Torrance from 5:30-8:30 p.m. Friday, July 27, 2001, in the Knights of Columbus Hall, 1841 Whitehaven Road. Donation is $20 per person or $35 per couple, and there is no charge for children under 12. Theme basket raffles, door prizes and children's raffles will add to the fun. For more information, call 773-4169 or 773-0934.


---

Islander Receives Award
Sandy Beach resident Steve Morgan has been named to the Dean's List at Medaille College in Buffalo for Spring 2001. A senior at Medaille, Morgan is majoring in Business Administration and concentrating in Personal Financial Planning. A January 2002 graduation is planned.


---
Keith's Classic & Carly's Club Golf Tourney Huge Success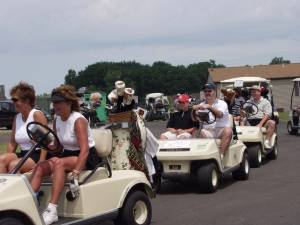 Barbi Lare photos
The annual Keith's Classic Golf tournament at River Oaks Golf Club on Monday, July 9, 2001, was pronounced a huge success. First reports of the event indicated that it raised $150,000, although that is not the final count.


---
Tetkowskis' Reunion in Siena, Italy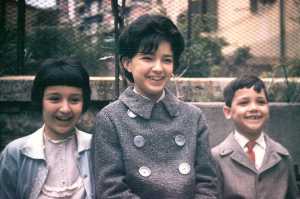 Mira, Diane and Neil Tetkowski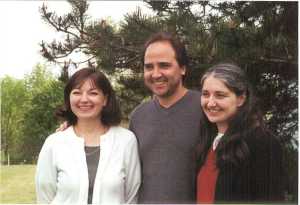 Diane, Neil and Mira Tetkowski
Forty years ago Lee Tetkowski and her husband, Clem, and their three children - Diane, 12; Mira, 9; and Neil, 5 - were preparing for their great life-changing adventure: to spend a year in Siena, Italy, with brave college students from Buffalo State. The Study Abroad Program was launched. The Tetkowski children tackled the new language and the new culture successfully! There followed a year at school back here and then another trip and a year in an Italian school. Then it was back to Grand Island schools. Visits were made back and forth, as the Siena Program continued to the present. It is the oldest study-abroad program in the state of New York.
Through the years, Clem returned as Director of the program, accompanied by Lee and the children, so that lifetime friendships have been formed. This July the College is having a 40th Anniversary Reunion of the Siena Program in Siena, Italy. When Lee learned of this, she began organizing a Tetkowski reunion trip, so the whole family could participate in the festivities. Diane, Mira and Neil, as well as their spouses and grown-up children, are all going, resulting in a total of 14 people. As plans grew, three special cousins, three nieces and nephews, and two in-laws added themselves to the clan. Lee has rented a "villa" for the immediate family!


---
Miss Cathy's Dance Academy To Perform at High School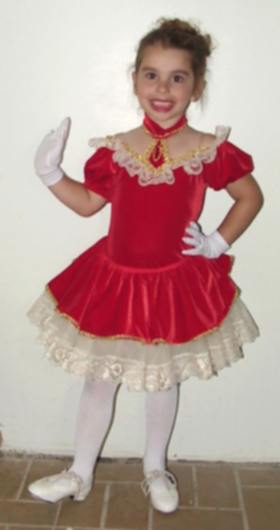 Natalie Baldassarre, 5, is shown during dress rehearsal for Miss
Cathy's Dance Academy recital. She is the daughter of Kim and
Italo Baldassarre of Baseline Road.
Cathy "Parisi" Thomas, director of Miss Cathy's Dance Academy, is celebrating her 30th anniversary of dance instruction of Grand Island with a two-day dance recital in the high school auditorium Monday and Tuesday evening, June 25 and June 26, 2001. Dancers from age 3 to 80 will perform.


---
Former Islander Awarded Degree
Jim Lewis, son of Don and Evelyn Lewis of Red Jacket Road, graduated from the University of Central Florida, with a Bachelor of Science in Electrical Engineering. Jim, who made the Dean's list for the spring semester, is a graduate of Grand Island High School and Canisius College.

---
Wagner, Jr. To Attend Military Academy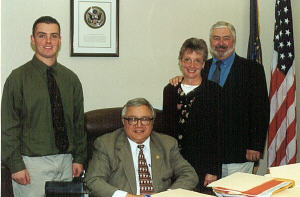 James Wagner, Jr. (left) with his parents, James and Elizabeth Wagner and Congressman LaFalce (seated)
Congressman John J. LaFalce announced this week that James Wagner, Jr., son of James and Elizabeth Wagner of Regency Drive, has accepted an appointment to the U.S. Military Academy.
A graduate of Grand Island High School and the U.S. Military Academy Preparatory School at Fort Monmouth, NJ, James participated in a wide variety of extracurricular activities and was named to Who's Who Among American High School Students.
A gifted athlete and lacrosse player, he was selected as a First Team All Western New York player for lacrosse in 1999 and 2000 and set a number of school records. He also received Varsity Letters in football, golf, and hockey and was Captain of the Lacrosse Team in 2000. He will continue his lacrosse career at the Military Academy.


---
Jennifer Bierbrauer Imredy Foreign Diplomat in Bosnia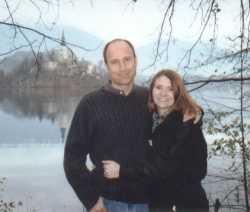 George and Jennifer Bierbrauer Imredy
Former resident Jennifer Bierbrauer Imredy and her husband George are foreign diplomats assigned to the American Embassy in Sarajevo, Bosnia. Jennifer is a 1986 honors graduate of Grand Island High School, and Canisius College ROTC. The Imredys were home for a visit in May.


---
Sheila McCowan Donovan Completes Ph.D.

Sheila McCowan Donovan
Sheila McCowan Donovan was awarded a Ph.D. in Counseling Psychology from the State University of New York at Buffalo on May 12, 2001 after completing her residency at the University of Illinois at Chicago Medical School. She graduated from Grand Island High School in 1989 and received a B.A. in Psychology from State University College at Fredonia in 1993. She earned a Masters of Social Work from the State University of New York at Buffalo in 1996.

Dr. Donovan will assume the position of a staff psychologist and faculty member at the Illinois Institute for Developmental Disabilities at the University of Illinois at Chicago. She will head the adult arm of the program that serves individuals who are dually diagnosed as developmentally disabled and mentally ill. She will also represent the Institute at the National Association for the Dually Diagnosed.

Dr. Donovan is the daughter of Dr. Richard 1. McCowan and the late Mary Beth McCowan of West Oakfield Road.


---
Keith's Classic & Carly's Club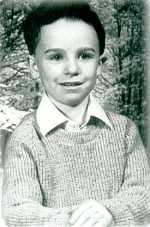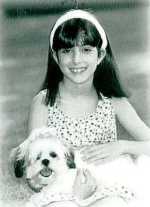 Keith Carly
The annual Keith's Classic Golf tournament at River Oaks Golf Club is now in partnership with Carly's Club. "For Your Kid or the Kid In You" Auction will be held at Harry's Harbour Place grill tomorrow (June 15, 2001) from 6-10:30 p.m. Funds raised will be donated to Kids & Cancer Research at Roswell Park Cancer Institute. The annual golf outing, also benefitting Kids & Cancer Research, is scheduled for Monday, July 9, 2001. Sponsorship opportunities and more information is available by calling Roswell Park at 845-8788. Brochures are available at the GIECOM e-News office, 1871 Whitehaven Road.
For the past thirteen years, Tim and Jackie Mordaunt and their dedicated group of volunteers have presented Keith's Classic Memorial Golf Tournament in memory of Jackie's son Keith, who lost his battle with cancer at the tender age of 6. Determined to continue Keith's battle against cancer, the volunteers have raised nearly $1,000,000 for pediatric cancer research since the event's inception!
The Mordaunts' labor of love is gaining momentum as they team up with Carly's Club. Like most kids her age, ten-year-old Carly Cottone loves the Back Street Boys and 'N SYNC. She plays basketball and soccer, performs in her school's productions and plays the clarinet in the school band. However, unlike others kids her age, Carly has cancer. Carly's Club is her namesake. It is a charity that raises funds exclusively for pediatric cancer research. It is sometimes hard to believe that Carly is just a kid. Prior to her own battle with cancer, Carly lost both of her parents to the disease within a five-year span. It is Carly's wish to help other kids with cancer.
"Thanks to the continued support of the Western New York Community, we have come a long way with improved remissions and survival rates in some types of pediatric cancers," Mrs. Mordaunt said this week, "but there is much to be done. We hope you will join us in this opportunity to help find a cure!" she said.


---
Island Native Holds Art Show

Milanne "Weiser" Buchholz
Native Islander and artist Milanne Buchholz announced this week that she is scheduled to be in two juried shows, having just held her first show of the season June 2, 2001, in her studio, Milannium Designs, in Stevens Point, WI. Island residents may take advantage of her work, which includes, but is not limited to, tie-dyed shirts, polymer clay jewelry (pins and earrings), amulet bags, and hand-bound blank books, at a show from 8 a.m. to 3 p.m. June 8 at the home of her parents, Millie and Ed Weiser, at 2572 Baseline Road (near Sidway School).
"There is something so fulfilling about the summer and creating," Milanne says. "After a long winter, I love to be out again."


---

Islanders Lyn Laman, Marty Kennell Featured in Buffalo News
For those who missed reading the "Summer Fun Senior-style" article in Sunday's "First Sunday" section of the Buffalo News, Islanders Lyn Laman and Marty Kennell were pictured and featured. Click Buffalo News for the complete story.


---

Grand Island Firm Wins Treasury Dept. Award
Suchak Data Systems, located on Grand Island, NY, and its President and CEO, Vinod D. Suchak, have received an award from the U.S. Treasury Department for providing the technology to allow local banks to sell U. S. Savings Bonds over the Internet. Suchak Data Systems is a provider of web-based financial products for small banks.
For the complete story see BuffaloNews.com 5/22/01 Coverage.


---
Robillard Fund Raiser A Grand Success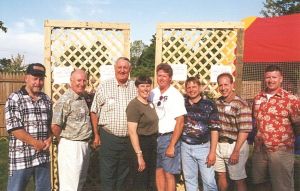 In attendance at the Robillard Fund Raiser Sunday were (left) Councilman Kevin Rustowicz, Councilman Dick Crawford, Independent Party Chairman John Lexo, Councilman-elect Dan Robillard, Councilwoman Mary Cooke, Highway Superintendent Ray Dlugokinski, Republican Party Chairman Dick Planavsky and Island Businessman John Simon.

&nbsp With over 200 people in attendance, the first fund raiser in support of Republican-endorsed Town Council Candidate Dan Robillard exceeded all expectations. Sunday, May 20, welcomed a diverse crowd to Dan's home on Ransom Road, where everyone enjoyed food, drinks, raffles and perfect weather. The bounce house, crafts, Tookie the Clown, and playing by the pond kept kids entertained all day. The Committee To Elect Dan Robillard Councilman "thanks all who attended and contributed for supporting Dan in becoming a beneficial leader to the community as a Grand Island Town Councilman." &nbsp The next fund raiser is scheduled for Sunday, August 5, at the Grand Island Rod and Gun Club on Whitehaven Road.


---
"Smooth As Silk" Debuts At Harry's Harbour Place
"Smooth As Silk" is the name of a new band debuting at Harry's Harbour Place, 2192 Niagara Street, Buffalo from 7-11 p.m. on Thursday, May 24th. Islanders in the group are lead soloist Fran Wilczek and Barb Gatti, vocals and piano.


---
"Robillard For Council" Fundraiser Planned
The Committee to Elect Dan Robillard for Town Council has planned a fundraiser from 2-7 p.m. Sunday, May 20, 2001, at 423 Ransom Road. A $10 donation for adults is requested. Kids may attend at no charge. The day will feature food, drinks, a Chinese Auction, door prizes and kids' activities.


---
Lou Schriver named to WNY Hall of Fame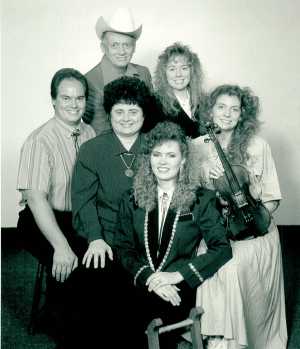 "Ramblin' Lou" Lou Schriver of East River Road has been chosen for induction into the Western New York Broadcasting Hall of Fame. Lou has relentlessly promoted country music for 54 years both on radio and in thousands of concerts with his family band. The ceremony will take place during the annual Hall of Fame Night beginning at 6 p.m. Tuesday, May 15 at the Tralfamadore Cafe, 622 Main Street in Buffalo.


---
Senulis Inducted Into Honor Society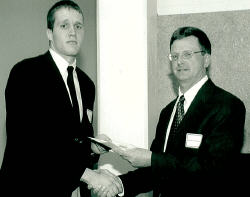 Jefferey C. Senulis, son of Joseph and Charlotte Senulis of Garden Parkway, was recently inducted into the Beta Gamma Sigma Honor Society at the Whittemore School of Business and Economics at the University of New Hampshire. This is the premier honor society for students majoring in business administration in the United States. Presenting the certificate of achievement is Dean Steven J. Bolander.


---
Welcome, Sydney Victoria Mazur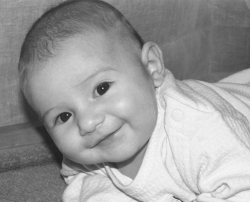 David and Shannon Mazur of Alt Blvd., along with Tucker, the family's golden retriever are happy to announce the birth of their baby girl, Sydney Victoria Mazur on February 1, 2001. Sydney who weighed in at seven pounds, is the granddaughter of Joan Mazur of Grand Island, Kathy and Bill Hesson of Niagara Falls and the great granddaughter of Consuela Frisch of Grand Island, Betty Hesson of Tampa, Florida and Aldo and Elsa Urbani of Niagara Falls.

Town Recognizes Eagle Scout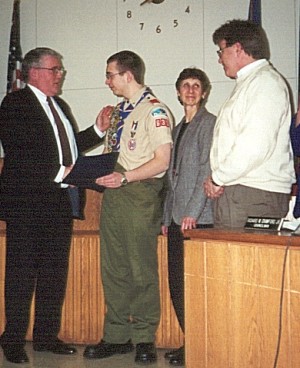 Grand Island Supervisor Peter McMahon during Monday's (Apr. 2) Town Board meeting, congratulates Benjamin Michael Rossiter on achieving the rank of Eagle Scout. A member of Boy Scout Troop 630 sponsored by St. Stephen's Church, he received the award on April 1, in part for collecting sports equipment for St. Basil's Orphanage, which is just across the Hudson River from West Point. Also pictured are Benjamin's proud parents, Michael and Ann Rossiter. (For more information about Benjamin, please scroll down.)

Our Newest Islander Sarah Elizabeth Berlinger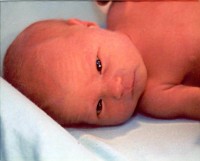 Sarah Elizabeth was born March 20, 2001 to Mike and Kerry Berlinger of Grand Island. She weighed in at five pounds, 15.4 ounces and is the granddaughter of the Higmans of Lewiston and Chuck and Carol Berlinger of Grand Island.

Sal Andolina and His All Star Big Band ..."Join us for some dancing in the aisles! Swing to the big band sound..." Island resident Sal Andolina, clarinetist for the Buffalo Philharmonic Orchestra will be in concert 7 p.m. Friday, April 6 at the new, state-of-the-art Niagara Falls High School Performing Arts Center on Porter Road near Hyde Park Golf Course. Billed as "An Evening with the Masters - A Tribute to Benny Goodman," the concert will feature the sounds of Sal's All Star Big Band in a tribute to Benny Goodman. His special guest will be singer Mary Stahl.
Proceeds will benefit the DeFranco Public Charity for arts education for children. Tickets at $30 per person are available at all Wegmans locations or by calling 282-3672.

Teen Actors Learn The Real Meaning of The Show Must Go On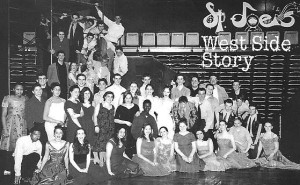 Matthew Korzelius is shown fourth from right, second row bending over in a shiney jacket. Click for larger view.

By Barbara Gatti
St. Joseph's Collegiate Institute presented "West Side Story" on March 9, 10 and 11 at Rockwell Hall on the Buffalo State College campus. St. Joe's has a reputation for professional quality performances and this year was no exception.
Grand Island members included Matthew Korzelius playing the lead role of "Tony," Brian Butera as "Big Deal," Laurie Santa Lucia as "Francisca," and Jessica Labus as "Carmen." Eric Vivier was the baritone sax player in the pit and Cory Black had the demanding job of stage manager.
The phrase "The Show Must Go On" took on real meaning Sunday night during the famous fight scene between the Sharks and the Jets. Five time recipient of the Artvoice Artie Award, Lynne Kurdziel-Formato had choreographed each punch perfectly, keeping the audience on the edge of their seats with excitement. "Bernardo" played by junior Steve Campagna and Jonathan Miller playing the role of "Diesel," must have been slightly off their marks when Steve's fist accidentally connected with Jonathan's face. Unknown to the audience Jonathan fell back and hit his head a couple of times on the floor, resulting in a true life concussion. The actors continued as nothing had happened while those near to Jonathan did what they could to help him. The scene ended and while intermission went on as planned Jonathan was taken to the hospital and the director had to make some quick changes and assign new parts to some of the men. Although Jonathan looked quite beaten up, he recovered and was back to school on Wednesday, with a story he will surely never forget.
The only clue that there was something amiss was the fact that the intermission lasted longer than previous performances. What the audience did know, was that these young people are truly talented singers, dancers and actors and a wonderful time was had by all lucky enough to get a seat at this sold-out show. They never knew that these future stars had to learn the meaning of "the show must go on" at such an early age.

Steve Morgan Named to Dean's List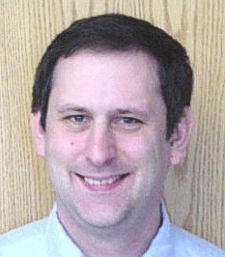 March 22, 2001...Sandy Beach resident Steve Morgan has been named to the Dean's List at Medaille College. Currently the Assistant Communications Supervisor for the Grand Island Fire Company, Steve is majoring in business administration and concentrating in personal financial planning.

Surprise Party For Jack Burns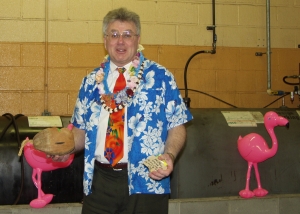 Barbi Lare photo
School Transportation Supervisor Jack Burns was more than a little surprised at a party in the bus garage in honor of his 50th birthday this week. In his own words, "It was a surprise and a half."

Wozniak Presented Scholarship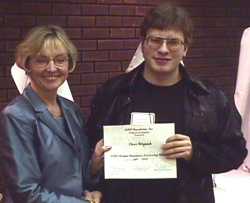 Chris Wozniak, a Fine Arts student at Niagara County Community College was presented an Alumni Association Scholarship for the 2001-2002 semester and a Certificate of Recognition during the 14th Annual NCCC Distinguished Alumni Dinner March 9, 2001. Making the presentation is College President Dr. Antonette J. Cleveland.

Newest Islander


Hayden Robert Backlund was born at 8:01 p.m. March 6, 2001 weighing 8 pounds, 8 ounces and was 20.5 inches long He is the son of Aerika and Robert Backlund of Blackmon Road. Hayden has an older sister, Aerika who began Kindergarten this year.

Normandin - McGavisk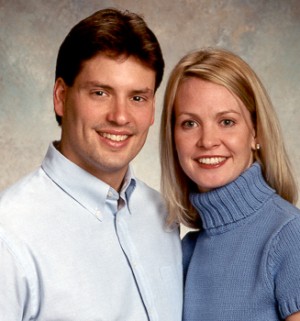 Serge and Gerri Normandin of Grand Island, NY are pleased to announce the engagement of their daughter Danielle Marie to Michael Shawn McGavisk, son of Vincent and Mary Ann McGavisk of Dansville, NY.
Danielle, a 1988 graduate of Grand Island High School, earned her Bachelor's Degree in Sociology from Buffalo State College and her Master's in Counselor Education from Canisius College. Danielle is a school counselor at Newark High School.
A 1987 graduate of Dansville High School, Mike earned his Bachelor's & Master's degree in Physical Education at Ithaca College. Mike teaches PE and coaches varsity football and baseball at Newark High School.
The couple is planning a July 14, 2001 wedding at St. Mary's Church in Dansville, NY.

Benjamin Rossiter - Eagle Scout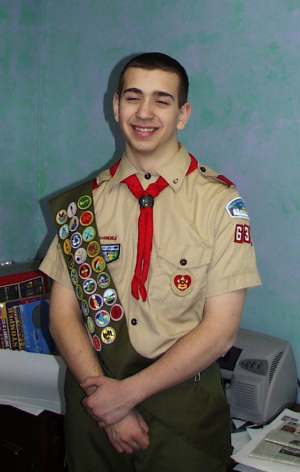 Generosity and hard work have resulted in an Eagle Scout rank for a Grand Island High School senior and a lot more happiness for some less fortunate children in an upstate orphanage.
When Benjamin Rossiter, 17, of Pellamwood Ct. heard his pastor talk about the needs of the children in Saint Basil's Academy/Orphanage, he decided to earn his Eagle Scout rank by helping them.
Grand Island families responded generously, donating used bicycles, baseballs, footballs, soccer balls and other sporting equipment (more than 250 items all together). Ben and his supporters drove the equipment to St. Basil's in Garrison, New York, near West Point. When he arrived he was taken aback by the joyous reaction from the children.
As a result of his actions, Rossiter will be one of only two percent of all Boy Scouts to reach the rank of Eagle Scout. His presentation ceremony will be held on April 1. At the April 2 town board meeting a proclamation will be read recognizing his efforts.
The son of Michael and Ann Rossiter, Benjamin is a member of Scout Troop 630 sponsored by St. Stephen's Church, and is a member of the high school wrestling team. Next Year, he intends to study engineering at Canisius or the University of Buffalo.

Town Engineer John Phillips Recognized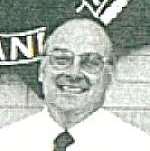 The Western New York Chapter of the American Public Works Association has named Town Engineer John Phillips its Public Works Leader of the Year.
John has worked for the Town of Grand Island for 31 years during which time he was responsible for the development of the town's water system and involved in the building plans for the Grand Island Memorial Library and Veterans Park. John, who was also involved in highway improvements, took an active part in the planning and construction of a 3.5 million gallon per day wastewater treatment plant. Water system improvements taking place within the town during Phillips' tenure include water plant expansion, a three-million gallon storage facility, new raw water intake, and ongoing waterline replacement projects.
Performance wise, John is a stand out and known to go above and beyond his duties to help his town. One of the best examples of this was during a blizzard, when he stayed on the job despite having an appendicitis attack, to make sure the job was completed.
A member of the New York State Society of Professional Engineers and the APWA, he has served as president of the WNY and New York State Chapter of the APWA.
The Town of Grand Island is very fortunate to have John Phillips in its employment.

Airman 1st Class Kevin A. Govern
Airman 1st Class Kevin A. Govern, son of Eugene and Mary Govern of Grand Island, has successfully completed the Air Traffic Control Technical School for the United States Air Force. He has been assigned to Columbus Air Force Base, Columbus, Mississippi, as an Air Traffic Control Specialist where he will receive further training and his F.A.A. certification. Kevin is a Grand Island High School graduate with the Class of 2000.

Island Doctor To Present At Conference
One of Grand Island's newest residents, Dr. Sherry A. Bradford, PHD will be an invited speaker at the "6th International Conference of Frontiers of Polymers and Advanced Materials" March 4-9 in Recife, Brazil.
Her talk is entitled "The Use of markers to compile a bio' score on which to base a chemoregimen in patients with ovarian cancer, traditional cancer therapy and beyond in the new millennium."
It will focus on a patent pending methodology that ascertains the most appropriate and effective chemotherapy for any one given individual diagnosed with solid tumor. The logistics encompass the bio chemical molecular and genetic characteristics of the tumor. Once the composition of the tumor has been established, a chemoregimen is then predicted for that specific individual. Although this test is only in the infancy stages, it has produced encouraging results in preliminary test trials.
Dr. Bradford received her doctorate from the University of Buffalo and is currently a research professor at the University in the Department of Surgery.
The conference will also feature the current (2000) Nobel Prize winner in chemistry, Dr. Alan J. Heeger, PHD and Dr. Alan G. MacDiarmed, PHD as well as attended by a contingent of distinguished scientists, physicians and dignitaries from all over the world.


ENGAGEMENT
Restey - Click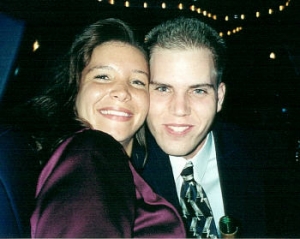 Mr. and Mrs. Paul Restey and Mr. and Mrs. William Click of Grand Island are pleased to announce the engagement of their children, Danielle Restey to Bill Click. Danielle is a 1998 graduate of Grand Island High School and a recent graduate of NCCC with a degree in business administration. Bill is a 1996 graduate of Grand Island High School and is currently pursuing an engineering degree at ECC. A summer 2001 wedding is being planned.


---
Welcome, Jayce Reyner Claus

Kelly and Fred Claus and 17-month-old daughter Mikayla, announce the newest addition to their family, a baby boy born Monday, February 12, 2001. Jayce Reyner Claus, who weighed in at six pounds, seven ounces, wasted no time making his first appearance only 15 minutes after his mother arrived at Millard Fillmore Suburban. The Claus family is residing on Marilyn Drive.


---
Islanders Receive Awards
Island residents Brendan Sheehan and Steve Morgan were recognized by Medaille College at the College's annual honors convocation in November 2000.
The students were honored for Dean's list placement for the Fall 1999 and Spring 2000 semesters and were also inducted into the Alpha Chi Honor Society. Additionally, Sheehan, the son of Dr. & Mrs. Thomas Sheehan of Grand Island, was awarded a William Randolph Hearst Scholarship and the CRC Freshman Chemistry Award.
Steve Morgan, a lifelong Island resident lives in Sandy Beach with his wife Amy and son Abram.


---
Islanders Named To Canisius Honor Roll
Canisius High School students from Grand Island have been named to the honor roll:
First Honors: Paul T. Donnelly, John R. LoFaso, Peter J. Ruocco, Andrew Savoy-Burke and Devlin P. Winkelstein.
Second Honors: Cory P. Gallagher, Kyle G. Miller, Sean P. Nobrega, Daniel M. Portik, Samuel J. Russo, Justin P. Schaber and Camden C. Winkelstein.
Third Honors: Devon R. McDonald, William C. McMurray and Neil A. Walsh.


---
State Canal Commission Elects Heftka
Grand Island Councilman Michael Heftka was recently elected vice chairman of the Western Erie Canal Heritage Corridor Planning Commission in a meeting coordinated by New York State Parks Commissioner Bernadette Castro.
"The challenge of the planning commission is to find a 21st century use for a 19th century marvel," Heftka noted this week. He will assist Commission Chairman Brian Grassia and sixteen other commission members in the development of a management plan for the Western Erie Canal Heritage Corridor (WECHC).
"Many people may not recognize Grand Island's connection to the canal, but the Erie Canal meant a lot to the Island in the past and it can mean a lot to Grand Island in the future," Heftka said.
Why a heritage corridor? Heftka explained that, according to Commission Coordinator Bill Condo, the identifying, interpreting and marketing of the history of the Western Erie Canal Heritage Corridor in a management plan will encourage local, regional and outside interests in the stories of this area. By showing how each town, village and city along the canal played a role in the development of the region, the unique sense of place of each canal community will be enhanced. "Heritage development from our past will help residents and non-residents understand and celebrate the Erie Canal and make use of the opportunities it continues to provide," he said.
The commissioner of the New York State Office of Parks, Recreation and Historic Preservation must approve the management plan, when complete, for the state designation to remain in effect.
Councilman Heftka was drawn to the Erie Canal project after reading the book, "Cinderella Island" by Rob Roy MacLeod.


---
Welcome Tyler James Nogle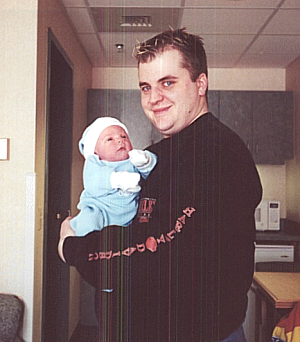 Isle residents Kathy and James Nogle were blessed with a healthy baby boy on December 27, 2000. Tyler James, shown here with his very happy dad, weighed in at 8 pounds, and is 20 1/2 inches long. His proud grandparents are Carol and Tom Nogle of East Oakfield Road.


---
Christmas Baby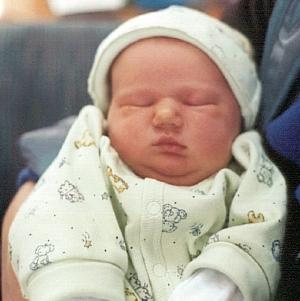 Ron, Kathy and 18-month-old Kelly Schlifke of Staley Road got an early Christmas present this year. Cathy gave birth to their second child, a daughter, Kristine Marie in Millard Filmore Suburban Hospital at 10:12 a.m. on December 22. Kristine weighed 7 lbs. 9 oz. at birth. The family will spend the holidays resting at home with their newest member.


---
Remember Clara Mueller Pankow Miller?


Clara Mueller Pankow Miller lived on Alt Blvd. with her husband and children and instructed piano to hundreds of Island residents in her home throughout the 1940s and 1950s and even longer. Many of her students, now in their 50s and 60s, would tell us of their accomplishments as a pianist, giving all of the credit to their teacher, Mrs. Pankow. A 50 year member of the American Guild of Organists, she spent many of those years playing at a Lutheran church in Buffalo where her father preached.
Now known as Clara Pankow Miller, the accomplished organist is now 92 years old and continues to play the organ at the Christian Science church in Poughkeepsie. What is most unusual about Mrs. Miller's life at the moment is that she has enrolled as the State University of New York's oldest student. She is a freshman at the State University at New Paltz. An advertisement offering college credits for life experiences is what brought about her enrollment in two classes - sociology and medieval music. She says, "I built up a book for them and got 88 credits."
Today Mrs. Miller lives in Wappingers Falls and still clearly remembers her most famous student, Buffalo Bob Smith, the host of the "Howdy Doody Show," who took piano lessons from her for 11 years. According to Clara, Buffalo Bob named his clown, Clarabell after her!


---



The Ultimate Gift: A Moving Mountain

Website
By Ruth Stahl
Are you bored with treadmills, rowing machines and stationary bikes? How about mountain climbing, indoors, at that? Islander Gary Astridge has the answer.
Gary walked into FOA Schwarz, the top-of-the-line toy store, one day, and was entranced by a machine called a moving mountain. It resembles a vertical treadmill in motion with handholds and toeholds for the climber. As you climb, the surface scrolls down. If you stop climbing or step off, the machine stops. You don't go anywhere but you get your fun and exercise. You can select your challenge level, and while you are climbing, a digital display keeps track of time and distance.
Gary, who has lived on the Island for five years, became the North American distributor of the mountain, which is manufactured in France.
"It has really taken off," said Gary. "The market includes amusement parks, health clubs and fitness centers. You find them in children's interactive play areas and in rock-climbing facilities, used as an introduction to the sport. There is one at L.L. Bean's in Maine and in several MacDonalds. People call to have them installed in their homes. The models can be permanently installed or free standing, and come in two sizes. They can be upgraded for outdoor use, be built to take tokens or coins or can even be leased," he said.
Gary and the Moving Mountain debuted on the CBS Early Show on TV. Rock star Sting recently ordered one for his home in England and other celebrities have expressed interest - personalities like Arnold Schwartzenagger, Nicholas Cage and Steven Spielberg. (If you want to join that crowd you'll have to come up with a minimum of $12,500.) To try one locally, visit the Game Zone on Sheridan Drive near Harlem, the former Sheridan Bowling Lanes. (The manager there is Keith Call, an Islander as well.) For more details on this marvelous moving mountain, log on to Gary Astridge's Website



---
Home For Christmas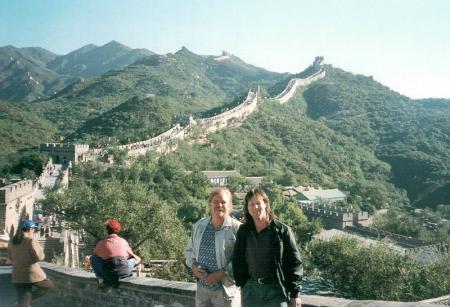 John Papai, who new resides in Colorado Springs, Colorado will be on Grand Island from December 21-29 visiting his mother and sister.
He reports the following:
"I am currently living in Colorado Springs, Colorado. A Government Space Division here in Colorado Springs, currently employs me here. With this agency, I have had the experience to travel all over the world. Some places are really beautiful but other places are not so good. The most exciting was the trip to China. Beijing is a very large city and has many bicycles. The Great Wall of China was very well worth the trip. I was amazed at the sight of it. I've enclosed a picture of myself (left), and a co-worker at the great wall. I've also been to Japan, Thailand, Russia, Hawaii, Taiwan, New Zealand and all over Europe.
"I am an electrical engineer/scientist, Masters Degree in Engineering, and currently working towards a PhD. I graduated from Grand Island High School in 1970. Then during the lottery draft in the 70s, my number was low so I joined the Air Force and worked at the Kennedy Space Center in Florida. After that I graduated from the University of Colorado at Colorado Springs with a BSEE and then worked for TRW Space Division, designing satellite systems. Then I received my masters from the University of Colorado.
"My Mom still lives on the Island and I still have many friends there. To tell you all the truth, I really miss the Island, and that comes from the heart."


---
Margie Rall Engaged
Former resident Margie Rall became engaged to Brian Hunter on Friday, November 3rd while walking on the Golden Gate Bridge in San Francisco. Vacationing here in September, the couple is shown while siteseeing at Niagara Falls. A September 2001 wedding is being planned.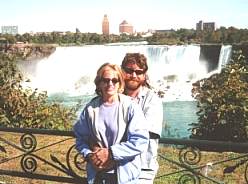 ---
Welcome Jaidan Kheara Hiam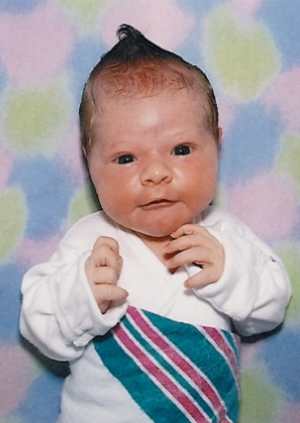 Jaidan Kheara Hiam, daughter of Janie Martin and Dan Hiam arrived on October 2, 2000 weighing seven pounds, three ounces. She is the granddaughter of Dan and Michelle Hiam and Ellen Martin and Glenn Martin, all of Grand Island.

---
Kogut - O'Neill
The Rev. Emil P. Swiatek of Annunciation of the Blessed Virgin Mary Catholic Church, Elma performed the 4 o'clock marriage ceremony September 21, 2000 in St. Flannon's Church, Kinnitty, County Offaly, Ireland for Amy Elisabeth Kogut and Ryan Patrick O'Neill, both of Dublin, Ireland.
Michael and Marilyn Kogut of Fernwood Lane, Grand Island and Tampa Bay, Florida are the bride's parents. The bridegroom is the son of Joseph and Dolores O'Neill of Wilmington, Delaware.
A reception was given in the Great Hall of the O'Carroll's at Kinnitty Castle. The couple traveled to the island of Mauritius in the Indian Ocean.
They will be at home in Dublin, where they are employed by MBNA of Ireland, the bride as an assistant vice president and director of personnel, and the bridegroom as senior vice president and site director. The bride is a graduate of Nardin Academy and John Carroll University. The bridegroom is a graduate of the University of Delaware.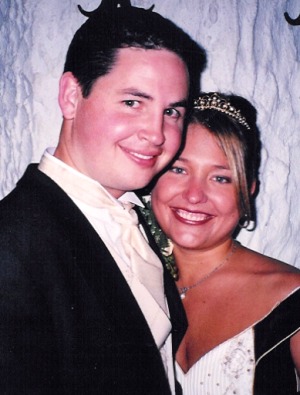 ---
Jennifer Hitcho, Cornell graduate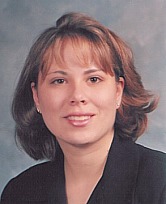 Jennifer A. Hitcho, a 1996 graduate of Grand Island High School, graduated May 28, 2000 from Cornell University with a B.S. in Hotel Administration. She is employed by the Four Seasons Corporation and is presently Assistant Manager Guest Services at the Ritz-Carlton Hotel in Chigago, Illinois.
---
Miss Cathy's 30th Year of Dance Instruction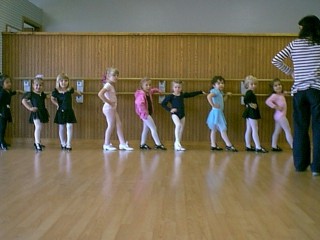 (Sept. 2000) Cathy Thomas of Miss Cathy's Dance Academy, is celebrating her 30th year of dance instruction in her new studio next to Jaco's Pizza. Shown are students in Miss Cathy's four-year-old tap and jazz class as they practice on the beautiful, new, wood dance floor. Miss Cathy's Dance Academy is the longest running dancing school on Grand Island with the new facilities located at 2488 Grand Island Boulevard. A former Buffalo Jill, Miss Cathy is a former student and teacher of noted local ballet teacher Norma Ferrara Gelose, and has taught several local students who have gone on to dance professionally. Special classes in pre-ballet, elementary and professional ballet including pointe work, tap, jazz, acrobatics and gymnastics instruction are offered at Miss Cathy's Dance Academy.



Other Grand Island Pages to Visit:
| Businesses | Churches | Email Directory | Government | Groups
GIHS Grad List | Guestbook | Please sign in! | Local Artists | New! Photo Album | Recreation |
| Schools | Seneca Law Suit | Town History | UsefuLinks | Weather |
| Website Design | Wildlife | Home Page |

This website is sponsored by

GIECOM.NET

1869 Whitehaven Road, Grand Island, New York, 14072-1803 USA


Copyright © 1995-2002 All rights reserved.








<! - - - - - - - - - - - New Tracker Code Below - - - - - - - - Old Tracker Code Below - - - - - - - - - - - >