William M. Kaegebein Elementary School
News Page 2008
1690 Love Road
773-8840

Click for Kaegebein School News 2009
Click for Kaegebein School News 2007
Click for Kaegebein School News 2006
Click for Kaegebein School News 2005
Click for Kaegebein School News 2004
Click for Previous Kaegebein School News

Kaegebein Elementary School District's Website

Principal
John Wiertel



Kaegebein Stone Soup Party - 2008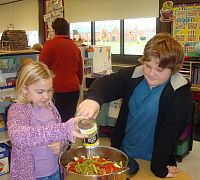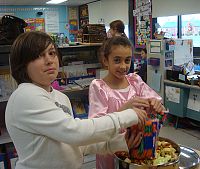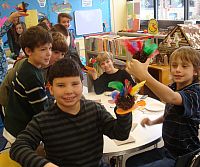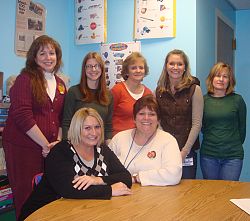 Stone Soup Party helpers shown are (front left) Dana Santospirito and Karen Cartwright;
(back) Joan VanderMey, Melissa Fabio, Patty Becker, Gayle Nowak, and Lisa Hogrewe.
Click photos for larger view
Fourth grade students in the classes of Miss Dana Santospirito, Mrs. VanderMey, and Miss Fabio at Kaegebein Elementary School joined Mrs. Karen Cartwright and Miss Gayle Nowak's class for a "Stone Soup" party on Tuesday, November 25th. Together, the classes read "Stone Soup" and cooked the soup on Monday. Tuesday they joined together to feast on stone soup, bread, and apple cider. They also made pine cone turkeys and worked on a sequencing activity that went along with the story.




Kaegebein Colonial Day - 2008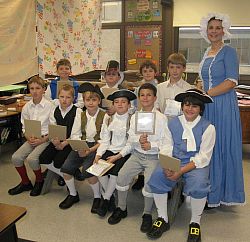 Jodi Robinson Photos - Click for larger view
Mrs. Kathy Chadwick's 4th grade at Kaegebein Elementary celebrated "Colonial Day" on Tuesday, November 25th. This day is based on a class novel the students read called "Felicity Learns a Lesson." The girls prepared the dinner meal. They made applesauce, butter, peeled and mashed potatoes, and prepared the stuffing. The boys learned lessons from hornbooks. The boys also learned about colonial occupations and constructed a sign to go with an occupation they are interested in. The girls learned how to cross stitch and have a tea party. All of the students made soap, carved soap, wrote with a quill pen and ink, and stenciled. They all enjoyed this authentic experience with colonial times.






Flossie The Cow Visits Kaegebein - 2008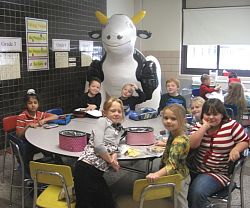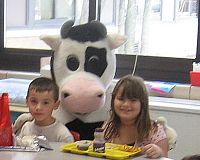 Mrs. Booker's class enjoys their visit with Flossie.
Jodi Robinson Photos - Click for larger view.
Flossie the Cow from Upstate Farms visited Kaegebein Elementary School on Thursday, November 20th, along with representatives from the NYS Dairy Association. Flossie brought along a huge blow-up cow and plenty of milk for the students to sample. The students were asked to try vanilla and strawberry flavored milk to decide their favorite. The new milk product is not only flavored but bottled in recyclable plastic bottles and contains 30% more than typical cartons of milk previously served at the school.





Kaegebein PTA's Reflections Winners - 2008


Jodi Robinson Photo - Click for larger view.
The Kaegebein PTA is pleased to announce the winners of this year's Reflections program. Reflections is a national PTA creative arts competition established to promote the arts. This year's theme was "WOW". Kaegebein had over 135 entries this year. The winners are:

Visual Arts:			Photography:			Literature:
Brandon Phillips		Caitlyn Zapp			Rebecca Hennessy
Gabrielle Gagliardi		Mikayla Rosati			Gianna Horvath
Sarah Bellinger 		Lauren Chadwick			Brianna Wik

Dance Choreography:		Special Recognition:		Film Production:	
Miranda Proctor			Josephine Sikora		Zach Valvo
Maria Wagar			Ellie Podsiadlo		
				Amber Pelletier

The following students received Honorable Mention awards:

Allison Dragonette		Tyler Moskala
Brigitta Eichel			Adam Crist
Rebecca Agnello			Sophia Zacher
PJ Munoz			Allyson Schoener
Hayden Backlund			Madeline Dallessandro
Mason Michels			Gianna Horvath
Elizabeth Houser		Caitlyn Bykowicz
Simone Smith			Ben Graziano
Laura Schultz			Julia Diehl
Ryan Jellnick			Sebastian Koschuk
Justin Chadima			Jordan Simon
Julia Less			Lindsay Diehl
Forrest Carr			Zackery Messier
Genna Baldassarre		Willy Hoover
Jamie Warren			Jacob Gilcart
Rachel Kullerkupp		Taylor Vanderzell
Allie Colucci			
Mary Szumla
Justin Gorrell





Halloween Party at Kaegebein School - 2008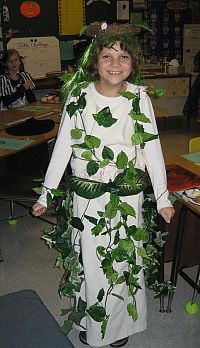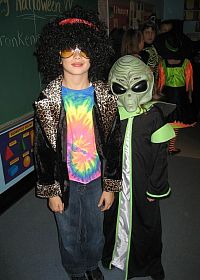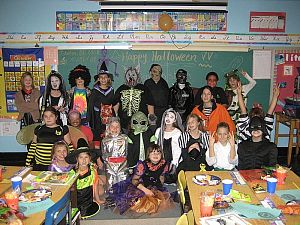 Kim Kalman Photos - Click for larger view.
Mrs. Karen Cassata's 4th grade class at Kaegebein Elementary School held a Halloween party on Friday, October 31st in the classroom. Along with delicious treats, there was Monster Bash dancing.





Haunted Classroom at Kaegebein School - 2008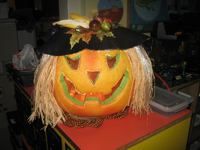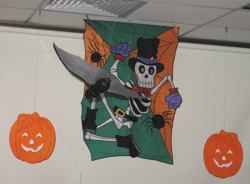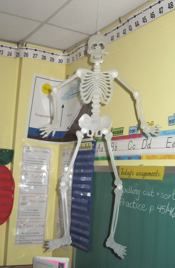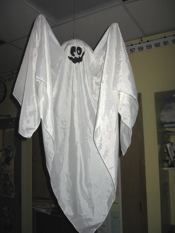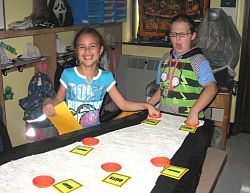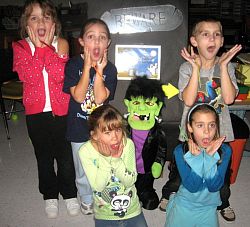 Left: Alexis Studley & Elizabeth Houser from Mrs. Tricia McDonald's 4th grade class.
Right: Students from Mrs. Kathy Fik's 2nd grade class.
Jodi Robinson Photos - Click bottom two photos for larger view.
Kaegebein second grade teacher Mrs. Cyndi Booker has created a Haunted Classroom for Halloween 2008. As captain of the Kaegebein School Relay For Life team, Mrs. Booker is always thinking of creative ways to raise money for Relay. This Halloween, she has created a Haunted Classroom filled with creepy music, flying bats, skeletons, ghosts and much more. Students are invited to take a tour after giving a small donation that goes to the Relay fundraising effort.





Salt Map Project at Kaegebein - 2008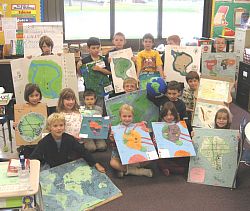 Jodi Robinson Photo - Click for larger view.
Mrs. Eileen Mitchell's class created Salt Maps as the culminating project for the Third Grade Map and Globe Unit. The study of maps can be great fun to teach and to learn about, in addition to being invaluable tools for Social Studies, Math and Problem Solving. The unit of study included drawing maps, practice in using map keys, finding directions, determining distance through understanding scale, using grids and plotting points.





Fall Art Projects at Kaegebein School - 2008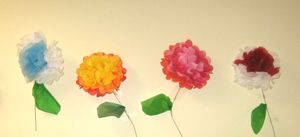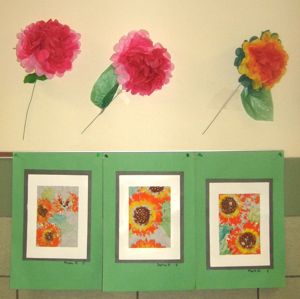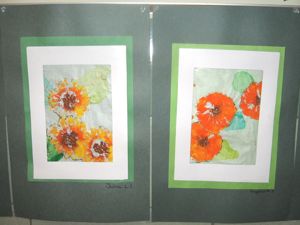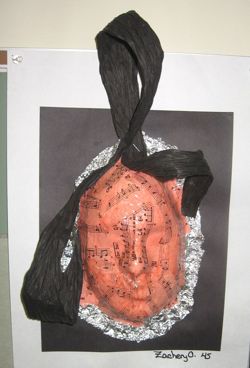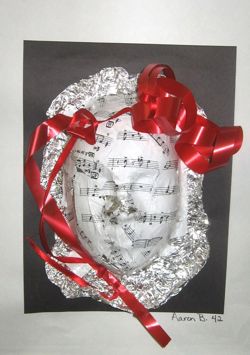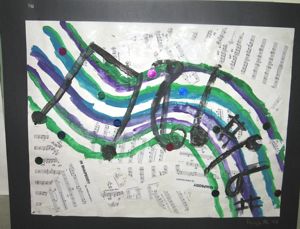 Jodi Robinson Photos - Click for larger view.
This year the Kaegebein School fall art presentation's theme is Mexican. Art teacher Mrs. Alex Incao reported that the 2nd grade students made beautiful tissue paper flowers. The 3rd grade students made sunflower prints with water color leaves and gold accents. The 5th grade class once again created art that supports the arts for the auditorium. The work features masks that were made on tin foil and covered with pieces of sheet music. The masks were embellished with feathers, craft paper and ribbons. Other 5th grade classes made a collage of sheet music and painted a musical staff and notes in warm or cool colors. The fourth grade project was not yet completed and will be displayed soon.





Book Fair at Kaegebein School - 2008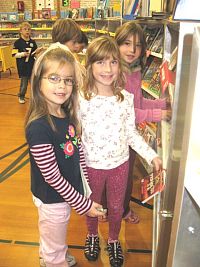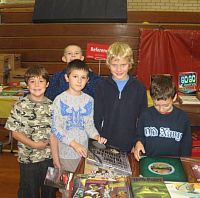 Jodi Robinson Photos - Click for larger view.
Kaegebein School's Annual Book Fair and Ice Cream Social was held on Tuesday evening, October 13, 2008. Not only do the students get an ice cream treat, the parents get a chance to see what the students would like to purchase. For the next two days the students are given an opportunity to browse the books and make their selections. Students from Mrs. Eileen Mitchell's third grade are shown picking out books on Thursday, October 16th.






International Walk A Child To School Day - 2008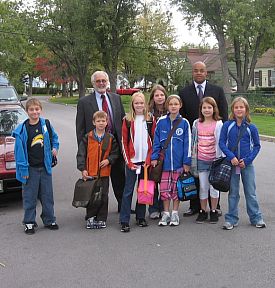 From Left: NYSDOT Regional Director Alan Taylor and Senator Antoine Thompson with walkers.
Jodi Robinson Photo - Click for larger view.
NYS Senator Antoine M. Thompson and NYSDOT Regional Director Alan Taylor walked to school with Kaegebein Elementary students on Wednesday, October 8th to celebrate "International Walk A Child to School Day." "The benefits of Walk a Child to School Day are significant. Walking increases the daily levels of physical activity, parents have an opportunity to teach their children about traffic safety, and there is a significant reduction in both air pollution and congestion," stated Senator Thompson. In addition, it was announced that a grant has been received from the Department of Transportation for "Safe Routes to School." This grant, in the amount of $57,000, will fund the construction of a sidewalk to be constructed along Love Road from the Kaegebein property to the corner of Love Road and East Park.





Cellino & Barnes Awards Scholarship to Kaegebein Elementary 4th Grade Class - 2008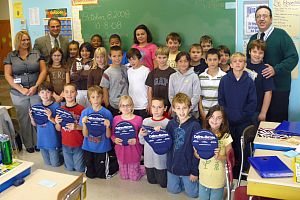 Click photo for larger view.
Attorney Ross Cellino paid a special visit to Miss Dana Santospirito's fourth grade classroom at William Kaegebein Elementary School on Wednesday, October 8, 2008. Miss Santospirito, Joan VanderMey and Melissa Fabio were the recipients of a $250 classroom scholarship awarded by Cellino & Barnes. Cellino spoke to the students about the importance of studying and gave each student in the class a new mouse pad. Each week during the Buffalo Bills regular season, ten classrooms are selected to receive a $250 scholarship from Cellino & Barnes. The scholarship is to be used for classroom supplies and projects. Miss Santispirito intends on applying the scholarship money to a grade level event to benefit all fourth grade students at William Kaegebein Elementary School.





"Catch the Reading Bug" Students Rewarded - 2008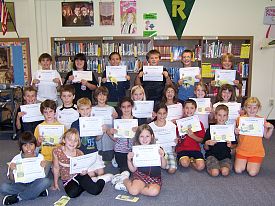 Click photo for larger view.
Students who participated in the "Catch the Reading Bug" Summer Reading Program at Kaegebein were honored at an awards assembly on Thursday, September 25. The 242 students who read a minimum of eight books during the summer received certificates and coupons for ice cream that may be redeemed in the Kaegebein cafeteria thanks to the sponsorship of the PTA. Mrs. Tricia McDonald's fourth grade was honored for being the only class with one hundred percent participation.





Apple Day at Kaegebein School - 2008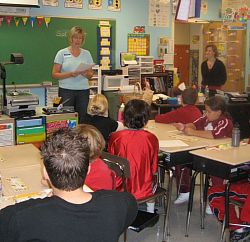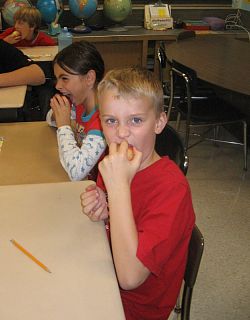 (Left) Mrs. Dryfhout reads to class; (right) Student Mark Thompson enjoys his apple.
Jodi Robinson Photos - Click for larger view.
For many years Kaegebein Elementary School's PTA has recognized historical figure, Johnny Appleseed, at the end of September. Johnny Appleseed was an American pioneer nurseryman who introduced apples to large parts of the mid-west in the early 1800's. The PTA provides a bag of apples and the story of Johnny Appleseed to a guest reader for each class. On Monday, September 29th, parent Mrs. Yvonne Dryfhout came to the 5th grade classrooms of Mr. Max Pikula, Miss Amy Hopkins and Mrs. Rhonda Taylor to read.






Kaegebein Moving Up Day - 2008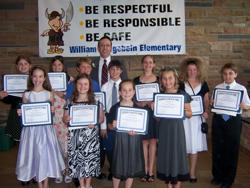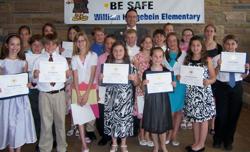 (Left) Gold K Winners - (right) Presidential Education Award winners
Click for larger view.
Kaegebein Elementary fifth graders celebrated Moving Up Day on Friday, June 20th with a standing room only crowd in the gym. Awarded during the program were the President's Education Awards and the Gold "K". The President's Education Awards Program, sponsored by the U.S. Department of Education, in partnership with the National Association of Elementary School Principals and the National Association of Secondary School Principals, is an important program developed to help principals recognize and honor those students who have achieved high academic goals by their hard work and dedication to learning. Twenty of Kaegebein's fifth grade students were the proud recipients of the award. They are listed below.
The Gold "K" is awarded to fifth grade students who are well-rounded and have achieved much in their years at Kaegebein.

The criteria are: 
1. Academic Excellence – High achievement and high effort
2. Citizenship – Helpfulness to others and the student's relationship with peers.
3. Exemplary Behavior – In the regular classroom – in special areas – participation in
        extra-curricular activities.
4. Leadership Qualities – The ability to lead in a positive way.


Gold K Recipients: 
 
Front Row - Amelia Stepnoski, Caitlin Conlon, Shannon Driess, Brianna Brandon 
 
Second Row - Devon Perri, Jessica Ackendorf, Benjamin Shaw, Mr. John Wiertel, Rebekah Gaydosh, Kelsi Dellapenta, Robert Ellegate 
 
Presidential Education Award Winners: 
 
First Row - Amelia Stepnoski, Eric Riederer, Caitlin Conlon, Shannon Driess, Graciana Giambra 
 
Second Row - Joshua Barrett, Kelsey Percival, Michael Podlucky, Ashley Franz, Emily Wolcott, Robert Ellegate 
 
Third Row - Alexander Miller, Brenna Young, Jessica Ackendorf, Benjamin Shaw, Mr. Wiertel, Andres Riederer, Ryan Allen, 
                Kaitlyn Rudney, Nancy Dahlquist, Rebekah Gaydosh 




Kaegebein Flag Day Celebration - 2008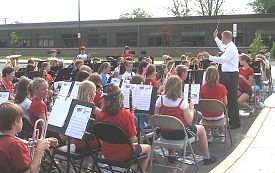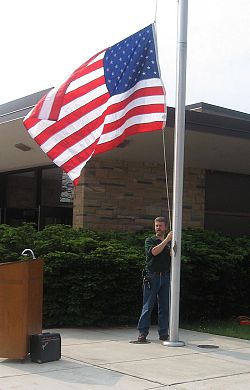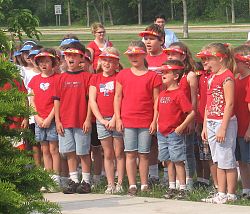 Jodi Robinson Photos - Click for larger view.
Kaegebein Elementary observed a Flag Day celebration on Friday morning, June 13, 2008. The concert band played the "Star Spangled Banner," "Grand Old Flag" and "The Blue and the Red." Principal John Wiertel noted that June 14th is the anniversary of the Flag Resolution of 1777 and music teacher Mrs. Renee Mitchki directed the second grade classes in "This is America" and the "Pledge of Allegiance Rap."






Kaegebein Students Help In the Fight Against Cancer - 2008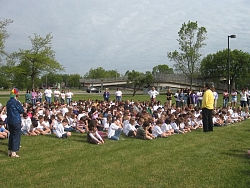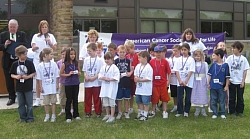 Left: Principal John Wiertel welcomes students & teachers.
Right: Second grade class of Mrs. Kathy Fik accept their certificates.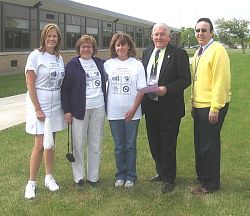 Left: Music teacher Mrs. Renee Michki directs the choir.
Right: Mini Relay organizer Mrs. Cyndi Booker, GI Relay Co-chair Mary Dunbar-Daluisio, ACS Community Executive Jane Dent, Supervisor Peter McMahon and Principal John Wiertel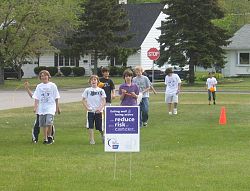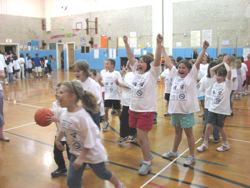 (right) Students shooting baskets in gym for raffle tickets
Jodi Robinson Photos - Click for larger view.
The students at Kaegebein Elementary School participated in a Mini-Relay for Life to benefit The American Cancer Society on Friday May 30, 2008. This is the second year for Kaegebein, having the distinction of being the first and only school in Western New York to have a Mini-Relay in 2007.
The Mini-Relay for Life is an abbreviated version of The American Cancer Society's signature event - Relay For Life. This event wasn't just about walking: there was a great deal of learning as well. Event Coordinator and Second-Grade Kaegebein Teacher Cyndi Booker said, "This is a great program that provides resources for the teachers so they can, in turn, teach the students about ways they can prevent cancer." Each week classroom activities incorporated a message about cancer prevention. The themes included Eating Healthy, Exercise, Sun Safety, and Being Tobacco Free. Mrs. Booker designed T-shirts that reflected these themes, and they were sold to students, staff and parents to wear the day of the event.
Since fundraising was an integral part of the event, students started early by designing holiday themed bracelets that they sold for $1 during their lunch. This program was launched in October, and each time they sold approximately $200 in October, December, February, March and May. On May 21st, students participated in a Hat/Sunglasses Day to promote awareness of Sun Safety. For a $1 donation, students were permitted to wear a hat or sunglasses during the school day. They generated $272 that day! Other fundraising opportunities included the Luminaria Sales. Students collected donations from friends, family and neighbors to honor the memory or life of a loved one. The luminaria bags were labeled with the loved one's name, and then decorated by the students for a personal touch. These bags will be placed around the track of the Relay on June 6th.
After much preparation, the day of the event finally arrived! The opening ceremony began at 9 a.m., and Town Supervisor Peter McMahon (& GI Relay Co-chair) attended the event to present awards to the Top Fundraisers and to the classroom with the highest percentage of participation. The Top Fundraisers were: Evan Valint, Joseph Casullo, Johnny VanderMey, Kristopher Masiello, Jared Hale, Maximilian Russell, Brennen Joslyn, Haley Melisz, Spencer Jon Zukic, Patrycia Austin, Matthew McNaughton, Alexandra Cutting, Rebekah Gaydosh and Joshua Horvath. Mrs. Fik's second grade class held the distinction with 91%. Jane Dent from The American Cancer Society and GI Co-Chair Mary Dunbar-Dalusio were also in attendance and addressed the young audience with words of inspiration.
At intervals throughout the day, students walked a course on school grounds in an effort to raise money from the pledges they had collected all month. When students completed the walk, they participated in a basket-shooting contest in the gymnasium. The PTA also pitched in by assisting at the event and coordinating healthy snacks for each of the classrooms. At the time of the event, the school raised $6846.20! "Our community should applaud their efforts, and the students have learned the importance of working unselfishly to help others," Mrs. Booker said.





Kaegebein Annual Student Plant Sale - 2008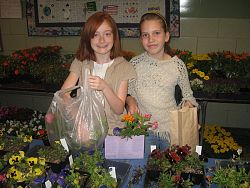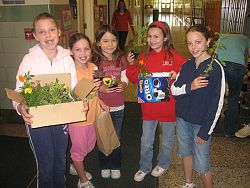 Jodi Robinson Photos - Click for larger view.
The Kaegebein PTA Plant pick-up was held on Thursday, May 15, 2008. The students were allowed to buy the extra plants at a bargain price of 25 cents each on Friday, May 16th. Students in Mrs. Tricia McDonald's class are pictured above showing off their purchases.




Fourth Grade Play Is Electrifying! - 2008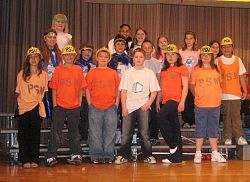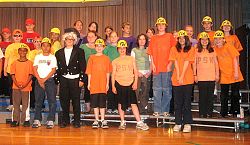 Complete cast.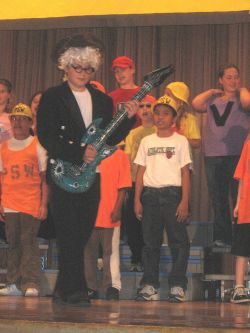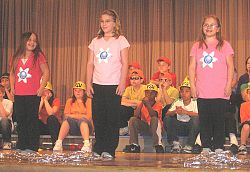 Left: Ben Franklin (Spencer-Jon Zukic) (right) Electrons (Kiyana Kessner, Brianna Wik, Haley Melisz)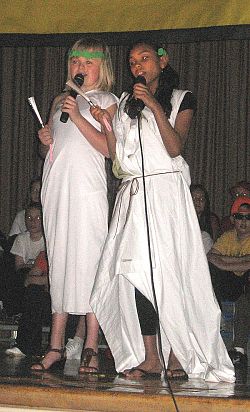 Cynthia (Kaitlynd Howell) & Thales (Tiffany Melendez).
Jodi Robinson Photos - Click photos for larger view.
The fourth grade classes of Mrs. Maureen Gambino and Mrs. Kathy Chadwick at Kaegebein Elementary School have been learning about electricity in class this year and decided what a great basis for a play. Starting in ancient Greece and working their way through time to today, the actors sang and danced while explaining the history of electricity.




Poetry Comes Alive at Huth and Kaegebein Elementary Schools - 2008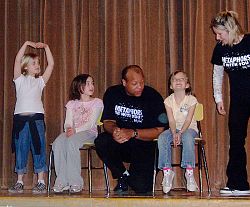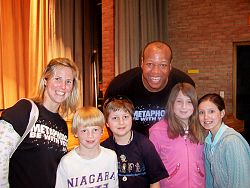 (left) Kaegebein Elementary School, Alyssa Ruminski, Grace Federico, Charles from Poetry Alive!, Madeleine Husvar, and Katie from Poetry Alive!
(right) Left to right top: Katie and Charles from Poetry Alive!; bottom: From Huth Road Elementary, Drew Callen, Matthew O'Brien, Maggie Schultz and Cassidy Siebert.
Click photos for larger view
Thursday, April 30, 2008 . . . The students at Huth Road Elementary and Kaegebein Elementary schools recently had a wonderful opportunity to experience poetry in action. The group "Poetry Alive!" visited the two schools last month in conjunction with "April is National Poetry Month." This program was organized by Huth and Kaegebein school librarians, Ms. Vinnie Passanese and Mrs. Pat Rizzuto, and was sponsored by the PTA.
"Poetry Alive" is comprised of theatrical performers who travel across the country and perform poetry for audiences ranging from Kindergarten though the university level. They also conduct workshops for educators. This high energy group incorporates a variety of performance techniques when acting out poems written by traditional, as well as, contemporary poets. Their goal is to improve student literacy by instilling in children a love and appreciation of poetry through the reading, writing and performing connection.
In preparation for the visit, students at both schools were exposed to many different types of poetry. The students participated in writing and reciting their own poetry and performing before their peers and parents. Poetry books from the school libraries have been "flying" off the shelves.
The interest and excitement generated by the "Poetry Alive!" presentations were wonderful to see and continued long after their visit to the Island schools.




Third Graders Enjoy Earth Day Celebration - 2008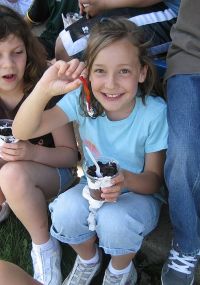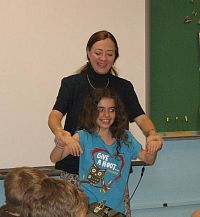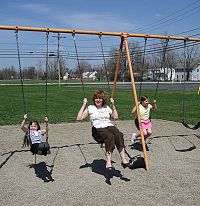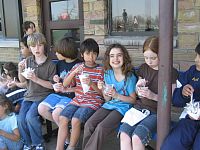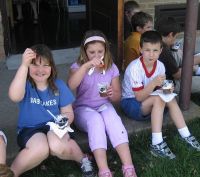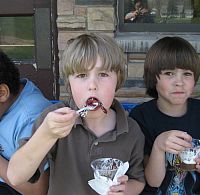 Click photos for larger view.
Mrs. Maria Seibert's third grade class at Kaegebein Elementary celebrated Earth Day on Tuesday, April 22. The celebration included going outside on the grounds of Kaegebein and cleaning up by picking up garbage. At the end of the day, everyone received a treat of "Oreo dirt pudding with worms" as a reward for their hard work and to also celebrate GennaBaldassarre's Earth Day 9th Birthday!! They also caught 2nd grade teacher Mrs. Kathy Fik doing a little swinging herself!




Kaegebein Destination Imagination Team Competes at States - 2008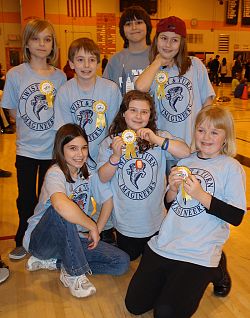 Row 1: Jessica Ackendorf and Kaitlynd Howell
Row 2: Caitlin Conlon
Row 3: Katie Verso, Colton McGraw, Alexander Cancilla and Natalie Braun
Click for larger view.
The Destination Imagination team from Kaegebein Elementary competed in the New York State competition on Saturday, April 5th in Binghamton, NY. Seven fourth and fifth grade students make up The Twist and Turn Imagineers team. The team managers are fourth grade teaching assistant Miss Melissa Fabio and special education teacher Miss Dana Santospirito. The students have been working since November to solve a theatrical-based challenge. The team had to present the solution to the challenge to a panel of judges at the tournament. The Kaegebein team took 3rd place in their division and placed 1st over all in the Western Region.




Kaegebein Musical, "The Weather Show" - 2008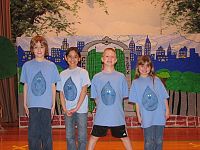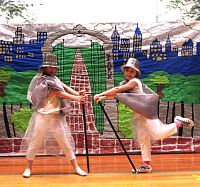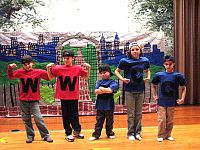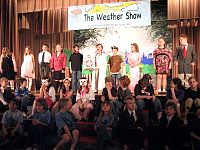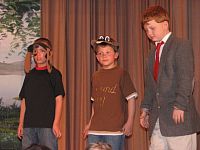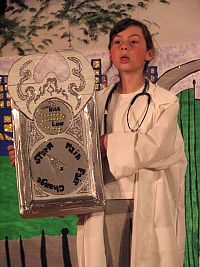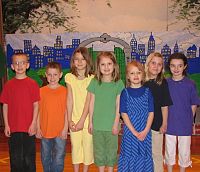 Click photos for larger view.
Second grade classes of Mrs. Cyndi Booker and Mrs. Kathy Fik performed on April 7-8, 2008, in a musical play titled "The Weather Show." The students worked very hard over several weeks to learn their lines and the music. Some of the students sang solos during the musical. The play was about Dr. Emma, along with her pals, the weather dog and groundhog, overcoming the many weather changes that can happen in a day - from raining "cats and dogs" with thunder and lightening to being swept away in a wind storm. Music teacher Mrs. Renee Michki directed the students' musical numbers and parent volunteers helped with the costumes and props.




Healthy Heart Food Drive At Kaegebein - 2008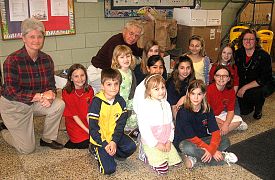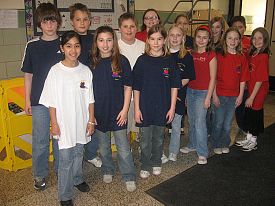 (left) Neighbors Foundation Representatives Linda Tufillaro, Hank Kammerer, Carol Pizur
(right) Students from winning classrooms and Post Office
Jodi Robinson photos - click for larger view
By Mrs. Carol Pizur
Thursday, April 10, 2008 . . .The Healthy Heart Food Drive sponsored by the Kaegebein Elementary School Post Office was an extremely successful activity. Following the idea of the real USPS, students were asked to bring a boxed or canned item to school as a donation. The postal workers collected bags and boxes of food from the classrooms. The food will be donated to the Grand Island Neighbors Foundation with the assistance of Linda Tufillaro and her staff.
The students used this activity to learn about the food groups during the Healthy Heart Program which took place between March 10th through March 28th. Each grade level had a different food group to concentrate on. The classroom from each grade level who donated the most items won a classroom pizza lunch.
Kaegebein students leaned about food groups, but mostly they learned an important lesson in caring and giving to those in need. Many thanks for supporting our efforts is extended to all the Kaegebein Students, Families, Faculty, Staff and the Neighbor's Foundation.




Kaegebein Dresses in Pink & Gray For Sabrina - 2008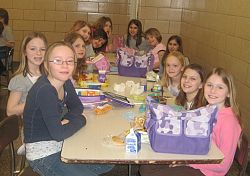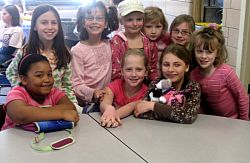 Jodi Robinson photos - click for larger view.
The students and teachers of Kaegebein school held a dress-down day on Thursday, April 3, 2008 in honor of Sabrina Reagle who is a fellow student. Everyone was invited to dress in pink or gray to show their support for their classmate who has Leukemia. A fundraiser is planned for Sunday, April 6, 2008 from 1-6 p.m. at the Grand Island Holiday Inn. The donation of $10.00 includes food and entertainment. See "Sabrina's Garden of Hope" flyer.




Kaegebein Third Graders Workout - 2008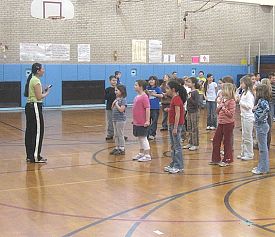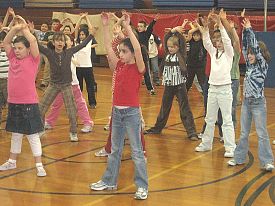 Jodi Robinson photos - click for larger view.
Thursday, March 27. . . The third graders at Kaegebein participated in a physical activity lesson entitled "Why it's Fun 2B Fit." The students, led by a Fun 2B Fit fitness trainer, took part in a 30-minute workout developed especially for kids that incorporates easy, fun dance moves and stretches. During the workout, students are taught the muscles of the body and their function, and discuss the importance of physical activity and how it can be fun and easy to do at home with family members. Before the workout, the students discuss what it means to be fit, and that it includes healthy eating and being active.
Parents of all students participating in "Why it's Fun 2B Fit" receive a backpack full of tools to help them make healthy choices for their families. Each tool kit contains a magnetic grocery pad for the refrigerator with pre-printed healthy items on each tear-off page, a magnet with everyday tips on how parents can keep their kids healthy, a Healthy Family Pledge to be signed and displayed in the home, and the tool kit itself is a sling-style backpack that can be reused as a gym bag, or to take on family outings.
Fun 2B Fit was created by Univera Healthcare to combat childhood obesity and is based on recommendations from the Centers for Disease Control, the American Academy of Pediatrics, and the New York State Learning Standards. According to the American Obesity Association, of six to 11 year olds, 30% are classified as overweight and 15% are considered obese.




Pancake Breakfast At Kaegebein - 2008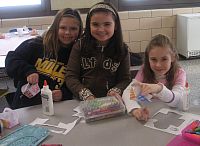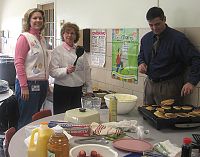 Left: Grace Lotempio, Mariana Floro, Lauren Chadwick
Right: Mrs. Kathy Chadwick, Mrs. Kathy Fik and Mr. Mike Chadwick.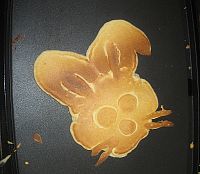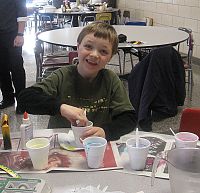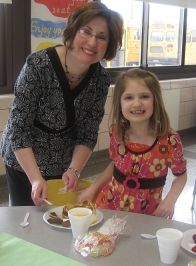 (left) Mr. Chadwick's creative pancake; (center) Ryan Kernin; (right) Michele Fred and daughter, Emily
Kim Kernin photos - click for larger view.
Second graders in the classrooms of Mrs. Kathy Fik and Mrs. Kathy Chadwick had a ball during their pancake breakfast on Thursday, March 20th. The morning was filled with the dying hard-boiled eggs in many different colors, and making many Easter crafts such as paper Easter baskets and bunny ears, along with other fun activities. Many parent helpers attended, including the pancake maker (and parent) Mike Chadwick who even made several pancakes in the shape of a bunny head, including whiskers! In addition to pancakes, the children also enjoyed fresh fruit, sausages and juice or milk.




Plenty Of Art At Kaegebein - March 2008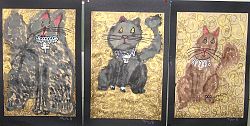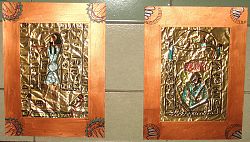 Left: Second Grade - Right: Fifth Grade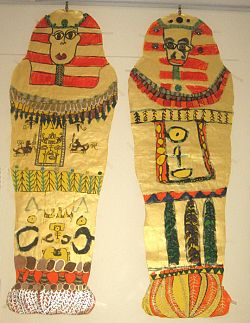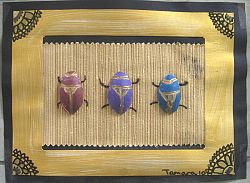 Left: Third Grade - Right: Mrs. Szyprowski's Class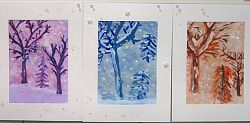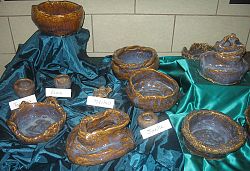 Left: Fourth Grade - Right: Fifth Grade Art Club
Jodi Robinson photos - click for larger view.
Kaegebein art teacher Mrs. Alexann Incao has been keeping her students busy this school year. The second grade students made Egyptian Repousse', a technique of hammering, scratching or pressing metal to create a design. The Egyptian Cat Goddess Bsstet was said to protect woman and children, and to guard the sun's power to ripen crops. Cats in Egypt were believed to have special powers because their eyes glowed. They are often shown wearing jewelry.
Third grade students created the Sarcophagus. They have worked on them since September, with many students being smaller than their paper! The third grade is currently creating a 3-D sarcophagus out of clay that will be 6-8 inches high. The winter pictures were created by fourth grade students and are monochromatic winter landscapes. The ceramic vessels were created by the Fifth Grade Art Club.




Kaegebein Second Graders Kick-off Healthy Taste Testing - 2008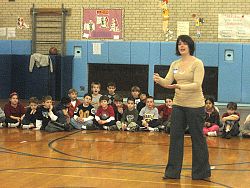 Virginia Foreman explains Fun 2B Fit.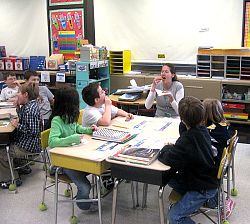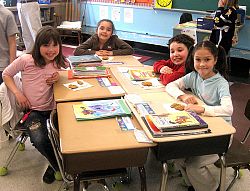 Mrs. Karen Cassata and her class try the first recipe.
Jodi Robinson photos - click for larger view.
Kaegebein second graders are learning the importance of healthy food choices with Univera Healthcare's healthy lifestyle initiative. Univera Public Relations Coordinator Virginia Foreman visited the school on Thursday, March 13, to kick-off 12 weeks of healthy taste testing as part of Univera Healthcare's Fun 2B Fit program. Fun 2B Fit is a school-based initiative encouraging children and their families to make healthier food choices by trying new foods, increasing their level of physical activity, shopping for healthy foods and preparing meals together. This is the third consecutive school year Kaegebein has participated in Fun 2B Fit.
The 125 second graders began the taste testing by sampling Oatmeal Banana Cookies. Each week students will be sampling recipes such as the Tropical 'Go Bananas' Smoothie and Shepherd's Pie and will try a total of 12 different recipes. Students are encouraged to at least try all the foods and receive a laminated recipe card to take home so they can make the recipe with their family. The students also receive a lime green, kid-sized chef apron to encourage them to cook with their parents and help with food preparation.




Kaegebein Have a H.E.A.R.T. Night - 2008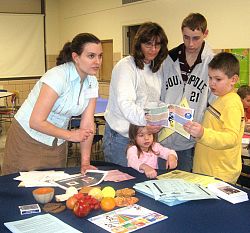 Information Station in cafeteria.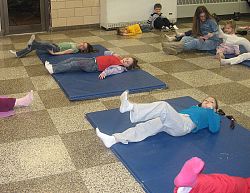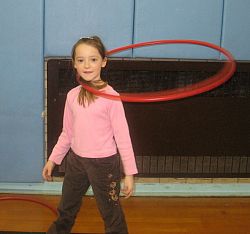 (Left) Yoga Safari; (right) Hula Hooping in the gym
Kim Kernin photos - click for larger view.
As part of Kaegebein Elementary School's healthy lifestyle initiative, a family night was enjoyed on Thursday evening, March 13. It was entitled "Have A Healthy Eating, Activity, Response to Life." Informational stations throughout the cafeteria featured milk taste testing, making stress balls, healthy snack, coloring activities and a dietician from Niagara Falls Medical Center answering questions. A yoga demonstration gave the students a chance to practice their moves. The gym was the place for dancing with Miss Greene, as well as jumping rope and keeping the hula hoops going. Linda Mocny, Director of Dietetics at St. Mary's Hospital, spoke on nutrition in the auditorium.


---



Destination Imagination Team Going To States - 2008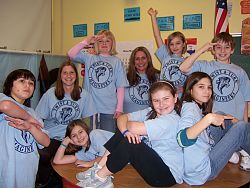 (front left) Caitlin Conlon and Jessica Ackendorf; (middle) Natalie Braun (laying down); (back) Alexander Cancilla, Miss Fabio, Kaitlynd Howell, Miss Santospirito, Katie Verso, and Colton McGraw
The Destination Imagination team from Kaegebein Elementary competed in the Western Regional Tournament on Sunday, March 9th at Erie Community College's south campus. This year's team is lead by Miss Melissa Fabio and Miss Dana Santospirito. The Twist and Turn Imagineers are seven fourth and fifth graders who have been working since November to solve a theatrical-based challenge. The team had to present the solution to the challenge to a panel of judges at the tournament. The team took 2nd place in their division and has advanced to the New York State competition, which will take place on Saturday, April 5th in Binghamton, NY.




Kaegebein School Second Grade Play - 2008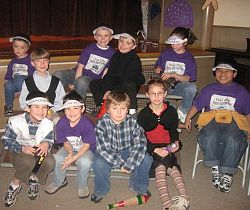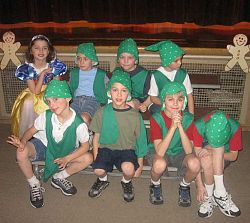 (Left) The Old Home Improvement crew (right) Snow White and Seven Dwarfs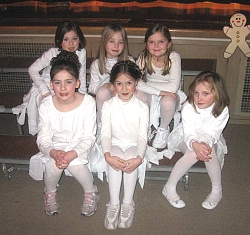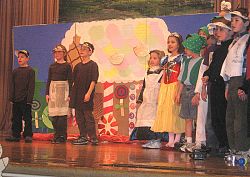 (left) Snowflakes Cast
Jodi Robinson Photos - Click for larger view
The second grade students of Mrs. Karen Cassata, Mrs. Michelle White and Mrs. Patricia Ludwiczak presented a play titled "This Old Gingerbread House" on Friday, February 15, 2008. The story was based on Hansel and Gretel coming home to their gingerbread house and finding that the animals from assorted nursery rhymes had eaten their house. It needed a complete renovation and that is where the "This Old Home Improvement" Show cast took over and remodeled the gingerbread house. The story was very funny and the children did a great job with their acting and singing.


---



Valentine's Day At Kaegebein - February 2008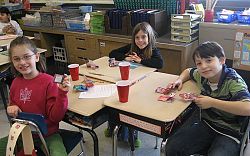 - - -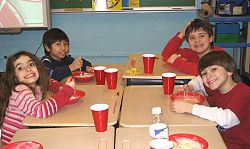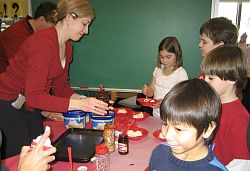 - - -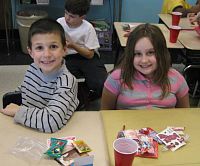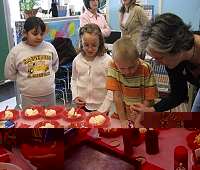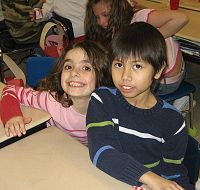 Mrs. Maria Seibert's third class enjoyed ice cream sundaes, crafts, and sharing Valentines .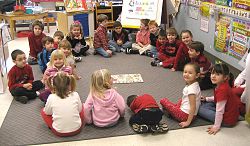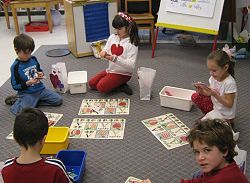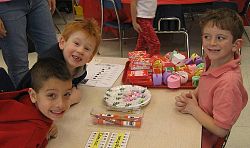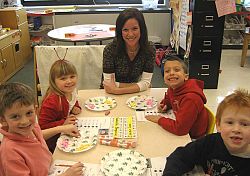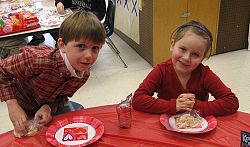 Miss Maureen Littlefield's class at Sidway Elementary School
Kim Schopp Photos -Click for larger view
Valentine's Day celebrations were held throughout Kaegebein and Sidway Elementary Schools.


---



Positive Behavioral Interventions and Supports In Full Swing - 2008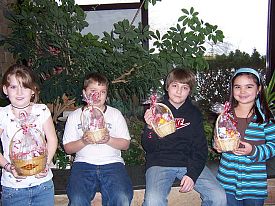 (front left) Jessica Harvey, Jacob Gilcart, Brian Verso, Mariana Floro
Click photo for larger view.
The P.B.I.S. program (Positive Behavioral Interventions and Supports) is in full swing at The William M. Kaegebein Elementary, focusing on auditorium and hallway behaviors. All students have viewed a video demonstrating how the Viking Values are to be used in the hallway and auditorium. As a reward for using their Viking Values, students have the opportunity to earn Viking Value tickets, which go into a grade level raffle drawing for each month. This month's winners received a candy basket from Kelly's Country Store on Grand Island Blvd. The faculty and staff of Kaegebein are proud of these students who demonstrate their Viking Values.


---



Kaegebein Students Celebrate Chinese New Year - February 2008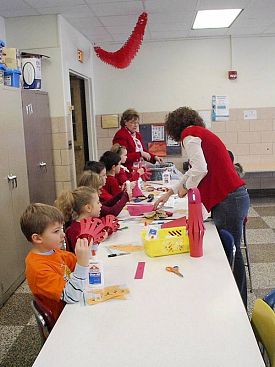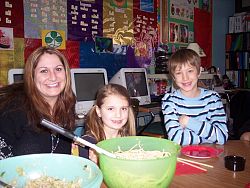 (Left) Making paper lanterns; (right) Teaching assistant Dana Santospirito, Emily Fred and Austin DiSanto.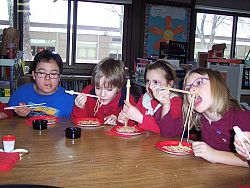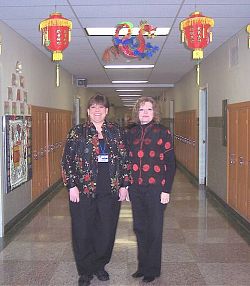 (Left) Mitchell Weiss, Johnny Vandermey, Eva Bobeck, Abby Czerwonka; (right) Teachers Karen Cartwright and Mrs. Cindy Kennedy-Piccione.
Click photos for larger view

This is the seventh year that teachers Mrs. Karen Cartwright and Mrs. Cindy Kennedy-Piccione have celebrated the Chinese New Year with their students. This year the classes of Miss Dana Santospirito, Mrs. Alicia Szyprowski, Mrs. Kathy Fik and Mrs. Karen Cassata attended also. The students made egg rolls and Lo Mein and ate with chop sticks. They also made dragon puppets, tangrams (a geometry puzzle), Chinese lanterns and played Chinese jump rope and Chinese checkers.




Kaegebein Family Fun Night - 2008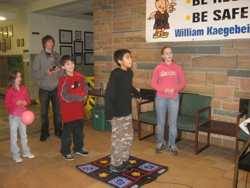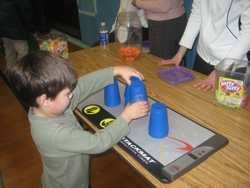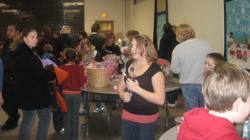 Kim Kernin Photos - Click for larger view.
Wow!! What an awesome night for the families at Kaegebein Elementary. All who attended the PTA sponsored annual Family Fun Night Event on Thursday, January 24th at Kaegebein had a ball. The outstanding basket raffle featured many beautiful theme baskets such as Webkinz, Valentine's Day, sports and more. Many carnival type games delighted all ages and the Kaegebein kitchen served food such as pizza, nachos with cheese, and baked goods. It was the most successful fun night ever and was also the highest in attendance by families. The PTA would like to thank all the families that came out and showed their support. A big thanks to the committee chairs, Jeannie Dickinson, Kim Schopp, and Sue Wolcott and all the volunteers . The PTA couldn't have done it without them. All proceeds will support Kaegebein PTA programs for the students of Kaegebein.


---



Eight Kaegebein Students Place In Niagara Region District Competition - 2008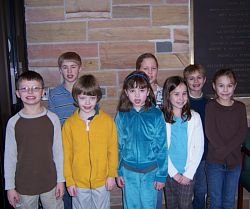 (front left) Jacob VeRost, Charles Hegarty, Jessica Faso, Shannon Driess, Lauren Chadwick; (back) Andrew Riederer, Melissa Ullrich, Michael Archer
Carol Hamlin photo - click for larger view
Eight Kaegebein Elementary School students placed in district level competition of the annual Reflections Program for the 2007-2008 "I Can Make A Difference By..." The students and divisions follow:


Film/Video
Primary 1st Place - Jessica Faso - 2nd grade - Kaegebein
 
Photography
Primary 1st place - Michael Archer - 2nd grade 
    2nd place - Charles Hegarty - 2nd grade
 
Intermediate Hon. Mention - Shannon Driess - 5th grade
 
Visual Art
Primary 1st place - Lauren Chadwick - 2nd grade
 
Intermediate 1st - Melissa Ullrich - 5th grade
 
 1st place (going to State level) Jacob VeRost - 2nd grade
 
Music
Intermediate 1st place - Andrew Riederer - 5th grade

This National PTA sponsored program offers students the opportunity to create works of art for fun and recognition. Students in preschool through grade 12 are encouraged to create and submit works of art in four areas: literature, musical composition, photography, and the visual arts (which includes art forms such as drawing, painting, print making, and collage.
Designed to enhance rather than replace a quality arts education, the Reflections Program provides opportunities for students to express themselves and to receive positive recognition for their artistic efforts.


---
Other Grand Island Pages to Visit:
Churches | Email Directory | Government | Groups
GIHS Grad List | Guestbook | Please sign in! | Local Artists | | Photo Album | Town History | Useful Links
| Website Design | Wildlife | Isledegrande's Home Page | GIECOM.NET'S Home Page
Please Email News Releases to Teddy Linenfelser, Thank You.
This website is sponsored by
GIECOM.NET
1869 Whitehaven Road, Grand Island, New York, 14072-1803 USA


Copyright © 1995-2008 All rights reserved.