William M. Kaegebein Elementary School
News Page 2009
JANUARY - JUNE
PAGE 1
1690 Love Road
773-8840

Previous News Pages
Kaegebein Elementary School District's Website

Principal
John Wiertel
---



Kaegebein Art Classes Have Mexican Theme - June 2009
Kaegeben art teacher Mrs. Alexann Incao decided on a Mexican unit for the 2008-2009 school year titled MEXICOLOR. The above slide show pictures feature the artwork starting with the 2nd grade classes and ending with the 5th grade. Below is a short description of the work done by the students.

2nd grade
Students made clay disks with Mexican designs.
We read the book "Clara and Senior Frog" and they made self portraits based on the book with magical backgrounds.
They made tissue flowers, and Gods eyes weavings.

3rd grade
Students illustrated the Mexican tale, "The Woman Who Out Shone The Sun".
Students created circle paintings based on pictures of Mexican bowls.
They also made beautiful clay sunflower bowls and sunflower prints.

4th Grade
Students created yarn paintings in the style of the Huichol Indians of Northwest Mexico.
They also made the animal masks.

5th grade
Students made music masks and paintings to decorate our auditorium.
They also created a Mexican harvest still life.
A Mexican weaving and Mexican turtles made out of clay and decorated with ink.

Art Club
Coil Baskets and landscapes.




Kaegebein Third Graders Visit Niagara Falls - June 2009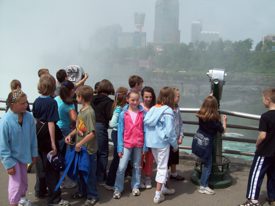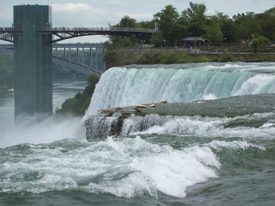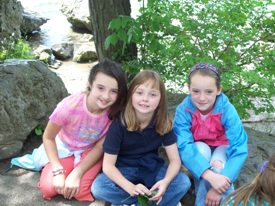 From left: Julie Pusateri, Victoria Busch and Sarah Wolcott.
Kim Kernin Photos - Click for larger view
The Kaegebein 3rd grade classes of Mrs. Lynn Ackendorf, Mrs. Janice Ahne, Mrs. Kathy Andress, Mrs. Maria Seibert and Mrs. Hope Hartman went on a 2 mile guided tour of Niagara Falls which included Goat Island, Three Sisters Island and viewing the American Falls, Bridal Falls and the Canadian/Horseshoe Falls on Wednesday, June 10th. They learned about the history of the Falls, how they got their names and how the falls were formed along with many other interesting local facts.




Kaegebein Third Graders Perform "The Garden Show" - June 2009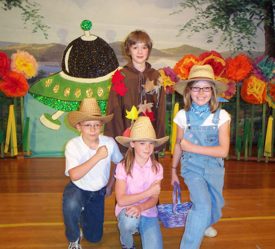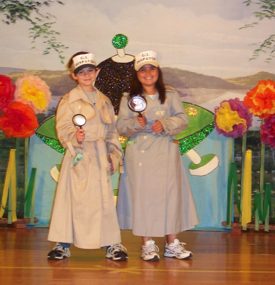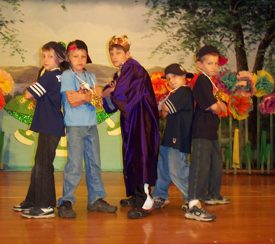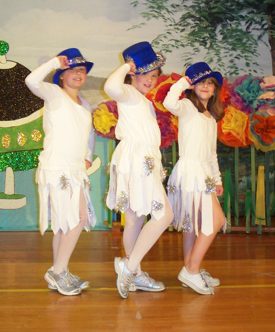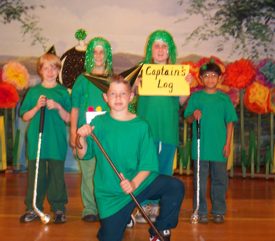 Click photos for larger view
Kaegebein students and families experienced an out-of this-world, show-stopping performance by the 3rd grade classes of Mrs. Janice Ahne, Mrs. Maria Seibert, Mrs. Hope Hartman, and Mrs. Karen Reddien on Friday, June 5th. These 3rd grade students had been working hard in the classroom learning about plants. They brought their knowledge to life with singing, dancing, and humor in their performance of "The Garden Show." Aliens from the planet Chlorophyll land on planet Earth. With no fuel for their spaceship, they turn to a few helpful gardeners and Earth's natural resources to get them back home. The play included everything from fungus to flowers to a singing compost pile.
Kaegebein principal Mr. John Wiertel noted, "Not only did the play enhance the students' science curriculum and fluency skills, but also provided them with an important social experience."




Revolutionary Reenactor Visits 4th Grade Students - June 2009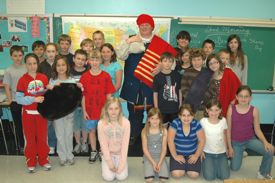 Mrs. Kathy Chadwick's students with "Traitor" Jason Buckley - Click photo for larger view
A member of an Old Fort Niagara reenactment group payed a visit to the fourth grade classes of Kaegebein School on Wednesday, June 3rd. Mr. Jason Buckley's costume was that of a traitor from the late 1700's. He described life at the fort at that time and brought along artifacts such as beaver and deer skins. All fourth grade students will be visiting the fort during the week of June 8th through a grant provided by Old Fort Niagara and the Office of Juvenile Justice & Delinquency Prevention.




5th Grade Students Create Tenement House - May 2009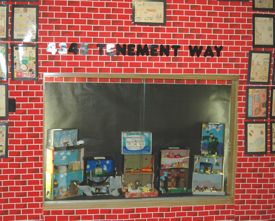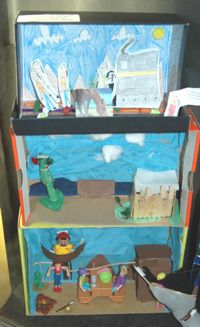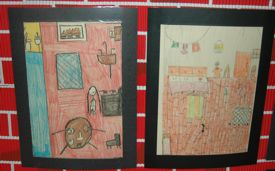 Jodi Robinson Photos - Click for larger view
The 5th grade classes of Ms. Linda Zimmerman and Miss Megan Eda Natalino at Kaegebein Elementary completed a unit on immigration. As a culminating project the students created a large, tenement house. In the display, located in the fifth and fourth grade wing, each child recreated a room of a tenement house as a window. In addition, in groups children created dioramas emphasizing important lessons that they learned about immigration. Special thanks to Kodie Shamrock, a junior at Grand Island High School, for assisting in assembling the display.




Kaegebein Third Annual Mini Relay For Life - May 2009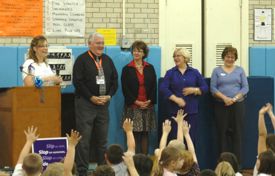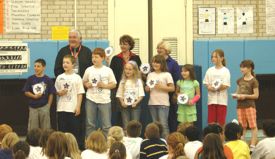 Left: Cindi Booker, Peter McMahon, Jane Dent, Gretchen Leffler and Mary Dunbar-Dalusio.
Right: Over $40 fundraisers.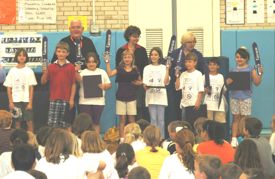 Left: Over $100 fundraisers. Right: First Relay Lap
Jodi Robinson Photos - Click for larger view
The third annual Kaegebein Mini Relay was held on Thursday, May 28th. On hand for the opening ceremonies were Kaegebein Relay Coordinator and teacher, Mrs. Cyndi Booker, Supervisor and GI co-chair Peter McMahon, Regional Vice President of ACS Gretchen Leffler, Community Executive of ACS, Jane Dent, GI Co-chair Mary Dunbar-Dalusio and many students and teachers. After discussing the importance of living a healthy lifestyle through diet, exercise, sun safety and being tobacco free, Mrs. Booker noted how individuals can make a difference through fundraising for Relay.


Students recognized for raising $40 or more:
Nicholas Anzalone 
Ryan Kernin
Anthony Diletti
Joy VanderMey
Taylor Yensan
Madison Phillips
Sidney Smith
Anna Martin
Allyson Schoener

Students recognized for raising $100 or more:
Brennen Joslyn
Alexa Mallare
Jennalise Olson
Christian Acosta
Hannah Ullrich
Dylan Russo
Gianna Horvath


After the opening ceremony, the first group of students made their way out to the school yard to make three laps around a designated area. The Kaegebein Relay For Life team has raised $4,197.76 so far, and still have over a week to raise more.




Kaegebein Principal Wiertel Retirement Musicale - May 2009



Left: Supervisor McMahon presents proclamation to Principal Wiertel.
Right: Orchestra of former Kaegebein students.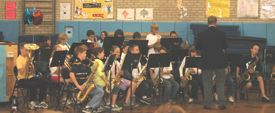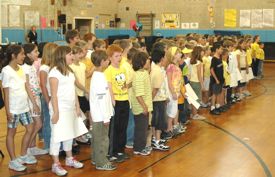 Left: Kaegebein Jazz Band. Right: Third grade tribute.
Jodi Robinson Photos - Click for larger view
In honor of retiring Kaegebein Principal John Wiertel, the Kaegebein family held a surprise musicale on Wednesday, May 27th. The Kaegebein annual musicale was cancelled last winter due to a snow day, so this was a perfect way to combine two special events. After an introduction from Kaegebein teacher Mrs. Kathy Chadwick and School Superintendent Mr. Robert Christmann, Town Supervisor Peter McMahon presented Mr. Wiertel with a proclamation that Wednesday, May 27th was Principal John Wiertel Day. Mr. Wiertel was also presented with the Kaegebein PTA Distinguished Service Award.
An orchestra composed of former Kaegebein students and directed by music teacher Ms. Debra Remson played "Sing" and "Singing in the Rain." Conducted by Mr. Michael Robertson, the Kaegebein Jazz Ensemble played a selection re-titled, "Power & Praise For Our Principal" for Mr. Wiertel, who is a huge jazz fan. Each grade performed a musical selection in honor of Mr. Wiertel and a slide show was presented. Principal Wiertel has been in education for over 30 years, 20 years in the Grand Island School District.




Kaegebein Play "The Choice Is Yours" - May 2009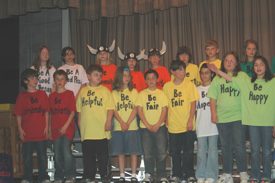 Jodi Robinson Photos - Click for larger view
The Kaegebein Elementary classes of Mrs. Lynn Ackendorf and Mrs. Tricia McDonald presented a play titled "The Choice Is Yours" on Wednesday, May 13th. Written by Mrs. McDonald, the third and fourth grade students sang songs and gave examples of making good choices. Each day the students at Kaegebein hear an announcement telling them how they can make each day a great day. Principal John Wiertel reads the message and then always says, "make it a great day, or not, the choice is yours." This play reminds the students of that important message. It is their choice to be respectful, honest, fair, and responsible each day.




Kaegebein Postal Workers Recognition Ceremony - May 2009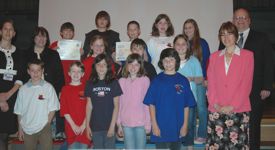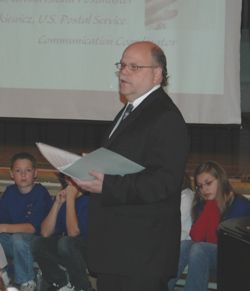 Left Photo:
On left: Kaegebein teachers and Postal Supervisors Karen Cassata(L) & Pat Ludwiczak.
On right: USPS Communications Coordinator Karen Mazurkicwicz & Grand Island USPS Postmaster Martin Klaffka.
Right Photo: Postmaster Klaffka addresses students.
Jodi Robinson Photos - Click for larger view
A Postal Workers Recognition Ceremony was held on May 4, 2009 in the Kaegebein Auditorium. Special guests included Grand Island USPS Postmaster Martin Klaffka and the Western New York USPS Communications Coordinator Karen Mazurkicwicz. The students began the ceremony by describing the different positions they held in the Kaegebein Elementary School post office. Postmaster Klaffka thanked the students for their work in their postal positions over the past school year. He also described the importance of letter writing in everyday life, using communications skills, writing and reading. Postmaster Klaffka awarded each of the students a certificate of recognition and a postal pin.
School Postal Workers & Positions:
Max Russel and Sarah Kustich - Postmaster
Tom Riniolo and Sam Wakefield - Facer
Zack O'Neil and Madison VeRost - Canceller
Kayli Nelson and Emily Eberhard - Clerk
Roman Cacciatore and Troy Brady - Sorter
Taylor Internicola, Kaitlynn Tuohy and Ricky Hoover - Letter Carriers
Mrs. Pat Ludwiczak and Mrs. Karen Cassata - Supervisors




Kaegebein Destination Imagination Team In Finals - May 2009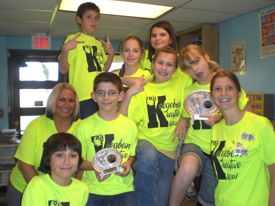 Photo: Row 1: Alex Cancilla, Miss Fabio, Row 2: Miss Santospirito, Nicholas Rallo, Natalie Braun, Katie Verso, Row 3: Matthew Studley, Holly Lutnick, Mikayla Rosati - Click photo for larger view
Congratulations to the Kaegebein Kreative Krew for an incredible second place finish at the New York State Destination Imagination competition. The team has advanced to the Global Finals competition which is being held May 20th through May 24th in Knoxville, Tennessee. The team, from Kaegebein Elementary, is a group of seven fourth and fifth grade students lead by advisors, Melissa Fabio and Dana Santospirito. Team members are required to think on their feet and use creative problem solving techniques to solve a variety of challenges. Kaegebein Elementary has been a part of Destination Imagination since the program began 26 years ago. This is Kaegebein's first trip to the Global Finals.




Kaegebein Student Readers Visit Sidway - April 2009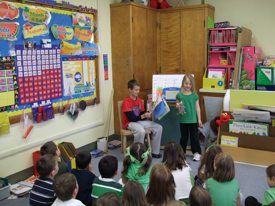 Click photo for larger view
Forty-two students from Kaegebein Elementary traveled to Sidway School on Thursday, April 23 to read to Sidway students. The student readers were chosen from those who successfully completed a reading incentive that began on Read Across America Day, March 2, Dr. Seuss' birthday. The boys and girls had to read five books from five different genres and complete a "Reading Passport" in order to qualify. Two students who met the requirements were chosen from each class to travel to Sidway, where they entertained the class with stories from some of their favorite books.




2nd Grade Earth Day Play - April 2009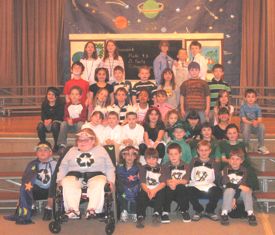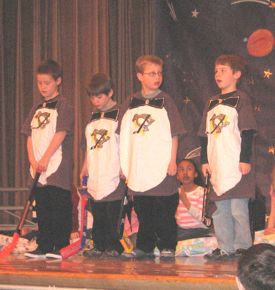 Left: Cast, Right: Penguins
Jodi Robinson photos - click for larger view
The classes of second grade teachers Mrs. Patricia Ludwiczak, Mrs. Deanna Schoenberg and Mrs. Lise Leahy presented a play on Wednesday, April 8th entitled "Every Day Is Earth Day". With the help of music teacher Mrs. Renee Michki, the students performed three songs including a Recycle Rap tune. Among the cast were polar bears, trees, penguins, butterflies, teachers and students all stating earth facts about climate change, ecology and recycling.




Fifth Grade Ethnic Luncheon - April 2009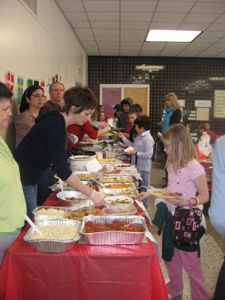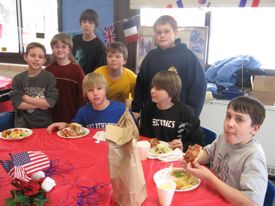 Right: Ms. Linda Zimmerman's class, from left: Standing: Derek Konopski, Travis Mikulski, Jesse Arch, Jacob Gilcart and Spencer-Jon Zukic.
Sitting: Jake Bass, Zach O'Neill and Ben Graziano.
Jodi Robinson photos - click for larger view
For many years the fifth grade students at Kaegebein Elementary have ended their course of study on Immigration with an ethnic luncheon. This year's event was held on Tuesday, April 7th with a wide variety of items sent in by many parents of fifth graders.




Author Peter Roop Visits Kaegebein - March 2009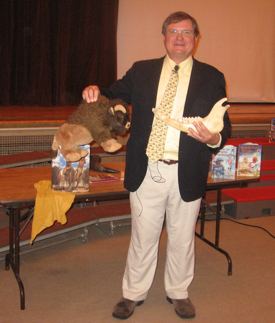 Author Peter Roop
Jodi Robinson photo
The Kaegebein PTA has sponsored a yearly author visit since 1997. This year, author Peter Roop visited the school on Monday, March 23, 2009. Mr. Roop along with his wife Connie Roop, have written over 100 children's books that include historical fiction, non-fiction, and joke and riddle books. Previously, he was a 4th and 5th grade teacher for fifteen years and a Wisconsin State Teacher of the Year. Mr. Roop described to the students the process involved in writing a book. Ideas for a new book can come from other books, newspaper and magazine articles and his travels. He begins with a map of the area he is using as the setting and most of the time, visits to get a feel for the location. Then begins the researching through reference materials either at libraries or online. The other steps in writing a book are the development of the characters, identifying the problem (every story has a problem), solving the problem and the ending. Mr. Roop gave a slide show and reading of his popular book, "Keep the Lights Burning, Abbie."




"Hansel & Gretel Eat Right" - March 2009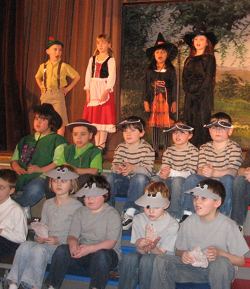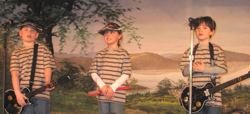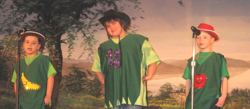 Jodi Robinson photos - click for larger view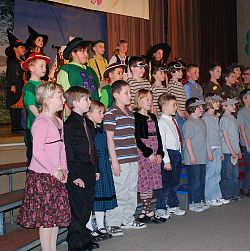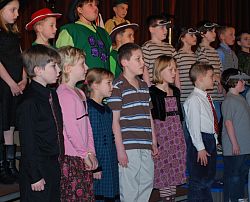 Fred Claus photos - click for larger view
The Kaegebein second grade classes of Mrs. Cyndi Booker and Mrs. Kathy Fik performed in a play entitled "Hansel & Gretel Eat Right" on Thursday, March 12th. In the story Hansel and Gretel run away from their home because their parents want them to eat healthy and they prefer to eat junk. The children go in search of witches who they know have a house made of candy and junk food. During the search, Hansel and Gretel run into many groups of woodland animals and elves who teach them through many clever songs that healthy eating is the way to go. At the end they decide to return home to their parents and eat right.

More Photos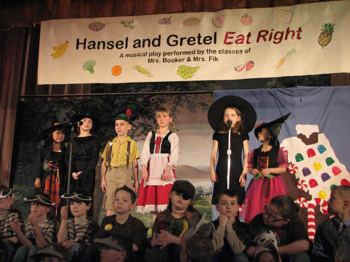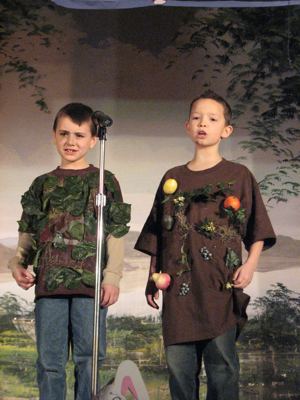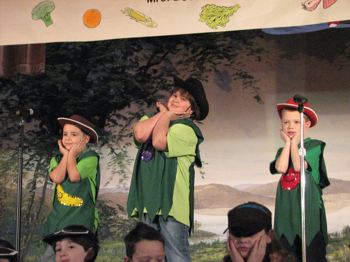 Kristen Parisi photos



Kaegebein Chronicles Makes It Debut - Feb. 2009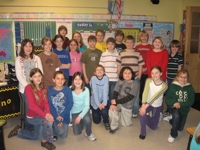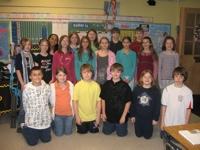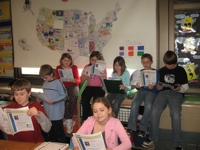 From Left: Ms. Zimmerman's class, Miss Natalino's class, students reviewing the Chronicle.
Jodi Robinson photos - click for larger view
The fifth grade classes of Ms. Linda Zimmerman and Miss Megan Eda Natalino recently published the "Kaegebein Chronicles." The newspaper for Kaegebein School includes many different articles such as local, national, classroom and human interest stories. The students participated in all aspects of producing the newspaper, set-up, choosing and researching article subjects and lay-out. They all agreed that meeting deadlines and editing copy were two of the hardest aspects of producing a newspaper. The classes would like to work on spring and summer editions before they move on to the middle school.




Magician Entertains 2nd Graders At Kaegebein - Feb. 2009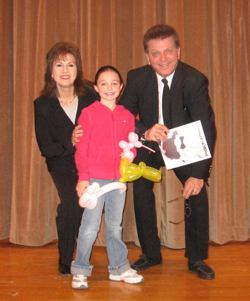 From Left: Carol Allen, Emily Kurtzhalts and Magician Rob Allen.
Jodi Robinson photos
The Very Dairy Magician Rob Allen and his assistant Carol Allen entertained Kaegebein 2nd grade students on Monday, February 9, 2009. Rob and Carol have been performing their show sponsored by Milk for Health and Dairy Farmers of WNY, for 33 years. The magician amazed the students with various magic tricks using colored scarves, white doves, a talking picture of a cow, and milk. Along with the magic was very important information on the vitamins in milk and what each vitamin does for the human body. Emily Kurtzhalts from Mrs. Kathy Fik's class was chosen as a volunteer from the audience, and helped with the magic tricks and also played a game of "Meal or No Meal." This game provided information on what a balanced meal contains and the five basic food groups in the food pyramid.




Mrs. McDonald's 4th Graders Visit Wegmans - Jan. 2009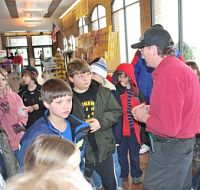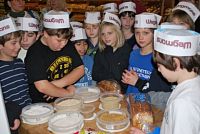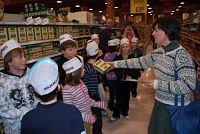 Fred Claus photos - Click for larger view
Fourth grade students of Kaegebein Elementary teacher Mrs. Tricia McDonald's 4th grade class enjoyed a field trip to Wegmans on Friday, January 30, 2009.




4th Graders Visit Wegmans - Jan. 2009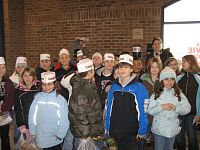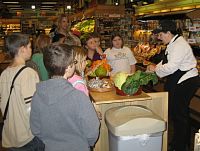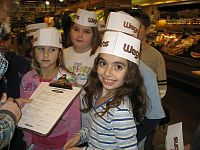 Kim Kalman photos - Click for larger view
A field trip to Wegmans on Thursday, January 22, 2009 by the Kaegebein Elementary 4th grade students in Mrs. Karen Cassata's class was the highlight of the day. The class and their teacher toured the various departments and were given demonstrations by Wegmans employees on making health food choices. Representatives from each department explained the different kinds of meat, seafood, cheeses, fruits and breads. The 4th graders especially enjoyed the samples they were given at each station.




Kaegebein Artwork On Display - Jan. 2009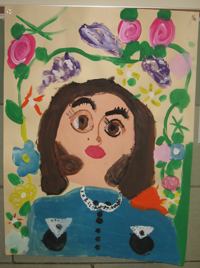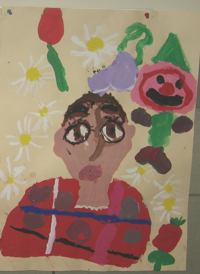 &nbsp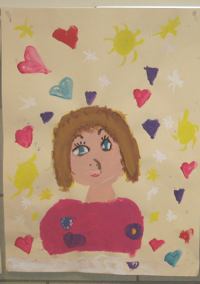 2nd grade self portraits with an imaginary background based on the book "Clara and Senior Frog."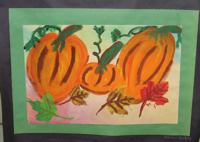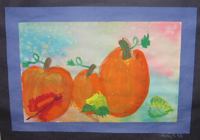 &nbsp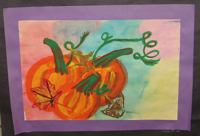 5th grade Art Club paintings, Tempera on a watercolor wash.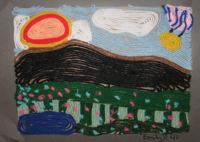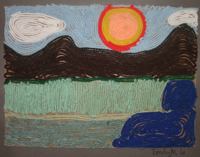 &nbsp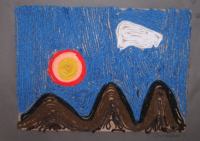 4th grade students created yarn paintings in the style of the Huichol Indians (pronounced Wee-chol).
The Huichols used this style of painting to tell stories about their land and history.



Kaegebein PTA's Niagara Region Reflections Winners - 2009

"Reflections" is a national PTA program that encourages participation in the arts. This year's theme was "WOW". The Niagara Region PTA Reflections results have been released. The Niagara Region PTA consists of 16 school districts (including Grand Island) and 37 units in Niagara, Orleans, and Northern Erie County.
The first place winners' entries: (Caitlyn Zapp, Lauren Chadwick, Gianna Horvath, Elizabeth Podsiadlo, Miranda Proctor, and Zachary Valvo) will advance to the NY State PTA level competition. The state level judging results will be made known in mid-March. Congratulations to the following Kaegebein Elementary School students who received awards at the regional PTA competition level:

 
First place:
Caitlyn Zapp: Grade 2: Primary Photography
Lauren Chadwick: Grade 3: Intermediate Photography
Gianna Horvath: Grade 2: Primary Literature
Elizabeth Podsiadlo: Grade 2: Special Category
Miranda Proctor: Grade 2: Primary Dance Choreography
Zachary Valvo: Grade 4: Intermediate Film Production
 
Second Place:
Gabrielle Gagliardi: Grade 4: Intermediate Visual Arts
Josephine Sikora: Grade 2: Special Category
 
Third Place:
Sarah Bellinger: Grade 5: Intermediate Visual Arts
 
Honorable Mention:
Marie Wagar: Grade 2: Primary Dance Choreography
Kaegebein School News 2009 - JULY-DECEMBER
Kaegebein School News 2008
Kaegebein School News 2007
Kaegebein School News 2006
Kaegebein School News 2005
Kaegebein School News 2004
Previous Kaegebein School News
---
Other Grand Island Pages to Visit:
Churches | Email Directory | Government | Groups
GIHS Grad List | Guestbook | Please sign in! | Local Artists | | Photo Album | Town History | Useful Links
| Website Design | Wildlife | Isledegrande's Home Page | GIECOM.NET'S Home Page
Please Email News Releases to Teddy Linenfelser, Thank You.
This website is sponsored by
GIECOM.NET
1869 Whitehaven Road, Grand Island, New York, 14072-1803 USA


Copyright © 1995-2009 All rights reserved.