Little League Baseball Webpage
2007
Previous Little League News Page
Little League News Page 2005
Little League News Page 2006

"Little League" Official Website

Official Grand Island Website

For forms and more information: www.grandislandll.com


---
Grand Island Little League Baseball Mission: to provide baseball and softball
to the youth of Grand Island, to build good citizens, sportsmanship, leadership and teamwork.

---
Little League Season: May through July.
The League had 63 teams with games for house teams and tournament teams (All-Stars).
There were over 800 girls and boys between the ages of 5 and 18 participating in 2006.


---



Little League Grand Island Fire 10U Wins Championship - Summer 2007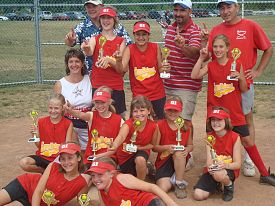 (front) Jillian Sheehan and Jenna Neff; (2nd row) Halle Fitzgerald, Chelsea Sinicki, Sabrina Giordano, Sarah Bellinger, Lillian Cultara; (3rd row) Coach Chris Sheehan, Shannon O'Conner, Elizabeth LoBruto, Lexi Miller; (back) Coach Dean Neff, Tom Giordano, and Mike Cultara. Missing from the photo is Emily Fouco.
Click photo for larger view
The Grand Island Fire won the 2007 Minor Division Playoff Championship by defeating the G.I. Thunder 5-4, The G.I. Sunbirds 2-1 and a hard fought come from behind win 3-2 against the G.I Racers. The Fire trailed 2-0 in the top of the 5th when Jenna Neff, Jillian Sheehan and Halle Fitzgerald all scored to put the Fire up 3-2. In the bottom of the sixth after a lead off hit by Marrisa Ruffalo who eventually made it to third, was stranded after Sheehan struck out the next three batters to clinch the win for the Fire. Sheehan and Neff combined to go 3-0 with 34 strikeouts in the 3-game series. Among those in the over .500 hitting club for the year are Neff (.763), Lexi Miller (.633), Sheehan (.595), Chelsea Sinicki (.556), and Elizabeth LoBruto (.545). Other members Lillian Cultara, Sabrina Giordano, Emily Fouco, Fitzgerald, Shannon O'Conner and Sarah Bellinger all contributed to the winning season with their bats and outstanding defense.




Little League 10U All-Star Team Wins District Tournament - Summer 2007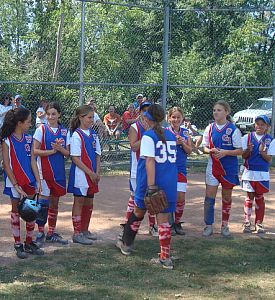 Tournament players are from left. Liana Buscaglia, Jenna Neff, Natile Argy, Leah Geis, Hannah Corrao, Marielle Buffamonte, Meaghen Oleary, Alley Cutting, Jillian Sheehan, Grace Scherrer, Kristy Kalman, and receiving the MVP is Marissa Ruffalo.
Click photo for complete and larger view
The Grand Island Little League 10 and Under All-Star team won the District Tournament on Grand Island by beating Hamburg twice. They advanced to the sectional tournament held in Union Springs where they took runner-up, beating Fredonia in the semi-finals and eventually losing to Cicero in a hard fought game. The 10 and Under All-stars took another 2nd place int the Connie Mack Tournament, going undefeated in pool play before losing to Xtreme Fast Pitch in the Finals.




Little League 11U All Stars Take First In Tournament - August 2007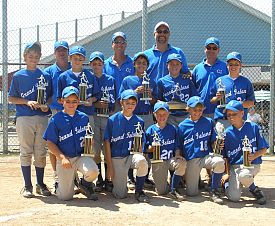 (front left) John Holody, Nick McKenna, Jacob Sweeney, Adam Stanczyk, Mark Hughes; (middle) Jacob Burford, Jake Lawley, Josh Ungaro, Greg Nicolia, Quinn Corrao, Collin McMahon; (top) Coaches Dave Ungaro, Tom McMahon, Jamie Corrao and Kirk Lawley
Click photo for larger view
The Grand Island Little League 11U All Stars captured 1st Place in the Mathewson McCarthy Baseball Tournament held August 2-5, 2007 in Williamsville, NY. The 11U team, consistently improving with each tournament, was able to meet their own high expectations through solid pitching, stellar defense and explosive hitting. In pool play GI went 2-1 with victories over Mel Ott and West Seneca, with their lone setback coming to host Mathewson McCarthy (MM). In the championship game they were given a second crack at MM and extracted their payback with a 9-1 victory. Quinn Corrao pitched his second complete game victory of the tournament giving up only 3 hits while striking out 8. Collin McMahon, Jake Lawley, Mark Hughes and Quinn Corrao all went 2 for 3 at the plate with McMahon hitting a double and triple to account for his team high 4 RBIís. Josh Ungaro contributed a two-run triple down the left field line and Greg Nicolia, Corrao and Lawley each pitched in with one RBI apiece. John Holody added a triple and one run scored. Defensively Jacob Burford was exceptional at catcher and Jacob Sweeney, Nick McKenna and Adam Stanczyk all contributed to the team championship with heads up play in both the infield and outfield.




Little League's Veterans Memorial Baseball Tournament - July 2007
Grand Island Little League hosted the Grand Island Veterans Memorial Baseball Tournament July 18-22, for eleven- and twelve year olds. Eighteen teams participated including four Grand Island teams.
Winners:
12 year old A division
1st place Lancaster Lightning
2nd place Orchard Park

11 year old A division
1st place Lewiston Porter
2nd place Lancaster

12 years old B division
1st place Lewiston-Porter
2nd place Grand Island

11 year old B division
1st place Clarence Travel
2nd place Orchard Park
Grand Island's own Ryan Miller won the Home Run Derby which consisted of two players from each of the 18 participating teams. Congratulations Ryan.
Thanks to all the parents and individuals who volunteered to help make this tournaments a success.
A special thanks to the town recreation department for all the work on the diamonds and park. Visiting teams from other towns were very impressed with the tournament and the accommodations.




Royals Win Little League Major Division Championship - July 2007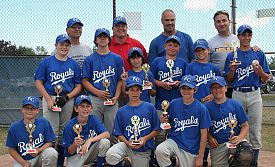 Click photo for larger view
Pictured (front left) Mike Diletti, Ben Morrish, Josh Miller, Eric Bellanca, Nick Soos; (middle) Robert Augugliaro, Elijah Geis, Nick Pino, Mike Dennis, Mark Hughes, Ryan Miller; (back) Coaches Mark Bellanca, Jerry Augugliaro, Jeff Miller and Mark Pino.
Royals teammate Matt Gagola is missing from the photo.
The Royals won the Grand Island Little League Major Division championship with a thrilling run through the playoffs. In the opening round the Royals beat the Cardinals 9-3 with Josh Miller and Matt Gagola both going two for three at the plate. In the semifinals the Royals defeated a strong Cubs team 4-3 coming from behind in the fifth inning for the win. Nick Pino scored the tying run in the fifth and Mark Hughes drove in Nick Soos with the winning run in the last inning. The championship game against the Blue Jays was a classic, a very well played defensive struggle that the Royals won 3-2 in extra innings. Elijah Geis pitched five and two thirds innings, striking out 15 and only allowing 3 hits. Mark Hughes drove in the Royals first two runs in the fourth inning. With the score tied at two in the seventh inning Ryan Miller led off with a home run over the right centerfield fence for what proved to be the winning run. During the regular season the Royals were led by pitchers Elijah Geis and Nick Soos. Also pitching well were Ryan Miller and Ben Morrish who also was a standout at first base. Eric Bellanca and Josh Miller lead the infield with their strong fielding, while Mike Dennis contributed reliable fielding and a strong bat. Mark Hughes proved to be very valuable with the bat and as catcher. Matt Gagola, Robert Augugliaro and Nick Pino were excellent as utility players, making important defensive plays while also contributing on the offensive side with timely hitting. Mike Diletti was very reliable and had a RBI single in the first playoff game. Congratulations to the Royals on a fantastic season.




Little League To Hold Food Drive - June 2007
The Grand Island Little League will hold a food drive on Saturday, June 16th for the Grand Island Neighbors Foundation. "We are asking anyone interested in helping this cause to bring a nonperishable food item to Veteran's Park between 10 a.m. and 4 p.m.," a Little League spokesman said. Donations will be collected at each diamond and at the snack stand.




Beautiful Day For Little League Opening - May 2007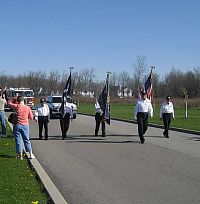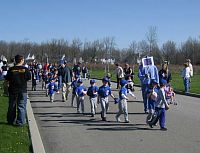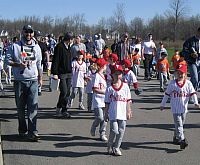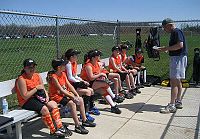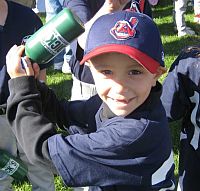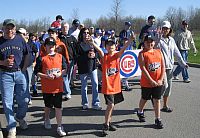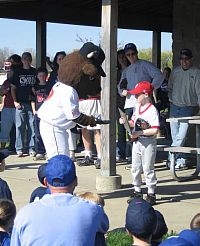 The Girls Softball team, Sunbirds, coached by Tim Edwards and Dave Gaydosh, are shown during their first game of the season on opening day.
Kim Schopp photos - click for larger view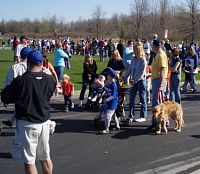 Jeff Stange photo - click for larger view

The Grand Island Little League players, coaches, parents and friends had a beautiful opening day for their parade, awards and games on Saturday, May 5, 2007 at Veterans Park. The annual parade began at 9:15 a.m. and opening ceremonies followed. Tee Ball, PeeWee and softball games were all played as scheduled. The event was also attended by the Grand Island Fire Company, VFW Post #9249 and town police. The Grand Island High School Brass Ensemble conducted by Marty Allen played the National Anthem.
Little League President Mark Goc, with the help of Buster Bison, handed out awards and prizes. Every player attending the parade received a water bottle and chance to win prizes.
Members of the Grand Island Little League wish to extend appreciation to Lisa Amsdill for coordinating the parade, to Peter McMahon and Mary Cooke for attending the festivities, and to Tim Hortons for donating the coffee and Tim Bits.
2006 Sportsmanship Awards:
PeeWee - Max VeRost - Sportsmanship
International BB - Michael Podgorny - Sportsmanship
Minors BB - Matt Kelly - Sportsmanship
Majors BB - Brian Brink - MVP
International SB - Alexandra Cutting - Sportsmanship
Minors SB - Ashley Colon - Sportsmanship
Majors SB - Susan Winkelstein - MVP

2007 Scholarship Award:
Softball - Andrea Monaco
BB - Larry Loveless

2006 Service Award Recipients:
Larry Klock
Mark Bellanca
George Casey
Roger Greinert
Steve Athoe
Chris Gibney
Tom Moody
Lisa Amsdill
Joe Henderson




Little League Announces Evaluations, Clinics and Equipment Swap/Sale - March 2007
The Grand Island Little League has scheduled player evaluations and umpire clinics for the 2007 season. Please check the following pages for information: Player Evaluations Umpire Clinics.
†Do you have baseball equipment that is gathering dust? Did your kids outgrow their equipment and need new stuff? Is this your childís first year playing? We are again going to hold our equipment swap/sale on Saturday, March 31st from 11 a.m. to 12 noon at the snack stand in Veteranís Park. So bring your old gloves, bats, spikes, and helmets that youíre not using and maybe someone else might want it for themselves.†Little League International has partnered with "Pitch In For Baseball" for the collection and distribution of new and gently used youth baseball and softball equipment. "Pitch In For Baseball" distributes donated equipment, which will be sorted and redistributed to underserved or recently devastated chartered local Little League programs. Any equipment from the swap that you want to donate will be collected and combined with GILLís equipment donations and will be sent to "Pitch In For Baseball."




Little League 2007 Opening Day
Grand Island Little League opening day ceremonies at Vets Park, Bedell Road, will take place on Saturday, May 5, 2007. The Parade starts at 9:15 a.m. and the ceremonies will begin at 9:30 p.m.




It's Grand Island Little League Registration Time - 2007

To get a copy of the registration form from the Grand Island Little League, click Registration Form, then click "Registration". Registration deadline is March 17, 2007.




GILL 10-year B Team Wins Clarence B Tournament 2006


Pictured (front to back) 1st Row: Shawn Fermoile, Griffin Atkinson, Aaron Schauger
2nd Row: Ben Morrish, Adam Stanczyk, Kevin Salonek, Tanner Atkinson
3rd Row: Matt Kelly, Nic Pino, Greg Nicolia, Jake Lawley, Robert Augugliaro, Tyler Ludwig
Back Row: Coaches: Jerry Augugliaro, Kirk Lawley, Jeff Schaugger, Jim Atkinson
The Grand Island Little League 10-year B Team beat Clarence "B" in the Semi-Finals 7-5, and Cheektowaga Southlines in the Final 12-5 to win the Clarence Tournament at the end of the 2006 season.




Little League 10U All Stars 2nd In Tournament - 2006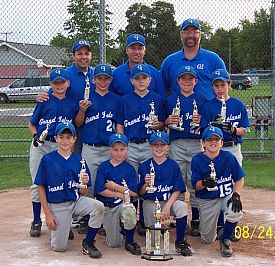 Click photo for larger view
Pictured (front to back) are Mark McKenna, Jacob Sweeney, Bryce Callen, Tommy Corrao, Mark Hughes, Collin McMahon, Chris Foote, Quinn Corrao, Jacob Burford, Coaches Todd Callen, Tom McMahon and Jamie Corrao. Missing from the photo are Nick McKenna, Josh Ungaro and Peter Chopra.
The Grand Island Little League 10U All Stars recently completed their All Star season with a 2nd place finish in the North Tonawanda Little League Tournament. GI posted a 6-2 tournament record, needing to beat Lewiston-Porter in back-to-back games to defend their 2005 title. After an impressive 12-0 victory where every GI player scored at least one run, GI was on the wrong end of a 9-1 defeat in the Championship game. The team was led by Team MVP Quinn Corrao who allowed only 3 runs in five outings on the mound, posting a 4-1 record while hitting .529 at the plate. Nick McKenna led the team in post-season hitting with a .532 batting average, highlighted by a Grand Slam HR in the 5th game of the tournament. Collin McMahon pitched well all post-season while recording 3 out of the park Home Runs. Jacob Burford was exceptional at catcher, utility player Bryce Callen played 6 different positions throughout the NT tournament, and Peter Chopra was stellar at third base. Tommy Corrao, Mark Hughes, and Josh Ungaro tracked down every fly ball hit their way and Jacob Sweeney rounded out the defense with solid play at second base. The team would like to thank Chris Foote, Mark McKenna and Ben Goc for filling in when injuries, vacations or other conflicts arose. Overall the 10U All Stars were 13-7 in tournament play, making the semi-finals in 3 out of the 4 tournaments that they entered.




Grand Island Softball 2006 Minor Division Playoff Champs - 2006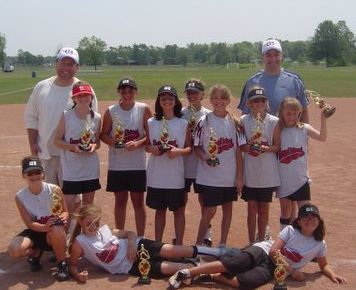 Shown front left are Liana Buscaglia, Alexa Kalinowski and Alexia Malpica; (back) Coach Mike Chauby, Coach John Ruffolo; (standing) Annie Niland, Marissa Ruffolo, Magdalyn Chauby, Alexis Cino, Alyssa Cino, Mary Ormsby and Allison Stanko. Missing from the photo is Jillian Sheehan
Click photo for larger view
The Grand Island Racers won the 2006 Minor Division Playoff Championship upsetting the G.I. Lightning 8-3, The G.I. Ice 3-1, and the G.I. Sunbirds 9-6 in the championship game. Alyssa Cino, Marissa Ruffolo and Liana Buscaglia lead the offense hitting over .500 in the three-game playoff series. Mary Ormsby, Marissa Ruffolo and Jillian Sheehan combined for 30 strikeouts throughout the series. Alexa Kalinowski, Magdalyn Chauby and Annie Niland added key hits in each game and Alexia Malpica, Alexis Cino and Allison Stanko played outstanding defense.




9-10 Girls Softball Win District Tournament - 2006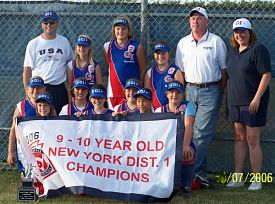 (Front left) holding banner are Carlee Conway, Jessica Amsdill, Annie Corrao; (middle) Courtney Collignon, Julia Kelly, Melissa Gibson, Rosie Russell; (back) Coach Joe Amsdill, Ivy Dawson, Cassie Oursler, Ashley Colan, Coach Brendan Conway, and Coach Cindy Gibson. Missing from the photo are Ciera Alcorn and Lexi Kalinowski.
Click photo for larger view
The Grand Island U9- 10 Girls Softball team won the district tournament Monday night, July 10, 2906 against Lockport 14-4. The team will play in the sectional tournament on July 29-31, 2006 in Pittsford, NY.




NY Yankees 9-10 Minors Win Season Title - 2006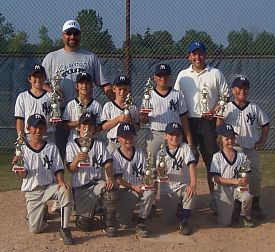 Click photo for larger view
The NY Yankees from the 9-10 year old Minors Baseball division won the regular season title this year. The team, playing as a collective group improved as the season went on, allowing only 13 runs in their last 6 games, while hitting an outstanding .405 at the plate. Pictured are (front)) Elijah Fields, Tommy Corrao, Logan Ellsworth, Bryce Callen, Kai Ellsworth; (back) Quinn Corrao, Joey Chiaravalle, Tyler Ludwig, David Cich, Michael Podlucky, and coaches Jamie Corrao and Todd Callen. Missing from the photo are Nick Young and Anthony Grana.


---
---
Other Grand Island Pages to Visit:
Churches | Email Directory | Government | Groups
GIHS Grad List | Guestbook | Please sign in! | Local Artists | Photo Album | Town History | Useful Links
| Website Design | Wildlife | Isledegrande's Home Page | GIECOM.NET'S Home Page
Please Email News Releases to Teddy Linenfelser, Thank You.
GIECOM.NET
1869 Whitehaven Road, Grand Island, New York, 14072-1803 USA


Copyright © 1995-2007 All rights reserved.