Masonic Square & Compasses Find New Home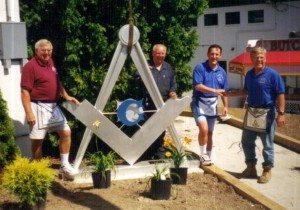 Past Masters Douglas Harrison and William Good admire the Square and Compasses as worshipful Master Steve Morgan thanks W:. John Gast for the work on the monument created by his late father, Bro. John Gast Sr.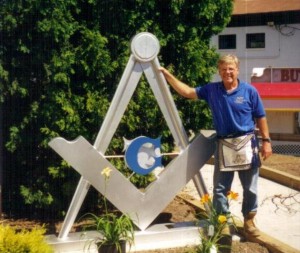 W:. John Gast Jr., stands proudly by the monument crafted by his father in 1978.

Members of the Fraternity were on hand Wednesday, August 8, 2001 to witness the placement of a five-foot high square and compasses at the Masonic Building at the Erie County Fairgrounds. The square and compasses were hand crafted in 1978 by the late Bro. John Gast Sr. of Contractor's Welding. After an Independence Day Parade debut that year, members erected the monument on the front lawn of the Grand Island Masonic Temple. After twenty years, the building was sold and the monument was returned to Con-Weld for refurbishing. A teamwork effort of Fair Staff, Grand Lodge Officers, First Erie District Staff, and Lodge members made the placement at the newly designated Masonic Building possible. Fair staff estimates that the square and at least one million fair-goers will pass-by the monument annually and help bring attention to the good works of the Craft.


---

Annual Masonic Breakfast
The Grand Island Masonic Lodge will host its annual pancake breakfast from 8 a.m. to 1 p.m. Sunday, April 8 at the Buffalo Launch Club, 503 East River Road.



If you are a member of this organization we need your help. GIECOM.Net has partnered with the Connections program to help Grand Island as a community "Get it Together". Please visit our website G-I-Together.ORG and fill out our SURVEY. Every group on Grand Island will have its own FREE webpage, listing: meeting times location, contact persons, your Mission Statement and a listing of events. We will also be linking your news events that appear in the local media and on IsledeGrande.Com Grand Island's E-News Source, to your page, maintaining an archived journal of pictures and news. This is the perfect opportunity for your group to connect with potential new members and the community.
---
Other Grand Island Pages to Visit:
| Businesses | Churches | Email Directory | Government | Groups |
| Guest Book | Please sign in! | Local Artists | New! Photo Album | Recreation |
| Schools | Seneca Law Suit | Town History | UsefuLinks | Weather |
| Website Design | Wildlife | Home Page |