Connor Middle School Fall Concert A Gift To Full House - 2003
By Teddy Linenfelser
The Connor Middle School music department presented a top-notch concert to a full house Thursday evening, November 6, 2003 in the Grand Island High School auditorium.
Longtime Island music teacher Clarke Elliott directed his Connor Jazz Ensemble in several easy listening pieces. Opening the program with a Beatles song, "A Hard Day's Night," gave it an excellent start with the professional looking students moving in precision as they raised and lowered their horns to the rhythm and seemed to enjoy every moment. Gorgeous would describe the ensemble's rendition of "Can't Help Falling In Love" with excellent trumpet solos by Sam LoPresti and Alex Webb. The percussionists are to be commended, especially the student on tom tom for the "T.M.I. (Too Much Information)" number.
Mr. Elliott also directed his well rehearsed concert band. The 100+ seventh and eighth grade students ended their part of the program with the Theme from "New York, New York," a winner from the moment the kids began to play their first notes of the introduction. The beautiful flute section, the brass and woodwinds' contribution and the entire band holding steady during that famous slowed rhythm section pointed out just how talented and well trained this group is.
Miss Debra Remson, in a smart looking black velvet dress and totally enjoying herself, directed the middle school string orchestra's four selections. Their concert performance was truly a credit to their teacher and the music they produced was more for sitting back and enjoying than taking any time to critique. It is truly an inspiration to hear this talented group of middle school string students who first performed as 4th grader several years ago.
Mrs. Annalea Masiello directed the 8th grade chorus made up of nearly 100 young voices. The perfect balance of boys and girls was obvious during their first song "A Distant Shore." They also sang the fun song, "Do Wah Diddy Diddy," and ended their part with "For We Wish You Music." During the last song, the girls in the soprano section came across very well, hitting some especially high notes to perfection.
Miss Jennifer Roess, part of the middle school faculty since September 2003, directed the huge sixth grade band, starting off with a march that included a snappy drum solo. The clever "A Prehistoric Suite," that includes four short movements, gave all instrumentalists, especially the trombone section, a chance to shine, and the band's last piece, "I Will Follow Him," included great percussion and was an enjoyable ending to the concert.


---



Connor Middle School Fall Concert - 2003
Veronica Connor Middle School will present its fall concert on Thursday, November 6, 2003 in the Grand Island High School Auditorium. The concert will featured the Jazz Band and 7-8th Grade Band under the direction of Mr. Clarke Elliot, the 6th Grade Band under the direction of Miss Jennifer Roess, the Connor Middle School Orchestra under the direction of Miss Deb Remson and the 8th Grade Chorus directed by Mrs. Annalea Masiello. The concert begins at 7:30 p.m. and is free and open to the public.




Meet The Lunch Ladies - 2003



Caroline Lavango, cook-manager, Veronica Connor Middle School in her scary apron.
Click photo for larger view.
Story and Photo By Jodi Robinson
Mrs. Caroline Lavango started out working at the middle school kitchen as a substitute in 1987 and it didn't take long for her to become full time. Starting in 1988 she was in the dishroom, then worked as a server. Five years ago she became assistant to head-cook Emily Papai, who "taught her everything she knew." When Mrs. Papai died in 2000, Caroline was asked to become head-cook. Caroline still uses her mentor's recipes in her quest to produce over 350 lunches each day.
Caroline grew up in Niagara Falls and moved to Grand Island with her family in 1976. When her youngest was in fifth grade at Huth Road Elementary, she decided a part-time job would work out well. For sixteen years she has been taking care of the middle school students at lunch time. The favorite student entrees include tacos and chicken finger subs. On these days over 400 plates will be consumed. Pizza is also always a favorite. At home, her husband Vito and three grown children enjoyed meat and potatoes and pasta every Thursday and Sunday.
Caroline made the point that she has a "good crew." Her seven fellow workers are "very helpful." It is a "happy place, where everyone gets along." Mrs. Lavango has spent many years as a volunteer with the High School PTSA, and she also ran the Academic Awards Program.




In The Style of Georgia O'Keefe - Connor Middle School Artwork - 2003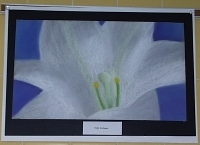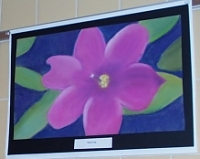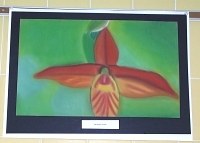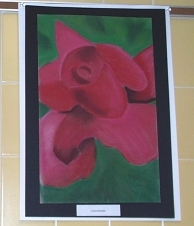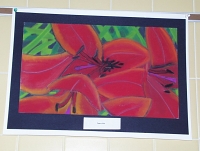 Click for larger view
Jodi Robinson Photo
"Nobody sees a flower really; it is so small. We haven't time, and to see takes time-like to have a friend takes time." Georgia O'Keefe
U.S. painter Georgia O'Keefe (1887-1986) was one of the founders of Modernism and is well known for her flower paintings and scenes of the American South-West. Students of Nora Klein's eighth grade "Studio in Art" Classes at Connor Middle School have been studying the work of the American artist, and have created pastel emulations of flowers in O'Keefe's distinctive style. They, like O'Keefe, have attempted to make their works both representational and abstract.
"Where I was born and where and how I have lived is unimportant. It is what I have done with where I have been that should be of interest."


---



Middle School's MSSADD Holds Run For The Island 2003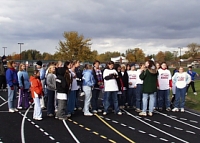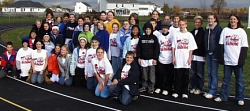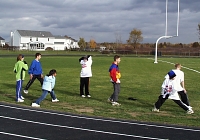 Jodi Hayes Robinson Photos - Click photos for a larger view.
MSSADD, Middle School Students Against Doing Drugs, is an organization at Veronica Connor Middle School which helps to promote a drug and alcohol free environment. This year's Run for the Island on Thursday, October 23, 2003 was a great success with over 40 students signed up to participate. Connor Middle School's MSSADD raised $1,500 to help local charities.
MSSADD meets weekly and members organize fundraisers for charities, and events in school, and just get together to talk and play games. There are 20 students involved in MSSADD who are very dedicated and committed to helping their school. Adult advisers are Laura Murray and Marlaine Kaniecki.
Top fund raisers included Alex Richter, Samantha Green, Destiny Perez, and Katie Nordvik. First place finishers for the 1 1/2 mile run were Joe Connors and Liann Montegna. Other top finishers included Lee Becker, Shaughn Irving, Kearney Erhard, Billy Koller and his sister, Laura Koller.
"We are very proud of all of the participants," a MSSADD spokesman said.


---



Attention Middle School Parents - 2003
October 9, 2003 . . . The search is on to find our top youth volunteer. If your child or you know of a middle school student that has made a positive difference through a volunteer activity during the past year, please encourage them to apply for a chance to be selected as Connor Middle School's honoree in the Prudential Spirit of Community Awards Program.
Our selected honoree would advance to state level judging and have an opportunity to win $1000, an impressive silver medallion and a trip to Washington DC, next May. Applications are available in the Student Services Office. The deadline for all completed applications is October 31, 2003. The applications are lengthy, so please encourage your child to pick up an application and return it early.




Connor Middle School's First Day - September 2003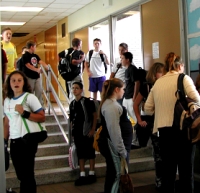 Click for larger view and more students.
Kathleen Ganz Photo
Veronica E. Connor Middle School opened to grades 6th through 8th for the 2003-04 school year on Wednesday morning, September 3, 2003. An open house for parents will be held at 7 p.m. Wednesday, September 17 and middle school picture day is scheduled for Thursday, September 18. A Welcome Back Dance for 8th grade students is being held at the school on Friday, September 26.




School Supply Lists Available - July 2003
School supply lists for Connor Middle School are available in the Middle School office. Summer office hours at 7 a.m. to 3 p.m.




8th Grade Moving Up Day - 2003
Eighth grade students of Veronica Connor Middle School received certificates of promotion to 9th grade at a Moving Up Ceremony held on Monday, June 23, 2003 in their honor. Mrs. Peggy Koppmann, retired principal from Huth Road Elementary School, was the featured speaker. Principal Bruce Benson welcomed parents, family and friends. Eighth grade student Rhianna Wing sang an acapella version of "The Star-Spangled Banner" and processional music was provided by the string orchestra under the direction of Ms. Debra Remson. The following students received awards during the ceremony:


Mrs. Diane Rumsey, 8th grade Spanish teacher, honored Courtney Donovan as Outstanding Foreign Language Student in Spanish.

Ms. Sue Trabert, 8th grade French teacher, honored Matthew Ward as Outstanding Foreign Language Student in French.

Students who received 100% on the Foreign Language Proficiency Exam in French are Amanda Arki, Thomas Minarcin, Matthew Ward and Bessie Zhang.

Students who received 100% on the Foreign Language Proficiency Exam in Spanish are Courtney Donovan, Cassidy Hogrewe, Jaime Justen, Abram Morgan, Sarah Mye, Jon Schutrum and Sydney Seese.

Ms. Debra Remson, 8th grade instrumental strings teacher, honored the following students for orchestra.
Award for Tenacity - Lauren Aughey
Award for Most Improved Musician - Alexandra Angelo
Outstanding Section Leader Award - Vida Rostami
Outstanding Musician - Stephanie Cartwright.
Awards for this year's Connor Middle School musical, "Annie, Jr.," were presented to Rookie of the Year, Julie Pangborn; Best Actors, Vincent Covatto and Forrest Smith; Best Actresses, Stephanie Cartwright and Rhianna Wing.

Mr. James Randles, 8th grade social studies teacher, awarded certificates to Traci Aladeen and Sarah Mye for achieving 100% on the New York State Achievement Test in Social Studies.

Mr. William Brodie, 8th grade mathematics teacher, presented high average awards to Nicole Morgan, William Lewandowski, Karen Figliotti, Kong Chen, Kayla Mornelli, and Sarah Mye. An award for 100% on the New York State Intermediate Math Assessment went to Sarah Mye.

Ms. Jan Stevens, 8th grade English teacher, gave out awards to students who were the top scorers in The National Language Arts League Contest. They are Traci Aladeen, Jennifer Freiermuth, Erin Hanel, Cassidy Hogrewe, Emily Khan, Ashley Kippley, Cassandra Lange, Samantha Miller, Sydney Seese and Bessie Zhang. Each student received a certificate or recognition.

Winners of the Buffalo News Spelling Bee were Cassandra Lange, who received a Webster's New Collegiate Dictionary, and Traci Aladeen, runner-up, who received a certificate.

Ms. Jayne Schaber honored Rachael Kaplan for earning 100% on the Earth Science Regents Exam.

The Triple C awards, given for Courage, Character and Commitment to education, community and classmates, were awarded to Vincent Covatto by Mrs. Mary Jane Fonte, 8th grade Home and Careers teacher and to Caroline Boron by Mrs. Susan Campbell, 8th grade English teacher and team leader.

Mr. Carl Guidotti, Assistant Principal, announced the Presidential Academic Silver Awards.

Mr. Bruce Benson then named the recipients of the Presidential Gold Awards for Academic Excellence.
The ceremony concluded with the distribution of the Certificates of Promotion to the 8th grade students by Bruce Benson.
The evening was capped by a reception, sponsored by Connor Middle School PTA, and held in the Senior High Cafeteria.




Middle School Honor Roll - June 2003

The following Veronica E. Connor Middle School students were named to the honor roll for the fourth quarter, 2002-2003 school year:



High Honor Roll


Grade 6: Zachary Adams, Kelli Adreon, Allison Boron, Kaitlyn Czerwonka, Darren DelSignore, Michaeline Dera, Amber Duda, Mary Grace Egloff, Melissa Fargino, Julia Figliotti, Leah Gangloff, Rachel Gaydosh, Michael Karpie, Benjamin Kose, Matthew Major, Joseph Oliverio, Susan Pioli, Robert Rutland, III, Jennifer Schaber, Sheree Tamaklo, Emily Thompson, Jordan Tripi, Nicholas Vitello, Kelly Williams
Grade 7: Giovanna Andolina, Chelsea Baran, David Benko, Kahla Cerrillo, Alexandra Davis, Bailey DeGlopper, Tiffani Dickinson, Rebecca Donnelly, Christopher Eley, Brandon Fetzer, Anthony Genco, Cathryn Hilliard, Alexander Hultgren, Amber Hultgren, Amanda Jaeger, Joshua Kaplan, Samuel Kilb, Ashley Koerntgen, Kaitlyn Little, Samuel LoPresti, Adam Masse', Ashley Mazurkiewicz, Jeremy Meyer, Theodore Slipko, III, Kimberly Snell, Jessica Sturniolo, Nicholas Taylor, Jordan Toth, Kacey White, Shana Wierchowski, Matthew Zarbo
Grade 8: Traci Aladeen, Alexandra Angelo, Amanda Arki, Lauren Aughey, Alicia Barnaby, Juliana Burkhart, Vincent Covatto, Courtney Donovan, Brett Fiedler, Karen Figliotti, Shannon Howley, Emily Kahn, Rachael Kaplan, Cassandra Lange, Sarah Mye, Vida Rostami, Lindsey Samland, Jonathan Schutrum, Sydney Seese, Joshua Snyder, Zachary Tondera, Yiyu Zhang