Town Recreation Department Webpage -
JANUARY - JUNE 2009

Town of Grand Island Website

Linda Tufillaro, director
E-Mail
3278 Whitehaven Road
773-9680

---
Recreation Department News 2009 - JULY - DECEMBER
Recreation Department News 2008
Recreation Department News 2007
Recreation Department News 2006
Recreation Department News 2005
Previous Recreation Department News 2000-2004
---



Youth Wagon Decorating Contest For July 4th - 2009
Youth Wagon Decorating Contest for the 4th of July. Open to youths 4-8 years old. Bring your decoratead wagon to the Town Hall Gazebo Thursday, July 2. 7:30 p.m. check-in, 8 p.m. judging during the band concert. Awards at 8:15 p.m. Judging will be based on overall look, patriotic theme, and detail. Sponsored by the Grand Island Recreation Department.


---



Recreation Dept. Youth Activities Registration - 2009
The Town Recreation Dept. will hold registration from 10 am. to noon on Saturday, June 6 in the Community Center at the Nike Base. Activities are geared for youths 4 years to 16 years old.


---



Vets Remembered Here On Memorial Day - May 2009
Island Community Chorus directed by Carolyn Lokken
VFW Color Guard
Supervisor Peter McMahon
SSG David DiTullio, US Army, guest speaker
GIHS Concert Band
See Memorial Day program for more information
Click links for photos
Photos/Story By Mary Stewart
Each year the number of people who attend the Memorial Day Service at Charles N. DeGlopper Memorial Park grows bigger. This year was no exception as a large crowd joined together this Memorial Day to honor and remember the Veterans who have given their lives, the ultimate sacrifice, so we may enjoy the freedoms we so often take for granted in this United States of America. It was a moving experience especially for those present who lost loved ones who fought for our country. As the names of the fallen were called, a family member presented a yellow flower in their honor.


---



Memorial Day Services - 2009
The Town Recreation Department announces that the annual Memorial Day services at DeGlopper Park, Baseline/GI Blvd. will begin at 10 a.m. Monday, May 25.
See Memorial Day program
See Guest Speaker David DiTullio
See Islanders In The News/Charles N. DeGlopper





Grand Island Recreation
Adult Softball Leagues
Monday Women's Softball
Tuesday Men's Softball
Thursday Men's Softball


Grand Island Recreation
Summer Events
Summer Programs
Summer Concerts





Island Clean-Up - Recreation News - April 2009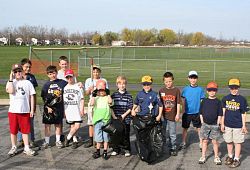 Cub Pack 630 - click for larger view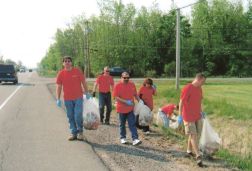 Invitrogen Employees during a previous clean-up

Linda Tufillaro from the Grand Island Parks & Recreation Department wishes to thank Cub Pack 630, out of St. Stephen School, for the tremendous job they did this past week end at Veterans Park. Nearly 20 youths and parents spent the morning hours collecting trash and litter from the grounds in Veterans Park. Thank you scouts, job well done!
On Wednesday May 13, employees of Invitrogen, located on the Staley Road complex, will be doing a road side clean up of Staley Road from Tim Hortons to West River. Invitrogen Global Volunteer Day has focused on being a "good neighbor" while taking care of the environment. Please be aware of the Invitrogen employees as you travel up Staley Road.
Schedules for Adult softball are ready. The Recreation adult softball leagues will start May 7 for the Men's Thursday Night B & C leagues, Monday, May 11 for the ladies league and Tuesday, May 12 for the Tuesday league. Game times are 6:15 p.m. at Veterans Park, Kaegebein and Nike Base diamonds. Players are reminded that when diamonds are marked and lined they are for scheduled games, practice not allowed.
The Recreation Summer Youth activities booklet will be distributed to the Grand Island schools by the second week in May. Booklets will also be available in the Town Hall, Library and Recreation office (3278 Whitehaven Road). Registration date is set for Saturday, June 6, 10:00 a.m. to 12 Noon in the Community Center at the Nike Base. Activities are geared for youths 4 years to 16 years old. Town Band concert schedule and 4th of July activities and contests will also be listed.




Record Turnout for Town Sponsored Easter Activities - 2009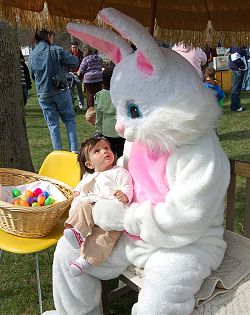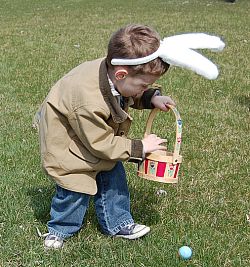 (left) Baby Zoee Schaefer in awe of Easter Bunny
(right) Easter eggs were the mission of this unidentified little boy
Mary Stewart Photos - Click for larger view
The Town sponsored Easter event took place on Saturday morning, April 11 under sunny skies and a temperature of approximately 45 degrees. At least 175 kids5 years old and up and 40 children four years old and under took part in the Easter egg hunt held on the grounds of Klingel Town Commons. There were 18 "golden egg" winners. Winners of the egg count were Angelina Fabiano and Joshua Vizzi (prize to be delivered).
A big thank you to the Easter Bunny who took time to talk to each child. Organized activities followed.


---



Visit With "Easter Bunny" - 2009
The Town Recreation Department will sponsor a visit with the "Easter Bunny" and Easter Egg Hunt (11 a.m.).Events from 10:30 a.m. to 1 p.m. on Friday, April 10 at Town hall for toddlers to 8-year-olds. See Spring Recreation Dept. Events for 2009.


---



Kite Flying Contest - 2009
The Town Recreation Department Kite Flying Contest begins at 11 a.m. Wednesday, April 15 in Veterans Park, Bedell Road, during spring recess, open to all ages and prizes for various categories. See Recreation Dept. Kite Flying Contest.


---



Youth Activities for February - 2009
The Town Recreation Department announces Youth Activities for February. See "Feb. 2009 Youth Activities" for complete information.











---
If you are a member of this organization, we need your help. GIECOM.Net has partnered with the Connections program to help Grand Island as a community "Get it Together." Please visit our website G-I-Together.ORG and fill out our SURVEY. Every group on Grand Island will have its own FREE web page showing: meeting times and location, contact persons, your Mission Statement and a listing of events. We will also be linking your news events that appear in the local media and on IsledeGrande.Com, Grand Island's E-News Source, to your page, maintaining an archived journal of pictures and news. This is the perfect opportunity for your group to connect with potential new members and the community.
---
---
Other Grand Island Pages to Visit:
Churches | Email Directory | Government | Groups
GIHS Grad List | Guestbook | Please sign in! | Local Artists | Photo Album | Town History | Useful Links
| Website Design | Wildlife | Isledegrande's Home Page | GIECOM.NET'S Home Page
Please Email News Releases to Teddy Linenfelser, Thank You.
Our sponsor is GIECOM.Net Inc., "Grand Island's E-Commerce Network",
providing Internet Access and Webhosting to the Grand Island Community.
If you are interested in participating as a sponsor, please email.
1871 Whitehaven Road, Grand Island, New York, 14072-1803 USA

GIECOM.Net Inc. is owned by deSignet International
a "World Class Jewelry Manufacturer and Retailer"
Store Hours: 9-5PM Mon-Friday and Saturdays 10AM-3PM, and by Appointment
1869 Whitehaven Road, Grand Island, New York, 14072-1803 USA, 1-888-RARU.COM