| | | |
| --- | --- | --- |
| | 2008 - 2009 Grand Island Soccer Club News | |

Official Grand Island Soccer Club Web Site

2007 Grand Island Soccer Club News
2006 Grand Island Soccer Club News
2005 Grand Island Soccer Club News
Previous Grand Island Soccer Club News




SOCCER GAME REPORTS - 2008 - 2009
See Game Reports Page
Please allow 24-48 hours while we're perfecting the format.
Thank You, GIECOM Staff


---
Board of Directors
President Rom Figler
Vice President Chris Hollander
Secretary Terri Pitts
Treasurer Jim Masiello
Brian Ailinger - Director/Travel Coordinator
Ray Billica - Director/U6 Coordinator
Diane Victor - Director/House Coordinator
Becky Szabo - Director/House Coordinator
Bethany Bernatovitz - Director/Player Development Director
Lisa Harrigan - Director/Registrar
Brett Banker - Director of Coaching

Coaches Reporting Form

---



Grand Island Soccer Club
Soccer Club's Boys U-11 Team Champs - 2009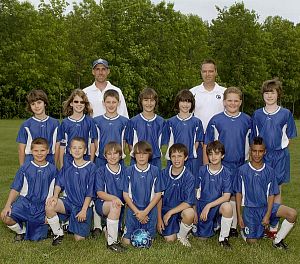 (left front) Mike Mankowski, Ray Rott, Jake Ramallo, Tommy Stedman, Andrew Carlson, Mohammad Eltagouri and Micah Schuerholz; (back) Cameron Smith, Cole Gilcart, Luke Strott, Joe Kulikowski, Nicholas Bailey, Robert Stolfo, Ryan O'Neil. Coaches: Dan Stedman and David Bailey. Not pictured are Hakim Arman and Ryan Allen.
Click photo for larger view
The Grand Island Soccer Club's U11 Boys Travel Team "The Gunners" are the winners of the Buffalo Western New York Junior Soccer League(BWNYJSL), C Division. The game was played July 27 at Veterans Park with final score 5-0. They played the Amherst Barcelona, undefeated in league play coming into the game and the only team to beat "The Gunners" earlier in the season.
Joe Kulikowski scored 3 goals and Tommy Stedman scored 2 goals. RJ Stolfo played great in net when the pressure was on to secure the shutout. It was a total team effort that gave us the win. What a great way to end the season! Tryouts for next season start August 17th. For information go to http://www.gisoccerclub.org/files/2010-Travel-TryoutsInfo.pdf.


---



Grand Island Soccer Club News - Coaching Positions - July 2009
The Grand Island Soccer Club is accepting applications for coaching positions in their Travel Division. There are travel teams in both boys and girls divisions from the ages of U10-U17. If interested please contact the Director of Coaching, Brett Banker at 773-4905. The deadline for applications is July 24.


---



It's Grand Island Soccer Club 2009 House League Registration Time - 2009
The Grand Island Soccer Club 2009 house league season will be here before you know it. You are able to register by mail using the house league registration form available on our website (www.gisoccerclub.org) or in person at the Grand Island Memorial Library, 1715 Bedell Road, on Saturday, March 7th from 10:30 a.m. to 2:00 p.m. or Thursday, March 12th from 6:30 p.m. to 8:30 p.m. Applications must be postmarked by the registration deadline date of Saturday, March 21st. For additional information regarding the house league or the Grand Island Soccer Club please visit the website.


---



Grand Island Soccer Club
Soccer Club's Girls U-17 Team - 2008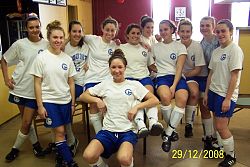 Click photo for larger view
The Grand Island Soccer Club's Girls U-17 team was invited to play in a quick holiday 2-game event at Sportsplex in North Tonawanda. The event took place on Monday, December 29th. The girls went 1-1 in the event. But more importantly the team got into the holiday spirit by bringing non perishables for the City Mission. Thanks to Mike Smith and Steve Gattuso of the Northtowns Club for sponsoring the event. Todd Lee, GISC boys U-17 coach, was also instrumental in helping this to happen.


---



Soccer Club Announces Coaches Clinic - 2008
The Grand Island Soccer Club (GISC) has announced a free clinic for Coaches and Assistants on Saturday, April 6, 2008. The clinic will be held at the Veronica Connor Middle School, registration is from 7:30 a.m. - 8:00 a.m. See Coach's Clinic for more information.








---
If you are a member of this organization, we need your help. GIECOM.Net has partnered with the Connections program to help Grand Island as a community "Get it Together." Please visit our website G-I-Together.ORG and fill out our SURVEY. Every group on Grand Island will have its own FREE web page showing: meeting times and location, contact persons, your Mission Statement and a listing of events. We will also be linking your news events that appear in the local media and on IsledeGrande.Com, Grand Island's E-News Source, to your page, maintaining an archived journal of pictures and news. This is the perfect opportunity for your group to connect with potential new members and the community.
---
---
Other Grand Island Pages to Visit:
Churches | Email Directory | Government | Groups
GIHS Grad List | Guestbook | Please sign in! | Local Artists | Photo Album | Town History | Useful Links
| Website Design | Wildlife | Isledegrande's Home Page | GIECOM.NET'S Home Page
Please Email News Releases to Teddy Linenfelser, Thank You.
This website is sponsored by
GIECOM.NET
1869 Whitehaven Road, Grand Island, New York, 14072-1803 USA


Copyright © 1995-2007 All rights reserved.