| | | |
| --- | --- | --- |
| | 2007 Grand Island Soccer Club News | |

Official Grand Island Soccer Club Web Site

Soccer Field Map

2008 Grand Island Soccer Club News
2006 Grand Island Soccer Club News
2005 Grand Island Soccer Club News
Previous Grand Island Soccer Club News




SOCCER GAME REPORTS New Addition to Isledegrande.com
See Game Reports Page
Please allow 24-48 hours while we're perfecting the format.
Thank You, GIECOM Staff


---
Board of Directors
President Rom Figler
Vice President Chris Hollander, Secretary Terri Pitts, Treasurer Jim Masiello
Brian Ailinger - Director/Travel Coordinator
Brett Banker - Director of Coaching
Ray Billica - Director/U6 Coordinator/Equipment Manager
Bethany Bernatovicz - Director/Player Development
Rom Figler - U6 Coordinator
Lisa Harrigan - Director/Registrar
Becky Szabo - Director/House Coordinator
Dianne Victor - Director/House Coordinator

Coaches Reporting Form

---



Soccer Club Game Reports - August 14, 2008
U-7 Game. Sat., Aug. 9
Pratt's White Sharks played the DiCarlo/Person/Webb Blue Devils. White Sharks played a great game as a team with lots of passing. Stand out players for the sharks were: Olivia Pino, Jacob Przystal and Lydia Pratt. Goals were scored by Cmeron Sionko, Rhett Robinson, Lydia Pratt and Alex Melisz. Blue Devils stand out players were Emma Mahoney and Luke Webb.
U-12 Game. Sat., Aug. 9
On Saturday, August 9th, a soccer match between the Grand Island Purple Storm and the Snow Tigers resulted in a shootout. It was a battle of the offenses for both teams. The Purple Storm's Alanna Mergel, Aaron Cook, Rob Nappo and Jacob Frosolone all played two full, tiring, thirty-minute halves of soccer. The Snow Tiger's Ray Rott played a very strong goal, while Emma MacIntyre and Vincent Bruno kept the offense rolling.
U-10 Game. Sat., Aug. 9
On August 9th Scott Pufpaff's maroon team beat Dean Rallo's orange team in a game where both teams played hard. Orange was light on players so there was a lot of double shifting needed during the game. The Maroon players have continued to show progress in each game with their playmaking and field positioning. Maria Mankowski has continued to play well in goal as she has for each of the last 4 games. Nicole Perry and Madison McNamara played well on both offensive and defensive positions. Alex Cancilla has continued to control the middle of the field and set up plays for the offensive players. Steven Pufpaff and Vincent Cancilla each added a goal. The player of the game for the Maroon Team was Justin Kozlowski. He played well on both offense and defense. He created numerous scoring opportunities with both good passes and nice moves around the net and also scored a goal!! He did a great job of clearing the ball from the front of his goalkeeper. He has shown progress in each game this season. Both Jason Miller and Nick Rallo played well for the orange team. They challenged opposing players and moved the ball well when they had opportunities to. Great effort on both sides!!

---



Soccer Club Game Reports - August 7, 2008
GI Soccer Club U10 team - Saturday, Aug. 2nd
Scott Pufpaff's Team 5 (Maroon) defeated John Nowak's Team 4 (Yellow) in a close game. The score was tied 3 to 3 at the half and was close throughout the third quarter with the Maroon finishing a strong 4th quarter with a win. The Maroon Team MVP was Sean Pufpaff. He played a strong game at both offense and defense. He gained control of the ball often and was able to start numerous offensive attacks on the opposing team. There was some great passing involved which lead to goals of which Sean scored 3. Special mention goes to the Yellow Team goalie, Jake Nowak. He played an excellent game and had some great saves. He was very busy in the net and his play allowed his team the opportunity to battle back. Overall both teams played hard, moved the ball well, scored goals and had a good time!
House League U12 - Saturday, August 2nd at 1 p.m.
On the sunshine soaked Saturday afternoon of August the 2nd, the Blue United played the Snow Tigers in a hard fought defensive soccer match. With the sidelines filled with screaming families, friends, and soccer lovers alike, the teams played a thrilling game, delighting all fans.
McClain Erhard, Conner Harrigan, and Jessica Keller were over all very strong players for the Blue United.
For the Snow Tigers, offensively, Brian Brennan and Guiseppe Campanella were a force to be reckoned with.
Defensively, Kayla Myers and Natalia Christiano were mighty midfielders, while Jenna Stufkosky played strong in the net to keep the score low.
House League U10 - Saturday, August 2nd - Jolly Ranchers Beat Blue Bombers
On Saturday, August 2nd the U10 Jolly Ranchers defeated the Blue Bombers 6 to 4. Both teams played extremely well. Scoring went back and forth until the very end. The Jolly Ranchers' goals were scored by Andrew Carlson, Lily Leffler, Derek Konopski, Julia Lawley and 2 by Christina Serianni. Player of the game was Lily Leffler. Ally Gorcheck played an outstanding game on defense. Jimmy Martin and Ryan O'Neil scored the Blue Bombers' goals. Player of the game for the Blue Bombers was Sabrina Giordano.


---



Soccer Club Game Reports - July 31, 2008
House Soccer League U12
On Saturday, July 26th at 9 a.m., the Red Inferno played the Snow Tigers in a hard fought match. With threatening skies and light showers, both teams played hard till the end. Austin Mahoney and Maria Territo were over all very strong players for the Red Inferno. The Snow Tigers defense was led by the usual consistent play of Sierra D'Ettorre. Offensively, Timothy Winder and Troy Brady played two outstanding halves of soccer, while Jacob Ladouceur tended net.
House Soccer League U8
Game Date: Monday 7/28/08
Report Submitted By: Brent Fred
Team 1 - HOME - Team Name: Silver Comets (U8 / Team 12)
Team 1 Uniform Color: Silver
Team 2 - AWAY - Team Name: Purple Lightning (U8 / Team 5)
Team 2 Uniform Color: Purple
Congratulations on our first win of the season! You played your best game yet. I was proud of each and every one of you; especially with the way you played your positions. We had a very short bench tonight and I was very impressed when I asked who needed a break and everyone out on the field said they could still play. Please see my comments below for all the players. They all did something tonight that was worth mentioning.
Amber: Congratulations on being player of the game! You hustled tonight more than I have seen all season. Keep up the good work.
Abigail: Great job at defense. You were able to get back and cut off many plays tonight and get the ball to the outside. You are a natural at defense.
Emily: Congratulations on your second goal of the season. You and Michael had a strong first half while on offense.
Jonathan: Great job playing both defense and offense and going after the ball.
Michael: I was proud of you at half time when you asked to play goalie. You did a great job covering up the ball. Also you and Emily play very well as an offensive pair and we will try and keep you guys paired up when we can. Did you play the entire Game? I think you did when you went in as goalie in the second half.
Arthur: You were a brick wall in the first half, great job-playing goalie! I am also glad we finally got you onto the offensive side of the field. You had a few nice attempts on net. Enjoy your vacation.
Which Team Was The Winner? Silver Comets
Score? 1-0
Team 1 Player Of The Game: Amber Graves
Recognized For: Outstanding effort and hustle for the whole game.
Team 1 Honorable Mention: Emily Fred
Recognized For: Game winning goal.
Team 2 Player Of The Game: Sarah Wolcott
Recognized For: Great goaltending.
Team 2 Honorable Mention: Kate Riniolo
Recognized For: Outstanding game.



---



Soccer Club Game Reports - - July 24, 2008
GI Under 10 house league
Joe Serianni's team beat Dean Rallo's team 4-2. Christina Serianni scored 3 goals and Derek Konopski scored 1. Brenton Fischer was player of the game with an outstanding performance at center defense. The kids played a terrific game despite the fact that we were missing four travel players.
The Gators, coached by Clay Morgan and Tom Whetham, won their game against John Nowak's team 4-0. Shanna Allen was player of the game with an excellent effort in her first time as Goal Keeper. Alex Whetham scored two goals, which were joined by a pair of goals by Justine Cardone, with an excellent assist made by Lexy Belstadt. Both teams played well and everyone had a great time.
U-7 House Division
Sat. Game 7/19/08 Blue Lightning Bolts (team 4) vs White Sharks (team 2) - Blue team standout players: Eric Boudrow, and Jack Stube who dominated the field for their team, White Sharks standout players: Cameron Sionko with his quickness, and Abigail Sonnenberg with her great goaltending. (score was White Sharks 6-Blue Lightning Bolts 2)
Wed. Game 7/23/08 Green Shamrocks (team 5) vs White Sharks (team 2) standout players for Green Shamrocks: Antoinne Simpson played great on the field and Makala Robinson - who played great in the net. The White Sharks standout players were - Emily Phillips who played great in net and Alexa Yomanco was named player of the game as it was her birthday. The score was White Sharks 3- Green Shamrocks 2)




Warriors Are Finalists At Niagara Pioneer Soccer Tournament
At Niagara Pioneer Soccer Tournament U-15 Boy's Division - July 2008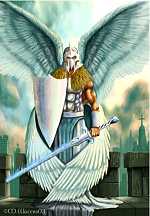 Coach John Wooden won 10 College basketball National Championships and had 7 final four finishes in his career, while coaching at UCLA. During all of those tournaments, he maintains that, "enjoying the journey along the path of the tournament, was more fulfilling than all of the Championships titles combined."
Although the Warriors fell just slightly short of their tournament run, I can't remember a more enjoyable weekend with the Warriors! It was a privilege to watch the team play, shift after shift, of highly intense and disciplined soccer.
Wooden is also quoted as saying "Intensity makes you stronger. Emotionalism makes you weaker." How true that statement was! There was to be no roller coaster rides on this weekend. Just a steady climb to the top! Players encouraging and challenging one another to push harder and higher. The way they communicated was tremendous! Two words...Harmony and Unity!
The Warriors won their division with 13 goals scored and only allowing 3. Along the path to get to the finals their record was W3-L0 beating 2 ranked Canadian teams from Ottawa and St. Catherine's. The final game we fell a bit short 2-0 to the Brockport Blizzard, in an extremely competitive game.
I was proud of you how you kept true to our team motto…"Discipline, Hard Work & Respect!" Congratulations to each and every one of you for a job well done!
Although we missed the players who could not be with us this weekend, be proud of your teammates, what they accomplished and how you were represented at the tournament! We definitely had composure and hit the radar of a lot of teams that took notice to our level of play.
Finally to our guest players, you helped solidify our roster and provided a level of play and attitude that we can't thank you enough for. The chemistry was impressive and your play was superb. In the words of Ace Ventura-Pet Detective to describe the fit..."Like a Glove..."
Good job, reflect and enjoy this one for a while!
Coach Lee


---



Soccer Club Game Reports - July 17, 2008
Submitted by Coach Dave Bailey
The Red Barons (Team #2) won 6 to 1 with 5 different players scoring. (Nick Bailey scored twice, the second was intended to be a pass but lofted up into the net with only a few minutes left in the game.) Three of the goals in the second half were scored only after the ball was passed a least twice if not three times between players up the field.
My player of the game is Chance Warmus who played nearly the entire game .....for the other team. Chance, not intimidated by players from his own team, played hard and never gave up on any play. Chance received a player of the game certificate from me and the opposing coach had nothing but good comments for Chance's play. It's a very hard thing to do, on opening day, the first time in your team's uniform and the team is all together, to then be asked to play for the other team. Chance took everything in stride and did a wonderful job.

Submitted by Coach Scott Pufpaff
Saturdays' game was won by team 5 with a score of 6-2. Team 5's game MVP was Vincent Cancilla. He played well on both offense and defense. He did a great job of gaining control of the ball at mid field especially on the opposing goalie punts. He did a great job with ball control and made several nice passes of which a few led to shots on goal by his teammates. He scored 2 goals himself and had a couple more shot blocked on nice saves by the goalie. He also did a nice job of challenging his opponents when they had the ball and he usually ended up with it in his possession. Overall he had a super game.
We had 12 of 13 players show for the game. All of the kids played both offensive and defensive positions and seemed to have a good time.


---



Soccer Club Announces Travel Soccer Coaching Positions - 2008
The Grand Island Soccer Club is accepting applications for travel soccer coaching positions for the 2009 season. Interested applicants should contact the travel soccer coordinator at travel@gisoccerclub.org and an application will be sent out. Applications are due by July 25, 2008.
The Grand Island Soccer Club is seeking potential candidates for four vacancies on the Board of Directors, as well as candidates for the position of field coordinator. Interested parties should contact the club president at president@gisoccerclub.org. Annual elections will again be held at the soccer club picnic scheduled for Saturday, August 16th at Veterans Park.


---



Soccer Club Announces Coaches Clinic - 2008
The Grand Island Soccer Club (GISC) has announced a free clinic for Coaches and Assistants on Saturday, April 6, 2008. The clinic will be held at the Veronica Connor Middle School, registration is from 7:30 a.m. - 8:00 a.m. See Coach's Clinic for more information.


---



Soccer Club Travel Coaches & Tryouts - 2007
The Grand Island Soccer Club (GISC) has announced its slate of Travel Coaches for next season. See GI Soccer Club Coaches. For information on tryouts on Sunday, September 16 and Saturday, September 22, see gisoccerclub.org.


---



GI Soccer Club 2008 Travel Season Try-out Schedule - 2007
All GI Soccer Club 2008 Travel Season tryouts are 1 hour and 45 minutes long. Players are to register at the concession stand in Veterans Park, Bedell Road, 30 minutes prior to your try-out time. Bring a soccer ball, soccer cleats and shin guards. See GI Soccer Club 2008 Travel Season Try-out Schedule


---



Grand Island Soccer Club
GI Soccer Club Scholarship Winners - 2007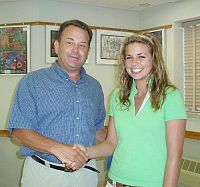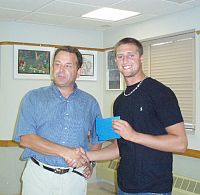 Christine Stange Photos - Click for larger view
The Grand Island Soccer Club presented scholarships to five outgoing Viking Soccer players at its most recent meeting on Monday, August 13 at the Grand Island Memorial Library. Club President Brett Banker thanked the students for their commitment to their families, club and school soccer programs and their community. Pictured (left) are Brett Banker with Nicole Fischer, Jessica Kuehne and Kiel Clark.


---



Soccer Club Sponsors Coaches & Players Footwork/Footskill Clinics - 2007
Attention All GISC U7-U19 Coaches and Players:
Beginning August 23, 2007 the Grand Island Soccer Club will sponsor Coaches & Players Footwork/Footskill Clinics. The topics to be covered are Dribbling, Trapping, Skills, Passing, Speed, Footwork, Shooting, Moves/Tricks and Agility. The clinic instructor is Matthew Waddington. Here are some details:
• Dates - August 23, 28, & September 6, 11, 20, 25
• Time - 6:30 p.m. to 7:45 p.m.
• Place - Veteran's Park - field 1A/1B or field 5
• Clinics are sponsored by the GISC, no cost to individuals
• Open to any U7-U19 player registered with the 2007, house or travel
• Coaches Welcome - learn, participate & enhance your coaching tools
• No commitment or registration required - attend any or all 6
• Players and Coaches do not need to RSVP just show up
• Bring shin guards, cleats, ball, water bottle and lots of energy
• Questions contact: Bethany by email to Bernatovicz@bethany.bernatovicz@asimodulex.com
Topics to be covered:
• Dribbling
• Footwork
• Shooting
• Skills
• Passing
• Speed
• Agility
• Moves/Tricks
For a detailed flyer go to our website: www.gisoccerclub.org and look under News & Events, Presidents Corner.


---



Soccer Picnic
Soccer Club Seeks Coaches, Board Members - August 2007
The Grand Island Soccer Club (GISC) is accepting applications for all Travel coaching positions and four vacant GISC Board seats. Applications are due Friday, August 3. Contact Brian Ailinger at 774-0474 for coaching applications and Dianne Victor at 773- 3077 if you are interested in running for the Board. Board elections will be held during the Annual Soccer Picnic scheduled for Saturday, August 18 at Veteran's Park.


---



Grand Island Soccer Club
Warriors U-14 Boy's Soccer Team Finalists in Gates Soccer Tournament - 2007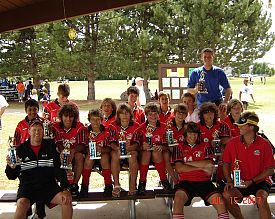 Click photo for larger view
This past weekend (July 13-15) the U-14 Boys' Soccer Team journeyed to Total Sports Experience in Rochester to compete in the Gates Soccer Tournament. This is a highly participated in tournament drawing teams from all over New York State, as well as Canada and other surrounding states.
The Warriors were undefeated in their bracket, beating teams from Amherst 3-1, Webster 3-2 and Enchanted Mountain 3-0, to get to the Championship game vs. Erin Mills Soccer Club located outside of Mississauga.
Although coming short of being named champions, losing to a nationally ranked Canadian team, the Warriors were true to theirname as they were poised, showed character and a lot of class during their run.
"We are so proud of these boys as they truly let you see and experience what "TEAMWORK" is all about," Coach Todd Lee said.
Although there was some extreme cases of great individual effort, the success came from working together as strong unit! The team consisted of Robert Arsenault, Kurt Beehler, Nate Benoit, Aman Cheema, Mitch Cancilla, Nick and Sam Colao, Bobby Dickinson, Christian Gibson, Kyle Held, Justin Lee, Mike Lydle, Cameron Pezzino, Mike Paasch, Chris Sexton, Patrick Thompson and Steven Vitello.
Great Work Warriors! You have represented Grand Island with honor and are to be commended for your efforts.
Coach Lee


---



Grand Island Soccer Club to Hold Coaching Clinic - 2007
The Grand Island Soccer Club is conducting a continuing education coaching clinic for all level GISC coaches on Sunday, April 22nd at the Connor Middle School. This clinic will offer house and travel coaches and assistant coaches the opportunity to be exposed to drills, coaching techniques and ways to improve the club and its coaching. The six-session topics are: 1) The Game of Soccer, 2) Foot Skills & Shooting, 3) Goal Keeping, 4) Age Appropriate Warm-ups and Designing a Quality Practice, 5) Levels of Defense, and 6) Passing & Receiving. The mandatory Travel & House Coaches Meetings for 2007 will also be conducted on that day.
Session presenters are current and former coaches with over 50 years of combined soccer experience.
For more information on the Grand Island Soccer Club visit their new, improved website at www.gisoccerclub.org.


---



Grand Island Soccer Club 2007 House Soccer Registration - 2007
Registration for Grand Island Soccer Club 2007 House League is now in progress. House Soccer is open to children ages 5-19. This year a new U19 age group has been added. Registration forms and information may be found on the club website, www.gisoccerclub.org, or may be picked up at the Grand Island Memorial Library, Grand Island Town Hall, or the Grand Island Recreation Department.
The deadline for registration is March 15, 2007. Registrations received after March 15th will be placed on a waiting list.
WALK - IN REGISTRATION DATES:
• Thursday, March 1 - 6:30 p.m. to 8:30 p.m. - Grand Island Memorial Library, Bedell Rd.
• Saturday, March 10 - 10 a.m. to 2 p.m. - Grand Island Memorial Library, Bedell Rd.
The Grand Island Soccer Club is need of volunteers. There are current openings for a House League Coordinator, Registrar and Equipment Coordinator. The future of the club depends on its volunteers. Many of the current Board members have volunteered their time for many years and no longer have a child playing soccer. Meetings are held on the 2nd Monday of each month at the Grand Island Memorial Library at 6:30 p.m.








---
If you are a member of this organization, we need your help. GIECOM.Net has partnered with the Connections program to help Grand Island as a community "Get it Together." Please visit our website G-I-Together.ORG and fill out our SURVEY. Every group on Grand Island will have its own FREE web page showing: meeting times and location, contact persons, your Mission Statement and a listing of events. We will also be linking your news events that appear in the local media and on IsledeGrande.Com, Grand Island's E-News Source, to your page, maintaining an archived journal of pictures and news. This is the perfect opportunity for your group to connect with potential new members and the community.
---
---
Other Grand Island Pages to Visit:
Churches | Email Directory | Government | Groups
GIHS Grad List | Guestbook | Please sign in! | Local Artists | Photo Album | Town History | Useful Links
| Website Design | Wildlife | Isledegrande's Home Page | GIECOM.NET'S Home Page
Please Email News Releases to Teddy Linenfelser, Thank You.
This website is sponsored by
GIECOM.NET
1869 Whitehaven Road, Grand Island, New York, 14072-1803 USA


Copyright © 1995-2007 All rights reserved.