Grand Island Business News - Page 5
Click For Business Page 1
Click For Business Page 2
Click For Business Page 3
Click For Business Page 4
Click For Business Page 6
---
"Become A Business Sponsor"



Friday Show Rescheduled Due To Storm
McCarthy School of Irish Dance Presents "A Celtic Christmas" - 2008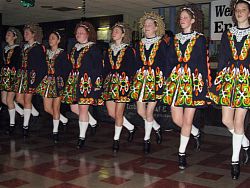 Click photo for a larger view.
The McCarthy School of Irish Dance presents its fifth annual "A Celtic Christmas" featuring the "The Dustmen" on Monday, December 22 in the Niagara Falls High School Performing Arts Center, 4455 Porter Road. Time schedule follows:
• Main doors open at 6 p.m. for Basket Raffle viewing
• Seating begins at 6:30 p.m.
• Show begins at 7 p.m.
• Basket Raffle winners announced at reception following the show
For tickets at $7, contact Maura, (716) 773-1335 or macorust@roadrunner.com. Click www.mccarthyschoolofirishdance.com for more information.




Gerrie Andolina, Century 21
Winklhofer - America's Top Real Estate Professional - Dec. 2008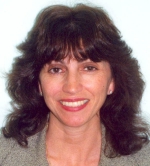 Gerrie Andolina of Century 21 Winklhofer was named one of America's top real estate professionals by REAL trends. She becomes a member of "The Real Estate Top 200" and is ranked in the top one percent of more than 1.2 million realtors nationwide. Andolina's 187 transactions sides in 2008 ranked her 39th in the nation. "This award is a great honor for Gerrie and our office," said Amy and Eric Winklhofer, broker-owners of Century 21 Winklhofer. "She works very hard to obtain her goals and gives her clients the utmost professional service." The Real Estate Top 200 rankings were announced this month at the National Association of Realtors annual conference and expo in Orlando.




Tops Markets Hosting Tim Hortons - Nov. 2008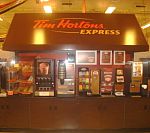 Shoppers at Tops Friendly Markets can now enjoy fresh-brewed Tim Hortons coffee and other products via a self-service kiosk now available at the Tops location in Grand Island, at 2140 Grand Island Blvd. Tops Friendly Markets and Tim Hortons announced an agreement in October to add either a Tim Hortons full-service restaurant or a self-serve kiosk to all 82 Tops supermarkets and Tops Express locations. The Tim Hortons self-serve location at the Grand Island Tops store features freshly ground, one cup at a time coffee, cappuccino and espresso based drinks and a variety of Tim Hortons baked goods. "We are excited to see the details of our exclusive agreement with Tim Hortons come to fruition," said Frank Curci, Tops' president and CEO. "Having Tim Hortons products in our stores will undoubtedly enhance our customers' total shopping experience." The agreement calls for up to 20 full-service restaurants and 62 self-serve locations. It is expected that several of the self-serve kiosks will be converted over time to full-service locations.




Gift Packages & More at Aceti's Liquors - Nov. 2008


Aceti's Wine & Spirits located in the Grand Island Plaza, 2407 Grand Island Blvd., is celebrating this holiday season in a big way. Starting this Friday there will be wine tastings through Tuesday, Nov. 23rd. Throughout November & December there are many in-store specials available, and coupons, through November 30th. Sam Aceti stocks many specialty wines, check out this months list on www.acetiswineandspirits.com Wines page. Gift packages start at $9.99, so let the staff help you select your wine and spirits for the holidays.


In Store Wine Tasting

Friday Nov.21st----------4pm-8pm 

Saturday Nov.22nd-------4pm-8pm 

Sunday Nov.23rd----------12noon-7pm 

Monday Nov.22nd--------4pm-8pm 

Tuesday Nov.23rd--------4pm-8pm 




Two For One At Curves For Women - Nov. 2008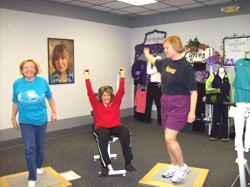 Curves For Women is a 30-minute "FOR WOMEN ONLY" fitness club that has been around for about 11 years. There are Curves fitness centers all over the world and all of our members have complete access to any facility they choose whether they are on vacation for three weeks or they move out of the area completely. The Curves workout involves Cardio and Strength training and boasts a COMPLETE WORKOUT in a short amount of time. There's no adjusting of machines. Ours are hydraulic tension, meaning the harder and faster you go, the more tension you will feel. Our circuit on Grand Island consists of 11 machines with cooling stations in between each one. The machines are strategically placed so you overload each muscle group for 35 seconds and then you move on to the next machine. As you are working out, you are taking your heart rate to see if you are working your heart at the most advantageous rate. We recommend 85%. Since you are only on the circuit for 30 minutes, you need to use that time in the best way possible, so periodic heat rate checks are important.
After your workout, we totally encourage stretching. We have a STRETCH CIRCUIT that you use after every workout. Stretching can add up to 19% of muscle to your body. There are so many advantages to stretching. It has been known to relieve muscle stiffness, late night cramping, pain from heel spurs, arthritis, restless leg syndrome, fibromyalgia and many other common conditions. The circuit takes only five minutes to complete. We also have treadmills, a stationary bike, exercise balls, hoola hoops and sit up machines. Even though we thoroughly recommend the circuit first and foremost, everyone likes variety so we offer the extra machines for your use. We also have raffles every month, we play games for Curves bucks and have weight loss contests. Curves is a great fitness center but it is also a social club. There is always good conversation and lots of fun at our Curves!! We are now offering the best promotion that we ever have before. A two-for- one deal. We also take lots of insurance plans including FLEX FIT, BLUE CROSS AND BLUE SHIELD LIFESTYLE, AQUA, and ACTIVE ANYTIME. Call your plan to see if they include a fitness membership. Lots of them are on board now!!
Right now you can come in with a friend and split the membership cost!! This is a great offer but it expires at the end of the year so come on in to 2098 Grand Island Blvd, next to Tops plaza or call us at 773-5955 so we can schedule a free tour and workout.
Hope to see you soon!
Sandy, Colleen and Ashley




SCAP (Sound Choice Audio & Performance) - October 2008
Island resident Mark Abate's SCAP (Sound Choice Audio & Performance), located on Grand Island Blvd. at Webb Road is featured in an article in the 10/29/08 Buffalo News Business Today section by Matt Glynn.


---



Buffalo Premiere of America the Beautiful Nov. 11 - 2008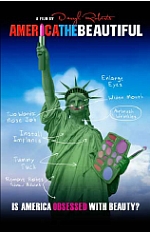 The Buffalo Premiere of America the Beautiful will take place on November 11 in the Riviera Theatre in North Tonawanda. In almost 40,000 media messages a year, young Americans are being told that unless you look like a supermodel or rock star, you're simply not good enough. This is a message that too many people are buying. See America the Beautiful for complete information.




Sherry M. McDonald
Completes Senior Real Estate Specialist Designation - 2008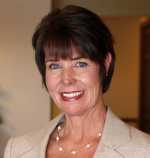 Sherry M. McDonald, Licensed Real Estate Salesperson at RealtyUSA.com, recently completed her Senior Real Estate Salesperson(SRES) designation. The SRES Council trains REALTORS® to meet the special needs of maturing Americans when selling, buying, relocating, or refinancing residential or investment properties. The Council tracks senior-specific lifestyle and housing issues and educates REALTORS® who are making clients age 50-plus a part of their overall business plan. By earning the SRES® designation, Sherry is prepared to assist mature clientele with the best options and information for them to make life-changing decisions. Nearly 4 out of 10 property owners who are more than 65 years old have lived in the same home for more than 30 years. Nevertheless, events such as illness or inability to care for their property may force senior citizens to move from their homes. In fact, it has been estimated that three million seniors will move in the next two years. Increasingly, seniors are looking for specialists to ease their transition from a long-time residence to their next home. The Senior Real Estate Specialist designation is one of the fastest growing designations in the nation. The goal of the SRES designation is to equip Realtors to help seniors make wise decisions about selling the family home and finding a new place to live. In addition to guiding clients to the right experts on tax laws, probate, estate planning, and a variety of equity conversion strategies, Seniors Real Estate Specialists® can offer clients relevant information on current trends in senior real estate transactions. For more information contact Sherry directly at 888-6SHERRY or visit he website SherryMcDonald.com.




Riviera Theatre:
THE MOUSETRAP - Presented by the Mystery Company - October 2008
The Mouse Trap will be presented at the Riviera Theatre October 16-27, 2008. The play is being presented by the Mystery Company.
Agatha Christie's famous murder mystery arrives just in time for the Riviera Thrill and Chills month. This classic "who done it" begins with a group of travelers cut off by a blizzard at a newly-opened inn. A policeman arrives on skis and informs them that a suspected murderer is among them. Shortly afterwards, the murderer strikes! One down. Who's next? The Mouse Trapp holds the record for the longest running play in London, England, and is still going strong after 56 years.
Ticket prices: Adult, $25; Senior/Student, $22
For further information, call the Riviera Theatre box office at 692-2413 Monday through Friday, 10 am-4 pm or order online at www.rivieratheatre.org.




McMahon's Family Restaurant Closed Tuesday - September 2008
McMahon's Family Restaurant will be closed Tuesday, September 23 due to paving.




Open House At McCarthy School Of Irish Dance - September 2008
An open house at the McCarthy School Of Irish Dance studio, 2055-2057 Baseline Road, will be held from noon to 1 p.m. on Sunday, September 7.




Town Cafe Hosts "2nd Time Around" - August 2008
The Town Cafe, located at 2352 Grand Island Blvd., has scheduled an outdoor concert from 2-4 p.m. Sunday, August 17th featuring the "2nd Time Around" band. Music is free and there will be special beverage prices. Call Lynn at 773-7373 for more information.


---



Miss Cathy's Dance Academy Announces Registration - July 2008
Miss Cathy's Dance Academy will hold registration days and open house from 10 a.m. to noon and 6-8 p.m. Thursday, August 14, and Monday, August 18 from 6-8 p.m.
2008 registration is also being accepted by calling 773-4753 or 864-2499.
For those who have ordered, the 2008 recital DVD may be picked up on August 18.


---



Grinders Summer Music Series Features Local Bands - June 2008
Grinders Skate Park will host a Summer Music Series 2008 at 7 p.m. Saturday, June 14 at Grinders Skatepark, 2088 Grand Island Blvd., Grand Island, NY. Featured groups will be Inlite, Risting Anthem and One and One (Dave Nolf). There is an entry cover charge - a $2 donation for Friends of Lynette and Relay for Life.


---



Miss Cathy's Dancers In Dance Showcase At Fantasy Island - Dance Recital Next - June 2008
Miss Cathy's Dance Academy will present a dance recital 7 p.m. Friday, June 20 and 7 p.m. Saturday, June 21 in the Grand Island High School auditorium, 1100 Ransom Road. This year's recital theme is "You Can't Stop The Beat." Miss Cathy's dancers will be performing at 6 p.m., Monday, May 26th in the Dance Showcase Weekend at Martin's Fantasy Island.


---



ElderWood Health Care at Riverwood Honors Volunteer of the Year - 2008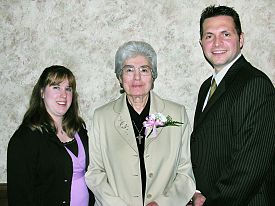 Pictured from left are Director of Volunteer Services Melanie Robinson, Rita Galante and Administrator Anthony DePinto.
Grand Island resident Rita Galante has been named Volunteer of the Year at ElderWood Health Care at Riverwood, 2850 Grand Island Blvd., Grand Island. "Rita has been helping conduct Catholic church services since the early 1990s," said Melanie Robinson, director of volunteer services. "In addition to assisting with weekly Mass, she spends time talking to the residents and visiting those who do not attend Catholic services that day, praying with them and offering them Communion.
"She finds tremendous joy in being here with us and looks forward to returning each week," Ms. Robinson said. In honor of National Volunteer Week, April 27-May 3, more than 300 volunteers serving at ElderWood Senior Care facilities in Western New York, were acknowledged during ElderWood's annual Volunteer Recognition Luncheon. Volunteer of the Year award winners from ElderWood's 13 local skilled nursing and assisted living facilities were presented with a clock, signifying the gift of their time.




Island Dance Center Performances - 2008
Students of the Grand Island Dance Center, 3432 Wallace Drive, will perform at 2 p.m., Monday, May 26, 2008 on the Midway Stage as part of the Martin's Fantasy Island Dance Showcase Weekend. The students will also take part in Grand Island Dance Center's 4th Annual Recital "Dancin' 2008" to be held 6:30 p.m. Friday, June 6, 2008 at the Performing Arts Auditorium at Niagara Falls High School. All are welcome ($8/ticket).




Ribbon Cutting At Creative Leather Concepts - 2008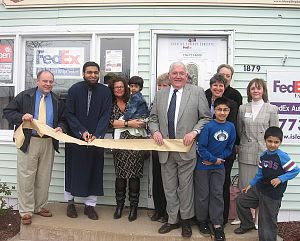 From Left: Chamber President John Bonora, Creative Leather Concepts owner Fahim Mojawaila, Director of Sales for CLC Karen Widman holding Fahim's daughter Hajra, Supervisor Peter McMahon, VP of Emporium Leather Kathy Bauer, Fahim's sons, Talha and Yusuf. Behind right: John Baedeker of the Chocolate House and Chamber Treasurer Debbie Mann of First Niagara Bank.
Creative Leather Concepts has moved to 1879 Whitehaven Road, next to Flower-A-Day Florist. To celebrate, a ribbon cutting ceremony was held on Wednesday, April 9, 2008. Guests enjoyed a complimentary breakfast and a free gift. Owner Fahim Mojawaila opened his business two years ago on Grand Island and in addition to leather goods is an authorized shipping center for FedEx.




Creative Leather Concepts Has New Location - 2008
Creative Leather Concepts (FedEx Authorized Ship Center) will open at its new location at 1879 Whitehaven Road on Wednesday, April 9, 2008. A ribbon cutting will take place at 10 a.m. and the store will be open for shopping at 10:30 a.m. A complimentary breakfast from 8-10 a.m. will also be served. Creative Leather Concepts is located next to Flower A Day Florist.


---



DeGeorge Ceilings - Windows - Doors - 2008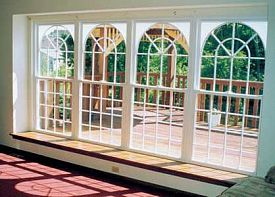 Windows & Doors - all styles - all sizes
Isledegrande.com's newest advertiser, DeGeorge - Ceilings - Windows - Doors, has been in business since 1953. The store, located at 185 Creekside Dr., Amherst, has a huge inventory of ceilings, windows and doors of every size and style. Estimates are free. Check out DeGeorge for new construction and home remodeling. The "DeGeorge Website is a dream come true in ultimate home decor.
Convenient Store Hours
Monday - 9:00 AM - 8:00 PM
Tuesday - 9:00 AM - 5:00 PM
Wednesday - 9:00 AM - 5:00 PM
Thursday - 9:00 AM - 8:00 PM
Friday - 9:00 AM - 5:00 PM
Saturday - 9:00 AM - 5:00 PM


---



Pre Season Special! Marston Power Equipment - 2008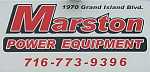 Valid through 3/17/08 . . Free pickup and delivery, and 10% off all labor on lawn mowers and lawn tractors. Beat the rush and save money! Call to schedule a pick up today. Tell your friends and neighbors, this offer is open to all. If you are interested in a new mower, now's the time to deal! Hugh discounts also available on left over snow blowers. Stop in and see us today - 1970 Grand Island Blvd.


---



Realtor Sherry McDonald Named #1 Sales Agent At RealtyUSA.Com's Island Office - 2008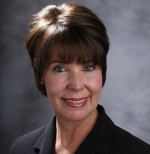 Sherry Mongan McDonald, a real estate professional at RealtyUSA.com, was honored at the company's recent Awards Banquet as the top sales agent at the Grand Island office. Sherry almost doubled her previous year's sales and has consistently helped home buyers and sellers across all of Western New York. She was also honored by being selected as a member of the President's Council, RealtyUSA.com's top 100 agents and had the sixteenth largest gross sales company wide.
Sherry is taking a new marketing approach in 2008. As more and more real estate companies continue to reduce advertising budgets, agents are finding they must invest in their own careers and promote their services like any other business would. For a real estate agent, her most saleable product is herself. Watch for Sherry's more personal approach to home sales. "Personal marketing which promotes me as a person looks like the wave of the future," she says. "I want to be a part of it." Featuring the theme "Dare to Dream," she will be putting this new approach to work in her own advertising and marketing efforts starting this spring.


---



Dick & Jenny's Bake & Brew To Open February 26 - February 2008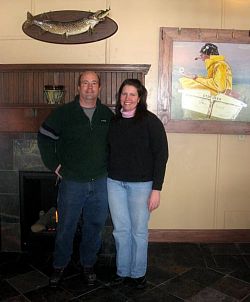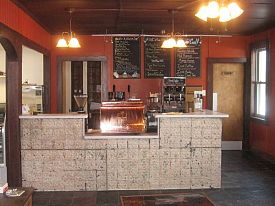 Dick and Jenny Benz, and new coffee bar.
Jodi Robinson Photos - Click photos for a larger view.

Jenny Benz, the former Jennifer Becker, grew up on Grand Island and attended Island schools until high school. She is a graduate of Nardin Academy, Class of 1987. After graduating from Notre Dame, she made her way south for the next few years and met her husband, Dick Benz, in New Orleans. Dick is a graduate of the Culinary Institute in Hyde Park, NY and with that knowledge the couple decided to open a fine dining restaurant in New Orleans in 1999 that became very successful. Every summer the couple and their children came back to Grand Island for the month of July to visit with family. The summer of 2005 was different as that was the year of Katrina. With Dick still in Western New York on a fishing trip, Jennifer was in charge of evacuating from the coming hurricane. Jenny and Dick's home which was now in Ocean Springs, Mississippi, was completely gone after the storm. The restaurant survived with minimal damage but with no home to go to, Jenny headed north to Grand Island with kids, pets, her mom and not much else.
Jenny and Dick had been planning on getting out of the dinner restaurant business and into a bakery and coffee shop in Ocean Springs. They kept that dream alive here on Grand Island when they purchased the old Del & Herb's property in December 2006. Remodeling began in January 2007 and became a total overhaul of the property. They and their crew did a beautiful job. Slate flooring and an open floor plan greet you on arrival with nice artwork, a fireplace and cozy and warm ambiance. Breakfast and lunch will be served Tuesday through Friday from 7 a.m. to 5 p.m., and Saturday from 8 a.m. - 5 p.m. at Dick & Jenny's Bake & Brew. They will do all their own baking of bagels, breads and Danish. The lunch menu will feature soup, salads and panini sandwiches. A beautiful copper espresso machine has been imported from Italy and will produce yummy specialty coffees. The restaurant will open without fanfare on Tuesday, February 26th at 7 a.m. Stop in to welcome Jenny and Dick to the neighborhood and see for yourself the wonderful changes made to the old Del & Herb's.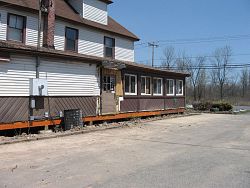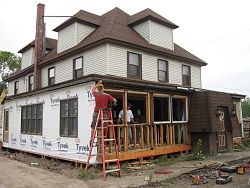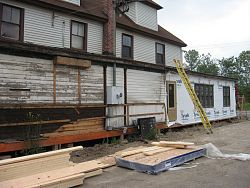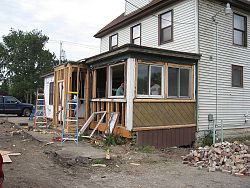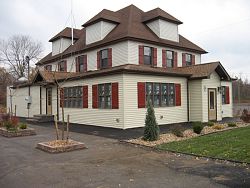 Jodi Robinson Photos - Click photos for larger view
Photos of the progress on the outside of the building were taken on May 7, July 7, July 13 and November 14 of this year.



---



Aceti's Wine & Spirits Celebrate One Year In Business - 2008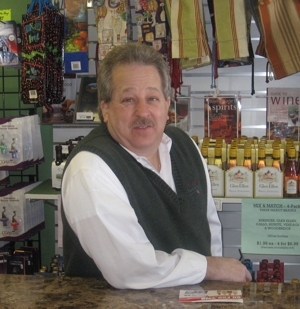 Sam Aceti
Sam Aceti of Aceti's Wine and Spirits celebrated his first anniversary in business on December 2nd by having a customer drawing for prizes. First place went to Cindy Gross who won Sabres tickets, 2nd place was Bob Abbamonte ($50 gift certificate) and 3rd place was a $25.00 gift certificate for Julie Dee. Sam Aceti is very pleased with his new business and is very appreciative for the support he has received in the past year. Another celebration took place on January 5th with the birth of his daughter, Marissa Ida Aceti. Baby Marissa and mom are doing great!
Sam likes to sponsor special promotions throughout the year and announced that the popular frequent buyer cards are back for another year after the overwhelming response by regualar customers.
A Super Bowl promotion will take place on February 2nd and 3rd. With the purchase of two or more bottles of wine you will receive a numbered football ticket which can be redeemed for 1% - 20% off your wine purchase, depending on your "square."
On Friday, February 8th, from 4 p.m. to 7 p.m. a Champagne tasting will take place accompanied by chocolate covered strawberries for guests.
St. Valentine's Day, Thursday, February 14th, all ladies will be given a special treat when they visit the store.
Next up "March Madness" makes a return as last year's promotion was enjoyed by all. With every purchase a customer is given a chance to pick a team and as the team moves through the standings, the customer receives from 5% - 25% off, depending on how well they do.
This past fall, Aceti's Wine & Spirits teamed up with St. Martin-in-the-Fields Church and held a wine tasting that raised over $2000 for the church's Children's Education Fund. Over 100 people had the chance to taste 50 different wines, numerous Hors d'oeuvres and enjoy the music of Solid Gold DJ. Other tastings are in the works for the coming year. Sam is enjoying his thriving business and looks forward to the future.




Fantastic Sam's - Our Newest Advertiser - 2008

Fantastic Sam's is located in the City of Tonawanda, just across the river. Take River Road north to 533 S. Niagara Street and you will find your new "do" at the Wilson Farms Plaza. Owners Vicki and Neil Maxick are offering specials for coloring and perms for a limited time. Check out their website for more information.




Bear-Man Specialty Foods' Mascot Receives Wings - Flies Coach - 2008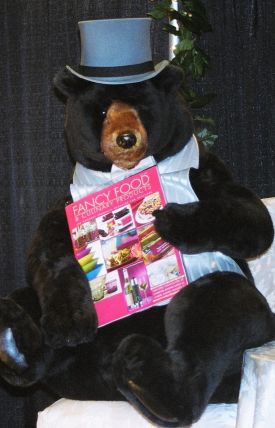 Grand Island, NY – Bear-Man Specialty Foods is heading to the Winter Fancy Food Show in San Diego. But Barry C. Conway, president, will not be flying solo. His life-size mascot black bear, in costume, has the aisle seat right next to him. "He's too cute to put in a box and ship out there. He makes people smile, both children and adults." After all, Bear-Man's mission is not only to share his high quality, specialty sauces and seasoning, but to have fun doing it. And customers are responding.
On the serious side, Bear-Man's "Growlin' Grizzly" Barbecue/Dipping Sauce received Silver in the 2007 "Outstanding Cooking Sauce or Flavor Enhancer" category of the annual competition sponsored by the National Association of Specialty Food Trade (NASFT). "Just to be nominated amongst the industry's most prominent specialty food producers was a real thrill," says Conway.
Barry created his product line from his original recipes. Other products include "Black Bear Boogie" Barbecue/Dipping Sauce, "Sap-Happy Golden Bear" (a maple sauce) and "Tummy Rub" dry rub/seasoning. On the market since January of 2006, Bear-Man can now be found in 15 states, from New York to Alaska. Locally, it is carried by Premier Gourmet, Dash's Markets, Adventures in Heat, Chateau Buffalo and Muscoreil's Bakery, among others.
See Bear-Man Specialty Foods





---
Other Grand Island Pages to Visit:
Churches | Email Directory | Government | Groups
GIHS Grad List | Guestbook | Please sign in! | Local Artists | Photo Album | Town History | Useful Links
| Website Design | Wildlife | Isledegrande's Home Page | GIECOM.NET'S Home Page
Please Email News Releases to Teddy Linenfelser, Thank You.



This website is sponsored by GIECOM.NET
1869 Whitehaven Road, Grand Island, New York, 14072-1803 USA
Copyright © 1995-2008 All rights reserved.