Fire Co. lauds support
By Ray Pauley
A generous estate bequest and successful 2000 Fund Drive, have helped to defray major operating costs that arose during the past year, according to GIFC Board Chairman Gail Lazeyby. Replacement of three... <The complete Story>

Contest Winners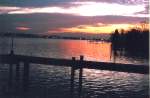 "Celebrating the Millennium" was this year's theme for the Grand Island Recreation Department Photo Contest which ended October 25. Dan Mancuso of East River Road took top honors with his "Millennium Dawn" shown here. Winning photos in each... <Complete Story>

Snowmobile permits
Snowmobilers will be allowed to use over 12 miles of designated and signed snowmobile trails on parklands on Grand Island by permit only...
<The Complete Story>

Mitten Tree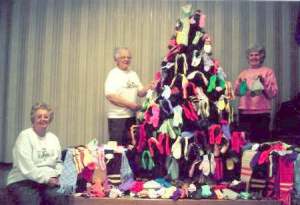 Members of the Grand Island Golden Age Club, including (left) Sally Riggs, Rose Kij and Lil Carpenter have been working for several months creating knitted goods for their Mitten Tree. Over 700 scarves, hats...
(Barbi Lare photo)
<The complete Story>

My Life
By Ted Kumlander
The call came in first thing in the morning from the postmaster. "Your chicks are here and need to be picked up right now. They are peeping like crazy and need food and water."
<The complete Story>


NYS PTA Annual Convention
"Parents + Teachers = Achievements for Children and Youth" was the theme of the 104th annual convention of the New York State PTA, held in Buffalo earlier this month. More than 1000 delegates, including 17 from Grand Island, ...
<The complete Story>

Computer Winner!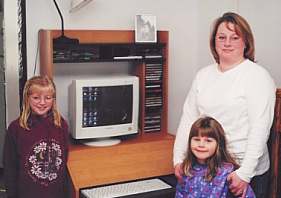 The Chamber of Commerce Expo Oct. 28, was a lucky day for Village Inn Cook Teresa Fahrer...
<The complete Story>

Kid Voters #1
"Congratulations on the completion of another successful Kids Voting election day," said Kids Voting co-chair Lee Tetkowski this week. Of the 78,000 students in 39 school districts in Erie and Niagara counties, Grand Island came out #1 again!...
<The complete Story>

Grand Island
Foundation Launched

The Grand Island Foundation, a new non-profit organization, was launched officially last week at a reception and press conference. The brainchild of school board member Myrna Blair, the foundation...
(Barbi Lare photo)
<The complete Story>
Island Teens
Arraigned
By William O'Connor
Two Island teens Michael Fetzer, age 17 of Carter Drive, and Joseph Rafe, age 16 of Monica Road, were arraigned Monday, November 27 in NYS Supreme Court by Justice Mario Rossetti, for "Assault in the Third Degree...
<The complete Story>

Isle Screen Saver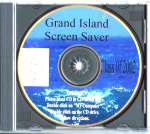 Last minute gift seekers may want to consider buying a "Class of 2000 Grand Island Screen Saver" for their family and friends. The CD-ROM screen saver has more than 30 beautiful images of Grand Island's landmarks...
<The complete Story>

Moose Lodge #180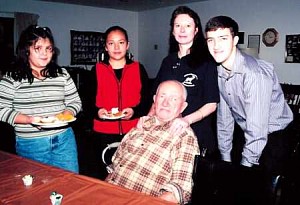 The members of the Ladies Auxiliary of the Moose Lodge #180 have, for 10 years, served Thanksgiving dinner to the residents of Islandview Apartments (our senior citizen housing) on Baseline Road. Residents were appreciative of the complete meal of turkey, ham, mashed potatoes...
(Barbi Lare photo)
<For the complete Story>
Local reaction
to Casino proposal
By William O'Connor
Local politicians, Grand Island Supervisor (D) Peter A. McMahon and Council Member (R) Dick Crawford reacted favorably to the $1.5 million proposal to rebuild the Beaver Island Casino in separate interviews with Grand Island E-News this week. See last week's Casino story for more details.
<The complete Story>

Historical
Society Holidays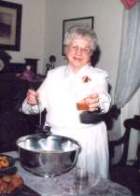 Rose Kij entertains at River Lea.
River Lea, home of the Grand Island Historical Society, will be open to the public from 1-4 p.m. Sunday, December 3 and Sunday, December 10.
<The complete Story>
(Barbi Lare photo)

Successful Isle UNICEF Drive
This year's Halloween Trick-or-Treat-for UNICEF broke the previous Grand Island record! The Boy Scouts thought the bags of sorted coins were super-heavy! The first part of the count was easy: the many paper bills crumpled into those little cartons plus some Canadian currency came to a total of $624.62. The HSBC Bankin Buffalo counted the sorted coins which totalled $2,549.62.
<For the complete Story>
---
---
November 9th News
November 15th News
November 23rd News
---
Other Grand Island Pages to Visit:
Churches | Email Directory | Government | Groups
GIHS Gradlist | Guest Book | Please sign in! | Local Artists | New!Photo Album | Town History | UsefuLinks
| Website Design | Wildlife | Isedegrande'sHome Page | GIECOM.NET'S Home Page
Please Email News Releases to Teddy Linenfelser, Thank You.

This website was created and updated weekly since September of 1997.
Our sponsor is GIECOM.Net Inc., "Grand Island's E-Commerce Network",
providing Internet Access and Webhosting to the Grand Island Community.
If you are interested in participating as a sponsor, please email.
1871 Whitehaven Road, Grand Island, New York, 14072-1803 USA

GIECOM.Net Inc. is owned by deSignet International
a "World Class Jewelry Manufacturer and Retailer"
Store Hours: Noon-5PM Tues-Friday and Saturdays 10AM-3PM, and by Appointment
1869 Whitehaven Road, Grand Island, New York, 14072-1803 USA, 1-888-RARU.COM
Copyright © 1995-2002 All rights reserved.