Golden Age Center Webpage - 2009

3278 Whitehaven Road
773-9683

Golden Age Center News 2005
Golden Age Center News 2006
Golden Age Center News 2007
Golden Age Center News 2008


Previous Golden Age Center News

Town of Grand Island Website
To E-mail the Golden Age Center

---
OFFICERS 2008

President Nonnie Carroll, Vice President Joyce Good, Treasurer Chris Bihler,
Secretary Ruth Cunningham, and Sgt-at-Arms Jerry Goodwin

October 2008 Golden Voice
October 2008 Menu
November 2008 Menu
November 2008 Golden Voice






Holiday Happenings At Golden Age Center - 2009
Members of the Golden Age Club will host a Holiday Happenings event from 11 a.m. to 3 p.m. Sunday, November 1. The day will feature hand crafted items, raffle baskets, and lunch items all reasonably priced.




Gram's Garage Sale at Golden Age Center - 2009
Members of the Golden Age Center invite the community to their annual Gram's Garage Sale being held from 9:30 a.m. to 1 p.m. Saturday, May 16 at the the Center, 3278 Whitehaven Road. The day will feature a baked goods sale, hot dog & pop $2.00 and 20 tables of vendors.




Golden Age Center Members Assist With Tax Bills - 2009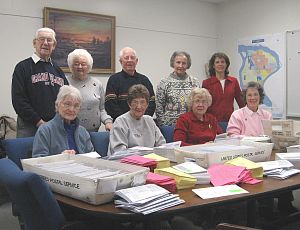 (Left standing) Hank and Nonnie Carroll, Lloyd and Ann Potter, and Town Clerk Pattie Frentzel; (front left) Dorothy Lew, Gloria Diringer, Chris Bihler, and Martha Muller.
Jodi Robinson Photo - Click for larger view
Members of the Grand Island Golden Age Center spent Tuesday, January 20, 2009 stuffing envelopes to mail the 2009 town and county tax bills to residents of Grand Island. For many years, different members have donated their time for this project and also for the mailing of the school tax bills in the fall.









---
If you are a member of this organization, we need your help. GIECOM.Net has partnered with the Connections program to help Grand Island as a community "Get it Together." Please visit our website G-I-Together.ORG and fill out our SURVEY. Every group on Grand Island will have its own FREE web page showing: meeting times and location, contact persons, your Mission Statement and a listing of events. We will also be linking your news events that appear in the local media and on IsledeGrande.Com, Grand Island's E-News Source, to your page, maintaining an archived journal of pictures and news. This is the perfect opportunity for your group to connect with potential new members and the community.
---
---
Other Grand Island Pages to Visit:
Churches | Email Directory | Government | Groups
GIHS Grad List | Guestbook | Please sign in! | Local Artists | Photo Album | Town History | Useful Links
| Website Design | Wildlife | Isledegrande's Home Page | GIECOM.NET'S Home Page
Please Email News Releases to Teddy Linenfelser, Thank You.
This website is sponsored by
GIECOM.NET
1869 Whitehaven Road, Grand Island, New York, 14072-1803 USA


Copyright © 1995-2009 All rights reserved.