Volume One
Volume Two
Volume Four
Teddy's Islettes Photos (webpage)

---
---



Huth Road School 6th Grade - 1965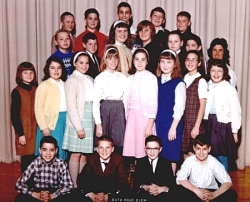 Click photo for a larger view.
This is a 1964-65 photo of Mrs. Shackleton's 6th grade class at Huth Road Elementary School and submitted by Diane Bykowicz Hassan whose husband, Mark, was in the class. If you can help with any of the names, email me at jodi@giecom.net. Shown front left are Jim Kern, Doug Theiss, Louis Henry and Jim Szabo; (2nd row) Paulette Sterner, (unknown), Denise Stack, Cheryl Phelps, (unknown), Patty Ford, Cathy Orynawka, Diane Schnitzer; (3rd row) Mark Hassan, Jim Chambers, Pam Jeeves, (unknown), Alan Dodge, Joey D'Ingillo, Mrs. Shackleton; (top) Rick Eidens, Dave Burke, Jerome Viola, Tim Reimann, (unknown). Mark and Denise Stack were awarded the "H" pin that year and Mark still has his and wears it as a tie pin! He credits Mrs. Shackleton with instilling a love of reading in him.


---



Kohlhagen Sisters - 1954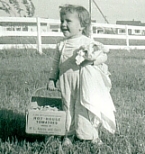 Click photos for a larger view.
From left is Susan Kohlhagen (Long) pushing the family lawn mower with her sister, Carol (Hamlin) and in the next photo, little sister, Karen (Wallace) is taking care of business on a warm, summer day. The Kohlhagens were our neighbors on Love Road in Grandyle Village and I took the snapshots in their backyard in 1954. Sue now lives in in Nunda, NY with her husband, Jeff. Karen has stayed on the Island with her husband, Scott and family, and Carol and her husband, Dave, raised their two daughters in the house on Love Road where the Kohlhagen girls grew up.


---



Grand Island Rotary Club Event - 1976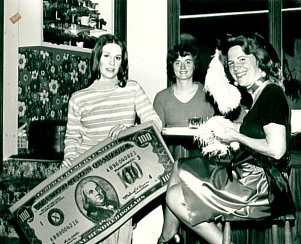 Jeri Schopp, Linda Harper and Adeline Vacanti posed for this photo as a promotion for a Grand Island Rotary Club event in 1976. Can you tell me what it was?


---



VFW Officers - 1967-68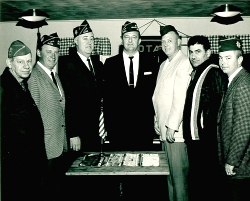 Click photo for a larger view.
The Charles N. DeGlopper Memorial VFW Post 9249 elected these men to serve the post for 1967-68 and held their installation in Del & Herb's Restaurant. From left are Officer Of the Day Walter Kendzierski, Junior Vice Commander John A. Starzynski, Senior Vice Commander Edward Flad, Commander George J. Bower, Post Advocate John S. Scott, Chaplain Sam Mancuso and Quartermaster Tom Collins. Not pictured were Post Advocate Gordon Gannon and Surgeon Frank Gill.
Readers: Please email me at jodi@giecom.net if you can verify the name Edward Flad, the name published when the photo was taken.


---



Sidway First Grade - 1969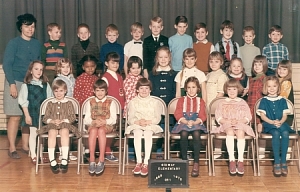 Click photo for a larger view.
Isle resident Sally Black was in her first year of teaching in Charlotte Sidway School when she posed with her first grade class in the school's gym. The photo is dated 1969-1970 and was submitted by Maura McCowan Rustowicz who is shown on the left in the second row. Classmates are (front left) Debbie Lee, Lisa Williams, Deanna McBride, Carrie Dinino Sheehan, Amy Westrope, Cathy Golanka; (second row) Maura McCowan Rustowicz, Kristy Smith, Selena Flood, Lisa Schutrum, Becky Waite, Patty McLeod, Karen Bates Rosene, Mary Beth Shultz, Rachel Gorney, Lynn Zelonis Mikulski, Marilyn Edwards; (top) Mrs. Black, Greg Long, Roy Kemsley, Doug Boris, unknown, Kyle Cozad, Mike ?, Bob Cunningham, Mike Rupp, Larry Worley and Brian Russell.


---



Lions Club - 1978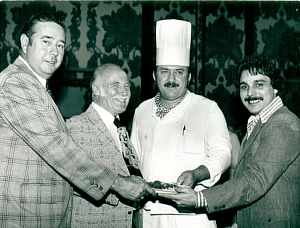 This photo was taken on April 17, 1978 at a Lions Club Spaghetti Dinner in the Holiday Inn. Shown from left are Lions President Jim Ehde, Dinner Co-chairman Art Wade, Main Cook Rene Gerber and Dinner Chairman Tom Giambra. The Grand Island High School Stage Band directed by Sherm Lyke played for the entire 4-hour period. Rene Gerber, who has served as the Buffalo Launch Club's head chef for about 35 years, is retiring (2003).


---



Huth Road School Teachers, Staff - 1970s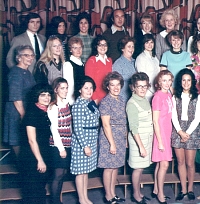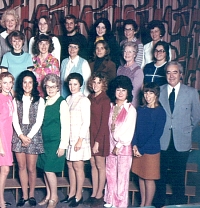 Click each photo for a larger view.
This photo was probably taken on the stage at Huth Road Elementary School in the early 1970s. Shown front row left are Jan Guzzetta, unknown, Mrs. Betty Fitzgibbons, Mrs. Alice Meyers, Mrs. Eleanor Thomas, Miss Agnes Crowley, Elizabeth Reimann, Evelina Schopp, Marilyn Burak, Mrs. Marnie Pinzotti, Gertrude Radius, Mary (Miller) Panagoulacos and Principal Tom Tierney; (second row) Mrs. Kay Strickland, unknown, Jean Cudmore, Belinda Gushue Plant, Pat Bulan, Anita Romagnoli DeGlopper (formerly Mrs. Meyer), unknown, Miss Nancy Peterson, Dolly Parks, Mrs Reynolds Shillinger, Mrs. Gileen French, Mrs. Gert Glair and Deloros King; (top) Jim Mumm, Elaine Freedman, Mrs. Delores Murray, Mr. Dan Kensik, Mrs. Peggy Figler (Bastian), Catherine Flynn, Elaine Kasprzyk, Pete Sloan, Sue Canavan, Miss Gladys Strassburg and Mrs. Mary Fontana. Thanks to Dory Smith Matwijkow for help with many of the names. If you can identify any of the others or can correct the spelling of names, email me at jodi@giecom.net. Be sure to click each photo for a larger view.


---



Lumber Hooker On Niagara River - 1895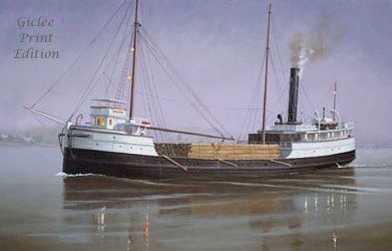 Taken off the internet, the information accompanying this artwork titled "Lumber Hooker On The Niagara River" says, "Great Lakes lumber hooker delivers a cargo of milled heavy timber, circa 1895."


---



Huth Road 4th Grade - 1963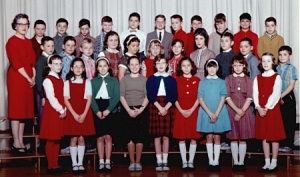 Click photo for a larger view.
Mrs. Pearson's 4th grade class at Huth Road Elementary School posed for this photo in 1962-63. Shown front left are Kathy Olds, Cathy Orynawka, Peggy Martin, Beverly Bedell Gerada, Jacqueline Martineck, (unknown), (unknown), Shelley Bookhagen, Ellen Hopkins (Faber); (middle row) Fred Bidell, (unknown), Mark Hassan, Pam Jeeves, Jean Killian, Patricia Goodwin, Barb Muetel, Nancy Pickles, Andy Cady, (unknown), Denny Sarokon; (top) Mrs. Pearson, Ralph Edwards, Louis Henry, (unknown), Tim Reimann, Mike Maffei, Jim Chambers, Roger Kaiser, Herb Trottnow, Dave Livingston, Jim Shackleton and Dave Brice. If you can identify the others, email me at jodi@giecom.net. Thanks to Diane Hassan for submitting this photo and to Ellen Hopkins Faber for some of these names.


---



Kaegebein School RIF Program - Late 1980s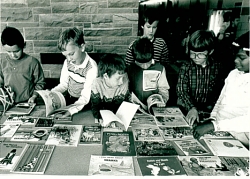 Click photo for a larger view.

Kaegebein Elementary School students from Mrs. Hope Hartman's class were looking over the selection of RIF (Reading Is Fundamental) books donated by the school PTA, in the late 1980s. The photo was taken by Island resident Michael DeMartin. Veteran Kaegebein School teacher Hope Hartman has identified the students, who were in her classroom in 1986-1987. From left are Doug Dodge, Nathan Rimes, Kyle Miller, (student is with his head down not identified), tall boy behind him is Derek Ramsey, the boy with the glasses is John Bowman, and the little girl may be Angela Scott.


---



65 West Park Road - Graduation Party - 1976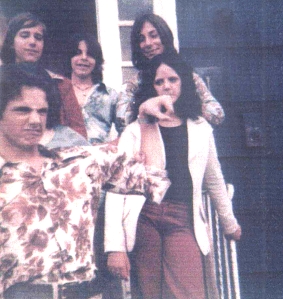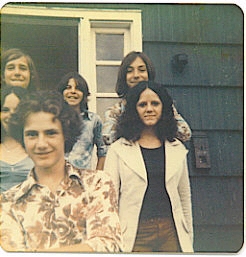 Beth Hamilton and her sister, Kathy, found these pictures while going through some old photos last week. Beth took the picture on the left during her brother, Jim Hamilton's GIHS graduation party in 1976 in front of 65 West Park Road. From left to right, front to back are Jim Hamilton, Kathy Hamilton, Mark Rafe, Jim Harris and Gene Combs. In the photo on the right, Beth is shown just behind her brother, Jim. Beth, Jim, Kathy and their mom, Sue live in the state of Alabama, but still call Grand Island "home."


---



Little League Candy Sale - 1967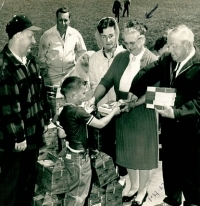 Click photo for a larger view.

This photo was taken in June 1967 at Sidway School. Buddy Boss is the small boy buying a box of candy which was being sold by the Grand Island Little League. The others are (left) Homer Cook, Little League President Ted Kumlander, Joan Boss, Elsie Stamler and Joe Roe. Please email me at jodi@giecom.net if you know the unidentified man.
The photo is from the collection of photos of the late Elsie Stamler, former town clerk, and through the courtesy of her daughter, EhdeBeth Parrish and her nephew, Mike Stamler.
My thanks to Sandy Cook Steele, former Island resident who now lives in Port St. Lucie Florida, for sending me her late father's name. According to Sandy, Homer Cook was the Little League Baseball Commissioner on Grand Island in the early-mid 1960s and the fundraising candy was from Madison Enterprises out of Pennsylvania.


---



Huth Road 5th Grade - 1963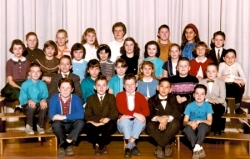 Click photo for a larger view.

Huth Road 5th grade students in Mrs. Jean Cudmore's class in 1963 are: first row left: unknown, John Papai, unknown, Russ Colosi, Jim Fuller; (2nd row) unknown, Jim Rumsey, unknown, Shelly Simpson, Valerie Person, Eddie Zelazany, Donald Kaiser; (3rd row) Kathy Hogan, Roberta (Bobbie) Gasbarre, Christine Bagdy, Mira Tetkowski, Marla Hagerman, Adele Carlson, Judy Duane, Linda Remmes and Louis Niro; (top) Tim Callahan, Jim Hartman, Lani Knapp, unknown, unknown, Sherry Oberkircher, and Mark Schultz. Also in the photo but not identified is Kathy Hogan. Please email me at jodi@giecom.net if you can identify her or any of the other "unknowns." Thanks to Diane Hassan, Karen Raepple, Kathy McNulty and MaryJo Gill for help with identifying so many students.


---



Grand Island High School Opens - 1963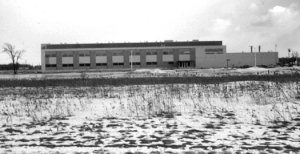 This is the Grand Island Junior/Senior High School as it looked in September 1963 when it opened for the first time to grades seven through ten. Principal and Assistant Principal of the new school on Ransom Road were Dr. Clyde Eidens and Henry Fessard repectively. By moving one grade level higher each year, the Class of 1966 became the first twelfth grade and the first graduating class on Grand Island. Approximately 300 Grand Island students were attending off-Island senior high schools with the majority of the Island's eleventh and twelfth grade students enrolled in Kenmore East and Kenmore West High Schools. When the Grand Island Middle School opened April 14, 1969, the high school housed grades 9-12. For a more complete story by my mother, the late Marion E. Klingel, click Building of GIHS.


---



Rat Bounty On Island - 1943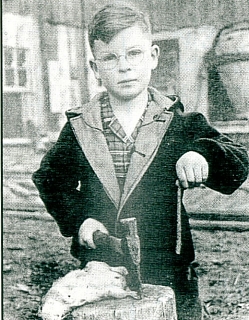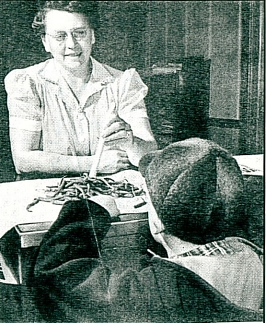 Editor's note: The following was written by my mother, the late Marion E. Klingel, for the Grand Island Record in 1999.
A growing problem (rats) made headlines in the November 1943 Buffalo Evening News and in the January 1944 issue of the nationally distributed Life Magazine. Pictures in the magazine included one of Islander Robert DeGlopper and another of the then small boy and Grand Island Town Clerk Elsie E. Stamler. "Farm Boy Discovers Ray-Bounty Bonanza" the News headed its story, adding, "Pests Prefer Bait in Private, Says Expert." It then went on to tell about Erie County's war-against-rats and a control program getting underway on the William Kaegebein farm on Whitehaven Road. Life's picture caption of Elsie and DeGlopper was interesting indeed, informing readers that it was taken as the boy was handing 83 rat tails to the town clerk. Why? Because the county had offered a bounty of three cents each in its war against the vermin!


---



First Day of School - 1957


Waiting for the school bus in the Love Road driveway of the Loth family in 1957 were (left) Ricky Stefik, Richard Benns, Jarman Benns, Barbara Wilson (Kennedy), Sharon McMahon (Tokash) and Danny McMahon. Presumably these neighbors were all attending Sidway School.


---



High School's "My Fair Lady" - 1977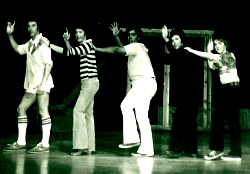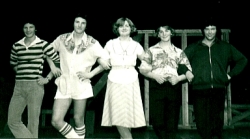 Click photo for a larger view.
Left photo shows the "With a Little Bit of Luck" number with Alfred Doolittle (Peter Sham) and the quartet during rehearsal for My Fair Lady at Grand Island High School in April 1977. Right photo shows Eliza (Kathy Radecki) and the quartet dancing and singing "Wouldn't It Be Loverly." Others who starred in My Fair Lady were Randy Kramer (Henry Higgins), Steve D'Addieco, Eileen Conboy (Stone), and Brad Martin.


---



Middle School Gymnastics - 1977


Click photo for a larger view.
The middle school's gymnastics and tumbling program was in its seventh year when this photo was taken in 1977. Some of those taking part in the program that year included Sue Kennell, Marilyn Webb, Ann Marie Mahiques (top left), Nancy Lexo, Debbie Agnello, Darcy Gerspach, Sue Black Utz, Jill Bates, Maura McCowan Rustowicz and Sue Stone Braun. The gymnastics program was started by middle school physical education teacher Pat Muffoletto who began his teaching career on Grand Island at Kaegebein School in 1966. A reader has suggested that Michelle Ballachino is at the top on the right.
I will add married names - just email me at jodi@giecom.net.


---



Pie Contest? - 1977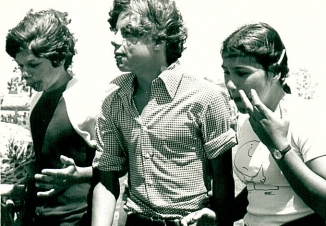 This 1977 photo was first posted in the "Old Photo Album" on August 14, 2003 and today (Nov. 24, 2004) I received the identification of the boys, (left) Carson Hettinger and Chuck Meyer who are shown with Karen Lundsford (Conboy) in what looks to be a pie eating contest. Thanks to Anthony Lucca for emailing the names.


---



Teddy's Islettes Hoop Twirlers - 1973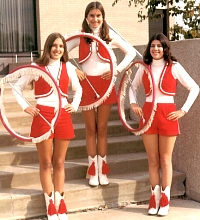 Click photo for a larger view.
Teddy's Islettes members (left) Debbie Bleich, Marcia Witte (Robison) and Judy Lovelee (Kenyon) posed for this photo on the steps of the town hall in the summer of 1973. The threesome, along with a dozen other senior twirlers from the baton twirling corps, twirled hoops, two batons and fire batons and had near perfect attendance at practice and parades.


---



Firemen's Parade - 1966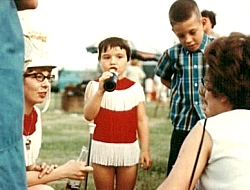 Teddy's Islettes director, Teddy Klingel (Linenfelser) is shown left with littlest Islette Sheryl Leach (Knab) and her brother, Mark and mother, Betty after a firemen's parade during the summer of 1966. Sheryl's little sister, Karis is barely showing in front of her mother.


---



Ararat Stone - Town Hall - 1965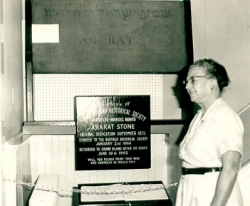 Click photo for a larger view.
The cornerstone of Ararat, absent from Grand Island for nearly a century, was returned here with ceremonies held at 10 a.m., Saturday, June 19, 1965. Mordecai Manuel Noah's Ararat Stone was moved to a place of honor in the old town hall, formerly School House #9, in 1965, three years before the "new" town hall was opened. The stone was returned by the Buffalo and Erie County Historical Society under the auspices of the Grand Island Historical Society and through the efforts of Island resident and Society member Milton K. Pitts.
Town Clerk Elsie Stamler is shown next to a plaque which was displayed just below the stone. The plaque reads:
Courtesy of Grand Island Historical Society - ARARAT STONE, - original dedication September 1825 - Donated to the Buffalo Historical Society - January 2nd 1866 - returned to Grand Island after 99 years - June 18th 1965 - Will you please print your name and address in Registry. The guestbook is shown on a small table below. The white square on the left of the stone is no doubt a public message but is unreadable in the photo.
"The Grand Island Historical Society must guarantee 1000 viewers per year if the stone is to remain here," Society members were told at that time. Shortly after the Ararat stone was brought back to the Island on loan, 300 signatures had already been added to the viewing registry.
When Grand Island, New York was surveyed by the State in 1824, the land was divided into lots of not more than 200 acres. These were sold at public auction. Mr. Samuel Leggett of New York City, acting for Major Mordecai M. Noah, purchased 2,555 acres as a refuge for members of the Jewish race. The plan was to make Grand Island into a large and flourishing city. Major Noah ordered the cornerstone for his enterprise from the Cleveland quarries. He composed the inscription for it "Ararat, A City of Refuge for Jews, Founded by Mordecai Noah in the month Tizri 5586, September 1825 and the 50th Year of American Independence."
The stone has been on display in the Buffalo Historical Society for many years.
The photo is from the collection of photos of the late Elsie Stamler, former town clerk, and through the courtesy of her daughter, EhdeBeth Parrish and her nephew, Mike Stamler.


---



Sidway School 5th Grade - 1954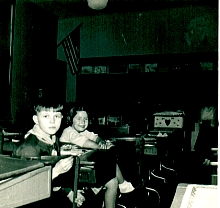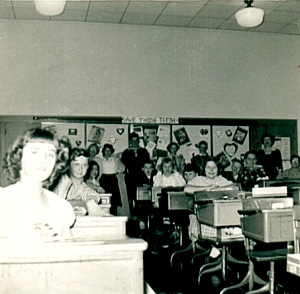 The year was 1954 and the students were in Adamine Kennelly's 5th grade classroom in Sidway School. Judging by the bulletin board in the picture on the right and the Valentine's Box made by classmates and pictured in the background of the left photo, it was probably Valentine's Day. In the photo on the left are Terry Pinzel and Billie Ruth Hayes Van Neil. Shown in right photo from left are Carol Darby, Ron Rezabek, Bonnie Taylor Ford (standing in back) with Butch DiTullio on her right, Billie Ruth Hayes Van Neil (first seat center), Wayne Baumler to her right and teacher Adamine Kennelly (Ubel). The 5th graders looked forward to their visits to the Island's library in the basement of the old town hall every Friday. Dressed as Indians, the 5th graders entered the field day behind Sidway School for the first time in June 1954. Thanks to Tom Duncan, a member of this class, for submitting the photos.


---



Girl Scouts Marching on July 4th - 1973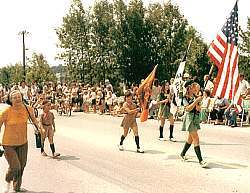 Click photo for a larger view.
These Girl Scouts and Brownies were marching down Grand Island Boulevard in the July 4, 1973 parade. The photo was taken by my father, the late Ted Klingel. The "mom" on the left is Sue Miazga~Hamilton. Can you identify the girls? If so, "E-Mail me!".


---



Sandy Beach Park Club Children's Parade - 1940s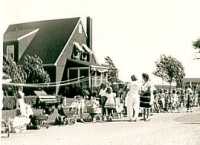 Click photo for a larger view.
The Sandy Beach Park Club, organized 60 years ago (1943), has held a children's parade and picnic each summer for probably that many years! This photo is from the late Elsie Stamler's collection and was taken from Winter Road looking over towards the Sandy Beach Restaurant, now the Beach House which is visible just right of the center of the "click to" photo. Neighborhood children decorated bikes, doll buggies and wagons just as they still do today.


---



Little League Indians - 1963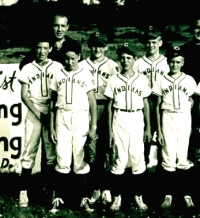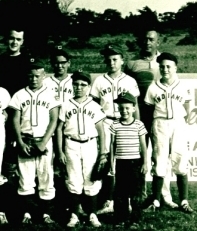 Click photo for a larger view.
Can you help identify these Little Leaguers who played on the Indians team, probably in 1963? Names that we have are (front left) John Kowzan, Eddie Falsetti, Doug Harding, unknown, Billy Burke, unknown; (middle) Jack Harrison, Bob Rycroft, Wayne Harvey, Dave Hennigar, Chris Lovelace, unknown; (adults - top) Ray Dearlove.


---



Grand Island Centennial Parade - 1952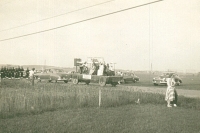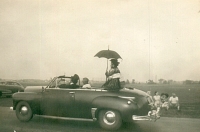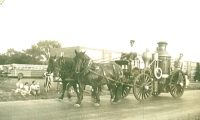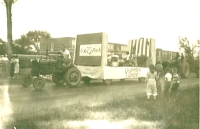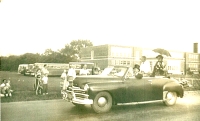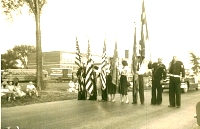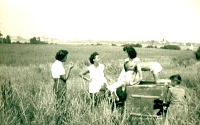 Click photo for a larger view.
The Grand Island Centennial parade was the finale of a five-day celebration in August 1952. This set of parade photos was sent in by Tom Duncan whose family lived across the road from the Charlotte Sidway School where the parade lineup took place. The last photo in the set shows Peg Woodman and Alice Duncan and was snapped during the Grand Prix sports car race in the area of Whitehaven and East River.
I'm not sure how I acquired these photos of the same parade in 1952. Click them for a better view.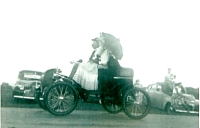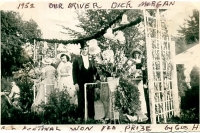 ---



Lions Club Children's Picnic - 1972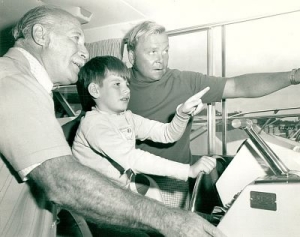 The Lions Club of Grand Island began a wonderful tradition in the late 1950s when they sponsored a picnic for handicapped children at the Buffalo Launch Club. This photo was taken of Art Wade (left) and Pete Hayes (right) out on the Niagara River on Pete's 36' Uniflite, with one of the guests at the picnic in 1972. The boat rides were and still are the highlight of the children's day which also includes a picnic lunch, pony rides, golf cart rides, Shriners go-carts, music and face painting. This year's event, chaired by Lions Jerry Dubiel and Tom Schultz, took place yesterday (July 16, 2003) at the BLC.


---



Town Board Meeting - 1962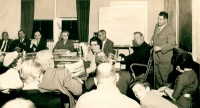 Click photo for a larger view.
Town Board members seated at head table in town hall in 1962 are from left, Superintendent Water Department Ken Winters, Town Attorney Sal Capizzi, Supervisor George Thorne, Town Clerk Elsie Stamler, Judge Don Hawley, Councilman Paul McCarthy and Walter Davis and seated right is Mary Heyden Ognibene, reporter for the Niagara Gazette.


---



Ora Glor's First Grade - Kaegebein School - 1950s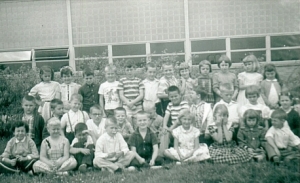 Click photo for a larger view.
Ora Glor, who began teaching in the William Kaegebein School in 1955 has provided me with this photo of one of her first grade classes of the late 1950s. Anna (Tierney) Cherkos seated on the left helped identify some of the students. From left seated after Ann are unknown, unknown, unknown, Tim Quinlin Debbie Dixon, unknown, unknown, unknown; (2nd row) Robert Rycroft, unknown, unknown, unknown, unknown, unknown,David Hennigar, unknown, unknown, unknown, unknown; (back) unknown, unknown, unknown, unknown, Rod Passarelli, unknown, unknown, unknown, Suzanne Geary, Barbara Gunther Eastman, Christina Johnson, Bonnie Householder, Melissa Clement. Can you identify anyone or correct the names I have listed? My email is teddy@giecom.net.


---



End Of School Party - 1980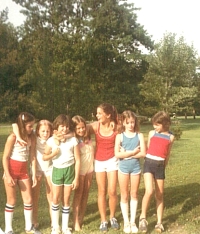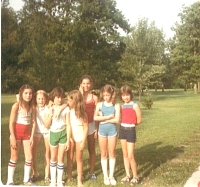 Click photo for a larger view.
This looks like "School's Out - Let's Have a Party." The photo was taken in 1980 in our front yard on Ferry Road with my daughter, Julie, planning an afternoon of games for her friends. The girls from left are Tracy O'Connor Goc, Melissa Bell DeLaria, Jean Willer Pecoraro, Julie Linenfelser Dee, Christina Linenfelser Ramsperger, Sheila McCowan Donovan and Jennifer Badame.


---



Citizens Of The Year - 1967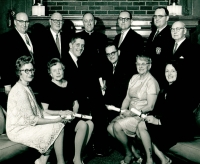 Click photo for a larger view.
Honored in 1968 as the Grand Island Chamber of Commerce Citizens of the Year for 1967 are (front) Marion Pinkow (Education), Margaret Pfohl (for husband Roswell, (Senior Citizen), Dr. Edward Rayhill, M.D. (Professional), Gerald K. Youngs (Outstanding Young Man), Elsie Stamler (Government), Elizabeth Beach (Arts); (standing) John Prast (Religion-Layman), William Pinkow (Citizen of the Year), The Rev. Richard Graeber (Religion), Thomas A. McKeen (Industrial), Grand Island Fire Co. (Lance Kohn), and Clarence Davis (Horticulture). Not shown are Harold Doerr (Civic) and Rodney Alt (Athletics). The photo is through the courtesy of Ehde Beth Stamler Parrish.


---



Crystal Beach Day - 1969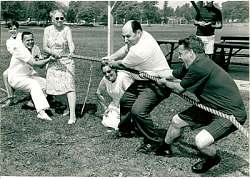 Click photo for a larger view.
Grand Island's Crystal Beach Day in 1969, sponsored by the Island Lions and Zonta clubs, was attended by 800 Island residents. Shown in the annual tug-o-war are (left) Joe McMahon helping out the town officials team of Councilman Bud Pritchard and Town Clerk Elsie Stamler, Zonta Club President Betty Beach kneeling to judge the game, and Lions Henry Schenck and Jim Kennedy who served as event chairmen. Bus transportation from the Island and back was provided for a $1, reduced ride tickets were available, and games were organized throughout the afternoon.


---



Girl Scout Leaders - 1951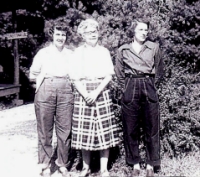 Click photo for a "much" larger view.
Girl Scout leaders of Troop 437, (left) Maryan Traun, Lucy French and Eleanor Barker accompanied the girls to Sky High camp in Orchard Park in the early 1950s. Some of the troop members were Mary Ellen Klingel Stewart, Wendy Holden (Gaydica), Louann Bucknam (Farrell), Betty Jane Gardner (Penque), Judy Daggett, Carleen Alt, and Kathleen McCarthy (Northrup).


---



Grand Island Fire Truck #2 - 1940s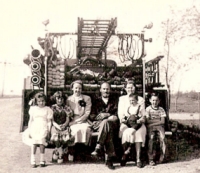 Click photo for a "much" larger view.
The Grand Island Fire Company's engine #2 is shown here most likely parked in front of the Company's hall, the former town hall on Baseline Road at Grand Island Blvd. in the 1940s. Sitting on the back of the truck from left are Mary Ellen Klingel Stewart, Sally Fleischmann Dinino, Elsie Fleischman, unknown man, Betty O'Dea holding son Jim O'Dea, and his brother, Martin O'Dea on the right.


---



Little League Athletics - 1963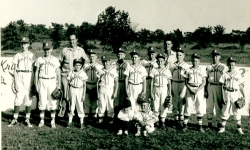 Click photo for a larger view or click GINY.US, then go to Free For All and see a "much" larger view of the photo.
This Grand Island Little League team probably posed for the photo in 1963 as it is with a group of Little League pictures from that year. Some of the boys have been identified. Bottom left seated, Kevin Brady, Mike Cassidy: first row standing; Rickie Schnitzer, Rick Mikolowski, Pat Leach, Bob Lindsey, Bill Buckley and Norm Brady; second row: Larry Martin, Jim Maurer, unknown, Rick Lindsey, Bill Aydelotte, unknown, and Mike Wiedemer. The coach on the left is Jim Brady. The name of the other coach is not known. If you can identify anyone or correct the names given, please email me at teddy@giecom.net.


---



Ferry Road Ferry Landing - 1945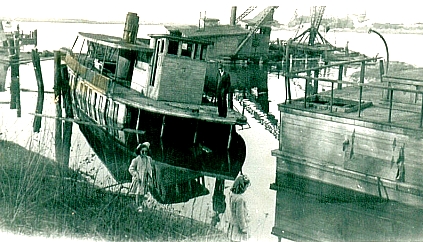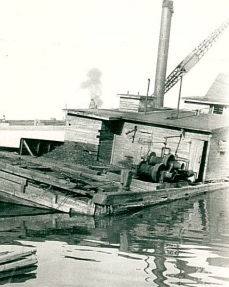 Mary Diringer (left) and her sister, Dorothy Diringer Roehrig are shown at the ferry landing in Ferry Village in 1945. The girls' father, Hugo Diringer is standing on the barge. According to Dorothy who noted their Sunday clothes, the family had probably taken a Sunday afternoon car ride from the Riverside section of Buffalo to Grand Island. Catherine Diringer, their mother, took the picture. The family often came over to the Island to this particular site to fish, Dottie Roehrig explained. The Diringer family moved to Grand Island where Mr. Diringer built their home on Stony Point Road in 1950. Thanks to Dorothy Roehrig who contributed this photo to the Old Photo Album.


---



Marble Hall Mansion Demolished - 1963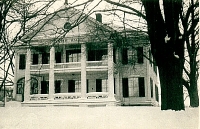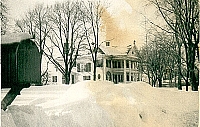 Click photos for larger view.
Marble Hall was the dream home of George F. Haywood, an English law clerk who rose to become an imminent figure in Buffalo's real estate and legal professions. Haywood, who purchased a sizable tract of prime Grand Island riverfront property adjoining James Tillinghast's RiverLea in 1890s, supposedly went into competition with Tillinghast to have a larger, more beautiful home than neighboring RiverLea. Albert Brinkman eventually bought the property in the 1940s and named it Marble Hall after pouring thousands of dollars into the home, left quite unkept for the previous 40 years. It was sold to Earl Hull of WHLD in 1948, the State of New York took it over in 1962, and on Sunday, June 2, 1963 Marble Hall fell under the wrecker's ball to make room for the Beaver Island Golf Course.
Marble Hall's twelve rooms included a reception room, drawing room, music room or library, dining room, kitchen and seven bedrooms, two full baths and two lavatories. All rooms were of large to mammoth proportions with ceilings extended to ten feet in height and there were five woodburning fireplaces in the home. The photos were taken in the early 1940s by my father-in-law the late Dan Linenfelser Sr. who lived with his family in another large home in the area that was part of the Hussey estate.
RiverLea, now and for many years the Grand Island Historical Society's headquarters, is in Beaver Island State Park.


---



Memorial Day In Grandyle Village - 1951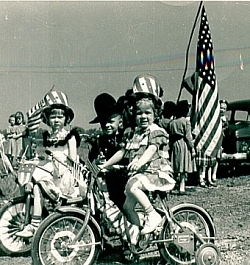 Click photo for a "much" larger view.
The Grandyle Village Property Owners Association organized a Memorial Day chilren's parade around the block of Love Road and East Park in the 1940s and '50s. The parade ended at the "Grand Stand," a real estate office turned into a refreshment stand where ice cream was served to the marchers by the members of the Property Owners. The Grand Island Drum Corps or the Community Band most often provided band music and the kids with decorated bikes and doll buggies could be counted on for the biggest contingent in the parade. Note the hats and costumes on the little girls. That's Patsy Geary Kostenbauder on the left, Don Lang, and Sharon Benzing Minet. Girl Scouts and Brownies may be seen in the background with Susan Lee Turnbull peaking from behind the American Flag. The photo was taken on May 30, 1951 and I thank Pat Kostenbauder for the loan of it.


---



Easter Egg Hunt - 1988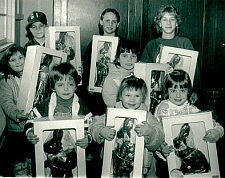 Click photo for a larger view.
Grand Island Jaycees held an Easter Egg hunt at the Nike Base on Saturday, April 2,1988. The hunt drew 200 youngsters. Shown front are winners in the youngest age group: Kevi Rader (1st), Julie Shurtz (2nd), and Jennifer Frey (3rd). In the second row are age 4-7 winners (left) Lindsey Hahn (1st) and Jennifer Raham (2nd). The 8-12 year old winners are in the top row: Jonathan Moran(1st) Kevin Lesika (2nd) and Kim Haag (3rd). Jaycee Egg Hunt chairman was Jeff Tomer.


---



Middle School "Stage Band" - 1984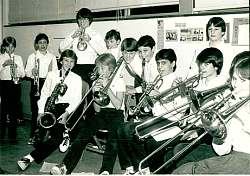 Click photo for a larger view.
Middle School band members in 1984 are shown at a practice. Seated from left are Andy Beyer, Eric Nowakowski, Dean Condino, Karl Rasch, Tim Lynch, (unidentified) and Kim Harris. Standing are John Voelker, Dan Erker, Dave Wolgast, Doug Faruga, Jeff Leach, Louis Fabiano and Steve Samplinski.


---



Cub Scouts Clear Hydrants - 1984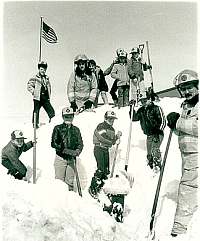 Click photo for a larger view.
Grand Island Cub Scouts from Pack 630 and Pack 425 responded to the Fire Company's appeal to citizens to clear hydrants in the winter of 1984. The Cubs, some of which are shown here in front of Fire Headquarters, included William and Chris Gworek, Jason Pax, Tim McQuillen, Aaron Sylvester, Brian Mongielo, Andy Dulak, Michael Prosser, Jeffrey, Suszczynski and Ian Sutherland. The adults shown are Steve Morgan and Bill Weis (right) of the Grand Island Fire Company. Click for larger views.


---



Town Hall Construction - 1967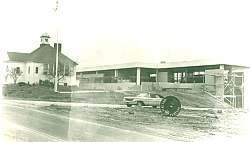 Click photo for a larger view.
The town's "new" town hall/library, which opened in April 1968, was under construction at the time of this 1967 photo. On the left is the second town hall, the formerly School #9 built in 1918 and torn down when the new building was completed. The library, previously located in the basement of the old town hall in the photo, was relocated to its own quarters on the right side (as you come up the staircase) of the second floor of today's town hall.


---



Chamber Recognizes Stedman's New Business - 1982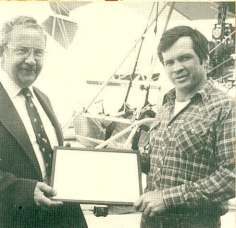 Grand Island Chamber of Commerce President Robert Bonsack (left) is shown in April 1982 presenting a certificate of recognition to Tom Stedman, new business owner and vice president of New York Aerolights Inc. Tom's plane, complete with pontoons and visible behind the two men, was based at Blue Water Marina in Ferry Village. Tom eventually owned the Blue Water Marina where he died in a tragic accident in 1991. He was also the owner of TC's Lounge on Grand Island Blvd.


---



J. Dale Janes Real Estate - 1955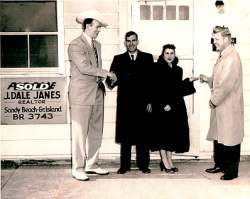 Click photo for a larger view.
Radio and newspaper advertising used by Grand Island real estate agent J. Dale Janes to spur Island sales paid off in 1955 as Mr. and Mrs. Sterling Haslam open the door to their new home. Shown from left are Ramblin Lou, a WHLD hillbilly band leader, Mr. Haslam and his wife, Ingeborg, and Mr. Janes. The Haslams were (and may still be) regular Ramblin Lou fans. Sterling, who met his wife in Ettlinger, Germany where he was stationed with the U. S. Army, had recently been discharged and was employed at Dunlop Tire Company in Tonawanda.


---



Fantasy Island Ground Breaking - 1960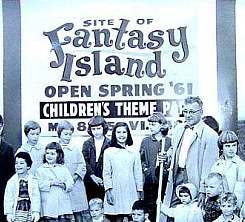 Click photo for a larger view.
Former Supervisor George J. Burgstahler turned the first shovel of dirt in ground breaking ceremonies for Fantasy Island Saturday, October 15, 1960. The photo was sent to me by Supervisor Burgstahler's daughter, Gail Burgstahler Rothenburg, who explained that her daughter, Amy, is holding the shovel. If you can identify anyone, please email me at teddy@giecom.net.


---



Faculty Visits Site Of Nearly Completed High School - 1963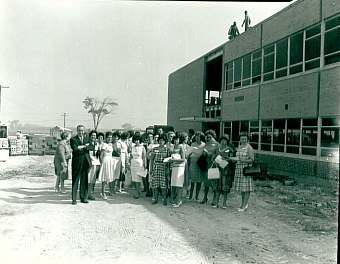 Click photo for a larger view.
It would have been close to 40 years ago, spring of 1963, that faculty members of the three Grand Island district schools visited the site of the new high school, nearing completion on Ransom Road. From left are Supervising Principal of Island Schools Veronica E. Connor, Huth Road Principal Tom Tierney, several unidentified teachers, and Gertrude Radius (white dress and a little shorter than the rest). Dorothy Dillemuth is standing on the right. Randy White has written with the suggestion that the tall man in the back (center) may be Mr. Robel. If you can identify anyone, please email me at teddy@giecom.net. Patricia Casale Santulli, who taught 7th grade English the first year the high school opened and several years after that, reports that she is the person in the center of the picture, belted white dress.


---



DeMolay Top Officers, Chapter Sweetheart - 1978




Click photo for a larger view.
Pictured here on the left, in 1978, are Amy (Wood) Morgan with (left to right) Chuck Baldi, Steve Morgan and Mike Zich. In the photo on the right are Senior Councilor Mike Zich, Master Councilor Steve Morgan and Junior Councilor Chuck Baldi. The foursome was installed on April 8, 1978 as the Sweetheart, Junior, Master and Senior Councilors of Isle Chapter DeMolay.


---



Opening Day, Sidway School - 1937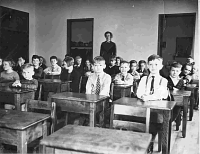 Click photo for a larger view.
These first and second grade students, with their teacher, Jeanette Cady, were spending their very first day in the newly opened Charlotte Sidway School on February 1, 1937. The school opened with four classrooms and two grades to a room. In the first row on the right are Willie Bell, Eddie Schutt, unknown, unknown. In the second row from right are unknown, Roger Kaiser, unknown, and Pat Stack. In the last row on left, all are unknown except Norman Schooping with his hand over his mouth. Norm, whose father was the pastor at Trinity EUB Church here from 1933 to 1941, and classmate Roger Kaiser were always seated far apart to help keep themselves out of trouble. Thanks, Norm, for sending me this photo. Readers - if you can identify any of the students, please "E-Mail me!".


---



Cub Scout Circus - 1952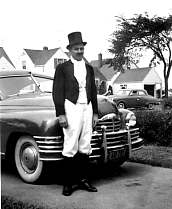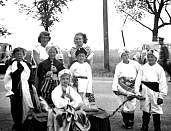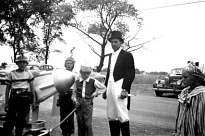 Click photo for a larger view.
Grand Island's Cub Scout Pack 254 produced a circus on June 21, 1952 that began with a Circus parade. Cubs in circus costumes started the march at Trinity EUB Church on Whitehaven Road and proceded to the circus grounds at St. Stephen's barn on Baseline Road. Ringmaster was Felix Grycel (left) who is shown out in front of his house on Love Road in Grandyle Village. We've identified the boys in the center photo from left as Robert Grycel, Donny Flessing, Danny McMahon and Peter Olrogge. The boy on the far right is not identified nor are the small boy in front. The mother in the back on the left is Jane Flessing. Thanks to Felix who emailed all three photos. If you can identify anyone, "E-Mail me!".


---



Middle School Girls Basketball - 1977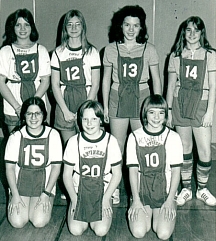 This middle school girls basketball team posed for a picture on February 27, 1977. They were team #4 and "Super Six Champs" that year. From left (front) are Maria Forgione, Jennifer Yadon and Karen White; (back) Captain Penny McQuestion, Carrie Pavis, Kelly Smith and Kim Sarama (Ianita). If you can add married names or any further information, "E-Mail me!".


---



Grand Island Rod & Gun Club Honors Member - 1977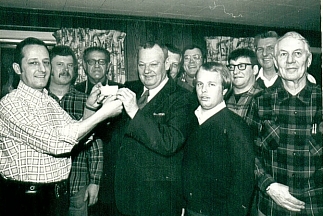 Grand Island Rod & Gun Club members in February 1977 honored John Gast Sr. (center) for his 30 years of active membership in the Club. He was presented an engraved plaque and honorary life membership. Shown from left are President Joe Cinelli, Treasurer Lyle Dinsmore, Alex Yadloczky, John Gast Sr., Harry Fearon, Paul Kaegebein, 1st Vice President Eric Berger, Jim Harmaty, 2nd Vice President Chet Sheppard and Ken Prior. Thanks to Eric Berger for identifying the members.


---



Sidway Junior High Rifle Club - 1963


Click photo for a larger view.
Members of the Charlotte Sidway Junior High School Rifle Club in 1962-63, shown with their instructor Henry Fessard, are (left front) Bob Watkins, Greg Goss, Leigh Harper, Bob Luther, Carl Reinauer; (back) Nancy Carlson (Bognar), Terry Funk, Susan Stricker (Benns), Richard Gibbons, Sylvia McCullough (Dixon) and Don Edgemon. A yearbook entitled "Memories of 1962-63" features not only the photographs of the last students to graduate from the junior high program but their many activities, including art, library, rifle and glee clubs, a mixed chorus and a concert band. Sidway lost its identify as a junior high when Grand Island Jr. Sr. High School opened for grades 7-10 in September 1963.


---



Girl Scout Troop #356 - 1980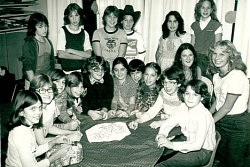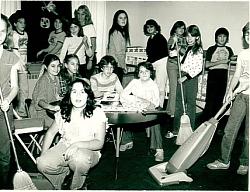 Barbi Lare Photos - Click photo for a larger view.
Shown sitting around the table (from left) are Jill Schiffauer, Susan Bors, Jennifer Sutter, Virginia Theado, Kelly Brown, Jenny Nickerson, Christine Curry, Becky Gushue, Jennine Luescher (Erhard) and Brenda Stadl. The two girls sitting behind on the right are Suzanne Mathews and Carolyn Edwards (Peracciny). In the back row from left are: Meg Lee, Lori Lynn, Tracy Kammerer, Sue Rogers, Kathy Gilmore and Jody Lewis.
Members of Girl Scout Troop #356, along with a younger group of Girl Scouts, were working on a quilt when they met in the Island Presbyterian Church on Huth Road in 1980. In the photo on the right the Girl Scouts are cleaning the nursery at Island Presbyterian Church as a service project. Troop leader was Maggie Gushue and assistants were Sondra (Sonny) Maglisceau and Georgette Oguich. Thanks to Jennine Luescher for identifying the Scouts.


---



Homecoming Candidates - 1975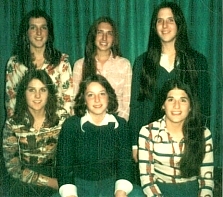 Grand Island High School Homecoming candidates is 1975 were (front left) Sally VanHattum (Kelley), Joanne Kozek, Ann Marie Samrany (Stewart); (top) Teresa Prusak (Drainville), Debbie Bleich and Sue Hood (Sondel). The Homecoming game on Saturday, October 11, 1975 was played against Tonawanda and the annual parade of floats took place during halftime. A semi-formal dance with music by the Waiverly Brothers was held from 8 p.m. to midnight that evening. Does anyone remember who won the football game? Send email to me at teddy@giecom.net.


---



Sidway First Grade - 1948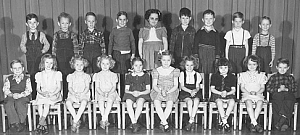 Click photo for a larger view.
This is Mrs. Gertrude Radius' first grade class of 1948. When the school opened to students in grades kindergarten through 8th grade in September of 1947, it was a bigger building with construction of a second floor completed and a large windowed kindergarten added, a first for Sidway School. Shown in front, left to right are Peter Fahrer, Gail Bennett, Peggy Boettcher (Fuller), Kathy Boettcher (Stisser), Judy Campbell, Ruth Landel, Ruth Conrad (Dunlap), Mary Ellen Klingel (Stewart), Marilyn Harper, Butch Glasgow; (back row) John Grycel, Billy Campbell, Peter Dinsmore, Chuck Ford, Nancy Benton (Meister), Paul Johnson, David Butcher, Doug Kutzbach, and unidentified. Special thanks to John Grycel for emailing the photo.


---



Grand Island Town Hall - 1968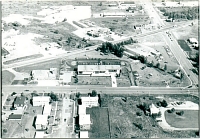 Click photo for a larger view.
This arial shot of the new town hall on Baseline Road was taken sometime shortly after it was completed in April 1968. Be sure to click the picture for a much larger view. To the right of town hall is the old Bells Store run by Ernie and Edith Godfrey, to its left is the fire hall and below are the Town Hall Terrace apartments. Kaiser's Funeral Home on Whitehaven Road is shown on the upper right edge of the picture. In the upper left is the Grand Island Lanes building with Lynn and Bob Smith's hardware store to its right. The upper right corner shows the Congregational Church Parsonage on Whitehaven and the Boulevard, built around 1893. Used as a private residence for many years, the building later housed Classic Seafoods, and the Whippy Dip in the 1970s and was demolished in 1989 to make way for the Noco Gas Station. That's Grand Island Blvd. running from lower left to upper right with TC's (left) and Big Willies (right) on the north side of the Boulevard. MacDonald's Restaurant is now on the site of Big Willies. At the lower right is the Schutt house, probably owned by Mae and Franklin Klocke at the time the photo was taken and now owned by Grant Hennigar.


---



Third Graders Visit Island Dispatch - 1964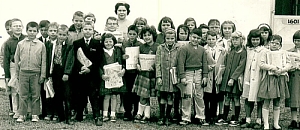 Click photo for a larger photo.
Huth Road School third graders and their teacher, Mrs. Fitzgibbon, visited the Island Dispatch in 1964 when the operation was in a former one-room school house on Stony Point near Staley Road. Shown from left are Patrick Thompson, Tom Fleming, Jim Gill, Paul Farrell, Gary Asbach, David Shick, unknown, Craig Hettinger, Tara Ad, Mimi Fadum, John Skinner, Mrs. Fitzgibbons, Fred Spiller, Darlene Zelazny, Joanne Slotiuk, Mary Orynawka, Sandy Fuller, Alice Finn, Beverly Bell, Bill Wietan, Tim Spivey, Mark Gollwitzer, Patricia Rodriquez, Sue Radder, Sue Miles, Angela Anderson, Jean Muench, Caroline Alt, and Sandra Hayes. At the time this "Dispatch" photo was taken, Rodney L. Hall was owner and publisher, my mother, Marion Klingel, was the editor/reporter and Lois Martene was office manager. "Mom" was also handling Fire Company dispatching duties from a "fire phone" on her editorial desk! Special thanks to Sue Radder for naming the students.


---



Grand Island Section of NYS Thruway - 1957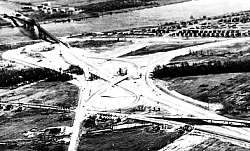 Click photo for a larger and more complete photo.
The Grand Island bridges were first operated by the NYS Thruway Authority in October 1950, several years before the construction of the Thruway was started. The Grand Island portion of the New York State Thruway opened on the morning of November 8, 1956. The Thruway overpass is crossing Staley Road. This photo was taken by my father, Ted Klingel, in August of the following year. The 13.32 miles of highway was built at a cost of $4,250,000. Its opening across the middle of the Island caused businesses to suffer due to a large percentage of the Grand Island Blvd. traffic bypassing Grand Island Boulevard on its way to and from Buffalo and Niagara Falls via the Island's stretch of the Thruway. Note the single span South Grand Island Bridge. Additional bridges on both ends of the Island were not added until the early 1960s. Dale D. Arner's Grand Island Tourist Camp is just below the traffic circle and now the site of Burger King Restaurant. (Click Arner's for a close up photo.)



Click Old Photo Album Volume One
Click Old Photo Album Volume Two
And for Teddy's Islettes photos, click Teddy's Islettes Web Page

---
---
Other Grand Island Pages to Visit:
Churches | Email Directory | Government | Groups
GIHS Grad List | Guestbook | Please sign in! | Local Artists | Photo Album | Town History | Useful Links
| Website Design | Wildlife | Isledegrande's Home Page | GIECOM.NET'S Home Page
Please Email News Releases to Teddy Linenfelser, Thank You.



This website is sponsored by
GIECOM.NET
"Grand Island's E-Commerce Bridge to the World"
1871 Whitehaven Road, Grand Island, New York, 14072-1803 USA
Copyright © 1995-2003 All rights reserved.

<! ~~~~~~~~~~~~~~~ New Tracker Code Belod -- -- -- Old Tracker Code Above ~~~~~~~~~~~~~~~~~~~~~~ >