"Grand Island Pictures from the Past"
Volume One
by Teddy Linenfelser



Volume One A
Volume Two
Volume Three
Volume Four
Volume Five
Volume Six
Volume Seven


Confirmation Class, Trinity Chapel - 1956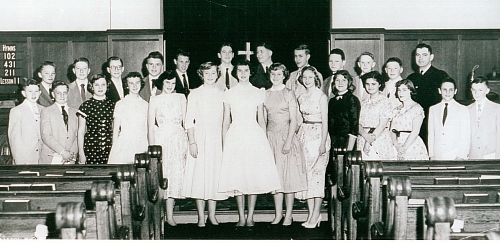 Click Photo For Larger View
Young people of Trinity EUB Church, Whitehaven Road, posed for this picture following confirmation ceremonies there in the spring of 1956. They are (front left) David Ames, Robert C. Smith, Barbara Beck (Muratore), Sharon Bauer, Betsy Kinsey (Sims), Kathy Boettcher (Stisser), Elizabeth Glor (Allen), Peggy Boettcher (Fuller), Marianne Shear (Tranter), Margaret Linton (Ciccarelli), Carol Harper (Rolfe), Gail Kirby, Charles Hall and Floyd Anderson; (back) Gary Corbett, Roy Campbell, Carlton Schutt, Jim Teubner, Richard Titterington, George DeGlopper, Dale Heimlich and church pastor Rev. Franklin Beck. A new Trinity United Methodist Church opened behind this church in 1965 and for several years now members of the Historic Trinity Committee have continued to work to save and restore Old Trinity.


---
Fire Company Oldtimers -1977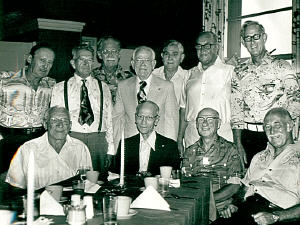 Oldest members of the Grand Island Fire Company posed for this photo at an oldtimers party in the fire hall in July 1977. The longtime volunteer firemen, all deceased except for Kenny Maurer, are (front) Joe Kean, Bob Campbell, Abe Milner and Art Wade; (back) Art Mitchell, Fred Redinger, Don Hawley, Ted Klingel, Herman Reichelt, Cy Diebold and Ken Maurer.

---
Town Hall Christmas Celebration - Mid 1960s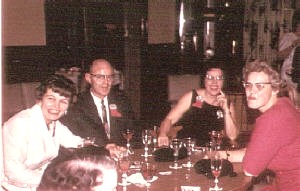 Betty Wunsch (left), Royce and Betty Magnuson and Patty Stuart were enjoying the festivities of a Town of Grand Island Christmas party in the mid 1960s.

---
Grandyle Village -1955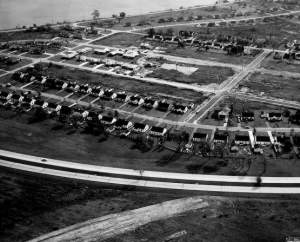 Grandyle Village was about to be changed in the mid 1950s as this October 1955 arial photo shows. New homes on LaSalle, running north/south between East Park and Love Road, Red Jacket (just north of East Park) and Hennepin, were beginning to be built. There are no homes along the East River Road at the top of the picture and LaSalle Avenue ended at Love Road. Even the house and dental office at Love Road and East River, now Dr. Russ Colosi's office, are missing.

---
Town of Grand Island Employees Celebrate Holidays - 1965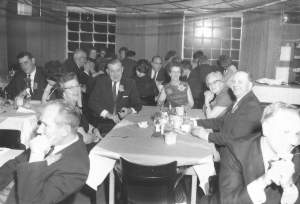 Department heads, staff and elected and appointed officials attended a Christmas party in the Grandyle Marina at Broadway and East River Road in 1965. Shown far left is Ray Dlugokinski who worked in the highway department where he is now superintendent. Around the table from left are Harold Doerr (facing other way), Ann and Art Mitchell, Dorothy Waltman and Ann and Ed Kruse. Bob Kaiser, Receiver of Taxes, is looking at the camera between Art Mitchell and Mrs. Waltman.


---
Town Hall Gals Dress For Christmas - 1965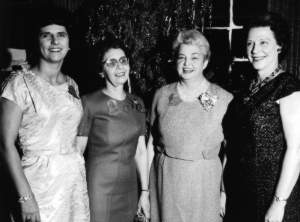 Pictured left are Fran Havens, Millie Facklam, Gertrude Gay and Ruth Horner, all dressed up at the Town of Grand Island employees Christmas party at the Grandyle Marina in 1965.


---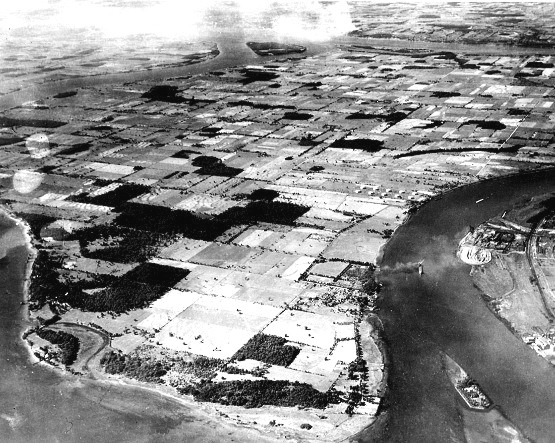 Grand Island, NY - 1932



This view of Grand Island was photographed in 1932, before Beaver Island State Park was developed and three years before the single spans of the Grand Island Bridges were built. The Standard Oil tanks are visable about midway along East River in the area where Broadway eventually went through. Motor Island is in the lower right of the picture.



---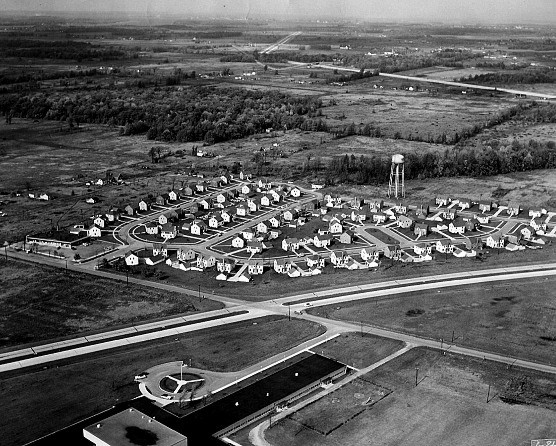 Duplex Homes Completed - 1950



Developer Carl M. Weinheimer built 86 duplex rental homes at Love Road and the Beaver Island Parkway at a cost of nearly $2 million. Complete in 1950, they have been "first homes" as well as permanent homes to many Isle residents. Notice the little Love Road Plaza off to the left and the Kaegebein School at the bottom of the 1955 photo.



---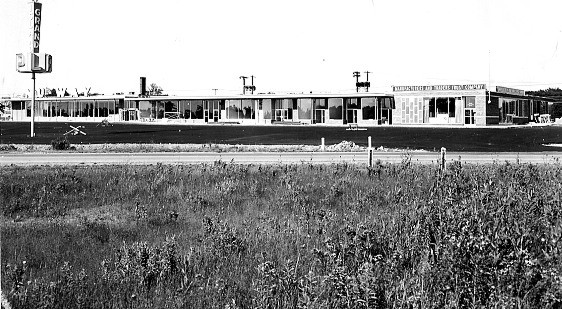 New Grand Island Plaza Welcomed By Residents - 1957


Island residents read with great interest the following headline in the January 16, 1956 issue of the Buffalo Evening News: "$2,000,000 Shopping Plaza Planned On Grand Island." The News' story gave the location as being "across from the 35-acre site, which taxpayers in October 1955 voted not to purchase for a future civic center." According to the article, Lawrence A. Grant, representing Basex Realty Inc. said commitments for space already had been received from a bank, Nu-way Inc., and Lane Drug Co. The photo was taken by the late Ted Klingel shortly before the plaza opened.

First to open in the plaza was Mancuso Brothers Barber Shop followed shortly there after by M&T Trust Bank on July 1, 1957. Other stores open for business during the Grand Opening held in September 1957 were Cataract Cleaners, Isle Hardware Corp., The Debbie Shop, Colony Men's & Boys Store, Lane Drug Store, NuWay, Richard Rays, Highland Boot Shop and Island Radio & TV Service. Island resident and plaza tenant Marion Mancuso continues to operate his barber shop in the Grand Island Boulevard location just as he has for the past 43 years.



---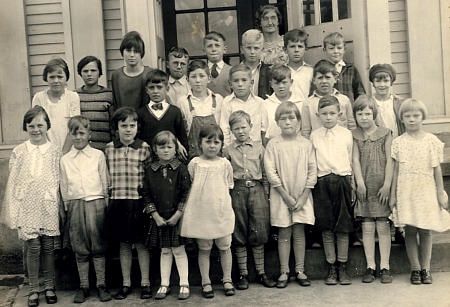 Click on the photo for the enlarged view.

Old Island Names Make Up 71-year-old School Photo - 1929



School teacher Margaret DeGlopper is shown (back right) with her students of School No. 9 in 1929. They are (front left) Carola Long Freer, Clarence Schutt Jr., Betty Ziehm Yensan, "Tootie" Mesmer Maurer, Shirley Kreger Luther, Franklin Mesmer, June Christman Renwick, Harold Kaiser, Catherine Killian Long, May Webb Eastman; (middle) Carlton "Joe" Killian, Harry Kaiser, James Stack, John Ralph Mesmer. Ralph Kreger and Irene "Honey" Kaiser Daigler; (top) Edna Schutt, Geraldine Schutt, Violet Schutt, Harold "Bud: Long, Ed Killian, Allan Kaiser, Billy Kaegebein and Wally Killian. The school, built in 1918, later served as the town hall from 1938 until it was torn down in 1968. Special thanks to Shirley Luther for the use of the photo.

---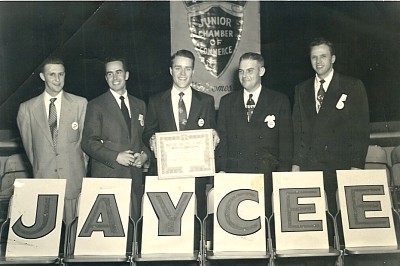 First Grand Island Jaycee Officers - 1953

Grand Island's Jaycees organized and installed first officers in the Braunshidle Hall in Kenmore in February 1953. Jim Buckley, formerly of Love Road and later West River Road, is shown on the far left. Can you identify the others?
---
Sidway 3rd Grand Zoo Trip - 1951


Marjorie Ehde (Anderson) is shown behind her 3rd grade class in 1951. The students and their teacher visited the Buffalo Zoo, ate their lunches in Sheridan Park and then boarded their school bus for the trip back to Charlotte Sidway School. Shown (left)are Teddy Klingel (Linenfelser), Betsy Kinsey (Sims), Barbara Beck (Muratore), Annette Boehm (Fuhr), Norma Edwards, Elizabeth Glor (Allen), Janie Costin (Rocks) and JoAnn Radius (Vanderheite). The girls are carrying the typical lunch boxes of that time. Among the boys in Miss Ehde's class that year, not visible in the photo were George DeGlopper, Chuckie Hall, Billy Jacobs, Mike Edwards, Jerry Thirion and Danny Linenfelser.
---
Take Me Out To The Ball Game - 1963

Grand Island Little League's Bantam League champs in the summer of 1963 were the teammates of the Richmond team. Standing in the back from left are (unknown), Little League President Bunny Luther, Coaches Don Walker and Jim Moynihan. Players pictured (front from left) are Rick Bowen, John Simpson, Mike Cassidy, unknown, Jack Senn, Tom Moynihan and Bob Sepanski; (middle) Keith Harvey, Mike Malaney, Mike Walker, Tom Walker, Mike Hassert and Mike McDonough. Schriners Bernard Langhoop and Islander Emil Anderson presented free tickets to all Little Leaguers for the Buffalo-Toronto baseball game at War Memorial Stadium that year. The Grand Island Little League served 332 youngsters in '63.


---
Love Road Neighbors - Early 1950s

Richard Benns, standing in the back and his brother, Jarmen on the right were young camera bugs along with their friend Teddy Klingel Linenfelser who took the picture in the early 1950s. The boys are shown with their younger brother Jim Benns (left) and their next door neighbor, Susan Kohlhagen Long. The Benns, Kohlhagen and Klingel families all lived in a row on Love Road in Grandyle Village.


---
First Day Of School - 1952

That's Supervisor Peter McMahon having a laugh with Eric Stefik on the first day of school in September 1952 when all Grand Island grade school students were attending Charlotte Sidway School. The girls in front are Pam Ball Fries (left) and Tam Ellis and just behind them are Mary Ellen Klingel Stewart and Rosemary Loth Fischer. Margaret Lapine Webb, Susan Turnbull and Penny Ball are standing in the rear. The group waited for the school bus in the Loth family's driveway on Love Road in Grandyle Village.


---
Betty Rogers Beck's Isle tappers of 1954

Betty Rogers Beck, who taught dance for decades in the Buffalo area, held dance classes in her hushand, Rod Beck's Marina Restaurant. This class of tap dancers posed in the Island studio just before the June 20, 1954 dance recital which took place at the Erlanger Theater that year. Pictured front are Cathy Haller (Contino), Patty Killian, Patty Dower (Hamilton), Peggy Cotter (Will), Diane Beck (Baetzhold) and Kathy Cotter (Little); in the second row - Ann Burns (Dlugokinski), Susan Hogue (Canty), MaryAnn McCarthy (Coniff), Karen Heimlich (Clarke), Marilyn Noyes, Betty Jane Gardner (Penque), Kathy McCarthy (Northrup) and Eleanor "Bonnie" Dunn.

Betty, owner and instructor was teaching over 200 students that year. Also included among the 35 Island students were Bonnie Taylor (Ford), Judy Dower (Babel), Jane Keyser, Beverly Holcomb, Pat Geary (Kostenbauder), Cynthia Scott (Lee), Nancy Buckley (Valone), Nancy Hogue, Toni Colley, Casey Colley (Ebert), Susan Braun, Sandy Rupp, Sherry Wade (Walsh), Jackie Sceusa (Irovando), Mollie Gushue (Cox), Gale Plazio, Daryl Miller, Cindy Ann Senn, Christine Somer (Weaver), Suzanne Somer and Barbara Adelman. The photo was taken by well-known Island photographer Wendell Stratton.


---
Teddy's Islettes baton twirling recital 1965



Teddy Klingel (Linenfelser) teacher/director of Teddy's Islettes from its inception in 1961 through the summer of 1987, was very proud of her students' twirling as they posed just after their 3rd annual recital in the Grand Island Fire Hall Friday, June 4, 1965. This was the year that Arthura Haller, Gail Hoag, Kathy Pedlow, Sue Trautman and Miss Teddy performed to the music of "Hello Dolly," and Valerie Buckley did her solo to "Cotton Candy." Shown front are Heidi Schnitzer, Christine Xanthos, Sally Gollwitzer (Goris), Laurie Job, Lori Burrows; (2nd row) Amy Gabarro, Vicki Popular, Sandra Krueger, Jane Stricker, (hidden face), Sabrina Gratto, Karen Zilliox, Sue Job, Laurie Griffin, Val Buckley (Swain), Terri Bright; (3rd row) Kathy Harris, Mary Stricker, Sharon Dingey (Ullrich), Diane Gollwitzer (Doane), Lynn Williams, Marty Donavon, Jame Card, Gayle Aydelotte; (top) Dotti Stricker, Arthura Haller (Van Heerde), Sue Trautman (McMahon), Kathy Pedlow (Ziemer), and Gail Hoag (Ide), Miss Teddy. Missing from the photo (or hidden): Lela Coulter, June Johnson, Diana Gruber.


---


Girl Scouts celebrate Juliet Lowe's birthday - 1955

Grand Island Girl Scout and Brownie troops in March of 1955 congragated in the Sidway School gym for the annual Girl Scout birthday party in honor of founder Juliet Lowe. Buffalo headquarters representative Lavina Frank is cutting the cake surrounded by Brownies, Peggy Cotter (Will), Patty Dower (Hamilton) and Carol Chateauneuf (Steves) on the lower left, and (second row, left) Girl Scouts Donna Titterington (Leary), Johanna Johnson, Ann Wallace, Sharleen Killian (Bierbrauer), Barbara Luipold (Baker) and Judy DiTullio (Penque). In the back are Girl Scout Betsy Kinsey (Sims), Mariner Scout Doris Harding (Watson), Mariner Scout Leader Kay Valyear, (unknown), Neighborhood Chairman Marion Klingel, Scout Leader Sally Smith and Scout Kathy Kinsey (Wilcox). The yearly evening event featured skits from each troop and refreshments.


---

Family portrait - the Linenfelser children, 1957

Dan and Betty Linenfelser moved to Grand Island in 1945 and raised their six children on East River Road at Morgan's Point. Mike (left), Mary Linenfelser Cook, and Paul are sitting in front and Jim, Dan and John are in the back. All but John (Holley, NY) and Mary (Indianapolis, Indiana) still reside with their families on Grand Island.


---

Island soldiers stick together overseas
It was August 1968 when (left) Airman 1st Class Paul Roeder, Ray Sommer, Greg Yensan and Jerry Hawley, all born and raised here - "were toasting better days," according to Ray who submitted the photo. The foursome, along with Major Torgier Fadum, Airman 1st Class Robert K. Kaiser, Banjamin N. Graf, 1st Lt. Harry W. Roberts, Capt. Franklin C. McKee, Technical Sgt. John A. McCarthy, Airman 1st Class Michael D. McNulty, Gregg A. Yensan and Peter J. Roberts, were part of the 31st Tactical Wing with the U. S. Air Force stationed in Tuy Hoa Air Force Base in Vietnam


---

Dancers rehearse for Centennial pageant in '52
Community support and a year's worth of planning brought about the very successful Grand Island Centennial celebration in the summer of 1952. To give an idea of how great the town's 100th birthday was, a Centennial Costume Ball in Beaver Island Casino, a huge parade staged in the center of town, a grand prix road race of international proportions, a week-long carnival and a historic three-day pageant were just a few of the events presented during the last week in August 1952. Pictured rehearsing their square dance for the pageant which was produced on a large stage built in the back of St. Stephen's Barn are (left front clockwise) Lee Howe Harris, Dave Dietzer, Joanne Carr, Robert Carr, Bob Buzby, Milton Dietzer and Joan Dietzer (center). The hidden dancer behind Mr. Dietzer is his wife, Adele. Square dance caller Jimmie Fuller and fiddler Jimmy Williams are shown in back.


---
Comments, corrections or married names may be directed to TeddyL@Isledegrande.com



Other Grand Island Pages to Visit:
| Businesses | Churches | Email Directory | Government | Groups |
| Guest Book | GIHS Grad List | Please sign in! | Local Artists | New! Photo Album | Recreation |
| Schools | Seneca Law Suit | Town History | UsefuLinks | Weather |
| Website Design | Wildlife | Home Page - Frames |

This website is sponsored by
GIECOM.NET
"Grand Island's E-Commerce Bridge to the World"
1871 Whitehaven Road, Grand Island, New York, 14072-1803 USA
Copyright © 1995-2005 All rights reserved.