Volume One
Volume One A
Volume Two
Volume Three
Volume Four
Volume Five
Volume Six
Volume Eight
Teddy's Islettes Photos (webpage)

---
---



Sidway Voters - 1976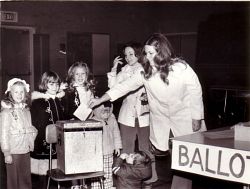 Click photo for larger view.
This December 1976 photo was taken at the Sidway School and had to do with a school district vote regarding a funding issue.



---



GIHS Madrigals - 1976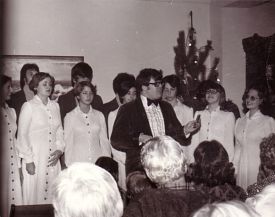 Click photo for larger view.
The Grand Island High School Madrigals under the direction of Kenvin Moreau (center) were performing somewhere on the Island, possibly the Historical Society's headquarters, River Lea on December 19, 1976.
Nancy Anderson has emailed that she's quite sure Debbie Smilinich is to the left of Mr. Moreau and Meredith Hartrick is on his right. John G. Robinson wrote that his sister, Joy Robinson, is on the far right. Barbara Minton wrote that the first girl on the left might be Eileen Conboy, after that is Kathy Radecki, Nancy Pulz, and Debbie Smilinich.



---



GIHS Boys Varsity Basketball team - 1966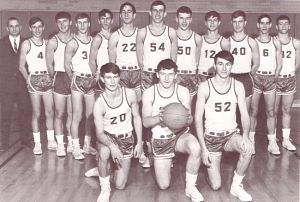 Click photo for larger view.
This Grand Island High School Varsity Boys Basketball Team photo appears in the 1967 Venture yearbook. Shown front are Scott Allen, Bill Costello, Dan Carroll; (standing) Coach Dick Bessel, Bruce Walker, Robert Rycroft, Mike Eidens, Les Smith, Larry Martin, Pete Stovall, Dave Henderson, Ed Falsetti, Mike Wiedemer, Patrick Hurley and George Phelps. The boys lost 69-61 in the game against Eden which was followed by the homecoming program December 21, 1966 in the high school gym.


---



Huth Road Christmas Play - 1977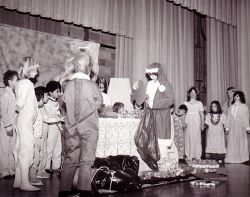 Click photo for larger view.
This photo is of the Christmas play, The Grinch Who Stole Christmas at the Huth Road Elementary School in December 1977. The cast was a combination of the students in Mrs. Elizabeth Reimann's kindergarten and a fifth grade class. Heidi Sue Mumm is shown second from the left. Kirsten Cooke is pictured in the Santa hat in the center of the photo. The small girl, third from the right is Julie "Meister" Estenoz. Kirsten Cooke Currie has written to say that in the foreground is Molly Crow. Over to the right, the girl with the wreath in her hair is Tina Grimes and a few kids to her left is Don Engher. Be sure to click the photo for a better view and Email me at teddy@giecom.net if you can identify any of the other students or know the Huth Road School fifth grade teacher involved in the production.


---



Fire Company Christmas Party - 1994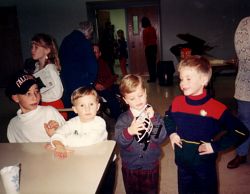 Click photos for larger view.
From left are Christopher Golde, Erin Wood, Johnny Bidell and Abram Morgan. The boys were attending the Fire Company's annual Christmas party in December 1994. Johnny is hold the emergency helicopter very similar to the Mercy Flight copter that he received from Santa that day.


---



Mike McNulty's Electric Car - 1974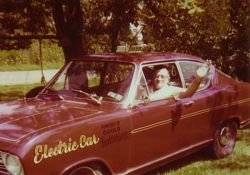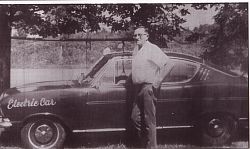 Click photos for larger view.
Michael McNulty of Staley Road built his own electric car in 1974, claiming it cost him nothing to run. "I've got about $1000 in it, and a year's spare time, but I haven't been able to see where keeping it running has added anything to my electric costs," he said at the time.
Mike's home-built special ran on twelve, 6-volt golf cart batteries and was kept charged each night from an outlet in the garage at his home. The project was a hobby when he retired from Dunlop after 30 years, but the car provided good service. Mike's wife, Patricia, drove it five miles to work and back each day and used it for shopping trips. The car had limited range and cruising speed and ran about 40 miles between charges. The McNultys raised their family of six children here. Mike died in 1980 and Pat resides on the Island.


---



Trinity Church Founders Day - 1976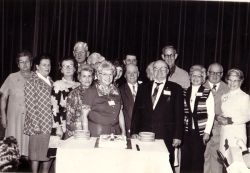 Click photo for larger view.
Trinity Church parishioners were celebrating Founder's Day on the 109th birthday of the church on November 21, 1976 when this photo was taken. Shown are those with long-standing memberships. Standing in front are Elsie Stamler and Erdman Alt – the two with the most consecutive years in membership who were present. Elsie and Erdman cut the special apple pecan cake made by Joan Kingston. Also shown from left are Frieda Schutt, Hazel DeGlopper, Cyrena Dixon, Elmer Kaegebein, Betty Killian, Myrtle Killian, Elsie Stamler, Cathy Long, Frederick Killian, Howard Killian, Edna Killian, Erdman Alt, Kenny Maurer, Ruth Maurer, Allen Kaiser and Irene Kaiser.


---



Bykowicz - Hassan Wedding - 1976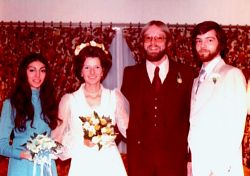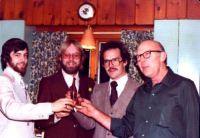 Picture #1 (left) Matron of Honor Gerrie Andolina-Amato, Diane Bykowicz Hassan, Mark Hassan and Best Man John Glose - Picture #2 - John Glose, Mark Hassan, Bill Dommell, Mark's late father Dan Hassan - Click photos for larger view.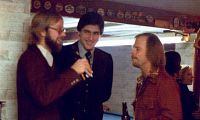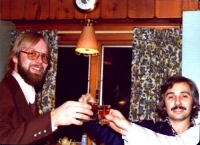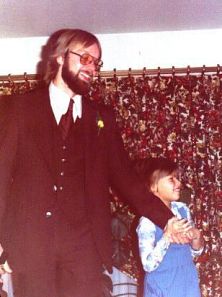 Picture #3 (left) Mark, Bill Ackendorf, Dale Berger, and (Val (Buckley) Swain in the far right - Picture #4 (left) Mark and Terry Swain - Picture #5 The bride's sister, Patty (Bykowicz) Turner and her new brother-in-law, Mark.
Click photos for larger view
Mark Hassan and his bride, the former Diane Bykowicz are celebrating their 30th wedding anniversary on November 20, 2006. They were married in St. Timothy Church on Stony Point and Staley Road, and Mark's mother, Helen Hassan, gave them a reception at her home. The photos were taken at that time. Diane's Matron of Honor was Gerrie Andolina-Amato, and Mark's Best Man was John Glose. Mark grew up on East River Road and Diane was raised on Stony Point.


---



San Francisco Takes First In Mustang Baseball League - 1967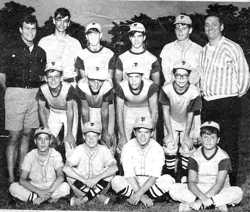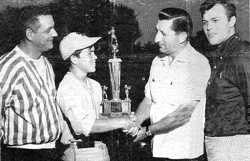 Click photo for larger view.
San Francisco team members of the Mustang Baseball League were presented a small trophy at a celebration in Beaver Island State Park for capturing first place in their league. Shown (left photo) from left front are P. Becker, Pat Rush, Mike Rush, John Rumrich; (middle) Kevin Kinney, Jim Board, Tim Fadum, Paul Marcolini; (back) Quinn Wright (coach), Ray Billica, Tom James, Mike MacDonald, Don Becker and Harry (Skip) Board (manager of the team). Missing from the photo are Mike Hassert and Jeff Stanley.
The photo on the right shows San Franciso teammate Mike Rush, all smiles, as he is presented an award for the "Most Runs Batted In" during the Mustang League's 1967 season. Also pictured from left are Team Manager Harry (Skip) Board, (Mike), Mustang Div. Commissioner Ray Zoldowski and Coach Quinn Wright.
Thanks to Patty Wright for sending the photo.


---



Hootenanny - 1966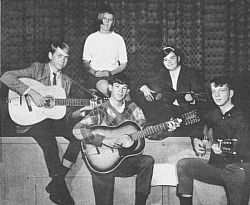 Click photo for larger view.
The Senior High Art Club of Grand Island High School presented a three-hour Hootenanny at the school on November 4, 1966. Some of the featured artists were (left) Reg Schopp, Lynn Mankiewicz, Jim Lott, Joanne Senn and Tim Vanderbles. There was no admission and dress was informal for the event attended by the 9th through 12th graders.


---



Bear Hunt - 1978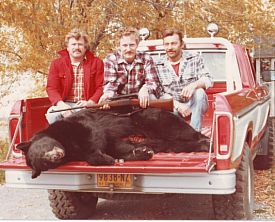 Click photo for larger view.
Mike Yensan (center) shot this six foot, 342 pound bear in the Southern Tier in 1978. Sitting left and right respectively are Lyle Dinsmore and Howie Benns. The photo was sent in by Sandie Rall Smith, who said everyone ate the bear. Don Turner had bear steaks and Charlotte (Guenther Roesch) made some stew!


---



Kaegebein Safety Patrol - 1956-1957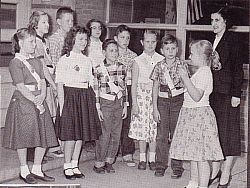 Click photo for larger view.
The Kaegebein School Safety Patrol, founded in 1953 by Miss Catherine DiVizio, was changed four times each year at which time a new captain was elected by the new members of the Patrol. Shown front in this 1956 photo are Pam Ball Fries, Diane Beck, unknown, unknown, unknown and Captain Karen Vanthoff; (back) Kathy Cotter Little, Richard Bunnell, Jane Manning and Donald Lang.


---



Rotary Sabres Night - 1976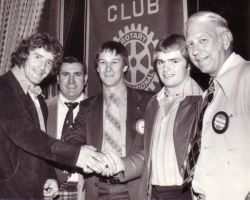 Shown from left are Buffalo Sabres Brian Spencer and Coach Floyd Smith, Rotary President Paul Barclay, Buffalo Sabre Danny Gare and Rotary Sabres Night Chairman Floyd Doring.
Click photo for larger view.
The Grand Island Rotary Club's Sabres Night on Tuesday, September 28, 1976 was held in the Buffalo Launch Club. Special guests were (left) Buffalo Sabres Brian Spencer, Coach and Island resident Floyd Smith and Danny Gare. Rotarian Floyd Doring (right) was chairman of the Sabres Night, attended by 85 dads and their children who met the Sabres and their coach and received their autographs. A film of the 1976 highlights was shown and a question and answer period followed.


---



National Honor Society - 1977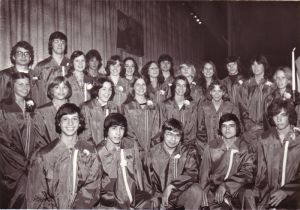 Click photo for larger view.
Members of the Grand Island High School's National Honor Society, Junior Class of the class of 1978, posed for this photo at the induction in 1977. Shown in top row from the left are Gregory Siegel, Pete Gilmore, Lynn Tetreault, Cheeky Certo, Terry Siebert Ballance, Laura Fusco, Debbie Guidone, Steve D'Addieco, Dr. Rob Gaynor, Sue Cornwall, Doug Fortman, Patty Muoio; Middle Row: Debbie Smith, Julie Emery, Janet Armenia, Jayne Vandervoort Playfair, Lisa Samrany, Patti Proctor, Diane Smith; (front) Mark Kaczmarek, Ron Ungaro, Terry Kimmell, John Murdock, Chuck Cote, Leo Pruczak.




---



Middle School Pies! - 1976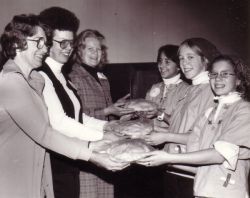 Click photo for larger view.
Home economics teacher Marjorie Tetreault is shown third from the left in this 1976 middle school photo.


---



Wedding Bells - 1968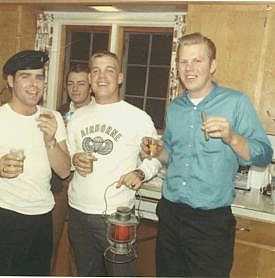 "Those wedding bells are breaking up that old gang of mine!" My husband, Jim Linenfelser, is on the left on the night before our wedding in October 1968. His pals, standing in the kitchen of the Linenfelser house on East River Road, are Tony Guenther, Johnny Gast and Don Burrows. Thanks to Don for sending the old photo.


---



Sidway Band Uniforms - 1956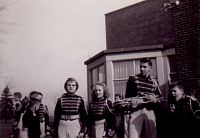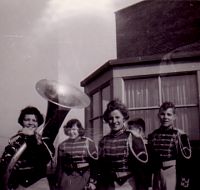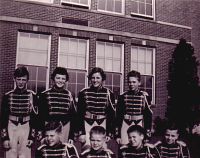 1. Roy Campbell, Carlton Schutt, Jim Conrad; 2. Donald Saunders, Judy DiTullio Penque, Mike Sceusa, Jim Conrad, David Pinkow, Tom Duncan, Tim Gross; 3. Mary Ann Gross Bishara, Sharleen Killian Bierbrauer, John Fontana, Mike Sceusa; 4. Donna Titterington Leary, Kathy Kinsey Wilcox, Judy DiTullio Penque, Peter Glor; 5. (front left) Jim Conrad, Tim Gross, Mike Sceusa, David Pinkow; (back) Tom Duncan, Donna Titterington Leary, Judy DiTullio Penque and Donald Saunders.
A fund drive for the purchase of band uniforms for the Island's school and community bands was successful and new grey and red wool suits and matching shako hats were purchased in 1955-56 around the time these pictures were taken outside Sidway School.


---



Town Officials - Late 1970s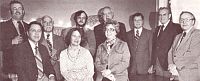 Various town officials posed for this late 1970s photo. They are (front left) Harold B. Long (Superintendent of Sewer & Water), Dorothy Roswell (Director Golden Age Center), Rita DeGlopper (Town Clerk); (back) Norman J. Mrkall (Superintendent of Highways), Arthur G. Wade (Assessor), John Phillips (Town Engineer), Richard J. Couch (Town Attorney), Robert K. Kaiser (Receiver of Taxes), Dr. Robert H. Brado (Director of Parks and Recreation Dept.) and Rev. Harold Tyson (Director of Help Center).


---



New House - 1956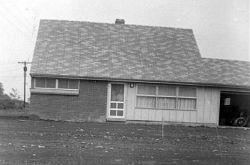 Siobhan Wright who resided with her family on Stony Point Road near Broadway from 1963 to 1981 has submitted this photo of their home, one of the first Falconwood houses to be completed in that area in 1956. Quinn and Dottie Wright moved into the house in 1956 with their children, sons Quinn and Chris who can be seen in the doorway and daughter, Patty, who was a baby in 1956. Siobhan, who now lives in Baltimore, MD, was not born yet.


---



First Day of School - 1970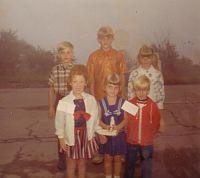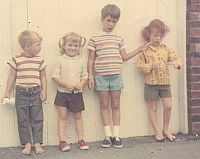 The photo on the left was taken on the first day of school in 1970. "It was very foggy and we could hardly see the bus coming," Peggy McNulty Hooper, mother of Lisa, said when submitting the photos. It was the first day of kindergarten for (front left) Lisa DeValentino, Sharon Pearson and Paul Turley. Shown in the back are neighbors Ken, Adrian and Barb Pearson. The photo on the right was taken the previous June (1970) and shows Paul Turley, Sharon Pearson, Lynn Gammage and Lisa DeValentino. The children all lived in the 1000 and 1100 block of East River Road, across from Turner's tavern.


---



Neilan House - 1906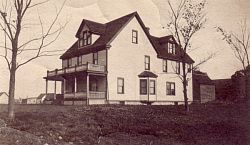 The Neilan home was built by the family in 1906. They had a large farm that extended to the area of Beaver Island Parkway. Ninety-one acres were sold to the State of New York in 1931 for Beaver Island State Park and in 1958 the remainder of the farm was sold off for the Beaver Island Golf Course. The bunk house and barn were destroyed in 1958 marking the end of the farming years for the family.
The house has a double parlor with pocket doors, dining room, a large kitchen with a pantry and a front and back stairway. Originally there were seven bedrooms. One has been converted into a bathroom. There are two stained glass windows and a leaded glass window in the parlor. The light fixtures are all original to the house which is very similar to plans from the Sears and Roebuck catalog of the time.
John Neilan was a mail carrier in 1902 and George Neilan, his son and a town board member before the bridges were built, delivered mail in the 1950s. In 1969 the Bruce Nichols family purchased it from the Neilan's estate. It is located on the corner of Cox and Elmwood roads in Ferry Village.


---



New Sidway School - 1930s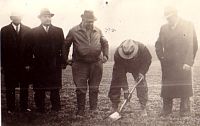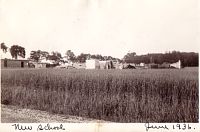 Ground breaking ceremonies on March 16, 1936 - (right) Under construction in June 1936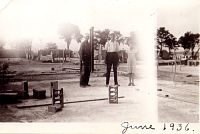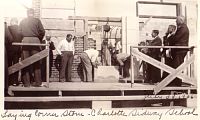 June 1936 - (right) Cornerstone laying July 30, 1936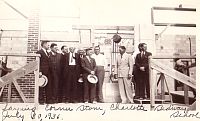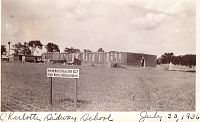 Cornerstone laying July 30, 1936 - (right) Construction progress August 6, 1936 (the sign reads Federal Works Project NY 1027 - Public Works Administration)
Click photos for larger view
These 1936 photos are from the Elsie E. Stamler collection and show progress on the Island's first central school, Charlotte Sidway School. The building was ready for occupancy on February 1, 1937 bringing an end to the one- and two-room schools on the Island.


---



Sandy Beach - 1943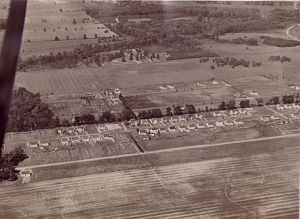 Click photo for larger view
&nbspThanks to Debbi Robinson for this photo of the Sandy Beach area with the lower road being undeveloped Warner Drive and above it, Wallace Drive. The vertical streets are South Park (center of picture Drive) and Middle Road. "This birds-eye view was taken around 1943 before J. Dale Janes developed Warner Drive, and way before Huth Road School was built in the open field in the foreground," Debbi said.


---



Mobil Station - 1959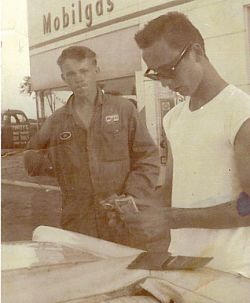 Jim Braddell, 17, waits and watches as his friend, Paul Malecki, 19, counts his bills at the back of his convertible. The boys were at Marty's Mobile Station, located on Grand Island Blvd. in what is now Grand Island Auto Service. The year was 1959.


---



Tyro Football - Early 1960s


Click photo for a much larger view.
This classic Tyro Football Team photo is from the early 1960s. The cheerleaders in front are Sonja Miller, Kathy Williams (Davis), Cathy Haller (Contino) and Pat Carminati (Weeks). Team members and coaches shown front are Coach Ed Lewis, unknown, Kevin Donlon, Dick Stack, Kevin Zoldowski, Frank Wohlfehrt, Mike Helbig, unknown, Paul Griffin, Speed Donlon and Ray Zoldowski; (2nd row) Coach Sepanski, unknown, Bob Shackelton, Dave Remmes, Bill Buckley, John Kowzan, Craig Wood, Terry McKnight, Mike Yensan, unknown, Carl Remmes; (top) are Coach Ron Sepanski, Michael Linenfelser, Billy Mancuso, Mike Wohlfehrt, Dave Ragner, Dave Wunch, Mike Sutter, Tom Volk, Bob Smith, unknown, Jim Shackelton, Ron Sepanski Jr., Greg Costanzo. Thanks to Terry Swain for this photo and to Kevin "Skee" Zoldowski, Nancy Buckley Valone, Dave Wunsch, Karen Vanthoff and Sandra Watkins for identifying the players.




---



Godspell Cast - 1976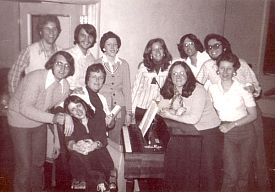 (Back) Cam Overs, Mike Walker, Liz Farley, Beth Walker (Boron), Jim Whiting and Tom Walker; (front) Dennis Black, Pat Lindsey, Mrs. Mary Kremer-Hartrick, Colleen Carroll and Barb LiVecchi.
Click photo for a larger view.
A group of young people from St Stephen's and St. Martin-in-the-Fields churches in 1976 "developed an interesting way to spend their Sunday mornings." They are shown rehearsing the concert version of the musical "Godspell" that they presented at church services throughout the area. While this non-traditional approach to Sunday morning worship may at first have appeared to be a bit unorthodox, it was nevertheless accepted enthusiastically wherever they performed. Cast members included Colleen Carroll, Liz Farley, Pat Lindsey, Barb LiVecchi, Beth Walker (Boron), Dennis Black, Cam Overs, Mike Walter, Tom Walker and Jim Whiting. Mary Kremer-Hartrick directed the group.


---



Kaegebein School 5th Grade - 1970



Click photos for larger view
Kaegebein Elementary School fifth grade teacher Mrs. Eva Schriver, Bob Bowling, Richard "Buddy" Boss, Eric Huer




Tim Lipp, Bob Drainville, Jeff Golden, Frank Price,




Marc Burns, Terry Dolan, Marty Wolverton, Alan Moorse, Greg Schnitzer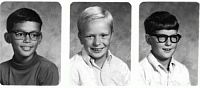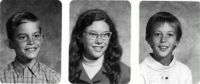 Peter Steinlein, Steve Moss, Neal Farley, Craig Ellsworth, Signe Crocrero, Amy Tompkins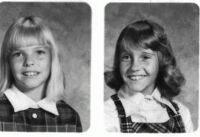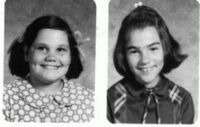 Kathy Wolfe, Renee DeCost, Harriet Austin, Carole Ford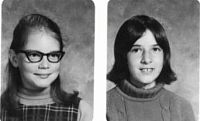 Jill Pless, Barbara Barbara Grimm, Elizabeth Robinson, Evelyn Smith

Thanks to Peter Steinlein for these 1970 photos and the names.


---



Patriotism on Long Road - 1976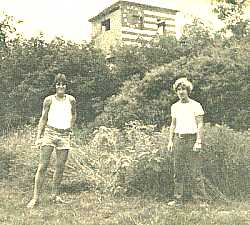 Click photo for a larger view.
This photo was taken in 1976 during the Island's celebration of the Bicentennial of the nation. The fort was built in the backyard of the late Lt Col Terrence Crowe's boyhood home on Long Road. Interestingly, both Terry and the other "boy" pictured, Steve Fritschi, went on to distinguished military careers. Steve still serves his country in the US Air Force. Terry was killed in action in Tal Afar, Iraq last summer (2005). Several other boys from the old Long Road gang also helped construct the fort. Thanks to Terry's sister, Kate (Crowe) Olin, for submitting the picture.


---



Fantasy Island Cowboys - 1960s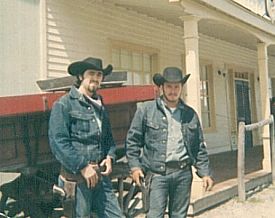 Click photo for a larger view.
Jerry Cahill (left) of Stony Point and Doug Smith of East River Road were working at Fantasy Island in the Western Show. .




---



Sidway School 9th Grade Graduates - 1963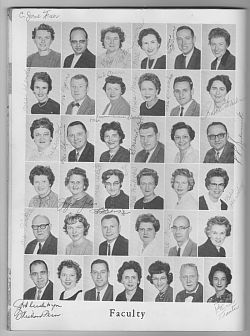 Scroll down for class pictures
Sidway Faculty and Staff: Rosamond Abate, Joseph Becht, Daniel Blaszak, Charles Burruano, Robert Criden, Dorothy Dillemuth, Mary Downs, Henry Fessard, Paul Griffin, Velma Harding, Nancy Henderson, Doris Kinsey, Mabel Leibinger, Yvonne Martin, Mary May, Edwina Meredith, Richard Meredith, David Myers, Stanley Odziemiec, Eleanor Oliva, Virginia Orson, D. Richard Perno, Marian Pinkow, William Pinkow, Joseph Regan, Ruby Sentman, Raymond Sukiennik, Kenneth Van Doren, Donna Webber, Betty Werth, Joyce Yuhas, Irene Drake, Ellen Fancher, Marie Horgan, Lucille Long, Shirley Luther,Nancy Sneddon, Clarence Schutt, Joseph Suttel.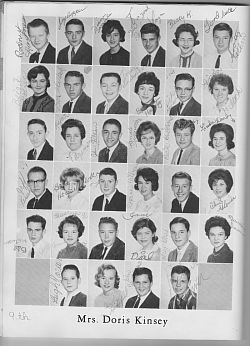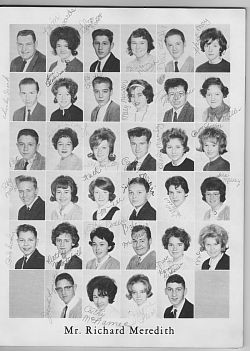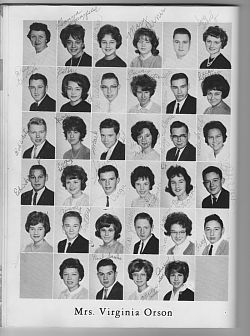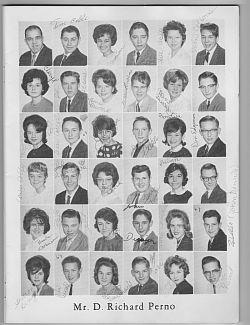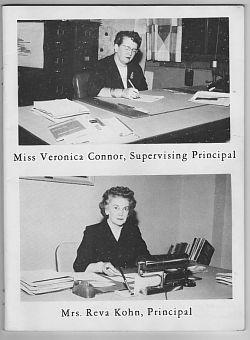 Click photo for a larger view.
These photos are courtesy of Dora Jean "Muller" Harrison, GIHS Class of 1966, and have been scanned from the 1962-63 Sidway School Junior High Memories Book.


---



Link Hardware Christmas Party - 1976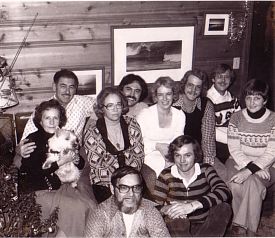 Click photo for a larger view.
Bob and Coralyn Smith entertained friends and employees of their Link Hardware Store at a Christmas party in December 1976. The store was located at 1889 Whitehaven Road (now True Value). Shown from left with the dog are Coralyn and Bob Smith, Mary Ann Arsenault and Mark Garcia is behind her and to her right. Shown in front (left) are Dave Gingher and Evan Gould. Center in white is Marcy Malecki, Charlie McDonough and Jeff Kirsch.




---



7th Birthday - 1976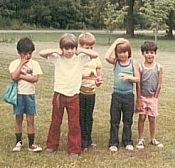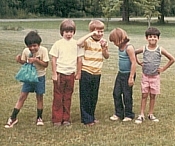 Click photos for a larger view.
Our son, Jimmy Linenfelser, was celebrating his 7th birthday on June 20, 1976 when these photos were taken in our front yard. Shown from left are Simir Wagle, Jimmy, Ehor Pikas, Wesley Billstone and Dean Laible. The growth of those small maple trees behind the boys far outranks the growth of the boys.




---



Rotary Sabres Night - 1976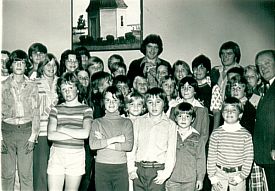 Click photo for a larger view.
The Grand Island Rotary Club sponsored a Sabres Night in September 1976. Second from the left in back is Jay Jansen and to his right (girl with glasses) is Jeannie Glose. In the second row from top, second from left is Sara Eagan. The face in the back, just under the adult's hands is Tom Beck. The blonde boy in the center is Heath Mazenauer with his sister, Heather, on his right, and the man on the right is Dick Crawford Sr. Shawn Barclay is shown third from right in front row.




---



Neil & Bernie Huff and Friends - 1950s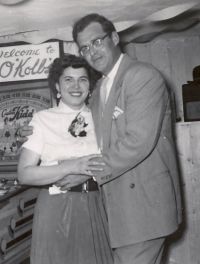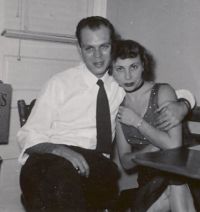 Click photo for a larger view.
The couples having a good time somewhere on the Island were (left) Bernie and Neil Huff and John and Lila Kolb. The photos were submitted by Don Bruce whose parents were friends of these couples.


---



Love Road Parade - 1940s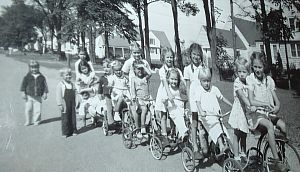 Be sure to click photo for a larger view.
Some of the children of Grandyle Village lined up for this Memorial Day picture on Love Road near what is now LaSalle Avenue in 1943 or 1944. Members of the Grandyle Village Property Owners Association, all residence of Love Road and East Park, starting in the early 1940s, sponsored a parade around the two streets and for many years provided goodies afterwards. To the best of my knowledge, the children are (left) standing Margie McMahon, John Grycel, (rear) Penny Ball, Judy Daggett, (boy very low Kohn), unknown, Mary Ann Lehane (Ward), Lynn Cullen (Euse), Libby Smith (Borgese), Bernie Glor (Pagliaro), Janet Lee Sunderland (Bangs) (on bike), Doris Harding (Watson) standing, unknown and Sally Smith (Detally). Thanks to Bernie Glor Pagliaro for sharing this photo.


---



9th Grade Class Day At Sidway Junior High - May 1960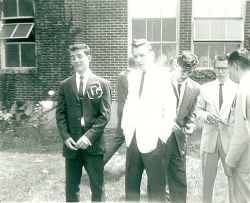 Click photo for a larger view.
Ninth grade students at Sidway School Junior High celebrated their Class Day on May 27, 1960 with a breakfast served by their teachers followed by an assembly. These boys were no doubt dressed for the banquet and party that evening. They have been tentatively identified as unidentified, Ed Dunshie, Ken Shobert, Don O'Connor and a Kutzbach or Kaiser.


---



Sidway School Literature Club - 1947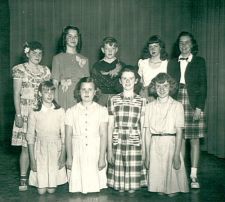 Click photo for a larger view.
This little group includes some of the Charlotte Sidway School 7th and 8th grade students who were members of the school's Literary Club in 1947. Shown front left are MaryAnn Kruse (Arsenault), Pat Staffen (Yell), Stephanie Woods (Mauri) and Joanne Rank (Urtel); (top) Pat Howard (Bachert), Elizabeth Nachbauer (Zarbo), Gerald Mahnk, Joan Livingston (Fred), and Doris Dekdebrun (Meyers). Click Spring Fancy for Club member Joan Livingston's poem, included with other students' poems in the Charlotte Sidway Yearbook in 1947.


---



Mrs. Ames' Sidway Kindergarten - 1955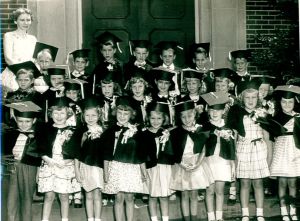 Click photo for a larger view.
Mrs. Lucille Ames and her Charlotte Sidway School kindergarten class are shown in June of 1955 all ready for their graduation ceremony. Shown front left are Teddy Marcaccia, Claire Dixon, Ruth Ann Blickley Burl, Sandra Hoffman (LaForme), Debbie Stack (Beyer), Diane Loder, Carol Bellew, Kathy Stamler, Marcia Jasper; 2nd row: Terry Sprankle, Peggy DeLong, Donna Dinsmore, Phyllis Killian, Irene Austin Ehde, Diane Tetkowski, Linda Magesitski, Nancy Joe Hughes, Diane MacCauley; (top) Paul Klein, Carol Loucks, George Perkovich, Jim Smith, Art Bascomb, Robert Dunbar, Scott Allen. Thanks to Lee Tetkowski for submitting the photo.


---



Mrs. Leibinger's 9th Grade Class At Sidway Jr. High - 1962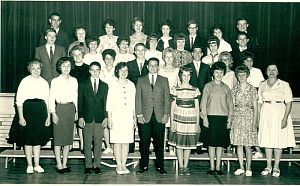 Mrs. Mabel Leibinger is shown on the right with her Charlotte Sidway School 9th grade class in June of 1962. Shown front left are Ellen Blakelock (Martin), Nancy Collins, Norman Baldwin, Rebecca Buehrig, Stephen Barath, Sue Burnworth (Jones), Pamela Craver (Lapey) and Sharon Carroll (Lipinski); (2nd row) Pamela Ball (Fries), Constance Altshaft (Trautman), William Boggess, Joyce Brown (Yensan), Thomas Assenza, Antonia Colley, Lynette Click (Grisanti); (3rd row) John Barrus, Linda Allen (Rayborn), Judith Call (Merkley), Kathleen Butler (Treadwell), Barbara Barnes (Bucknam), Elizabeth Beach (Glaze) and John Braddell; (4th row) James Boettcher, Sheila Bilson (Cessna), Paula Bell (Nakayama), Heidi Belling (Sankes), Catherine Churley, Brian Bauer, Betty Bascomb (Dickey) and Lowell Anderson.


---



Buffalo Launch Club - 1907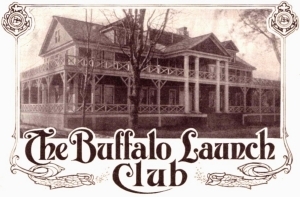 This photo of the original Buffalo Launch Club was featured on the cover of the March 10, 1907 issue of The Motor Boat. The building, facing the East Niagara River, burned to the ground in the summer of 1931, and was rebuilt and opened the following year. For photos of the interior of the BLC in 1907, click "The Motor Boat." Click for "Buffalo Launch Club Feature Story."


---



Huth Road School Band - 1977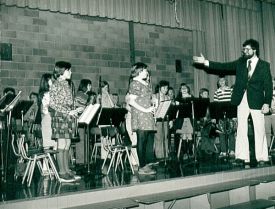 Pictured are members of the Huth Road Elementary School Band in November 1977. Band director Alan Ripley, shown on the right, retires this year (2006). The girl standing at left is Marijane Kenney Smith. The girl near the center (dark hair, striped shirt) is Nicole Nowakowski (Oursler), and Patricia Bykowicz (Turner) is to her right (biting her nails). Jon Jerge is seated, just under Mr. Ripley's hand.


---



Easter Egg Hunt - 1976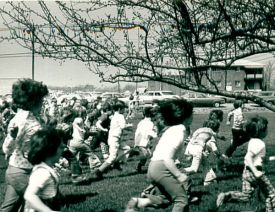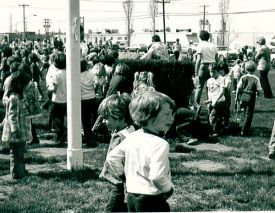 This Easter Egg hunt, sponsored by the Jaycees, was held on the Sidway School grounds in April 1976. Scroll down for other pictures of the event.


---



Easter Egg Hunt At Sidway - 1976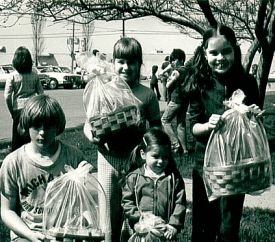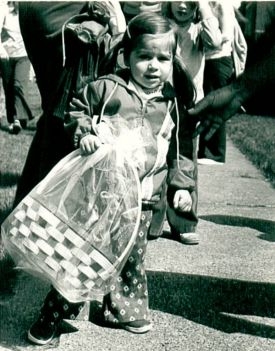 That's Diane Ricotta in the photo on the right. Click Photos For Larger View
Ray Wheeler was chairman of the Jaycees Easter Egg Hunt in April 1976. First place winners were Bob Burak (13), Karen Price (9), Kathy Hug (6) and Diane Ricotta (2 ˝). The hunt, held at Sidway School, lasted no more than ten minutes and over 400 youngsters participated.


---



St. Stephen's First Communion Class - 1950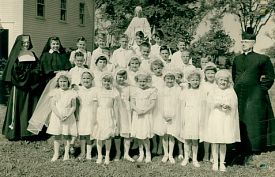 Click photo for a larger view.
The year was 1950 and my First Communion class was bused from the Sidway School or by private car to the old St. Stephen's Church once a week to prepare us for our first Communion in June. Those of us in the 2nd grade were going to school in split sessions. I still have the little white purse with the long strap, the rosary beads and prayer book that each of the girls in my First Communion class received as we promenaded out of the old Church in our pretty white dresses, veils and high socks.
Shown front left are Margaret Dunbar, Jean Marie Dinsmore (Ensminger), Patty Williams (Meyer), Mary Rose Haller (Estrodt), me (Teddy Klingel Linenfelser), and Suzanne Lenz; (row 2) Jim O'Dea, unknown, Kathy Bradley (Smith), Shirley Trautman (Heckman), Joan Schlueter (Wright) (partially hidden), and Alice Hau (McCarthy); (row 3) Danny McNamee, John Grycel, Peter Dinsmore, Wayne Baumler (half hidden); (top) Paul Hoffman, Michael Chateauneuf, Russell Anderson, Robert Schwagler, John Fontana and Jerry Thirion. St. Stephen's parish priest, Father Edward S. Schwegler, is shown on the right.
Margaret, Mary Rose, Paul and Russell are deceased.


---



Sidway School Glee Club - 1952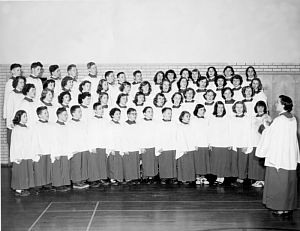 Click Photo For Larger View
Music teacher Carol Thompson (right) directed the Sidway School junior high Glee Club for many years. Dressed in robes of green with a white overlay, the members sang at school concerts and plays and other Island events. Some of these students sang at the dedication of the Kaegebein School in 1953. This 1952 photo shows (front left) unknown, Joe Kerr, Glenn Smith, Jim Kerr, Peter Scalia, Carol MacDonald (Ganster), Harry Hall, Jim Kirst, Shorty Vanthoff, Daralene Meyer (Jones), Diane Meyer (Krause), Lynn Hoerig, Nancy Braddell (Gorrell), and unknown; (2nd row) Carol Godfrey (Wiesinger), Vera Jo Mote (Mann), Myrna Dworak (Boerschig), Roberta Miller (, Marilyn Ekiss (Fries), Gail Burgstahler (Rothenberg), unknown), (unknown) Sally Swalm (Hansen), unknown, Joan Benton (Templeton), Barbara Yadloczky (Oddo), Muriel Mayer; (3rd row) Lorraine Noras, Phyllis Miller, Dawn Webb (Travetta), Peggy Webster, Bernie Glor Pagliaro, Wilma Pankow (Volberg), Joan Lafferty (Kivett), unknown, Nancy Seifert (Dinan), Joyce Granskowski (David), Doris Harding (Watson), Deanna Glasgow, Barbara DeGlopper (Butterworth); (top) James Pierson, Carl Miller, Bob DeGlopper, Mike Costin, George Mayer, Allan Howland, Jack Boehm, Bill Loth, Joan Dietzer (Kean), Carol Kingston (Ullrich), Pat Fellenz, Lynne Cullen (Euse), Judy Nailor (Meer), Joan Hanna (Johnston) and Marcia Traun. The Glee Club was made up of 7th, 8th and 9th grade students at the time the photo was taken.



---



High School Musical Lil Abner - Fall 1976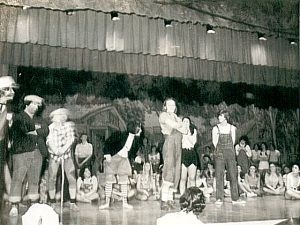 Click Photo For Larger View
Paul Zoltoski had the lead in the GIHS musical, "Lil Abner," March 17-19, 1976, and Lynn Aswad and Kathi Goodman alternated nights as Daisy Mae and Appassionata Von Climax. Also taking parts were Louie Vacanti, Nettie Hansen, Nick Koscielniak, Tom Gormady, Peter Shaw, Steve D'Addieco, Randy Kramer, Jim Whiting, Lee Zeplowitz, Tom Yuhas, Joe Rumrich and Jamie Pultz. Stage managers were Karen Sommer and Chet Migdolski and student coordinator was Tim MacKenzie. Tom Gormady, taking the part of "Marry' in Sam" was also responsible for the poster design, the program cover and the marquee.



---



GIHS Band - 1977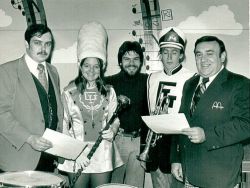 Click Photo For Larger View
This 1977 photo is of the two students who were nominated for the McDonald's All-American High School Band and shows them being awarded certificates recognizing that nomination. Harvey Cohen (right) owned the Grand Island McDonald's franchise. The man on the far left may also be from the McDonalds Company. Second from left is Beth Foster (Beaudin), drum majorette with the GIHS marching band and the only bassoonist in the band. Band director Sherm Lyke and George Rogers are shown next. George was selected to the McDonald's Band, one of only two selected from New York State and one of a hundred total, nation-wide.


---



Buggy Ride - 1906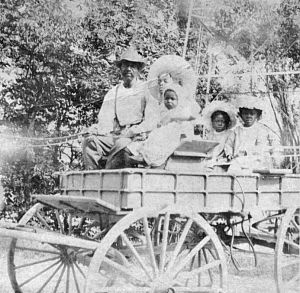 Click Photo For Larger View
George Williams Sr. stopped his buggy at the corner of East River and Staley roads when this photo was taken in 1906. He is shown taking four of his children out for an afternoon buggy ride. The baby is Richard ("Dick"), and the girls are Irene, Nora and Rebecca. George was a member of one of the oldest families on the Island. The Williams family lived on Fix Road and was the only black family here for many years. Property on Fix Road is still owned by descendants of the Williams family.


---



Chamber's Board Of Directors - 1976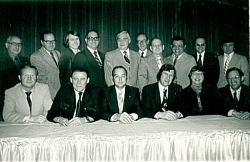 Click Photo For Larger View
Members of the Grand Island Chamber of Commerce Board of Directors for 1976 shown are (front left) Paul McCarthy, Jim Beishline, Harlen Dembeste, Arthur "Skip" Mazenauer, Marilyn Couch, Andy Proto; (back) Dieter Beck, Daniel Linenfelser Sr., Reg Schopp, Joe Gordon, Ed Schwaneke, unknown, Bob Craft, Frank Costanzo, Jerry Youngs, and Paul Mann.


---



Island Baseline Team - 1954


Click Photo For Larger View
The Grand Island Kiwanis Club sponsored this summer baseball team in 1954. Shown from front left are Francis Lapine, Bill Collins, Chuck Hall, Jerry Thirion, John Hall; (2nd row) Spike Vampotic, (Unknown), (Unknown), Bob Grycel, Dennis Yakam; (back) (David Butcher), (Joe ?) Kerr, Dave Yakam, Ed (Del) Haller, (Unknown), (Jim ?) Kerr, and Dave Kean. The photographer was teammate John Grycel who used his Kodak, pocket bellows type camera when shooting the picture in his family's backyard at 49 Love Road, Grand Island. The photo was taken looking east with Dr. Ben Perkins' willow tree in background.


---



Rotary Club Event - 1976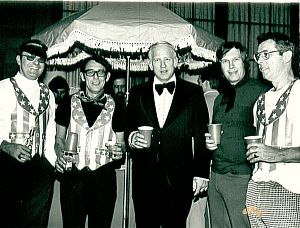 Click Photo For Larger View
This Grand Island Rotary Club event took place in 1976. Shown in this photo, most likely a Rotary Monte Carlo Night, are Ted Bates, Andy Proto, Floyd Doring, Skip Mazenauer and Larry Runions. Thanks to Reg Schopp for the missing names!


---



First Varsity Vikings Football Team - October 1964



Click Photo For Larger View
The Grand Island Varsity Vikings Football Team posed for this October 1964 photo.
Standing: Mr. Gene Masters, Mr. Gerry Gergley
Row I: Mike Podlucky, Colin Smith, Robert Luther, John Lexo, John Dennis, Scott Herlan, Joe Weber, Dan Rowe
Row II: Dave Schaefer, Mike Travis, Chas. Frampton, Ken Coulter, Dan Walgate, Paul Kaegebein, Roy Polliard, Jerry Cahill, Richard Kramer, John Killian, Bob Hillock, Carl Reinauer
Row III: Dan Carroll, Richard Gibbons, Jerry Goodwin, Richard Harris, Mike Kelly, Tom Buscaglia, Tim Ehde, Robert Wilson, Richard Trotter, Mark Simpson, Bob White, Art Bascomb, Jim Schaefer.
After being accepted in the E.C.I.C. conference, it was learned that Grand Island's first varsity football team's league schedule would not appear until fall 1965, due to previous commitments by other league teams. Athletic Director Dave Meyer went to work and came up with a game schedule whereby the Vikings faced the following opponents in the fall of 1964: Wilson, Niagara Wheatfield, Roy Hart, Barker, Starpoint, Sweethome and Eden.
Scott Herlan led the scoring for the first year Vikings Football team with 24 points and Dan Walgate led the defense with an average of 10 tackles per game.
Thanks to Terry Swain, GIHS Class of '66, for the loan of the newspaper clipping. Do any of our readers have the original photo?


---



Dworak Children - 1942


Click Photo For Larger View
Island resident Myrna Dworak Boerschig and her brother, Bob Dworak of Sebring, FL, posed behind their brand new house on Love Road in Grandyle Village, shortly after the family moved in, in 1942. Myrna and Bob were both born in February, just like their mother, Irma, who will celebrate her 100th birthday on February 9th, 2006. Irma continued to live in the house until 2003. Her husband, Bill, passed away many years ago.


---



Sharon McMahon Tokash - 1961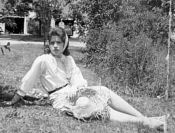 Click Photo For Larger View
Island resident Sharon "McMahon" Tokash, posed for this photo on the lawn of her family home on Love Road in Grandyle Village in 1961. (The photo appeared in the January 27, 2005 Between the Bridges column on Sharon's birthday.


---



Kaegebein School Teacher Ora Glor - 1958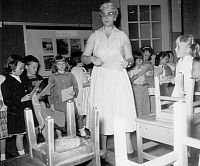 Click Photo For Larger View
Ora Glor of Love Road, who began teaching in the William Kaegebein School in 1955, is shown with some of her students in 1958. Dr. Ron Gasbarro, a member of the GIHS Class of 1969, now residing in Pennsylvania, sent me the picture. He has identified the following who are to the left of Mrs. Glor: GIHS 1969 grads Beverly Webb, Scott Hennigar, and Sharon Killian. On the right, the blonde girl is Barbara Winkler and the 4th girl from the right (dark hair) is '69 grad Darlene Cutonilli. Liz Barker has written to suggest that two of the girls pictured may be Diane Loder and Cynthia Austin.


---



Altar Book Presented At St. Martin's Church - 1953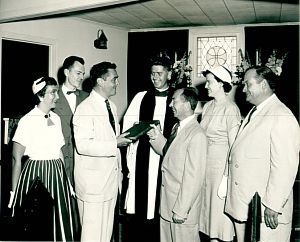 Click Photo For Larger View
This photo by Robert J. Koch of Buffalo, New York was taken on July 23, 1953 in the "old" St. Martin-in-the-Fields Episcopal Mission church on Baseline Road (same address as today's St. Martin's.) Nat Barrell, third from left and representing the Grand Island Playhouse (click for photo below), was presenting the altar book to parishioner Fred Strauss (right). The Rev. Richard Howard Baker, who became the vicar of the church in June 1953, is shown in the background between the two men.


---



Sons Of John Schutt Sr.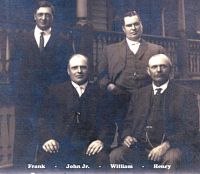 Click Photo For Larger View
Shown are Frank, John Jr., William and Henry, the four sons of John Schutt Sr. Born in Mecklenburg, Germany in 1845, John Sr. emigrated to America, coming directly to the Buffalo area with his family in 1873. He set up a large and profitable farm, only to sell it and move across the river to Grand Island in 1889 when he purchased his farm of 240 acres on Stony Point Road. Between his first wife, Sophia Sunk, who died a year after their arrival in Buffalo, and his second wife, Sophia Boss, he fathered a dozen children. Son Henry Schutt inherited the house and farm and also raised his family there.
Schutt Homestead - 1980s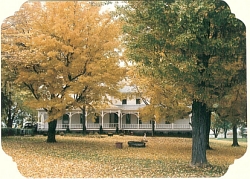 Mary Stewart photographed the Schutt homestead on Stony Point near Bedell Road in the late 1980s.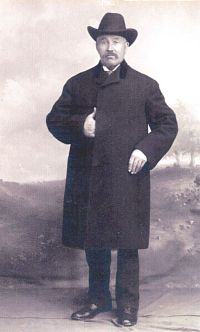 John Schutt Sr.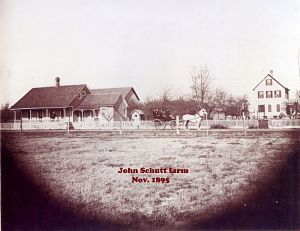 John Schutt Farm House - 1895 - Click Photo For Larger View
According to descendant Fred Schutt who provided the photos, this is the original house of John Schutt Sr. that stood on the north side of Bedell Road at Stony Pt. The bigger house to the right still stands today and is pictured above. (more Schutt photos to come!)


---



Grand Island Playhouse - 1950s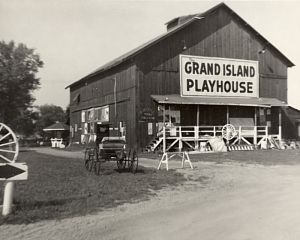 Click Photo For Larger View
The Grand Island Playhouse was a theater set up in an old barn in 1948. The property on the southeast corner of Baseline and Bedell roads belonged to the Long family. The Playhouse was a big drawing card to the Island with professional and semi-professional players from the surrounding area bringing crowds to the Playhouse several nights a week in the summer from 1948 through 1960. The building burned to the ground on October 30, 1969. The photo, submitted by former resident Don Bruce, is from his mother's (Charlotte B. Bruce) collection. The Bruce family, Charlotte, Douglas and sons Donald and Robert, lived on Grand Island from October 1950 to July 1956.


---
Grand Island, New York photos
Click Old Photo Album Volume One
Click Old Photo Album Volume Two
Click Old Photo Album Volume Three
Click Old Photo Album Volume Four
Click Old Photo Album Volume Five
Scroll To Top For other Old Photo Album Pages

And for Teddy's Islettes photos, click Teddy's Islettes Web Page

---

This website is sponsored by
GIECOM.NET
"Grand Island's E-Commerce Bridge to the World"
1871 Whitehaven Road, Grand Island, New York, 14072-1803 USA
Copyright © 1995-2006 All rights reserved.