~ F E A T U R E S ~
Volume 1

Grand Island, New York

Features Pages





A Fallen Hero Comes Home - Police Provide Escort
Editor's note: The following was written by Jack Graham, Senior Investigator, New York State Police to the Syracuse Police who, on April 17, 2003, participated in a hastily planned ceremonial escort for a soldier killed in Iraq.
(The abbreviation "SP", means "State Police", and it refers to a station. For instance, SP Loudonville, NY.)
"On Thursday, April 17, 2003, you participated in an escort detail for GREGORY P. HUXLEY JR who was killed in action in Iraq on April 6, 2003. On behalf of the entire Huxley family and from me, personally, I want to say "Thank you very much." Your professionalism, dedication and sincerity meant so much to the Huxley family, that words cannot describe their feelings at this time.
"What most did not know was that the US Army had promised the family members that they would be taken to Dover, Delaware to be present when their son arrived from Iraq and there would be a full military ceremony in Dover for GREGORY. Unfortunately, there was a communication problem and they were not present during that ceremony.
"Then they were informed that the body of their son was being flown to Syracuse and that the funeral director could pick up the "fallen soldier" at the cargo area of the airport and that somebody would help them remove the casket from the cardboard shipping container for transport to Boonville, NY.
"The funeral director felt that unacceptable for a nineteen year old young man that gave his life for this country and for the freedom of so many others. As a family friend he contacted me to see if anything could be done. We now had six hours before GREGORY arrived in Syracuse.
"Phone calls were made to SP North Syracuse and SGT Nick Harmatiuk took over from there. What you participated in and observed the rest of that day was truly an outstanding display of what this agency can do in very short time.
"What happened was just visually and emotionally overwhelming.
"The procession left SP North Syracuse led by eight Syracuse PD motorcycles, followed by the hearse, four cars with family members and followed by ten State Police and Syracuse PD cars. How ironic it was that when the procession was traveling parallel to the runway, the plane carrying GREGORY landed next to it. We were able to enter the planes cargo area and remove the shipping crate from the casket and drape the American flag over the casket. When the casket traveled down the conveyor belt, fifteen New York State Troopers and the same amount of Syracuse Policemen lined the path to the awaiting hearse-all at attention. A hand salute was executed as six State Troopers proudly bore the flag draped coffin to the hearse. After a short prayer, the family was given some time to welcome their son home.
"The entire airport was so quiet. I looked up at the concourse windows and saw a hundred or more people. They were all standing, watching, with their hands over their hearts, saluting a young man that they did not know. Somehow they learned that a fallen soldier had come home and they wanted to honor his sacrifice.
"The casket was then placed in the hearse and the procession left the airport in the same fashion as we arrived, only this time with a young hero that our hearts will never forget.
"The motorcade was escorted to the thruway entrance by the Syracuse Police Department's motorcycles. All traffic was stopped for the procession and we headed east towards Boonville. After getting off the thruway, we found that every intersection that the procession encountered was controlled by State Troopers, allowing us a safe, unimpeded passage. At each intersection, the State Trooper stood at attention, saluting the fallen soldier and his family, giving him and his family the respect that they deserved. How emotional that was to see and now to reflect on.
"When entering the Village of Boonville, the main street was decorated with an infinite number of American Flags and yellow ribbons. As we approached the center of town, all of the church bells began to peal at once recognizing and saluting Gregory's arrival. Hundreds of people holding American flags lined the street, some with their hand over their heart and some weeping for GREGORY for what he sacrificed, for us and his country. As we drove by the village park, the National Anthem was being played, for GREGORY, and I think, for all of us.
"At the funeral home, eight veterans lifted the casket out of the hearse and into the home with the family. GREGORY had returned home.
"GREGORY'S family said to me later that the images I have just described will always be etched in their hearts, forever. But the one memory that will always be there first, was of the State Troopers at the airport, standing at attention, saluting, with tears running down their cheeks for their son, a fallen soldier. A hero whom those Troopers never personally knew.
"Our jobs take many different avenues in life. We hope that during our day or shift that we have made a difference, a positive contribution. On this occasion you did just that. An entire family knows that you cared to do your very best to honor their son. Their words and expressions told me just that. We made a difference yesterday, and we did it well.
"The rewards we receive for details like this one do not come from anywhere but from the heart. Take pride in what you accomplished, because it was distinct and without equal in this Trooper's eye. I have had so many good things happen since I have been a State Trooper, but in those twenty-four years, I have never been more proud of the New York State Police as I was yesterday- A fallen soldier, a hero, a son, a brother has finally come home, in grand deserving style, thanks to all of you."




My New Record Player - Christmas 2003
By Teddy Linenfelser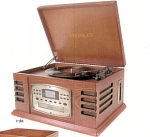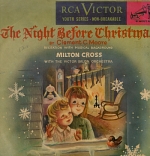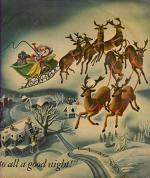 Click photos for a larger view.
My husband, Jim, gave me a Crosley table model record player, a replica of a 1930s-40s model. In a pretty, wood case, it plays 78, 45 and 33 rpm records as well as CDs and tapes. It also features an AM/FM radio, all with excellent fidelity. I hadn't thought about a record player in 30 years. It was my granddaughter, Amy Bidell, who recently rekindled my interest in our trunk full of record albums. Amy, who seems to appreciate all kinds of music, asked if I would check our storage areas to see if maybe there would be a discarded record player somewhere so she could listen to all these old recordings. Well, there was nothing saved though we had owned several turntables in our 35 years of marriage.

A music lover myself, I began to think about what I had listened to as far back as I could remember. My first memory was of my mother, Marion Klingel, playing our spinet piano and singing such songs as "Peg O My Heart" and "I'm Looking Over A Four-Leaf Clover." We also listened to "Stop The Music" on Friday nights on our radio, the details of which I can't remember at all. My best memory goes back to Christmas Eve 1947. My sister, Mary Ellen and I, 6 and 5 years old respectively, were in the basement with our father, Ted Klingel, an electrician of sorts. We heard the doorbell ring (he had rigged it so that he could ring it from the cellar) and we raced upstairs with him and opened the door to our breezeway. We immediately saw the big box which he carried into the kitchen, obviously an early gift from Santa. There it was, a phonograph and about a half dozen 78 rpm records of Christmas favorites including Big Crosby's "White Christmas," "I'll Be Home For Christmas" and "Silent Night." This wonderful machine, along with the records, was set on our kitchen table and plugged in and my mother began playing them, one at a time. My sister and I, on each side of the table, were very excited. First Mary Ellen and then I, unknowingly leaned our folded, little arms down on the record in front of us. No one hollared when it was discovered that two of those prized records were broken, but my mom was very disappointed.

I still have the RCA Victor recording of "The Night Before Christmas" dated 1948. The pictures on the cover bring back delightful Christmas memories of being a little girl who just knew that Santa Claus would leave us unbelievable surprises such as baby dolls, miniature dishes, story books and other toys.

In no time, we had a great record collection of 78 rpm records. This was due to the fact that the vendor who replaced the records in the fire hall jukebox on a regular basis, would give the discards to my dad. I remember playing "Nola" and other upbeat, piano solo records while sitting at our own piano, moving my fingers in pretense of making the music. I really wanted to learn to play and took a few lessons from Clara Mueller Pankow while in the second grade. However, I became sick with Scarlet Fever that year and didn't resume piano lessons for another 30 years.

It was for that first record player that I spent some of my "First Communion money" on the three-record set of "Rusty In Orchestraville," first heard at school, and a prized possession I've kept for all these years. Another favorite was a gift from Jerilyn Stedman Karb. As I remember it was a two-record set titled "Uncle Don-An Airplane Trip," and was narrated by "Uncle Don" as he flew over the 48 states.

In looking through a box of 45 rpms since getting my new record player, I found that I still have a little 78 record of "The Old Elm Tree," which is a story in two parts, each side of the record, and the cover is marked "unbreakable." Imagine being able to hear a story with no one actually reading to you!

As we got into our teens, my sister and I, with only the old fashioned 78 speed player, would buy the inexpensive renditions of the top songs of the day which were available at the Love Road Pharmacy. Eventually, we received a record player that would play the very popular 45 records. Along with that, we also had a reel to reel tape recorder and recorded all of our favorite music of the 1950s. One of my favorite stories is when my sister was attending Riverside High School in 1957 (no high school here until '63) and I was going to Sidway School for 9th grade. I would tape Dick Clark's American Bandstand show so she could hear it when she came home from school, about an hour later than I did. A photographer even then, she had taken pictures from our TV set of Dick and all the popular teens on the program and sent them to the television station. I was so surprised and excited as I heard Dick Clark announce that Mary Ellen Klingel of Grand Island had sent him the photos which were shown right there on our living room television - as our reel to reel recorder picked up every word!

Just before Jim and I married in 1968, I bought a Mediterranean style, console AM/FM radio, record player which we kept and used for many years. Jim bought me an 8-track player for Christmas in 1977 along with a Helen Reddy tape, and one of the kids' favorites, the Statler Brothers. The collection of 8-tracks was short-lived as the cassette tapes took over the recorded music industry.

I began taking piano lessons in 1979 from Keith Manson who would tape the sessions on my Panasonic tape player. The tapes are still here. Parts of them are instructional and others are of his fantastic piano playing.
We also own two boom boxes and a CD changer and a large entertainment center that makes it necessary to pass a college course in "Entertainment Center Operation." That is what I like about my Christmas present. I can turn it on, put the record on it, move the arm and play my music. Everything else is history.


---



Dispatching Volunteer Firefighters Throughout the Years - 2003
By Firefighter/EMTP Dan McMahon
The alerting of firefighters to respond to the scene of a fire has been going on as long as there has been firefighters, and Grand Island is no different. As a child I remember when the fire siren would ring in the back yard of the late Ted and Marion Klingel's home on Love Road, every child within "earshot" would immediately stop what they were doing and run to the Klingels' home, look at the "Sign" to see where the fire was (The sirens did not ring for first aid calls) and if the fire was near by, everyone would either ride their bike or run to the scene of the fire.

During the next few years the "communication" system for the Grand Island Fire Company grew "more sophisticated," there were telephones, with the same number, installed in the homes along Love Road. This meant, depending on the number of rings, which "Dispatcher" would answer the telephone. Ring one was always Marion Klingel's. The "Dispatcher," after determining the need of the caller, would need to notify, by telephone, the Fire Chief, A Driver (to drive the Fire Truck) and the other "Dispatchers" around the Island. These other "Dispatchers," along with Marion would write the location of the fire on a chalkboard and then place the board outside for responders to drive up to, obtain the address and respond the scene. The Dispatcher would also be required to activate the siren in their backyard.

A "short" time later and with more sophistication, and with the methods of communications improved, Dispatchers around the Island could answer the telephone and then activate every siren on Grand Island by pushing one switch, (Lightning would also activate every siren). As radio technology developed so did the Emergency Communication of the Grand Island Fire Company. Marion Klingel was the first Grand Island Fire Company "Dispatch Supervisor" and with a team of five other women, dispatched the firefighters for many years. After joining the fire company, I was able to witness the developments and improvements first hand. Marion, as the Communications Supervisor and the long time editor of an Island newspaper, was able to handle both duties.

Until the late 1980's, two way radios, Plectron Home receivers were but a few advancements to provide the citizens of Grand Island with the very best response to fire and first aid emergencies. Late in the 1980's, the Grand Island firefighters, firematic officers, the board of directors and the Grand Island Town Board, decided we, the Grand Island Fire Company, would best serve the citizens and visitors of Grand Island if we would locate the Dispatch Center on Grand Island. Prior to this, Kenmore Fire Control followed by the Amherst Fire Control and finally the City of Tonawanda Fire Dispatch were used to dispatch the Grand Island firefighters to fires and first aid emergencies. Late in December of 1985 the Grand Island Fire Dispatch, KNFF-811 went on the air, answering telephone calls and dispatching the Grand Island Fire Company firefighters to fire, first aid and the other requests for assistance.

With the installation of 9-1-1 and later E-9-1-1 telephone systems, the services of the Grand Island Fire Company would become more sophisticated. The Dispatcher would have the ability to not only determine the caller's telephone number, but the address of where the call originated. Past Chief William P. Wood assumed the duty as supervisor of communications. After Bill retired to Florida, I was appointed supervisor of the Communication Center, by the board of directors. For more than fifteen years, Bill and myself along with the assistance of many dispatchers, have witnessed the progress, growth and development of the communication center. C.A.D. Systems, Telephone Interfaces, recording devices and the ability to preplan structures are but a few developments which have contributed to provide a service to our citizens, second to none. The Grand Island Fire Company in cooperation with the Grand Island Town Board has continued to provide the very best of service to our fine community.

During the past thirteen plus years, as Supervisor of Communications Center, I have witnessed the dedicated service of our dispatchers through many difficult situations. Snow and wind storms, power failures, multiple simultaneous alarms and major fires are but a few types of situations these fine individuals have handled in a very professional manner.

As Marion Klingel and Bill Wood have done in the past, retire, I do likewise. As I retire as the Supervisor of Communications for the Grand Island Fire Company, I would like to thank the current and former Dispatchers who, through their dedication and devotion to Grand Island, have helped make my job easier.

Our Dispatchers for the fire company are truly the first responders to each and every call for assistance from everyone, whether they are a citizen or a visitor to our community, each call is handled in a very professional manner. To these individuals I say thank you.


---



Everyone Loves Christmas Cookies - 2003
Danielle "Hassan" Sander's kitchen was the scene of her family's annual Christmas baking on Thursday, December 11, 2003.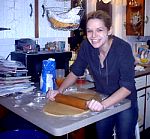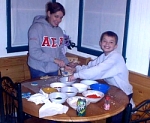 Danielle rolling and cutting her first batch - (right) sister Mackenzie Hassan, son Andrew Sander enjoy the frosting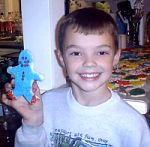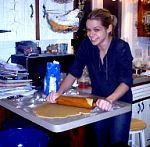 Andrew shows off one of his masterpieces - Danielle is giddy after rolling and cutting 30 dozen cookies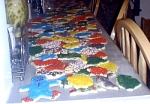 Cookies galore! Click photos for larger view




DID YOU KNOW - 2003
The following was received from longtime resident Bob Beach
Buckhorn Island State Park (Grand Island)
Total acres: 894.796 Underwater:304.5
This state park has 150 acres marsh and is the largest remaining emergent wetland on the Niagara River. Three bodies of water are present within the park's boundaries: the Niagara River, Woods Creek, and Burnt Ship Creek; yielding at least 36,300 feet of shoreline. Habitats include open waterways, marsh, wet and dry woods, and fields. Hiking trails provide access to most of the park. Nature walks and programs are available through the Interpretive Office
Big Six Mile Creek (Marina) Total acres: 20.57 - Public boat launch, fishing
Beaver Island State Park Total acres: 951.81 Underwater: 171.56
This state park features some of the best and easiest wildlife viewing opportunities in our area. Covering the entire southern tip of Grand Island, the park provides access to both the east and west branches of the Niagara River. Motor Island, site of a rookery for Great Blue Herons and Common Egrets, can be viewed from the eastern side of the park. The Beaver Island lagoon offers one of the area's most biologically diverse habitats and is an important stop for any nature enthusiast. Other habitats can be visited by walking along the various nature trails or viewed from shore. Habitats include open waterways, marsh, wet and dry woods, and fields. Hiking trails provide access to most of the park. Nature walks and programs are available through the Interpretive Office (716) 278-1728.
West River Parkway Total acres: 663.18 Underwater: 375.25 (Between Buckhorn State Park & Beaver Island State Park)




Memories Of Life At The Island Nike Base - 2003
Editor's Note: The following was submitted by John G. Lunn, Lieutenant Colonel, United States Army Reserve (Retired) who attended the Nike Hercules Missile Base reunion of troops stationed at that base on Whitehaven Road from the mid 1950s to 1969. Lunn, who now resides in the Bay area of California, grew up in Cambridge, Massachusetts and was commissioned through ROTC in 1956 at Harvard where he later graduated. He was stationed on Grand Island, NY from November 1956 (after Officers Basic School at Ft. Bliss in El Paso) through July 5, 1958. The Nike reunion was held on Saturday, July 19 and Sunday, July 20, 2003 with headquarters at the Holiday Inn Grand Island.
Military
1. Duty Officer. Every 4th night and every 4th (both days) weekend. The battery was supposed to have 8-9 officers. We were always short. The BC didn't pull duty per se; but he was the backup BCO if the second unit at the site was brought up from 3-hour status.
2. We had Open Houses on Sundays. The alert crew (especially the launcher area) ran crew drill (one section of missiles). We just didn't show the people the classified areas.
3. Red Canyon, 1956, was miserable. The Battalion fired 18 missiles, with only 6 kills. Charlie Battery had 3 of the 6. The next year Charlie fired 6 out of 6.
4. The Battalion Headquarters was at Fort Niagara, so anytime there was an event-operational, Court Martials, social, we were the battery that had to come the furthest.
5. We umpired the Army Training Test for the NY National Guard people who would eventually take over the site. At that time it was the 1/106th.
6. Description of the 44th Battalion regimental insignia (Any Time Any Place) and info on the history of the 2nd Group is in snailmail.
7. We spent a lot of time on site improvement. The launcher area did dailies, weeklies, and monthly checks and command calibration in the morning, and site improvement (weather permitting) in the afternoons. We planted grass around the launchers' barracks, and IFC (Integrated Fire Control) sets. We got free cinders from one of the steel mills in Niagara Falls and built walkways in front of and behind the launchers so the crewmen didn't have to walk in the mud. We also built POV (privately owned vehicle)parking lots with the cinders. We used a 5-ton dump truck which was not TO&E (Table of Organization and Equipment) but which we had somehow acquired. The old man designed the miniature golf course in the IFC area and it was built with troop labor. We also built a softball field in the IFC.
8. The old man traded. He traded paint to the Navy for toilet paper. He scrounged building materials and built the two guard shacks and squad rooms in the barracks for the NCO's who were not in the BOQ's (Bachelor Officer Quarters) (using one of my missile mechanics who was also a carpenter). The battery manning board was built from scratch and lettered by hand. We weren't as fortunate on Ordnance spare parts, especially vacuum tubes. We were last in line because they went A, B. C. The other batteries had excess and hid it; the old man followed the rules and only kept what we were supposed to have. The Support people (Engineers, Ordnance, etc.) liked to work at our site because the old man let them eat lunch in the mess hall when there was excess food (there usually was).
9. One night six of our guys were arrested in Buffalo for drunk and disorderly, and livened up the jail by singing "This is cellblock #1, where is #2...etc." The old man got to the (female) judge before court the next morning and suggested she sentence each man to a $25 donation to the United Way in lieu of jail time or fines. She liked the idea, she got the publicity, and we got off.
10. The Post Engineers controlled the boiler rooms in the barracks. They were locked with an Engineer lock, and the nearest key was at Fort Niagara. One year they put governors on the furnaces so they would only burn so much oil. The governors caused the furnances to kick off. When they did, the pipes froze. One winter we were without heat for two days. The pipes froze and required an arc welder to melt the ice. After that we learned that we could take the hinge pins out of the doors and reset the furnaces when they kicked off.
11. Col. Underwood, the Group Commander, was our friend. When he saw our site, with the site improvements and the way we hosted open houses, we became his show site and got all the VIPs. This frosted Battalion, who didn't like us because Capt. Popo spoke his mind and was not a West Pointer. They got even. After we had spent 6-7 days straight getting ready for and passing the IG (Inspector General) inspection, they walked through the gate at 0600 the next morning and ops-checked us. Dirty.
12. There was no water on the sites, so we had to have water trucks daily to pump into our storage tanks. The cinders worked well for the water truck pads, too, and kept the mud level down.
13. One morning the Bn (Battalion) Flight Officer arrived at our site on a routine flight, and ended up taking me to the dentist at Fort Niagara by helicopter. He flew right along the edge of the falls on the way. I was strapped into the right seat with guess who - the old man.
14. The married people eventually got Capehart housing, which was much better than what they could afford on the housing market. Was a big benefit for them.
15. One of our officers, Don Phillips, was transferred to group where he worked in the ops center. One night I had the duty when he called us up for a large formation of unidentified aircraft. NO IFF (Identification Friend or Foe), no flight plan, Air Force couldn't identify them. We got the missiles up, connected the arming devices and the squibs, and waited. Turned out to be a flock of Canadian geese!
16. One night my precious launcher people attached a stink bomb to my personal car, which went off when I stared it the next morning. After that I parked it where the gate guard could see it, and told them if I got another one they had better know who put it on. Worked great, except the bus that went between areas to take the launcher people to the admin/mess hall area backed into it.
17. One cold winter day we were having an inspection in ranks by Battalion. One of my generator operators, Cafarella, opened the breach of his carbine, presented it for inspection, but couldn't get it closed because of the winter gloves he wore. After the Inspecting Officer passed by, he stuck the glove in his mouth, pulled it off with his teeth, and closed the bolt with his bare hand. After he had slung arms, he grabbed the glove out of his mouth. All unbeknownst to the inspecting officer!
18. Speaking of winter inspections, the officers never wore overcoats to inspections because the old man didn't have one. It was cold.
19. In those days we paid the troops in cash at the end of the month. The duty officer went to the bank and drew out the money. The supernumerary guard went with him with loaded carbine. I just found a receipt for the payroll one month for all the enlisted men (the officers were paid by check) for $16,005. That's for a battery of about 200 people.
20. We used to get 16 mm movies at the battery. An EM (Enlisted Men) would run the projector. There was a signup sheet and I think it was 10 cents. One year the IG tried to gig me on one of the signup sheets because someone had signed in as George Washington. I pointed out to him that my launcher platoon sgt was (black) named George Washington.
21. There was a 90 mm gun site on Staley Road near the thruway. All the equipment had been removed but the Jamesway barracks were still there. The floors were 4x8 sheets of 3/4 inch plywood, good for a number of things.
Civilian
1. I remember the lights on the (Horseshoe) falls from the windows of the dining room at the (?) Sheraton at dinner.
2. I remember the flower clock somewhere just across the border in Canada.
3. I remember Bright's winery, because Mary Bright married Tom Urban, one of my classmates, in 1960. Quite a party. They served Mumm's and only drank the Bright's stuff when we ran out.
4. I remember Alt Chevrolet on Whitehaven Road, although I bought my new Chevrolet in Buffalo because Alt wanted $2200 for a demo model.
5. Never went to Mesmer's Supper Club. That belonged to the EM, so we officers never went there, except for the times when the old man would raid it looking for the standby crew. He would come in the front door, they would go out the windows in the back.
6. The old man would go to the VFW Club in East Buffalo - everyone called it the "Polacki Club" (he was Polish, of course). It was on Paderewski Avenue (pronounced Puh-droo-ski) by the locals.
7. I remember that the Active Army had to pay toll on the Grand Island bridges, where the NY National Guard didn't.
8. I remember the smell of the chemical plants going into Niagara Falls.
9. I remember using gas line antifreeze, which you needed to keep your car running, but it played hell wih the carburetor so every summer you had a carburetor overhaul.
10. I remember putting curtains on the bedroom and day room windows of the BOQ, and a bedspread and rug. The old man liked the idea and everyone had to do it.
11. I went to one of the Adult Ed classes on investments at one of the elemenary schools on Grand Island. Had to swap duty so I could get to all the night sessions. They treated me royally and wouldn't charge me anything.




Surprise Guest On Thanksgiving Day In Iraq - 2003
The following was received in an email from a reader, author unknown.
Email from a captain in Iraq
We knew there was a dinner planned with ambassador Bremer and LTG Sanchez. There were 600 seats available and all the units in the division were tasked with filling a few tables. Naturally, the 501st MI battalion got our table. Soldiers were grumbling about having to sit through another dog-and-pony show, so we had to pick soldiers to attend. I chose not to go. But, about 1500 the G2, LTC Devan, came up to me and with a smile, asked me to come to dinner with him, to meet him in his office at 1600 and bring a camera. I didn't really care about getting a picture with Sanchez or Bremer, but when the division's senior intelligence officer asks you to go, you go.
We were seated in the chow hall, fully decorated for thanksgiving when all kinds of secret service guys showed up. That was my first clue, because Bremer's been here before and his personal security detachment is not that big. Then BG Dempsey got up to speak, and he welcomed ambassador Bremer and LTG Sanchez. Bremer thanked us all and pulled out a piece of paper as if to give a speech. He mentioned that the President had given him this thanksgiving speech to give to the troops. He then paused and said that the senior man present should be the one to give it. He then looked at Sanchez, who just smiled. Bremer then said that we should probably get someone more senior to read the speech. Then, from behind the camouflage netting, the President of the United States came around. The mess hall actually erupted with hollering.
Troops bounded to their feet with shocked smiles and just began cheering with all their hearts. The building actually shook. It was just unreal. I was absolutely stunned. Not only for the obvious, but also because I was only two tables away from the podium. There he stood, less than thirty feet away from me! The cheering went on and on and on. Soldiers were hollering, cheering, and a lot of them were crying. There was not a dry eye at my table. When he stepped up to the cheering, I could clearly see tears running down his cheeks. It was the most surreal moment I've had in years. Not since my wedding and Aaron being born. Here was this man, our President, came all the way around the world, spending 17 hours on an airplane and landing in the most dangerous airport in the world, where a plane was shot out of the sky not six days before. Just to spend two hours with his troops. Only to get on a plane and spend another 17 hours flying back. It was a great moment, and I will never forget it. He delivered his speech, which we all loved, when he looked right at me and held his eyes on me. Then he stepped down and was just mobbed by the soldiers. He slowly worked his way all the way around the chow hall and shook every last hand extended. Every soldier who wanted a photo with the President got one. I made my way through the line, got dinner, then wolfed it down as he was still working the room. You could tell he was really enjoying himself. It wasn't just a photo opportunity. This man was actually enjoying himself! He worked his way over the course of about 90 minutes towards my side of the room. Meanwhile, I took the opportunity to shake a few hands. I got a picture with Ambassador Bremer, Talabani (acting Iraqi president) and Achmed Chalabi (another member of the ruling council) and Condaleeza Rice, who was there with him. I felt like I was drunk. He was getting closer to my table so I went back over to my seat. As he passed and posed for photos, he looked me in the eye and said, "How you doin,' captain." I smiled and said "God bless you, sir." To which he responded "I'm proud of what you do, captain." Then moved on.




Pearl Harbor Remembrance - 2003
By U.S. Navy Journalist Michael J. Owen
Michael J. Owen, U.S. Navy Journalist, has written the story of Pearl Harbor, December 7, 1941. Click Pearl Harbor Remembered for complete story.
Editor's note: This story was first posted at Isledegrande.com in December 2003. Current 2006 dates have been substituted for the 2003 dates.




Remember The Guy Who Got On A Plane
With A Bomb Built Into His Shoe And Tried To Light It? - 2003
This interesting story was passed on to us by Joe Synakowski, a faithful Grand Island E-News reader.
Remember the guy who got on a plane with a bomb built into his shoe and tried to light it?
Did you know his trial is over? Did you know he was sentenced? Did you see/hear any of the judge's comments on TV/Radio? Didn't think so.
Everyone should hear what the judge had to say.
Ruling by Judge William Young U.S. District Court
Prior to sentencing, the Judge asked the defendant if he had anything to say.
His response: After admitting his guilt to the court for the record, Reid also admitted his "allegiance to Osama bin Laden, to Islam, and to the religion of Allah," defiantly stated "I think I ought not apologize for my actions," and told the court "I am at war with your country."
Judge Young then delivered the statement quoted below, a stinging condemnation of Reid in particular and terrorists in general.
January 30, 2003 United States vs. Reid.
Judge Young: "Mr. Richard C. Reid, hearken now to the sentence the Court imposes upon you.
"On counts 1, 5 and 6 the Court sentences you to life in prison in the custody of the United States Attorney General. On counts 2, 3, 4 and 7,the Court sentences you to 20 years in prison on each count, the sentence on each count to run consecutive with the other. That's 80 years. On count 8 the Court sentences you to the mandatory 30 years consecutive to the 80 years just imposed. The Court imposes upon you each of the eight counts a fine of $250,000 for the aggregate fine of $2 million. The Court accepts the government's recommendation with respect to restitution and orders restitution in the amount of $298.17 to Andre Bousquet and $5,784 to American Airlines. The Court imposes upon you the $800 special assessment. The Court imposes upon you five years supervised release simply because the law requires it. But the life sentences are real life sentences so I need go no further. This is the sentence that is provided for by our statutes. It is a fair and just sentence. It is a righteous sentence. Let me explain this to you. We are not afraid of you or any of your terrorist co-conspirators, Mr. Reid. We are Americans. We have been through the fire before. There is all too much war talk here. And I say that to everyone with the utmost respect. Here in this court, where we deal with individuals as individuals, and care for individuals as individuals. As human beings, we reach out for justice.
"You are not an enemy combatant. You are a terrorist. You are not a soldier in any war. You are a terrorist. To give you that reference, to call you a soldier, gives you far too much stature. Whether it is the officers of government who do it or your attorney who does it, or that happens to be your view, you are a terrorist. And we do not negotiate with terrorists. We do not treat with terrorists. We do not sign documents with terrorists. We hunt them down one by one and bring them to justice.
"So war talk is way out of line in this court. You are a big fellow. But you are not that big. You're no warrior. I know warriors. You are a terrorist. A species of criminal guilty of multiple attempted murders. In a very real sense, State Trooper Santiago had it right when you first were taken off that plane and into custody and you wondered where the press and where the TV crews were, and he said you're no big deal.
"You're no big deal. What your counsel, what your able counsel and what the equally able United States attorneys have grappled with and what I have as honestly as I know how tried to grapple with, is why you did something so horrific. What was it that led you here to this courtroom today?
"I have listened respectfully to what you have to say. And I ask you to search your heart and ask yourself what sort of unfathomable hate led you to do what you are guilty and admit you are guilty of doing. And I have an answer for you. It may not satisfy you. But as I search this entire record, it comes as close to understanding as I know.
"It seems to me you hate the one thing that is most precious. You hate our freedom. Our individual freedom. Our individual freedom to live as we choose, to come and go as we choose, to believe or not believe as we individually choose. Here, in this society, the very winds carry freedom. They carry it everywhere from sea to shining sea. It is because we prize individual freedom so much that you are here in this beautiful courtroom.
"So that everyone can see, truly see that justice is administered fairly, individually, and discretely. It is for freedom's sake that your lawyers are striving so vigorously on your behalf and have filed appeals, will go on in their representation of you before other judges.
"We are about it. Because we all know that the way we treat you, Mr. Reid, is the measure of our own liberties. Make no mistake though. It is yet true that we will bare any burden; pay any price, to preserve our freedoms. Look around this courtroom. Mark it well. The world is not going to long remember what you or I say here. Day after tomorrow it will be forgotten. But this, however, will long endure. Here in this courtroom and courtrooms all across America, the American people will gather to see that justice, individual justice, justice, not war, individual justice is in fact being done. The very President of the United States through his officers will have to come into courtrooms and lay out evidence on which specific matters can be judged, and juries of citizens will gather to sit and judge that evidence democratically, to mold and shape and refine our sense of justice.
"See that flag, Mr. Reid? That's the flag of the United States of America. That flag will fly there long after this is all forgotten. That flag stands for freedom. You know it always will.
"Mr. Custody Officer. Stand him down."
So, how much of this Judge's comments did we hear on our TV sets? We need more judges like Judge Young, but that's another subject. Pass this around. Everyone should and needs to hear what this fine judge had to say.
Powerful words that strike home.


---



Buffalo Launch Club Celebrates Centennial Year - 2003
By Teddy Linenfelser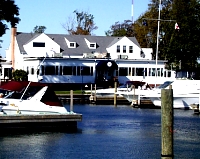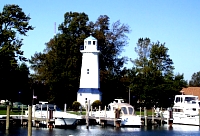 Oct. 9, 2003 - Buffalo Launch Club and Lighthouse - Jodi Hayes Robinson Photos
Click photo for larger view
More BLC photos from the year 1907 may be seen by clicking "The Motor Boat"

The 100th anniversary celebration of the Buffalo Launch Club, ongoing since the opening event, a Centennial Brunch held in January, will culminate with a formal dinner dance for members and their guests on Saturday, October 11, 2003 in the clubhouse.



In The Beginning


It was Dr. Albert E. Hubbard who sent out invitations about his idea for a group of friends, all motorboat owners, to organize for the purpose of sharing their experiences and observations. The small group of boating enthusiasts met back in October 1903, October 9th to be exact, in Captain August C. Hager's boathouse on Squaw Island. Hager was elected the first commodore. In May 1904 the club purchased the "old Deacon clubhouse" on Squaw Island for $300. Initiation fee to join the club was $3 and dues were $2.
The Buffalo Launch Club, which has the distinction of being the first power boat club in America and the first in the world, was incorporated on December 11, 1904 with 30 charter members.
Club members quickly outgrew their first meeting place and decided that Grand Island's eastern shoreline in the area of Ferry Village was a most suitable place to build a clubhouse. Property, with 90-foot frontage on the Niagara River, was purchased from John V. Bedell on March 12, 1906 and construction of the first clubhouse on East River Road was completed in July of the same year. Total cost of the building and docks was $15,000.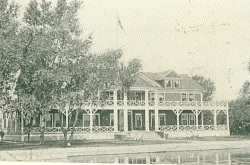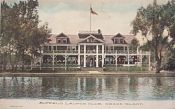 Click photos for larger view - The original Buffalo Launch Club shown on postcards dated 1907.

July 14, 1906 marked the formal opening of the spacious, new, three-story Buffalo Launch Club clubhouse on the East Niagara River on Grand Island, N. Y. and completion of an L shaped, sheeted pier that formed a harbor dredged to eight feet. The club's grounds featured tennis courts, a croquet field and quoit (similar to horseshoes) pits, accented by terraces, shrubbery and flowers. The building, 106 X 42 feet, featured wide verandas on three sides. Wide doors from the lower veranda opened into a reception hall with a massive fireplace and winding staircase.



BLC And Power Boat Racing


The BLC's fame as a power boat racing club began in 1905 when the team of George and Harry Elliott won the club's first regatta cup with a spectacular record speed of 18 mph.
Races were held over the course of the Buffalo Launch Club on September 8, 1906. Participants included the combined fleet of both the Launch Club and the Motor Boat Club of Buffalo. For the complete race story which includes details of races held September 15, 1906, click BLC Race Story.
The members of the BLC in 1908 were responsible for the first boat show ever held between New York City and Chicago. The show was held at the Buffalo Auditorium and the Club received national acclaim as a top ranking power boat club in the nation. A mortgage burning took place in 1909, the same year that the Elliot brothers' new craft, "Redhead," set a record 29 mph in the boat racing world. Membership was close to 300 in 1910 with the club fleet numbering over 200 power boats.
Over the next 10 years annual Club regattas were the main event on the Niagara Frontier, drawing a list of nationally known sportsmen that included Edsel Ford, Gar Wood, Dick Locke, Horace Dodge, William J. Connors, Robert Ringling and Harry Greening.
The International Regatta under the BLC auspices, was an annual Niagara River sporting event from 1910-1920. Club histories give conflicting reports for the year 1926. A history by an unknown author in an August 1953 issue of the Island Dispatch reported that the City of Buffalo appropriated $5,000 to the Buffalo Launch Club on a yearly basis as an inducement to run the race course past Riverside Park for the benefit of the general public. The regatta suffered a crushing blow in 1926 when the boat, "Dixie," driven by Bob Burnham, careened into the Riverside Park shoreline, injuring several people. The accident caused the City of Buffalo to withdraw its financial assistance to the Club. Another history in the May 1967 edition of the Island Dispatch, author unknown, said that the regatta was discontinued in 1926 due to the fact that "pleasure cruisers" became the popular boat of choice for many BLC members in the 1920s and were dominating the Club's boating activities. In 1929, as a result of a $100,000 fire in boathouses at the foot of Amherst Street in Buffalo, 25 BLC boats were destroyed.



Buffalo Launch Club Lighthouse


The landmark Buffalo Launch Club Lighthouse was taken by barge to the Island shoreline in 1931 by the Fix brothers, and eventually re-erected and later sold to Mike Steffen who used it as a trophy room next to his home on what is now part of the Launch Club property. The lighthouse was originally known as the Niagara Upper Range Light and stood at Niagara Street and Busti Avenue in Buffalo. Club members in the late 1990s completely refurbished its exterior.



Clubhouse Destroyed By Fire


The 25-year-old Buffalo Launch Club clubhouse, remodeled just two years earlier, burned to the ground in 1931 along with other BLC owned buildings on the property including an ice house, storage building and garage. A barn on the Bedell House property also caught fire and burned. Hastily formed bucket brigades of Island residents were put into action and the Kenmore and Town of Tonawanda fire departments, whose only access was by ferry boat, fought a valiant but losing battle against the flames. The building with its furnishings was valued at between $75,000 and $100,000.
Membership had fallen to a low of approximately 160 members at the time of the fire, which occurred in the middle of the 1931 boating season. The clubhouse had been decorated for the building's 25th anniversary which was to be celebrated the following day and anticipation was high for this major event.
"The event was to be one of the brilliant affairs of the season and reservations had been made for a capacity attendance," a Buffalo newspaper reported. The day was to be known as "Louis Fischer Day," in honor of Louis A. Fischer, one of the charter members and founders of the club.



BLC Rebuilds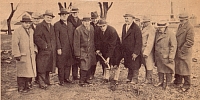 Click photo for larger view - A ground breaking ceremony was held for the new Buffalo Launch Club clubhouse on East River Road, Grand Island in 1931. Shown from left are Leo Meyer, George Neilson, Harry Elliott, Phillip Schaeffer, Frank Schumacher, Louis Fischer, William Jones, BLC Commodore Robert Huntley, Fred G. Hendler, George C. Hall, Alexander C. Meyer, and Town Supervisor John L. Mesmer. The new building was to replace the original clubhouse that burned to the ground in the middle of the 1931 boating season.
(Photo by Courier-Express Chief Photographer Frank Schifferle)

BLC members of the well-established club not only replaced the building on the same site the following year, but also purchased three additional acres of land from Frank and Charles Fix. The land expanded the original property westward to East River Road and a roadway was built to provide another entrance, in addition to the original entrance off Ferry Road, now the Anchor Marine driveway. A cornerstone was laid in March 1932, and a formal opening of the new clubhouse was held on Decoration Day, May 30, 1932.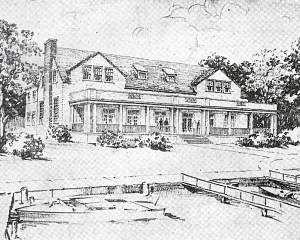 The BLC clubhouse, shown after it was replaced following a fire that completely destroyed the original building.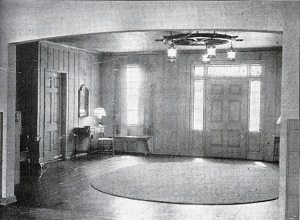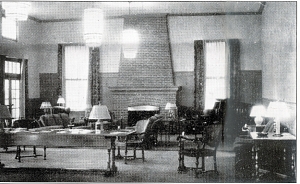 The foyer in the new clubhouse is shown left and the spacious, tastefully appointed lounge is on the right.



Hard Times


Times were tough, unemployment was high, businesses were failing and hardships were felt by many during the depression years. The 1930s were described in the club's 75th anniversary booklet by BLC member Joe Glaser as "lean" for the Buffalo Launch Club, a time when Commodore Dave Wende (1933) and Commodore Alexander C. Meyer (1935-45) "dug deeply into their own pockets to keep the club solvent." When membership dropped to 50 in 1935, members were assessed $50 to help pay the club's bills. Though the club brought back the regatta in 1935, the gloom of the depression still prevailed. The club was forced to suspend operations in the fall of that year and the grounds were said to have grown up in weeds. Commodore Meyer and Vice Commodore Martin F. McSweeney's perseverance effected the club's reopening in July of 1938 with 22 members on its roster.
Interesting to note is the fact that up until July 1935, the only means to get to the club was by public ferry or private boat. The opening of the Grand Island bridges in 1935, gave the membership access to their clubhouse all year round.
In 1939, with the status of the club no better, Harry Simpson was hired as club steward to help take some of the pressure off the vice commodore and general manager, Martin McSweeney who was credited with working hard to bring the operation out of the doldrums. Harry served his country in World War II, returning to the Club in the fall of 1945, and was named general manager in 1955. He did an outstanding job of running the Buffalo Launch Club and helped to bring the club to its high ranking status in the nation. He retired in November 1980 and was subsequently honored as Citizen of the Year by the Grand Island Chamber of Commerce.



Financial Struggle Continues


From the late '30s through the World War II era, there was little change in the club's welfare. However, according to one history of the club, the interior of the building was remodeled, the bar re-located and the open porch was enclosed and paneled in 1939. The Buffalo Launch Club fleet joined the Coast Guard Reserve during World War II with membership held to 75 due to limited dock facilities.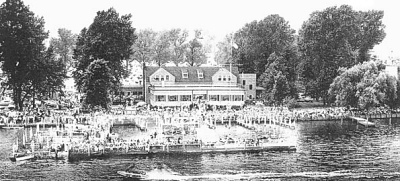 The Buffalo Launch Club as it looked in the 1940s and 50s when the BLC Regattas were in their heyday.

The dust had somewhat settled from the war years and in 1946 membership climbed back up to 75, money started coming into the club, 165 feet of riverfront was purchased, and construction was underway to enlarge the basin and dock facilities. With the basin completed in 1947, speedboat racing, "sparked by George J. Trimper, former boat racer and world record holder," was revived at the Buffalo Launch Club and drew 25,000 spectators to the Island, according to a feature in the May 24, 1967 edition of the Island Dispatch.



World War II Over - Regattas Resume


World War II was behind us and the 1950s got off to a good start under the leadership of Commodore Robert C. Schutt Sr. Membership rose to 100, and the financial situation was much improved. The annual international regattas over the Niagara River course off the BLC put the club back in the forefront of major boat racing across the nation. In August of 1949, with more than adequate facilities, the BLC international regatta was renewed and attracted 25,500 spectators to Grand Island, NY. In 1950 and again in 1952, the Buffalo Launch Club became the recipient of the most coveted award, "Outstanding Drivers' Regatta in the World." It was George Trimper and his committee who conducted the regattas for 14 years, drawing the most competitive of the limited and unlimited racing teams. Not once, but two years in a row, the American Power Boat Association pronounced the BLC's international regatta as the best regatta staged on the continent.
Records show that the Buffalo Launch Club's International Regatta took place on Saturday and Sunday, August 19-20, 1950 when the 48 cubic inch runabouts were the newest class of racing. Joseph Van Blerck Jr. in his reliable "Aljo" won the national championship in the seven liter class when a reported 50,000 people witnessed Sunday's races. Grand Island's Al Endres driving his "Sour Puss" took a fifth place but it was Guy Lombardo's "Tempo VI" that won the feature event for unlimiteds by nearly a mile. A late afternoon feature was a race for old-timers' speed boats.
With the Buffalo Launch Club in its 50th anniversary year, the annual two-day regatta was held August 15-16, 1953 on the extended 2 1/2 mile Niagara River course. The event attracted over 150 entrants, including many national and world champions in competitions for runabouts, hydroplanes and seven liter boats. Among them were Sherm Crechfield, national champion in the Class E; and former world record holder, Dick Rankin of Pontiac, Michigan in "Hi Ball"; Art Hatch, an outstanding Canadian driver in "Costa Lotta" and "Lotsa Costa"; orchestra leader Guy Lombardo in his Tempo VI; and of course our own champion in his own right, Al Endres.
The list of boatracers who participated in the BLC regattas is a long one. Among some of the more famous names not mentioned above are Ed Endres, Joe Less, Wild Bill Cantrell, Bob Schroeder and Bob Petz.



Smooth Sailing


Like an unsinkable ship, the Buffalo Launch Club, from the 1950s through today has had smooth sailing. Property and building improvements have been non-stop. The club's boat basin was improved in 1956 with reinforced docks and a new steel breakwall. The parking facilities were enlarged and a refinishing and redecorating project began in the clubhouse. A new dining room was completed in 1958 and a new kitchen and equipment were added in 1960. New docks were installed in 1961 and the last of many annual summer regattas was held in 1962. Membership in May of 1967 reached 230. Chef Renee Gerber joined the staff at the Launch Club in 1968 and continued as head chef for 35 years.

Community minded Launch Club members established the Harry Simpson Scholarship awards in 1990 and hosted their first spring Boaters' Seminar and Luncheon at the clubhouse in 1991. Hosting the Niagara Frontier Antique & Classic Boat Show for many years, the Club held its first Friday night pit party and reunion for boat racers as a kick off for the 23rd annual show in September 2000.
As the club entered the year 2000, studies were made and plans were laid for the huge project of a new and enlarged boat basin. Dedication of the Club's $850,000 boat basin was made during the May 2002 Flag Raising ceremonies. The expanded facilities gives members the assurance of calm water dockage, and nearly doubles the number of available boat slips.
Summer recreation for many members centers around their boats, anywhere from a 15' Doral to a 57' Carver but outdoor activities are not limited to cruising down the river. The Club boasts a swimming pool, tennis courts and picnic grove and holds summertime dock parties on a monthly basis. And the dinner dances, clam bakes, steak roasts, and the wine tasting parties, boat cruises and holiday events make social life at the BLC a non-stop affair.
The Buffalo Launch Club, the oldest organization on Grand Island, NY, has endured and enjoyed its first 100 years. It is the fervent hope of its members that history will repeat itself when, perhaps, future generations of their own families will be planning a bi-centennial celebration of the 200th anniversary of the oldest power boat club in the world!
Editor's Note: The following interesting note taken from the February 26, 1905 edition of the Buffalo Express was added to this story on October 8, 2005. A "smoker" was an event of amusement or jesting.
Lots of Fun at Launch Club -
Smoker was a Hummer
Squaw Island was a place of mirth and good fellowship last night, for the simple reason that the Buffalo Launch Club held a smoker. The fun began early in the evening and was kept up until a late hour, when the mariners betook themselves to their respective bunks. Ship ahoy! and a double hitch at the trousers was the countersign.
The entertainment committee did itself proud and the best talented in the club did stunts for the others. Chief Pilot Kelly was on hand to see that all were piloted safely over the locks. Club Chef Frank Miller had the boys wondering why he hadn't done it before. The hit of the evening was the sparring match. Captain Hess boxed the compass and Mat Upper wound it. Boatswain Minkle was on hand to weigh the anchor, and then Susie's band got busy.
The club now has a membership of 105, with 25 applications on the waiting list. The limit has been placed at 150, and it is expected the membership will be filled in a short time. (Feb. 26, 1905 article)
Editor's Note: . . .added October 8, 2005. The Buffalo Launch Club for most of its history preceding the 1950s, was closed during the winter.


---



"Do You Remember" - The Building of Grand Island High School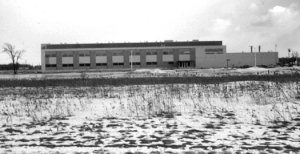 Written in 1987 By Marion E. Klingel (Island Dispatch)
It was in January 1961 that a Grand Island group began a campaign to have a high school built. Mrs. Clem (Lee) Tetkowski was elected chairman of the "Citizens Committee for the High School." John Loucks was vice chairman, Walter H. Hughes, secretary and Mrs. Robert Stambaugh, corresponding secretary. Transportation and babysitting committees also were formed, public meetings and information teas arranged and a doorbell campaign began just prior to the bond vote which was tentatively set for mid-March.
All this got underway after school voters June 28, 1960 turned down a $4,100,000 bond issue for a secondary school and $229,000 for a swimming pool. Modified plans were submitted by the architect and the school board agreed to present a reduced bond issue of $3,787,026 for vote. The size of the pool was decreased and it was proposed to offer it as a separate proposition.
Voters March 28 of 1961 approved the projects. Because the district stood to have two thirds of the cost paid by state emergency aid, the impact on taxpayaer would be "less than the price of a pack of cigarettes a week," a campaigner claimed.
The Division of Buildings and Grounds, State Education Department, January 3, 1962 approved plans for the building on Ransom Road, where the district had purchased a hundred acres for a site. Bids were opened January 30, putting into motion construction of the Island's first high school.
Editor's note: Grand Island High School opened for the first time in September 1963 to grades seven through ten. Tenth grade students became the first graduating class in 1966. For a little more history, click Old Photo Album.

Phil Killian Remembers Boat Racing In The 1940s, 50s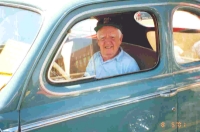 Phil Killian is shown seated in his nephew's Classic 1942 Ford at a car show in 2002.
Click photo for a larger view.
The following feature by Phil Killian is in response to a note on hydroplane races off Grand Island in the "Between the Bridges" column at www.isledegrande.com on July 31, 2003.
"Your mention of the good old days of hydroplane racing brought back fond memories. As a teen-ager back in the early 40s, I used to enjoy attending the races as many of the top drivers from all over the country would compete.
"Most were held at the Buffalo Launch Club but I remember one year when they were held at Wagner's on East River road not too far from Buckhorn Park. They owned a large farm. They had a picnic grove and large dock where numerous community events were held. I was impressed by the appearance of Guy Lombardo, not only one of the most famous orchestra leaders in the country at the time, but also an award winning hydroplane racer. I still remember the large, black, 4-door Lincoln Continental he and his crew used to tow the boat. Another participant was George Schrafft, millionaire owner of the Schrafft Candy Company.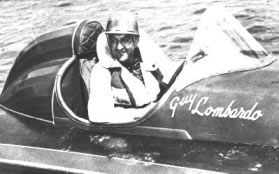 "On the internet I came across a newspaper article dated Aug 11-12, 1951. It was about the National Gold Cup Sweepstakes held at Red Bank, NJ. Top drivers from all over the country were there vying for the National Championship. It mentioned that Guy Lombardo won the first 10-mile heat in his boat "Tempo VI" and that Bob Schroeder of North Tonawanda came in 5th in his boat, "My Ambition." He was a local driver who competed well on the National scene for years. Lombardo went on to win the National title that year. (See www.lesliefield.com/races/1951)
"The item was interesting to me as in the summer of 1946 I was stationed at Fort Monmouth, NJ which was only a short distance from Red Bank. We went there often as well as to adjacent Asbury Park which was one of the finest beach resorts on the east coast. They had an enormous beach and boardwalk and large amusement park. It was the first chance I had to swim in the Atlantic Ocean. Later I had a chance to swim in the Pacific Ocean while I was stationed in Japan. (I'll take the "fresh" water over the "salt" water - tastes better when you happen to swallow some)."
Editor's note: Phil was born on West River Road, Grand Island in January 1928. He attended one-room schools here until the Charlotte Sidway School opened in 1937, served as vice president of his 8th grade graduating class in 1941 and graduated from Tonawanda High School in 1945. A resident of the City of Tonawanda since 1961, Phil worked in the electronics field until his retirement in 1993.

August 14, 2003 - The Power Outage
by Teddy Linenfelser
Losing electrical power on Grand Island is not exactly unusual. Some areas are inconvenienced more often than others, and residents know enough to keep flashlights handy. The news of how widespread Thursday's major power outage was, however, was a lot scarier. Newscasters continuously stated that an act of terrorism had been ruled out, and that's what we wanted to hear.
An associated press article in the Buffalo News describes it this way. "Once it got rolling Thursday, the great blackout of 2003 swept from Ohio to Canada to New York City in the time it takes to recover from a sneeze, leaving millions in eight states - Connecticut, Massachusetts, Michigan, New Jersey, New York, Ohio, Pennsylvania and Vermont - and Canada suddenly without electricity on a steamy summer afternoon."
For the official report of the outage on Grand Island and how the Town Fathers handled it, be sure to read Town Responds To Power Outage. The following are excerpts from Islanders and former Islanders who I emailed with a request for their stories of August 14, 2003 "when the lights went out."
Mary McMahon, the supervisor's wife, wrote: "We didn't lose our power, but my wonderful husband, who has been working so hard lately, decided to take the afternoon off and come home and just relax. I was making a great cold dinner, shrimp, chicken salad, cut veggies etc. when Sean and Maryanne called from Canada to ask if we had electric. So I turned on the TV and what to my wondering eyes should appear but a picture of NYC people streaming out on the streets. When Peter saw that, he immediately left for town hall and wound up there until 10:30 p.m. So the next time he decides to take a few hours off, I'm going to say forget it.
Lee Cohen reported that her husband, Sid, headed up to their cottage between Toronto and Ottawa to check on their frozen food when he heard the report that power was out in that area.
Former resident and GIHS Class of '77 graduate Carole Ford lives out "in the sticks" between Flint and Lansing, Michigan and didn't lose power though her friends in the nearby Metro Detroit area were without it until 1 a.m. Saturday morning.
Our niece, SaraBeth Linenfelser, a model, lives in the heart of NYC with her husband and two babies and was working uptown at 56th and 5th Ave. "What an experience walking home," she said. "I walked through Times Square with no neon lights for the first time in years. There were twice as many if not more people on the streets as usual and hardly any cars. The street became sidewalks and the whole city turned into one big party. The only problem was that we had no water which came as a surprise. Our power came on Friday afternoon so it wasn't bad. It was kind of nice not having the noise of everyone's a/c running." SaraBeth is the daughter of John and Carol Jean DeMike Linenfelser, graduates of GIHS.
Here's Mandy Malaney's answer to my email request - "Do you have a power outage story."
"Oh yes I do! I was talking on the phone to a club member in Toronto ~ I was in Port Carling, ON ~ 3 hours north of Toronto when we were cut off. Within a minute our power at Muskoka Lakes Golf & Country Club (where I work) went off! It was about 4:15ish. 10 minutes later the same gentleman called back on his cell phone. He said that the power went off in Toronto! I told him ours was out, too. My immediate thought was of terrorists. Yikes. So I headed home at 4:30 p.m. and called my daughters on the Island, Amber and Megan, as soon as I got in the door. They had power and hadn't heard a thing! Half an hour later they called and said it was off in New York City, Hartford, Detroit, Ohio and even at the opposite end of Grand Island, but that they were just fine! Anyhow, Dennis and I got together with friends that night for some wine and a bar-b-que! Next morning, after boiling water on our grill for coffee, we walked through our powerless town. Very weird. Then found ourselves making more pots of coffee for various neighbors who stopped by to say hello! Needless to say, I was sad when it went back on at about 12:25 p.m. and headed in to work." Mandy is a 1976 graduate of Grand Island High School and a former co-worker here at Isledegrande.com.
Longtime Island resident Puppet DiTullio explained his day like this: "I was going to buy gas on the way home but decided to wait till the next day. I got up about noon and was reading my email when the power went down.......Oh Nooooooo...I have a wind up radio and got that out to see what was going on and got the news that the whole east coast was out of power...Hummmmmm.... I had a couple hundred dollars in my pocket so I was OK with money and decided to go look for gas hoping some spots still had power. I headed up Baseline and got to Bedell and the light was out. At that point I thought the whole Island was down but as I got near the Boulevard I saw the light was working there....Ya Hooo..!! I got my tank filled and was set to go. I decided to go see what was going on and headed over town. There were a few spots with power here and there. I went to my shop in Amherst to see how that was. Most of Amherst was out of power. I walked in the door and hit the light switch.....The lights came on...I decide to just stay there and work. I have food and a micro there so I was in good shape. I worked till about 4:00 am and headed home. By the time I got home the power was back on so all in all it was no big deal..... pup..."
Kristen and David Brand also made the best of it, sitting on their waterfront deck with Dave's parents. Kristen said, "The bugs were tough to ward off, but the cooler temperatures were heaven-sent from the heat in our homes. It was nice to have the peace and quite, as we watched the Tonawanda lights dance aross the water. We watched in envy, until about 9:30 p.m. when the power came back on. We were VERY relieved. It's amazing how we take things for granted. We are very appreciative of the NYMO and NYSEG Crews that worked through the night to restore everyone's power. We were out about 5 1/2 hours.
According to Karen Raepple, power was out from 4:10 p.m. til 9:30 p.m. in her Gregory Place neighborhood. "Jay had a softball game (a double header)...then we all went to Madia's house (Meadow Lane) for refreshments... which we enjoyed by candlelight. At 9:30 the neon "OPEN" sign lit up and all was back to normal."
Lorrie "Pownall" Savas, GIHS Class of 1984 and resident of Franklin Lakes, NJ, wrote that her husband was in a meeting in New York City Thursday afternoon. "The building he was in had its own generator so he didn't know the power went out until he left that building to go back to his office! His commute home was actually not too bad. He said it was amazing how people really looked out for each other. Others didn't fair as well. Some of the hotels in NYC were screwed up because the key cards to get into the rooms are now electronic. So, all the visitors couldn't get into their rooms and were either stuck in the lobbies or on the street for the night."
"We didn't loose it," said Bernie Franklin. "I was cutting hair in my shop and a family who lives on West River came in and said, "Do you have electricity? We don't. We tried to turn our pool filter on and it was dead." As they were relating this to me, I received a phone call from our niece in Atlanta, Georgia. Then I received a phone call from our daughter in Tucson, AZ and one from our daughter in Mesa, AZ. That's how I found out about the blackout," Bernie said.
Also making the best of the situation was Diane Hassan and her husband, Mark. Here's her story. "We lost power at 4:10 p.m. and it came back on at 9:35 p.m. Naturally our neighbors came out of their homes to make sure the outage was not just in their house. Since the TV's and radios were silenced, we had the chance to chat with quite a few of our neighbors. It was nice to have neighbors offering help, food, ice, etc., to one another. It was like an impromptu block party.
"Mark and I had plans at 6 p.m. to go out on our boat and have dinner at Schooners (in North Tonawanda) with another couple. I called the restaurant to find that they were affected by the outage as well and no food was being prepared. I called the Beach House and found they had the same dilemma. I then called our daughter, Mackenzie, who was working at The Village Inn to find that they were indeed serving dinners. Mark, me, and our friends drove to The Village Inn and had a great dinner. Afterwards, we drove to our boat which is docked near the old Edgewater Hotel with our friends and took them on a river view tour of Grand Island and Navy Island. When returning back to our dock, we rounded the bend cruising upstream of the North Grand Island Bridge. We noticed how dark the bridge was without the street lights lit. (Of course, the lights for the toll booths were working just fine.) In the blink of an eye, the lights came on in the houses just beyond Buckhorn State Park and the revolving light on the docks at the Sandy Beach Yacht Club were a welcome sight.
"All in all, we had a lovely "quiet" evening cruising the river with friends just as we had planned before the power outage occurred. No power, no problem!"

Easter Memories
by Teddy Linenfelser

Click photo for a larger view.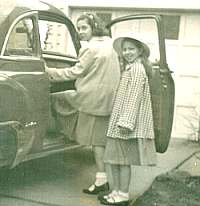 My sister, MaryEllen Klingel Stewart and me getting into our car on Love Road on Easter Sunday 1953.
The Easter holiday and the entire lenten season preceding it is a very special religious time for many adults. The seriousness of the season has been passed on to each younger generation for hundreds of years. A request for Easter celebrations of yesteryear raised some long forgotten memories in several of my own childhood friends of the 40s and 50s. Some of their memories are a bit less than serious, however they all could be seen attending Trinity's church service or Mass at St. Stephen's nearly every Sunday of their youth.
Karen Vanthoff, who thought her own memories of a new dress, hat, shoes and "gloves" as too traditional, asked her mother, Millie Vanthoff, 87, what she remembered. As children, Millie and her older siblings, Leona, Ruth and William Rohde, lived with their parents on Bedell Road in what has become known as the Braddell House. Millie's memories are of getting colored eggs from the Easter Bunny. "Frankly, I did not know that there was an Easter Bunny in the early 1900s," Karen wrote. Millie reminisced about how her heart was crushed when she and her sisters and brother peeked out the window one Easter and saw their mother putting colored eggs in little crates on their porch. So much for the Easter Bunny. "Wow, I learn something new everyday. Would you believe she said her mother used onion skins to dye the eggs various colors? I love these old stories," Karen said.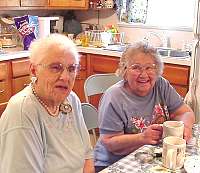 Shown left is Leona (Rohde) Kloss and Millie (Rohde)Vanthoff, aunt and mother of Karen Vanthoff.
Harvey Long's childhood memory is of being10 years old and coming down with measles at Easter. To make his Easter a happy one his older brother Earl came home with a great big chocolate Easter basket filled with chocolate Easter eggs plus other goodies to help cheer him up.
As 4th, 5th and 6th graders, we were treated by the Shrine Daddies to a trip to the Shrine Circus and supplied with Cracker Jacks on our busride to the Memorial Auditorium in Buffalo. "I remember going to the Shriners Circus during Easter vacation and then having to write an essay on what we liked best when we got back to school," said Kathy MacDonald McKenzie.
Barbara Beck Muratore, who mentions orange chocolate from Fowlers and a new Easter suit, hat and, of course, gloves, also recalled smelling "the aroma of Easter lilies as we sang in the choir at (Old) Trinity for the sunrise service on Easter morning."
Gail Burgstahler Rothenberg, who always went to her grandmother's house in Riverside, does remember dressing up as an Easter Bunny for a Trinity Church event!
Penny Ball reminded me that in "our day" here on the Island, we didn't have egg rolling contests, egg hunts or visiting Easter bunnies!
"Easter! New pretty dresses and hats for church and Easter baskets hidden." That's part of Jodi Hayes Dodd's offering. According to Jodi who has three siblings, "One year my sister Karen's basket was in the rec room's half bath and ants were in it, and we had to share our baskets. Bummer!"
Jodi is not a child of the 40s and 50s nor is Steve Morgan who always entered Kelly's Country Store's coloring contest and never won. Poor Steve!
Amy Wood Morgan's memories are not of the 40s/50s variety either, as her childhood was of the 1960s era. "What I do remember most about Easter as a kid was that unlike Halloween, where all the candy went into the "collective family bowls," your basket was your own and with five kids in the family, that was a big issue," she said. "No one could touch it (unless of course you were in the mood to trade...). At some point I got in the habit of emptying and rearranging my basket and would do that a couple times a day - must have been that sole ownership thing and of course I'm sure I felt it didn't hurt that I'd touched every piece so many times. Who would want it anyway? I was always amazed that no matter how careful I was to not jostle my basket, those jelly beans always worked their way under the Easter grass," Amy related.
Shopping in downtown Buffalo for that special Easter dress, hat, shoes, purse and gloves was part of Diane Harding Swick's story on Easter as a child. She believes our seasons have changed a lot as we were usually able to wear our summery new dress on Easter Sunday without consideration of the weather.
"I remember people who had not yet taken down Christmas lights, lighting them on Easter after a big Spring snowstorm. But that was probably in the 60's," writes Susan Hogue Canty. "It is fun to take that trip down memory lane again."
"The only thing that I remember is that Mom usually made each of us a new dress, and we each got to buy an Easter bonnet and shoes to wear with our new dresses," Barbara Glor Martin wrote this week."We always went to Trinity Church as a family and we always dyed Easter eggs, and Mom and Dad hid them for us to find. It's hard to believe how many years have passed."
Diane Bykowicz Hassan, who is of a younger generation than most of my friends who responded to my weekend email, even enclosed a photograph. "I didn't move to Grand Island until I was thirteen years old, but I do have a memory of an Easter gift from my first serious boyfriend when I was 16. He gave me this adorable stuffed bunny and I gave him one," Diane remembers.



Diane Bykowicz Hassan with her Easter gift, a pink, plush bunny.
"Getting to pick out a favorite Easter hat each year and my mom sewing each of us girls a special Easter dress," is what Elizabeth Glor Allen remembers. "Also, I remember going into the Trinity Church sanctuary and being so thrilled with the fragrance of the hundreds of fresh spring flowers that filled the entire front of the church. Our family filled up one whole pew of the church and we usually sat about the third row from the front, so we could get really close to all of the blooms."
Paula Bell Nakayama's fondest Easter memory was the year her family went to California when she was about 10. "The train ride was awesome because the desert was in full bloom and it was just beautiful," she said. "We went to church and I received an Easter flower that I treasured for a long time." While Paula was gone, someone stole her bike but the good news was that she found it down at the new construction site at Falconwood.
John Grycel mentioned the usual new dresses and dress shirts etc. "Some of us would get new shoes at Fred Straus'shoe store in the Grandyle Plaza," John, the eldest of six sisters and brothers wrote this week. "On Easter morning we would get up early and head for a Msgr. Schwegler Mass at St Stephen's, in our fancy duds, of course." One special treat he remembers was a large hollow sugar egg with a diorama (scene) inside. "On my last Easter on the Island I got a molded chocolate speedboat. It lasted for at least a week because I couldn't bring myself to break it up to eat it. I'm sure there were Easter Egg Hunts but I don't remember them," John said.
"The train trip to Toronto with Aunt Grace to get new Easter clothes and a picture with the Easter bunny," Mike O'Dea wrote. Mike also shared his memories of egg hunts at St. Stephen's Church and being afraid to go into the cemetery; pretending that Necco Wafers were communion and eating them up after church; eating the Easter chocolate up before Mom could make something out of it like cornflake and chocolate cookies and then eating up the cornflake and chocolate cookies she made in record time; the Easter picture at the front stoop every year; the ice still in the river with the sun shining and flowers coming up; and being in the best house in the whole world to grow up in!"
My own early memories include being four years old and outside on Love Road with a few neighborhood children on Easter Sunday. One little boy brought out his Easter basket filled with lots more than mine or my sister's held, including those swirly colored eggs that I envied so much. I also remember the year my sister and I had new toppers, a short coat that was so in style. Mine was brown and white check and MaryEllen's was white. We proudly walked into (old) St. Stephen's with our parents only to see two much younger sisters in the same outfits!
A story about kids and Easter just has to include something about Easter grass. When I was a child, it seemed like the grass was waxed and stayed in our baskets. However, when my own children were young, it was amazing where a mother would find that green or pink Easter grass. It just went everywhere. Remember?
Try to remember your Easter memories and share them with your family.




What Is A Service Flag?



Jodi Hayes Dodd Photo - Click for larger view
The service flag is an official banner authorized by the Department of Defense for display by families who have members serving in the Armed Forces during any period of war or hostilities the United States may be engaged in for the duration of such hostilities.
The history of the Service flag is as patriotic and touching as the symbolism each star represents to the families that display them.
The Service flag (also called the blue star flag) was designed and patented by World War I Army Captain Robert L. Queissner of the 5th Ohio Infantry who had two sons serving on the front line. The flag quickly became the unofficial symbol of a child in service. President Wilson became part of this history when in 1918 he approved a suggestion made by the Women's Committee of the Council of National Defenses that mothers who had lost a child serving in the war to wear a gold gilt star on the traditional black mourning arm band. This led the tradition to cover the blue star with a gold star on the Service flag to indicate that the service member has died or been killed.
The color of the stars is also symbolic in that the blue star represents hope and pride and the gold star represents sacrifice to the cause of liberty and freedom
During World War II, the practice of displaying the Service flag became much more widespread. In 1942, the Blue Star Mothers of America was founded as a veteran service organization and was part of a movement to provide care packages to military members serving overseas and also provide assistance to families who encountered hardships as a result of their son or husband serving during the war. Virtually every home and organization displayed banners to indicate the number of members of the family or organization serving in the Armed Forces, and again, covered those blue stars with a gold star to represent each member that died.
In 1960, Congress chartered the Blue Star Mothers of America as a Veterans Service Organization and in 1966, the Department of Defense revised the specifications for the design, manufacture and display of the Service flag. The Department of Defense specifies that family members authorized to display the flag include the wife, husband, mother, father, stepmother, stepfather, parent through adoption, foster parents who stand or stood in loco parentis, children, stepchildren, children through adoption, brothers, sisters, half brothers and half sisters of a member of the Armed Forces of the United States. The flag should be displayed in a window of the residence of persons who are members of the immediate family. The Service flag may also be displayed by an organization to honor the members of that organization serving in the Armed Forces during a period of war or hostilities.
How to Display The Service Flag
The Service Flag is an indoor flag and should be flown facing out from the front window of the home or organization. If the U.S. flag is also displayed with the Service flag, the U.S. flag should be of equal or greater proportions and should take the place of honor above the Service flag. If a gold star is adde$ to the Service flag, it should take the position of honor and be placed over the blue star that is positioned closest to the staff. The gold star should be smaller than the blue star to create a blue border surrounding the gold star.
Serving in the armed forces is an honor to our country. Displaying the Service flag recognizes and honors the service member as well as the family that displays the flag. Be Proud!
© Copyright 2001, ServiceFlags.com, Inc. All rights reserved.
ServiceFlags.com, Inc.
- 3205 Pine Lane
Carson City, NV 89706
(775)841-6227



Kaegebein Elementary School Celebrates 50th Year
by Teddy Linenfelser

Click photos for a larger view.




Board of Education: (seated left) Trustees John Fontana and Charles J. Soch, Board Chair William M. Kaegebein, Principal Veronica E. Connor; (standing) Board Secretary Richard G. Buzby, Board Treasurer LaVerne Harding, Board Attorney Clyde O. Joslin, Trustees Herman F. Hoerig and Frederick P. Turner.


Happy birthday, William M. Kaegebein School. Fifty candles are in order for the Town of Grand Island's second major school that opened on February 9, 1953 to two sessions of kindergartners and one class each of grades 1-4 students. The classes of Miss Elizabeth Daniels' morning and afternoon kindergarten, Mrs. Regina Majdanski's grade 1, Mrs. Marion Keefe's grade 2, Miss Marjorie Ehde's grade 3, and Miss Jane O'Dell's grade 4 were selected to move from the Charlotte Sidway School to the new school. Children in the Grandyle Village section walked to and from the school and bus service was provided for those living outside the village. Only part of the north wing was ready for use when the building opened. Pupils were required to bring lunches but could purchase milk at the school. With construction of the school completed, a fifth grade was added in September 1953.
The 25-acre site at the south side of Love Road and the east side of Beaver Island Parkway was purchased on November 23, 1948. When preliminary plans were approved by the New York State Dept. of Education, a meeting was held in January of 1950 in the Sidway School to vote on a bond issue of $1,250,000. Plans for the new school, to accommodate 600 pupils, called for a double gymnasium, an auditorium seating 300, a cafeteria for 200, four kindergarten rooms and 18 classrooms. Architect was Island resident Roswell E. Pfohl.
A ground breaking ceremony took place on July 28, 1951 with young Russell Kaegebein helping his grandfather William M. Kaegebein, with the first shovel of dirt. The decision was made to name the school in honor of Mr. Kaegebein, chairman of Board of Education for 14 years, and completing his 41st year as a Board member. Other school board members were John Fontana, vice chairman; Fred P. Turner, Herman F. Hoerig and Charles J. Soch. Additional members active during the planning of the building were Irene Wallace and William Noth.



Laying of Cornerstone: (left) Architect Roswell Pfohl, Board Chairman William M. Kaegebein, Principal Veronica E. Connor and NYS Senator, 55th District John H. Cooke, main speaker.
A cornerstone ceremony for the Kaegebein School was held on Sunday, October 12, 1952. Grand Island Boy Scouts took part in the colorguard and Pledge to the Flag. A large crowd of parents and pupils gathered at the partly completed building to watch the cornerstone being put into place. A box sealed inside contained stamps, money, school records, film, local history and copies of Buffalo, Niagara Falls and Grand Island newspapers.
Miss Veronica E. Connor, assisted by Mrs. Beatrice Cady, was in charge of both schools for the balance of that school year. Mrs. Cady was later named principal of the new school. Opening of the Kaegebein School greatly relieved the overcrowded conditions which had existed at the Charlotte Sidway School and assured full-day sessions to all grades.
Rob Roy MacLeod, Grand Island history buff and author of Cinderella Island, gave the dedication address when the Wm. Kaegebein School was dedicated on Sunday, June 7, 1953. The Sidway Junior High School Glee Club sang three selections under the direction of Carol Thompson. Heber Ashley, Jr. sang "Bless This House" accompanied by William Pinkow.
Ellen Blakelock Martin remembers being in Miss Daniels' kindergarten class with her longtime friend and neighbor, Pam Ball Fries when the school opened. A kindergarten graduation program took place in June 1953. Classmates sat on the stage area in the recently completed cafeteria wearing black paper hats and gowns. "They called each of our names and we each got a scrolled up diploma," Ellen reminisced this week. "Then there was a coffee and tea time for parents," she said.



Third grade teacher Miss Marjorie Ehde and her class, with William M. Kaegebein standing behind them.
According to Dan McMahon, his third grade was the first group of children to get off of their school bus and enter the new school. His teacher was Miss Marjorie Ehde (Anderson) and his classmates that year included the following who are pictured from left: Sue Hogue, Johnny Gast, Margaret Kerr (Suffoletta), Donna Yakam (Krehl), Barbara Kovacsev (Johnson), Donna Senf (Carroll) and Lynn Ehlert (Schutt). Among others in the 27-member class were Peter Glor, Karen Heimlich (Clark), Paul Markstrom, Tom Hogan, Lynn Ehlert (Schutt), Hobbie Cullin, Judy McTigue, Linda Wheeler, Eric Stefik, MaryAnn McCarthy (Coniff) and Dan McMahon.
Susan Hogue Canty remembers a feeling of relief in not having to ride the bus to Sidway any more, but being able to walk to the end of her road (East Park). "I also remember a real feeling of pride of the beautiful new school and how we were entrusted to keep it nice. It was a special treat to go to the Kaegebein playground to play after school or on the weekend," Sue wrote this week. "Miss Ehde was probably the most beautiful teacher in the whole world! We played a lot of baseball in Miss O'Dell's 4th grade. We did a big study unit in Mrs. Schriver's 5th grade on Mexico and put on a play."
It was brought to the attention of the Town Board by the Island's Parent-Teacher Association in September 1953 that traffic hazards existed in the area of the school. Many mothers, including Gladys Benzing, Helen Ball and Marion Robertson, were willing to act as scheduled patrols at the Love Road school and eventually did start a volunteer safety patrol. Though a traffic signal was requested at that time, the light at Love and Beaver Island Parkway did not go into operation until 1976.
"The school was bright, the halls were wide. There was still construction on going in the "upper" class wing," Dan Mc ahon, a third grader at the time remembers. "The gym was huge, really huge," he said. "From September through February, the classes were in half day sessions at Sidway School. Entering the new school meant the return to full day school," he said.
"The playground was the best and I used it for many years. Even now, when I am home visiting, I drive by Kaegebein and think of the playground with fond memories," Nancy Buckley Valone wrote this week. Ruth Owens Lougen was just as surprised as the other students to find that the new "black boards" were green.



Kaegebein School Cafeteria Staff: (left) Miss Fickewirth, Marie Shimmel, Mary Benton and Anna Kruse.
First cafeteria workers in the Kaegebein School were Marie Shimmel, Mary Benton and Anna Kruse and Miss Else Fickewirth was the cook-manager of both schools. Custodians when the school opened were Tom Benton Jr., Tom Neilans, and John DeGlopper. William Bodkin joined the custodial staff shortly after. Mrs. Faith Petersen served as Kaegebein School secretary for many years. Christmas plays, choirs, gym activities, school trips and picnics, a safety patrol, and a fantastic PTA were a part of Kaegebein's history right from its beginning.
Dorothy Blakelock could hold the record for longest employed at the school. She has worked in the cafeteria there for 40+ years and presently serves as Cafeteria Manager, a position she has held for a many years.
Dedication of the Kaegebein School Library to Retiring First Principal Beatrice Cady, was made on March 2, 1971. Mrs. Kenneth (Norma) Sutter began her duties as new principal on March 8th of that year. George Wenner served as principal from 1977-1990. Today's principal, John Wiertel, took that position in the fall of 1989.



Today's principal, John Wiertel and students.
Nine more classrooms were added to the Kaegebein School in 1957, and by 1958 the new Huth Road School opened and an addition was built immediately to handle the growing school population. There is much more Island school history to be told, however, this story about Kaegebein School was written especially for all of those who attended as well as the children who are currently in grades 2 through 5 and are being made aware this week of their school's 50th birthday.
Laurie Williams, PTA member and Shared Decision Making Team Representative for Kaegebein School, is heading up a committee to plan a 50th celebration to take place in the fall of this year. Tentative plans include a cookbook, celebration t-shirts, a school play, and an evening event for alumni and the community. More festivities will be added to the schedule as the year progresses. Those interested in working on Kaegebein's 50th celebration committee are urged to call Mrs. Williams at 773-0089.
Thanks to the following "students" for their help with the article.










From left are Ellen Blakelock Martin, Pam Ball Fries, Dan McMahon, Susan Hogue Canty, Nancy Buckley Valone, Ruth Owens Lougen, Kathy "Grycel" Farmer and Don Tranter.


---



Grand Island Bridges - 1935-2002
By Teddy Linenfelser
(Scroll down for photos added 1/9/03)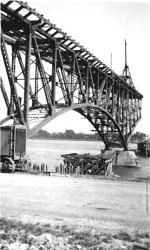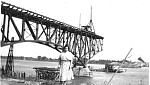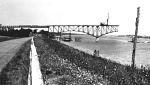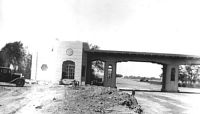 Click all photos for a larger view.
Long awaited bridge building on each end of Grand Island got underway after a groundbreaking ceremony in 1933. These photos of the south bridge and the south bridge toll booth construction are through the courtesy of Fred Schutt. Fred, whose family owned the Schutt farm on Stony Point at Bedell Road, resided on the Island from 1943 to 1970 and now lives in Colstrip, MT.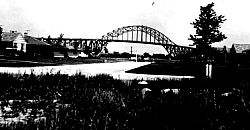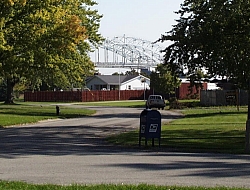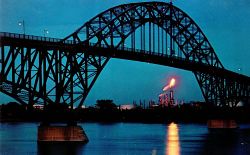 Click photos for a larger view.
Pictured left is a view of the single span of the south bridge, looking east at Hennepin Road in 1953. The photo to its right is the same view in October 2002 and the third photo above, taken in 1960, shows the now defunct Ashland Oil Refinery in the background.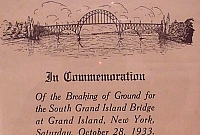 This groundbreaking commemorative may be clicked for a much larger and complete view. However on some computers it will take more time to load.
Our Grand Island bridges have been our means of getting off and on the Island since the summer of 1935. According to the Grand Island Centennial Program Book, 1952, "Island residents marked the opening of the bridges with a celebration on July 13, 1935. The town folk and their friends assembled at the Town Hall, where a long procession of automobiles formed. A band led the procession toward the south bridge, through the Tonawandas to Niagara Falls, then over the north bridge to Edgewater Park. The speakers at the park included John L. Mesmer, the supervisor, Arthur L. Swartz, Charles Freiberg, Reginald F. Long and Franklin St. John Sidway. Mr. Sidway paid tribute to William H. Conboy, a former supervisor who was unable to be present, as the man who had worked unceasingly for thirty-seven years to secure a bridge. A buffet supper was served to more than 2,000 persons."

The Centennial Book also stated that the island bridges were officially dedicated July 15, l935, by Governor Herbert Lehman.

Before the opening of the north and south spans, residents used the ferry system for transportation to Tonawanda and Buffalo. We were strictly a farming community, producing fruit, produce, grains, hay, and meat and poultry as well as eggs, milk and cheese which were mostly transported off the Island by ferry.
Islanders prepared well for the long winters when it was often impossible to leave the Island due to ice in the river. Fees for use of the ferries were comparable to those eventually collected in bridge tolls. With the long fight for the bridges finally won, the State of New York not only built them, but also provided the connecting boulevard between them, known for many years as the Express Highway. Beaver Island State Park and the parkway leading from the south bridge to the park were developed by the state at the same time.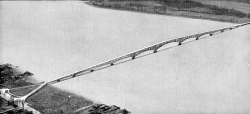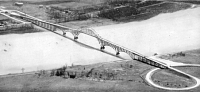 (Left) North Grand Island Bridge with the Niagara Falls terminal on the left. (Right) South Grand Island Bridge connecting to the Island at the lower right of the photo. The photos are part of a 1935 Grand Island bridges brochure of facts including the following: passenger cars 25 cents over two bridges; cost of bridges $3,500,000; length of bridges: north bridge 4000 feet; south bridge: 3400 feet.
Land purchased by the State at the south end of the Island for the development of Beaver Island Park included a large part of the Allen estate, all of the Falconwood lands, plus River Lawn, the former home of the Spaulding and Sidway families.
In January 1962, lights on the north and south bridges were being replaced with new standards and sodium vapor lights of the same type as would be used for the new bridges, one of which was nearing completion. In October 1962 the second south bridge opened just south of its twin, and in January 1965 the new north span was completed.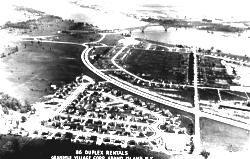 This photo shows Grandyle Village, the duplex homes and, of course the South Grand Island Bridge. Click photo for a larger view.
In 1959 the state provided a bike path from Beaver Island State Park to the Grandyle Village area. The path was rebuilt in the spring of 2002 with an extention added under the South Grand Island Bridge.
A strong sense of "home" becomes evident when the bridges begin to loom off in the distance after a long absence or even just a vacation away from Grand Island, "A Grand Place To Live." The Sesquicentennial historic play by that same name, produced on October 19, 2002 (the exact date 150 years ago that Grand Island became a township) and October 20, 2002 highlighted some of the steps leading up to the final decision for the Island to have its bridges. A video of the production is available at the Isledegrande.com office, 1871 Whitehaven Road at $10. A more complete history of the Island's bridges may be found in the Sesquicentennial Program Book, also available in the Isledegrande.com office.
More Grand Island bridge photos will be added here from time to time.
Photos below added to this feature article on January 9, 2003.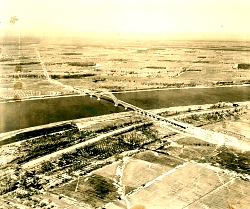 Click for larger view (500 pixels) (left photo) North Grand Island Bridge crossing to the Island at Buckhorn Island State Park. Navy Island is shown lower right. (right photo) South Bridge photo shows much land on the Tonawanda side of the Niagara River.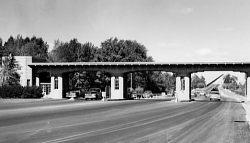 The North Grand Island Bridge toll booths are shown from the Island side. The photo was taken in September 1951 by the New York State Thruway Authority.
Story Posted 2002


---



The Truth About Santa Claus
By Frederick Claus
Growing up with the last name of Claus, Christmas has always been my favorite holiday. To this day people relate my last name to "Santa Claus," and ask if the jolly fat man in a red suit is any relation to me. Funny thing is that is how people know St. Nick. If you ask any child or adult to describe Santa, they will say just that. A jolly fat man with a red suit, elves and eight tiny reindeer. He comes to the good little girls and boys on Christmas Eve and brings toys to them. Don't think it's true? Well think again.
Yes, that is right: I said think again, and like the movie states "Yes, Virginia there is a Santa Claus." But not how you would think exactly. The story of Santa as we know it was actually invented in the late 1600s and derived from the Dutch legend of "Sinter Klaas." The modern spelling of the name came from a misprint in a 1773 newspaper when his name was published as "St. A Claus." In later publications his name was changed to Santa Claus, and he was also referred to as Chris Kringle. He was even given his original look from writings by Washington Irving in the 1800's.
The basis for the stories, and the reference to "St. Nick," however, is not a legend. These stories were based on a real Christian bishop named Nicholas of Smyrna. Nicholas lived in a town with many poor children. His love for children and mankind would not allow him to see these poor children starving and going without the enjoyment of toys. He would use his own money to buy food, clothing and toys for them. Nicholas did not want them to be embarrassed and teased by others for the gifts he was giving so he would do it in secrecy. Thus the myth that Santa will not come while you are awake.
St. Nick, however, did not always deliver presents on Christmas Eve. Legend tells us that while St. Nick would deliver these gifts, he would also preach about Jesus and what a wonderful man he is. This is why people now associate St. Nick with the Christmas holiday.
Now, whenever you hear someone say, "There's no such thing as Santa Claus," you can just look at him or her and say, "Oh, yes there is. And Mr. Claus told me so!"
Still don't believe there is a Santa Claus? Then take a drive to your local video store and pick up the movie mentioned in this Article, "Yes Virginia, there is a Santa Claus." Then gather your family and sit down together for a nice family evening and view this wonderful picture. This, too, is based on the true-life letter that a very confused 8-year-old Virginia O'Hanlon wrote to the editor of the New York Sun around 1897, after her friends told her that Santa Claus did not exist.
To read more about the story of Santa, click http://www.the-north-pole.com/history/ and http://www.geocities.com/~perkinshome/history.html.


They Flew the Coop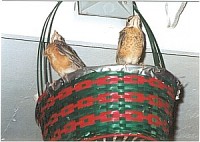 " I let the mother robin finish her nest.
Then I transferred the whole thing to a red
and green basket we had left over from Christmas. "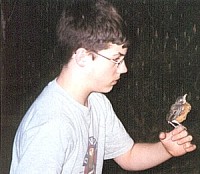 "Snapper" sits on Mark's hand.
By Donna M. Webb
One of the many signs of spring is when we see birds building their nests. In 2001 a mother robin built her nest on my porch on top of a narrow metal arm that supports the photoelectric sensor that turns on our lights. One day we were shocked to find that the nest had fallen to the porch floor. All but one of the babies survived; and that one could have died prior to the nest disaster. After making numerous calls to find out information, I was given the number of a wildlife rehabilitator on Grand Island. She told me to put the nest and the babies into a basket with a handle and then hang the basket over the arm of the sensor. With cautious optimism I followed her directions, hoping that the mother would return to take care of the young ones. Indeed she did, and all worked out well.
This spring when I began to see grass and twigs on top of the sensor arm again, I knew what was coming; and I was all prepared this time. I let the mother robin finish her nest. Then I transferred the whole thing to a red and green basket we had left over from Christmas. You wouldn't believe how much mud there was holding everything together! This time there was an additional surprise—the robin had a large patch of mud and grass on the floor of the porch. Could this be the same bird from 2001, now building a landing pad in case the nest fell again? An interesting proposition! I took the "landing pad" and placed it beneath the nest in the basket. Then I waited to see if the mother robin would still use the nest.
She began sitting in her nest. Days later I got up on a chair and checked the nest, using a small mirror. There were three tiny blue eggs. The next time I looked, I found that egg No. 4 had been laid. Then egg No. 5 showed up. I was quite surprised to see so many and figured that mama robin would be very busy feeding this brood.
Many days passed before any of the eggs hatched. I checked and found three small grayish bodies all huddled together. There were very few feathers to be seen. Eventually babies No. 4 and 5 came out of their shells. Mother robin brought worms and insects to the waiting crowd. Then a father robin came on the scene to help out with the feedings. Luckily with all the rain we had this spring, it was a banner year for worms.
I would move the curtain on my front door window just to peer out at the nest. At first, if one of the parents saw me, it would stop and just wait until I closed the curtain. Then it would offer the food to the young ones. After many attempts, I found that the birds trusted me enough to dispense the worm or bug even though I had my curtain open.
My children, Mark and Sarah, also delighted in watching this whole experience unfold. They checked for the eggs and the hatched babies, just as I did. They would sneak looks through the window, too. This was an exciting event for them, as they saw nature unfolding.
Sarah tried to offer some worms to the baby robins, but they didn't seem to know what to do with them unless a parent was there to do the feeding.
We nicknamed one of the five fledglings "Snapper." Whenever we checked on the little ones, he would keep snapping his beak open and closed. The fledglings even let us gently stroke their feathers. (By the way, according to the wildlife rehabilitator, there is no truth to the idea that if you touch a baby bird, its mother will no longer care for it.)
One Sunday three of the five fledgling birds "flew the coop." You can see two of them in the first photo above. On Monday the next one took off. Now only Snapper was left. On Tuesday I went up to take a good look at him, but that scared Snapper, and he flew down to the porch floor. He didn't seem to be flying very well, so I gently lifted him and placed him back into the nest. He loudly called out for a parent. Later that day he, too, flew from the nest. Right before that Snapper hopped onto Mark's hand; this is shown in the second photo.
We have seen what we believe to be the mother robin with some of the fledglings hopping around our garden and hiding under our forsythia bushes. Our porch seems rather empty now, but we hope that next year we will once again find grass and twigs accumulating, and maybe even a "landing pad"!

Jeannie's Gift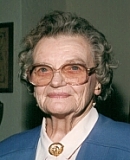 Barbi Lare photo

By Dorothy G. Bascomb
The old church smelled of fresh cut pine boughs, carnations and incense. The altar was banked with ponsettias and tall candles gleamed.
Organ music swelled and the processional started down the center aisle, the sopranos began their exultation - Joy to the World, the Lord has come. The altos sang their beautiful harmony and the tenors and bass added depth and beauty to the triumphant music.
Jeannie hugged herself. Christmas at last Jesus' birthday!
Candle light gleaned on the tall gold cross at the head of the procession. The minister's lovely embroidered robe brought an "Oh" from Jeannie. Her mother pressed a warning hand on her arm. The girl nodded.
"Oh, I do love Christmas," she whispered.
She thought of her home so beautifully decorated for this wonderful season: the tall glittering tree standing in the bay alcove, piles of gaily wrapped presents beneath it, wonderful smells drifting in from the kitchen. The dining room table shone with silver and crystal and fragrant candles waited to spread their light.
Riding to church through the crisp cold air had been a joy. The new sleigh bells had made silvery chimes and the fields were covered with sequin sparkled snow.
In the village every street pole was decorated with ribbons and greenery.
Jeannie looked at her father and mother sharing a hymnal. She noted that their inner hands were clasped in love. Jeannie loved to hear them sing together. Her mother's beautiful contralto blended with her father's rich baritone.
But the sadness was there!
The bubble of happiness that had been rising inside Jeannie had burst. This Christmas Harvey wouldnt be there to share it. The sadness and despair she felt at the loss of her small brother flooded over her and she sank back on her seat. "Please, God," she prayed, "Let Harvey be loved and happy."
She studied the cherubs in the stained glass window. Definitely not Harvey's type. He had been brown and square with short straight hair and solemn brown eyes.
What would God find for Harvey to do. Perhaps he could be a shepherd boy. Yes, Harvey loved animals. That could be something he would enjoy. She gazed at the cross above the altar and prayer, "Dear Jesus, please take care of Harvey."
She sat back with a sigh. Her mother looked at her with a frown and concerned eyes. Jeannie felt a pang of guilt. Her mother had tried so hard to make this season bearable for all of them. She reached for her mother's hand and forced her trembling lips to smile. Then kneeling forward she prayed, "Dear God, please heal our pain."
As people knelt to pray, a silence filled the old church. Jeannie breathed deeply. The little inner voice that she had learned to heed and which she chose to think of as her special guiding angel whispered, " Jeannie, Christmas is not tinsel and glitter, beautiful music, good things to eat and gifts. They are nice but the spirit of Christmas is Love. If you follow God's teachings you will have love, understanding and concern for others."
"Yes, Jeannie thought, but we loved Harvey so much. Why has God taken him from us?"
The voice said, "Yes, Harvey was very special. Be grateful for the time he spent with you and your family. God has need of him. If you remember only loving and happy memories of him, you may again be a happy family."
Jeannie signed, "We miss him so!"
"Of course you do," the voice said. "Think of the saying, "Had the eye no tear, the soul would have no rainbow."
After dinner that evening, after the presents had been opened and the guests had gone, Jeannie sat between her parents on the sofa in the den. All three were silent, gazing into the fireplace. The sadness had come back.
Hesitantly, in her soft, young voice, Jeannie began to tell her parents of her thoughts about Harvey, of the epiphany she had experienced in church.
"Bless you, Jeannie, her mother said with tears running down her cheeks. "What a comfort you are!" Her father hugged her, unable to speak. The sadness was there. Some part of it would always be there. Jeannie had eased their pain with the gift she had been given: love, understanding and concern for others...
Mrs. Bascomb is a writer and artist who lived on Grand Island over 40 years before moving to 86 Main Street, Dansville, NY 14437 several years ago.

Witch's Brew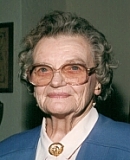 Barbi Lare photo

By Dorothy G. Bascomb
The witch's Coven was aghast. The angry chatter steamed like a cauldron over a hot fire. Witch Appleby snatched off her pointed hat and slapped it against the oaken table. "I say she has a nerve. How dare she flaunt conventions. It is a disgrace to our Coven. What will our Sister Covens think. I say she should be expelled." Her beady eyes glowed red in the lanterns light. Her whole body seethed with indignation.
Antionette Head Witch rapped on the table with the end of her wand. It promptly emitted green sparks. "This meeting will come to order. Will you please take your seats and cease your chatter. Everyone will have a chance to be heard."
Reluctantly the witches settled down in their chairs and all chatter ceased. The waiting of the ghosts and the lost souls peeking through the windows filled the room. Antionette shook her head in exasperation. "Witch Gray Sky," she said, "Would you close the shutters so that this irregular meeting will not be disturbed." She waited until the shutters had been closed and fastened. "Thank you."
She picked up a paper from the table and adjusted her reading glasses. "About half of you have signed this petition to hold this meeting because of your concern about Witch Bittersweet. Just what are your concerns?" Witch Appleby raised her hand and Antionette said, "Witch Appleby.
"She has disgraced our Coven." The witch's voice expressed anger and indignation. "Not only has she purchased an electric broom, but she has adopted an orange cat as her familiar. It rides on the electric broom. Apparently our ordinary black cats aren't grand enough for her. Also, I have been told that she has confiscated some items from the Rag Bag of the World. I say she should be expelled."
The witches all clamored to be heard. The noise was deafening. There were cries of "For shame" or "Expel her!" and "No! No!"
Antionette rapped her wand on the table and this time the wand spat sparks of red, a sign that the Head Witch was losing her patience. Again the room became quiet. Antionette turned to her legal counselor. "Witch Fairway, what have you found in our by-laws about the use of an electric broom?"
Witch Fairway cleared her throat and spread out a parchment scroll. "Madam Head Witch, I find nothing in our by-laws that says a witch may not use an electric broom." "Those by-laws need revision," snapped Witch Appleby. "How about the orange cat?"
"Although a black cat is a symbol of our Coven, there is nothing to prohibit a cat of any color from being a familiar." Again the Coven buzzed.
"Please be quiet," said Antionette. "Witch Appleby, you mentioned confiscating something from the Rag Bag or the World. Of what do you charge Witch Bittersweet?"
Witch Appleby looked a little uneasy. "Well, I heard that she asked for something out of the Rag Bag. Surely a witch in our Coven doesn't need things from the Rag Bag. No one here needs to be a rag picker." "You have no definite charges on this score?"
Witch Appleby shook her head. "No, it just seems demeaning. What would the other Covens think?" Antionette said, "I have asked Witch Bittersweet to remain in another room until this petition was discussed. I think in all fairness to her we should give her a chance to defend herself. Will Our Portal Guard ask her to come in." The witches eyed the door nervously. How would Witch Bittersweet react. Would she be angry? Would her feelings be hurt? Why had Witch Appleby made such a fuss? Would this split the Coven?
Witch Bittersweet came into the meeting shyly. She was a slight, elderly woman with wispy, white hair and a pleasant manner. She stared at Witch Appleby. Appleby looked down and her face reddened. Witch Bittersweet hesitated and Antionette said, "My dear, come and sit with me. There is a chair here." Witch Bittersweet limped to the chair and sat down. She stared at the other witches.
"Witch Bittersweet," said Antionette gently, "We called this special meeting in response to a petition signed by some of our members. They have criticized you for using an electric broom and having an orange cat as a familiar. We find nothing in our by-laws that prohibits you from doing so. Would you like to comment on this? You do not have to if you would rather not."
"Oh, said Witch Bittersweet, "I broke my leg landing in a wind storm on my old broom. I just didn'have enough energy to control it. Our Doctor suggested that I try an electric broom to conserve my energy. It helps a lot. It runs on batteries and has a device to rest my leg on."
"The orange cat," Antionette prompted.
"The cat is a replacement for my dear old Fatima who died a month ago. The little orange kitten was in an accident and is lame in one leg as I am. There were no black cats available at that time and the little cat would have been destroyed if there were no one to care for her. She really is a dear and the orange looks so pretty against all the black." There were murmurs of approval. Antionette said, "Sister Bittersweet, the petition states that you conficated some items from the Rag Bag of the World. Would you care to comment?" "Oh, I took my old broom and some old capes to the Rag Bag of the World. I got to talking to some of the Warlocks there. They have to work there for punishment for breaking rules or for misdeeds. One nice young man told me about the situation there. Their bags are stuffed to the breaking point and piled to the sky. They are thrown every which way. They don't know what to do about the situation." "On my way home I spotted a small human child in a meadow. She was crying. I thought she was lost and flew down. At first she was terrified of me. I assured her I meant her no harm. She was crying because she had no costume for the school party and there was nothing in the house to make one. I immediately thought of the Rag Bag and flew back there. I told the young man the situation and we combed through about a dozen bags. We finally found a tarnished silver tutu and a lopsided tiara. I cleaned up the tutu and the young man straightened the tiara. Then I took it back to her. You should have seen her face." "While we were looking through the bags, I found some ancient shredded banners. I have a Grandchild, a young college student so interested in Medieval History. The people at the Rag Bag were delighted to give them to me for him. Now he is trying to research what castle they came from." "Another little treasure they pressed on me was a little wooden doll, beautifully painted. There is a little girl in Shanty Town I regularly visit. Her parents cannot afford toys, they have hardly enough money to buy food. I shall give her the doll. I am sure that she will cherish it." "As I was waiting in the other room I thought about the Rag Bag. It should be sorted and made available, not only for historians, scientists and museums but for needy persons and for poets and writers who would find inspiration as Bliss Carman says in his Spring Song:
"... Scraps of dreams, and deeds of daring
Home brought things from far sea faring
Faded colors once so flaring
Shredded banners long since unfurled
Hue of ash and glints of glory
In the rag bag of the world."
"This Coven could be of real service to the World in helping to connect the past with the present, to preserve the past to meet the needs of the present. My Sisters, will you take up this challenge? Think how it would change our image! No more hate and fear. Think how it would change the world! The world would honor you."
Witch Bittersweet was on her feet glowing with enthusiasm. Her fellow witches looked at her with awe. Then they too were on their feet shouting, "Yes! Yes! We will!" Among them Witch Appleby, with her arm upraised, was shouting, "We will!!"
When other Covens heard the news about the Witches of Dansville, they became enthusiastic and joined in sorting the World's Rag Bag. Eventually the movement grew and grew and finally other countries joined in. At the first international Conference, Antionette was elected President and Witch Bittersweet was presented with a Gold Medal for starting the first Rag Pickers Unit.
Mrs. Bascomb is a writer and artist who lived on Grand Island over 40 years before moving to 86 Main Street, Dansville, NY 14437 several years ago.


---
Family Finds Freedom, Home In WNY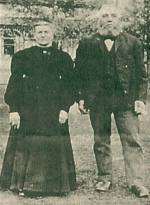 Frederick Wilhem Kaegebein and his wife, Wilhelmina sailed from Hamburg, Germany, to America in the late 19th century. Click for larger view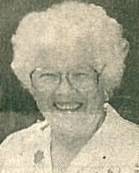 Mildred Grehlinger

From the Daily News, Friday, June 29, 2001
By Virginia Kropf
Alabama, NY - What is a Kaegebein? "We're a family who has stuck together," said Mildred Grehlinger of Albama, NY, a third-generation descendent who has attended most of the reunions, as did her parents and grandparents.
The Kaegebein reunion this year is scheduled Saturday at the First United Methodist Church in Batavia. The reunion will begin with a worship service at 10 a.m. which will include a choir made up of family members who rehearse only minutes before the service. After worship, representatives from each branch of the family will gather to compile the year's family news into the history book for distribution to branch members, including those not able to attend, Grehlinger said.
Grehlinger's roots and the Kaegebein family begin with the birth of her great grandfather, Frederick Wilhem Kaegebein, on March 3, 1845, in Mecklenberg, Germany.
At that time, a man had no freedom to choose a job, but signed with a landowner and lived in one of the small cottages around the landowner's house. The overseer of the farm where Kaegebein worked was, according to the family history, a man who mixed authority with arrogance. When a pig the men were washing escaped, the overseer was quick to blame Kaegebein, who tried to defend himself.
When the overseer told Kaegebein to "shut up," and raised his whip, Kaegebein grabbed the overseer around the neck and threw him onto the water. As a result of this incident, Kaegebein found himself in the Prussian Army. When his year of service was over, he decided America was the place to go, where no man owned another.
He had met Wilhelmina Lisetta Schutt, to whom America also sounded like a wonderful place. The afternoon they were married, May 6, 1870, they took the train to Hamburg where a ship was waiting to sail to America.
The family settled in Buffalo, where Fred earned money any way he could, including cleaning outhouses for 25 cents a day. He helped plant trees in Delaware Park and worked to build Delaware Park Lake. By 1886, the family had saved enough to rent a small farm on Grand Island. It was here. Grehlinger's mother Amelia was born in 1880.
Amelia met George Long, and shortly after her family moved to Akron, she and George were married in 1904. They settled in Webster, where Grehlinger was born in 1906.
Two years later, they moved back to Grand Island. When the first Kaegebein reunion took place at Fred and Wilhelmina's home in Akron in 1912, Grehlinger's brother Herb was the youngest member present.
The Long family moved to Darien Center soon after, and then to a farm on Bloomingdale Road in Alabama, then to Oakfield and Holley before finally settling in Alabama Center near the Grehlinger family.
Son Duane Grehlinger had been born on Grand Island, and he and Mildred met on a blind date while she was visiting cousins on the Island. When the couple was married, she became the third Grehlinger bride to move into the house on Whitehaven Road*. They moved to Alabama Center in 1932, where Mildred lives today.
Grehlinger said the annual reunion has always been an important event in the family and this year's will be especially significant because it is the 90th.
The family has its interesting tales to tell, such as the several sisters and brothers who married sisters and brothers and the cousin who enlisted in World War I only to have the war end as he got there. At one time, there were seven preachers in the fammily. Several have been named Wilhelmina after the founding grandmother, including Mildred.
The family now numbers more than 300, at least half of whom are expected to attend Saturday's reunion, coming from across New York State and as far as Michigan and Montana.
The oldest living relative is Esther Schiller, 101, who lives in an Orchard Park nursing home. Grehlinger, at 95, is second oldest.


---
Beaver Island Nature Center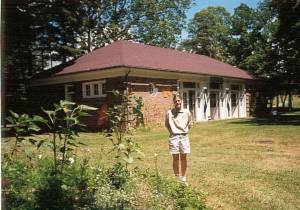 Park Naturalist Jennifer Fisher stands next to a butterfly garden at the Beaver Island Nature Center.
By William O'Connor
Most Grand Island residents are familiar with Beaver Island State Park. Almost everyone knows about the golf course, beach, picnic areas, marina, sledding hill, and Frisbee golf area. There are some features which many readers may not be aware of. The Nature Center, located along the road to the marina, is a good example. Those who haven't seen it, or haven't seen it recently, might want to check it out.
The Center opened on the Fourth of July. Its hours are from noon - 5 p.m. Wednesday through Sunday. A park naturalist can provide group tours of the facility, including the Nature Center building, newly planted wildflower and butterfly gardens, and the nearby woods and lagoon trails.
In the Nature Center building, there are many interesting exhibits. Naturalists are leading groups from churches, scouting organizations, and schools "all the time," providing them with games and activities like "fossil digs" and indoor "bird watching," according to Park Naturalist Jennifer Fisher. The games and exhibits give participants a better understanding of the life around them.
After learning what to look for, most groups go for a hike. On the trails participants are taught to identify common birds, reptiles, amphibians, and plants (including poison ivy). During these hikes, the naturalist may catch an amphibian or reptile and bring it back to the Center for a living exhibit, but it would be released in the fall.
Reservations to visit the Nature Center are not required, but they are a good idea, especially if a large group is involved. For more information, call 278-1728 or 773-3271.

Peonies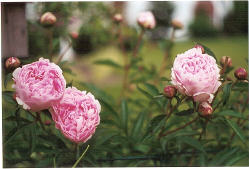 By William O'Connor
I'm probably not the best gardener in the world. I've brought home and murdered many a healthy plant. Several years ago I asked my mother (who knows much more about gardening than I do) what she thought of the idea of planting a peony. Right away, her eyes lit up, and a great smile appeared. "Oh yes, that's a great idea. You'll get great big flowers, and it'll keep blooming year after year," she exclaimed.
I'm very pleased to report that she was right. Every year for the past several years my peony plant (the herbaceous variety) blooms with big pink flowers (some greater than five inches in diameter).
Peonies come in many colors, combining hues of red, yellow, pink, coral, and others. Their "large, spectacular flowers cannot be surpassed by many flowering plants. It is relatively easy to plant and care for and fairly resistant to disease…. It thrives in Europe, Asia, and North America, with the exception of the northern and southern extremities," according to the "Peony Meadows" website.
Peonies originated in "western Asia and southern Europe." They do not grow in extreme southern climates, because they "need a resting period." Flowers grow so large that they weigh down the plant and end up on the ground. To avoid this, plants should be supported or "staked up" according to Gene Ryshkus of the Grand Island Garden Center.
Gardeners may also choose one of the many different varieties of tree peonies, which are "generally fancier and more expensive than herbaceous peonies." If planted properly - in a well- drained, partial shade location - they "will grow 4-10 feet high…and can live more than 100 years," according to "Peony Meadows."
For more information, readers should contact the Grand Island Garden Center on Alvin Road in person, or click Grand Island Garden Center to visit their GIECOM sponsor page. For another related web page, click Peony Meadows in Virginia .


---

It Happened 50 Years Ago - Island Dispatch Editorial

Below is an actual editorial which appeared 50 years ago in the Island Dispatch:
By George Pagan, Editor/Publisher Island Dispatch
June 4, 1951... We were amazed when we heard that a resident of Grand Island was so thoughtless that she refused to surrender her phone line in an emergency. Perhaps she did not fully understand what was happening.
When an alarm is received, the Fire Company dispatcher must secure and send a driver for the fire truck. She must also notify the six fire sirens. If the line is busy, the telephone company can place an "override" on the conversation and break in - but they cannot get through on the party line unless the talking party hangs the phone up as requested.
Please, folks - your life may depend on this service. Don't fail to cooperate. Last week your Fire Company and its doctor, our own Dr. Norman G. Stessing, saved the life of a worker trapped by a sewer cave-in. It took the inhalator squad 3-1/2 minutes to answer the call - a record on Grand Island. A life was saved, but it could have been lost if a "partyliner" had failed to show courtesy. Please cooperate. When a fire call is received, there is no time to argue.


---

Killdeer

By William O'Connor
"The common noisy breeding plover of the farm country" is how the Peterson Guide describes the killdeer. This time of year, the 10-inch brown and white bird with two black stripes on its neck lays beach stone camouflaged eggs in fields, tar and gravel rooftops, and gravel driveways throughout Western New York.
Named for their "noisy, insistent kill-deeah" call, the killdeer is one of summer's most enjoyable animals. When threatened by something approaching its eggs, the killdeer displays a "broken wing" and runs away calling loudly as it goes.
Soon after they hatch the chicks, almost identical miniature copies of their parents run around and start feeding themselves. The parents watch over the brood doing the "broken wing" trick when necessary.
A stroll or bicycle ride on the Beaver Island bike path this time of year (late April through mid June) should afford several encounters with this delightful bird. Enjoy!

Along the Niagara Shores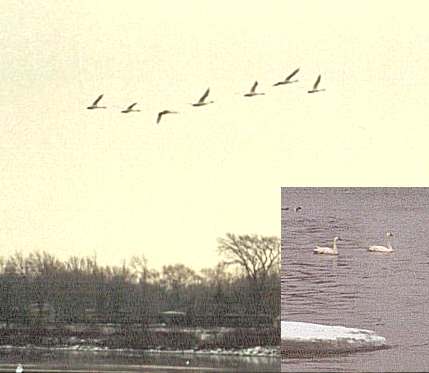 By William O'Connor
Human beings are flocking to the shores of the Niagara River to observe a stunning array of wildlife. As most readers have already learned, American (Bald) Eagles have been seen flying over Navy Island. Lately, there have been reports of possible courtship and nesting behaviors. Canadian volunteers erected a nesting platform at the north-west corner of the island, which the birds seem to be using. With binoculars and a good deal of patience, the eagles may be seen from the western shores of Buckhorn State Park.
But eagles are just the tip of the iceberg when it comes to the rich diversity of wildlife in the area. This time of year the river is filled with wildlife species including both migratory and year-round birds. In 1998, this abundance earned the area the title "Globally Significant Important Bird Area" by a consortium of environmental and government organizations.
Tundra Swans, which used to be a rare winter sight near Buckhorn and Beaver Island State Park, have increased their numbers from a couple pairs years ago to 144 or more individuals according to amateur naturalist Bill Burch. They have become a common sight in both places, but in early spring they will fly to the arctic tundra to roost.
Canvasback duck populations have been estimated at more than 18,000 in the Niagara according to Park Naturalist Carol Rogers who led a trip Saturday morning, March 3rd, at Beaver Island. The event drew about a dozen "official" participants, but another three vehicles full of birders shadowed the group.
Other migrant ducks that may be seen at this time of year include scaups, surf scooters, ringed-necks, goldeneyes, mergansers (red breasted and common), king eiders. The bitter cold seems to have no effect on these birds. They feed in the ice cold water by "tipping up" or diving.
While feeding, ducks are harassed continuously by gulls, trying to steal a meal. Gull species observed here include ring-billed, little, greater black-back, herring, Bonaparte's.
Coyotes, foxes, and mink seem to be hunting the birds. Burch observed a fox crossing an ice bridge to Strawberry Island in past years. This year, coyotes were seen on the ice in the Niagara and Lake Ontario. Rogers spotted mink in Beaver Island.
With a good field guide (Peterson or Audubon for example) and a pair of binoculars, one can easily identify scores of birds. Some birders competitively try to fill their "book of life" hurrying from one location to another. Others savor the place they're in, listen to the calls, and observe the behaviors of the animals they see. But "even died in the wool, experienced bird watchers don't get so jaded that they don't enjoy seeing a colorful bird like a red breasted merganser," according to Burch.
Others enjoy Niagara's shores by ice fishing, but that's another story.

Environmental Websites

By William O'Connor
The United States Environmental Protection Agency recently sent Grand Island a letter promoting their website, www.epa.gov/region2. The EPA website is a valuable resource and a good place to start doing environmental research, but it can be cumbersome. The database contains huge amounts of information (much of it extraneous), and working through it can be a difficult task. Specific questions to the agency may be better addressed by e-mail or by phone. Using the website can aid researcher find the right agency or person to ask.
The Environmental Defense Fund has an excellent website, www.edf.org. They've distilled the EPA information into an easier format, and removed a lot of the unnecessary data. The result is a responsive data-base which can easily be searched. If readers sign on, EDF sends a monthly summary of environmental issues. Much of the information in the e-mails never makes it into the national media, in spite of the fact that events they report often have world-wide repercussions.
Recently, it was revealed by the US Army Corps of Engineers (COE) that workers at Praxair (formerly Linde and Union Carbide) in Tonawanda, Laughlin Steel in Buffalo, Guterl Specialty Steel Corporation (formerly Simonds Saw and Steel Company) in Lockport, and other local industrial sites were exposed to potentially harmful amounts of radiation. Workers at those sites and their families may have suffered negative health effects as a result. Much of the uranium used for the first atomic bomb was refined in Western New York. In the 1940's and 50's tons of radioactive materials were dumped in the Ashland refinery landfill near the south Grand Island bridge in Tonawanda. The cleanup of that material continues today. A few years ago, the Formerly Utilized Sites Remedial Action Plan (FUSRAP) was taken over by the COE. For information concerning radioactive pollution in the Western New York area, contact the COE at www.usace.army.mil/fusrap. The site is well organized and easy to navigate.
Former Grand Island resident Lois Gibbs became famous when she found out that her neighborhood was built on top of the Love Canal toxic dump. Her leadership skills and desire to make the world a healthier place inspired her to create and run the Center for Health, Environment, and Justice. CHEJ is a national group assisting people in their struggle against industrial pollution. They can be reached at www.chej.org.
The internet has become a valuable source of information regarding many subjects. By using a search engine, internet users can quickly access information from many organizations. Environmental organizations have embraced the internet to disseminate information. "(O)ver the past three decades, our environmental consciousness has risen dramatically" according to EPA Regional Administrator Jeanne Fox. Thanks to the internet that trend is likely to continue.

---
TheatreFiguren — An Enchanting Experience

By Donna M. Webb
Trinity United Methodist Church hosted theatreFiguren [sic] on January 5, 2001. This is a self-contained theater company created by Michele Costa. Puppets of different types and sizes bring her shows to life. Pre-recorded music helps set the mood. This night we were treated to her adaptation of Star Mother's Youngest Child, based on a story of the same name by Louise Moeri.
The two major characters have no names. One is a lonely and cranky old woman, who longingly wishes that she could celebrate a Christmas like she did many years ago. Sadly, she has outlived all her relatives, and the villagers do not come to visit. Up in the sky, the Star Mother is dusting off all the stars. They simply must shine their absolute brightest on Christmas Eve! Her youngest child, the second main character, is an ugly boy with a very large red nose. He tells the Star Mother that he wants to have a Christmas the way they do "down there." To make her youngest child happy, the Star Mother arranges for the boy to come to the old woman's humble home.
At first, the old woman is irritated by this young child and even calls him a nitwit several times. Slowly, we see a transformation occur, as her heart warms to this unexpected visitor.Though she lives in simple surroundings, the old woman does the best she can to provide a special Christmas Day for the little boy. She decorates a tree with odds and ends — buttons, bows, and lace; and the boy's face gleams with delight as he looks upon it. Using a ham bone and a couple of potatoes, the old woman cooks up a delicious stew, which they share.Finally, when the boy asks about presents, the old woman unselfishly gives him her most-prized possession, a shiny silver buckle which her mother left to her.
At last the time comes for the Star Mother's Youngest Child to leave. Before he does, he places one more gift under the tree. The old woman spies it right after the boy leaves. As she opens the empty box, her mind and heart are filled with the warmth, the laughter, and the love shared on this Christmas and those of days past. This was the wondrous gift the young boy left for her. Her wish and that of the Star Mother's Youngest Child have been fulfilled, and this is a memory they will treasure forever.
I found this to be a touching and inspirational story, which portrays the beauty and magic of the special times we all share together. It was a perfect conclusion to this holiday season.What made it even more interesting was the way Miss Costa interacted at times with the puppets, with a special glance or body movement.
She generously entertained questions from the audience. She explained how some of the puppets are made. The more difficult ones have paper mache heads, which can take several days to make and paint. Her collection includes rod, stick, and hand puppets. Some were quite small — the three moles were about six inches tall each. Miss Costa was even kind enough to let the children in the audience come up and touch her puppets. An interesting point she made was that puppetry is taken as a more serious art form in such countries as Japan and Germany, where adults will pay good money to see a performance.
Michele Costa's theatreFiguren began in 1992. Since then, she has performed at various Western New York schools and such places as the Lancaster Opera House, Studio Arena, and Shakespeare in Delaware Park. This incredibly talented young woman puts on a show you shouldn't miss, if you ever have the opportunity to see one of her productions! Interested groups may choose from among seven different stories, including The Steadfast Tin Soldier and Ferdinand, the bull. I would recommend theatreFiguren as a wonderful enrichment program, which the Grand Island schools might wish to present to their students. For more information, you may reach Michele Costa at 881-6470.


---
The Ultimate Gift: A Moving Mountain

By Ruth Stahl
Are you bored with treadmills, rowing machines and stationary bikes? How about mountain climbing, indoors, at that? Islander Gary Astridge has the answer.
Gary walked into FOA Schwarz, the top-of-the-line toy store, one day, and was entranced by a machine called a moving mountain. It resembles a vertical treadmill in motion with handholds and toeholds for the climber. As you climb, the surface scrolls down. If you stop climbing or step off, the machine stops. You don't go anywhere but you get your fun and exercise. You can select your challenge level, and while you are climbing, a digital display keeps track of time and distance.
Gary, who has lived on the Island for five years, became the North American distributor of the mountain, which is manufactured in France.
"It has really taken off," said Gary. "The market includes amusement parks, health clubs and fitness centers. You find them in children's interactive play areas and in rock-climbing facilities, used as an introduction to the sport. There is one at L.L. Bean's in Maine and in several MacDonalds. People call to have them installed in their homes. The models can be permanently installed or free standing, and come in two sizes. They can be upgraded for outdoor use, be built to take tokens or coins or can even be leased," he said.
Gary and the Moving Mountain debuted on the CBS Early Show on TV. Rock star Sting recently ordered one for his home in England and other celebrities have expressed interest - personalities like Arnold Schwartzenagger, Nicholas Cage and Steven Spielberg. (If you want to join that crowd you'll have to come up with a minimum of $12,500.) To try one locally, visit the Game Zone on Sheridan Drive near Harlem, the former Sheridan Bowling Lanes. (The manager there is Keith Call, an Islander as well.) For more details on this marvelous moving mountain, log on to Gary Astridge's Website, Moving-mountain.com.


---
Memories Of Sunset Drive

By Teddy Linenfelser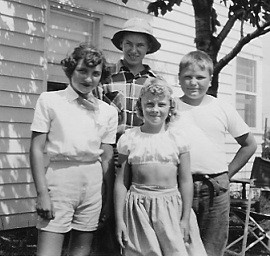 Shown in this 1952 photo are (front) Gail Burgstahler (Rothenberg), Marianne Shear (Tranter) and Jim Tranter; (back) Jim Shear.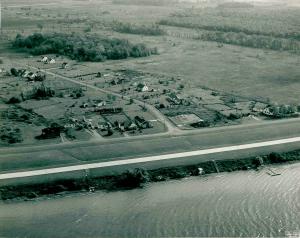 History tells us that Grand Island lost its luster in the first part of the 1900s. The clubs and hotels and amusement parks eventually closed, and excursion boats that once took visitors around the Island, stopping at the various amusement parks, ceased to run for the most part and rotted at their docks. But spending summers on the Island for many mainland families was a part of life and the search for a summer cottage to rent was part of the game. Numerous homes today were originally these same summer cottages, built as many as 100 years ago.
Riverside residents Frank and Lillian Shear bought an acre of land on Sunset Drive in 1938 and immediately built a summer cottage there. Sunset was a stone road with several summer places, similar to those that dotted the Niagara shore as well as inland all over the Island. The Shears, parents of a son, Jim and a daughter Marianne, built their year round home in 1950 and the cottage became their garage at 3002 Sunset Drive. Frank Shear, a Buffalo fireman, always wanted to live on Grand Island, but Lillian, a Buffalo school teacher and city girl, resisted the move at first. Lil later came to love the Island and taught first grade at Sidway School for many years.
The Burgstahler family - George, who served as town supervisor, his wife, Sylvia and their daughters, Joan and Gail, lived next door to the Shears, one lot closer to the West River. Don and Marion Tranter were raising their three sons, Jim, Don and Bob, just around the corner on West River Road.
When asked for some memories of her childhood on Sunset Drive to accompany the photograph, Marianne offered the following:
"We would come to the Island for the whole summer, as soon as school let out, so my brother and I knew the Island kids better than the Buffalo kids because we played all summer and then went back to school in the fall.
My mom would take us down to the river twice a day to swim, and Jim's (Tranter) mom used to come down a lot, too. The Tranters lived in that big house on the West River just down the road from Sunset. It was a big, old, three-story, concrete block house. My brother, Jim and Jim Tranter were best friends. Sunset was a community. The men built stairs to the river and a dock, and we had a water pumping station there, too. The old pump house is still there on the bank of the river. The men from Sunset took care of it, and chlorinated the water, however on windy days we had muddy water coming out of the faucets. The Tranters had their own water pipe from the river to their house and in the winter the pipes used to freeze so they had to thaw them to get water for the house." ("You had luxury at your end of the Island with city water and sewers," Marianne told me.)
"Well, back to our fun days: down at the river we all learned to swim, we had the best times swimming, splashing, tubing, and building rafts to jump off and we all loved it. On rainy days the kids would come over to our cottage and we would play card games and board games and laugh and have a wonderful time. In the evening we would all meet outside and play kick the can or have a fire and roast marshmallows. There was an old barn that was taken down at Long Road and the West River and my dad, George Burgstahler, and Bill Rimmer, who lived across the street, all got wood from the barn and built what we called shelter houses on our properties. They all had roofs, fire places and concrete floors. We had lots of fires and picnics out there with our friends and families.
"Our cottage was one big room with a partition for my parents' bedroom. We had a kitchen sink with running, cold water, an ice box, and a toilet shed on the back of the cottage with a chemical toilet. We used to take Ivory soap down to the river to bathe and we had a big wash tub that my brother and I took baths in. My mom would heat water on the kerosene stove so we would have warm water. My brother and I had day beds that were part of the living area and we had a big kitchen table across the front of the cottage where we had a big screened area. My dad had a boat and we went for rides and fished. All the Sunset kids used to have bamboo fishing poles and we would put worms on hooks and catch sunfish and perch.
"We used to go in the fields (now woods) behind our houses and pick wild strawberries and violets. I used to get poison ivy in the spring after going to the woods at the end of the street.
"There were mostly cottages for summer on Sunset, some very tiny and almost all have been added on, to become homes. We built our home in 1950 and although it was nice to have a brand new home, and my own bedroom, it was never as much fun as it was in the cottage! Those days were so carefree.
"As Jim and Jim got older they had field cars, and they were both always interested in anything that had a motor and could move. One day my brother came home with his forehead split open. He had driven his field car into a small ditch! They made their own go-carts, and my brother and Donnie Deutsch, who also lived on Sunset, patched an old boat and called it the Leakin' Lena.
"We used to have fun at the Tranters (we had a pathway worn between Sunset and the Tranter's house). You can see their house in the background of the picture. I used to play with Donnie (Tranter) and his brother, Bob whom we called Ruds. They had some old chicken coops and turkey coops that were off the ground and they were our stage coaches.
"In the winter we would ice skate at the back of Tranter's house and on the creek at Long Road and at Big Six Creek before it was dug out for the state marina, and on a pond in the woods at the end of Sunset. We used to ride our sleds down the river bank and slide out on the ice on the river! And of course, build forts of snow and have snowball wars. When we were little, we had no trouble finding things to do, but when I was about 12 to 16, I didn't like living there because I didn't have many friends to do things with. I would go to Annette's (Boehm) in Grandyle Village or to Sandy Beach and wish I could live where there were things to do every day. It was very boring for me as a young teen. Once I could drive, it was better.
"The picture was taken in 1952 which reminds me that we went to everything they had at the Island's Centennial in 1952, the road race, the carnival, the theater productions, it was wonderful. Jim's mom was one of the Floradora Girls that danced and sang on stage, and I think his aunt, Pat Tranter McTaggart, was in it, too. They were great. The 1950s were a fun time."
Marianne married her neighbor, Jim Tranter and they raised their sons. James and Andrew, on Sunset Drive. A retired school teacher, she and Jim have retired to Placida, Florida.

Feature Stories - 2008
Feature Stories - 2007
Feature Stories - 2006
Feature Stories - 2005
Feature Stories - 2004


---
---
Other Grand Island Pages to Visit:
Churches | Email Directory | Government | Groups
GIHS Grad List | Guestbook | Please sign in! | Local Artists | Photo Album | Town History | Useful Links
| Website Design | Wildlife | Isledegrande's Home Page | GIECOM.NET'S Home Page
Please Email News Releases to Teddy Linenfelser, Thank You.

This website was created and updated weekly since September of 1997.
Our sponsor is GIECOM.Net Inc., "Grand Island's E-Commerce Network",
providing Internet Access and Webhosting to the Grand Island Community.
If you are interested in participating as a sponsor, please email.
1871 Whitehaven Road, Grand Island, New York, 14072-1803 USA

GIECOM.Net Inc. is owned by deSignet International
a "World Class Jewelry Manufacturer and Retailer"
Store Hours: Noon-5PM Tues-Friday and Saturdays 10AM-3PM, and by Appointment
1869 Whitehaven Road, Grand Island, New York, 14072-1803 USA, 1-888-RARU.COM
Copyright © 1995-2003 All rights reserved.



<! - - - - - - - - - New Tracker Below - - - - - - Old Tracker Above - - - - - - - >