---



Early Fire Company Dispatching - 2008
Posted by Teddy Linenfelser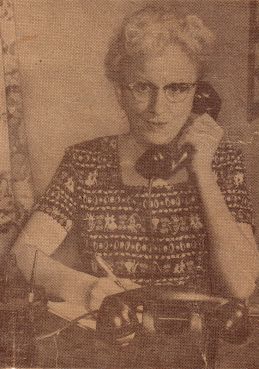 Fire Company Dispatcher Marion Klingel - 1956
The follwoing headline appeared in a 1956 edition of the Buffalo Evening News:
Grand Island Fireman's Wife Is The First To Tell Her Husband When There's A Fire

The fire chief's wife out on Grand Island refuses to sit back and miss out on the excitement. In fact, she knows where the fire is even before her husband gets the news because she's chief fire dispatcher - and she held the job for five years before her husband became chief.
Mrs. Theodore Klingel explains it this way. "My husband's been an active volunteer almost since the time we moved out here 15 years ago. I became interested as a matter of self defense. I have to live with it so I may as well make the best of it."
When the Klingels first moved to Grand Island there was no need for a fire dispatcher. "The old crank phones were all party lines," Mrs. Klingel explains. "Two or three phone calls and everyone would know about the fire."
Mrs. Klingel got her job about six years ago from the late Dr. DeWitt Bell. He had been fire dispatcher but when his wife became ill, he asked Mrs. Klingel to fill in for him.
"We had only one phone and I was afraid to go out of the house that whole summer," she explains. Now there are two phones on the Klingel desk. The fire phone also rings in the home of her neighbors, Mrs. Melvin W. Kohlhagen and Mrs. Joseph Kean. If Mrs. Klingel is going out she asks them to take charge of fire calls.
When the fire phone rings, both of the Klingel daughters, Mary Ellen, 15, and Theodora, 14, yell "fire" but that's as far as their interest in fires go.
Everyone who dials BR 3242 isn't reporting a fire. About 25% of the calls are for rescue squads and a good many calls are just mistakes. Now the phone is listed under "fire calls" and "Grand Island Fire Company." It was listed under emergencies.
"People would get so upset they'd call any emergency number they could find, without noticing that it was on Grand Island, Mrs. Klingel recalls.
"Some people call to say they're lost. They want to know how to find some street on the island or where a certain family lives. Sometimes, it's just wrong numbers. When they hear me answer 'Grand Island Volunteer Fire Company,' they usually think it's a big joke and start to laugh."
Once Mrs. Klingel has taken the fire call, she telephones to get a driver and then she rouses members of the volunteer squad who cannot hear the siren. Frequently she dials on both pones and then gives the fire message simultaneously into the two mouthpieces. She sounds the siren in her back yard, notifies people to sound the island's other four sirens and writes the location of the fire on a large blackboard outside her garage.
If this wasn't enough to keep Mrs. Klingel busy, she also serves as a troop organizer for the Girl Scouts and as The Buffalo Evening News Grand Island correspondent. "One thing is certain. The News gets to know about fires out here pretty quick," she volunteers.



Huth Road Elementary School 1958-2008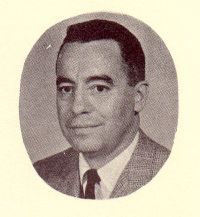 Tom Tierney, first principal of Huth Road Elementary School

Click photos for larger view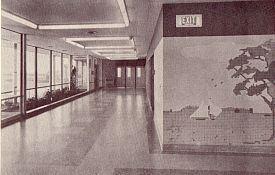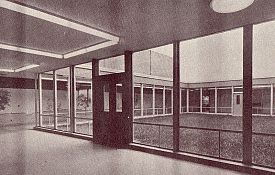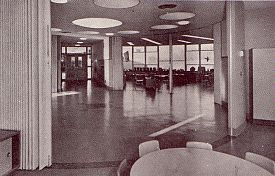 Photos show the new ceramic tile mural, the large windows in the front hall and the kindergarten wing as it looked in September 1958.
Click photos for larger view.
By Teddy Linenfelser
Grand Island's population began to grow beginning in the 1940s due mostly to the development of the Sandy Beach neighborhood and Grandyle Village. The opening of the Huth Road Elementary School 50 years ago this week would not entirely alleviate the overcrowding that had become the norm in Island schools. The Island was growing faster than our schools could be built or enlarged.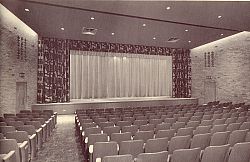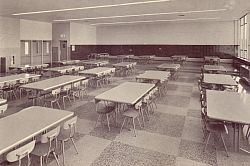 (left) The auditorium, with seating for 350, was designed with exposed brick side walls and decorative acoustic panels at the rear; (right) The cafeteria had seating for 200 children

School voters approved a $1,250,000 bond issue for construction of Huth Road School on October 11, 1955, by a 419-177 vote. School Board members at the time were President John Fontana, Vice President Walton B. Tanner, Charles J. Soch, Richard B. Hogue and Eugene R. Schutt.
The building was on a 25-acre plot and held an area of floor space of 56,880 square feet. Plans called for a 600-pupil school with three kindergarten rooms of 1000 square feet each plus toilet, storage and wardrobes, and 18 classrooms for pupils in first through sixth grade, a gymnasium, auditorium and cafeteria. The classrooms for grades 1 through 3 were 900 square feet each and those for grades 4 through 6 were 770 square feet each. The gym was to be 4,200 sq. ft. plus lockers and showers and bleachers to seat 108. The auditorium and stage took up 3,830 square feet with seating for 350. The Cafeteria measured 2,680 sq. ft. plus kitchen.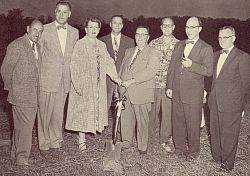 Supervising Principal of Island schools Veronica E. Connor and school board member Frederick P. Turner are shown turning the first spade at the ground breaking in July 1956. Board member Charles J. Soch, board President Dr. John Fontana, board members Walton B. Tanner and Richard B. Hogue, Robert J. Stoll of the architectural firm and town Supervisor George J. Burgstahler are shown behind them.

A ground breaking ceremony for Huth Road School was held July 31, 1956. The invocation was given by Rev. Richard H. Baker, vicar of St. Martin-in-the-Fields Church, and musical selections were played by the Grand Island Community Band under the direction of William Pinkow. School Board President John Fontana spoke on "Our Schools for Today and Tomorrow." For the benediction, Heber Ashley Jr. sang "Bless This House." Pfohl & Stoll were the architects. Frederick T. Williams Company was the building contractor.
A school district vote of 149 to 90 on May 7, 1957 showed residents in favor of naming the school on Huth Road after Island native and World War II hero, Charles N. DeGlopper. The Island Dispatch reported: "The name of the Island hero was selected as the name of the new elementary school." At the time, some residents wanted the new building to be called the Sandy Beach School, but in the end the school was named the Huth Road Elementary School by school board action.
The history for the naming of Huth Road follows: The new school was named for the road it was built on. The location of the elementary school bordered on the farmland of a farmer by the name of Frederick Huth, born in Grabso, Prussia in 1812. He came to Grand Island with his wife and children in 1856 and farmed the land here for 52 years until his death in 1908 at age 97.
The cornerstone for the school was laid on May 21, 1958 and included clippings from the Buffalo Evening News. All were contained in a box that was sealed in the cornerstone at 7 p.m. ceremonies. Master of Ceremonies was School Board President John Fontana. Rev. Rupert Wright of St. Stephen's Church gave the Invocation; Rev. Eldon D. Snyder, pastor of Emmanuel EUB Church on Baseline Road, was the principal speaker; and Mrs. Ora Glazener sang "The Lord's Prayer" for the benediction.
The new Huth Road Elementary School, held up due to a series of strikes, opened on Friday, September 26, 1958. Kaegebein School, with its own newly completed addition, was forced to open on schedule earlier in the month with double sessions for all elementary grades.
A Buffalo Evening News story quoted Miss Connor: "Although the school won't be completed, custodians next week will begin preparing classrooms for use. The contractors may have to work around us but we are moving in."
A total of 1945 pupils were enrolled in Island school in 1958, 200 more than when school closed in June 1958. With the opening of the new Huth Road School, Kaegebein School, rated a capacity of 900 students, had 910. The Huth Road School housed 660 or 60 over normal capacity. Sidway Junior High School's enrollment was 375.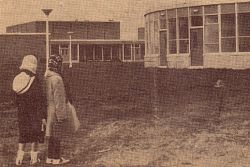 Kindergarten students standing outside the school on November 25, 1958 - See also Old Photo Album

Until this time there was one PTA unit known as the Grand Island Parent-Teachers Association. With the opening of the Huth Road School, three separate units were formed.
Dedication of the school took place on December 7, 1958.
By October 1958, the school board authorized the architectural firm of Pfohl, Stoll & Roberts to prepare preliminary plans for an addition to the new school (ten classrooms and an auxiliary cafeteria) to accommodate an additional 300 students.
Tom Tierney, a former member of the school board, was appointed principal and serving for many years. Mr. Tierney was followed by L. Jeffrey Baltes, Peg Koppman and current principal, Mary E. Haggerty who has held the position since 2002.
Happy 50th birthday Huth Road School! Celebration activities will be announced as they become available.
Posted September 25, 2008


---



Grand Island Cooperative Nursery School
Celebrating 60th Anniversary - 1948-2008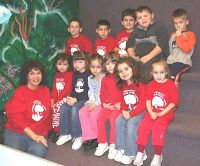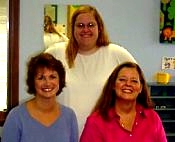 (left) Bonnie Janowsky - 2004 - (right seated) Teacher Nancy Major and Director Vicki Wilkinson; (standing) teacher Julie Estenoz - 2005.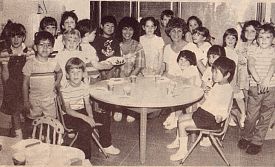 Teacher Appreciation - 1987 - teachers, Bonnie Janowsky and Ann Jarzab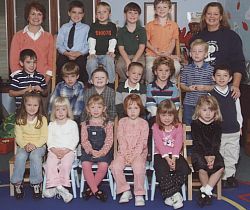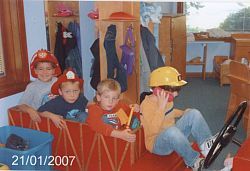 Photos taken in 2007.

See also 1957 Photos, and 1958 Photos

"NURSERY SCHOOL STARTS JUNE 20TH" was the headline on the front page of the June 6, 1949 Island Dispatch. The article began with: "Hurrah! The Grand Island Cooperative Nursery School is a reality at last!"
An official Nursery School never entered the minds of the eight friends and neighbors, all members of the PTA at Charlotte Sidway School, who organized a little play school for their children during monthly meetings of Home Bureau in the Sidway School. These mothers took turns supervising the preschoolers. According to a story written by Lenore Tetkowski in the mid 1950s, "The children, who had no daily playmates and who saw few neighbors, were so happy at these monthly play sessions that their mothers became acutely aware of their need to be together more often." The Island was a very rural community in 1948 and the pre-school children as well as their siblings did not always have other children to play with.
Eventually, the women decided to hold the play times in their own homes, taking turns supervising, and at the same time, "realizing deeper needs were being filled: learning to share, learning to communicate, learning about adults other than one's own parents, learning to do things in a group," Mrs. Tetkowski wrote.
The following are credited with the formation of the Island's Cooperative Nursery School:
Mr. and Mrs. Paul and Mildred Brobeil
Mr. and Mrs. Wilbert and Phyllis Janke
Mr. and Mrs. Arthur and Dorothy Mazenauer
Mr. and Mrs. Michael Quinn
Mr. and Mrs. John and Betty Wheeler
Mr. and Mrs. Chester and Bea Daggett
Mr. and Mrs. Christopher and Gertrude Cotter
Mr. and Mrs. Frederick and Alice Strauss

Husbands as well as wives were recognized at the time, "for while the mothers carried on numerous bake sales, made endless phone calls and drove pre-war cars full of pans of cookies, hand-me-down equipment and children, day after day, it was the fathers who pitched in and refinished old wooden cases, built and painted coat racks, and renovated old toys," Mrs. Tetkowski said.
"A most stimulating meeting of the mothers with Mrs. Mary B. Parke, head of the Nursery School Department of the University of Buffalo School of Education, inspired the group to continue its hard work and gave it professional understanding of the values of nursery school experience for children. With Mrs. Parke's help, Miss Margaret Mary Woepple, one of the five accredited nursery school teachers then in the Buffalo area, was hired to be the teacher of the group, and membership was open to all interested families," according to Mrs. Tetkowski's article.
It was in June of 1949 that the group became known as Grand Island Cooperative Nursery School, and classes were opened to Island preschool children and held in the Mazenauer home on Oakfield Road. The school was then moved to the more centrally located board room of the old town hall and then into the old Fire Hall with use of its large hall. Mrs. Alice Strauss was the chairman of the school at that time.
Trinity Church officials, in September 1951, offered available space to the nursery school and the operation was moved to Trinity's original church, now known as Historic Trinity. Mrs. Eleanor Kinton came on board as a highly respected teacher-director in 1952, a position she held through 1960. Ruth Holden served as her assistant teacher. Due to increasing enrollment, an afternoon class was added in October 1953. The school moved to the newer Trinity building where classes have been held since 1986.
In 1960 the school was incorporated by the New York State Dept. of Education and Mrs. Daniel Barkow was employed as teacher/director. Mrs. David Rosenberg followed her, from 1961 to 1963.
Mrs. John (Isabel) Allen took over as teacher/director in 1963 and shared the schedule with Trudy Wendt, along with Martha Martin. Barbara Macaluso was hired in 1968 and taught at the school until 1984. Bonnie Janowsky served as Mrs. Macaluso's assistant and then became the teacher/director with Joan Skalski and Judy Polizzi as her assistants. Mrs. Janowsky taught at Grand Island Coop for 24 years. Ann Jarzab, Martha (Marty) Shue, Donna Aughey, Dina Verso and Lisa Klein also worked with Mrs. Janowsky. Vicki Wilkinson has been teaching the school for the past 11 years, assisted by Julie Estenoz (2005-2007). Mrs. Wilkinson was named teacher/director in 2005 and has been working with teacher Nancy Major since that time.
Located at 2100 Whitehaven Road, in the "new" Trinity UM Church, the co-op is a partnership between parents and teachers, with parents helping in the classroom. Parental participation with teachers is the backbone of the school and sets it apart from regular schools.
The school's instruction is based on a hands-on learning environment in an atmosphere that offers opportunities for children to develop at their own pace, develop self confidence, social and emotional maturity and growth. This includes an academic program where learning is made fun with games, songs, and constructive projects concentrating on pre-K development and Kindergarten preparation. As from it's beginning parental cooperation is still the cornerstone of the Grand Island Cooperative Nursery School.
Grand Island Co-op offers morning and afternoon classes in the 3- and 4- year-old age groups. The 3-year old program is offered on Tuesdays and Thursdays, while the 4-year-old classes meet Mondays, Wednesdays and Fridays in preparing the children for kindergarten. Call 773-3670 for enrollment and tuition information.
Posted September 18, 2008






Decendents of 1850s Family To Hold Reunion - 2008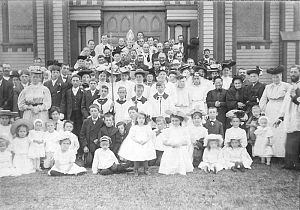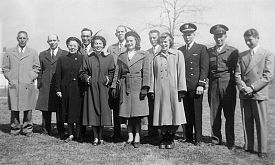 Left photo: This old photo could be a confirmation at St. Stephen's Church before it was remodeled. Note that the Bishop is shown in the back and three boys are wearing boutonnières and two girls are wearing veils.
Right photo: Circa 1950 - front left: Agnes Stack, Betty Stack Dunbar, Bernice Stack Dinsmore, Cecilia Stack; back: Ed, John, Jim, Gene, Charlie, Bill, Pat, and Paul -- Click photos for larger view.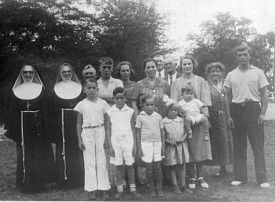 Click photo for names and a larger view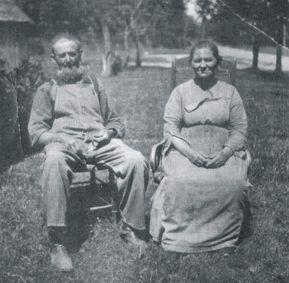 Patrick and Catherine Stack

Most of the Stack children pictured above attended one- and two-room schools on the Island and continued on to high school, taking the ferry across the river. Cecilia, Paul, and Bill attended Charlotte Sidway School and went by bus to high school on the main land.

The descendants of Grand Island, New York's Patrick and Agnes Stack family will hold their 10th quad annual reunion on July 4, 2008 on the site of the original family farm, currently the homes of grandchildren Mary Dunbar-Daluisio and Denise Stack Dewey at 1320 and 1308 Whitehaven Road.
The festivities, which are expected to draw 125 family members from at least a dozen states, will begin at approximately 1 p.m. after Grand Island's July 4th race and parade. The day will feature swimming, volleyball, badminton, card games, and games for children, and will conclude, following a big family feast, with a bonfire and fireworks as darkness falls. The family reunion will continue into the weekend with a variety of activities such as a golf outing, Stack History tour, tall family tales, Sidway School Reunion, Mass at St. Stephen's, and brunch on Sunday.
The Island Stack clan traces its settlement on the Island to Patrick Stack's father and grandfather who moved here from Ireland in the 1850s to farm 40 acres along East River near Staley Road and Winkler Drive. It was these men who built the Stack homestead, still standing on the corner of Staley Road and East River. A blacksmith shop was also set up on that corner when a ferry service was started near there. The current reunion encompasses the 11 children of Agnes and Patrick, born between 1914 and 1935. Of the original children, those attending include Island resident Bernice Stack Dinsmore, who will be celebrating her 89th birthday, and Bill Stack, Cecilia Stack, and Paul Stack. At last count, there are 47 grandchildren, 89 great grandchildren, 37 great great grandchildren, and one great great great grandchild.


---



Firefighters Celebrate 70th Anniversary of the Grand Island Fire Company - 2008
By Teddy Linenfelser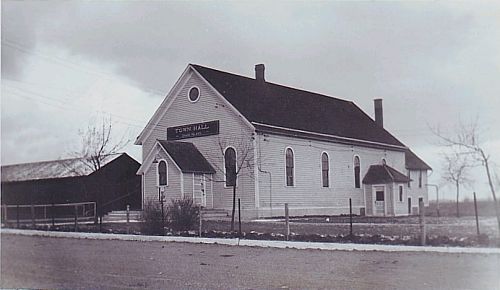 The first Grand Island Town Hall, built in 1875, became the fire hall in 1938 and was torn down in 1953.
Today's modern Fire Headquarters is located in in the same place on Baseline Road between Whitehaven Road and Grand Island Blvd.
The barn to the left was originally built in 1903 as a shelter for horses and wagons.
Click photo for larger view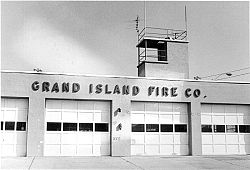 Known for years as the "new fire hall," this building was completed in 1953 and the photo showing an additional two truck bays was probably taken in the early 1960s.
Click photo for larger view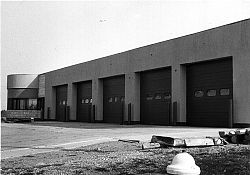 The fire hall, circa 1953, was not only enlarged but received a new, and modern facelift in 1982.
Click photo for larger view




Grand Island Fire Company's first fire truck, completely restored and on display inside Fire Headquarters.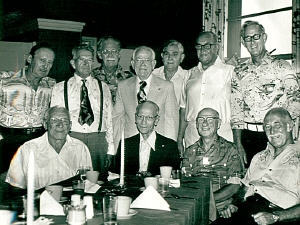 Oldest members of the Grand Island Fire Company posed for this photo at an old-timers party in the fire hall in July 1977. The longtime volunteer firemen, all deceased, are (front) Joe Kean, Bob Campbell, Abe Milner and Art Wade; (back) Art Mitchell, Fred Redinger, Don Hawley, Ted Klingel, Herman Reichelt, Cy Diebold and Ken Maurer.
Click photo for larger view


The Grand Island Fire Company turns 70 years old this month and members and guests will celebrate the occasion with a dinner dance at Harry's Harbour Place Grill.
Bucket brigades! Grand Island's barn fires, house fires, hay fires, - and fires of all other kinds were fought by men with buckets and their source of water was most often the property owner's well. If it was necessary to bring men and their equipment from the mainland to fight a fire, the cost to the town was $75 per fire. And by the time the off-Island firemen and their apparatus arrived by ferry boat, it was usually to late. With the opening of the Grand Island Bridges in 1935, this help was able to arrive at the scene of a fire much faster. The need for our own fire company was apparent. Discussion of organizing a company took place at a meeting in the home of the late Supervisor John L. Mesmer on February 10, 1938. The state granted a certificate of incorporation on April 13 and the first meeting of 53 charter members was held May 18 of that year. First officers of the Grand Island Volunteer Fire Company were President Edward L. Kruse, Vice President John L. Mesmer; Recording Secretary Norman Badina; Financial Secretary Raymond Young; Treasurer Horace French; and Fire Chief Thomas Benton.
The Fire Company took over the original town hall when School #9 on the site of the present town hall was turned over to the town officials. The first fire truck was delivered to the Company in July 1938. A small truck house was built on the right side of the Fire Company's hall by the men to house the truck and equipment.
That fire hall was torn down when a new hall, built by the members, was completed and first opened in 1953.. Several additions have been constructed over the years. The Grand Island Fire Company has been the forerunner in the Western New York area and in the state for many innovations. Grand Island started with a basic first aid course, eventually acquired an inhalator which saved lives, and moved on to the instruction of Emergency Medical Technicians and then the giant step, paramedic level training which began in 1978. Grand Island, in 1986, began its own dispatch operation and the 911 emergency calling system became a reality for the town with company dispatchers serving as its operators. All calls to 911 are now handled 24 hours a day in the main headquarters on Baseline Road.
This brief history doesn't come close to telling the story of the numerous Grand Island Fire Company heroes who have put their all into the Company. These dedicated men and women are volunteering for the community nearly every hour of every day. Congratulations Grand Island Fire Company and thank you.


---



Bedell House Saloon Burned 20 Years Ago -
Grand Island, New York - 2008
Posted March 27, 2008 By Teddy Linenfelser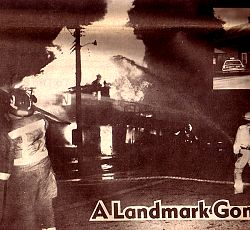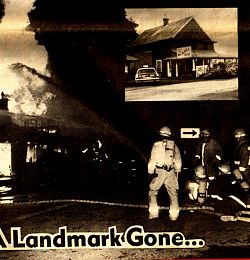 Barbi Lare Photo - Click for larger view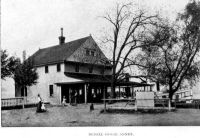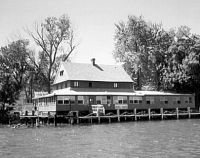 Bedell House Annex 1800s Bedell House 1987 (Jodi Robinson photo)
Click photos for larger view.
It was 20 years ago, near midnight on Palm Sunday, that the first fire alarm was sounded to alert Grand Island volunteer firemen to the blaze that completely destroyed the Bedell House Saloon, built in Ferry Village around 1877. The tavern had been open for the last time on that evening of March 28, 1988. Firemen arriving on the scene knew immediately that they had their work cut out for them when they saw flames shooting towards the sky and knew the fire was out of control. A mutual aid request was immediate and Kenmore Fire Company brought an engine company and Sheridan Park, an aerial ladder truck.
The volunteers worked through the night, however, firemen were called back to the scene "time and again Monday and Tuesday and remained on duty in crews all Tuesday night and Wednesday," according to an Island Dispatch story by Marion E. Klingel. The rekindling was due to the unusual structure of the century old building, constructed on pilings over the riverfront. Sheridan Park's aerial ladder was utilized to draft water from the river.
Assistant Fire Chief Ray Pauley said at the time, that the fire was completely under control at about 1:30 a.m. but that due to the unusual construction of the building, firemen remained the rest of the night to watch for rekindling. Peter McMahon, in his sixth year as fire chief, was out of town attending a Fire Service Conference on Safety.
Tons of debris were hauled away on Wednesday by heavy bulldozing equipment to enable the men better access to the source of rekindling.
Incorrect history of the Bedell House Saloon often states that this was its third fire, however, this was its only fire. The Bedell House Hotel, built in 1877, burned in 1887, was rebuilt, and was demolished by fire in 1935.
It was a sad day, and an end of an era, leaving so many memories for those who knew the place and knew it well. For more history and photos of the Bedell House, see Bedell House Saloon - Grand Island, New York


---



Zonta Club Of Grand Island Formed 50 Years Ago - 2008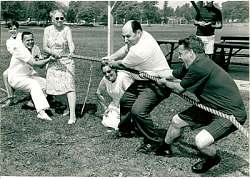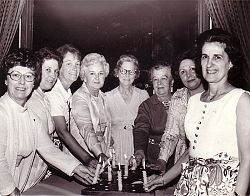 (left) Easter Bonnets 1964 (Eleanore Campbell, Lottie Suchocki, Vera Riener) - Crystal Beach Day 1969 (Joe McMahon, Bud Pritchard, Clerk Elsie Stamler, Zonta Club President Betty Beach kneeling, Henry Schenck and Jim Kennedy) - Zonta Installation 1977 (Betty Plazio, Kay Harrison, Ann Landel, Edith Godfrey, Martha Newman (installing officer), Joan Hein, Judge LaMendola, and Zonta President Catherine DiVizio)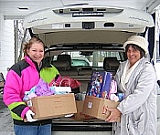 Carolyn's House Project, 2008 (Zonta President Debbie Taylor Spencer and Zonta Service Project Chairman Linda Kutzbach)
Click Photos For Larger View

Town Clerk Elsie Stamler hosted a meeting in her home in March 1958 when the Zonta Club of Grand Island, NY was formed. Miss Veronica Connor, school district supervisory principal, was elected temporary president of the 31-member charter club. Also serving as temporary officers were Vice President Deane Long, Secretary Betty Wheeler, and Treasurer Mrs. Stamler. The ideas and potential of Zonta International membership were explained at the group's first meeting. The new Zonta Club was sponsored by Kenmore Zonta and first elected officers in 1958 were President Kay LaBrake, Vice President Deane Long, Treasurer Mrs. Stamler, Recording Secretary Frances Meyer, Corresponding Secretary Gertrude Dobbins and Directors Shirley Dixon and Edith Godfrey.
Zonta International seeks to:
• improve the legal, political, economic, health, educational and professional status of women through service and advocacy;
• work for the advancement of understanding, goodwill and peace through a world fellowship of executives in business and the professions;
• promote justice and universal respect for human rights and fundamental freedoms;
• be united internationally to foster high ethical standards, implement service programs, and provide mutual support and fellowship for members who serve their communities, their nations and the world.
Charter member Veronica Connor served as toastmistress for the celebration of the Zonta Club's first anniversary June 6, 1959 in Creighton's Edgewater Park Hotel on East River Road.
Club members in 1972 organized and ran their first antique show and sale, a major fundraiser for 35 years. Betty Trianda served as chairman and Miss Connor was honorary chairman for that inaugural event held in the Beaver Island Casino. The Club's last show was held in River Oaks Clubhouse in 2006, when it became apparent that the antique dealers were in permanent display headquarters and not participating in area, weekend shows as they had in the past.
The local Zontians have taken on many projects over the years. A favorite was the Easter bonnets the women collected (as many as 300), and decorated with ribbons and flowers for distribution to women and children in Buffalo hospitals. Members of the local Zonta Club took an active part in Grand Island's annual Crystal Beach Days, a joint effort with the Kiwanis and Lions clubs, and were also in attendance at the annual inter-club dinners held in the Buffalo Launch Club with the same groups. The Zonta Club, perhaps somewhat ahead of its time, created a recycling program in the early 1970s and took their recyling "monster" to a July 4th community event at the high school. Few members today will remember the record hop in the Sidway School gym sponsored by their Club in 1964 when the live music of the "Isletones" kept the teens on the dance floor! In the 1970s the ladies donated and wrapped approximately 1400 Christmas gifts to be distributed at Buffalo State Hospital, as their holiday "Packages for Patients" project.
The Zontians are very generous with funds raised through their projects that also include poinsettia sales, garage sales, hot dog sales, Chiavetta's Chicken Dinners, "Beef N Weck" Dinners, and most recently, a lottery. It was the Zonta Club that contributed the major portion of funds in 2002 for the construction and erection of a foot bridge over the creek that runs through Marion Klingel Town Commons.
The Zonta Club's most recent project was the donation to "Carolyn's House," a facility with temporary apartments for abused and economically disadvantaged women and their children who are making a new start to a better life. The Club provided personal grooming packages for each of the 19 women in the program.
The Zonta Club provides services and monies to various charities in the area, however, their major donations go to women young and older, in the form of scholarships each year.
Those first meetings 50 years ago were held in the homes of members, and then in a room in the new bowling alleys, built later that year on Whitehaven Road. The club also met in the Grand Motel on Grand Island Blvd. and later, in the Buffalo Launch Club and Del & Herb's. Today the Zonta Club meets on the 2nd and 4th Tuesday of the month at the BLC. Current president is Debbie Spencer.
See "Zonta Club Presidents List"




History of Maccabee Hall, Now the New Dick & Jenny's Bake & Brew - 2008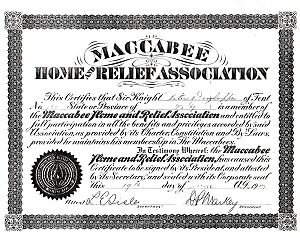 Maccabee Home and Relief Association certificate made out to Sir Knight Peter DeGlopper of Tent No. 132 on June 19, 1917 - New "Dick & Jenny's Bake & Brew" photographed February 20, 2008
Click photos for larger view.
By Teddy Linenfelser
Maccabee Hall was built and opened around 1890 by the Maccabee Life Insurance Policy Holders. The building belonged to members of the Maccabees, the Fraternal & Benevolent Policy Holders in the Maccabees Life Insurance of America, a farmers' alliance of insurance that was started on Grand Island at that time. Its original location was on Baseline Road, midway between Love and Staley roads. When that area was claimed for the proposed New York Central switching yards in 1920s, the building was moved closer to Love Road. According to an old-timer who remembers the second move, Maccabee Hall was moved to the corner in the 1930s when Clem Scheuerman took it over and eventually opened it as a restaurant in 1936. It was on May 16, 1936, a Saturday night, that fish fries were served for the first time.
The longtime favorite eating place had a total of four owners over the years, including Siegried (Ziggy) Gromm ("Ziggy's"), Del and Herb Haller ("Del & Herb's Grand Island Grille."), and successful real estate broker Ilona Lang ("Cathy & Jim's Del & Herb's"). The new "Dick & Jenny's Bake & Brew," opening Tuesday, February 26th in the former Maccabee Hall, is the dream come true for Island residents and new owners, Dick and Jenny Benz.
Editor's note: The following article was written for historical records by Mabel DeGlopper French in 1981 from her recollection as a youth.
"The Maccabees, begun in the 1890s, was probably the oldest organization on Grand Island. It was primarily a life insurance group of persons carrying their own insurance but it became a social organization as well. The men's group, called Knights of the Maccabees, (KOTM) was headed by Will Webb while the ladies' group (LOTM) was headed by Elizabeth (Mrs. Peter) DeGlopper. Among the names of policyholders were: Bell, Dinsmore, DeGlopper, Geschwender, Grehlinger, Howard, Simons, Vanthoff, Webb, Young, and others not remembered.
"Meetings were held by the men in the evenings, and by the ladies in the afternoons, and by the combined groups, three or four times each year, in the evenings. These joint meetings were social events for the whole family. Food was served on long tables for twenty-five cents. This was to help pay for the expense of the hall. Later as the parents grew older, the hall was used by the younger generation. Well chaperoned dances were very popular and "a jovial man who made the party fun" was the caller for square dances, interspersed with the waltz, two-step and other round dances. An evening of fun and refreshments for 25 cents!
"The Maccabees meeting hall was built by the members of the "Fraternal and Benevolent Policy Holders in the Maccabees Life Insurance of America." It stood on the west side of Baseline Road about half way between Love and Staley roads. It was in the path of the proposed switching yards to be installed by the New York Central Railroad so the railroad moved the building to the corner of Love and Baseline roads.
"From a diary of Elizabeth DeGlopper we find these notations: "Jan. 7, 1920 - went to see how things were going at Maccabee Hall."
"Economics and deaths finally caused the Maccabee Insurance to close all activity so the hall was sold to Clement Scheuerman who remodeled and made it into a restaurant."
If you stop by the Dick & Jenny's "Bake & Brew", be sure to tell your hostest or server you read about their new business at Isledegrande.com!
See Dick & Jenny's "Bake & Brew" for business article.




"The Islander" - First Published and Sent To Troops Serving In WWII January 9, 1943 - 2008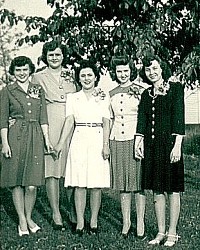 Staff of the "Islander" newspaper sent to servicemen from 1943-1945: Dorothy Phillips Mesmer, Edna Schutt Delaney, Shirley Kreger Luther, Katherine Killian Long, Gertrude Cannon Wilson.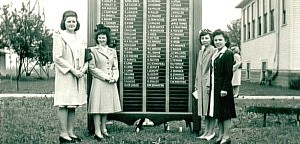 Edna Schutt Delaney, Katherine Killian Long, Gertrude Cannon Wilson, and Shirley Kreger Luther, "Islander" staff, pose with the June 1, 1943 plaque unveiling at town hall in honor of 113 Grand Island men and women who were in the nation's service during World War II. Ceremonies under the auspices of the Grand Island Emergency War Fund Committee were rescheduled to an early hour due to the driving ban, making it possible for people attending late church services, to take the short walk to the town hall.
Click photos for a larger view

The women listed above were on the staff of The Islander from its inseption. Its first issue is dated January 9, 1943. Charles Kaegebein, a member of Trinity EUB Church, financed the start of the paper, published bi-monthly to supply our troops overseas with news about Grand Island and Islanders helping the USA win the war.
That first issue listed the "Service Roll," Islanders "over there."
1. Pvt. Andrew J. Alt
2 Pvt. Melvin A. Alt
3. Robert L. Altschaft
4. R.C.T. Joseph Anderson
5. Major Heber Ashley
6. Corp. Heber Ashley
7. Pvt. Woodrow W. Babcock
8. Pvt. Robert R. Brown
9. Pvt. Charles DeGlopper
10. Pvt. Melville A. Dinsmore
11. Pvt. Robert T. Dobbins
12. Pvt. Clarence L. Dohn
13. St. Sgt. William W. Drexler
14. Cpl. Lester Goodchild, U.S.M.C.
15. Pvt. F. C. William H. Henry
16. Pvt. Glen Huling
17. J. Dale Janes, U.S.N.
18. Allen E. Kaiser Jr., A.S.
19. Pvt. Laverne Kaiser
20. Pvt. Randal J. Kaiser
21. Pvt. Edward A. Kerr
22. Pvt. John L. Kerr
23. Pvt. Donald Killian
24. Pvt. Henry A. Killian
25. St/Sgt. Raymond Killian
26. Walter C. Killian, A.B.
27. Ralph B. Kreger, A.V.G.
28. Pvt. Eugene A. Kunkel
29. Ensign Elmer Long
30. P.F.C. Haravey S. Long
31. Pvt. Harold B. Long
32. Sgt. Robert J. Long
33. Francis P. Markle
34. Pvt. Kenneth H. Maurer
35. Corp. Donald W. Miller
36. Corp. Robert E. Oberkercher
37. Capt. Arthur A. Reed
38. Paul Ritter
39. Pvt. William L. Rhode
40. Corp. Lester Schutt
41. Charles Sherry 2/c U.S. Navy
42. Robert Staley 2/c U.S. Navy
43. Pvt. Alton Stein
44. 2nd. Lt. James Tower
45. Cpl. John Tower
46. Pvt. Kenneth Wagner
47. Arthur Webb, U.S.N.R.
48. Pvt. Norman Webb
49. Pvt. Paul Williams
50. Pvt. Raymond Yensan
51. Capt. Rolland H. Young
52. Pvt. William C. Roech
53. Pvt. Robert Zurbrick
The following Island residents lost their lives in WWII
Charles N. DeGlopper - Congressional Medal of Honor
Eugene F. Dinsmore
William D. Gillen
Francis King Goodchild
William L. Rohde
Howard W. Salton
Charles A. Smith
George E. Smith
Posted Jan. 17, 2008

Feature Stories - 2009
Feature Stories - 2007
Feature Stories - 2006
Feature Stories - 2005
Feature Stories - 2004
Features - Volume 1





For further information email to teddy@giecom.net



---
Sponsors:
deSignet International


Custom Corporate Jewelry

AMUSEMENTS
Grinder's Skate Park
Mallwitz's Island Lanes

AUTOMOTIVE COLLISION
GI Auto Tech

BANKING
M & T Bank

BARBECUE
Bear-Man Specialty Foods

BEAUTY SALONS
Hizair Hair Salon
Wavelengths Hair Salon

BOATS
Anchor Marine
Blue Water Marina

BUILDER/CONTRACTOR
GI Home Construction

CANDY/GIFTS
Kelly's Country Store
*coupon*

CEILINGS/WINDOWS
DeGeorge Ceilings & Doors

CHILDCARE
Care-A-Lot
Childcare Centre

CHIROPRACTOR
Grand Island Chiropractic
Dr. Kevin Augustine Chiropractic

CHIROPRACTOR/PEDIATRIC
Riverview Chiropractic

CLEANERS
X-Press Cleaners
*coupon*

CREDIT UNION
Niagara's Choice FCU

DANCE
McCarthy Irish Dance
Miss Cathy's Dance

DENTIST
Dr. Thomas C. Lepenven, DMD

FAMILY MEDICINE
Grand Island Family Medicine

FINANCIAL
Contour Financial Planning

FLORIST
Flower A Day

FUNERAL HOME
Kaiser Funeral Home

GARDEN CENTER
GI Garden Center

GIFTS
Magic Towel Holder

HEALTH & FITNESS
M.O.G.

HEATING & COOLING
AJ Beyer Mechanical
Gross Contracting

INSURANCE
Allstate Mastantuono Agency
Keller Insurance
State Farm - Bob Piatek

JEWELER
deSignet International

LAWYERS
Mark Frentzel
Timothy Mordaunt
Robert M. Ratajczak, Jr.
Michael Anthony Rossi

LIQUOR
Aceti's Wine & Spirits
Rose Liquor

LONG-TERM CARE
INSURANCE
Aronica & Company

MOTEL/HOTEL
Chateau Motor Lodge
*coupon*
Holiday Inn Resort

NURSING HOME
Elderwood at Riverwood

POWER EQUIPMENT
Marston Power Equipment

PRESCRIPTIONS
Island Prescription Center

REAL ESTATE
Century 11/Liz Wilbert
Century 11/Gerrie Andolina
Metro Town Center
RE/MAX-Linda Kutzbach
RE/MAX-Ken Carter
Realty USA-Sherry McDonald
Park Place

RESTAURANTS
Beach House
John's Pizza & Subs
Justin Tyme On The River
*coupon*
McMahon's
Sandi's Family Restaurant
Town Cafe

SHIPPING
Island Ship Center Inc.

SUPERMARKET
Budwey's Supermarket
Top's
*weekly specials*
Wegmans

THEATRE
Riviera Theatre






Yellow Page Listings
Click Above to View

PLEASE PATRONIZE
OUR ADVERTISERS