Hurricane Overview - Enough Is Enough - October 2004
Editor's Note: The following was submitted Wednesday, Sept. 29, 2004 by former resident Gail J. Lazenby, living in The Villages, FL with his wife, Kathy
Well, Jeanne has come and gone, our 4th experience with a hurricane in the last two months. Enough is enough. Last Wednesday we expected Jeanne to run up Florida's East Coast with only minimal land involvement. Then the weather reports on Thursday and Friday told us just how wrong the forecasters had been. Jeanne was headed directly for the center of Florida with the storm making landfall somewhere around Vero Beach, just as Frances had done.
The winds began around noon on Saturday. They picked up throughout the day. I reported to the fire department's emergency operations center at 7 p.m. Kathy hunkered down at home. We were well supplied with water, batteries, portable radio, and all the other items in the standard hurricane kit.
From about 2 a.m. on Sunday until the same time on Monday it was wind, wind, wind and rain, rain, rain. Throughout, our emergency crews responded to lots of wires and trees down, storm damage, and routine EMS calls. Actually, the storm damage was a whole lot less than everyone expected. Most of the loose foliage had already found the ground during Frances (or Charley), so the mess was minimal. A few of the older, manufactured homes sustained roof damage and there are lots of roofs missing a shingle or two, but nothing major. No flooding, no mass electric outages, no water interruption.
One thing is certain: We're all hurricane weary. While Kathy and I have only lived here for two years, we've had a Florida home for nearly nine years. This is the first year we've experienced a hurricane. Now it's been four in one year. Enough is enough. Even so, Florida living is GREAT! Nearly 100% of the time, the weather is spectacular, golf every day, entertainment in town square, and so much more. The most important thing for me: I don't have to shovel the heat.
I sure hope this is the last hurricane update for this year and many years to come. My best to everyone on the Island.
Gail


---



Hurricane Jeanne - Flo Gannon Writes From Pinellas Park, FL. - September 2004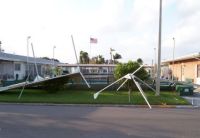 Editor's Note: The following was submitted 8:40 p.m. Monday, Sept. 27, 2004 by former resident Flo Gannon
Here is a picture of our shuffle board court in "Springwood 1" where we live. We were lucky again. Not much damage. Just a lot of tree branches. Our shuffle board court got hit. And a few people lost some shutters. To think of the people who lost a lot more, and we feel pretty Blessed! I hope this is the end. I'm waiting for the chance to open all my doors and windows. There were 173,000 people in Pinellas Park without power. I am glad to say, we were not one of them. I e-mail Lydia Todd Liesenfeld Long in Sarasota and she said hers finally came back on this morning. I can't imagine trying to sleep with out air conditioning.


---



Hurricanes - Gail J. Lazenby Writes From The Villages In Florida - September 2004
Editor's Note: The following was submitted Wednesday, Sept. 15, 2004 by former resident and educator Gail J. Lazenby
Charley visited The Villages but it was "much ado about nothing." Frances decided to make a stop and was significantly more of a nuisance, but generally The Villages faired quite well. Some of the older, manufactured homes (built up to 30 years ago), sustained roof damage. Throughout The Villages we had lots of trees down, both palms and some of the old, stately Live Oaks. When some of those Oaks fell over, they landed on houses. Several homes suffered roof damage. The mess left from limbs, leaves, construction debris, and anything else that was not nailed down was truly significant. Fortunately, The Villages contingent from Grand Island came away from Frances unscathed. (That's Richard and Maryann Wozniak, Paul and Veronica Shisler, Bob and Betty King, and Kathy and me.) While Frances moved through the area, Kathy stayed at the Wozniaks along with some other friends. Actually, they had a party weekend! I spent the three days at The Villages Fire Department Headquarters working in the emergency operations center. (As you know, while I had every intention of giving up the fire and EMS service after retirement, that intention didn't turn into reality. I work as a part-time firefighter/paramedic and am the Department's training officer.) While in the EOC, I helped coordinate our rescue and fire crews' efforts in assisting residents with ongoing emergencies. I had done the same thing (for another 3-day period) during Charley, although that hurricane actually only skirted The Villages. When we heard that Ivan was going to make a call, the reaction was almost universal: Ugh! While we aren't "happy" that Ivan has decided to divert to the Florida panhandle, we certainly are relieved that he has chosen another locale to torment. Right now it's about 11:20 p.m. on Wednesday night (Sept. 15, 2004) and Ivan is bearing down on Pensacola, Florida and Mobile, Alabama. Even though The Villages are several hundred miles away, we are getting rain and some breezes from the storm. That's plenty! The weathercaster just gave us the word on Jeanne, another storm that is forming and may impact Florida. The key word is may.... To say the least, we are all "storm weary." Enough for now. Give our regards to everyone on the Island.
Gail


---



Former Isle Residents Experience Hurricane Frances - September 2004
By Teddy Linenfelser
I received the following letters this week from "transplanted" Islanders living in Florida. Hurricane Frances touched down on Friday, September 3, 2004 and slowly made its way across the state of Florida. If you have a story, email it to me at teddy@giecom.net

Wednesday, September 8, 2004 - Kathy Lazenby of The Villages, Florida includes a photo of her husband, former Island English teacher Gail Lazenby and writes:
Greetings everyone!
All is well here in The Villages. Well, 95% well. We had 50 to 60 mph sustained winds with gusts up to 90 mph at the height of the storm. The storm lasted approximately 36 hours with the height of it lasting about 4 hours. Some of the older manufactured and mobile homes on the historic side of the highway suffered some extensive damage. And a few of the newer site-built homes were damaged from fallen trees. Other than that, it's mostly just messy from fallen trees here and there, a few downed street lights, and lots of Spanish moss and dead palm fronds everywhere. Many were without power for a day and some still have no power. We didn't lose it for even a second! But we did lose the cable TV for a day. Pretty minor stuff. Thank the Lord! There was no gasoline available for approximately 48 hours. The Villages is spending the next couple of days on clean up and then back to the resort-living lifestyle as usual. They have homes to sell, you know!!!
Gail was busy working at the Emergency Operations Center for 62 hours straight, as you can see.




Marianne and Jim Tranter of Ocala write:
Hello from the Tranter family
Again, we are thankful for getting through the second hurricane with no damage to our home or to Andy and Kim's home in Orlando. Andy and Kim and the children came up here to Ocala on Thursday afternoon, and stayed until Tuesday morning. Having our grand children here was a blessing. Orlando was closer to the beginning path of the storm, so we felt it would be safer here. Traffic was moving twenty miles per hour on I 75 and the Turnpike at times on their way here because of the amount of people trying to get away. Most of the east coast near the ocean was told to evacuate. Most of the gas stations were out of gas because of the amount of cars on the road. The state lifted all tolls on the roads to keep the traffic moving.
We started getting high winds and rain late Friday afternoon in Ocala . The winds got stronger on Saturday, with gusts of 70 mph at times, and lots of rain. There were many big trees down in Ocala and every where hurricane Francis came through. Some of our neighbors lost shingles from their roofs, and the rain soaked into their houses, causing damage to the ceilings and carpets. We lost power about 1:30 PM on Sunday and it was off for about 24 hours.
We had a couple of trees break and fall, but not near the house. We were worried about a very large pine tree at the top of the hill behind our house, but thankfully, God blessed us all again. Jim and I and Andy and Kim were all up during the night when the wind and rain started coming at us very strong. Everyone was very stressed. This hurricane was moving very slowly so we had days of wind and rain rather than hours.
So many Floridians have lost so much in the last three weeks, and now there is another hurricane on the way! We are so thankful that didn't have damage. We will keep in touch.
Marianne wrote again on Thurs., Sept. 9th:
As a ps on Ivan, Andy and Kim and Jim and I are getting out of state, but don't know which direction to go. Since we don't know where Ivan is going to turn. Will let you know how all turns out. Jim and I are planning on leaving here Friday to try to beat the big evacuation of the state.

Sunday, September 5, 2004 - Barbara Klocke Voegelin of Orlando, FL writes:
Hi Teddy:
This has been a Labor Day weekend to remember. This hurricane Frances has been working its was across the state since Friday and today is Sunday. There are over 9 million people without power and the winds and rain just keep coming. We were to evacuate but we choose to "hunker down" as they say. We are going stir-crazy. The most interesting thing of the storm, is the winds are blowing from the north to the south and it has almost emptied out Tampa Bay.
More news as it happens. One year ago we were on the Island and enjoyed seeing so many old friends and that GREAT fish fry at Lippens.

Wednesday, September 08, 2004 - Jessica Fisher Baird, GIHS Class of 1974, of Ponte Vedra Beach, Florida writes:
Hi Teddy;
This is former Islander, Jessica Wroblewski Baird reporting about our experience with Hurricane Frances.
My mom, Sarah Williams, and I were on vacation in Braselton, Georgia, when I received a call from my employer, Vicars Landing In Ponte Vedra Beach, Fl. Ponte Vedra is located on the east coast of Florida between Jacksonville and St. Augustine. Vicars Landing is a CCRC (continuing care retirement community) and my employer made the decision to evacuate our Independent and Assisted Living residents (over 280 over the age of 75) with about 40 staff to Atlanta. Our nursing home patients were moved to our sister community in St. Augustine.
I left Braselton on Friday afternoon and was at the Atlanta Hilton to greet our residents after they arrived on 4 luxury buses around 6 pm.
We returned to Ponte Vedra on Tuesday, Sept. 7 after it was determined our community was structurally sound, power restored and downed trees cleared. Our sister community, Glenmoor at St. Johns in St. Augustine, however, was not as fortunate. They have been without power, except for minimal emergency generator power, since the outer bands of the hurricane hit the area on Friday night.
They continue to be without power or phones and so we have evacuated the nursing home patients as well as all of the independent and assisted living residents to a hotel in Ponte Vedra Beach.
The drive home from Atlanta took 10 hours rather than the 6 it would take under normal conditions. Many gas stations were closed because they either were out of gas or had no power to pump the fuel. Parts of major roadways were closed and we were detoured due to flooding. On our drive we saw many flooded homes, downed trees, parts of homes blown away. It was absolutely unimaginable the destruction we saw. We feel very blessed that most of us have no appreciable damage.
Many people who boarded up their homes and businesses have decided to leave things boarded up until we are certain that "Ivan" will not be affecting us.
Many people in our area are still without power and phones. Bellsouth is telling their customers they hope to resume their phone service by Oct. 4!
Our state has really suffered this season and we hope all the other storms stay out in the ocean!


---



Hurricane Charley Photos - Chapter III - 2004
Sue Rader Photos - Click for larger view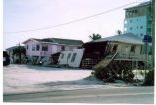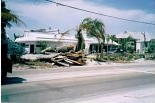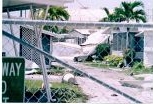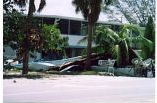 The photos above were taken in the aftermath of Hurricane Charley and submitted by Sue Radder of Ft. Myers Beach.

Tuesday, August 31, 2004 Bobby Wright Sr. of Ellenton, FL writes:
Teddy
Just saw site about Hurricane Charley. I too had to evacuate however when the storm took that slight NNE turn it just missed us here in Bradenton. Had it not turned I am sure I would have lost everything. At this writing there is another on the way and I have started to prepare.

Wednesday, September 1, 2004 Barbara "Duncan" Ochs of Port Orange writes:
We are in Port Orange, and we personally had minimal damage. We had one tree which now leans northeast where before it was straight. We got our power back after 48 hours. David (Vanthoff), also in Port Orange had tree debris waist-high in his entire back yard, and his shadow box 6 foot fence was destroyed. He had a generator, so his power loss was minimal. Debbie (Vanthoff) Salimi had a tree limb fall in her driveway, but it dented each of two cars in the driveway!! They had massive amounts of tree debris in Ormond Beach, and they were without power until Wednesday night. And all of this with a Category 1. There was much damage around us. I cannot fathom what a Category 4 will bring!!! They say the Daytona area (we are 6 miles south of Daytona Beach) has not had a direct hit since Hurricane Donna in 1960. I know there has not been one in the 28 years that I have lived here. Now we are facing our second one in 3 weeks!!! It looks like we are going to get a direct hit again--only this time from Category 4 Hurricane Frances!!! We haven't even gotten all the debris cleaned up from Charley yet!!! They are predicting Friday night or Saturday. Have no idea how long we will be without power. Talk to you when it is over!!!

Editor's note: Former Islanders are invited to "email" and let me know how you or your loved ones have dealt with Hurricane Frances. You are all in my prayers.


---



Chapter Two - Former Isle Residents Experience Hurricane Charley - August 2004
By Teddy Linenfelser
I have received additional letters from former residents regarding Florida's Friday, August 13th disaster, Hurricane Charley, and will continue to post them as they come in. Send your story to me at teddy@giecom.net

Wednesday, August 18, 2004 9:05 - Scott Arsenault, GIHS Class of '92, of Lake Mary Florida sent the following photos and writes:




I was very luck. I only lost power for about an hour. Over a week later people are still with out power in some areas. All local schools were closed for a week and a day. We still have trees down all over the place. I had no property damage and my palm tree did not fall over. My house was built in 2001 and it handled the storm better than older homes. Common damage to most homes was missing shingles and molding damage. I am attaching some pics of trees right near my house. Downtown Orlando got hit really hard because most of it was built in the 20's. Also we have a lot of Oak trees in that part of town. Orlando has not had a direct hit in 60 years. So what that created was an area that had trees that were 2 and 3 tons falling on single story homes. I am attaching pics from the next morning. These pics were just a few hundred feet from my house.

Tuesday, August 24 - Bruce and Pam Paschen (Pettitt), of Orlando sent the following photos and writes:




We have now been in Orlando for 18 years, and have never experienced anything like this. Fortunately, we experienced no structual damage to our home but lost quite a few trees. We were without power for 4 days and telephone for 3 days. Our pool was loaded with 2 feet of debris from other houses in the neighborhood, including tree limbs, shingles, insulation, one shutter, oranges, grapefruit, and leaves from every tree in the state....We had winds in excess of 105 mph...
Truly an experience we don't want ever again...

Nancy (Franklin) Duysters of Naples write:
Hi Teddy,
What an experience this was, closest we have ever come to experiencing a hurricane of this strength. First it was category 2 on Friday morning and headed close to Naples shoreline and the next thing we knew it was upgraded to a category 3, and not too long after that, a category 4. At this point I was about as scared as during the blizzard of ' 77, but figured I would drown from the storm surge instead of freezing to death. And all of a sudden it moved to the west and continued north. We had rain and wind of only about 70 mph, and had wind damage to trees. We truly were blessed. Kara is up about 20 miles inland from Daytona and had about the same as we did, but other areas were hit really hard. She ended up being off from school Friday, the day of the storm and all of the following week. It is wonderful to see so many people working together to help others in this time of need. Our church had an extra collection on Sunday after the storm and raised over $8,000 from two services. It sure makes you feel good!

Monday, August 23, 2004 Gail (Merrill) Allen of Oviedo. Fl outside of Orlando writes:
Hi Teddy.... Yes, the hurricane went right over us. We had screening from our screen room torn off, shingles from our roof and our oak tree in our front yard split. If the hurricane would have lasted longer it would of went on our house. We had the tree taken down as it was not safe after that. Also we didn't have electricity for 36 hrs. Was quite an experience. I'm so glad it's over and hope we don't have another one like it.

Marianne and Jim Tranter of Ocala write:
Hi Teddy,
I was just talking to Gail Rothenberg, and she said you tried to email us to see if the hurricane affected our family. We were all spared damage. Charley completely missed us here in Ocala, and Andy and Kim were very blessed in Orlando. They just moved to a beautiful new home in July and the only damage they had was to the solar panels on the roof which heat the pool. The hurricane did terrible damage to parts of Orlando, billions of $. If Charley had come into Tampa, Ocala would have had the damage that Orlando received. Andy and Kim lost power for three days so they came up here with the children until it was restored. There are still areas of Orlando that the power is still out. There were so many huge, old trees in parts of the city that destroyed homes, cars, businesses, power lines, schools, etc. The storm was over 100 mph even when it reached Orlando. Andy's new home is in a new development east of the city so they were spared the tree damage that happened all over. Their new little trees were blown down, and Andy replanted them on Saturday before they came up here. They stayed in a storage closet that is under the stairs next to their living room. They put pillows and blankets down and gave Kayla (four years old) a flash light and snacks and told her they were camping out for the night. Luckily she was asleep when it hit their area at 9 p.m. Andy said it was so loud, it was like bombs going off for over an hour. Both children slept through the storm.
Punta Gorda was where the storm came in, and that was in Charlotte County where we lived in Placida. We have talked to people from the mobile home park where we lived and the house we lived in didn't have much damage. I was afraid that the whole park would have been blown apart like they were in Port Charlotte. The hospital that Jim had his heart by pass surgery was one of the worst hit in Punta Gorda. We used to visit old historic Punta Gorda frequently. We would take people to Fisherman's village which was on a pier in Punta Gorda. There were lots of nice shops and restaurants, and beautiful big yachts.

Michele Rathmann of Orlando, FL writes:
Hi Teddy, Michele Rathmann again
Hey, I was in Apopka, FL. (Northwest or Orlando). We lost some tree limbs and power for about 1 1/2 days but my in-laws who live only about 5 minutes from me in Lockhardt (Orlando) didn't have power for a week. I have friends on the other side of town still without power who have trees through their roofs and stuff.
We were very lucky and I thank God every day! East Orlando was hit pretty hard....I personally think there was some tornado action spurred from the hurricane. Stay cool....at least we aren't buried in snow with no power and freezing to death....teeheehee... I survived the Blizzard of "77 and Hurricane Charley!

Barbara Klocke Voegelin of Orlando, FL writes:
Teddy:
I have been in Sarasota since 1972. This by far has been the worst storm I have ever gone through. The amount of damage is hard to understand. It is a week after Charlie came ashore, and over 35,000 people are still without electric or telephones.
I have friends east of Punta Gorda, and they have been told it will be 2-3 months before they should expect electric or phone.
We had to evacuate, but were lucky there was no more damage then some tree limbs down. They need to be cleaned anyway. From Sunny and HOT Sarasota,
Barbara

Friday, August 20, 2004 Sue Radder of Ft. Myers Beach writes again:
With regard to what is happening down here, thanks to the help of so many we are digging out and cleaning up. Law enforcement, fire & rescue workers, Florida Power & Light workers, Asplundh and etc. from the Miami/Dade area have come to help. They all went through Hurricane Andrew so they know just what we need, probably more than we do! We also have the National Guard out there in their fatigues in the 97 degree heat. Red Cross and Salvation Army have helped our locals set up first aid and meal stations to feed residents who are now homeless and workers who have been going 24/7. Boston Market came in with truck loads of hot food and ice cold drinks to supply these stations. Home Depot and Lowes, just to name a few, have donated so much in the line of generators, roofing materials, building supplies. We've had truck loads of ice and water donated from Walmart and Publix. Church groups from across the state have come over and gone house to house doing temporary roofing and tree removal services for those in need. Even animal societies have come to help with our pets. It is so wonderful how so many have rallied to help us out. I am sure it is happening on an even larger scale north of here in the Punta Gorda / Port Charlotte area. Thanks to all of these good people some progress is being made in cleaning up the huge mess. God bless them all!!
Editor's note: Sue Radder included the above along with a correction to my editing last week. She is not in Ormond/Daytona as I stated but is residing in Ft. Myers Beach.


---



Former Isle Residents Experience Hurricane Charley - August 2004
By Teddy Linenfelser
Fort Myers, Fla. -- When Florida's Friday the 13th disaster, Hurricane Charley, slammed ashore near the Gulf Coast city of Fort Myers last week, it brought death, billions of dollars worth of property damage and something that has not occurred in the past 50 years: It closed virtually all of the hotels in the Fort Myers metro area. (News source unknown)
Many people here on the Island have been asking if I've heard from any of our Islanders in Florida since the Friday, August 13, 2004 hurricane hit. The following accounts have been sent to Isledegrande.com. Similar stories may be sent to me at teddy@giecom.net and I will post those next week.
Barbara Duncan Ochs of Port Orange, FL suggested clicking http://www.meetingnews.com/meetingnews/index.jsp for news from her area.

Ed and Chris McCaffery on the Myakka River write:
Hi Teddy,
Thanks to our being at Silver Lake for the "Summer"(?) we did not personally experience the terror of Charlie.....and terror is the correct word having spoken with neighbors and friends who went through it! Our residence is on the Myakka River just North of Charlotte Harbor and about six to eight miles from Punta Gorda, the area which was hardest hit. The eye of the hurricane came through just a few miles to the West of us which saved us from the projected 8 to 18 foot surge. The wind actually drove the Myakka water out into the Gulf...a HUGE break for us. We also were saved from the brunt of the winds by a new half million dollar home which was constructed on adjacent property about two years ago. That home shielded us from the 140 MPH raging torrent. Our loss was limited to most of the screening around the pool and lanai and the fruit being stripped from the trees. Our lemon tree was partially uprooted, but should survive. We also lost many limbs and our ten foot satellite dish was ripped apart. Other homes on our street suffered more damage and a church at the end of the street lost part of a wall. The good Lord smiled on us and answered our prayers. Our hearts go out to those thousands of people who lost everything....some even their lives.
We are truly blessed!

Tuesday, Aug. 17 - Deborah (Vanthoff) Salimi of Ormond/Daytona writes:
Hi Teddy,
We were hit pretty hard here in Ormond/Daytona. There are still many people without power. We just got partial power today and the storm hit on Friday night. The kids are out of school until next week for sure just because the schools are not ready and there are still a lot of roads not passable. It has been like living in a different world... Unfortunately we have not gotten much news either unless it is in the car on the radio on the way home. The rest of the time has been spent trying to find ice and save the food in the refrigerators. I am so thankful though because it could have been so much worse for us as far as damage. We sustained a few dents in the cars due to branches falling. But all in all we faired quite well compared to some. Tell everyone I said "Hi." Take care and talk to you soon!

Sharon (Dingey) Ullrich of Port Charlotte writes:
Teddy,
We made it through the storm, only lost a couple trees. We were very blessed. The storm originally was supposed to make land around Tampa and about and hour before it actually hit the weather man said it would be Cape Haze, Rotunda, Englewood area. But at the last minute it went up the Peace River and into Charlotte Harbor, about ten miles south of us. When the winds got real bad we went into our walk-in closet (our "safe room"). We took our dogs, a cooler, flashlight and some food and went in there. We were without electric from Friday to Sunday. Like I said, I feel very blessed, but also very sad for the people that the hurricane did affect. I see the after math every day. The Red Cross has set up in our facility. We receive donations in one building and house the volunteers in another building, I've talked to people who were in the eye of the hurricane, which is where the worst weather you'll ever see comes from. People say Englewood is watched over by angels. I believe it!

Thursday, August 19 - Deborah (Vanthoff) Salimi of Ormond/Daytona wrote again:
You could try the local paper for more news, by clicking http://www.news-journalonline.com This is our local paper here in Daytona/Ormond. We finally got full power last night at 9:30 p.m. So now maybe life can become more "normal" for us here in the house. There still is so much tree debris all over the county and you have to be careful because not all the traffic lights are working yet. It is hard to see over the huge mounds of trees on the sides of the roads. But I would have to say we were still most fortunate in this tragic disaster. Thanks to all for your prayers. Hope all is well with everyone there. Take care and God Bless!

Wednesday, August 18 a.m. - Sue Radder of Ft. Myers Beach writes:
Hi Teddy,
We all survived so we are very thankful! I live on Ft. Myers Beach so I was under mandatory evacuation last Thursday morning. I left the island at 6 p.m. Thurs. evening, leaving behind a few neighbors who were going to "ride it out." At that point we thought it would "only" be a category 1 and would be heading quite a bit more north of here so we were only expecting minor storm effects. I went and stayed at my nephew's house inland. We had a generator so when the power went off Friday afternoon, we were able to keep the fridge cold and the tv on. With local tv service we were able to track the eye of the storm all the way through the ordeal. The eye passed over Sanibel which is about 30 miles from where I was staying and only about 20 miles from my home at the beach. We were very fortunate that we only lost power and had no damage to any of our homes. The devastation in the area is very sobering however. I made an attempt to go back to my home at the beach Sat. morning but was turned away by the sheriffs. We are just now being allowed to return on Wed. morning! On my ride out on Sat. morning I experienced many of the sights shown on tv - huge trees uprooted and blown into the road or over onto houses, mobile homes completely destroyed, miles of power lines and poles over on their sides, wires blowing in the wind. On the main road to the beach there was a boat up on the side of the road. It really is beyond description. I was only able to reach my neighbors who stayed behind yesterday afternoon finally! They said it was the most terrifying experience of their lives and they'd never try to "ride it out" again! At one point the entire island was under 3-5 feet of water when the Back Bay and the Gulf met in the middle of the island! Fortunately my place went virtually unscathed so I am extremely blessed! I am even one of the few to have power returned already. I know my former classmate Valerie Birkart lives on Sanibel Island and I have been unable to reach her so if anyone has heard from her up there, please have her email me at sjradder@comcast.net or call me at 765-0986. I know another classmate, Tim Phillips, lives in Cape Coral which was also pretty hard hit. I am hoping they all faired as well as I did! The emergency relief has been astounding!! We live in a country filled with wonderful people! So many have come to our immediate aid. As heart-wrenching as it is to see the devastation some people are facing, especially just north of here, it is also very heart-warming to see the way people pull together in an emergency. It has been quite an experience to say the least!

Wednesday, August 18 p.m. - Sue Radder of Ft. Myers Beach wrote again last night:
Hi again,
I just returned to the office from my trip out to the beach. Oh my gosh!! It was so much more overwhelming than I anticipated! Our beautiful tropical paradise looks like a war zone. I was completely overwhelmed and speechless as I drove along the main road on my way to my street. Then when I turned onto my street it hit me again. There were wires still hanging from a leaning power pole so I had to make my way around it via someone's front lawn that had now become a secondary route down Mango Street. The amounts and sizes of the trees that have toppled into the streets and across lawns is beyond belief. There are 6 ft. mounds of sand that have been plowed out of the streets to make them at least passable. By some miracle my building is the only one on the block with power! I have big scrape marks over my sliding glass doors where the gutter rubbed as it was being blown against the house. The fact that it did not go through the glass doors is yet another miracle. The flooding stopped less than a foot below my deck. There is black dirt splattered all against my sliders and the side of the building from the water being whipped against the house when it was at its highest level. I have large tree branches broken and hanging over my deck and driveway but none that came loose went through any windows. I must have angels around my house to have come out of this so well! When I see what is all around me out there, I can do nothing less than get down on my knees and be very thankful. With regard to Valerie Birkart, her maiden name is Armenia. I hope I can get a hold of her via the articles in the Isledegrande. Thanks for the thoughts. I look forward to hearing from others down here via the Isledegrande later this week.
Other accounts will be added as they are submitted.


---



Visitors Enjoyed Rides Through Beaver
Island State Park On Rotary Club Miniature Train - 1964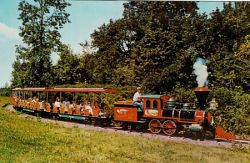 Click Photo For Larger View
By Teddy Linenfelser
Town Historian
Grand Island Rotary Club members spent the better part of the spring of 1964 preparing the land and tracks for a miniature train that would travel around Beaver Island State Park. The train, station, tunnels, tracks and bridges were completed and opened to the public after a golden spike ceremony on Memorial Day, May 30, 1964. It was anticipated at the time that 25,000 passengers at 25 cents per round trip would be able to ride during the summer.
The railroad provided a ride of more than 1 1/4 miles in the Park. The station was close to the bathing beach and tennis court area. "The right-of-way proceeded west along the Niagara River through the picnic area, over the trestle at the lagoon and then through the woods and tunnel located on Beaver Island," an article in the local paper stated. Robert D. Beach, chairman of the Rotary project said at the time that the train station reflected the 1860 era to harmonize with the old-time 70-passenger steam-type train. The train required about eight minutes to travel the layout.
Extensive grading and the filling phase of the scenic railroad right-of-way was a big part of the project and included 400 tons of stone ballast put into placed. A 65-foot, all steel trestle was built over the lagoon entrance and a 120-foot tunnel was also part of the project. More than 15 tons of steel rail were delivered from Detroit for the track which was installed by a full crew of Rotarians under the supervision of Island resident Christ L. Kruse. The six-ton train was delivered to Beaver Island on May 20, 1964.
The local weekly paper reported on July30, 1964, that, "Since opening day May 31, 1964, the Rotary's miniature train in Beaver Island State Park has carried 45,000 passengers." All profits went towards the Rotary Club's civic projects on Grand Island. Jack Houck, manager of M&T Bank at the time, was instrumental in securing a $30,000 M&T loan for the Club to help finance the $55,000 project. Additional funds were obtained by personnel loans. Dr. Norman G. Courey was the financial chairman of the project.
According to Bob Beach, this was the first train to be installed in a state park in the United States. Bob was a sales representative for Allan Herschell Co. in North Tonawanda who manufactured the train. A very active member of Rotary at the time, he said that almost all Rotarians had a hand in this train project, either in financing, construction or actual operation. "I devoted a two-week vacation to supervising the track layout, construction of the station and storage tunnel and installation of the train," Bob said. "Time has dimmed my memory but there were many individuals involved," he said.
The train continued to operate in Beaver Island State Park for several years and was eventually sold to Fantasy Island where it is operating today.


---



National Champion Al Endres Remembered
July 1954 Courier Express Feature
Click photos for larger view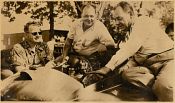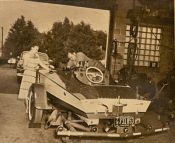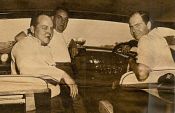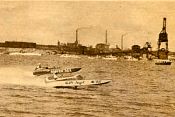 Photo 1) Inspector Fran Brobeil check's Al Endres' motor, the last step before receiving the trophy at the 1953 regatta. Photo 2) Tuning up for his return to speedboat racing competition this season ('54) is Ed Endres, recent purchaser of the California speedster, "Cream Puff III," renamed "Dawn II." His wife, Agnes Endres looks on. In Ed's first test at the Guntersville, Alabama regatta, he won both heats of the Class E event. Photo 3) A moment's relaxation from boat racing often came in cruising on the River for Al Endres, pictured here with Ed Endres and Jack Frauenheim. Photo 4) There was always a good race when Al competed against Sherm Crittenfield's high point "Hell's Angel" from St. Petersburg, Florida, which this year ('54) will be running against the senior Endres.
The following memorial to Islander Al Endres was printed in the July 1954 edition of the Buffalo Courier Express. The accompany photos were included in the feature. The publication did not give credit to the author.
The late Al Endres of Grand Island, national champion and world record holding speedboat racer, has rightly earned the pages devoted to him in the annals of the Buffalo Launch Club. That the members of the club have chosen to honor him in this year's International Regatta (1954) indicates but a token of the high esteem in which he has long been held.
Al was one in a million - a born driver. At the age of 16, though not old enough to receive the prize, Al won a special certificate of merit for his outstanding driving ability at the Truck Rodeo at the Clinton Market. His interest in trucks took him into his father's business, Endres Delivery, an operation which encompasses terminals in six cities. After his discharge from Marine Corps service in Japan in 1946, Al re-entered the business and became its general manager, under his father's presidency.
As he followed his father in business, so one would have expected that the son of such an outstanding racing runabout driver as Ed Endres would be a natural boat lover, but Al showed little interest in boating. Finally, one night in 1949, after coming home from work, Al went down to the dock and said to his father, "Let me try that gadget," and got into the boat. The elder Endres was amazed, and more than once has been heard to say, "He was a natural. In 15 minutes he was driving better than I ever did," And hence, the boy who really knew how to handle the throttle started his career with the boats.
The young Endres amazed the racing world in 1950 by winning the national championship in the Class D Racing runabout competition at the Buffalo Launch Club Regatta, with "Sour Puss," owned by his father. By the close of the season, Al had piled up enough victories to earn high point honors for his class, marking an almost phenomenal rise to the heights in speedboat racing.
In 1951, racing circles hummed with talk of the famous Endres father-son racing team. The teamwork that clicked in business, was so successful in racing, that at the Buffalo Regatta in 1951, Ed Endres won the Class D Racing Runabout national championship with "Sour Puss" and Al won the Class E Racing Runabout National Championship with "Dot E IV." Al went on to close the season with 29 wins in 30 starts, taking home, in addition to the national crown, the international honors, too.
What Al always considered the high point of his racing career came at the Cambridge, Maryland Regatta on August 8, 1952, when he raced "Sliver," a new E Racing Runabout designed by his dad and built by Jim Nogle, to a world's one-mile straightaway record of 80.743 m.p.h. Al returned to his Island home and later that month entered the BLC regatta. While driving "Sliver" in the second heat of the national championship competition, Al had some exciting moments after doing a fantastic flip. A miraculous middle-of-the-race rescue was maneuvered by Bill Barzee of Clay, New York, who returned Al to his careening runabout, and the two resumed the race, coming in third and fourth.
In 1953, Al served as co-chairman of the BLC Regatta, then proceeded to win the National Championship competition here with "Sliver." Nine days after the Buffalo races, the 29-year-old Al Endres collapsed and died after winning in the Regatta at Syracuse, New York, and his untimely death was mourned by all who knew him.
In November, Al was posthumously awarded the Buffalo Athletic Club's 1953 Sportsman of the Year Honor, and later he was named to the Gulf Marine Racing Hall of Fame, one of the highest honors a speedboat racer can achieve.
Now Ed Endres has replaced Al on the BLC Board of Directors, and is one of the co-chairmen for the Al Endres Memorial Regatta. He will re-enter racing competition with his newly-acquired E Racing runabout. The speedster which he has renamed "Dawn II," is the former "Cream Puff III," Ed Olsen's California boat which holds the world's five-mile competitive record. All the boating world wishes Ed Endres good luck as he races in the Regatta honoring his son.
Ed Endres continued boat racing for several years, followed by his grandson, Al's son, Mike Endres, winner of several national championships and retired from racing in 1991. Al's granddaughter, Anne Barker, sells racing equipment through her side business, "Barker Racing Products." Anne's grandfather, Ralph Barker, and her father, Greg, also raced for years.


---



Edgewater Park, Grand Island, NY - 2004
Click photos for larger view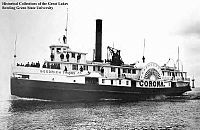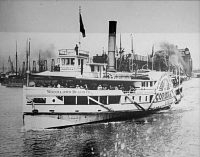 The sidewheeler, Corona, that carried tourists from the mainland
to the park, burned at the pier at Edgewater on November 18, 1898 and can still be partially seen in the river today.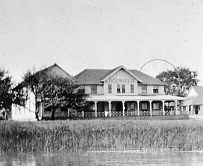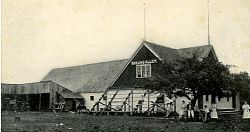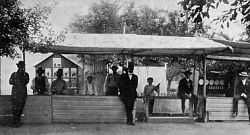 Edgewater, 1916 (clicks to very large photo) - Bowling Alleys at Edgewater, Grand Island, NY - Amusement games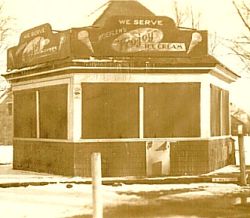 Hoeflem's Fro-Joy Ice Cream stand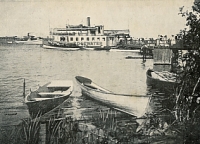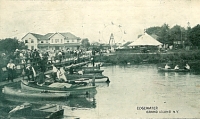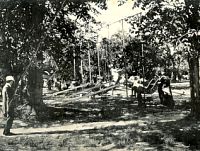 Edgewater Harbor pictures Teter Totter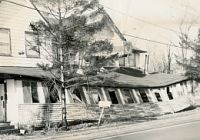 Swings Rock Island train Edgewater Hotel collapses, April 3, 1974.
By Teddy Linenfelser
Town Historian
The Edgewater Park Hotel was located on East River Road between Edgewater and Kirkwood drives. William E. Voetsch purchased this attractive piece of farm land in 1886 and developed what was known as Edgewater Park, a popular picnic and recreational grounds for all of the Niagara Frontier to enjoy.
The original three-story hotel burned to the ground in 1892. A two-story building was rebuilt by Mr. Voetsch and quickly gained back its former popularity.
According to Voetsch's death notice, published in the Grand Island News on May 29, 1936, he was long interested in real estate on Grand Island and started another development by the name of Electric Beach located in the area of Harvey Road and East River. This venture did not prosper to the extent of Edgewater and was abandoned in 1901. A native of Buffalo, Voetsch died at the age of 73. The Voetsch family continued to live in the area for many years.
Features of Edgewater Park over the years included the razzle dazzle, Ferris wheel, carousel, "bump-de-bumps," and a dance hall along with food and beverage concessions. "New standard bowling alleys" were a popular addition in 1893, according to the Grand Island Sun. A scooter ride and a train were added in 1937 when the park was being operated by "Smith & Martin" from New York City.
The park and hotel/restaurant drew crowds of families and friends from various clubs, church groups and other organizations from the mainland who traveled by steamer for a day at Edgewater Park. Grand Island's annual Harvest Picnic was held for decades at either "Edgewater Beach" as it was referred to in a 1933 picnic brochure of advertisements and program for the day, or the Bedell House at the head of the Island. Transportation before the Grand Island bridges opened in 1935 was made available to all of the popular spots around the Island including Edgewater Park by steamers and ferries, namely the Corona, Edgewater, Silver Spray, Clarence Fix, Lottie Koerber, Seabreeze and the Dorothy.
When the Grand Island Bridges were opened in July of 1935, all Island residents were invited to meet at the South Bridge and travel in a parade of cars through the Tonawandas and over the North Grand Island Bridge to Edgewater Park where an all-day picnic with free food and rides were provided. Earl DeGlopper Sr. remembers this as being one of the greatest times as a child. Earl and Phil Killian both remember town and school picnics being held at Edgewater. Phil also explained that the "bump-the-bumps" were inside a building with a set of stairs to climb to the top. Bags similar to feed sacks were there to sit on and slide to the bottom. "It wasn't a straight track but undulated up and down," he said.
After the amusement park was abandoned, probably in the late 1940s, the hotel was run strictly as a restaurant and owned by the Joseph D. Creighton family who purchased it in 1953 and the Katrein family in the 1960s.
Edgewater Park was the scene of several Chamber of Commerce Harvest Picnics beginning in 1955 and open to the entire community. It was Joe Creighton who provided Golden Age Club members with a boat ride on the Niagara. Among the members was Mrs. William Dohn, 86, who said it had been many years since she viewed the Island's shore line from the river. Also on board was charter member Agnes Stack who assisted in piloting the boat.
Mama's Mink III, a new "radically designed 266-class speedster" built by Island resident Joe Less was featured July 4-5, 1959 at one of many A.P.B.A. sanctioned International Inboard Regattas held off the Holcombe Marina facilities at Creighton's Edgewater Park Hotel in the late 1950s and early 1960s.
Live music at the Edgewater in the 1960s drew good crowds and Eli Konikoff's Yankee Six, a jazz band, was a Sunday favorite. The music, rolling out across the river, drew pleasure boats in large numbers to the Edgewater docks.
By 1969, there was talk of restoring Edgewater by a committee made up of Grand Island Historical Society members. The committee publicly commented on the 1969 comprehensive plan then in progress, and recommended that older homes and buildings in the area also be restored as part of the Edgewater restoration project. The idea progressed to the point where the town considered buying the Edgewater property for a town park, but Island voters in November 1975 turned down a referendum to finance its cost, $47,000.
According to a Buffalo News story, the attorney for the Buffalo Motor Boat Club in September 1969, asked the Grand Island Town Board to reconsider its objection to the club's plans for a $125,000 development for construction of a dock and clubhouse on the East River at Gunn Creek. The town's main concern at the time was with sanitation problems growing out of the fact that the clubhouse site was not in the sewer district. "Possible parking problems in the residential area add to the board's concern," the article by the late Marion E. Klingel stated.
Fred Parker opened his Silver Dollar Saloon in the building on December 13, 1972 and advertised piano music and dancing girls. Eli Konikoff and his Yankee Six returned in 1973 when the Silver Dollar was offering live entertainment seven nights a week.
The Edgewater hotel-restaurant had closed and was boarded up when part of the building collapsed during a storm in April 1974. Town records listed the owner as West River Land Development Corp., 2472 West Oakfield Road.
The Edgewater Hotel, on the night of Wednesday, April 3, 1974 "gave way to the stresses of old age and the soft rain-soaked earth and collapsed," according to a Niagara Gazette article. The story went on to say, "Two large vertical cracks appeared in the Perma-Stone front of the structure with a seriously sagging roof above the one-story "Silver Dollar Tavern" area of the building. The two-story hotel area, farther back from the road appeared to be temporarily stable. The partial collapse occurred between 6:15 and 7 p.m. It was reported to the Erie County Sheriff's Department by Rolland Miller of 724 Kirkwood Drive, who spotted the building's bulging front and sagging roof as he returned home from work. Sheriff's Deputy Charles Tyrone of the Grand Island substation, who was called to the scene, pointed out that there had been some recent erosion in an area close to the hotel," the Gazette article said.
Richard Hoelscher, who purchased a portion of the property in the 1970s with a plan to restore the building, had the hotel demolished in March 1978 due to its hazardous condition.
The town again considered the purchase of the former Edgewater Beach property for a town park and boat launching site. Adjacent property listed in the name of Buffalo Motorboat Club of Buffalo, also was to be included in the project proposed by Councilman Laverne C. Luther.
In 1988 Robert Weaver requested the town board to review his request to construct a marina on the waterfront at Edgewater, however no development of any kind ever materialized.
Other owners besides Mr. Voesch, Joe and Edwina Creighton, and Lydia and Joseph Katrein included Pauline Krause, Richard Hoelscher, Motor Boat Club of Buffalo, Gary Tunmore and the West River Land Development Corporation (as stated in various newspaper articles).
Besides pictures and postcards, very little remains of William E. Voetsch's successful venture. The side-wheeler, Corona, that carried tourists from the mainland to the park, burned at the pier at Edgewater on November 18, 1898 and may still be partially seen in the river today.
Author's note: The following, an advertisement, published about 1907, was added to this story on March 12, 2005: