Volume One Volume One A Volume Two Volume Three
Volume Four Volume Five Volume Six
Volume Seven Volume Eight Volume Nine
Volume Ten
Volume 12
Teddy's Islettes Photos (webpage)

---
---



Sidway Glee Club - Earlier 1950s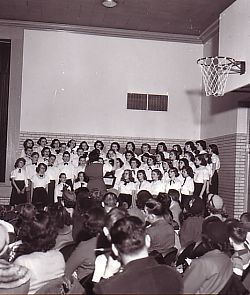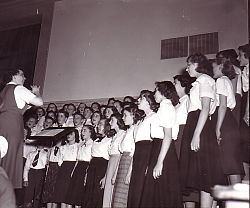 Click photo for complete view
Music teacher Mrs. Carol Thompson, is shown in the Sidway School gym directing her glee club, in either 1951 or 1952. This was during the time the Glee Club was raising funds to purchase the green and white robes for the chorus, worn for many years to follow.


---



Ferrara Dancers - 1964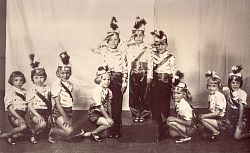 Click photo for complete view
The late Norma Ferrara Gelose was teaching tap and ballet in the basement of the bowling alleys around 1964 when this class posed in their recital costumes. They are (left) Robin Neidrauer, Louanne Kalman, Jodi Hayes (Robinson), Lorrie Burrows, unknown, Patty Kaiser, and Tina (Gligora) Capps; (standing) unknown, unknown, Mike Michalowski.. See Norma Gelose


---



"Giving a Play To You For Christmas" - 1977


Click photo for larger view
Middle schoolers were rehearsing their original production of "Giving a Play To You For Christmas" in 1977. Music was composed by two Island teachers and the cast of the musical included (left) Steve Costanzo, Frank Cannata, Lisa Valenzuela, Lisa Nasgowitz, Amy Sanderson, Brett Patmos and John Hartrick. "The Middle School "Miller" family has been working hard getting ready for the holiday season," the Island Dispatch reported in its November 23, 1977 issue. "Mr. and Mrs. Miller, Lisa Nasgowitz and Brent Patmos - along with Andy Miller (John Hartrick), Molly Miller (Amy Sanderson), Gus Miller (Frank Cannata), Amy Miller (Lisa Valenzuela) and Jimmy (Steve Costanzo) hope you will be able to join them. It's the premier performance of "What Are You Giving For Christmas?" If "Bah Humbug" is your present mood, come join us on December 16-17, 1977 in the high school auditorium and get into the holiday spirit!"


---



Sidway's Christmas Play - 1948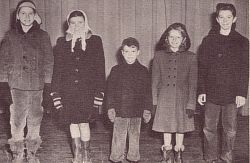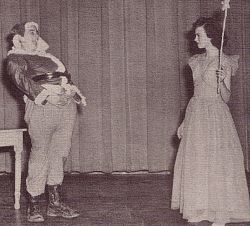 Click photo for complete view
These photos of the 1948 Sidway School Christmas Play appeared in the 1949 Charlotte Sidway Log yearbook. On the left are Mike Ekiss, Carol Kingston (Ullrich), Tommy Welch, Marilyn Ekiss and Donald Bartlett. Be sure to notice the typical winter boots on the Ekiss kids - buckles for the boys and fur tops for the girls. In the right photo are Ed Zuchowski and Sally Smith (Detally). The operetta, "Who Helps Santa Claus?" was produced on the evening of December 20, 1948 under the direction of Miss Catherine DiVizio with assistance from faculty members Miss Betty Jane DeWeese, Miss Lorraine Williams and Mr. David Myers. Estimated audience was approximately 800! At the time, Charlotte Sidway School served kindergarten through eighth grade. There were eight classroom, a gymnasium, but no cafeteria, industrial arts or home economics rooms.


---



Viking Football Team - 1974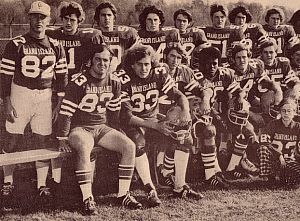 Click photo for complete view
Section 6, Division V, Tri-Champs, Grand Island Varsity Vikings Football Team members shown are: (kneeling) Manager Rich Arsenault, water boys Richie Rodriguez and Doug Resetarits; (seated) Assistant Coach Bill Riffel, George Barker, Wayne Nowak, Artie Harper, Mark Beyer, John Posluszny, Kevin McInerney, Glyn Lipp, Jim Breier, Dan Cap, Jim Hobby, Mike McNamee and John 'Howard' Kirsch; (standing) Head Coach Gene Masters, Mike Masters, Jeff Stone, Kevin Kelley, Larry Wright, Bill Ziehm, Brian Drainville, Jeff Lewis, Pete Santa Lucia, Lee Laurion, Jim Rodriguez, Chris Martin, Troy Salley and Assistant Coach Roger Wise.
Lipp, Rodriguez, Cap, McInerney, Hobby and Breier were selected for the Division V's All-League Team.


---



No. 9 School - 1920s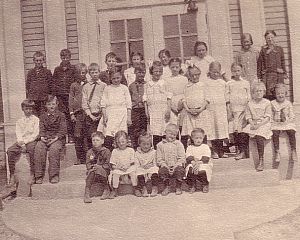 Click photo for larger view
This photo of School #9 students was probably taken in the 1920s. The school was located where the town hall stands today. The students look to be first graders in front and 8th graders in back. These would have been the grade levels in the school house from about the time it was built in 1918 and until Charlotte Sidway School opened in 1937. Recognize anyone? Email me at teddy@giecom.net with your comments.




Historical Society - 1980s


Click photo for larger view
Historical Society President Linda Kutzbach was giving a slide show in the town hall when this photo was taken in the early 1980s. Also shown are (left) Hazel Link, Fred Killian, Betty (Stack) Dunbar Blackstock, Mrs. Kutzbach, Sharon (Long) Nichols and Shirley (Kreger) Luther. Email me at teddy@giecom.netif you know more about the event.




Bob Weaver - Team Suzuki - 1976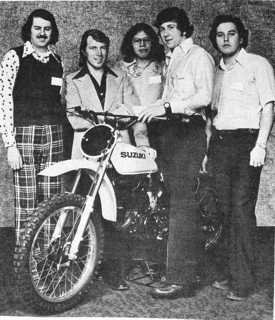 Click photo for larger view
This photo was printed in the June 2, 1976 Island Dispatch and shows Roger DeCoster, Team Suzuki's four-time World Motorcross Champion introducing Bob Weaver (2nd from right), Jay Kormash, Stan Hill and Arnie Stiegler of Sheridan Suzuki, Tonawanda, to the new Suzuki KM125A motorcross racing motorcycle.


---



31st Tactical Fighter Wing 1968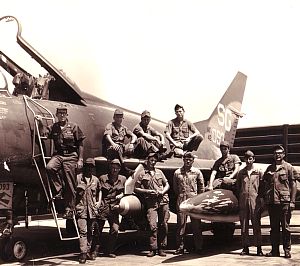 Click photo for larger view - Thanks To Torg Fadum for providing the photo.
Eleven former New York Air National Guardsmen, nine from Grand Island and two from the Town of Tonawanda, NY are gathered around an F-100 Super Sabre at Tuy Hoa Air Base, Vietnam. Formerly members of the 107th Tactical Fighter Group, at the time of the photo believed to be in 1969, the men were assigned to the 31st Tactical Fighter Wing. They are (from left) Maj. Torgeir B. Fadum (on ladder), Airman 1/C Robert K. Kaiser, Benjamin N. Graf and Jerry Hawley; 1st Lt. Harry W. Roberts; Airman 1/C Paul N. Roeder (sitting on fuel pod), Capt. Franklyn C. McKee, and Tech. Sgt. John A. McCarthy. Sitting on the wing are (from left) Airman 1/C Michael D. McNulty, Gregg A. Yensan and Peter J. Roberts.
See also Island soldiers stick together overseas


---



Bicentennial Poster Winners - 1976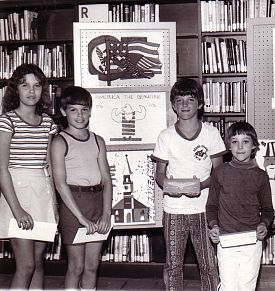 Click photo for larger view
The town's Bicentennial poster winners shown in this June 1976 photo are (left) runners-up Katherine Wozniak (Chadwick), and James McCarthy; winner Paul Walker (grades 4-5) and winner Sandy Lare (grades 1-3). Paul's poster is at the top of the board on the left. Sandy's poster (not completely showing) is at the top of the display board on the right. Grand Island Memorial Library Board President Dr. Emil Geering presented the prizes in the library, located on the second floor of the town hall.


---



No. 9 School - 1896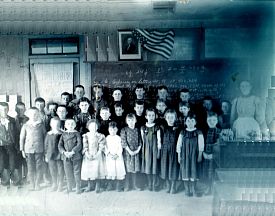 One-Room Schools Map left
One-Room Schools Map right
Click photo for larger view
This photo is marked "School #9 - 1896." It is possible that this is the first #9 school house built across from St. Stephen's Church on Baseline Road. It is believed that it burned and was rebuilt on Baseline Road where the town hall stands today. That school house also burned and was rebuilt in 1918, used as a two-room school until 1937 when it became the town hall. The map, marked with the one-room school houses that served the children of Grand Island until 1937 when the first central school opened, is through the efforts of Veronica Connor. Miss Connor became employed as teacher/principal of the Sidway School in 1936. She began teaching in School No. 5 at Bush and Baseline until the new school was completed and opened in February 1937.


---



Sidway School Graduates - 1948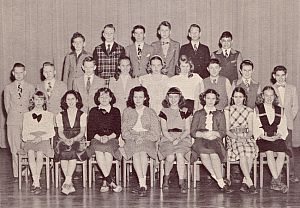 Click photo for larger view
Mrs. Gladys Wellen was the teacher of the Charlotte Sidway School 8th grade graduating class shown above and Joan Burgstahler served as class president. As third graders, this class was split into two classes for the first time in 1942 - one in combination with the second grade and the other with the fourth grade. The class spent their last year in Sidway in a brand new school room on the new second floor addition. Students are (front) Mary Ann Kruse (Arsenault), Charlotte Smith (Nichols), Loretta Knab, Arvilla Webb (Kendzierski), Janice Lamb (Bennett), Donna Hawley (Rodriguez), Joan Burgstahler (Bridge), Gloria Peck (Thompson); (middle) Howard Vaughn, Richard Bensman, Jerry Mahnk, Irene Perkovich (Smith), Lynn Winter (Duggan), Shirley Roberts (Ervin), Carl Mote, Robert Mitchell, Paul Stack; (top) Tim Sheehan, Kenneth Webb, Clark Howland, Pat Bridge, Terry Turnbull and Ray Beningo. Missing from the photo was Jean Webb Bleich.


---



Musicians - 1950s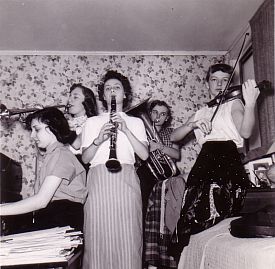 Click photo for larger view
These girls look like high school musicians of the mid 1950s, practicing in someone's bedroom. The clarinetist could be Hazel Colley Hartman who lived on East River Road. And behind her and to her right might be Diane Meyer, also from Grand Island. Email me at teddy@giecom.net if you can help with the names, the year and possibly the high school the girls attended at the time.


---



Middle School Science Fair - 1975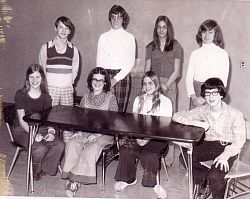 Click photo for larger view
This Middle School science fair photo was probably taken in 1975 and shows (left front) unknown, Anne Echelberger Adam, Holly Jo Sharon Pavlak and Steve Morgan; (back) Paul Andrew Houser, Peter R. Gilmore, unknown, and Terri Seibert Bellanca. Steve Morgan suggests that the photo might be the science fair winners and/or Western New York Science Congress participants. He's still got his Blue Ribbon and Certificate. Steve's lecture? "How to Set Up An Aquarium."


---



Huth Road Elementary School Opens - 1958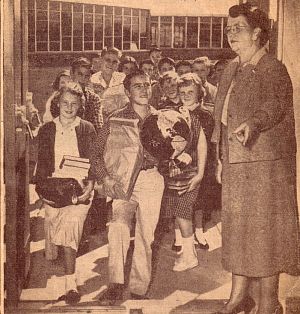 Click photo for larger view
These sixth graders led about 610 classmates into the new Huth Road Elementary School the day it opened on Friday, September 26, 1958. Veronica E. Connor, supervising principal, is shown on the right. In front are Ruth Liesenfeld and Jerry Cahill and to Jerry's right is Sheila Bilson. The pupils had been on double sessions at Kaegebein School since schools opened, due to a delay in construction of their new school.


---



Sidway Boys Soccer Team - 1958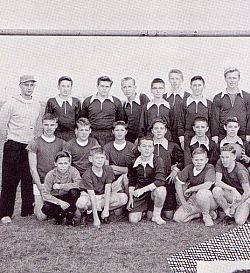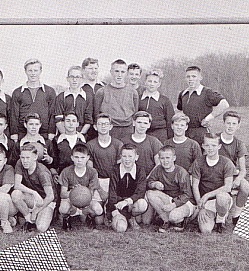 Click photo for larger view
The Sidway Junior High School Boys Soccer Team, coached by David Meyers, played several games off the Island in 1958 and tied Amherst Junior Varsity and beat Park School. Shown front left are John Paasch, ? Beck, Paul Denler, unknown, Jim Dinsmore, unknown, Tom Tierney, unknown, ? Kaiser; (second row) unknown, John Gast, unknown, Jim Conrad, unknown, Bill Harrison, Don Fontana, Russ Kortum, Cal Gardner, Galen Young, and Mark Long; (top) Coach Dave Meyers, Ron Rezabeck, unknown, Charlie Goodsole, Richard Sawdey, Jim Braddell, Pat Carroll, Dennis Yakam, Don Tranter, Clyde Mayer, Dick Robinson, David Fleischmann, ?Paul Markstrom?, and Bob Payne. Email me at teddy@giecom.net if you can identify the others.


---



Girl Scouts - 1948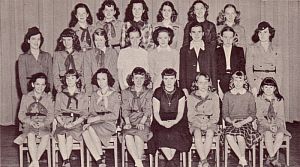 Click photo for larger view
Members of Grand Island Girl Scout Troop 337 are shown with their leaders, (middle row, left) Dorothy Lehane and (middle row, right) Sally Smith. They are (front left) Sandy Fleming (Bowers), unknown, Marilyn Dinsmore (Serfass), Joanne Rank (Urtell), Pat Howard (Bachert), Barbara Soch (Russell), Mary Ann Kruse (Arsenault), Sandy Schwagler (Vilchaz), (middle) Mrs. Lehane, unknown, unknown, unknown, Jean Elliot, Geraldine Mrkall (Serba), Lynn Winter (Duggan), Mrs. Smith; (top) Beverly Fleming (Barril), unknown, unknown, Joan Burgstahler (Bridge), Donna Hawley (Rodriguez), and Gloria Peck (Thompson).


---



Fire Company - 1981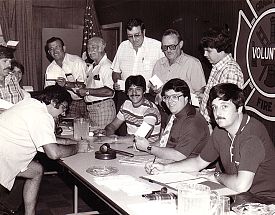 Click photo for larger view
Members of the Grand Island Fire Company are shown in this 1981 photo as they pledged their donations to a building fund drive. Shown standing in back are Norm Mrkall, Art Wade, Herb Krantzmann, Bob Brennan and Dave Cole; (front far left) Jack Hugill, Tom Smith (nearly hidden) Andy Beyer (bending down), Dave Amato, Gail Lazenby, and Rodney Raham.


---



St. Stephen's Altar Society Christmas Party - 1963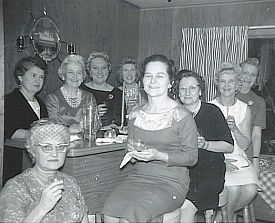 Click photo for larger view
Members of the St. Stephen's Altar Society gathered at someone's home on the Island for their Christmas party in 1963. Standing in back (left) are Emily Raepple, Nora Butcher, Mae Klocke, unknown; (front left) unknown, Irene Piekarski, unknown, June Pinzel and unknown. Email me at teddy@giecom.net if you can identify the others or know where the picture was taken. Thanks to Linda Butcher, daughter of the late Nora Butcher, for sharing this old photo.




---



Beaver Island Casino - 1940s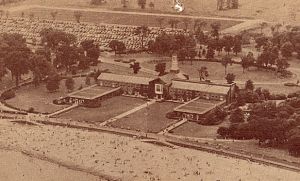 Click photo for larger view
This photo is from a news clipping from either the Buffalo Evening News or the Buffalo Courier Express around the early 1940s. It is a back view of the Beaver Island Casino in Beaver Island State Park. Toll booths were non existent as you entered the park, however, 50 cents per car was collected as visitors parked in the parking lot.
The Park opened in 1935. A two-lane parkway led from the new south bridge to the park. The Casino opened in 1939 and was the site of numerous events including the town's Centennial Ball in 1952. Fire destroyed most of the building on Thursday, October 29, 1992 and a new building replacing it was opened in 2004.


---



Myrna Dworak & Friends - 1940-50s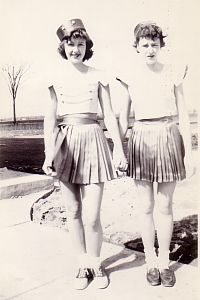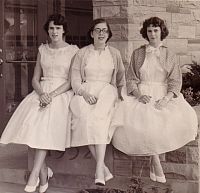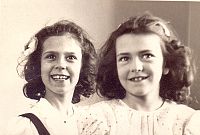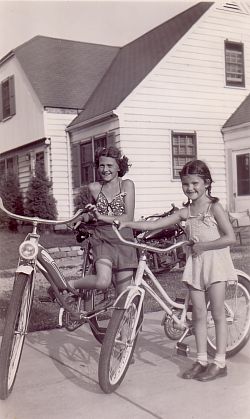 Click photo for larger view
Faye Ehde and Myrna Dworak in majorette uniforms/hats - Doris Harding, Nancy Seifert and Myrna, Sidway School 9th grade graduation held at Kaegebein School June 1953 - Doris Harding and Myrna 1940s - Myrna and Judy B. Daggett, Love Road, 1940s. Myrna Dworak Boerschig has shared these photos.


---



Summertime - 1950s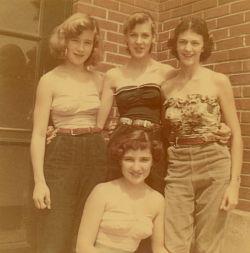 Click photo for larger view
Joan Lafferty, Barbara DeGlopper, Myrna Dworak and (seated) Gail Burgstahler look like they were headed to Beaver Island Park or somewhere to swim on a hot and sunny day.


---



St. Louis Cardinals - 9-10-Year Old Champs - 1988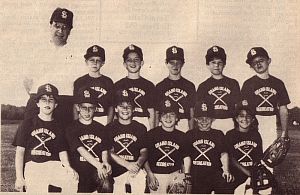 Click photo for larger view
The St. Louis Cardinals, Minor Division 9-10-year-olds were undefeated for the 1988 season and captured the National League Division Championship and Minor Division Championship. The team was coached by John McGowan and Tom LoVallo. Pictured are (front left) Lou Lovallo, Dan Harding, Jonathan Monti, Michael Carrigan, Louis McIntyre, Julie Roth; (back) Coach Tom LoVallo, Tom Flaherty, Andy McGowan, Eric Klein, Tim Smith, Ryan Gott. Not pictured are Chris Cline, Zac Hooper and Coach John McGowan.


---



St. Stephen School 8th Grade Graduating Class - 1978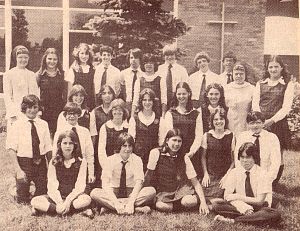 Click photo for larger view
Members of the St. Stephen School graduating Class of 1978 are (standing) Toni Stacey, Sue McKee, John DiLaura, Matt Jircitano, Susan Menter, Stephen Stouter, Stephen Godzisz, Michael Sullivan, Sharon Piazza; (kneeling) Paul Arida, Greg Dietrich, Patty Anderson, Jackie Mulaney, Kelly Ryan McConnell, Jude Casey, Joan Savoy, Amy Gratto, Paula Sobus, Keith Bennett; (seated) Teresa Panepinto, Christopher Bianco, Karen Lundsford and Mark Argy. Not shown is Mary Bauer. Thanks to Kelly Ryan McConnell for putting the names in order.




---



Teachers - 1964


Click photo for larger view
New school district teachers posed in front of the old Island Dispatch building on Stony Point near the south bridge in 1964. The group had toured the operation, housed in what was originally a one-room school house. At the time this "Dispatch" photo was taken, Rodney L. Hall was owner and publisher, my mother, Marion Klingel, was the editor/reporter and Lois Martene was office manager. "Mom" was also handling Grand Island Fire Company dispatching duties from a "fire phone" on her editorial desk!
Irene Ehde has identified math teacher Debbie Blaine Perno in the front row, second from the left.
MaryJo Gill has identified Miss Drusilla Rose (Tamutus) on far left of the photo.
Laureen Zelonis Hess has identified middle school teacher Fred Kuhn (her mom's cousin) in the back row with the glasses (looking tall).
Hilary Balderas identified Miss Gerhardt, her 5th grade teacher, third from the left and also Mr. George Wenner, 2nd man from the right.
Jim Mazza identified high school language teacher Joseph Malfitano, first row, far right; and high school language teacher Dr. Oswaldo Estanoz, top row, far left.
Diane Hassan also identified Joseph Malfitano.
Holly Whitford Best indentified the following. The teacher in the front row, fourth from the left, looks like my 4th grade teacher at Kaegebein Elementary, Miss (Barbara?) Keeler. In the back, toward the right, in front of the window, could be Stanley Odziemic, 7th grade science teacher at Grand Island High
Email me at teddy@giecom.net if you can identify anyone.




---



Girl Scout Trip To Boston - 1978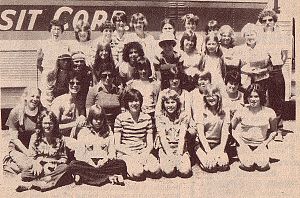 Click photo for larger view
Twenty girls from Girl Scout Troop 437 boarded a chartered bus for a five-day trip to Boston in the summer of 1978. They were accompanied by scout leaders, Betty Metz, Pam Stark, Mary Ellen Kippley and Carolyn Doebert as well as six moms. The group stayed at the Girl Scout House in Concord and toured the surrounding areas including Lexington and Concord, Gloucester, Salem, Plymouth, parts of Boston and a stop at Sturbridge on the trip home. The Girl Scouts raised over $3000 to cover the expenses for the trip.
Thanks to Nancy A. Fitz-Patrick for identifying the girls and leaders. Top row left: Pat DeDominicis, Nancy DeDominicis, Mary Ellen Kipley, Betty Metz, Christine Mills, Pam Stark and Carolyn Doebert; Row 2: Jackie Goris, Chris Gipp, Karen Waldo, Amy Jurcitano, Linda Kipley, Sandy Brown, Michelle Klock, Jenny Tomasauchas, Mrs Tomasauchas and Al the bus driver; Row 3: Sandy Mills, Mrs. Georgianna Gipp, Nina Meyers, Maria Godsiz, Pam Mueller, Barb Zoeckler, Patty Wirth; Bottom Row: Dolores Casey, Amy Meyers, Becky Metz, Beth Doebert, Debbie DeGlopper, and Lisa Santorio. .


---



Water Main on Stony Point - 1958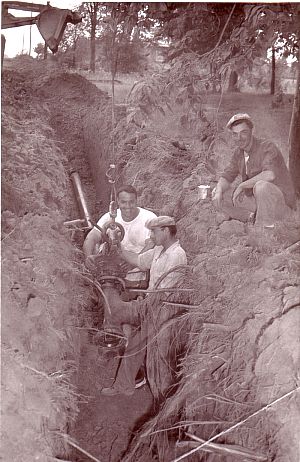 Click photo for larger view
Do you recognize any of this crew down in the trench? The photo first appeared in the July 17, 1958 Island Dispatch and was taken by former resident Wendell Stratton. The story explained the water hookup and mentions that after nearly three years since the "Water District No. 6 Project" was started by The Island Dispatch, the water main was laid before the residence of Publisher George M. Pagan. This main would serve both residence and the Dispatch printing plant. Several miles of pipe had been laid to that date and the job was said to be about 75% complete. In some areas residents were already able to connect to the line and everyone was supposed to be able to do so within a few weeks.


---



Boating Association - 1960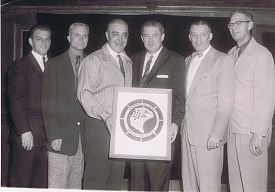 Click photo for larger view
The Grand Island Boating Association installed these officers in 1960. Roy Hughes, third from the right, was installed commodore. Don Hawley is shown on the far right. Email me at teddy@giecom.net if you can identify the others. Thanks to David Hughes for submitting this old photo.






---
---
Other Grand Island Pages to Visit:
Churches | Email Directory | Government | Groups
GIHS Grad List | Guestbook | Please sign in! | Local Artists | Photo Album | Town History | Useful Links
| Website Design | Wildlife | Isledegrande's Home Page | GIECOM.NET'S Home Page
Please Email News Releases to Teddy Linenfelser, Thank You.



This website is sponsored by
GIECOM.NET
"Grand Island's E-Commerce Bridge to the World"
1871 Whitehaven Road, Grand Island, New York, 14072-1803 USA
Copyright © 1995-2008 All rights reserved.