"Grand Island Pictures from the Past"
Volume 12


Posted JAN. - JUNE 2009

by Teddy Linenfelser



Previous Pictures From The Past

Teddy's Islettes Photos (webpage)

---
---



Lost Weekend - 1962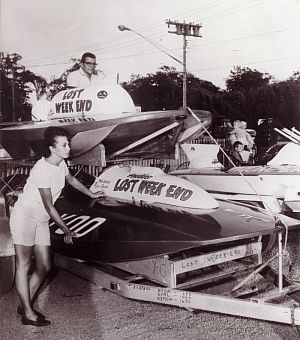 Click photo for larger view
That's drivers Gary Roesch, with his sister, Lynor Roesch Turner, preparing the "Lost Week End" and the "Anudder Lost Weekend" for a Niagara Frontier Boat Club race in July 1962. Gary and Lynor's dad, Gene Roesch, was the owner of both race boats.


---



H-Pin Recipients - 1989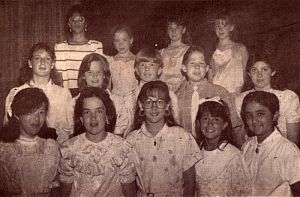 Click photo for larger view
Huth Road School's outstanding 5th grade students were presented with the "H" pin in June 1989. Shown are (front left) Ann Ying, Holly Hubbard, Karen Monaco, Julie Roth and Nirmal Singh; (2nd row) Kristie Johnson, Angela DeVito, Joshua Ziembiec, Tim Smith and Michelle Cuneo; (top) Monique Saran, Jill Masters, Catherine McCarthy and Debbie Reid.


---



Eagle Park - 1912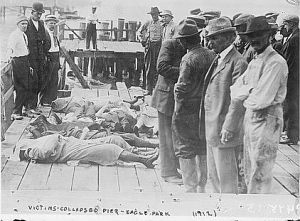 Click photo for larger view
The Eagle Park disaster of June 23, 1912 took the lives of 39 women and children. This photo is part of the "Niagara River's Playground" display which will stay at River Lea in Beaver Island State Park throughout July when the Historical Society's headquarters will be open to the public during the paddles up event on Saturday, July 25.
At the end of that day, picnickers at Eagle Park on West River, midway between Staley and Whitehaven roads, filled the pier and began swaying to the music of a popular song as they waited for the ferry boat to pick them up and take them back to Buffalo. The mid section of the pier collapsed. Captain Frank F. Fix owned the Henry Koerber and the Lottie Koerber. According to Captain Fix, the Henry and the Lottie made two trips that day. At the time of the disaster his boat was about eight feet from the dock when it doubled up, tossing people into the river.


---



Trinity Jr. Choir - 1959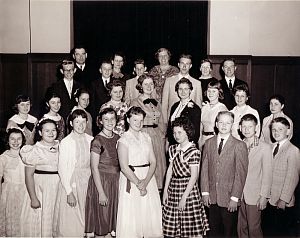 Click photo for larger view
The Trinity Church Junior Choir members posed for this photo and then presented the picture to Rev. J. Franklin Beck and his family as a farewell gift on June 12, 1959. Members are (front left) Loretta Emerson, Karen Dilliot, Susan Kohlhagen, Barbara Kaiser, Lydia Todd, Peggy Cotter, Tim Gross, Timothy Beck, Jeff Long; (2nd row) Christine Pinkow, Sharon Dinsmore, Bonnie Taylor, Mary Ann Gross, Marjorie Mitten, Judy Campbell, Peggy Boettcher, Barbara Beck, Gail Kirby; (3rd row) James Kaiser, David Pinkow, Peter Sloan, Charles Pinkow, Roy Campbell; (4th row) Rev. J. Franklin Beck, Mrs. Beck, Mrs. John Knapp, Director and Organist Mrs. Robert Slacer.


---



Father's Day Winners - 1977


Click photo for complete view
This group represents the children who wrote letters about their fathers for a Father's Day Contest in the Island Dispatch in 1977. Marcy Buell is in the second row from back, 4th from the left and her father is to her right. Sixth from the left is Fred Mumm with daughter, Heidi Sue in front of him. If you can identify anyone else, email to teddy@giecom.net



---



Zonta Club - 1984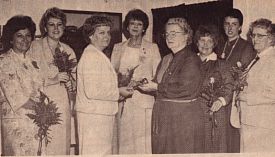 Click photo for larger view
The Zonta Club of Grand Island installed officers in the Buffalo Launch Club in May 1984. Shown from left are Secretary Vinnie Giarrano, Treasurer Jayne Baedeker, president Sybil Kennedy, Vice President Shirley Martin, Past area Zonta Governor Betty Hall and Directors Dorothy Rowswell, Nancy Duysters and Betty Wheeler. Missing from the photo is Director Veronica Connor.


---



Sidway Strings - 1952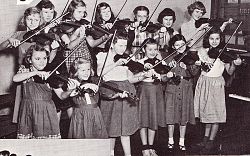 Click photo for complete view
Sidway School had an orchestra in 1952. Practices were usually held in a tiny room originally built as a kitchen and connected to the gym. Tony Ortolano was the string teacher and directed the orchestra made up of the following students: (front left) Diane Meyers (Krause), Norene Miller (Brent), Barbara Duncan, Alice Hau (McCarthy), Judy Daggett, Elizabeth Glor (Allen); (top) Kay Ames (Brooks), Peggy Webster, Bernice Glor (Pagliaro), Lynn Hoerig, Trudy Reimann (O'Connor), Mary Ellen Hau (Nemo) and Janet Sunderland (Bangs).


---



Rotary Children's Christmas Party - 1977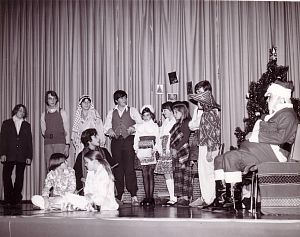 Click photo for complete view
This is a 1977 photo taken during a Rotary Club children's Christmas party. Kit Jansen is back row second from the left. If you recognize anyone else, email me at teddy@giecom.net


---



Mother Day - 1984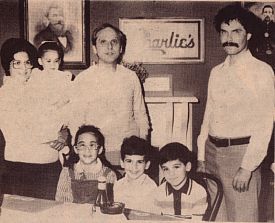 Click photo for complete view
Danielle Soluri, 8 1/2, was the winner of a Mother's Day essay contest sponsored by Charlie's Restaurant in 1984. Shown are her mom, Arlene holding sister Vicki Lynn (3) and her dad, Bob, with restaurant owner Charlie Satterlee. Seated in front are Danielle and brothers Robert (5) and Christopher (6). The prize was dinner at Charlie's Place on Grand Island Blvd.
Here is Danielle's winning essay.
I think my mom is the greatest because: she bakes, goes shopping, Girl Scout leader, cleans house, washes clothes, does dishes, gives us bathes, baby-sits, helps me do homework, takes us to CCD, doctor, baton lessons, takes Robbie to speech therapy, birthday parties, have friends over, plays and punishes us, doesn't get mad because dad works 80 hours weekly.
PS It's to tell about mom with only 50 words. She does a lot more.


---



Randy White's Birthday Party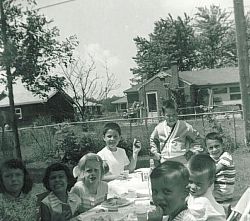 Click photo for complete view
This group of kids were celebrating Randy White's 9th or 10th birthday in the early 1960s. The photo was taken behind Randy's house at 3342 Sandy Beach Road. Pictured clockwise from lower left: Adele Carlson, Suzy Chiappone, Melinda Evans, Rob Nardini, Randy White, Christopher Chiappone, Rom Figler and Jimmy Ray.


---



Yensan Photos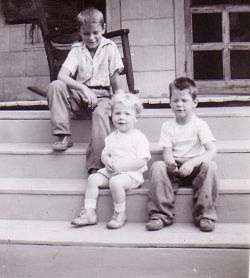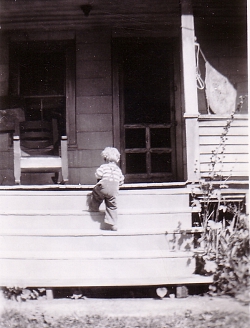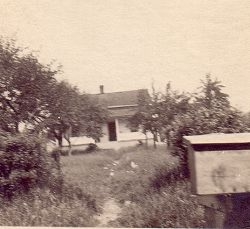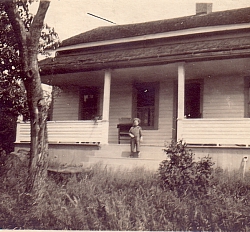 Click photos for complete view
The photos are from the Yensan family. The first picture was taken in September 1950 and shows Alfred (Bud), David Jr. (Nutzy) and Mike who were visiting their grandparents, Alf and Frances at 1305 Whitehaven Road. The boys are the sons of the late David Sr. and Ruth who lived at 1253 Whitehaven Road. Next is Mike, also at his Grandfather Yensan's house. The third photo is marked "July 1924 - White Thorn Hedge Farm" (property of the Yensan family - 1305 Whitehaven). The fourth photo is of David Yensan Sr., son of Alfred and Frances Yensan who ran the Yensan dairy farm at 1305 Whitehaven. This photo is marked "David ready for work, July 1924." This would be the children's father. Kathy Yensan Barton and Rick Yensan, not pictured, are also the children of David and Ruth Yensan.


---



Kaegebein Play - 1989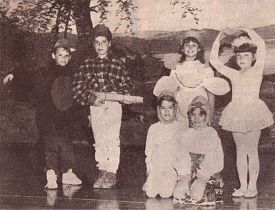 Click photo for complete view
Kaegebein Elementary School students of Mrs. Gloria Brown, Mrs. Sally Black and Mrs. Bonnie Montgomery took part in an adaptation of the story, The Ugly Duckling in May 1989. Pictured are (standing) Tanner Leja (robin), Chris Dann (hunter), Christin McGovern (daffodil) and Amber Malaney (swan). Kneeling are Jennifer Gagliano (Ugly Duckling) and Jordan Miller (mother duck). Mary Stewart took the picture.


---



Bedell House Photos - 1950s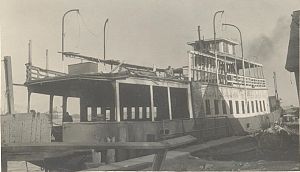 These photos were submitted by David Hughes, former North Colony Road resident who worked at the Bedell House while going to college in the 1950s.
Top photo shows the Orleans being dismantled sometime after being crushed against the Bedell House in Ferry Village on March 22, 1955.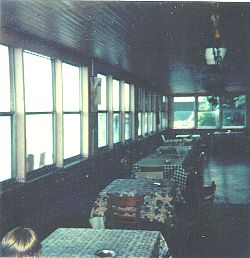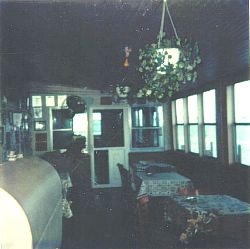 Bedell House porch interior.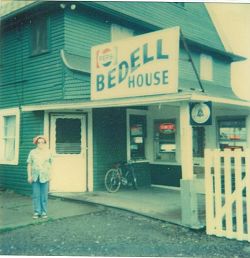 Charlotte Guenther Roesch in front of the Bedell House.


---



Sidway Safety Patrol - 1956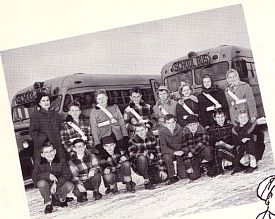 Click photo for complete view
This 1956 photo of the Kaegebein Elementary safety patrol shows 4th grade teacher and safety patrol adviser Miss Catherine DiVizio and patrol members (front) Hobie Cullen, Kenneth Sturner, Jim Sawdey, unknown, Andy Liesenfeld, Bob Zuchowski, Carolyn Haller (Williams), Carol Benton; (back) Miss DiVizio, unknown, Clyde Mayer, Tom Hogan, Skip Mazenauer, Patty Williams (Meyer), Ann Burns (Dlugokinski), and Gayle Klocke (Sander). If you can identify or correct any of the names, email to teddy@giecom.net


---



Football Team - 1973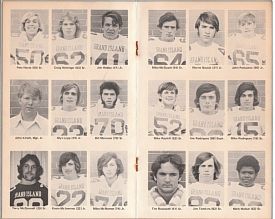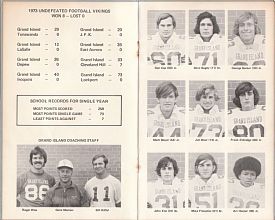 Click photos for complete view
Pictured are members of the undefeated 1973 Varsity Vikings Football Team. The Vikings ended the season 8 - 0 with shutouts against Tonawanda, LaSalle, Depew, Iroquois, J.F.K., East Aurora and Lockport. The photos were part of the 1973 Vikings football banquet program. Thanks to JT Tomkins for sharing these photos.



---



Huth Road Elementary School 5th grade - 1962


Click photo for larger view
Susan Haen Willard sent this 5th grade Huth Road Elementary School class photo from 1962. She has identified her classmates as (front left) Jimmy Pedlow, Kevin Coulter, Billy Burk, Fred Aswad; (2nd row) Wayne Bidell, Kevin McNamee, Scott Hennigar, Gregg Quinlan, Tom Funk, Danny Mancuso; (3rd row) George Sanders, Raymond Billica; (4th Row) Barbara Brant, Nancy Wonacott, Beverly Irons, Sue Lare, Gail Riordon, Susan Haen, Maureen Killian, Eloise Olmstead, Peggy Staley; (5th Row) Janice Flash, Karen Sciandra, Nancy Wise, Arthura Haller, Mrs. Shackleton, Gary Grimm, Pat Rumrich , David Barry, Mark Livesey
Email corrected spelling of names to teddy@giecom.net



---



Performers! - 1930s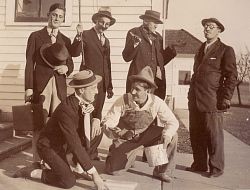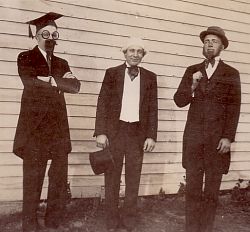 Click photos for larger view
These photos are from the collection of the late Elsie Stamler, town clerk. The pictures of a play, were no doubt taken in the late 1920s or early 30s. The location is not known. The three men are C. Kaegebein, George Anderson and Joe Anderson. Hopefully, someone from a longtime Island family will recognize the others. If so, email me at teddy@giecom.net


---



GIHS Freshmen Homecoming Float - 1979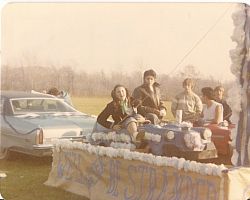 Click photo for larger view
Michele Beauchamp found this picture of 1979 GIHS Freshmen Homecoming float and shared it with our Isledegrande.com readers. "The theme that year was the movie "Grease" and we chose "We'll never be stranded." My grandpa owned Fantasy Island so we got a couple of the minnie cars and made a drive-in...it really brought back some great memories!".
Thanks, Michele.
It has been suggested that the student in the leather jacket might be Mike Giambra and the one with the white muscle t-shirt may be Frank Cannata. Also suggested is that that is Jim Miller and Dave Resetarits in the background
If you can recognize anyone, email me at teddy@giecom.net


---



High School Madrigals - Rome Trip - 1975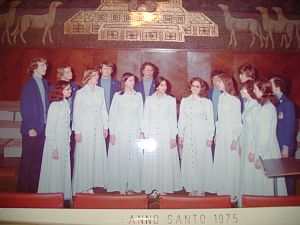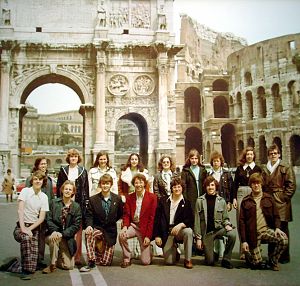 Click photos for larger view
The Grand Island High School Madrigals, conducted by Kenvin Moreau, traveled to Rome, Italy where they sang, and traveled in Europe winning international awards. The members were Chris Earley, Paul Zoltoski, Jamie Pultz, Lee Zeplowitz, Tom Gormady, Brad Martin, Tom Yuhas, Joan Soares, Kathy Radecki, Eileen Conboy, Lynn Aswad, Joy Robinson, Rose Eichel, Laura Volk, and Jocelyn Tartock. Special thanks to Tom Yuhas for the photos and names.


---



Toronto - 1971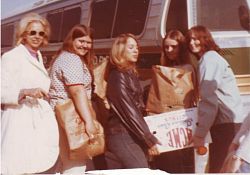 Click photos for larger view
A large group of girls from Grand Island High School took a trip to Toronto in May 1971. Mrs. Kirsch accompanied the "Kirsch's Girls," who sold Freddie's Donuts for months to pay for this trip! Thanks to Sandie Rall Smith for submitting the photo. Shown from left are Mrs. Jean Kirsch, Lynette Shipman, Charlene Stack, Denise Mohring, and Gail Kavanaugh.




---



Huth Road Band - 1979-80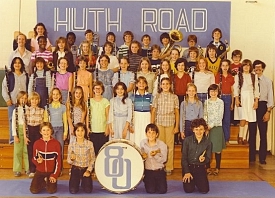 Click photos for larger view
The photo is of the Huth Road Elementary School band, taken in 1979-1980. Bottom Row: Derek Staub, Kerry Finn, not sure, Joe Schuler; Second Row: Colleen Dannels, Jennifer Gast, Jodi Lewis, Julie Henry, Sue Bors, Jill Schiffhauer, Paige Joslyn Kueheimer, Kathy Hug Anton, Nicole Gerber, Debbie Barth; Third Row: Kathy Gilmore, Debbie Jackson, Lisa Bottini Kellar, Trish Leahy Eichel, Susan Anstett Marston, Sue Rogers Wolcott, Devin Watson, Jennifer Shubert Johnson, Martha Betti, ? Rice, Ana Garcia Nizialek, Jennifer Sutter, Mr. Allan Ripley; Fourth Row: Band Director George Kroetsch, Candace Porter Mitchell, Debbie Stamler Nowak, unknown, Tracy Kammerer Falkowski, Lori Lynn, unknown, Peter Herbst, Leo Squire, Steve Ponton, ?Jim Harris; Top Row: Robyn Zajdowicz, Doug Smith, Don Scalise, Joe Mergler, Billy Conboy, unknown, Jamie Koch, ? Peter Heinz, John Brighton.


---



Dinsmore Reunion - 1922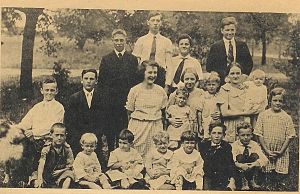 Click photo for larger view
A family reunion of the Dinsmores, Bartrams and Van Sons at the home of George Dinsmore on Love Road, Grand Island in 1922, brought together (L to R, front) Roy Dinsmore, Theodore Van Son, Mary Dinsmore (Martin), Lois Bartram, Ada Van Son, Donald Dinsmore, John Bartram; (2nd row) Gerald and Melville Dinsmore, Margaret Dinsmore DeGlopper, Clara Piechowiak holding Ann Marie and Jean Bartram, Margaret Dinsmore Roberts holding Corrine Van Son, and Mildred Bartram; (standing) Selby Landel, and George, John and Daniel Dinsmore. The photo, printed in a local paper aroundd 1960, was at that time from Mrs. Robert L. Ramsey (niece of Mrs. Margaret Dinsmore Roberts), of 215 Hampton Parkway, Kenmore, NY. Thanks to Roberta Cagney of Kenmore, NY for sending the photo to Isledegrande.com this week. Roberta is related to many oldtime Island families.





---



1st Birthday - 1970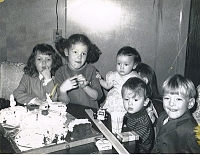 Click photos for larger view
Baby Denise DeValentino (Benedict) was celebrating her first birthday in September 1970. Shown from left are Kelly McNamee (Bettinger), Lisa DeValentino, Denise, Ron McNamee and Paul Wiesenberg. All born and raised here on the Island, Kelly is the only one of the group who is still an Island resident.


---



Lippens - 1978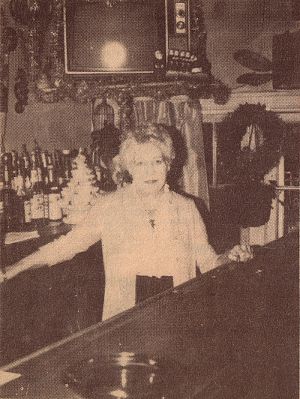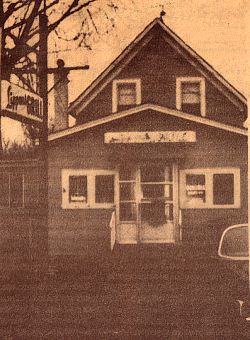 (left) Marge Lippens; (right) Lippens Grill - Click photos for larger view
Margaret "Marge" Lippens was running Lippens Grill, now the Village Inn, when these photos were taken in December 1978. She and her husband, Raymond, bought the bar and opened June 8, 1962. The photo was taken by Sandie Rall Smith.


---



Kiwanis Club - 1967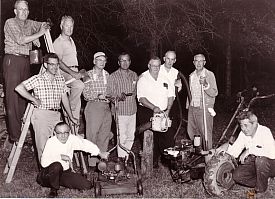 Click photo for complete view
The first meeting of the Grand Island Kiwanis Club was held on September 19, 1950 at Mesmer's Supper Club and led by the following: President Bill Goodwin, Vice President John Wheeler, Treasurer Lester Moyer, and Secretary Laverne Harding. In this photo Kiwanis Club members are shown ready to begin a clean-up job on their property on Bush Road in 1967. The property was developed into a campsite and used by local scouts. On the right side of the photo (from right to left) are Bill Wheeler, Harold Long and August Fox. Rev. George Guba is on the far left of that row and the gloved man third from the left is LaVerne "Bud" Wonacott. If you can identify any of the others, email me at teddy@giecom.net


---



Neighbor Days At St. Stephen - 1963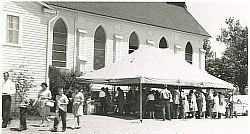 Click photo for complete view
Linda Butcher submitted this June 1963 photo of a St. Stephen's Church "Neighbor Days" picnic on the church grounds on Baseline Road. This looks like it might be the food tent. Mr. and Mrs. J. Jerome Wylegala were chairmen and their committee members were Mr. and Mrs. Theodore Gilbert, Mr. and Mrs. Frank Spinner and Mr. and Mrs. Jerome Waitrovich. Roast beef and chowder were featured on Saturday and a chicken BBQ was served from 1-6 p.m. on Sunday. The annual event usually offered rides, ponies, games, and booths, along with dancing on Saturday night in the church barn from 9 p.m. to 1 a.m. and also in the church hall for the young people from 8:30-11 p.m.



Volume One
Volume One A
Volume Two
Volume Three
Volume Four
Volume Five
Volume Six
Volume Seven
Volume Eight
Volume Nine
Volume Ten
Volume Eleven
Volume 13















---
---
Other Grand Island Pages to Visit:
Churches | Email Directory | Government | Groups
GIHS Grad List | Guestbook | Please sign in! | Local Artists | Photo Album | Town History | Useful Links
| Website Design | Wildlife | Isledegrande's Home Page | GIECOM.NET'S Home Page
Please Email News Releases to Teddy Linenfelser, Thank You.






This website is sponsored by
GIECOM.NET


"Grand Island's E-Commerce Bridge to the World"
1871 Whitehaven Road, Grand Island, New York, 14072-1803 USA
Copyright © 1995-2009 All rights reserved.