"Grand Island Pictures from the Past"
Volume Two
by Teddy Linenfelser


Click Old Photo Album
Volume One
Volume Three

Teddy's Islettes Photos (webpage)



Sidway First Grade - 1948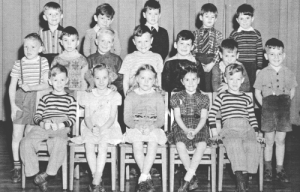 Click photo for a larger view
Supervisor Peter A. McMahon was a member of the Sidway School first grade class of Mrs. Ruth Irving (Miles) in 1948. Recognize him? Pete, wearing shorts, is on the far right. Also shown are (front) David Velie, Shirley Trautman (Heckman), Shirley Smith, Rosemary Loth (Fisher), Dale Velie; (middle) Russell Running, William Vanpotic, Robert Webb, Dickie Titterington, Michael Price, Michael Senf and Peter McMahon; (top) Frank Miller, Thomas Sheehan, Thomas Smith, Ronald Wright, John Pedlow. Missing from the class photo are Margaret Lapine (Webb), Sharon Summers, Corky Lewis, and Floyd Uonites.



Gay Nineties Revue - 1952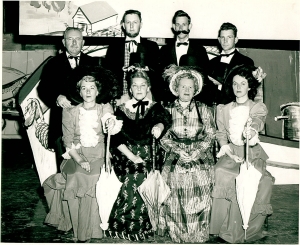 Click photo for a larger view
The Sidway School PTA presented a Gay Nineties Revue in February 1952. Scenery was the art work of Lee Tetkowski and Deanne Long. Floridora dancers shown in the photo are (front left) Jan Gast, Hazel Link, Lillian Meyer and you tell me! Could she be Betty Woods? In the back are (left) Merton McElroy, Bill Goodwin, Ken Maurer and Bill Altshaft. Among others taking part were directors Wally Simms and Dorothy Bascombe; musical director Bill Pinkow; choral directing Marion Pinkow and Clara Pankow; Harry Webb's Orchestra, dancers Ramona Blackmore and Leo Costin; Betty Ashley, Connie Godfrey (Millkan), Veronica Connor, Mary Gross, and a Bowery Dance by Gertrude Radius and Lou Jerge. The suggestion was made to produce the show again during the Centennial celebration in the summer of 1952. To forward corrections/additions Click E-mail.


Sidway Second Grade - 1948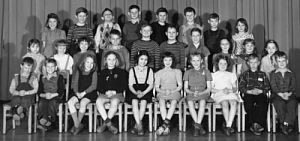 Click photo for a larger view
Second graders at Charlotte Sidway School posed for their yearbook picture in 1948. They are (front left): David Reed, Mike Williams, Marjorie Rahm (Keith), Susan Nailor (Bauer), Barbara Post, Sharon Williams (Haleen), Susan Turnbull, Nan McNair, David Yakam and Charles Swalm; (middle): Thelma Wright, Connie Schmidt, Virginia Narad (Parsons), Howard Benns, Ronnie Schutt, George Werner, Gerald Mayer, Sherrie Mitchell (Wendling), Margaret McMahon (Prange) and Gene Nassoiy (Barbour); (top): Sandra Schwagler, Dale Kindred, Robert Stamler, Melvin Butcher, Robert Rindone, David Kean, Freddie Schutt, Kathie McDonald (McKenzie). Missing from the photo are Janet Lee Sunderland (Bangs), Jean Markle (Webb), Ronald Webb, Barbara Schaum (Dilliot), Libby Smith (Borgese), Carol Senn (Dusenbury), Shirley Ann Webb and Peggy Petillon (Wald). Thanks to Fred Schutt for sharing this picture with us.



Randy Kaiser - 1942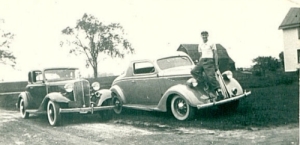 Click photo for a larger view
Isle native Randy Kaiser sits on top of his '36 Lafayette and along side Don Loder Sr.'s '33 Chevy.



Don Loder Sr. - 1942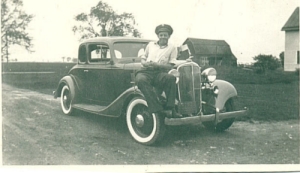 Click photo for a larger view
Don Loder Sr. of Bedell Road looks quite pride of that '33 Chevy.



Aries Triangle - 1961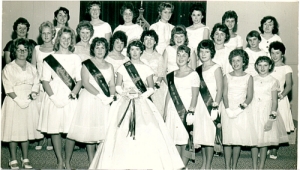 Click photo for a larger view

Aries Triangle members posed for this photo in 1961. They are (left front) Connie Knapp (Shaw), Jane Kayser, Debbi Robinson, Beloved Queen Barbara Harrison (Ressman), Karen Fitzsimmons (Fuller), Donna Pollack (Johnson), Thasia Goodwin (Woodworth), Renee Austin (Ehde); (middle) Kathy Dusenbury (Kitchen), Joyce Brown (Yensan), Susan Johnstone (Starzynski), Kim Edwards, Jane Freer, Linda Simms (Fearon), Diane Beck (Baetzhold), unknown, Kathy Pedlow (Ziemer); (top) Penny Pedlow (Fischer), Linda Hollenbaugh, Cheryl Pritchard, Janet Huff (Martin), Barbara Barnes (Bucknam), unknown, Rebecca Buehrig. If you know the names of any of the above or have corrections, please e-mail me and I will add or correct them.



Grand Island Jaycees - 1966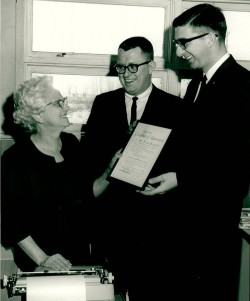 Grand Island Jaycees members Bob Ryan (center) and Bill Schaab Sr. are shown in January 1966 presenting a certificate to editor, Marion E. Klingel commending the Island Dispatch on its news coverage.



Smith Takes On River Oaks - 1981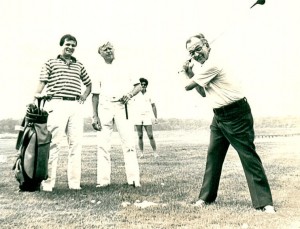 The River Oaks Golf Course opened to more than 100 players Saturday, August 8, 1981 when Councilman James H. Pax (left), George Smith and Grand Island Supervisor Laverne C. "Bunny" Luther posed for this photo. Smith, the new owner of the golf course and club house was in the process of restoring them to their former status as part of one of the most outstanding recreation complexes in the area.



Dancing Class - 1977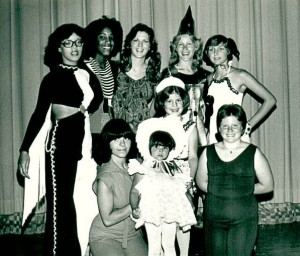 Cathy Parisi Thomas, teacher and director of Miss Cathy's Dance Academy posed with her students at the dress rehearsal of the annual dance recital in 1977. Cathy is shown front with her little daughter, Nicole Duscher (Butcher) and Linda Shobert. The little girl in the middle is Katie Buell and in back are (left) Kelly Tabron, Gina Mayo, Debbie Fike, Tina Krzes and Terry Samland.



The Island Gang - 1986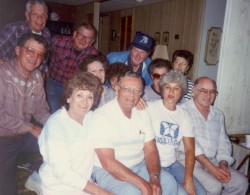 Click photo for a larger view

Shown front left are the late Norma and Ed Rall, Marie Saskowski and Dick McNamee; (middle) the late Lenny Justa, the late Betty McNamee, the late Lorraine Harvey, the late Charlotte Guenther Roesch and Floss Justa; (back) the late Gene Roesch, the late Dick Saskowski, and Dale Harvey. Thanks to Sandie "Rall" Smith for sending the photo which was taken in Florida around 1986.



Ten Skiers - 1967





Click each photo for a larger view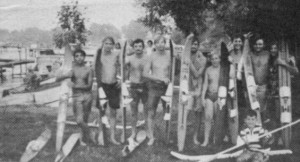 Bob Weaver's 18-foot Chris Craft Cavalier with its 210 h.p. engine is the craft that pulled these 10 skiers on the East Niagara River in the summer of 1967. Edward and Val McCaffery drove and watched from the boat. The group photo shows (left) Mike McCaffery, Mike Capen, Bill Grobengeiser, Mark Hassan, Dave Miller, Dan Capen, Weaver, Jerry Killian and Chris Maier. Not shown are Chris Sommer and helper Ted McCaffery.



Boy Scout Troop 50 - 1958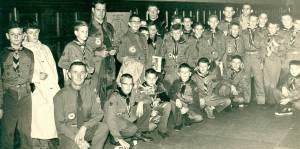 Members of Boy Scout Troop 50 under the leadership of Hans Boettcher, spent two years planning their trip to the 1960 Jamboree in Colorado Springs. Shown front left are Mr. Boettcher, Gary Long, Bob Kaiser, Jeff Long, Jeff Loder, Roger Butcher, unknown. Standing are Dale Loucks, Dennis McKown, Reane Swanson, unknown,unknown, two faces not showing, Tom Frampton, unknown, Doug Godfrey, hidden boy unknown, Mike O'Dea, John Braddell, Gary Burnworth, Dan Killian, unknown, Jerry Hawley, Vincent Kerns, unknown, Michael Roush, Jim Boettcher. If you know the names of any of the above or have corrections, please e-mail me and I will add or correct them. Click the photo for a larger view. (Wendell D. Stratton photo)



Sandy Beach Park Club Picnic - 1954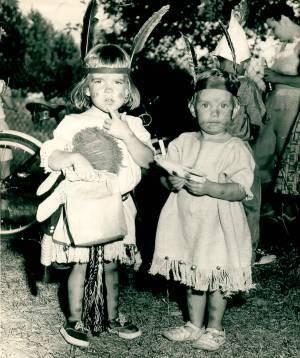 This Wendell Stratton photo was taken in August 1954 at the Sandy Beach Park Club's annual children's costume parade and picnic. Jennifer Hopkins (left) and Wendy Stratton were two very cute little Indian girls that year.



Teddy's Islettes Senior Twirlers - 1981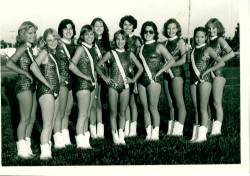 Members of Teddy's Islettes senior baton twirling unit posed for the first time in their new red, sequin uniforms with white banners. Shown front (left) are Heidi Sue Mumm, Holly Sharon, Deanne Monti (Giambra), Tracy Turner (Allen), Karen Macumber (Scalise); (back) Kim Duermeyer, Lynn Nusstein, Lynn Gaydica, Marcia Witte (Robison), Lorrie Pownall and Dawn Harris. If you know the married names of any of the above, Please e-mail me and I will add them. Click the photo for a larger view. (Barbi Lare photo)




Schoolhouse #5 Moves to Kelly's Country Store - 1970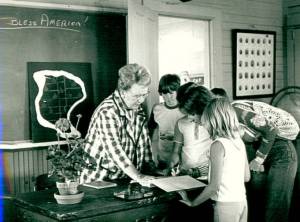 When School #5 at Baseline and Bush Roads was replaced with a new school in 1918, the former #5 was moved to a nearby farm, where it stood for many years. The schoolhouse was moved in June 1970 to its present location--next to Kelly's Country Store on Grand Island Blvd.-- when the Historical Society took on the job of refurnished it. Grand Island's Superintendent of Schools and Society Member Veronica E. Connor is shown at an open house in the school in the mid 1970s. The school, freshly painted, still stands on the Kelly property. The school house is not the property of the Grand Island Historical Society but is owned by the Kelly family.
(Barbi Lare photo)



Community Chorus Musical Production -
Pirates of Penzance - 1955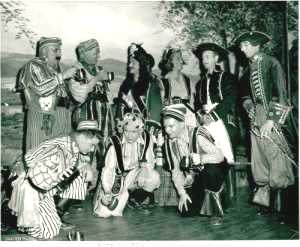 I don't know what Jim Kerr, Jack Boehm and Joe Kerr were up to in the foreground of this scene from the Grand Island Community Chorus production of "Pirates of Penzance." The musical was put on in the fairly new Kaegebein School auditorium in May of 1955. Shown in the back row are Heber Ashley, unknown, Walter and Eleeta Hughes, Chris Cotter and Jim Kerr Sr. Thanks to Gertrude Cotter of East Park Road for lending the picture which was taken by Island photographer Wendell Stratton. Click the photo for a larger view.



Chamber Of Commerce Boat Ride - 1977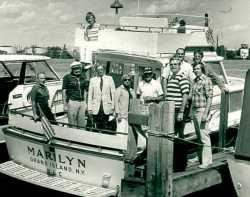 The annual Grand Island Chamber of Commerce Board of Directors cruise aboard The Marilyn owned by members Dick and Marilyn Couch, took place on August 31, 1977. Marilyn is shown above. Others from right are unknown, Bob Jensen, Forest Smith, Ivy Sundholm, Dan Linenfelser, John McCarthy, and Skip Mazenauer on the end. Joe Gordon, Paul Barclay are standing behind them. Click for larger view.




Sidway School 9th Grade Class Day - 1960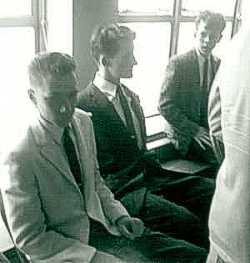 From left are Ed Dunshie, Tom Hajski and Bob Vincent. For more 1960 class day pictures click Old Photo Album Vol. Two.



Sidway School 9th Grade Graduating Class - 1961




Charlotte Sidway School's 9th Grade Graduating Class of 1961 ended their year with graduation exercises in the school gym on June 22 of that year. Peter Sloan was president of this class, the largest up to that point, with 121 members. Other officers were Vice President Diane Beck (Baetzhold), Treasurers David Dyer and Denise Thirion (Schmidt) and Secretary Evelyn Phillips. The Wendell D. Stratton photo only shows about half of the class. Click for larger view.



"House's 1-Minute Steaks" - 1951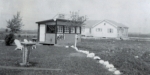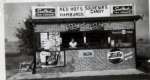 These photos, submitted by Robert House, were taken looking north on Grand Island Boulevard. The little 'stand' on the west side of the road was named "House's 1-Minute Steaks" and also sold souvenirs, postcards and much more. In the background of the first photo is the Finsterback house, which is still there today. According to Robert, West's Motel had not been built yet. The second photo was taken in 1952 and shows Bill House inside the little stand. Click photo for a larger view.




Tourist Camp Features Streetcars - 1940s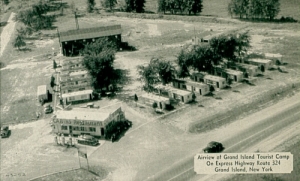 This aerial view postcard of the Grand Island Tourist Camp on Express Highway (Route 324) at Staley Road advertised hot and cold running water in every room and Simmons beds and innerspring mattresses, all at reasonable rates. The business was operated by Dale D. Arner whose daughter, Deane (Arner) Long, a schoolgirl at the time, remembers her father bringing the trolley cars over to the Island in the late 1930s. In 1947, the town board granted a request to Ann Arner to open a restaurant in one of the converted streetcars. Click photo for a larger view.




Red Wing Tourist Homes - 1940s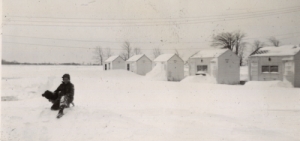 The Red Wing Tourist Homes were located at 3048 Grand Island Boulevard and owned by Cy and Betty Kerr. The boy in the photo is presumably Bill or Bob House. Our thanks to Robert D. House Jr. for this old photo. Robert's grandparents, Emily and William House, ran a stand called "House's 1-Minute Steaks" at 3050 Grand Island Boulevard - then referred to as Express Highway. Click for a larger view.




Sidway School Banking Program Begins - 1951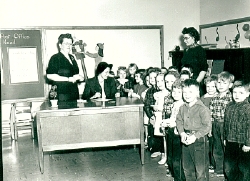 A student banking program began in Sidway School on February 15, 1951. Children brought their deposits and bank books, from the various banks in Buffalo, each Thursday, when their mothers took turns collecting the money and marking the books. Shown on the first bank day are (standing left) Principal Miss Veronica E. Connor and (standing right) Kindergarten Teacher Mrs. Ethel Yuhas. Kindergarten students (back to front) are Ann Wallace, Phoebe Stark, Mia Fontana, Sharon Clayton, Russ Kaegebein, Ruth Moody, Franklin Pinzel, Trey Elgar, Colin Lewis, Bryan Bennett, Timothy Beck and Thomas Pedlow. Mrs. Claire Hall is at the desk. Click the photo for a larger view.




Teddy's Islettes Twirlers Gather For '65 Picnic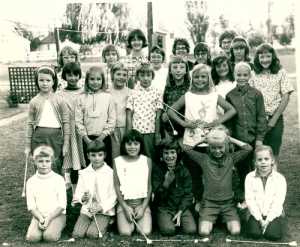 Baton twirlers got together for games and picnic food in the Love Road backyard of their instructor, Teddy Klingel Linenfelser in 1965. Taking a break from the games that included a relay race where each girl pulled an oversized twirler costume over her clothes and was then expected to do several tricks with her baton, are (front left) Sally Gollwitzer Goris, Laurie Job, Amy Gabarro, Chris Xanthos, Vicki Popular and Lori Burrow; (second row) Laurie Griffin, Diana Gruber, Susan Job, Sabrina Gratto, June Johnson, Terri Bright, Heidi Schnitzer Morrison, Gayle Aydelotte Piershalski, Valerie Buckley Swain and Jamie Card; (3rd row) Marty Donovan, Sharon Dingey Ullrich, Arthura Haller VanHeerde, Diane Gollwitzer Doane, Teddy Klingel Linenfelser, Lynn Williams, Dottie Stricker and Gail Hoag Ide. All of the girls were members of Teddy's Islettes Baton and Drum Corps and marched in summer parades throughout Western New York. Click the photo for a larger view.




Sandy Beach Soft Ball Team - 1949



Members of the Sandy Beach Soft Ball Team were winners of a trophy in the summer of 1949. They are (front left) Jerry Livingston and Jim Hawley; (2nd row) Rich Smith, Harry Barrett, Roger Dohn (holding trophy), Stuart Adam and Bill Linton; (3rd row) Jack Hawley, Ron Livingston, Alan Howland; (top) Keith Vanthoff, Larry Fellenz, Jerry Thomas and Richard Narad. Thanks to Bill Linton who provided the photo and correct names. Click the photo for a larger view.




Brownie Troop #46 - 1948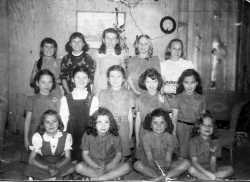 Members of Brownie Troop #46 were under the leadership of Marion Klingel and Ann Mitchell in 1948 when they posed for this picture in Klingels' basement on Love Road at Christmas time. Seated left are Kathy MacDonald McKenzie, Mary Ellen Klingel Stewart, Sandra Schwegler Vilchaz,Teddy Klingel Linenfelser; (middle) Sharon Miller, Judy Daggett, Phyllis Lafferty Tanner, Louanne Bucknam Farrell, Sherrie Mitchell Wendling; (top) Carol MacDonald Ganster, Carol Senn Dusenbury, Donna Horner Anderson, Susan Nailor Bauer and Marguerite Benns Szumla. Click photo for larger view.




Sidway Boys Choir - 1953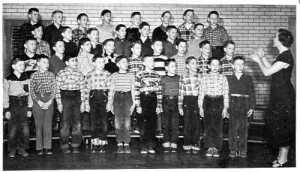 The Sidway middle grade boys choir is shown with music teacher and director Mrs. Carol Thompson in 1953. Shown front left are David Ames, Roger Webster, unknown, Don Stabell, Dick Collins, Gary Corbett, Johnny Meyers, Ray Kaiser, Jim O'Dea and Floyd Anderson; (2nd row) Dick Prange, Bob House, Myron Ortolano, Butch Glasgow, Dale Velie, Richard Reitz, Martin O'Dea, Jack Strother and David Velie; (third row) Carlton Schutt, Roy Campbell, Dale Heimlich, Wayne Hallett, Gary Bartlett, Doug Kutzbach and Jerry Thirion; (top) Melvin Butcher, Bob Webb, Charles Pinkow, John Fontana, David Kean, Bill Collins, ? Murphy and Dick Titterington. Click photo for larger view.




Congressman John LaFalce Visits Kaegebein School - 1981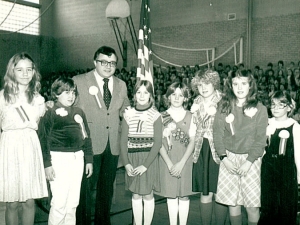 Can you tell us the occasion for Congressman John LaFalce' visit to the Kaegebein School gym in 1981 and what is the significance of the ribbons that the girls are wearing? You may easily e-mail me by scrolling to the bottom of this column. We recognize Nicole Millar (2nd from left) and Suelynn and Darlynn Passarelli and Heidi Allen on the right.
(Barbi Lare photo)




Girl Scout Olympic Winners 1981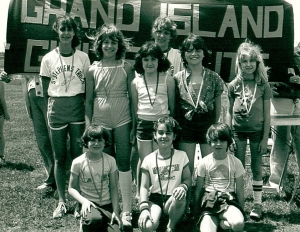 We don't have all of the names of the Brownies (front), Juniors (middle right) and Cadets (left rear) in this 1981 photo but we do know they won medals at the Girl Scout Olympics in 1981. Jean Willer is shown center, second row and Dana Gast is on the right of that row. Let us know if you have the complete names of any of the girls.
(Barbi Lare photo)




School Visits Fire Station - 1949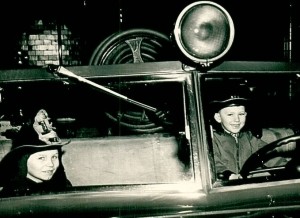 Charlotte Sidway School students in Mrs. Gertrude Radius' third grade class in 1949 visited the Buffalo Fire Department. Roger O'Connor (left) and Ed Hardison are shown inside one of the Buffalo fire trucks.




Swim Club Members' Raffle - 1981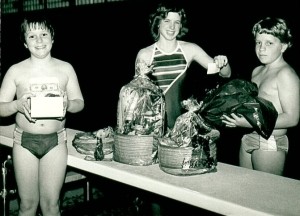 The Grand Island Swim Club held a raffle in April 1981 to raise funds for team jackets with the winners announced by Swim Club Co-Captains Kelly Valone (center) and Brant Howe (right). Team member Brad Bowman (left) was top ticket seller with 260 tickets. Brant's father, Jerry Howe was president of the Grand Island Swim Club.
(Barbi Lare photo)




Cubs of Pack #254 - Late 1960s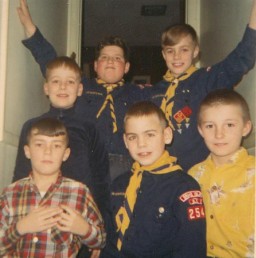 Boys from Cub Scout Pack #254 posed for this snap shot in the late 1960s. They are (clockwise upper left) unknown, Lee Zeplowitz, Bobby Wright, Fred DeCost, Jim Davis and Jimmy Wright. Please E-Mail me additions/corrections on the names. Thanks to Rick DeCost for this old photo.




Mrs. Lucille Ames' A.M. Kindergarten Class - 1957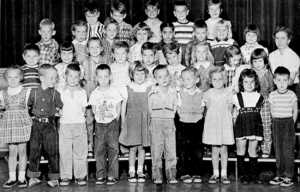 (Click for a larger view.) With so many members of Mrs. Ames' A. M. kindergarten Class of '57 turning the big 5-0 this year, this picture seems very appropriate to look back on "The Way We Were!" Shown front left are Sharon Jones, Eric Berger, Torgier Fadum, Jim Harmaty, Diane Loder (Kerner), Wayne Bidell, Ricky Stack, Linda Eastman Gorman, Sue Lare, Jim Pedlow; (2nd row) Paul Swain, Cheryl Ferro (Stott), Tom Fritchi, Larry Braddell, Walter Skotnicki, Christine Hogue, Penni (Priscilla Webb) Nicolaus, Susan Haen (Willard), Maureen Killian (Swaney), Mrs. Ames; (third row) Jim Hartman, Judy Perkovich, Mike Linenfelser, Chris Arent (Stange), Steve Yablonski, Clyde Hickok, Donna Schueckler, Susan Webb; (fourth row) Richard Morgan, A. Bukolt, Ray Billica, L. Fessard, Linda Downs.
Please e-mail me with any corrections, first names or married names that you may know. Also please note that many of the students' names and email addresses are in our e-mail directory and graduation directory.




Den 4, Cub Scout Pack 423 - 1981



When Den Leader Peter Capelli became ill during a Cub Scout Pack 423 Den 4 meeting, Fire Company paramedics responded quickly. In turn the Cubs raised money in their ranks and presented a check to the Grand Island Fire Company in appreciation for the service the paramedics provided. Shown from left are Dave (Lagattuta) Satterlee, David Capelli, unknown adult, unknown Cub, Danny Goupil, and Fire Chief Bill Wood in back, Dean Laible, Gary Kopacz, and Brian Carl. If you can identify the unknowns, e-mail the names.



Islanders Over In Vietnam - 1969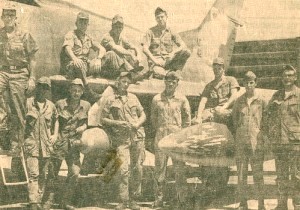 (Click on photo for larger view) Eleven former New York Air National Guardsmen, nine from Grand Island and two from the Town of Tonawanda, NY are gathered around an F-100 Super Sabre at Tuy Hoa Air Base, Vietnam. Formerly members of the 107th Tactical Fighter Group, at the time of the photo believed to be in 1969, the men were assigned to the 31st Tactical Fighter Wing. They are (from left) Maj. Torgeir B. Fadum (on ladder), Airman 1/C Robert K. Kaiser, Benjamin N. Graf and Jerry Hawley; 1st Lt. Harry W. Roberts; Airman 1/C Paul N. Roeder (sitting on fuel pod), Capt. Franklyn C. McKee, and Tech. Sgt. John A. McCarthy. Sitting on the wing are (from left) Airman 1/C Michael D. McNulty, Gregg A. Yensan and Peter J. Roberts. Click to see another photo



Brownies - 1979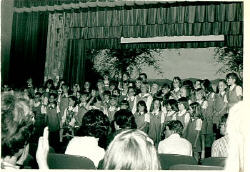 (Click on photo for larger view) Recognize anyone? In anticipation of becoming Girl Scouts in the fall, Grand Island Brownies participated in a "fly-up" ceremony at Kaegebein School in May of 1979. Among the scouts pictured in full uniform are Andrea Tsikalas and Alka Moudgil, fourth and fifth from the right in the front row and Sheila McCowan, second from the right in the front. Also Tamara Haag Proctor, just below the Brownie in the top row, far left.



Kindergarten Fashion Show - 1951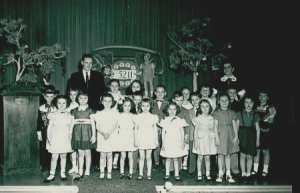 (Click on photo for larger view) Kindergarten boys and girls from Sidway School with help from some of the older children took part in a fashion show on the evening of March 2, 1951 in the school. Johnny From JN's (Corbett) who is standing in back with kindergarten teacher Ethel Yuhas, was the commentator. The students are (front left) Betty Kerr (Olmstead), Renee Thirion (Wulf), Margaret Kerr (Suffoletta), Sharon Clayton, JoAnn Haller (Miano), Roberta Roy (Vance), Sharon Dinsmore (Herrald), Lynn Ehlert (Schutt), MaryAnn Braddell (Stawitzky); (2nd row) Donald Saunders, Susan Hogue (Canty), Margaret Linton (Ciccarelli), Marilyn Harper, James Sawdey, John Suchocki, Donald Clayton, Marilyn Maurer (Lewis), James Conrad, Sharon Lafferty (Thompson), Richard Sawdey, Bonnie Taylor (Ford). Not shown in photo but also taking part in show were Robert Yanke, Russell Kortum and Bob Tranter.



Little Leaguers 1960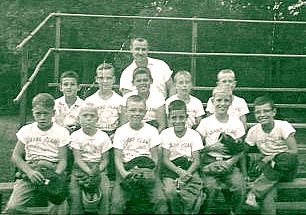 We have some of the names of the Little Leaguers who posed with their coach, Mr. Helbig (rear) for this photo in the summer of 1960. Let us know if you recognize anyone else. Seated front are (unknown) Tom Colley, Mike Helbig, George Lamont, Kevin Carr, Billy Burke. From the left, top row are ? Costanzo, Rick Elias, Henry Olrogge, unknown and Reg Schopp.




Home Extension Achievement Night - 1956



This Wendell Stratton photo of May 15, 1956 shows members of the Grand Island Extension Service (day unit) when they held their annual achievement night at the fire hall. Over 200 persons examined the finished items made by members in classes held that year. The program included movies of events sponsored by the group but the highlight was the Extension Service "Kitchen Band" and a bathing beauty dance. In the front row (left) are Mabel French, Madelyn Colley, Dorothy Fancher, Rowena Wolf, Bern Dekdebrun, Millie Vanthoff, Eve Smith, and Dorothy Phillps Thurner; (back) Eleanore Campbell, Mary Tierney, Ann Fries, Nipsie Mackey, Eleanor Alt, Loretta Rexford, Helen Peck, Alma McTigue and Elsie Stamler. The group later became known as the Grand Island Home Bureau. Many thanks to Millie Vanthoff who provided the information and correct names to go with the photo.



Student Entertainers - 1967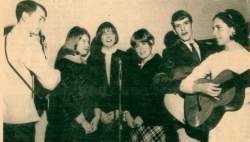 Entertaining a capacity audience of the members of the school board and faculty after their annual January dinner in the Grand Island Jr.-Sr. High School in 1967 were (left) Reg Schopp, Denise Blackmore, Gayle Gaston, Deborah Carr, Kevin Carr and Daryl Kutzbach.



Click on the photo for the enlarged view.
---
Birthday Party - 1947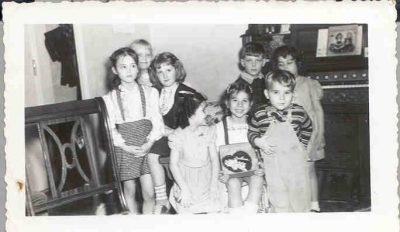 Barbara "Glor" Martin was celebrating her 6th birthday in her Love Road home in 1947. Neighborhood children attending were (standing left) Libby "Smith" Borgese, Sue Turnbull, Margie "McMahon" Prange, Francis Lapine and MaryEllen "Klingel" Stewart and seated are Judy Daggett, Barbara and her brother, Peter Glor.


---
High School Swimmers - 1973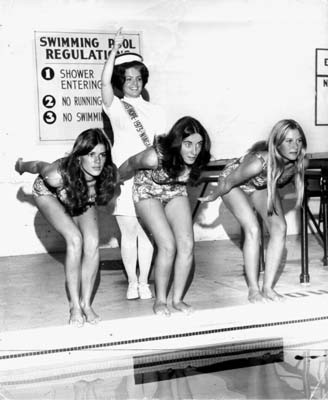 Can you give us the names of this trio of swimmers from the Grand Island High School Girls Swim Team, 1973? It has been suggested that they are Patty McDonald, Debbie Eldridge and Susan Miles.


---
Brownie Troop #46 - 1948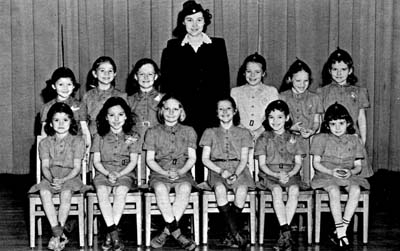 Members of Brownie Troop #46, who met in the home of Mrs. Mitchell on East Park Road, are (front left) Sandra Schwagler (Vilchaz), Sherrie Mitchell (Wendling), Susan Nailor (Bauer), Lynne Hoerig, Louanne Buckman (Farrell), and Mary Ellen Klingel (Stewart); (top) Judy Daggett, Barbara Glor (Martin), Sally Swalm (Hansen), Mrs. Mitchell, Peggy Hall, Margurite Benns (Szumla) and Donna Horner (Anderson).


---
Brownie Troop #221 - 1948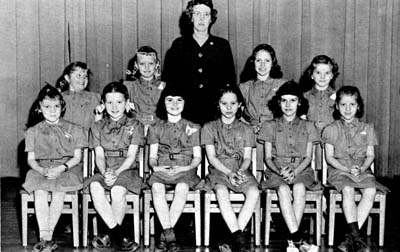 Love Road resident Ellen Turnbull opened her home to the Brownies of Troop 221 in 1948. They are (front left) Barbara Klocke (Vogelin), Joan Lafferty (Kivett), Penny Ball, Bernie Glor (Pagliaro), Doris Harding (Watson), Norene Zuchowski; (top) Margie McMahon (Prange), Susan Turnbull, Leader Mrs. Turnbull, Jean Shifferd, and Marianne Lehane (Ward).


---
Grand Island School Board - 1957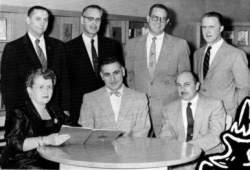 Grand Island School Board members and Principal Veronica E. Connor posed for this picture for the Sidway School ninth grade Class of 1957 yearbook, "The Islander." Seated left are Miss Connor, Board President Dr. John Fontana and Charles Soch; (standing left) Walter Tanner, LaVerne Harding, Richard Hogue and Richard Buzby. Fredrick Turner was not present when the photo was taken. At that time the only schools on Grand Island were Charlotte Sidway School on Baseline Road, serving grades kindergarten through 9th and the William Kaegebein School on Love Road housing kindergartners through fifth graders.


---
Home Bureau members clowned around in 1959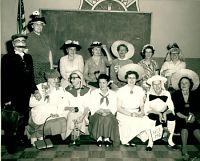 Click photo for a larger view.
The year was 1959 when some of the Home Bureau members decked themselves out as school children of an earlier time, judging from the book straps and the apple in Dorothy Fancher's hand. Seated in front are Mabel Warcheck, Mrs. Fancher, Dorothy Phillips Thurner, Ann Fries, Shug Swan and Ellie Pritchard; standing are Erna Reichelt and Florence Daw and seated in back are Volly Annas, Eleanor Alt, Rowena Wolf, Dorothy Waltman, Millie Vanthoff. Thanks to Ann Mitchell for the photo, taken in the Grand Island Fire Hall by Wendell Stratton.

---
Fire Co. Ladies Auxiliary proud of new hall - 1953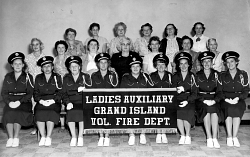 Click photo for a larger view.
The year was 1953 when members of the Ladies Auxiliary of the Grand Island Fire Company posed for this photo in the newly opened Grand Island Fire Hall. The new building replaced the Fire Company's former headquarters, originally built in 1875 as the first town hall. Shown front in marching uniforms are (left) MaryLou Kohlhagen, Helen Peck, Jessie Loder, Eva Wohlfehrt, Sis McKinnon, Gladys Dunshie, Millie Christman, Val Gardner and Marion Hawley. Also shown are (middle) Ann Kruse, Mabel Bartlett, Ann Kean, Alice Benton, Millie Vanthoff, Kate Redinger and Marion Klingel; (top) Bertha Bucher, Merle Smith, Margaret Ehde, Elsie Stamler, Flora Benns and Elsie Fleischman. The Ladies Auxiliary, first organized in 1939, ran numerous card parties and other fund raisers to financially help the volunteer firemen with their dream of the brand new building opened in the fall of '53.


---
Sunset Drive 1952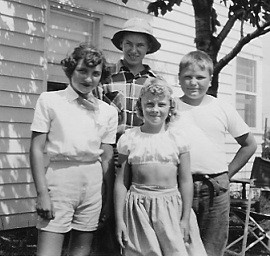 Shown in this 1952 photo are (front) Gail Burgstahler (Rothenberg), Marianne Shear (Tranter) and Jim Tranter; (back) Jim Shear.
<Click for Sunset Drive feature Story>


---
Fire Company Oldtimers 1977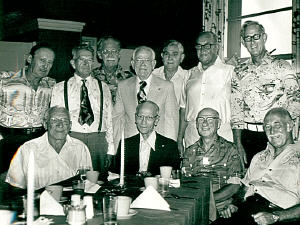 Oldest members of the Grand Island Fire Company posed for this photo at an oldtimers party in the fire hall in July 1977. The longtime volunteer firemen, all deceased except for Kenny Maurer, are (front) Joe Kean, Bob Campbell, Abe Milner and Art Wade; (back) Art Mitchell, Fred Redinger, Don Hawley, Ted Klingel, Herman Reichelt, Cy Diebold and Ken Maurer.

---
Town Hall Christmas Celebration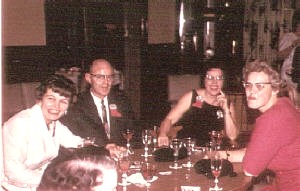 Betty Wunsch (left), Royce and Betty Magnuson and Patty Stuart were enjoying the festivities of a Town of Grand Island Christmas party in the mid 1960s.

---
Grandyle Village 1955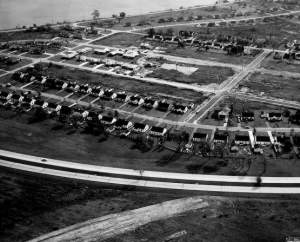 Grandyle Village was about to be changed in the mid 1950s as this October 1955 arial photo shows. New homes on LaSalle, running north/south between East Park and Love Road, Red Jacket (just north of East Park) and Hennepin, were beginning to be built. There are no homes along the East River Road at the top of the picture and LaSalle Avenue ended at Love Road. Even the house and dental office at Love Road and East River, now Dr. Russ Colosi's office, are missing.

---
Town of Grand Island Employees Celebrate Holidays 1965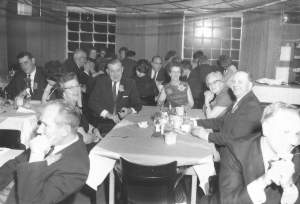 Department heads, staff and elected and appointed officials attended a Christmas party in the Grandyle Marina at Broadway and East River Road in 1965. Shown far left is Ray Dlugokinski who worked in the highway department where he is now superintendent. Around the table from left are Harold Doerr (facing other way), Ann and Art Mitchell, Dorothy Waltman and Ann and Ed Kruse. Bob Kaiser, Receiver of Taxes, is looking at the camera between Art Mitchell and Mrs. Waltman.


---
Town Hall Gals Dress For Christmas 1965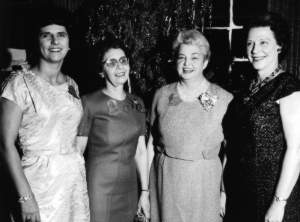 Pictured left are Fran Havens, Millie Facklam, Gertrude Gay and Ruth Horner, all dressed up at the Town of Grand Island employees Christmas party at the Grandyle Marina in 1965.


---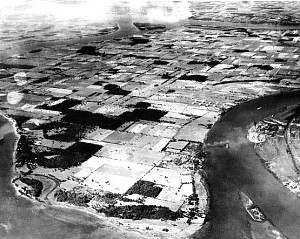 Click photo for a larger view




Grand Island, NY - 1932



This view of Grand Island was photographed in 1932, before Beaver Island State Park was developed and three years before the single spans of the Grand Island Bridges were built. The Standard Oil tanks are visable about midway along East River in the area where Broadway eventually went through. Motor Island is in the lower right of the picture.



---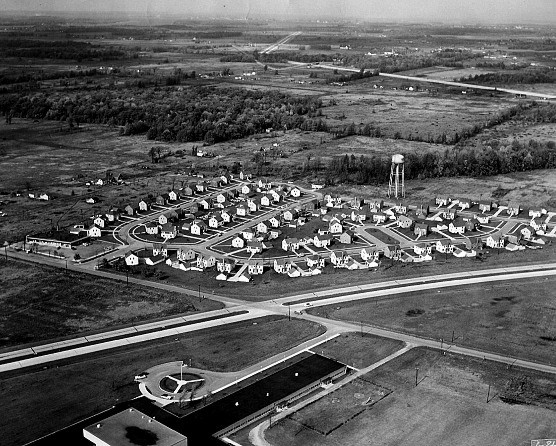 Duplex homes completed in 1950



Developer Carl M. Weinheimer built 86 duplex rental homes at Love Road and the Beaver Island Parkway at a cost of nearly $2 million. Complete in 1950, they have been "first homes" as well as permanent homes to many Isle residents. Notice the little Love Road Plaza off to the left and the Kaegebein School at the bottom of the 1955 photo.



---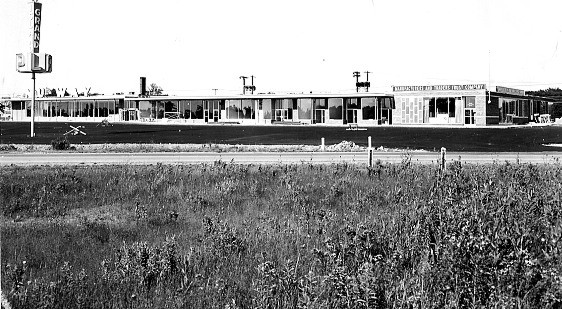 New Grand Island Plaza welcomed by residents in 1957


Island residents read with great interest the following headline in the January 16, 1956 issue of the Buffalo Evening News: "$2,000,000 Shopping Plaza Planned On Grand Island." The News' story gave the location as being "across from the 35-acre site, which taxpayers in October 1955 voted not to purchase for a future civic center." According to the article, Lawrence A. Grant, representing Basex Realty Inc. said commitments for space already had been received from a bank, Nu-way Inc., and Lane Drug Co. The photo was taken by the late Ted Klingel shortly before the plaza opened.

First to open in the plaza was Mancuso Brothers Barber Shop followed shortly there after by M&T Trust Bank on July 1, 1957. Other stores open for business during the Grand Opening held in September 1957 were Cataract Cleaners, Isle Hardware Corp., The Debbie Shop, Colony Men's & Boys Store, Lane Drug Store, NuWay, Richard Rays, Highland Boot Shop and Island Radio & TV Service. Island resident and plaza tenant Marion Mancuso continues to operate his barber shop in the Grand Island Boulevard location just as he has for the past 43 years.



---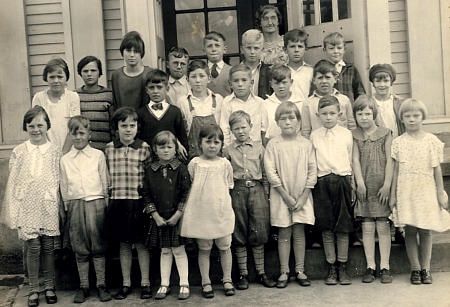 Old Island names make up 71-year-old school photo - 1929



School teacher Margaret DeGlopper is shown (back right) with her students of School No. 9 in 1929. They are (front left) Carola Long Freer, Clarence Schutt Jr., Betty Ziehm Yensan, "Tootie" Mesmer Maurer, Shirley Kreger Luther, Franklin Mesmer, June Christman Renwick, Harold Kaiser, Catherine Killian Long, May Webb Eastman; (middle) Carlton "Joe" Killian, Harry Kaiser, James Stack, John Ralph Mesmer. Ralph Kreger and Irene "Honey" Kaiser Daigler; (top) Edna Schutt, Geraldine Schutt, Violet Schutt, Harold "Bud: Long, Ed Killian, Allan Kaiser, Billy Kaegebein and Wally Killian. The school, built in 1918, later served as the town hall from 1938 until it was torn down in 1968. Special thanks to Shirley Luther for the use of the photo.


Click on the photo for the enlarged view.
---
First Grand Island Jaycee officers, 1953



Grand Island's Jaycees organized and installed first officers in the Braunshidle Hall in Kenmore in February 1953. From left are Jim Buckley, Wayne Clark, Karl Offermann, Richard Owens, and C. Floyd Huddy. Jim formerly lived on Love Road and later West River Road and Richard spent nearly four decades on the Island and now lives in Virginia.


---
---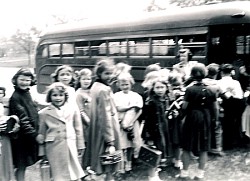 Click photo for a larger view


Sidway 3rd grade zoo trip


Marjorie Ehde (Anderson) is shown behind her 3rd grade class in 1951. The students and their teacher visited the Buffalo Zoo, ate their lunches in Sheridan Park and then boarded their school bus for the trip back to Charlotte Sidway School. Shown (left)are Teddy Klingel (Linenfelser), Betsy Kinsey (Sims), Barbara Beck (Muratore), Annette Boehm (Fuhr), Norma Edwards, Elizabeth Glor (Allen), Janie Costin (Rocks) and JoAnn Radius (Vanderheite). The girls are carrying the typical lunch boxes of that time. Among the boys in Miss Ehde's class that year, not visible in the photo were George DeGlopper, Chuckie Hall, Billy Jacobs, Mike Edwards, Jerry Thirion and Danny Linenfelser.
---
Grand Island Little League Champs - Richmond Team 1963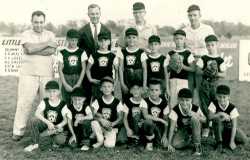 Grand Island Little League's Bantam League champs in the summer of 1963 were the teammates of the Richmond Team. Standing in the back from left are (unknown), Little League President Bunny Luther, and Coaches Don Walker and Jim Moynihan. Players pictured (front from left) are Rick Bowen, John Simpson, Mike Cassidy, unknown, Jack Senn, Tom Moynihan and Bob Sepanski; (middle) Keith Harvey, Mike Malaney, Mike Walker, Tom Walker, Mike Hassert and Mike McDonough. Schriners Bernard Langhoop and Islander Emil Anderson (grandfather of the Walker twins) presented free tickets to all Little Leaguers for the Buffalo-Toronto baseball game at War Memorial Stadium that year. The Grand Island Little League served 332 ball players in 1963. Be sure to click the photo for a larger view.


---
Love Road neighbors



Richard Benns, standing in the back and his brother, Jarmen on the right were young camera bugs along with their friend Teddy Klingel Linenfelser who took the picture in the early 1950s. The boys are shown with their younger brother Jim Benns (left) and their next door neighbor, Susan Kohlhagen Long. The Benns, Kohlhagen and Klingel families all lived in a row on Love Road in Grandyle Village.


---
First day of school

That's Supervisor Peter McMahon having a laugh with Eric Stefik on the first day of school in September 1952 when all Grand Island grade school students were attending Charlotte Sidway School. The girls in front are Pam Ball Fries (left) and Tam Ellis and just behind them are Mary Ellen Klingel Stewart and Rosemary Loth Fischer. Margaret Lapine Webb, Susan Turnbull and Penny Ball are standing in the rear. The group waited for the school bus in the Loth family's driveway on Love Road in Grandyle Village.


---
Betty Rogers Beck's Isle Tappers of 1954

Betty Rogers Beck, who taught dance for decades in the Buffalo area, held dance classes in her hushand, Rod Beck's Marina Restaurant. This class of tap dancers posed in the Island studio just before the June 20, 1954 dance recital which took place at the Erlanger Theater that year. Pictured front are Cathy Haller (Contino), Patty Killian, Patty Dower (Hamilton), Peggy Cotter (Will), Diane Beck (Baetzhold) and Kathy Cotter (Little); in the second row - Ann Burns (Dlugokinski), Susan Hogue (Canty), MaryAnn McCarthy (Coniff), Karen Heimlich (Clarke), Marilyn Noyes, Betty Jane Gardner (Penque), Kathy McCarthy (Northrup) and Eleanor "Bonnie" Dunn.

Betty, owner and instructor was teaching over 200 students that year. Also included among the 35 Island students were Bonnie Taylor (Ford), Judy Dower (Babel), Jane Keyser, Beverly Holcomb, Pat Geary (Kostenbauder), Cynthia Scott (Lee), Nancy Buckley (Valone), Nancy Hogue, Toni Colley, Casey Colley (Ebert), Susan Braun, Sandy Rupp, Sherry Wade (Walsh), Jackie Sceusa (Irovando), Mollie Gushue (Cox), Gale Plazio, Daryl Miller, Cindy Ann Senn, Christine Somer (Weaver), Suzanne Somer and Barbara Adelman. The photo was taken by well-known Island photographer Wendell Stratton.


---
Teddy's Islettes baton twirling recital 1965



Teddy Klingel (Linenfelser) teacher/director of Teddy's Islettes from its inception in 1961 through the summer of 1987, was very proud of her students' twirling as they posed just after their 3rd annual recital in the Grand Island Fire Hall Friday, June 4, 1965. This was the year that Arthura Haller, Gail Hoag, Kathy Pedlow, Sue Trautman and Miss Teddy performed to the music of "Hello Dolly," and Valerie Buckley did her solo to "Cotton Candy." Shown front are Heidi Schnitzer, Christine Xanthos, Sally Gollwitzer (Goris), Laurie Job, Lori Burrows; (2nd row) Amy Gabarro, Vicki Popular, Sandra Krueger, Jane Stricker, (hidden face), Sabrina Gratto, Karen Zilliox, Sue Job, Laurie Griffin, Val Buckley (Swain), Terri Bright; (3rd row) Kathy Harris, Mary Stricker, Sharon Dingey (Ullrich), Diane Gollwitzer (Doane), Lynn Williams, Marty Donavon, Jame Card, Gayle Aydelotte; (top) Dotti Stricker, Arthura Haller (Van Heerde), Sue Trautman (McMahon), Kathy Pedlow (Ziemer), and Gail Hoag (Ide), Miss Teddy. Missing from the photo (or hidden): Lela Coulter, June Johnson, Diana Gruber.


---


Girl Scouts celebrate Juliet Lowe's birthday - 1955

Grand Island Girl Scout and Brownie troops in March of 1955 congragated in the Sidway School gym for the annual Girl Scout birthday party in honor of founder Juliet Lowe. Buffalo headquarters representative Lavina Frank is cutting the cake surrounded by Brownies, Peggy Cotter (Will), Patty Dower (Hamilton) and Carol Chateauneuf (Steves) on the lower left, and (second row, left) Girl Scouts Donna Titterington (Leary), Johanna Johnson, Ann Wallace, Sharleen Killian (Bierbrauer), Barbara Luipold (Baker) and Judy DiTullio (Penque). In the back are Girl Scout Betsy Kinsey (Sims), Mariner Scout Doris Harding (Watson), Mariner Scout Leader Kay Valyear, (unknown), Neighborhood Chairman Marion Klingel, Scout Leader Sally Smith and Scout Kathy Kinsey (Wilcox). The yearly evening event featured skits from each troop and refreshments.


---

Family portrait - the Linenfelser children, 1957

Dan and Betty Linenfelser moved to Grand Island in 1945 and raised their six children on East River Road at Morgan's Point. Mike (left), Mary Linenfelser Cook, and Paul are sitting in front and Jim, Dan and John are in the back. All but John (Holley, NY) and Mary (Indianapolis, Indiana) still reside with their families on Grand Island.


---

Island soldiers stick together overseas
It was August 1968 when (left) Airman 1st Class Paul Roeder, Ray Sommer, Greg Yensan and Jerry Hawley, all born and raised here - "were toasting better days," according to Ray who submitted the photo. The foursome, along with Major Torgier Fadum, Airman 1st Class Robert K. Kaiser, Banjamin N. Graf, 1st Lt. Harry W. Roberts, Capt. Franklin C. McKee, Technical Sgt. John A. McCarthy, Airman 1st Class Michael D. McNulty, Gregg A. Yensan and Peter J. Roberts, were part of the 31st Tactical Wing with the U. S. Air Force stationed in Tuy Hoa Air Force Base in Vietnam


---

Dancers rehearse for Centennial pageant in '52
Community support and a year's worth of planning brought about the very successful Grand Island Centennial celebration in the summer of 1952. To give an idea of how great the town's 100th birthday was, a Centennial Costume Ball in Beaver Island Casino, a huge parade staged in the center of town, a grand prix road race of international proportions, a week-long carnival and a historic three-day pageant were just a few of the events presented during the last week in August 1952. Pictured rehearsing their square dance for the pageant which was produced on a large stage built in the back of St. Stephen's Barn are (left front clockwise) Lee Howe Harris, Dave Dietzer, Joanne Carr, Robert Carr, Bob Buzby, Milton Dietzer and Joan Dietzer (center). The hidden dancer behind Mr. Dietzer is his wife, Adele. Square dance caller Jimmie Fuller and fiddler Jimmy Williams are shown in back.


---
Comments, corrections or married names may be directed to Teddy@giecom.net



Other Grand Island Pages to Visit:
Churches | Email Directory | Government | Groups
GIHS Grad List | Guestbook | Please sign in! | Local Artists | Photo Album | Town History | Useful Links
| Website Design | Wildlife | Isledegrande's Home Page | GIECOM.NET'S Home Page
Please Email News Releases to Teddy Linenfelser, Thank You.



This website is sponsored by
GIECOM.NET
"Grand Island's E-Commerce Bridge to the World"
1871 Whitehaven Road, Grand Island, New York, 14072-1803 USA
Copyright © 1995-2003 All rights reserved.

<! ~~~~~~~~~~~~~ New Tracker Code Below -- -- -- Old Tracker Code Above ~~~~~~~~~~~~~~~~~~ >