Grand Island Sports News Page 2008
Click For Sports Stories 2008 PAGE 2
Click For Sports Stories 2007
Click For Sports Stories 2006
Click For Sports Stories 2005
Click For Sports Stories 2004
Click For Previous Sports Stories


---
---



Antique & Classic Boat Show Just Around The Corner - 2008
The 31st annual Antique Boat Show takes place on Saturday, September 6, 2008 at the Buffalo Launch Club, 503 East River Road, Grand Island, NY. See links below for complete information.
"Shuffle Off To Buffalo"
"The Vintage Hydroplanes"
"Boat Race Reunion - Speedboats"




Grand Island Vipers 12U Roll On - June 2008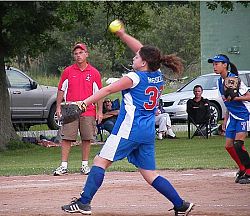 (left) Rosie Russell - (right) Jessy Amsdill - click photos for larger view.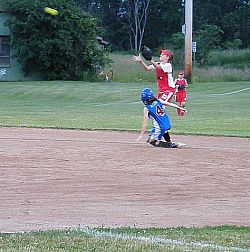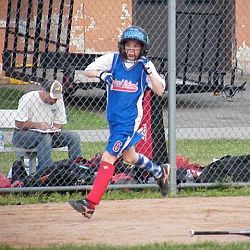 (left) Ciara Alcorn - (right) Carlee Conway - click photos for larger view.
June 24, 2008 . . .The GI Vipers improve to a perfect 7-0 with wins over EMW and Wheatfield this weekend. Both matches were over before they started. Saturday night, June 21st under the lights, GI came out swinging with 8 straight hits and 5 runs in the first inning. Offensively, GI was led by Slugger Julia Kelly who went 3-5 including 2 doubles. Julia also batted in 6 runs leading GI to a 12 - 2 victory over EMW. Rosie Russell was a rock on the mound pitching yet another complete game giving up just 4 hits and 2 runs over 7 innings.
Sunday's game versus Wheatfield showcased the defensive skills of the Vipers' Carlee Conway. The opening batter of the game laced a shot to centerfield, however it wasn't quite laced enough as Carlee raced to run down and nab a for sure extra base hit. She also backstopped and played shortstop and made play after play to shutdown Wheatfield and secure a 14-2 victory. Carlee also delivered at the plate going 2-4 with 4 RBIs. Ciara Alcorn's outing on the mound looked effortless, she scattered 5 hits and 2 runs pitching a complete game.
The Vipers would like to pass along our gratitude to Linda Tufillaro and all the Recreation Department Crew for making our softball experience fabulous. "Thanks Linda!"




Grand Island 12U Vipers - June 14-15, 2008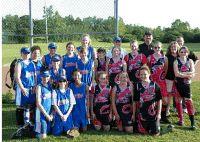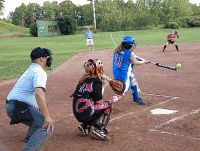 Grand Island 12U Vipers (4-0) Scored big over the weekend with impressive wins over both of the Lancaster 12U metro Teams. Friday night the vipers were impressive at the plate winning 14-3 led by Cassie Oursler who batted for the cycle. Defensively, the only rally Lancaster had was ended by a perfect strike thrown to the plate by Centerfielder Melissa Gibson. Catcher Ashley Colan was in perfect postion to stonewall the attempt by the runner to reach the plate. Ciara Alcorn pitched an impressive 7 innings, recording 7 k's on 2 hits. Annie Corrao was unstoppable on the basepath, recording 7 stolen bases.
Saturday's game was a real nailbiter. Grand Island, trailing throughout the whole game, rallied for 3 runs in the bottom of the 7th to tie the score at 4 and capped off the comeback in the bottom of the ninth with an impressive at bat by an injured Courtney Colligon to take the game 6-5. Rosie Russell got stronger on the mound as the game went on, pitching 9 solid innings, recording 8k's on 5 hits. The outfield saved the day early in the game, ending 2 rallies with great catches by Jessica Amsdill. She raced in towards the infield and kept the ball off the turf, ending any scoring chances while the bases were loaded.




Islanders Compete In International Judo Challenge - 2008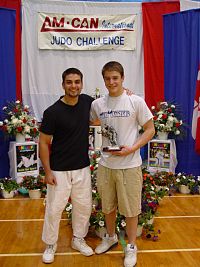 (left) Marty Grisanti and Anthony Gugino
Anthony Gugino and Marty Grisanti participated in the 36th annual Am Can International Judo Challenge on May 24-25th at the UB Arena in Amherst. The event had over 600 competitors. Anthony placed 2nd in the mens 73 kg division.




Grand Prix Hydroplane Racing - "The Story"
Thunder On The Niagara May 31 - June 1 - 2008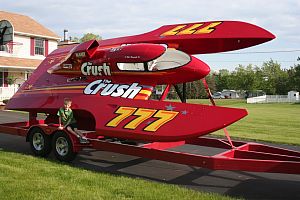 The Crush - Bill DeGlopper Photo - Click for larger view
The following is a response from world champion hydroplane boat racer and Island resident, Mike Endres, to a request for "what's new" in boat racing.
The Grand Prix hydroplane class of racing had died off in recent years. This was due to out of control costs and a large disparity between competitors. Once the hottest class in all of racing, this was sad to see. This was the class that I had worked my way up to in my racing career. It was the largest of the automotive powered classes with speeds in excess of 150 mph. In its hey day in the late 80's and early 90's, there were sometimes as many as 30 boats at one race vying to make the final field of eight boats in the final.
Valleyfield, Quebec, the Super Bowl of hydroplane racing, had for years relied on the Grand Prix as their feature attraction for their event. As Grand Prix died off, this really hurt their event. They tried to replace the Grand Prix with the Unlimited hydroplanes but their location is not large enough to safely accommodate them. The Valleyfield organizing committee decided to revive the Grand Prix class and do it in a manner that would assure close competition and a long term successful future.
Valleyfield has purchased seven new Grand Prix hydroplane hulls and has awarded them to racing teams that are seriously interested in becoming part of the Grand Prix circuit. Many teams have come forward, wanting Valleyfield to "give" them a new boat. Teams must supply engines, propellers and other rigging materials and be committed to running all the races in the circuit. Valleyfield is also developing a new Grand Prix circuit in the northeast and Canada. The Thunder on the Niagara this coming weekend in North Tonawanda is part of the new circuit.
Several old time Grand Prix racers showed interest in this new Grand Prix class. Mike Endres - Grand Island, NY; Tom Baker - Baltimore, MD; Huey Newport - Cincinnati, OH; Todd Roesch - (former Grand Island) West Palm Beach, FL; and Bud Keating - Detroit, MI; put together an "all star" cast led by Newport and approached Valleyfield about being awarded a new hull. Between the "all stars" as owners, drivers and crew members they are owners of numerous world, US and Canadian Championships and holders of countless speed records. Valleyfield jumped at the opportunity to bring this group of "all stars" into the new Grand Prix and awarded this group a new hull. The hull, a Jamie Auld designed hull, was built by Bert Henderson of Brockville, Ontario. The hull was picked up by Newport and Endres in April 2008 and is being prepared for its racing debut at the Thunder on the Niagara. Patrick Haworth of Valleyfield, Quebec has been selected as the driver. The boat has been named "The Crush" as a revival of Endres / Newport famed days as "The Orange Crush." Maiden voyage is slated for Friday morning. Racing Debut is Saturday. Racing is expected to start at noon. See "Saturday/Sunday Time Schedule."
Editor's note: I am most appreciative of Mike Endres who has taken the time, only 24 hours before "The Crush" will make its "maiden voyage" in our Niagara River, to provide this story and photo to Isledegrande.com.
Scroll down for information on Thunder on the Niagara being held this weekend.




Thunder On The Niagara May 31-June 1 - 2008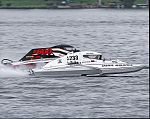 Joe Less driving "CentsLess 12" E-600 and John Krebs driving "Just Crazy" E-233, both of Grand Island, compete in a recent "Thunder on the Niagara" on the Niagara River" - Click photo for larger view
Thunder on the Niagara returns on May 31 and June 1 off Gratwick Park, North Tonawanda, NY, just across the Niagara River from Grand Island. The race days are being sponsored by the Niagara Frontier Boat Racing Association, and will feature the fast, loud hyroplane racing that you remember! Hydroplane racing has continued on the Niagara since 1939. Seventy to eighty race teams from the East Coast, Mid West, and Canada are expected to participate.
See http://www.thunderonniagara.com



---



Girls Win State Cup Soccer Tournament - 2008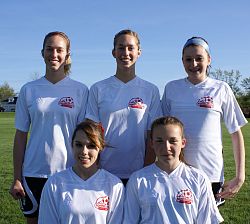 The 5 Island girls pictured are, in alphabetical order: Amanda Cinelli (D/MF)), Katlyn Holt (MF), Jenna Lee (D), Jodi Lee (D) and Stephanie Senn (K/MF/F).
Click photo for larger view
Update - The Thunder Ladies won 1-0 in overtime against the Rochester FC on Sunday, May 18 and are heading to Cortland NY for the State Cup Championships the weekend of May 30. They will join two other Buffalo teams, Buffalo United and Delaware as Syracuse. We wish them well!




Village Inn Golf Open Results - May 2008
The Village Open golf tournament was held Thursday, May 8, 2008 at the Beaver Island Golf Course on Grand Island.
Low Gross - 41 - Denny Dahl
Low Net - 35 - Dick Crawford (match of cards)
Team Low Net (143)
Mike Carr - 37
Denny Dahl - 35
Ross Kaiser - 36
Dick Crawford - 35
Other Net Scores
Denny Dahl - 35
Ed Moore - 35
Hank Carroll - 36
Ross Kaiser - 36
Les Dumas - 36
Dan Lynch Sr. - 36
Dan Lynch Jr. - 37
Mike Carr - 37
Gary Schettheir - 37
Dale Boerschig - 37
Tom Hallett - 38
John Vogel - 38
Bob Sims - 38
Al Roberts - 38


---



Five GI Girls to Compete In State Cup Soccer Tournament - 2008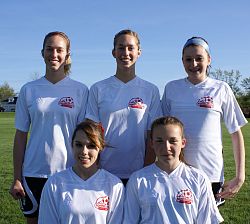 The 5 Island girls pictured are, in alphabetical order: Amanda Cinelli (D/MF)), Katlyn Holt (MF), Jenna Lee (D), Jodi Lee (D) and Stephanie Senn (K/MF/F).
Click photo for larger view
Five Grand Island girls will start their journey to attempt to become State Champions in the U-14 age bracket on Sunday, May 18th at 4 p.m. The match will be held at Veteran's Park, field #3 versus Rochester FC.
The girls are part of an "ELITE" level team, coached by Mike Smith and Steve Gattuso, that has been training at least three days a week since November. Recent accomplishments this season have included winning the Winter Session U-16 Division at Sahlen's Sports Park, as well as finishing 3rd in the extremely competitive, highly prestigious Region 1 Colonial WAPS League. This league is the highest level of competition that a team can compete in, in the Eastern Region of the country. "We encourage you to come out and support our Grand Island girls and the rest of their THUNDER teammates on Sunday the 18th at 4 p.m.," a spokesman for the team said this week. "To all the girls, good luck, we recognize and respect all the hard work you have put in and are all so very proud of what you have achieved this season so far! GO THUNDER!"




Island Rugby Club Plays Its First Game - 2008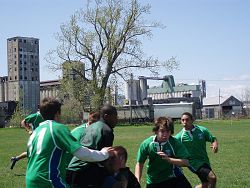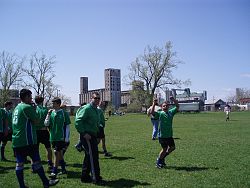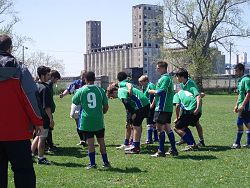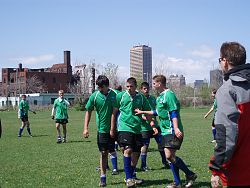 By Christine Stange
The recently organized Grand Island Rugby Club, Men's Team, played its first game against the South Buffalo Boys at Father Conway Field on Louisiana Street in Buffalo Sunday, May 4th. Borrowing uniforms from a Men's League Lockport team, the well conditioned Vikings, under the expert direction of Coach Ben Frasier, played an excellent game but lost to the South Buffalo Boys 15-5. The home team hosted an after game hot dog barbeque for both teams at the field. Mrs. Magdalene Kennedy, Grand Island High School English teacher, is the Rugby Club's advisor as well as being their most enthusiastic cheerleader. The Vikings Men's Team Roster follows:

Richard Amantia
Sam Banas
Daniel Basile
Scott Bennett
Conor Bryan
Samuel Clark
Austin Dee
Adrian Grant
Anthony Guenther
Sam Kilb
Jacob Leffler
Domenic Luciani
Eric L Martinez
Matthew Riley
Jesse Sage
Shawn Speidel
Andrew Stange
Roman Velletta
Alexander Webb
---



Shannon Driess - 2008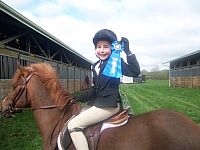 Click photo for larger view
Shannon Driess, 11, daughter of Scott and Michelle Driess, competed in the Niagara County 4-H Open Schooling Horse Show on May 4, 2008 where she placed 2nd in Youth English equitation, 2nd place in Youth English Pleasure and 1st Place in Youth Hunter Hack. She also received Reserve Champion in her division. Shannon rode Sweet Guinness/welsh pony from Hunter Ridge Riding School in Lewiston.




Max Hyland - 2008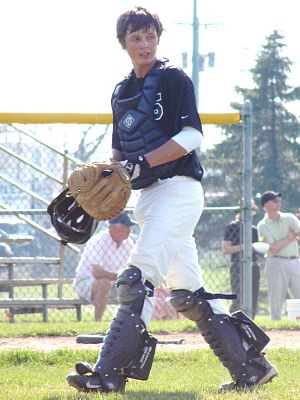 Max Hyland
Max Hyland of Grand Island, a freshman at Nichols Upper School, is playing varsity baseball for Nichols and is featured in this week's Metro Source by sports reporter Dave Ricci. See "Max Hyland Story.




Carolyn Schopp Wins Tennis Championship - Play Continues - May 2008
According to the May 3rd edition of the Buffalo News, Carolyn Schopp of Grand Island defeated Caroline Latham of San Francisco, 6-0, 6-0, in the round of 16 match at the USTA National Indoor Championships in Sacramento, Calif. Play continues today.
Here is a link to the USTA Website with a review of the matches played. Carolyn lost in the second round of the singles but is in the thick of it in the Womens and Mixed Doubles. Carolyn and Gee Gee Garvin have won the USTA National Indoor Over 30 champion - women's doubles. See USTA Website with Standings




Village Inn Golf Open - May 2008
The Village Open golf tournament takes place Thursday, May 8, 2008 at the Beaver Island Golf Course on Grand Island.
In addition to nine holes of afternoon golf, golfers can enjoy a pre-tournament breakfast at 11 a.m. at the Village Inn. A post-tournament get-together with refreshments will follow at approximately 3:30 p.m., also at the Village Inn - good food, beer and pop at $5.
For more information, contact Edward Moore, 773-3817.




Steve Kopf - 2008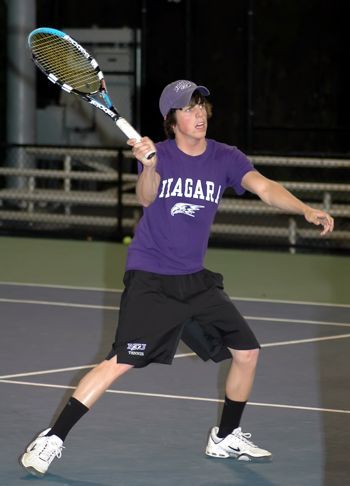 Steve Kopf
EDISON, N.J. - The Niagara University men's and women's tennis teams placed seven student-athletes on the MAAC All-Academic Team, as announced by the conference office on April 18th. The men's team had two members on the list, while the women's team was represented by five student-athletes.
Juniors Marc Dickinson (Saskatoon, Sask.) and Steve Kopf (Grand Island, N.Y.) were named to the list for the second-straight season. Dickinson boasted a 6-1 record in conference singles and 5-1 in doubles action this season, while Kopf went 4-2 in conference doubles.
To be eligible for the MAAC All-Academic Team, a student-athlete must complete two semesters at their institution and hold a cumulative grade point average of 3.20 on a 4.0 scale. Siena College led all schools with 10 members named to the teams, and Fairfield University had eight athletes selected. Loyola College, Marist College and Niagara University each added seven members.




Mike Blocho - "Prime Time Player" - April 2008
Mike Blocho, a student at Canisius College and graduate of Grand Island High School has been named a "Prime time player" - Western New York high school product on the rosters of the NCAA Division I lacrosse teams for this season. Mike, who is in his senior year at Canisius, plays attack. See http://www.buffalonews.com/sports/story/284886.html




Beaver Island Golf Course Open For Season - 2008
The NYS Parks and Recreation has announced that the Beaver Island golf course will be open for another season of great golfing as of 8 a.m. Thursday, April 17.
Opened in 1965, this 18-hole championship course is located on Grand Island on the Niagara River in Beaver Island State Park. The course has large, manicured greens, accented with hazards of white sand. Golfers can enjoy "watchable wildlife" as they play down wide fairways that parallel picturesque ponds leading to generous, gently sloped greens. The course offers a challenge to both the recreational and serious golfer.
Cart and club rentals are available and greens fees are as follows:
• Weekday Fee (9 Holes) $11
• Weekday Fee (18 Holes) $18
• Weekend Fee (9 Holes) $12
• Weekend Fee (18 Holes) $22
Reservations can be made by calling (716) 773-2010.




Island Lanes Results 2008
See Bowling Results submitted April 10, 2008




Island Lanes Results 2008
See Bowling Results submitted April 3, 2008




Thunder On The Niagara Race Meeting - 2008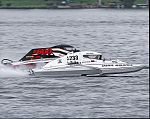 Joe Less driving "CentsLess 12" E-600 and John Krebs driving "Just Crazy" E-233, both of Grand Island, compete in a recent "Thunder on the Niagara" on the Niagara River" - Click photo for larger view
A race meeting for Thunder On The Niagara will be held 7 p.m. Wednesday, April 2, 2008 at the LaSalle Yacht Club, 73 South 68th Street, Niagara Falls (right off Buffalo Avenue near the North Grand Island Bridge). The meeting is open to all interested parties looking for more information on the planned "Thunder on the Niagara" Hydroplane races May 31 and June 1 in Gratwick Riverside Park, North Tonawanda, NY. See also 1/17/08 Story.




Island Lanes Results 2008
See Bowling Results submitted March 27, 2008




Island Lanes Results 2008
See Bowling Results submitted March 20, 2008




Peter Chopra On Bud Bakewell Bruins State Championship Team - 2008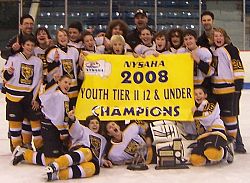 Coach Parisi, Julia Duquette, Mike Gough, Rich Chmielnicki, Coach DeFranks, Coach White, Matt Peters, Dave Hopfer, Cody Beaton, Brett Wigdorski, Brenon Sarratori, Mike Parisi, Frank Falzone, Tom Skura, Jeff Becker Cory Jablonski, Curtis Swan, Peter Chopra, Sammy DeFranks
The Bud Bakewell Bruins Peewee Major team won the New York State 12U Tier II championship on March 9, 2008. The tournament began with the Bruins goalie Peter Chopra's (Grand Island) shutout victory against the Elmira Jackals 6-0. The Bruins then went on to defeat the Freeport Arrows 5-2 and the St. Lawrence Thunder 3-2. The Bruins then advanced to the semi final game against the Long Island Rebels. The Bruins overcame a 3-goal deficit in the 3rd period to force overtime. Brenon Sarratori scored the winning goal 49 seconds into overtime to secure an outstanding come from behind victory and defeat the Rebels 6-5. The win placed the Bruins in the championship game against their rival team the Niagara Jr. Purple Eagles.
The championship game started with Niagara taking a 2-0 lead in the first period. The Bruins battled their way back and Mike Gough scored on a breakaway after receiving a great break out pass from Sammy DeFranks. With the game still on the line, Tom Skura scored several minutes later with a blast from the blue line to tie the game 2-2. Both teams fought hard in the 3rd period until Tom Skura fought off a check, ripped a shot from the blue line and scored the winning goal. The Bruins went on to win the Championship game 3-2. Bruins goalie Peter Chopra was outstanding in goal throughout the entire tournament.
The Bud Bakewell Bruins are led by their head coach Sam DeFranks who taught the players to always work hard, never give up, and play as a team. Every player on the team put forth their best effort. This enabled the Bruins to go undefeated in the State Tournament. The Bruins will now advance to the National Championship tournament being held in Hackensack, NJ, April 2-6, 2008. The National Tournament consists of 12 teams from across the country.




Island Lanes Results 2008
See Bowling Results submitted March 13, 2008




NU Diver Ian O'Rourke to Compete in NCAA Championship - 2008
Grand Island resident and state champion diver, Ian O'Rourke, is featured in a 3/13/08 Niagara Gazette story by Jonah Bronstein.




Alexi Salamone To Compete On US Team At World Sled Hockey Team Championships - 2008
Grand Island resident Alexi Salamone, 20, will represent the United States at the world sled hockey championships in Marlborough, Massachusetts later this month. See 3/13/08 Buffalo News Story By Gene Warner.




Grand Island Modified Hockey Starting Up - 2008
Grand Island Club Hockey is starting a modified Hockey Team. There is a parent only meeting on Thursday, March 20 at 7 p.m. at the VFW Post, 2121 Grand Island Blvd., across from Tops for everyone interested. All players must be in 7th or 8th grade and attend Connor Middle School. The season will start April 15 and run through June 30. All skill levels welcome. For further information, call Gordy Anderson, 432-9417.




Island Lanes Results 2008
See Bowling Results submitted March 6, 2008




Island Lanes Results 2008
See Bowling Results submitted February 28, 2008




Skier Brianna McGuire - Invited To EQS Regional Championships - 2008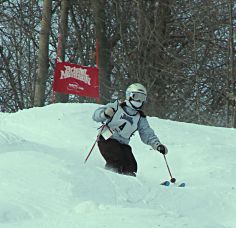 Brianna McGuire, daughter of Andrea and Michael McGuire, has been invited to ski in the EQS Regional championships being held at Holiday Valley March 1-2, 2008. Brianna will be one of two girls representing the Holiday Valley Freestyle Team in this event. She will compete in the Moguls and Slope Side events. Brianna, who started skiing when she was four years old, is a high honor roll seventh grader at Connor Middle School.




Grand Island's Mike Blocho Still In Sports Limelight - 2008
Grand Island High School graduate Mike Blocho, Class of 2003, was named the Buffalo News Player of the Year in 2003. A December 2003 Buffalo News Story reported that "Grand Island's Mike Blocho tops star-studded field of ball carriers." His sport was definitely football.
To read about Mike's current successes, playing lacrosse for the Canisius College Golden Griffins, see the February 26, 2008 Buffalo News Story by Tom Borrelli.




Island Lanes Results 2008
See Bowling Results submitted February 21, 2008




Beaver Island To Participate In Special Goose Season - 2008
Beaver Island State Park has announced that it will participate in a Special Goose Hunting season that will be held March 1 through March 10, 2008.
Waterfowl blinds for Beaver Island will be done by call-in ONLY between 9:00am – 12:00pm (NOON) by calling 773-2010. Permits must be picked up at the park office prior to the hunt. The office is open Monday through Friday between the hours of 8 a.m. – 4:30 p.m.

 

CALL-IN DATES		HUNTING DATES			
Thurs. 	02/28/08    		Sat. - Tues.  	03/01/08 - 03/04/08
Tues.   	03/04/08		Wed. - Fri.     	03/05/08 - 03/07/08		
Thurs.  03/06/08		Sat. - Mon.       03/08/08 - 03/10/08

*Beaver Island requires a boat to be on site, "at the ready," for retrieving or rescue.
In order to be eligible for the lottery, hunters must have a current NYS Small Game hunting license with a Federal Migratory Bird Hunting and Conservation Stamp (duck stamp) with their name signed in ink across the face. In addition, proof of completion of a NYS Waterfowl Identification Course and proof of registration in NYS Harvest Information Program (HIP)(1-800-427-5447) is required.
Contact the park office at 773-3271 for more information.




Rayhill & Dillen Win End-of-Season Football Honors - 2008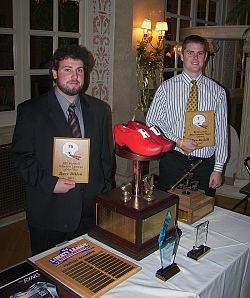 Dave Dillen (left) and Tom Rayhill hold their individual awards standing next to the Dutchman Shoes Trophy at the RPI Year-End Football Banquet.
Click photo for larger view.
Two Grand Island High School graduates, Class of 2004, were recently recognized for their accomplishments at their Year-End Football Awards banquet at Rensselaer Polytechnic Institute. Senior Thomas Rayhill was named Defensive Most Valuable Player while Senior David Dillen was named Offensive Lineman of the Year.
Rayhill finished second on the team in Defensive statistics for three years in a row. This year, he had 75 tackles (35 unassisted), 3 sacks for losses of 15 yards, 9 tackles for 30 lost yards, an interception, a forced fumble, a fumble recovery and 4 pass breakups. For his performance in the Liberty League Championship game against arch rival Union College, D3football.com named him to the national Team Of The Week. As a freshman, Rayhill was also named Special Teams Player of the Year at RPI. This past season, he was also selected as one of the team's captains.
Dillen started all ten games and helped RPI average 27.5 points and 395.1 yards per game. Dave and his offensive line only allowed 18 sacks the entire season. Dillen was also named to the 2007 ESPN the Magazine National Academic All-America College Division III Football First Team. He carries a 3.95 cumulative average as an electrical engineer.
RPI finished the regular season with eight wins and one loss and was co-champion of the Liberty League with Hobart College. RPI won the Automatic Qualifier bid to the NCAA Football Tournament by beating Hobart in the regular season. Unfortunately, RPI lost in the first round of the NCAA playoffs.
Both Tom and Dave played on the Grand Island Vikings Section VI Championship team in 2003.


---



Niagara Gymnastics News - Feb. 2008
The Niagara Gymnastics Team from Gleason's Gymnastics competed in The Rochester Classic on February 16-17. The meet was held at Rochester Institute of Technology and hosted by Rochester Gymnastics Academy. The level 6 team was represented by Grand Islander Brianna Brandon. Brianna competed in the senior division, where she placed second on floor with a 9.25. She was also strong on the beam, earning a score of 8.6.
Competing for the level 4 team was Grace Bolton, a sixth grader at Veronica Connor Middle School on Grand Island. Grace had her high score of the day on the vault, where she earned a 9.2. Her all-around score was 34.20. The Niagara Level 4 Team earned third place in the team competition.




Island Lanes Results 2008
See Bowling Results submitted February 14, 2008


---



Loveless Scores Game Winning Goal - Feb. 2008
Larry Loveless scored the winning goal at 2:38 left in the third period for his team, the Chippawa Riverhawks on Monday, February 11, to take a 3-0 series lead over the Caledonia Corvairs in Niagara and District Junior C hockey league action in Canada. Larry, son of Brian and Susan Hall of Grand Island, is enjoying his first year of junior play in Canada. A 2007 graduate of Grand Island High School, Larry was the captain of the Grand Island Varsity hockey team last year and was selected First Team All-Star for defense (2 years in a row). He was also on the Jr. Purple Eagles Midget team in 2006 that won the New York State Championship.


---



Niagara Coyotes Going To States - Feb. 2008
Congratulations to the Niagara County Coyotes Bantam Hockey Team for making it to the New York State Championships for the second year in a row! The team includes players from Grand Island, Michael Hall and Jeremy Anderson, and is coached by Brian Hall. This year the championships will be held in Olean on February 29th thru March 2nd, 2008. Good Luck Coyotes.




Boat Racing News - 2008
The APBA Convention (American Power Boat Racing Association) was held in Detroit February 1-2, 2008. At the Inboard Awards ceremony the following local people received High point awards (entire country):
1 litre Mod class:
owner Jim Sechler of Michigan, driver Dan Kanfoush (N.Fals) 1st place
In the 2.5 litre stock class - Greg Barker Owner, Mark Johnson Driver (both of Grand Island) 3rd place
In the 5 litre class - Don Less owner, Ken Brodie driver (both of Grand Island) 4th place.
In the Grand Prix Class - Owner Robert Zabady, drivers Ken Brodie Sr and Ken Brodie Jr. 1st place
Dan Kanfoush (lives in Niagara Falls, works on GI) was inducted into the Hall of Champions.
The Inboard Scorers award - this award is presented to one Inboard scorer every year, based on number of races worked, years of being a scorer, working National Events, etc. The award was presented to Liz Barker
The race in North Tonawanda will be held May 31 and June 1 this year. The next meeting of the Niagara Frontier Boat Racing Association will be held February 13 at the Dome Stadium in Tonawanda beginning at 7:30 p.m.
New people are always welcome ! Anyone needing further information on Club meetings or the race can call: 773-0159 or 773-6648




Island Lanes Results 2008
See Bowling Results submitted February 7, 2008




Island Lanes Results 2008
See Bowling Results submitted January 31, 2008




Island Lanes Results 2008
See Bowling Results submitted January 24, 2008




Island Lanes Results 2008
See Bowling Results submitted January 17, 2008




Thunder On The Niagara Returning - May 31-June 1 - 2008
Thunder On The Niagara returns this summer on May 31 and June 1, 2008 at Gratwick Park, North Tonawanda, NY with fast, loud hydroplane racing!
Corporations are cordially invited to become a sponsor. Niagara Frontier Boat Racing Association whose auspices will bring this major event to the WNY area, is a (501) not for profit organization, governed by the American Power Boat Association and partakes in a joint sanction with the Canadian Boating Federation. See Thunder on the Niagara for sponsor information and more.




Island Lanes Results 2008
See Bowling Results submitted January 10, 2008




Island Lanes Results 2007-08
See Bowling Results submitted January 3, 2008


---
Other Grand Island Pages to Visit:
Churches | Email Directory | Government | Groups
GIHS Grad List | Guestbook | Please sign in! | Local Artists | Photo Album | Town History | Useful Links
| Website Design | Wildlife | Isledegrande's Home Page | GIECOM.NET'S Home Page
Please Email News Releases to Teddy Linenfelser, Thank You.
This website is sponsored by
GIECOM.NET
1871 Whitehaven Road, Grand Island, New York, 14072-1803 USA


Copyright © 1995-2008 All rights reserved.