Hate Crime on Grand Island
The Erie County Sheriff's Office reports the arrest of four Town of Grand Island residents for gang assault and harassment. The crime appears to have been racially motivated.
Detective Fred Vincent of the Erie County Sheriff's Office was patrolling a known trouble area of the Town of Grand Island, when he noticed a commotion and saw five persons running from the scene.
Detective Vincent was able to apprehend one of the youths, upon further investigation revealed that a black male was approached by five youths and assaulted as he was walking from work. Four of the youths began calling the man derogatory names and using racial epithets. He was subsequently knocked to the ground and sustained hand, knee, neck and back injuries.
At this time, one thirteen year old has been taken into custody and placed into the county detention facility. One sixteen year old has been taken to the Erie County Holding Center. Another subject, Fifteen years old, was released to his parents on an appearance ticket. The fourth subject was apprehended Wednesday morning at 10:30 a.m.
Assisting the Erie County Sheriff's Office: The Grand Island Police, State Police, and the State Parks Police.
<Complete Story>

1st PRIZE - 500 mhz Computer with 128 Megs of RAM 56K V.90 Modem, Sound card with speakers, 17" monitor and unlimited Internet Access 1 Yr
$1000 Value
2nd PRIZE - Internet access, $179 Value

Click HERE for details!
GIFTS Family Day of Celebration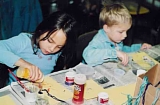 Lauren and Ryan Kissel make pendants at GIFTS Family Day of Celebration.

GIFTS (Grand Island Family, Town and Schools) held its second annual National Family Day of Celebration Saturday morning (Oct. 28) at Kaegebein School. More than 125 Grand Island parents and children were at the event. The focus of the event was to have community support of families according to GIFTS Coordinator Heather Maris.
<Complete Story>


News Wanted
We want to post your news, please email to info@giecom.net , fax to 773-1019 or just drop it into our DROP BOX next to the front door.

GI Chicks soccer team seeks sponsors


GI Chicks, (L-R) Kim Walker, Jenna Podlucky, Tina Coates, Jenny Rogan, and Katie Loiselle, seek sponsors for their trip to the national championship in Florida.
The Grand Island Chicks U-16 three person team played well enough to make it to the natonal chamionships in Florida, January 12 -13, 2001. Click here to learn more about this nationally recognized Grand Island Sports team.

GI E-News Coloring Contest
GI E-News announces a coloring contest in three age groups (4-6, 7-9, and 10-12). A twenty-dollar gift certificate will be awarded for the winner of each age group. Contestants may download the GIECOM Turkey and the Contest Rules online. Additional copies are available at the GIECOM Office. They may be mailed or dropped off our office, 1871 Whitehaven Rd., Grand Island, NY 14072. All entries must arrive on or before November 15, 2000.
Volunteers needed for Kids Voting
Island students from kindergarten through 12th grade will vote with their parents at one of the eight polling places on Election Day, November 7, through the Kids Voting program. Kids Voting Coordinator Lee Tetkowski, 773-3266, is asking for volunteers to help with the program. A short training will be available for all volunteers.

Isle firemen fight Tonawanda grass fire
By Ray Pauley (GIFC Information Officer)
Grand Island firefighters responded to a District One Alarm sounded by the Town of Tonawanda Volunteer Fire Companies shortly before noon Monday, October 30 when a "major" fire was discovered burning across grass lands adjoining the Tonawanda Coke Plant at 3875 River Road. <Complete Story>

UNICEF Day - still time to donate
UNICEF boxes will be taken around tonight, Halloween, as children canvass the Island for candy and donations to this most worthy cause. Please be generous. Lee Tetkowski, long time chairman, informs us that the containers for your donations will remain in the banks this week. Be sure your child's container gets taken back to school. For more information or to purchase items to benefit UNICEF, call Mrs. Tetkowski at 773-3266.

It's The Weekend
Saturday
PTA Craft Fair at Kaegebein School;
Karaoke at Moose Lodge;
Membership Party Snowmobile Club.
Sunday
Pie bake-off at VFW Post
<Click here for the details>
GI Chamber Expo 2000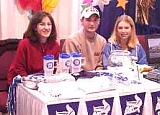 More than thirty-five businesses and civic organizations displayed their wares at the ninth annual Grand Island Chamber of Commerce Business and Community Exposition, last Saturday (Oct.28), in the Bible Presbyterian Family Life Center on Love Rd. <Complete Story>

GIE-News - Internet Grand Island newspaper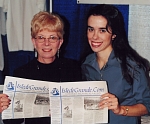 Teddy Linenfelser and Kim Baldassare show off Grand Island E-News at the Expo. (photo by Fred Claus)
Longtime resident and jeweler Reg Schopp has accomplished his dream, providing Grand Island, New York with online news. IsledeGrande.com has been featuring island information to the world since 1997. Connecting hundreds of old friends with its Email Directory and Grad List. Isledegrande.Com is sponsored by GIECOM.NET his new Internet Company.
<Complete Story>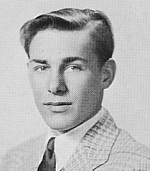 Growing up on the Island
1942 - 1950
'The Beginning'
By Ted Kumlander
In the fall of 1942 my parents purchased a farm house at 3114 Baseline Road. That's near Long Road. The lot was a little over 1 acre. The previous owners were Mr. And Mrs. Joseph Zehnder, the price was $2450, and that's not a typo.
<Complete Story>