Grand Islanders in the News 2003
Click for 2002 News
Click for 2001 News
---



Woodcarver Stan Hill Remembered - 2003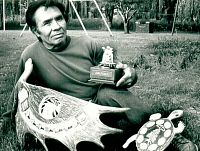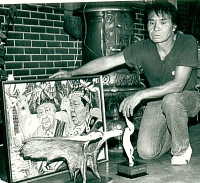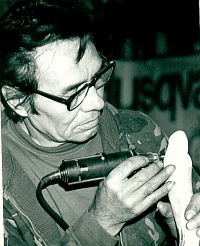 Longtime Island resident and noted bone carver, Stanley R. Hill Sr. passed away on December 14, 2003. He was 82. Stan became a full-time bone carver in the 1970s, carving as many a thousand pieces in a year. His work, which won him numerous awards, was featured across the nation and Canada. Click Death Notice for more on Stan's life and family.


---



Welcome, Cayleigh Rose Fitzsimmons - Christmas Day 2003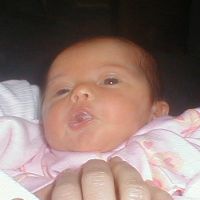 Cayleigh Rose Fitzsimmons was born on Christmas Day weighing six pounds, 13 ounces and 20 inches long. Proud parents are the former Renee' Robinson and her husband Chris Fitzsimmons of North Tonawanda. Proud grandparents are Jim and Nancy Robinson of Parkview Drive, Debby and Mike Phelps of North Tonawanda and the late Richard Fitzsimmons.


---



Salamone Family Travels The U.S. National Sled Hockey Circuit - Dec. 2003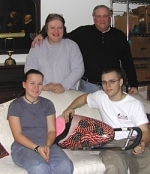 Click photo for a larger view.
The Salamone family's travels take them near and far, thanks to their son's membership on the U.S. National Sled Hockey Team. Ready for another trip, are Al and his sister, Tatiana, and their parents, Joe and Sue.
By Kathleen Ganz
Al Salamone's mom has a secret wish: to stay home for just a little while and get the house straightened up.
Instead, she gets the suitcases out once again and packs clothes for the entire family, while her son organizes his hockey equipment.
Sue's dilemma is a familiar one to hockey moms everywhere, but the Salamone's trips are a little more complicated, as they frequently involve airplanes and passports.
Al, a sophomore at Grand Island High School, is the youngest member ever of the U.S. National Sled Hockey Team. His passion took him and his family to Germany in November, then to Ottawa for another competition this month.
The hockey trophies share space in the family's home with ones for Al's wrestling and ice skating, too. He also golfs and swims. "He wanted to play football, too, but we turned him down," Sue said.
Not a bad career for a kid who's lower legs were amputated when he was just four years old.
Sue and her husband, Joe, adopted the orphaned Alexei soon after the youngster had surgery in a Russian hospital. His legs had to be amputated as a result of twisted kneecaps at birth, probably a consequence of the nuclear accident in Chernobyl, where he was born.
While they were waiting for the paperwork to be completed, they decided to also adopt Tatiana, a little girl who was born without a foot. Alexei and Tatiana had become fast friends while they were both recovering in the hospital in Moscow.
Once they were at home in America with their new family, both Al and "T," as she prefers to be called, skated with SABAH — the Skating Association for the Blind and Handicapped. Al won the Jessica Rose Thomas award given to the skater with a physical challenge who exemplifies the qualities of courage and determination in 1998, and his sister emerged as a SABAH skating star.
Al then decided to give sled hockey a try, using a sled designed to be used without his prosthetics legs. His success has been phenomenal, and he's considered a rising star.
What's next for the Salamone family?
"Well, there are the World Games in Sweden in April," Al said. "And I want a spot on the 2006 Paralympics Sled Hockey team in Italy."
And that means Sue can forget unpacking.
"I keep talking about this sedate life I'd like for us, but both Al and "T" will be off to college in such a short time.
"That will be time enough for us to take it easy!"

---



Marc Scibilia - "Buffalo Idol" - 2003
Marc Scibilia, 17, of Grand Island was the big winner of Buffalo Idol 2, one of Kiss 98.5's Exclusive Contests. Votes in a two-day period totaled over 30,000 and Marc received 31%. He was competing in a field narrowed down to six contestants. Marc will perform at Kissmas Bash 2003 on Saturday, December 13th.
Son of Jeannine and Robert Scibilia and a junior at Grand Island High School, Marc won $500 in Media Play cash and will have the opportunity to record a demo CD with the help of Kiss 98.5 that the station will circulate to all major record labels!


---




Chad Kelly, Punt, Pass and Kick Winner - December 2003
Chad Kelly, son of Charlene and Kevin Kelly, advanced to the regional finals of the 2003 NFL Pepsi Punt, Pass and Kick competition. A 4th grader at Huth Road Elementary School, Chad won the local and sectional competitions and took first place in the 8-9-year-old division at the regional finals at Ralph Wilson Stadium last month.


---



Michele Beauchamp
December 2003 . . . Michele Beauchamp has been elected Vice President of Communications for the West Texas Chapter of the American Society for Training and Development. Michele currently resides in Lubbock, Texas and is employed as an Area Learning Consultant for Cox Communications. She is the daughter of Mike and Sandy Beauchamp of Steeg Road, Grand Island.


---



Carissa Marie Bailey, Runner Up For Teen Miss Buffalo - Dec. 2003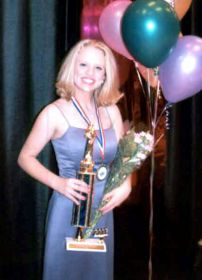 December 2003 . . .Carissa Marie Bailey, 15, of Grand Island was named Teen Miss Buffalo 1st runner up at the Little Miss Buffalo Pageant on Sunday, November 23, 2003. She is the daughter of David and Cheryl Bailey.
The competition is open to young women who are between the ages of 4 and 16. Carissa competed in the teen division for girls ages 13-16. All contestants reside in one of the 15 counties of Western New York. Judging is based on poise, confidence, personality and appearance. Teen contestants were also scored on their ability to express their opinions and ideas.
Carissa is a sophomore at Grand Island High School, concentrating in the study of the performing arts. She is currently studying piano, violin, voice, dance and acting. She is an active volunteer member of the Starry Night Theatre Company in North Tonawanda where she assists in set construction, house management and acts in many shows. Miss Bailey is a 3-time recipient of the Pride of the Island award and received the 'H' Pin from Huth Road Elementary School. Carissa is actively involved in and currently vice president of the Spotlighters Drama Club. She also enjoys her participation in the Humanities Club and is one of the high school's morning announcers. She recently appeared as Mrs. Soames in Our Town at Grand Island High School and is looking forward to appearing in the high school's upcoming musical rendition of Guys and Dolls. Carissa plans on attending college and becoming a music educator.
The Little Miss Buffalo Pageant is a fundraising event for the Miss Buffalo Scholarship Program, an official Miss America preliminary. The not-for-profit Miss America organization is the largest scholarship foundation for women in the world. For the past 56 years, it has encouraged young women to pursue academic goals, contribute to society through community service, polish personal and professional skills and perfect their performing arts abilities. For more information click www.missbuffalo.org.


---



Heidi Sue Mumm Is Channel 2 News Educator of the Week - Dec. 2003


December 2003 . . . Island resident Heidi Sue Mumm has been named Channel 2 News Educator of the Week. On the faculty of Martin Luther Christian School, she has been an inspiration for countless students. Whether in the classroom, on the stage, or on the field, she has choreographed a routine for success – each step teaching students valuable life lessons while developing character.

---



Worthy Cause Benefits From Bookmark Club - 2003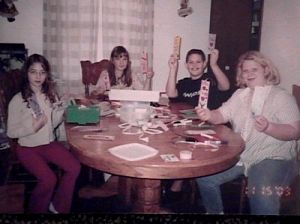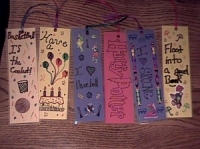 Click bottom photo for larger view.
Huth Road Elementary School 5th grader Chris Rose, and his friends are selling their bookmarks again this year. All profits are being given to the Grand Island Neighbors Foundation for Christmas. The bookmarks are made of construction paper, stenciled, laminated and then tassles are added. The bookmark makers have had sales of $100 so far. Chris started the Bookmark Club last year with Alie Cook, Justine Call, Ivey Spier, Sarah Webb, Ryan and Melanie Thompson and his sister, Kaitlyn Rose. They still have a good supply of bookmarks to sell - Harry Potter, dancing, hockey, football, basketball, love, angels, Christian, animals, racing, NASCAR, etc. To order, call Chris at 774-1228.
Chris is the son of Ron and Karen Rose of Gregory Place.



---



McCarthy Dancers To Enter Regional Competition - 2003
The McCarthy School of Irish Dance, located on Baseline Rd. is proud to send 32 of its dancers to the Regional Competition, an Oireachtas (pronounced O-Rock-Tus) in Philadelphia, PA, November 28-30, 2003. The dancers will perform their 8-hand and 4-hand figure dances as well as solo dances before judges from Ireland, Scotland, England, Canada, United States, and other countries. The McCarthy School of Irish Dance has participants ranging in age from 5 to 21 and are residents of Grand Island, Niagara Falls, Youngstown, Lewiston, and Tonawanda. In the past, they have been seen in Grand Island's Independence Day parade, Veronica E. Connor Middle School's International Night, Fantasy Island, Darien Lake, and at numerous places in Western New York during St. Patrick's Day celebrations. For more information on McCarthy School of Irish Dance, call Beth at 773-5479 or Sue at 773-6849.


---



Cooking Garu Barry Conway On TV Saturday - 2003
Grand Island's own celebrity chef, Barry Conway will be on WNED on Saturday, November 22, 2003 around 2:00 - 2:15 p.m. The program is WNEDCooks, H is for Holiday Favorites Cookbook and he will be making his Pumpkin Pie with Praline Topping. This is another awesome pie (not low-fat) that is a winner with his friends and family. Barry also provided his recipe for Bear Man's Beer Soup that was in WNED's last cookbook "S is for Soups and Stews". Click for "Pumpkin Pie with Praline Topping" or for "Bear Man's Beer Soup"


---



"Gibbous" - High School Musicians On Channel 13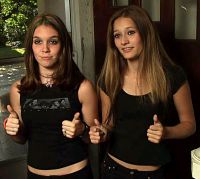 November 2003 . . . Ellen Cameron and Portia Cartwright will be appearing on the "Crossroads" Show on Adelphia Channel 13 at 3 p.m. Monday, November 17, 2003 and again at 6 p.m. and 10 p.m. Monday. The talented Grand Island High School students, formerly known as "Fade 2 Black," and now playing under the name, "Gibbous," have had a busy playing schedule that included the August 2003 "Rock the Border," a two-day event held at Summit Park Mall. Ellen and Portia are shown above in a scene they will be in in a new movie, "Failure," being produced by Greg Sterlace and expected to be out in January.


---



Morgan Recognized For Best Networking Education Presentation - 2003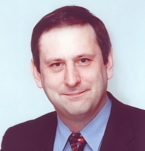 Grand Island resident Steve Morgan was recently recognized for the best Networking Education Presentation at the Western New York Business Networking International Awards Luncheon. The entertaining two-minute presentation, "The Power of One More" maps out a formula to determine how powerful a networking group's sphere of influence is. Steve is the Education Coordinator for Buffalo's First BNI Chapter that meets Friday mornings at the airport Sleep Inn in Cheektowaga. Started in January 1985, BNI provides a positive, supportive, and structured environment for men and women to further their business through word-of-mouth marketing.


---



Celebration/Fundraiser For Alexi Salamone - 2003



A Celebration/Fundraiser for Alexi Salamone will be held from 6-9 p.m. November 14, 2003 at Sweeney Hose Co. #7, 4999 Zimmerman Rd. at Erie Rd., North Tonawanda.
Pre-sale tickets are $20, and tickets at the door are $23.00 (children under the age of 10, $5.00).
Alexi has been chosen for the U.S. National Men's Sled Hockey Team. He has worked very hard and at 16 is the youngest person ever to become a member of the Men's Team. He will be traveling to Germany in November, Ottawa in January and to Sweden in April for the World Games. Hopefully he will then go on to his dream of trying out and becoming a member of the in the 2006 Olympic Sled Hockey Team in Torino, Italy.
For complete information, click Celebration/Fundraiser For Alexi. To read all about Alexi Salamone click www.alsalamone.com.

---



Welcome, Ryan Derek Pinzel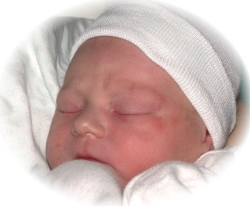 Ryan Derek Pinzel was born October 20, 2003 to Mark and Michelle Pinzel. The baby boy weighed in at seven pounds, eleven ounces and is the grandson of Bob and Mary Kopf and Linda and Carl Pinzel of Grand Island. Ryan Derek is the great grandchild of Frank Pinzel and Jim and Harriet Johnstone, also of Grand Island.


---



Alexi Salamone Chosen For
U.S. National Men's Sled Hockey Team - 2003
Celebration/Fundraiser November 14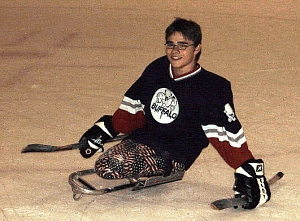 Joseph and Susan Salamone
P.O. Box 693
Grand Island, NY 14072-0693


Dear Family and Friends,
We are writing to let you know that our son, Alexi has been chosen for the U.S. National Men's Sled Hockey Team. Al has worked very hard and we were so pleased to find out that at 16 he is the youngest person ever to become a member of the Men's Team. He will be traveling to Germany in November, Ottawa in January and to Sweden in April for the World Games. Hopefully he will then go on to his dream of trying out and becoming a member of the in the 2006 Olympic Sled Hockey Team in Torino, Italy.
We are having a Celebration/Fundraiser for Al on November 14th and would be so happy if you could join us. We have received some very interesting donations for the Chinese and Silent Auctions; you may even pick up some nice Christmas gifts if you are the winner. Pre-sale tickets are $20, and tickets at the door are $23.00 (children under the age of 10, $5.00). There will be a Split Club Raffle as well. A flyer with the time and location and a story about Al, that was published in the Buffalo News last Valentine's Day is enclosed.
As you can imagine, this is a costly venture between ice time, equipment and travel/lodging for training camps. If you work for someone who may be interested in sponsoring Al achieve his Olympic Dream, please let us know and we will send information immediately. We can provide you with a non-profit number (501-c-3) for tax deductions. I may be reached locally at 775-0715 or 1-800-738-8698. You can obtain additional information about Al at www.alsalamone.com.
Thank you for your time and consideration.
Sue Kiedrowski Salamone
Joe Salamone
Click All Fundraiser Information




Don Burns Guest Of Honor At Grand International Jazz Society Event - 2003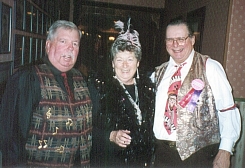 Click Complete Story.
---




Preston Tabron Sr. Inducted Into Harvard Cup Hall of Fame - 2003
Preston Tabron Sr. was recently inducted into the second Harvard Cup Hall of Fame, a Buffalo public school football honor. The ceremony was held at Pettibones Restaurant at Dunn Tire Park. Mr. Tabron, now deceased, was a long time resident of Grand Isand. The award ceremony was attended by member of his family.
Preston attended Hutch-Tech High School and played football there until it closed. He transferred to East High School in 1953 where he was an All-High fullback, recognized as an outstanding blocker. His name was submitted for induction by a committee of his teammates from East High School, now celebrating the 50th Anniversary of their first Harvard Cup Football Champinships.
During the induction ceremony, it was reported that his teammates said that Preston had led them on the field and that it was only right that he lead them into the Harvard Cup Hall of Fame.
The Tabron family is most appreciative of his teammates from East High, the Buffalo Pubic Schools Athletic Department, and Rich Kozak, who organized the Haravard Cup Hall of Fame last year and continues as its coordinator.
"I would like to say how pleased my husband would have been to be recognized for something he did as a young man and continued to enjoy for the rest of his life," Tabron's wife, Bettye, said of the induction. "He went on to coach Little League Football for the Masten Boy's Club in Buffalo for a number of years. As a former teacher, I know the importance of art, music and sports for our young people," she said. "When it comes to funding these activities, let's not cut out these programs that can help in many ways to educate our children and influence them throughout their lives."


---




Dr. Richard J. McCowan Receives Contract To Conduct National Study - October 2003
Dr. Richard J. McCowan, Professor Emeritus and Director of Research and Evaluation for the Center for Development of Human Services at Buffalo State College and his associate, Dr. Scott Roberts, Professor of Health and Wellness, have received a two-year contract to conduct a national study for Realityworks, Inc. using the Baby-Think-It-Over infant simulator. The study will examine the effects of the newest simulator model on parenting attitudes, child rearing, and child development. The estimated cost of the study is $100,000.
An article written by Dr. McCowan and Dr. Roberts on the effects of simulator use that involved Grand Island students as part of the sample will be published in the journal Adolescence. They will also present the findings at the New York State Associate AHPERD conference (NYS Health, Physical Education, Recreation, and Dance) on November 20, 2003 at the Adam's Mark Hotel in Buffalo, New York.


---



Frentzel Is Town Clerk Candidate - October 2003


"On November 4th, the citizens of Grand Island will have the opportunity to elect Patricia A. Frentzel as their new town clerk," Mrs. Frentzel said this week in announcing her candidacy for town clerk. According to Pattie, she brings to the town clerk position a wealth of private sector experience along with a business minded look at the future. Exploring new concepts and possibilities for exciting policies and procedures as well as cost saving measures have already been pursued, said Pattie.
In her former position as Resource/Development Director for the Niagara Falls Area Chamber of Commerce (NFACC), Pattie planned, prepared and executed an extensive operating budget and successfully coordinated and managed numerous community events. Mrs. Frentzel says she was known for repeatedly increasing fundraising revenues while at the same time reducing overhead expenses. She feels her determination and resourcefulness contributed greatly to the resurgence of the Chamber in the Niagara region and its surrounding areas.
Prior to working at the NFACC, Pattie held director positions with the American Heart Association, the National Kidney Foundation of WYN and the Grand Island Chamber of Commerce. During her tenure with the Heart Association, she successfully managed over 1,200 volunteers. At the Kidney Foundation she oversaw the implementation of a state-of-the-art donor tracking software program, as well as enhanced patient services. While at the Grand Island Chamber of Commerce, she assisted with the annual Citizen of the Year Dinner and introduced the solicitation of corporate underwriting for the event. These positions also afforded Pattie with extensive experience with project management, hiring, training and staff development.
However, Mrs. Frentzel claims she is not relying solely on professional experiene in her preparation for town clerk. She has worked over the last several years to earn the confidence and votes of her neighbors here on Grand Island by faithfully attended Town Board meetings and earnestly walked door-to-door listening to the concerns of her fellow Islanders. In addition, she continues her pursuit of knowledge through course work in Business Administration at Empire State College. Relative to her preparation for town clerk, Pattie states: "I have always been self motivated and a quick learner. I am certain that I will be able to apply these qualities to the position of town clerk."
Pattie learned the value of hard work and community service from her parents Barbara Anderson and the late Donald Anderson whose dedication to church, family and community she has followed. Pattie belongs to St. Stephen Church and attended St. Stephen Elementary School. As a member of the Parish Council, she has chaired the St. Stephen Fish Fry, been a member of the Golf Challenge Committee, and assisted with the parish theater productions, playground construction, Neighbor Days, Chicken Dinner, and youth sports programs. As an Island native, she is an active member of the Grand Island Alumni Association; a union representative for School Related Professionals with the GICSD; has coached Little League Baseball and Youth Soccer; served as a member of the Sesquicentennial Pageant committee; and acted as liaison to the Grand Island School Business Alliance.
Pattie resides on Settlers Row with her husband, Mark and three sons, Lee, John and Justin.


---



Swedish Wins UAW Support, Is Endorsed By Women's TAP - October 2003


Robin A. Swedish, Democratic Candidate for Grand Island Town Clerk, has won the endorsement and support from the United Auto Workers Council Region 9. Swedish has been a supporter of the working men and women and because of her experience and commitment to the Town of Grand Island, the UAW Region 9 has announced their support of her in the upcoming November 4th general election.
Mrs. Swedish, who has served as a Grand Island Deputy Town Clerk for over five years, said, "This endorsement from the UAW carries a very special meaning because it demonstrates the support of working men and women for my election."
The UAW Region 9 represents over ten thousand members in the Western New York community with over 200 members residing on Grand Island.
Mrs. Swedish has also won the endorsement of the Buffalo Council of the AFLCIO and is running as the Working Families, Conservative and the Grand Island First Party candidate in the November Election.
She has proposed flexible working hours for the working families of Grand Island. "I believe that no Grand Island resident should have to take time off of work to take care of town business," she said. "The residents of Grand Island deserve the highest level of customer service."
Mrs. Swedish has also won the endorsement and support of the Women's TAP (Taking Action in Politics) Fund due to her energy and experience put forth in the race for Grand Island Town Clerk. "I am honored to receive this endorsement and to be able to represent this non-partisan group."
The Women's TAP Fund is a political action committee formed in 1992 to elect qualified Western New York women to office. The objective of the group is to elect women who will make a difference for the Western New York community.


---



Councilman Rustowicz Announces Candidacy - October 2003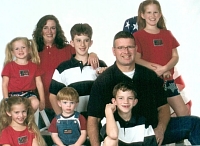 Councilman Kevin M. Rustowicz, a Democratic candidate for Grand Island Town Councilmember, has announced his bid for re-election for a second four-year term on the Grand Island Town Board. As the only candidate who has consistently voted against Grand Island property tax increases, Rustowicz promised to continue to put the interest of Grand Island first by fighting efforts to raise property taxes.
Rustowicz is also credited with creating the Grand Island Youth Advisory Board and the Code of Ethics for Grand Island, requiring all Grand Island elected and appointed officials to submit an annual financial disclosure form. Rustowicz also created the first ever Grand Island Board of Review made up of non-political residents to review complaints of ethic violations.
Rustowicz is the Town liaison to the Community Enrichment Council, Youth Advisory Board, and the Cable Television Board. He assisted in obtaining a TEA-21 Grant while Chairman of the Sidewalk and Bike Path Committee.
A social studies teacher with the Niagara-Wheatfield School District, he is dedicated to his community. Rustowicz is a member of the Grand Island Fire Company, serving as a volunteer fireman and is presently the Chairman of the Company's Board of Review. He has held the office of vice president, is chairman of the Children's Christmas Party, CPR instructor, and recipient of the 2003 Grand Island Fire Company President's Award. Rustowicz is a Cub Scout leader, a Grand Island Soccer Club coach, and has coached Little League baseball and softball. Rustowicz is a member of St. Stephen's Parish, NYSUT, the AFT.
Rustowicz's goals are to continue to put the interest of Grand Island first. He is the only councilman who has not voted for a tax increase on the general fund for the last four years.
&nbspCouncilman Rustowicz is endorsed by the Democratic, Independence, Working Families and the Grand Island First parties, in addition to the AFL-CIO union.
&nbspThe councilman is married to the former Maura McCowan and is the father of six children.


---



Sandy Smith To Run In 2003 New York City Marathon
October 6, 2003

Dear Friends,

As many of you know, I have been involved at Nichols School in Buffalo, N.Y for over 11 years, first as a student and now as a teacher and coach. Through my involvement at Nichols, I have been fortunate to get to know K.C. Bryan. K.C. was diagnosed with Cystic Fibrosis as a young child. In her 24 years, she has taken it upon herself to work tirelessly to raise awareness in the Buffalo community and nationally about Cystic Fibrosis and the ever-continuing search for a cure. Two summers ago, K.C. visited every Major League Baseball stadium in the country, throwing out the first pitch at each game, and she has been the keynote speaker at several national events for Cystic Fibrosis. In addition to her work for Cystic Fibrosis, K.C. works with the Buffalo Bisons AAA baseball organization and helps us as an assistant coach at Nichols School with the girls' basketball program.
I am running the 2003 New York City Marathon this November, and I have chosen to use this endeavor to raise money for Cystic Fibrosis. I am asking for your support to help find a cure for this disease. Every donation, no matter how big or small, will help us to move closer to this goal. Nearly 90% of all monies raised for the C.F. Foundation are applied directly to research toward finding a cure for C.F. The marathon is 26.2 miles, so you may choose to pledge an amount per mile or a flat amount. If you choose to write a check, please make it payable to the Cystic Fibrosis Foundation.
All major credit cards are accepted and all donations are tax-deductible. I am attaching a sponsor form for your convenience. This form may be faxed to my attention at (716) 877-1090. Please click Sponsor Form.
Thank you in advance for helping me help K.C. to fight this disease.
Sincerely,
Sandy Smith




Arnold - Phillips Wedding - 2003





Click photos for larger view.
Clayton B. Phillips and Tina Marie Arnold of Buckhannon, WV were married Octobear 7, 2003. Their ceremony took place in a hot air balloon, tethered over Niagara Falls. Twelve guests were in attendance. C.B., who celebrated his 29th birthday on the same day, is the son of Gale and Nancy Littler of Grand Island. Tina is the daughter of Danny and Carol Arnold, Nebo, West Virginia. The ceremony was performed by Pastor Dave Beutel of the Redeemer Lutheran Church, North Tonawanda. This was the perfect fall day for a hot air balloon wedding. There could have been a little less wind, but all made it through the adventure with no major difficulties. The couple had planned to elope, but after much coaxing from C.B.'s mother, not to elope, the bride chose the balloon wedding.


---



Adria Ryan, John Hageny Star In Run For Your Wife, A Comedy - 2003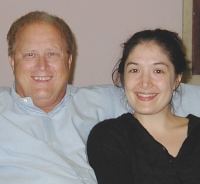 October 2003 . . .Adria Ryan, daughter of Rosemary and Dan Ryan of West Oakfield Road and John Hageny of Woodstock Drive are both starring in the hysterical comedy production of Run for Your Wife, being produced on stage from Tuesday, October 7 through Saturday, October 11 by the Amherst Players in the Smallwood Drive Elementary School, 300 Smallwood Drive, Snyder.
The comedic tension builds as one husband tries to keep his two wives from discovering the existence of each other.
Throughout her lifetime, Adria has performed in over 20 theatrical productions. Currently the music director for Queen of Heaven Church in West Seneca, Adria sings and plays the piano and the organ for weekend masses, funerals, and weddings, in addition to directing an adult choir.
A 20-year Island resident, John owns the Harry-Don Insurance Agency in Williamsville. He toured professionally in a summer stock production of "Harvey" which starred Bob Newhart.
All performances begin at 8 p.m., and tickets ($10 and less) may be purchased at the door.


---



Bob Beach - Surprise 80th Birthday Party - 2003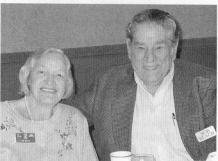 Longtime Islander Bob Beach was totally surprised last month when he entered what turned out to be a gala party in honor of his 80th birthday. Click Bob's Birthday for the complete story.


---



Welcome, Samuel David Carpenter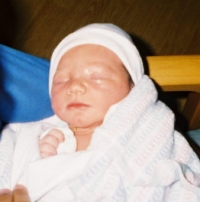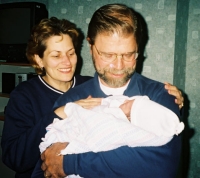 Samuel David Carpenter was born September 25, 2003 to Jim and Jackie Mangus Carpenter. He weighed in at eight pounds, eight ounces and is 21 1/2 inches long. Proud grandparents are Donna and Paul Linenfelser (shown above) of Grand Island, Bill and Moey Carpenter of Rochester and John and Camille Mangus of Tonawanda.


---



Welcome, Evan James Linenfelser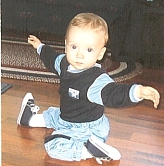 Evan James Linenfelser joined his family on September 9, 2003. The son of Laury and Jim Linenfelser, he is the grandson of Joan and Skip Fred and Teddy and Jim Linenfelser, and the great grandson of Norma Fred, all of Grand Island. Baby Evan was born on December 3, 2002 near St. Petersburg, Russia.




Morris - Slepian Wedding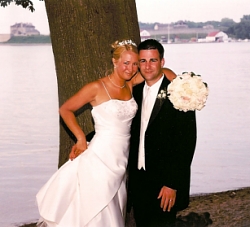 Click photo for larger view.
Bryan Alexander Slepian and his bride, the former Stacey Ann Morris, were married July 4, 2003 in a ceremony at The Prince of Wales Hotel, Niagara-on-the-Lake, Ontario, Canada. The bride is the daughter of Pam and Keith Morris of New Albany, Ohio and the groom is the son of Ruth and David Slepian of Grand Island, New York.
Stacey Ann graduated from New Albany High School and Ohio State University and is the publisher for the Columbus Apartment Guide. The bridegroom graduated from Nichols School, Miami University (Ohio) and received his MBA from The Fisher College of Business at Ohio State University. He is an Operations Consultant for Bank One in Columbus.
The couple honeymooned in Cape Cod Massachusetts and resides in New Albany, Ohio.


---



Prof. Don Burns Plays In Michigan Ragtime Retreat - Sept. 2003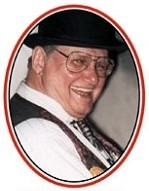 Local ragtime piano player Don Burns was a featured pianist at the 2nd annual Michigan Ragtime Retreat, a downtown piano fest held September 11-14, 2003 in Lapeer, Michigan. Don performed at the Ragtime Annex Saloon (Calvelli's Eatery & Spirits). His next venture will be his annual appearance at the International Jasstime-Ragtime Foundation Fall Fling at Alexandria Bay, NY. The Alexandria Bay Jasstime-Ragtime Festival is being held at the Pine Tree Point Resort Friday, October 17, 2003 through Sunday, October 19. For tickets, reservations or information, contact Wayne and Nancy Pauli at their email address, wnpauli@aol.com or call 519-744-2665. Don will be performing with Sue Keller, Mimi Blais, Bob Milne, Tex Wyndham, John Petley and "all the usual suspects!" according to the Ragtime Press Website http://www.rtpress.com/cal.htm#Alexbay.
For information on Don's book, PIANO PEOPLE - Upright Grand - Downright Nuts, click Sundown Canyon Productions Inc. And for a little more information on Don, click Prof. Don Burns.


---



Mike Wiant Real Estate Wonder!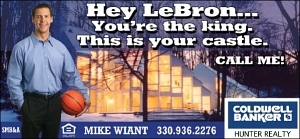 Click photo for larger view.
Grand Island native Mike Wiant graduated from Grand Island High School in 1989. He went on to graduate from Kent State University and lived in Los Angeles for six years. Two years ago he moved to Ohio and, at the urging of a college friend, he became a real estate agent. He recently grabbed a lot of attention with a unique marketing plan. After landing a million dollar residential real estate listing, he focused his plan on two of Ohio's newest millionaires, basketball player LeBron James and golfer Ben Curtis. Mike purchased space on two billboards targeting James and Curtis. He didn't tell anyone about this marketing idea. Everyone was a bit surprised!
Here's Mike's story:
"A new agent doesn't usually get a million dollar listing. But I network constantly and came across one. I'm not the average person so why market traditionally? I knew I had a unique home and it would take a young hot shot with money to buy it. So why not market DIRECTLY at two of those individuals who live nearby. I was going to advertise a whole page in the newspaper which would have cost around $5,000 (give or take the day). But I knew if I put 5 billboards up for about the same price the media would catch on and I would get into the newspapers for free. But then everyone caught on and I was on ESPN Sportscenter, all the local TV stations, real estate magazines, and radio. ESPN magazine notified me that I should be in the NBA Preview edition next month."
Mike told the Grand Island E-News this week that the home was sold to a nineteen-year-old computer whiz, and that Mike has received new listings from the exposure.


---



Pizur Family Receives College Degrees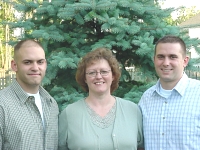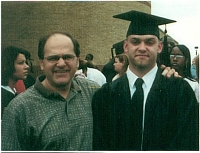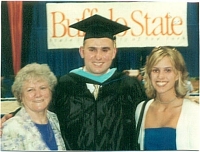 Carol Pizur with sons Bob and Marty, Bob Pizur and Marty, Grandmother Jennie Moriconi with grandson Marty and granddaughter Leanne.
Martin and Carol Pizur of White Tail Run had plenty to celebrate with their family. They proudly watched as their sons, Marty and Robert received their degrees during Graduate and Undergraduate Commencement Exercises at Buffalo State College on May 10, 2003. Marty received his Masters Degree in Educational Computing while earning a 3.9 GPA. He received his Bachelors Degree, Summa Cum Laude, majoring in Mathematics and Secondary Education from Buffalo State. Marty is employed with the Amherst Central School District as a tenured Grade 7 Mathematics Teacher at Amherst Middle School. Marty is a 1995 graduate of Grand Island High School.
Bob attended the formal ceremony at Buffalo State in recognition of being awarded his degree. He earned a Bachelor of Science Degree with a major in Criminal Justice and a minor in Deviance in December 2002. Bob graduated with a 3.5 GPA. He also received his Associates in Science degree majoring in Criminal Justice from Niagara County Community College in December of 2000. Bob will be working in the Law Enforcement Field. Bob is a 1998 graduate of GIHS.
Carol Pizur joined her sons by completing degree requirements for an Associates in Applied Science, Business Administration Degree with Merit. She was awarded her degree from Niagara County Community College on May 17th and earned a 3.7 GPA. She has also completed programs from business and trade schools. Mrs. Pizur plans to continue her education by completing a mortuary science program and utilizing her business degree to start a career in the mortuary science field.
The Pizur's daughter Leanne, completes the family unit. Leanne is a 2001 graduate of GIHS and is currently a junior at Vermont's Lydonville State College. She is majoring in Exercise Science with a goal to further her education within the medical field. Mr. Pizur is proud of his wife and children. His support has allowed them to accomplish their goals. Mr. Pizur has one phrase that he has driven into his children. He says, "There is nothing worse than wasted talent." Education is very important and learning never stops.
Grandmother Jennie Moriconi of Northern Cambria, PA was honored to be able to attend the ceremonies of her grandsons and daughter. While visiting Grand Island, she celebrated her granddaughter Leanne's 20th birthday on May 13th.


---



Welcome, Charlotte Ann Kahler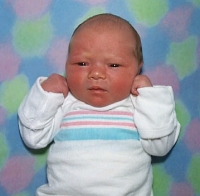 Named for her great grandmother, Charlotte Guenther Roesch, Charlotte Ann Kahler arrived on August 15, 2003 weighing seven pounds, four ounces. She is the daughter of Carol Eastman and Ken Kahler of Tonawanda and was welcomed home by her older brother and sister, Matt and Mary Pietrzak. Proud grandparents are Barbara and Earl (Jr) Eastman of Grand Island.


---
---



Barry Conway Debuts on "Emeril Live" - 2003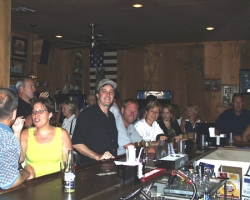 Click photo for a larger view.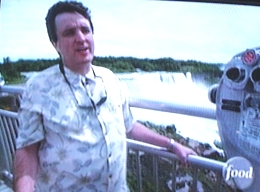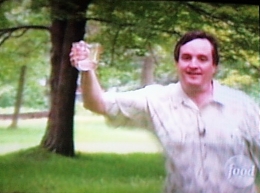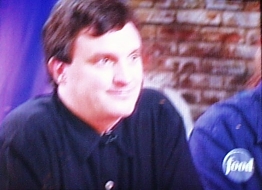 Story and photos by Jodi Hayes Robinson
A very large group of friends and family filled a local pizza place for the screening of longtime Islander, Barry Conway's debut on "Emeril Live" Sunday evening, September 14. Barry's recipe for Taco Pot Pie was featured with three other recipes as the winners of Emeril's Pie Contest. For those who missed the show, it will be repeated Saturday, September 20 and Sunday, September 28 at 4 p.m. Congratulations Barry! Click Barry's Emeril's Pie for the complete story on Barry.




Joseph Dowd Grows Tall, Tall Sunflower! - 2003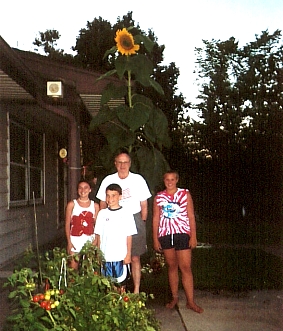 September 2003. . . Joseph Dowd of Alt Blvd. is shown with his grandchildren, Lindsey and Steven and their friend Haley Breier in front of his prized sunflower. Joe stands six foot, five inches so we're guessing the flower is at least 12 feet. Can anyone's sunflower top this?




Swain - Rudney Wedding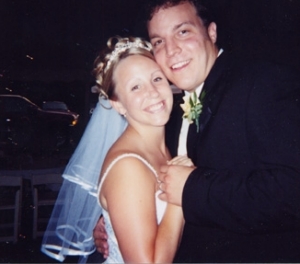 Terry and Valerie Swain of Grand Island are proud to announce the marriage of their daughter, Jodie, to Michael Rudney. The wedding took place at the home of the bride's parents on August 2, 2003 where a reception was given. Michael is the son of Linda Murray of Amherst.
The newly married couple traveled to Puerto Vallarta, Mexico and will be making their home in Amherst. Graduates of Buffalo State College, the bride is a Special Education teacher in the Grand Island High School and the bridegroom has a master's degree in Business Administration from the University at Buffalo.



---



Christopher D. Wright


September 2003 . . . Christopher D. Wright, a graduate of the Grand Island High School, Class of 2003, recently finished Basic Military Training for the United States Air Force in San Antonio, Texas. He received Thunderbolt status for top athlete in his flight and will stay in San Antonio, Texas Lackland for a 12-week technical school for security forces. Christopher will be returning in early December for a two-week break where he will be working with his recruiter SSgt. William Malcolm.


---



Welcome, Maisie Mrkall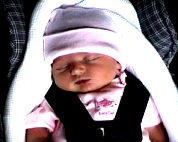 Lisa and Skip Mrkall are the proud parents of their first child, Maisie Mrkall, born on August 17, 2003 weighing in at seven pounds, three ounces. Equally proud grandparents are Island residents, Ken and Linda Koch and Norm and Charlotte Mrkall.


---



Island Resident, Barry C. Conway, Winner of Emeril Lagasse's Pie Contest. . .
To Be Featured on Emeril Live!
August 2003 . . . Barry C. Conway of Grand Island, NY is one of four winners of Emeril Lagasse's "Pie Contest" to be featured on a special Prime Time episode of "Emeril Live." This special episode will premiere at 9 p.m. Sunday, September 14, 2003 on the Food Network. Barry's winning recipe is a family favorite, easy to make, one dish meal: Southwestern Taco Pot Pie. (Click for Southwestern Taco Pot Pie recipe.)
In June, Emeril Live sent Alan Madison, a producer, and local boys Harvey Marshall and Daniel Sack of "That Buffalo Crew" to the Conway home on Grand Island, NY to film a two minute piece (which also includes footage taken at Niagara Falls) that will serve as an introduction to Barry's segment of the Emeril Live taping recorded in New York City on Friday July 11, 2003. All four winners are seated at Emeril's bar and help guide him through each recipe respectively. It was an incredible experience from beginning to end with the help of Emeril and his entire crew.
Jason Pomana (son of co-worker) on his list of favorite things on the first day of third grade: Favorite Food-Southwestern Taco Pot Pie. What a compliment!
Barry C. Conway of Woods Creek Unlimited is a passionate cook who is currently writing a cookbook and is also in the process of developing a line of barbecue sauces and rubs.


---



Mike Heftka Announces Council Candidacy


Citing great encouragement from friends and neighbors, former Councilman Mike Heftka, along side his wife Nancy and their seven children, announced his intention to regain a seat on the Grand Island Town Board by accepting the endorsements of the Democratic, Independence and Working Families Parties.
"I'm extremely determined to regain a seat on the Grand Island Town Council in order to continue the initiatives that were started during my first term," Heftka said. Mrs. Heftka and the Heftka children have pledged their earnest support to this campaign. "It is, after all, for the benefit of all families that Mike continues working for a better hometown," Mrs. Heftka said.
While out of office in recent months, Heftka has continued to serve the people of Grand Island as chairman of the town's economic development committee and vice chairman of New York State's Erie Canal Planning Commission. Currently these groups are working to develop programs that will benefit the "Island" for years to come.
"My commitment to improving the quality of life on Grand Island is stronger than ever," Heftka said. With a futuristic approach, Heftka will utilize his government experience to focus on the town's opportunities in the areas of public safety, the environment and controlling taxes.
He attributes a speech by former President John F. Kennedy for his futuristic approach. "Let us not seek the Republican answer or the Democratic answer, but the right answer," Kennedy said. "Let us not seek to fix blame for the past. Let us accept our own responsibility for the future."
Yet, while looking to the future, Heftka is anxious to build on his record. He is recognized for introducing to Grand Island "Project Alert," a program that promotes school bus safety. Along with island resident Charlene Drexelious, the Grand Island Traffic Safety Advisory Board and State Senator Al Coppola, the project began on Grand Island in 2000. This past year, current State Senator Byron Brown extended "Project Alert" throughout the senate district. Project Alert begins this weekend for 2003 and is expected to grow even further, according to Senator Brown's office.
Heftka was also a driving force behind the opening of the Grand Island Business Assistance Center. "This is a project that has been scrutinized and revised for about two years," Heftka said. "The members of the economic development committee never quit on this project and the end result is a resource that will be capable of increasing the town's commercial tax base. And this, of course, will ease the burden of residential property tax payers."
Heftka is a business adviser for New York State's Small Business Development Center and has been recognized on the state and national levels for the quality of his work. Sometimes, though, his business development experience involves some "extremely" small ventures. KidBiz is a program that he introduced to Grand Island in 1997. It provides an opportunity for children in grades three to six to become entrepreneurs for a day. Heftka has provided entrepreneurial training for KidBiz participants during the past five years and he credits the energy of Susan Hillock and Jim Rogan with the growth of the program on Grand Island.
According to Heftka, " This has become an annual event that is really exciting for island kids." KidBiz has also earned the SBDC, a U.S. Chamber of Commerce "Vision 2000" award.
Looking ahead to new opportunities is the way Heftka describes his quest for a seat on the Town Board. "I am prepared for an exciting campaign and I humbly ask the people of Grand Island for their vote so that I may continue working for our hometown," he said.


---



Samrany Endorses Swedish For Town Clerk - August 2003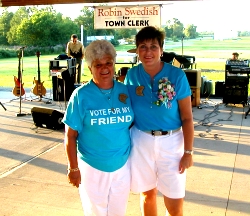 About 150 people attended a fundraiser at the Grand Island Rod & Gun Club August 16, 2003 for Town Clerk candidate Robin Swedish. Town Clerk Nancy J. Samrany (left), who will not seek re-election, officially endorsed her Deputy Town Clerk, Mrs. Swedish, as a candidate for the clerk position in the November 2003 election. "There is no substitute for experience, the choice is clear. We need someone with full town government knowledge and her six years experience in the Town Clerk's office," Mrs. Samrany said.


---



Fundraiser For Incumbent Councilman Dick Crawford Announced


The Committee to Re-Elect Councilman Dick Crawford cordially invites the community to a fundraising reception from 6:30-8:30 p.m. Saturday, August 23, 2003 at the Craword residence, 820 North Colony Road. Donation is $25 per couple or $15 per person. The event will feature an open bar and hot and cold hors d'oeuvres. (RSVP at 773-4121) Councilman Crawford, an endorsed Republican candidate, and also endorsed by the Grand Island Independence Party and the Conservative Party, is running for a third term.


---



Council Candidate Mike Heftka To Host Corn Roast


Mike Heftka, Democratic candidate for the town council election on November 4, 2003, will be the host at a fundraiser given by Friends of Mike Heftka. The event will be a corn roast from 6-9 p.m. on Thursday, August 28, 2003 at the Knights of Columbus Picnic Grounds, 1841 Whitehaven Road. Suggested is a donation of $15 each or $25 per family and includes homegrown corn, hot dogs, snacks, refreshments, kids' surprises and a theme basket raffles. Heftka, who is also endorsed by the Independence and Working Families Parties, served as a councilman on the town board from 1998-2001.


---



Welcome, Daemon Allen Gatti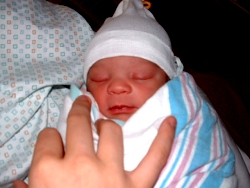 Daemon Allen Gatti was born on August 9, 2003 to Danielle Gatti. The baby boy weighed in at five pounds, 13 ounces and is 20 3/4 inches long. Proud grandparents are Barbara Gatti of Grand Island and former Island resident Louis Gatti.


---



Lauren Perna
August 2003 . . . Lauren Perna, a graduate of Holy Angels Academy, Class of 2003 and resident of Grand Island, is the recipient of grants and awards from Canisius College, Niagara University and University of Buffalo. Lauren, who will attend UB in the fall, was a member of the National Honor Society, and one of the founders of Angels for Life, a pro-life club which, under her leadership, has grown to 70 members. Lauren also volunteered her time at the West Seneca Developmental Center and at Father Tony's Camp Summer Progam at D'Youville College.


---



Stony Point Reunion - 2003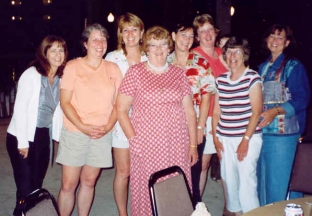 The "Stony Point Gang," most of whom were members of Joan Bidell Fred's scout troop, all lived at one time in the same little neighborhood on Stony Point between Whitehaven and Bedell Road. A reunion of the gals took place August 4, 2003 at the Holiday Inn. Shown from left are Barb Ryan Sarkees of Cocoa Beach, FL, Sally Wald Hayes (Cheektowaga), Sue Radder (Ft. Myers, Florida), Joan Bidell Fred and daughter Marcy Bidell Lange (Grand Island), Becky Wald Schenk (Washington DC), Marilyn Radder Sprague (Machias, NY), and Vicky Bidell Wilkinson (Grand Island). Missing from the group was Becky Bidell Passanese of Grand Island.


---



Kristine Breunig
August 2003 . . . Kristine Marie Breunig, a graduate of the Holy Angels Academy Class of 2003 and resident of Grand Island, is the recipient of grants and awards from Canisius College and Duquesne University. Kristine, who will attend Duquesne in the fall, was involved in Spanish Club, Ski Club and participated in sports including basketball, track and crew. She was honored with the coach's award for her efforts and success with crew. She also volunteered her time as a basketball coach and worked at a soup kitchen during her school career.


---



Fundraiser For Robin Swedish, Town Clerk Candidate


A fundraiser for Town Clerk Candidate Robin Swedish will be held from 5-9 p.m., Saturday, August 16, 2003 at the Grand Island Rod & Gun Club, 1083 Whitehaven Road. The event, themed "Come Rock with Robin!" includes dinner and a pig roast by Scipione Catering. A $20 donation also includes beer, wine, soft drinks, plus games and raffles (kids 3-8 $10; under 3 are free). Live music by Brimstone will be featured. Tickets will be available at the door.


---



Phil Killian's Twin Granddaughters Meet Chicago White Sox Pitcher


Click photo for larger view.
August 2003 . . . Wheatfield softball players Kyrstin & Kaylee Lekki met Chicago White Sox pitcher Esteban Loaiza when they attended a recent White Sox/Blue Jays game in Toronto. The twins, who are shown with their brother Tyler (left), are the grandaughters of Island native Phil Killian who submitted the photo. Loaiza was the starting pitcher in this year's Major League All-Star game.


---



Lee M. Richard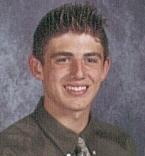 August 7, 2003 . . .Lee M. Richard recently graduated from SEAL training at the United States Naval Sea Cadet Corps - Naval Special Warfare - Trident Team in Okeechobee, Florida.
The rigorous training consisted of an orientation in US Naval Special Warfare in three distinct areas: Basic Undewater Demolition SEAL (BUD/s), Special Warefare Combatant Craft (SWCC), Communications, Medical, Intelligence & Technical Support. The course was spread out over three weeks in Okeechobee, Florida, Mammoth Spring State Park and Pinnacle Mountain State Park in Arkansas.
The main phases of physical training included Combat Swimming, SCUBA diving, Land Warfare, Military Mountaineering & Advanced Skills and Advanced Combat Raiding Craft Operations.
Lee is a Petty Officer 1st Class and was selected to be Master at Arms for The USSullivans a division of the US Naval Sea Cadet Corps at Buffalo, NY.
Entering his senior year at Canisius High School, Lee plans on attending college through ROTC. As a member of both the Canisius HS and West Side Rowing Club, he will compete in the Royal Canadian Henley Regatta in St. Catherine's this weekend.
Lee is the son of Patricia Frentzel of Settlers Row and Gregg Richard of Baseline Road.


---



Frentzel For Town Clerk Fundraiser Enjoyed by Crowd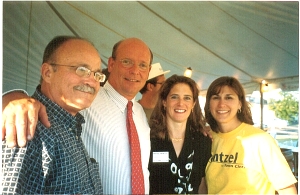 Clerk Candidate Pattie Frentzel is shown with friends Mike Hachee (left), Jeff Cooke and her campaign chairman Karen Conboy (right).
Town Clerk Candidate Pattie Frentzel held a fundraiser July 18, 2003 at River Oaks. Beautiful weather, great food and rolling greens provided the perfect venue for the crowd of over 100 who attended. Guests included Erie County Independence Party Chairman Tony Orsini, Erie County Legislator Chuck Swanick, Supervisor Peter McMahon and members of the town board. Mrs. Frentzel is running for the position of town clerk in the November 4, 2003 general election.


---



Thomas Rayhill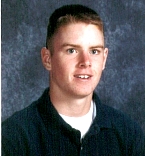 July 2003 . . .Rensselaer Polytechnic Institute has announced the winners of the Rensselaer Medal. Thomas Rayhill, son of Michael and Donnette Rayhill, is this year's honoree at Grand Island High School.
The Rensselaer Medal, the oldest prize of its kind in the United States, is awarded by more than 2,000 secondary schools throughout North America, Latin America, Europe, and Asia. This award is given to students who have distinguished themselves in mathematics and science. To be honored with the Rensselaer Medal, a student must be a member of the junior class and the high school's single most promising science and math student.
Each medalist who is accepted and subsequently enrolls at Rensselaer receives a scholarship of $60,000 payable in four yearly awards of $15,000 each
Some of Tom's other awards and activities include Varsity Football, Varsity Track, Wind Ensemble, National Honor Society, twice named to Who's Who Among American High School Students, religion teacher, soccer coach, tennis and floor hockey teacher for the Grand Island Recreation Department. He has also participated in fundraising for the American Cancer Society, Lupus Alliance of Western New York, and Womens and Childrens Hospital. Tom scored a perfect 800 on the math S.A.T. and a combined total of 1510.
Rensselaer Polytechnic Institute, founded in 1824, is the nation's oldest technological university. The school offers degrees in engineering, the sciences, information technology, architecture, management, and the humanities and social sciences. Institute programs serve undergraduates, graduate students, and working professionals around the world. Rensselaer faculty members are known for pre-eminince in research conducted in a wide range of research centers that are characterized by strong industry partnerships. The Institute is especially well known for its success in the transfer of technology from the laboratory to the marketplace so that new discoveries and inventions benefit human life, protect the environment, and strengthen economic development.
Tom will begin his senior year at Grand Island High School this fall.


---



DeGlopper Haying Dates Back Generations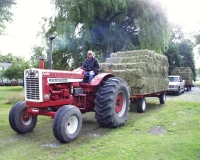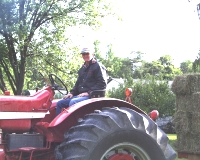 Click photo for larger view.
July 2003 . . . Isledegrande.com's Jodi Robinson chased George DeGlopper's hay wagon down Whitehaven and over Stony Point yesterday (July 16, 2003) where she 'snapped' him making this huge delivery of hay to one of the Island's horse owners. George not only delivers hay to your door, he raises it and has for many years, just as the DeGlopper family has done for generations.


---



"Fade 2 Black" - Connor Middle School Students In Concert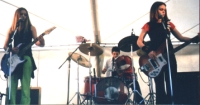 Click photo for larger view.
July 2003 . . . "Fade 2 Black," an accomplished duo of All County musicians from Connor Middle School, is playing a benefit for the family of the late Steve "T-Bone" Porter on Saturday, July 19, 2003. Band members Ellen Cameron (bass & vocals) and Portia Cartwright (guitar & vocals), who play all their own original songs, will be featured outside at "Coffee &," a coffee shop on Pine and Packard roads in Niagara Falls from 3-4 p.m. Cover charge for the benefit, which runs from 11 a.m. to 11 p.m., is $10 and includes a raffle ticket. Music instructors for the "Fade 2 Black" middle schoolers are Miss Deb Remson and Mr. Clark Elliot. The Island kids, who played May 16, 2003 at a Battle of the Bands at "Coffee &," with Brian Segarra on drums, placed 4th out of a competition of 18 bands. They may be seen on the "Greg Sterlace Show" 11 p.m. Wednesday, July 23, 2003 on channel 20 and in Buffalo at 8:30 p.m. Friday, July 25th on channel 20.


---



Miss Cathy's Dance Academy Photos - 2003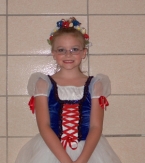 Click photo for larger view.
July 2003 . . . Cathy Thomas of Miss Cathy's Dance Academy presented her dance recital June 20-21, 2003 in the Grand Island High School. If you have photos from Miss Cathy's recital that you would like to have considered for posting here, email them to teddy@giecom.net


---



Friends Of Town Council Candidate Kevin Rustowicz Plan Fundraiser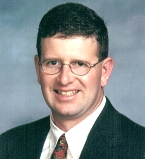 A fundraiser for encumbent Town of Grand Island Councilmember Kevin Rustowicz is planned from 5:30-8:30 p.m., Thursday, July 17, 2003 at the Charles N. DeGlopper VFW Post 9249. Donation is $20 per person and there is no charge for children. Checks for tickets, payable to "Friends of Kevin Rustowicz," may be mailed to 385 Tracey Lane, Grand Island, NY 14072.
Billed as a "Family Picnic," there will be music by Mike Dallessandro, dancing by The McCarthy School of Irish Dance, basket raffles, door prizes, a bounce house and kids' activities. Food (Italian sausage, hamburgers and hot dogs) and beer and soda will be provided.


---



Friends Of Pattie Frentzel, Town Clerk Candidate, Announce Fundraiser


A fundraiser for Town Clerk Candidate Pattie Anderson Frentzel, who is the endorsed Republican candidate in the November 2003 election, will be held from 7-10 p.m. Friday, July 18, 2003 at the River Oaks. Tickets are $20 and include beer, wine, hors d'oeuvres and a Chinese Auction. For more information, call 773-1381.


---



John Cameron


June 2003 . . . John Cameron will be playing the National Anthem on guitar, airing at 11:05 p.m. Wednesday, July 2, 2003 on channel 20 and also in the Buffalo area at 8:30 p.m. on July 4th. For more on the longtime Island resident, click John Cameron


---



Friends Of Gary Roesch, Council Candidate, Announce Fundraiser


Friends of Gary Roesch, the committee supporting Conservative and Republican endorsed Town Council candidate, Gary G. Roesch in the November 2003 election, will hold a fundraiser from 6-9 pm. Thursday, July 10, 2003 at the Sandy Beach Yacht Club, 1851 Winter Road. Tickets are $10 each with checks payable to Friends of Gary Roesch. The evening of socializing with the registered Conservative candidate will feature the ragtime piano music of Don Burns.


---



Brian Kopf

June 2003 . . .Brian Kopf, a 2002 graduate of Grand Island High School, has been named to the Niagara University Dean's List for the spring semester. Brian, a freshman business major in the School of Business and Commerce, is the son of Island residents Bob and Mary Kopf.


---



Nadine M. Coffey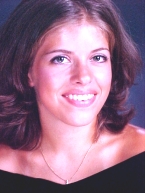 June 2003 . . .Nadine M. Coffey of Baseline Road has been named to the Dean's List for the Spring 2003 semester at Niagara County Community College. This is the second semester in her freshman year that she has been awarded this honor. Nadine is attending in the dual admissions program with Buffalo State. She is going for her teaching degree in special education, specializing in hearing impaired. Nadine is working during the summer for Cannon Design on Grand Island. She is a 2002 graduate of Grand Island High school and has completed intern work at St. Mary's School for the Deaf in Buffalo. Her proud parents are Mark and Robin Coffey and proud sister of Cassandra.


---



Brieanna Noel Bailey - Grand Island's Leader of Tomorrow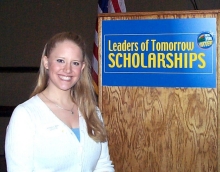 The New York Lottery officially recognized Brieanna Noel Bailey as Grand Island's Leader of Tomorrow (LOT) at a dinner, Thursday, May 29, 2003 held at the Buffalo Convention Center. Lottery Director Margaret R. DeFrancisco honored the Class of 2003 recipients. These honors were bestowed to one eligible senior from every participating New York State Public and private school. Brieanna was selected from Grand Island High School's graduating seniors as Grand Island's Leader of Tomorrow. Bailey was awarded a $4,000, four-year college scholarship, paid in $1,000 annual increments and may be used to cover the cost of attendance at any New York State-accredited college, university, trade school or community college.
Governor Pataki introduced the LOT Scholarship program in 2000 as a way to recognize young men and women statewide, whose contributions extend beyond the classroom and into the community. The LOT Scholarship demonstrates the benefits of community involvement and offers today's civic-minded students an opportunity to pursue a higher education at a discounted cost.
There were 1,360 public and private high schools across New York State who were invited to nominate two graduating seniors to be considered for the scholarship. The selection process began in January when recipients completed applications. To be eligible, each applicant must have at least a B average, plan to attend a New York State college or university and demonstrate a record of community service. An interdisciplinary panel of representatives from educational organizations statewide made the final selections.
Brieanna demonstrated leadership qualities by holding positions as president in both the Spotlighters Drama Club and the Choir. She also holds the position of vice president in the Humanities Club. She has been an active member in the Jazz Choir, Madrigals, bookstore, musicals and plays. She has held internship positions at Shea's Performing Arts Center and Huth Road Elementary School. Brieanna volunteers hundreds of hours per year to her community through the Starry Night Theatre Company in North Tonawanda. Through the organization, she has appeared in several shows and sang and supported other organizations including the Buffalo Museum of Science. She has earned both her certificate and pin for Academic Excellence at Grand Island High School.
Bailey will be applying her scholarship at Niagara University where she will major in Musical Theatre with a minor in Business Education this fall.


---



James 'Jack' Breier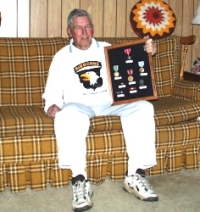 Jodi Hayes Dodd Photo
Island resident James 'Jack' Breier, a paratrooper with the 101st Airborne Division, the Screaming Eagles, fought for his country's freedom in World War II. Serving with the U. S. Army as a sergeant from December 1942 to February 1945, he earned and should have received the Purple heart after being shot in the head while in Bastogne, Belgium. Jack was a squad leader and parachuted into enemy territory twice. A long list of medals and ribbons honoring his bravery were never forthcoming until his family, led by daughter Marilyn Brennan, got in touch with New York State Senator Hillary Clinton with the necessary information. Senator Clinton followed through and on Wednesday, May 28, 2003 in the Niagara Falls Airport presented Jack with his Purple Heart. He also received his Good Conduct Medal, Bronze Star, Presidential Unit Citation with first oak leaf cluster, the European-African-Middle Eastern Campaign Medal with three bronze service stars, the Sharpshooter Badge with a rifle bar, the American Campaign Medal, the World War II Victory Medal, the Combat Infantryman Badge, the Honorable Service Lapel Button and the New York State Ribbon for Merit. The ceremony was attended by Jack's wife, Marge, their six children and spouses and most of their 20 grandchildren and five great grandchildren.


---



Thom Hatch
May 2003 . . . Thom Hatch has just had his fifth published book, The Blue, the Gray, and the Red: Indian Campaigns of the Civil War, released by Stackpole Books. According to Thom, who grew up on Grand Island in the 1950s and early 1960s, his first book, Custer and the Battle of the Little Bighorn (McFarland, 1997), sold out in hardback and was released in paperback in 2000. His second book, The Alamo and the Texas Revolution (McFarland, 1999), dispelled many myths and created somewhat of a controversy with his opinions. Thom followed that with Clashes of Cavalry: The Civil War Careers of George Armstrong Custer and Jeb Stuart (Stackpole, 2001), which chronicles the Civil War through the eyes of Custer on the North and Stuart on the South.
The Custer Companion: A Comprehensive Guide to the Life of George Armstrong Custer and the Plains Indian Wars (Stackpole, 2002), is 200,000 words in length, and has been called the classic source for the subject. Thom's latest book fills a void in Civil War history by pointing out the violence that occurred in the West when the troops from the forts headed East to fight for the Union or Confederacy.
Thom graduated from North Olmsted High School in Ohio, joined the U. S. Marine Corps, served in Vietnam in a combat unit for 13 months, and then became a reporter for the Erie, PA Times-News in the early 1970s. Finally settling in Colorado in 1974, he worked for many years as a free-lance writer, mainly in film, TV, and radio, locally, regionally, and nationally. "One day I woke up and decided I wanted to write books - so I did, and was fortunate enough to have my first proposal accepted," Thom said this week. Thom has had excellent reviews for all of his books in everything from national magazines to major city newspapers. A resident of Colorado for nearly 30 years, he lives with is wife and eight-year-old daughter. To email Thom, click and Authorthom@aol.com


---



Mackenzie Hassan


Mackenzie Hassan has made the Dean's list for the 2003 spring semester at Niagara University, achieving a 3.88 GPA. A graduate of Grand Island High School Class of 2001, she has completed her sophomore year at NU studying Secondary French with a cumulative GPA of 3.95. Mackenzie is the daughter of Mark and Diane Hassan of Wallace Drive.


---



Tammy Jo Gorman


Tammy Jo Gorman graduated from Niagara University on Sunday, May 18, 2003 with a Bachelor of Business Adminstration degree, with a concentration in Accounting. Tammy resumed her college education after an 11-year absence. She began as a full-time accounting student in August 2001 and has been on the Dean's List for all four of her remaining semesters. During the same time as her academic studies, she began volunteering for Grand Island Fire Company, recently becoming a Certified First Responder, working part-time at TRM Architect and raising two children. Tammy will also be a Grand Island Jr. Vikings cheerleading coach for the upcoming football season.


---



Tenpao Lee
May 2003 . . . Tenpao Lee, a professor at Niagara University since 1987, was recently awarded a Fulbright Senior Specialists grant for study this summer at the College of Management at the National Chaio-Tung University in Taiwan, his alma mater. This is his second Fulbright scholarship.
Lee will use the scholarship to lead a workshop for the National Chaio-Tung University's faculty on how to measure and improve the quality of business education.


---



Happy 90th Birthday Gladys Fix Staffen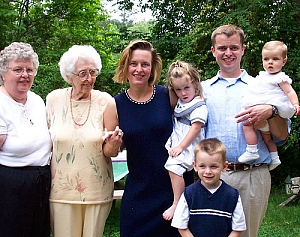 Click photo for larger view
Island native Gladys Fix Staffen was born May 11, 1913 and just celebrated her 90th birthday with her family. Shown from left are Patricia Staffen Yell, Mrs. Staffen, Jennifer Yell Gottlieb holding Megan Maude Gottlieb, David Yell holding Mary Tessa Yell, and in front is Thomas Jeffrey (T.J.) Gottlieb. Gladys lived with her family on the corner of Ferry and East River roads.


---



Cousins Share Birthdate and Graduation Date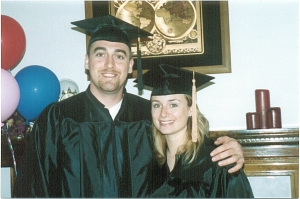 Peter Montana and Kari L. Harding, born on May 7, 1977 and May 7, 1981 respectively, received Bachelor of Science degrees on Saturday, May 10, 2003.
Peter graduated from Buffalo State College with a teaching degree and received the Angeline D. Harrison Award for Excellence in Student Teaching. A 1995 GIHS graduate, he lives with his wife, Cyndy, on Grand Island, and is the son of Maureen and Steve Toth of East River Road.
Kari graduated from the Univesity of Buffalo with a marketing degree. She is a 1999 graduate of GIHS and the daughter of Douglas and Patricia Harding of East River Road.
Proud grandmother of both Peter and Kari is Lorry Kehoe of Grand Island. Proud grandparents of Kari are Betty and Bill Harding.


---



Welcome, Ava Anita DeFranks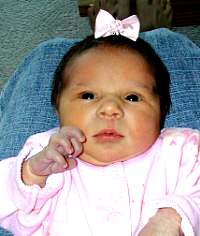 Ava Anita DeFranks was born on April 30, 2003 weighing six pounds, 15 ounces. The baby is the daughter of Sondra and Paul DeFranks and has a big brother, 15-month-old Benjamin. Grandparents are Isle residents Jim and Gloria Galoppo, and Paul and Elaine DeFranks of Depew.


---



Welcome, Emily Rose Cohen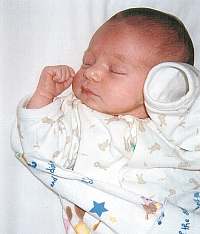 Emily Rose Cohen was born on February 27, 2003 weighing six pounds, 14 ounces. The baby is the first child of Sandy and Morey Cohen and the first grandchild of Island residents Sidney and Lee Cohen.


---



Greg 'Jack' Kammerer - Grand Island Officer near Baghdad

March 2003 . . . Grand Islanders who graduated from Grand Island High School around 1980 may remember Greg Kammerer, co-captain of the Cross Country team under Coach Dick Bessel, and member of DeMolay, the youth group of the Masonic Lodge at that time. He now goes by the name 'Jack' Kammerer, is a Lt. Col. in the Army's 3rd Inf. Division, and commands the 3rd Battalion, 7th Regiment, with the 3-7 Battalion at the 'Baghdad' airport, part of the team taking the airport and conducting excursions into the city. He is a career officer, having been in the Army continuously since graduating from West Point in 1984. He has served in Korea and Kosovo in recent years. Jack was appointed to West Point by Congressman John LaFalce upon graduation from Grand Island High School in 1980, and graduated from USMA in 1984. Col. Kammerer's father, Henry Kammerer, and his sister, Tracy Kammerer, live on Grand Island. His mother, Patricia, died several years ago.
For several articles about Jack found on the Internet, click "Google" search.


---



Bernadette Franklin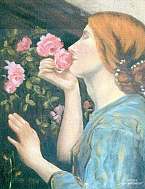 Original painting by Bernadette Franklin
April 2003 . . . An exhibition of artwork by Bernadette Franklin and Patrick Sean Baley opens Saturday, April 5, 2003 at Partners in Art, 83 Webster Street in North Tonawanda. The show runs through April 25th. Partners In Art is open on Tuesday through Thursday from 1-5 p.m. and Friday and Saturday from 10 a.m. to 4 p.m. A reception will be held for the artists from 4-7 pm. Saturday, April 5, 2003. Refreshments will be served. There is no charge to visit the art gallery.
Bernadette Franklin (Mrs. Benjamin Franklin) is a longtime resident of Grand Island, NY.


---



Adria Ryan
March 2003 . . . Adria Ryan of West Oakfield Road has been chosen to play a lead in the Amherst Players Inc. production of The Last Night of Ballyhoo. The comedy, winner of a Tony Award in 1997 for Best New Play, will be staged at 8 p.m. April 8-12 at Smallwood School, 300 Smallwood Drive, Snyder. Adria, a 1998 graduate of Nardin Academy and the daughter of Rosemary and Dan Ryan, is music director at St. Benedict's Catholic Church.


---



Island Residents Perform In Kenmore Show
March 2003 . . . Ken-Ton Staff Productions is presenting The Big Apple, a variety show 7:00 p.m. March 28- 29 at Kenmore West High School. A tap dance routine to the music of, 42 Street, and choreographed by Cathy Thomas of Miss Cathy's Dance Academy, will include Islanders Kathy Deloughry, Becky Peters, and Kathy and Tom Pollard. Islander Dennis Upton is one of the directors of the show and also will perform in some comedy routines, and singing groups. Del Upton, and Islander Ruth Starr will be performing with the show chorus. Tickets are $8.00 for adults and $5.00 for students and may be purchased at the door. Proceeds from the show are used for scholarships for Kenmore East and West seniors who are going into the fine arts.


---



Mike Samland


March 2003 . . . Island native Mike Samland has been named "Branch Manager of the Year" by HSBC Bank. Mike is the HSBC Bank branch manager at the Grand Island Boulevard office and has been employed by HSBC since 1990. The award, which was recently presented at the Adams Mark Hotel, recognizes Mike's outstanding performance for the year 2002.


---



Frank Cannata


March 2003 . . . Charlotte Sidway School Principal Frank J. Cannata is the musical director for the Niagara Falls Little Theater's Production of My Fair Lady. The play will be performed Fridays, Saturdays and Sundays at the Riveria Theater, Webster Street, North Tonawanda beginning Friday, March 7, 2003. The last performance is scheduled for Saturday, March 22. For the story line, seating and ticket information click The Riveria Theater. Island resident Dawn Marcolini Newton is directing and in charge of choreography.


---



Randy White


Randy White, Grand Island High School Class of 1970 (right), self proclaimed honorary Sweathog, was able to persuade Gabe Kaplan, AKA... Mr. Kotter to pose for this photo. Gabe paid a visit to NBC studios at WTHR-TV Indianapolis where Randy is Operations Manager.


---



Patricia Gross


February 2003 . . . Patricia Gross, Dietary Supervisor, has been named Employee of the Month at Elderwood at Riverwood, 2850 Grand Island Blvd. She has been a Grand Island resident for more than 30 years and has worked at Elderwood for nearly ten years, making sure the residents there are served nutritious and tasty meals. She loves interacting with residents and working with her co-workers. On her own time, Pat enjoys gardening, baking and walking with her dog, Maggie in Beaver Island State Park. All administrators and fellow workers congratulated Pat for her recognition. Elderwood Health Care at Riverwood is a business sponsor for Isledegrande.com.


---



Donna Lovetro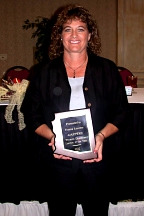 February 2003 . . . Donna Lovetro, who graduated from Grand Island High School in 1974, was named the 2002 Adapted Physical Education Teacher of the Year for Arizona. She received the award at the State AzAHPERD conference in Tucson, Arizona Oct. 15, 2003. After graduating from GIHS, Donna went on to receive an Associate degree from Mohawk Valley and then her Bachelor of Science degree from SUNY Brockport, where she majored in Physical Education with a minor in Adapted PE. She received her master's degree in Elementary Education from Northern Arizona University in 1991. After teaching in Globe, Arizona for four years, she was hired by Mesa Public Schools, where she has taught Adapted PE for the past 16 years. She currently serves as department chair, overseeing 11 adapted PE teachers, and works with nearly 50 special education students. Donna has been honored for her innovative programs teaching life-long fitness skills to secondary special ed. students. She is a Career Ladder teacher and a member of the Employee Involvement Committee for the district's Student Services. The Mesa District services more than 70,000 students and is the largest in the state of Arizona. Donna is also president of the School Improvement Advisory Council at her son's junior high (where he is an active 8th grader), as well as vice president of the Monsoon Water Polo parent boosters. Donna's parents are former Grand Island residents, Sam and Mary Lovetro, who now reside in Payson, Arizona. Her brother, Pat, and his son, Nick, still live on Grand Island.


---



Joanne Hartman


February 2003 . . .Joanne Hartman, a former Grand Island resident now residing in Frostproof, Florida with her husband, Richard, was the recipient of ten ribbons for her needlework exhibited at the Florida State Fair. As a result of this, she has been asked to do a one-woman show running from March 8, 2003 for six weeks at the county library in Bartow and will also lecture on her many pieces on display.


---



John Cameron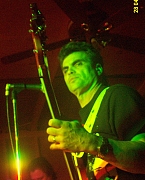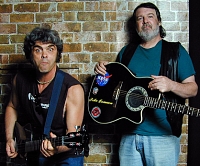 Grand Island's John Cameron - Bob Savoy (right) shown with John on the Greg Sterlace Show in July 2002.
February 2003 . . . Longtime Island resident John Cameron will be on The Greg Sterlace Show for a second time, 11:05 p.m. February 19, 2003 on Channel 20. Greg Sterlace is doing a biography on John's music career which started about 36 years ago at St. Stephen's barn dances. John is releasing his first solo CD in 10 years this summer, which will include two songs about his high school years at Grand Island High.
John, whose band is known today as The New John Cameron Band, originally played in the late 1960s with Islanders Bob Savoy, Tom Savoy and Tom Harrison in a band they called "The Infidels." Reminiscing about how long John has been involved with the local music scene, his wife, Wanda, said, "Our first date was him playing at the high school when I first met him."
Island friends interested in join John with the taping on Friday, February 14th, may email him at JOHNCBAND@cs.com.


---



Homma - Schnell


February 2003 . . . Miss Chizuru Homma, daughter of Chiaki and Yachio Homma of Yokosuka, Japan will marry Grand Island native and former resident Brian Schnell, son of Robert and Sandra Schnell of East Park Road, on May 16, 2003. The couple will live in Yokosuka, Japan, where Dr. Schnell, a 1987 graduate of Grand Island Senior High School, is a Pathologist for the U.S. Navy.


---



Theresa Rogers
February 2003 . . .Theresa Rogers of Fircrest, WA, a home schooled, high school student, daughter of Alan Rogers (GIHS Class of 81) and Sally (Kiedrowski) Rogers (GIHS Class of 82), and grand daughter to John Rogers of East River Road and former Island residents Robert and Sylvia Kiedrowski, broke a long standing Tacoma Swim Club record on February 2, 2003 at the Washington Open in Federal Way, WA. Theresa swam the 200 yard Breaststroke in 2:26.36 minutes, breaking the 13-14 year-old women's club record of 2:27.17 set 31 years ago by former Olympian Barb Mitchell who represented the United States in the 1972 Munich Games in the 200 Breastroke.


---



Michele Beauchamp
February 2003 . . .Michele Beauchamp has accepted the position of Regional Management Development Specialist with Cox Communications in Lubbock, Texas. Michele, who has been living in Texas for the past six years, has just ended her nine-year career with Cingular Wireless where she held the position of Regional Training Manager. Michele is the daughter of Mike and Sandy Beauchamp and the granddaughter of Lorraine Williams and Alice Beauchamp all of Grand Island.


---



Scott Duscher - GIFC Firefighter



Barbi Lare Photo
Story by Ray Pauley, GIFCO Public Information Officer
January 2003 . . .Grand Island firefighter Scott Duscher, on January 22, 2003, received Channel 23's "The Bravest of Western New York" citation, for a lifesaving rescue during a January 18, 2003 residential fire. GIFC Chief Greg Butcher accepted a similar award, on behalf of the entire Fire Company.
Scott was one of the first firefighters to arrive at the scene of a Carl Road house fire, which had spread rapidly throughout the interior. When Matt Schroeder, 25, was found hanging precariously from a second floor rear window, Scott had to make a quick decision to render assistance, since responding engines and other equipment were still a few minutes away. Without further hesitation, he borrowed a neighbor's ladder and brought Schroeder down to safety, before he lost his grip in the frigid conditions. Schroeder was then treated by paramedics for exposure, and transported to the Erie County Medical Center for further medical attention.
Although Scott insisted that he merely did "what I was trained to do, help someone," Chief Butcher pointed out that his timely action undoubtedly saved Schroeder from more serious injury or worse. Town Supervisor Peter McMahon and Erie County Legislator Chuck Swanick also agreed that this selfless dedication to protection of the entire community, is a testament to the calibre of those individuals who have put their own lives on the line for the past 64 years.
Congratulations to Scott and his fellow firefighters who are always there when needed.


---



Roger Kaiser Jr.



January 2003 . . .Former Island resident Roger Kaiser Jr., the interim chief executive officer of Erie County Medical Center, was chosen by the Board of Managers on Thursday, January 16, 2003 to be the hospital's new, permanent CEO. Click "Buffalo News 1-17-03" for the complete story.


---



Matthew J. Villnave


January 2003 . . .Matthew J. Villnave, a Niagara University alumnus who became the university's first webmaster in December 2000, was named employee of the month for January. He began working in the information services department in 1998 while he was still a student and was appointed information services manager for the university's technology department in July 2002. He graduated from Niagara University in 2002 with a degree in computer and information sciences and a minor in philosophy. Nominations for Villnave commented on his "can-do attitude" that makes people feel comfortable calling him if there is a problem. His improvements to the Web site were called "an obvious contribution to the university." He was recently responsible for updating the password system for the library database, which enables students to get passwords for e-mail immediately instead of waiting several hours for a reply from the library staff. In his free time, Villnave writes and records music for "Cold Eternal," a local band. He is also a photographer and enjoys taking pictures of Niagara Falls and Western New York scenery. He also enjoys hiking in the Blue Ridge Mountains each year.


---



Nadine M. Coffey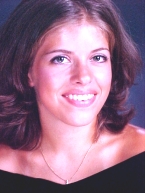 January 2003 . . .Nadine M. Coffey of Baseline Road has been named to the Dean's list for the Fall 2002 semester at Niagara County Community College, Where she is attending in the dual admissions program with Buffalo State. She is going for her teaching degree in special education, specializing in hearing impaired. Nadine is a 2002 graduate of Grand Island High school and has completed intern work at St. Mary's School for the Deaf in Buffalo.


---



Andrea Moreau
January 2003 . . .Andrea Moreau has been appointed financial center manager by Citibank. She will lead operations at Citibank's Financial Center on Payne Avenue, North Tonawanda. Andrea, who has nearly 30 years of experience in financial services industry, joined the Citibank team in 1999.


---



Airman 1st Class Cory L. Bota
January 2003 . . .Air National Guard Airman 1st Class Cory L. Bota graduated from basic military training at Lackland Air Force Base in San Antonio, Texas. He is the son of Larry and Deborah Bota of Grand Island and a 2002 graduate of Grand Island High School.


---



Brian Kopf

Brian Kopf, a 2002 graduate of Grand Island High School, has been named to the Niagara University Dean's List for the fall semester. Brian, a freshman business major in the School of Business and Commerce, is the son of Island residents Bob and Mary Kopf.


---



Mackenzie Renee' Hassan
Mackenzie Renee' Hassan, daughter of Mark and Diane Hassan of Wallace Drive, achieved Dean's List status with a GPA of 4.0 at Niagara University. Mackenzie, a Grand Island High School honor student in the Class of 2001, has just completed the fall semester of her sophomore year at NU where she is studying French Secondary.


---



Danielle M. Wasson
Danielle M. Wasson, daughter of Michael and Cheryl Wasson has been nominated from the 29th Congressional District for the United States Air Force Academy, as announced by Congressman John J. LaFalce. She is a student at the Wentworth Military Academy.


---



John Podlucky
Air Nation Guard Airman First Class John Podlucky has graduated from basic military training at Lackland Air Force Base, San Antonio, Texas. John is the son of Joanne and John Podlucky and a graduate of the Grand Island High School Class of 2000.


---



Christina Rossitto
The M&T Bank, Grand Island branch, presented Christina Rossitto, 6, with a $100 U. S. Savings Bond in recognition of her doing the right thing last fall. Christina, who was walking with her mother, Linda Long Rossitto, came across an envelope in the M&T parking lot containing $1200 and promptly took it into the bank office where the owner was identified and the money returned.


---



Sisters Donate To Locks For Love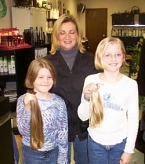 Alex and Lena Gormady - Click photo for a larger view.
Fred Claus Photo
The usual outing to the hair salon was a little different this time for sisters Alex (left) and Lena Gormady. The Island elementary school students gave up their hair for a good cause. Trend Setters owner Karen Benninger gladly cut the beautiful pony tails the girls had grown for many years in order to donate the hair to "Locks of Love," a non-profit organization. The girls, with permission from their mother, Teresa, got the idea after seeing a commercial on television. Locks of Love is an organization that makes wigs for children who have hair loss due to cancer or other traumatic conditions, and Trend Setters is just one of many hair salons who can donate hair to this fine organization. Click Locks Of Love for further information.










---
Other Grand Island Pages to Visit:
Churches | Email Directory | Government | Groups
GIHS Grad List | Guestbook | Please sign in! | Local Artists | Photo Album | Town History | Useful Links
| Website Design | Wildlife | Isledegrande's Home Page | GIECOM.NET'S Home Page
Please Email News Releases to Teddy Linenfelser, Thank You.


This website was created and updated weekly since September of 1997.
Our sponsor is GIECOM.Net Inc., "Grand Island's E-Commerce Network",
providing Internet Access and Webhosting to the Grand Island Community.
If you are interested in participating as a sponsor, please email.
1871 Whitehaven Road, Grand Island, New York, 14072-1803 USA





<! -- --- -- --- -- New Tracer Code Below -- --- -- --- -- --- Old Tracker Code Above -- --- -- --->